---
For previous years, go to News menu, above
---
Novitiate Newsletter
From Davao, Philippines, Fr David Sanchez SM sends the latest issue of the International Novitiate Newsletter, eleven pages of pictorial articles from staff and novices. To download, click here. [Oct 30]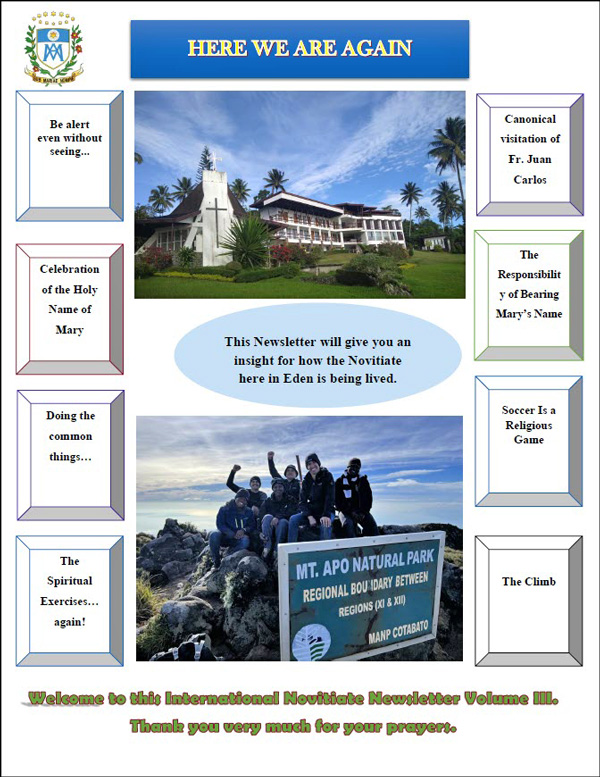 ---
District Circular
The latest District Circular for Marist Fathers Australia is now available at the Members' Page. [Oct 30}

---
'Today the Society of Mary has begun'
On Oct 29, 1824, a third Marist aspirant, Fr Etienne Déclas, arrived at the presbytery of Cerdon in the Bugey mountains of France. This event, as Fr Déclas joined Frs Pierre and Jean-Claude Colin, meant the formation of the first community of Marist Fathers. That very day Fr Pierre Colin wrote to the bishop, Alexander Devie: 'Today the Society of Mary has begun.' Jean-Claude Colin was to keep this date as the effective beginning of the Society of Mary.
To mark its 199th anniversary, Brisbane couple, Kevin and Trish McGrory, opened their Stafford home once again to local Marists for a simple celebration (pictured below). The McGrorys have themselves visited the village and presbytery at Cerdon, France, and have hosted the Brisbane celebration since 2008.
A new leaflet about Oct 29 is available in several languages on the Colin website: click here. For the English leaflet, click here. [Oct 29]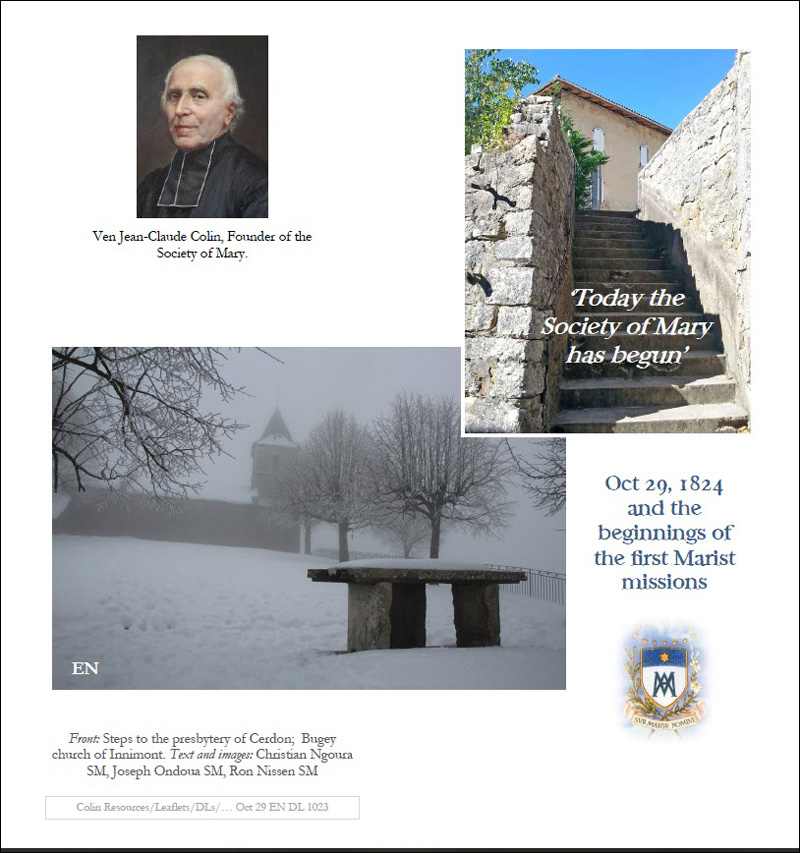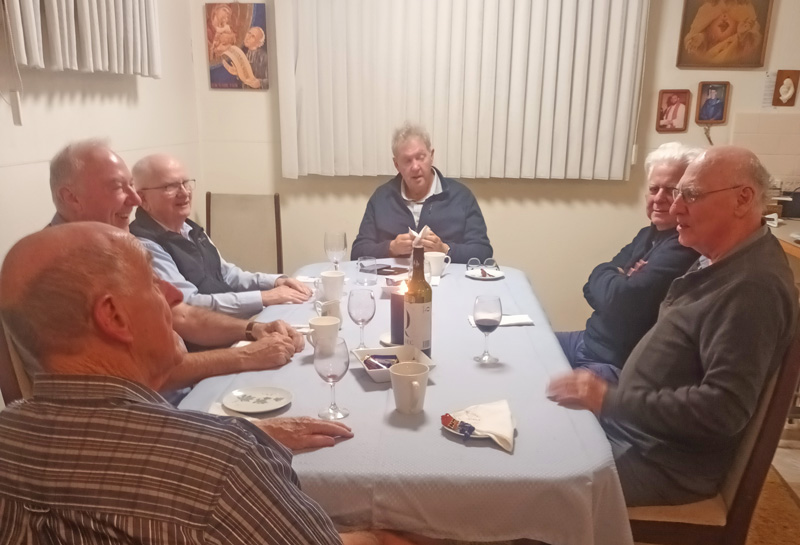 ---
SM Bulletin
This week's SM Bulletin reports on the diaconate ordination of Clinton Kube in Rome, the visit of the Marist Brothers' Third Age program group to the General House. To download, click here or go to Members' Page. [Oct 27]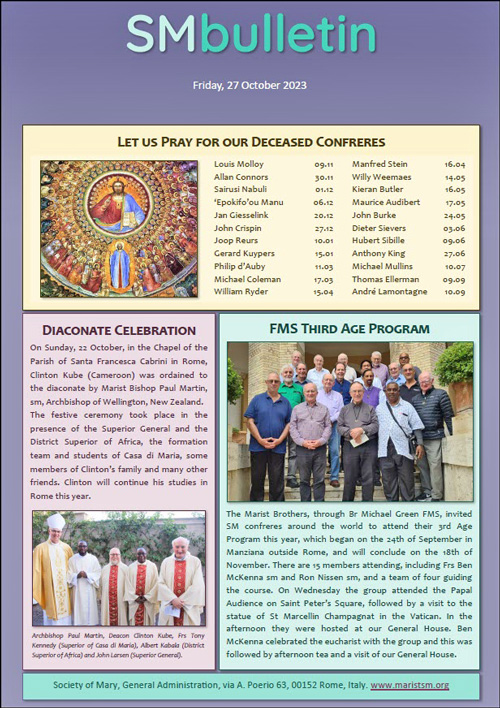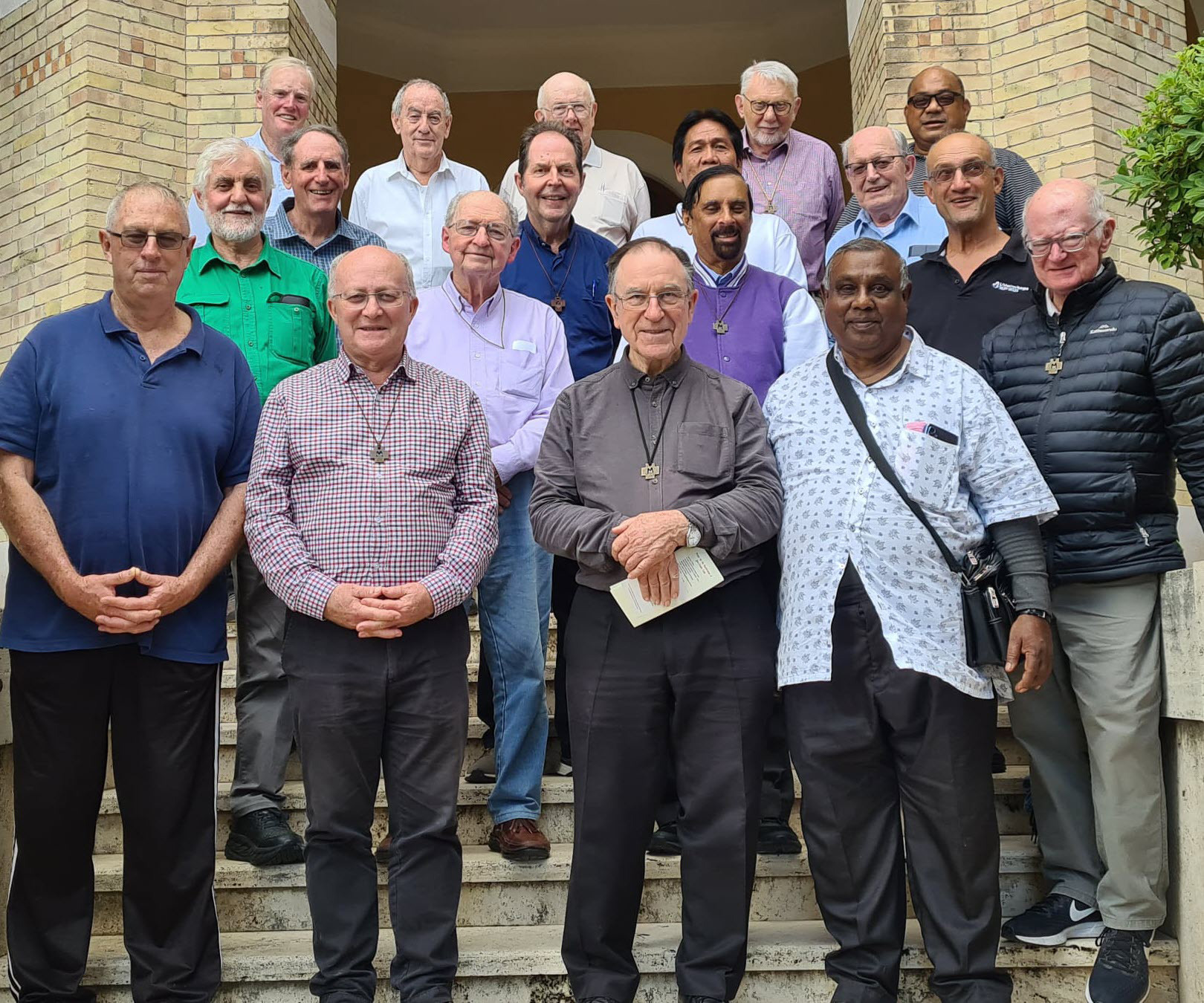 ---
Diaconate ordination
Following his recent Final Profession on Sep 30 (see below) Cameroonian Marist, Clinton Kube SM, was ordained to the diaconate in the chapel of the parish of Santa Francesca Cabrini, Rome, on Oct 22.
Marist bishop, Paul Martin SM, Archbishop of Wellington, New Zealand, presided at the ceremony in the presence of Superior-General, Fr John Larsen SM, District Superior of Africa, Fr Albert Kabala SM, members of the Casa di Maria theologate community, Clinton's family and many other friends. Clinton will continue his studies in Rome this year. Congratulations, Clinton! [Oct 28]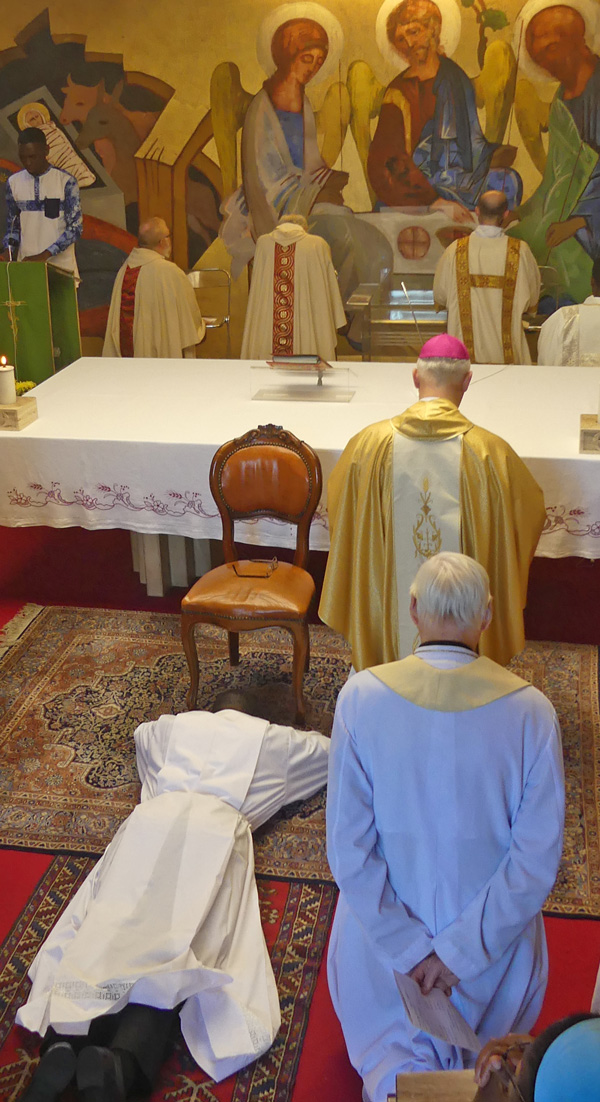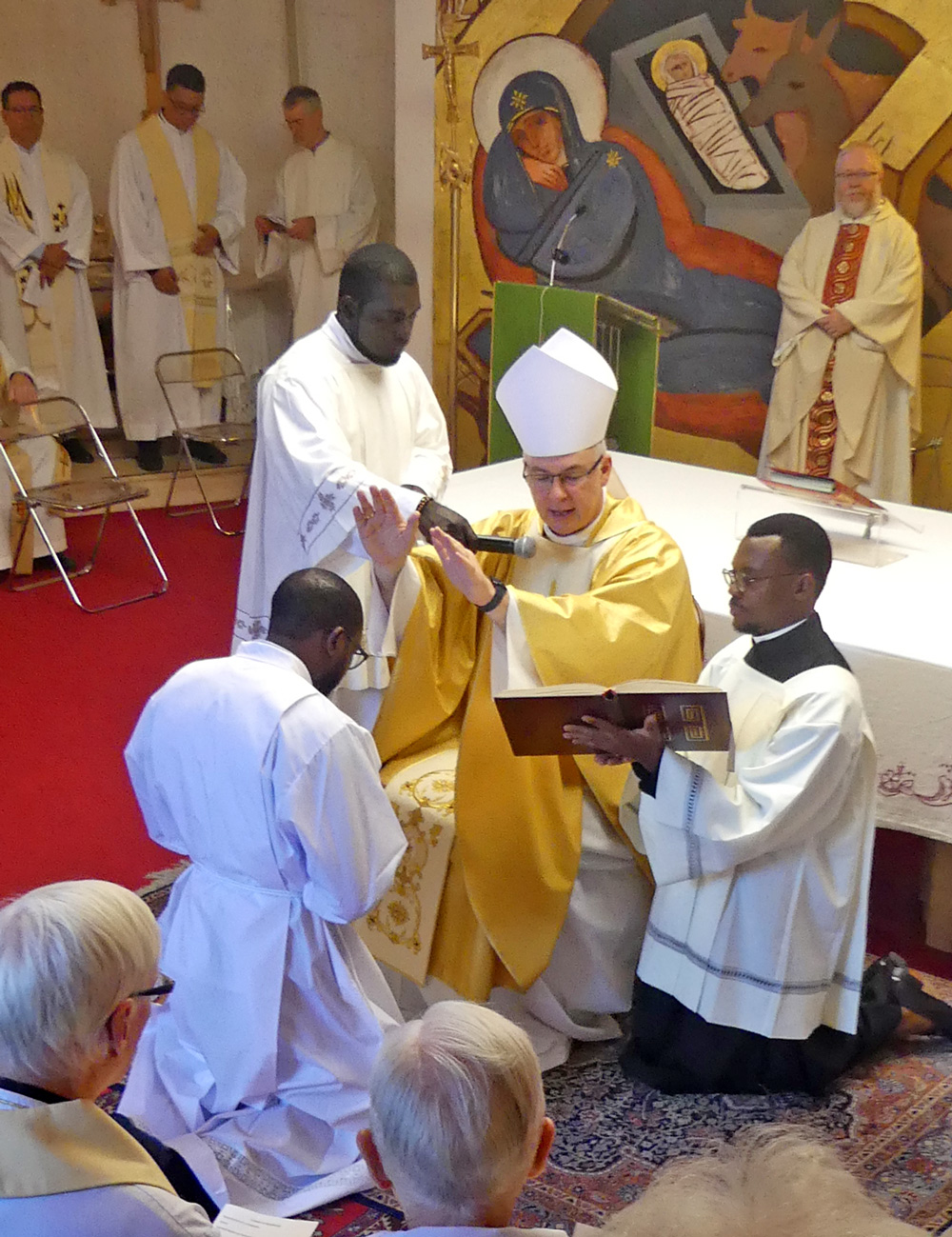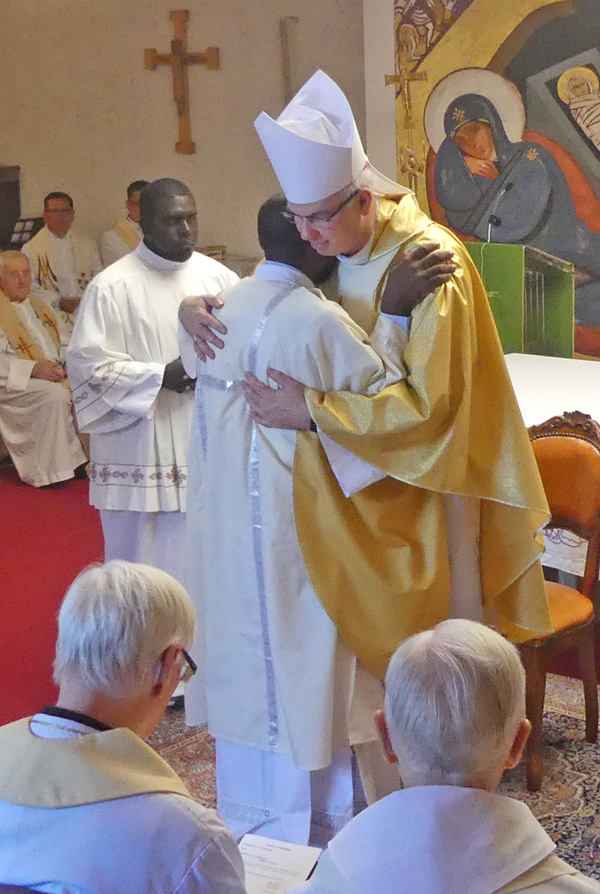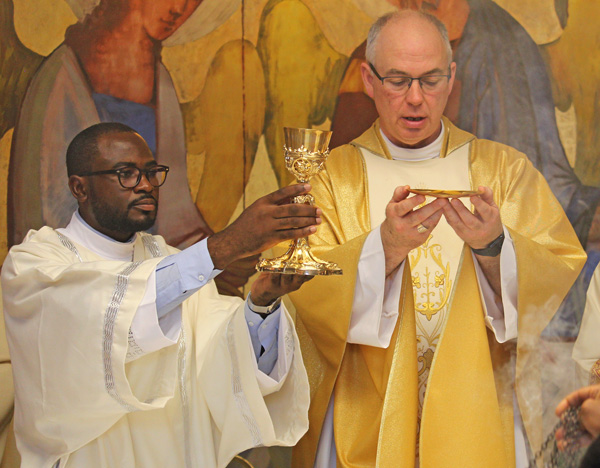 Above: Scenes from the diaconate ceremony in the chapel of Santa Francesca Cabrini. Below: Clinton offering words of thanks... | ... and with, from left, Archbishop Paul Martin, Frs Tony Kennedy, Albert Kabala and John Larsen.
---
SM Bulletin
From Rome, this week's SM Bulletin reports on post-graduate studies in Rome, formators' program in Dublin and EAPI renewal in Manila. The Bulletin accompanied by the 2024 Kalendarium.
To download SM Bulletin, click here, for the Kalendarium click here or go to Members' Page. [Oct 20]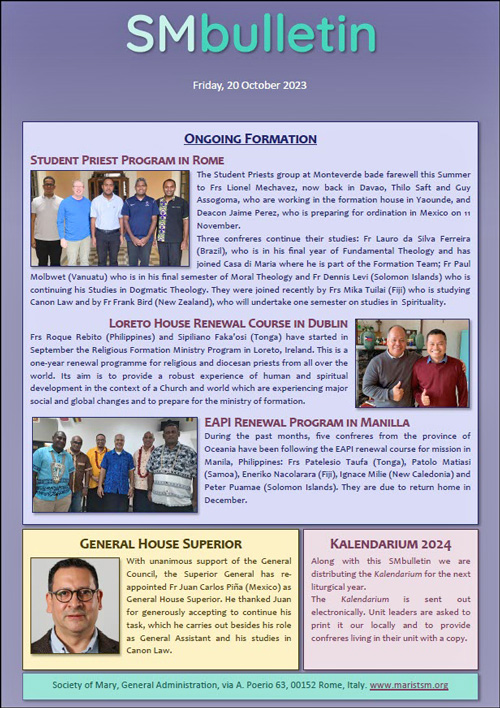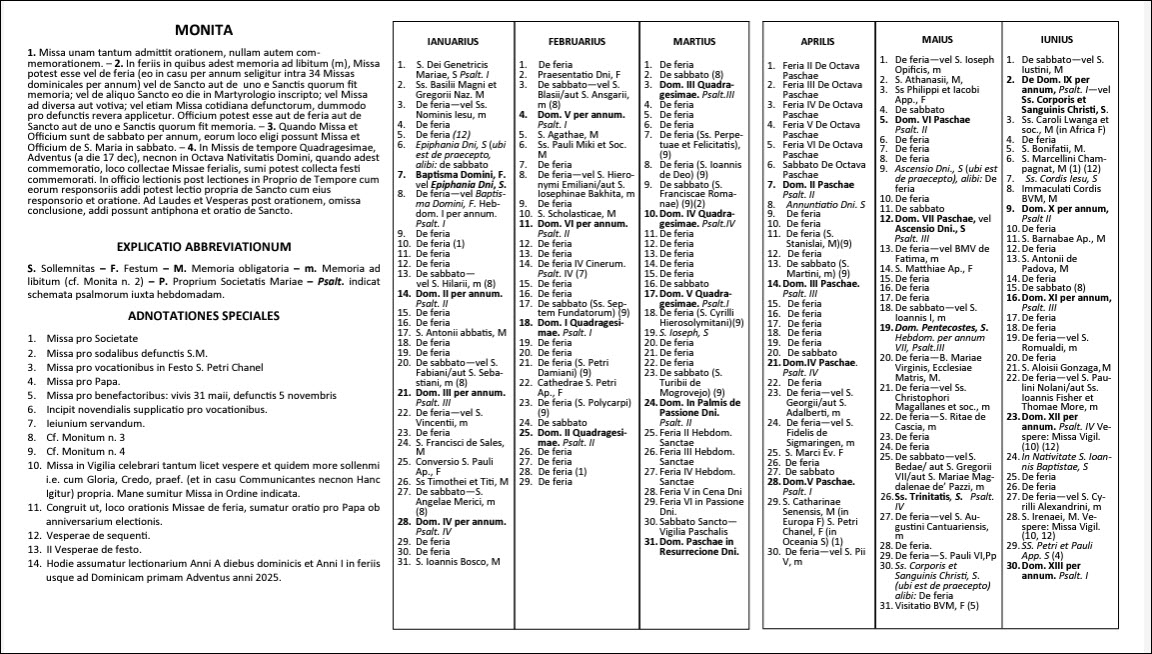 ---
Pacific News
This month's Bulletin from the Oceania Marist Province includes reports on provincial visitation in PNG and Bougainville, jubilarees, 'Good Samaritans' in Tonga and Kanosia, Br Berenado's move to Vanuatu and other items of Marist interest in the Pacific..
To download, click here or go to Members' Page. [Oct 20]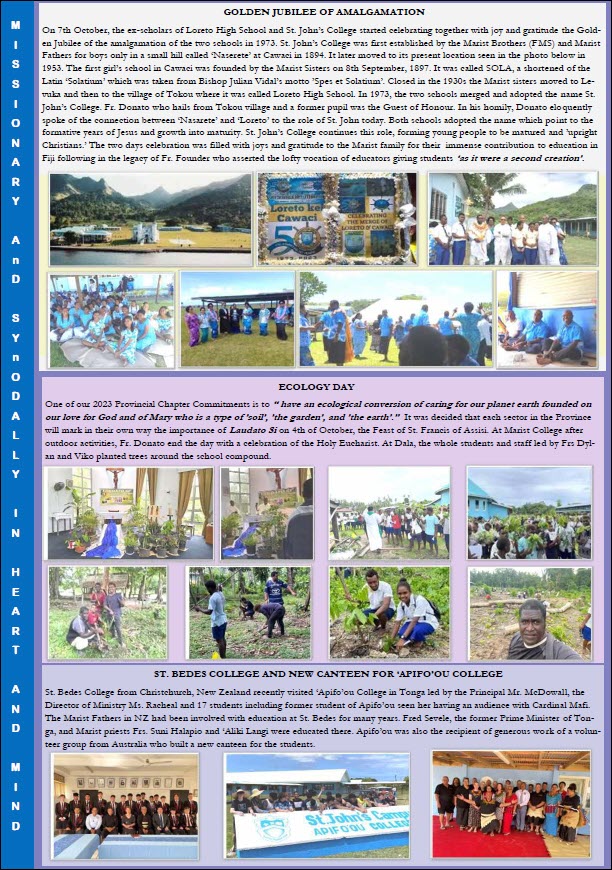 ---
Sorrow and Promise
Sunday Oct 22 is a National Day of Sorrow and Promise, presented by Catholic Religious Australia to recognise all who have been harmed from abuse in the Church and to make a commitment to a safer future. CRA decalre 'Naming the abuse, pain and suffering helps us to ensure that such abuse does not occur again. Through prayer, we open ourselves to the movement of the Holy Spirit amongst that pain and suffering.'
This year's theme is the gift of Grieving. Learning. Dreaming. To download the liturgy booklet, click here. [Oct 20]
---
Cerdon video
Marist Sr Teri O'Brien reports from the Chavoin Centre, Belley, France: 'Here is a link to the wonderful celebration of the Eucharist in Cerdon. It was for the 200th Anniversary of the authorisation by Mge Devie of the first community of Marist Sisters, Sept 8 1823. With us were members of all the branches of the Marist Family including a renewal group of sisters from several countries and friends from Cerdon, Lyon and Belley.'
Australian Fr Ray Chapman SM was also part of the celebration, pictured below with Bishop Pascal Roland and others at Cerdon for the anniversary Mass.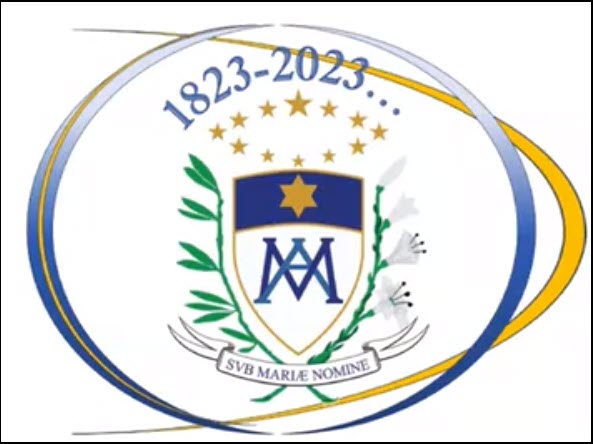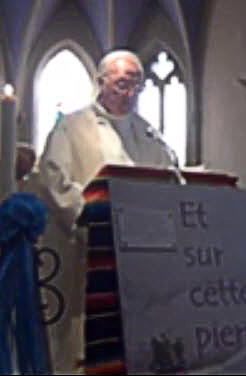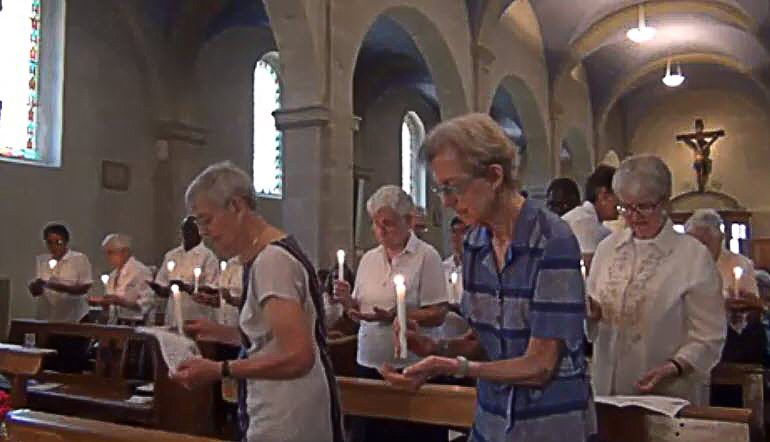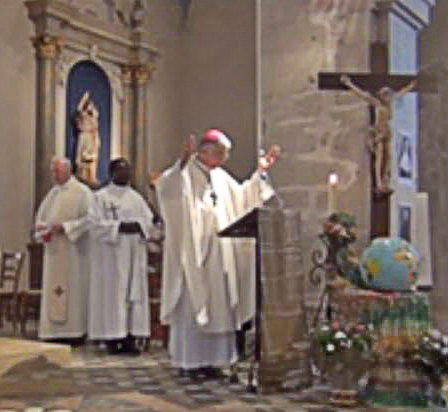 ---
October Rosaries
Marist Laity Australia's invitation continues to join the St Patrick's, Church Hill, community in a thousand people praying the rosary throughout October for the Pope's intention and during the current 'Synod on Synodality'.
Pope Francis has asked us to be 'praying for the Church, that she may adopt listening and dialogue as a lifestyle at every level, and allow herself to be guided by the Holy Spirit towards the peripheries of the world.' For more on '1,000 Rosaries in October', click here. [Oct 13]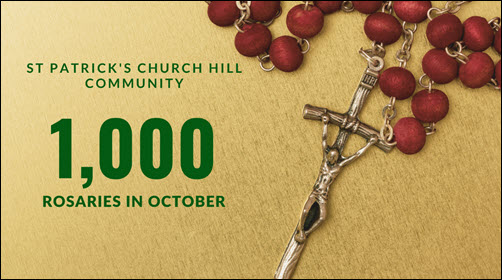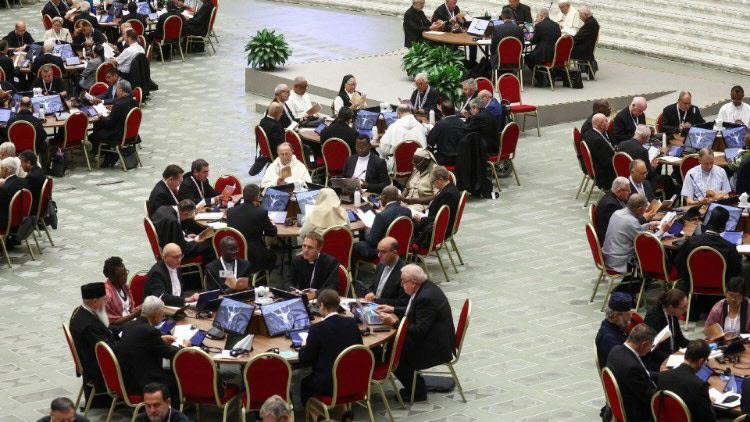 ---
SM Bulletin
This week's SM Bulletin reports on Marist Bishops in Rome for the Synod, the final profession of Clinton Kube and the Education Forum in Toulon. To download click here or go to Members' Page. [Oct 13]
---
Euroinfo
From Paris, this month's Euroinfo brings news from the Marist Province of Europe including the 'Daring to Hope' gathering in Alsace, La Neylière retreat, profession jubilees and Holy Name of Mary celebrations throughout the province.
To download click here or go to Members' Page. [Oct 09]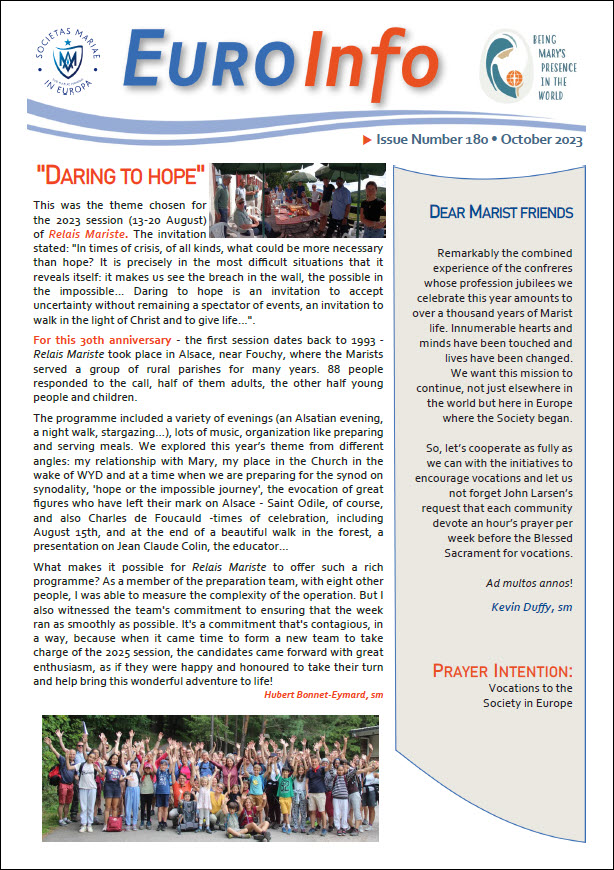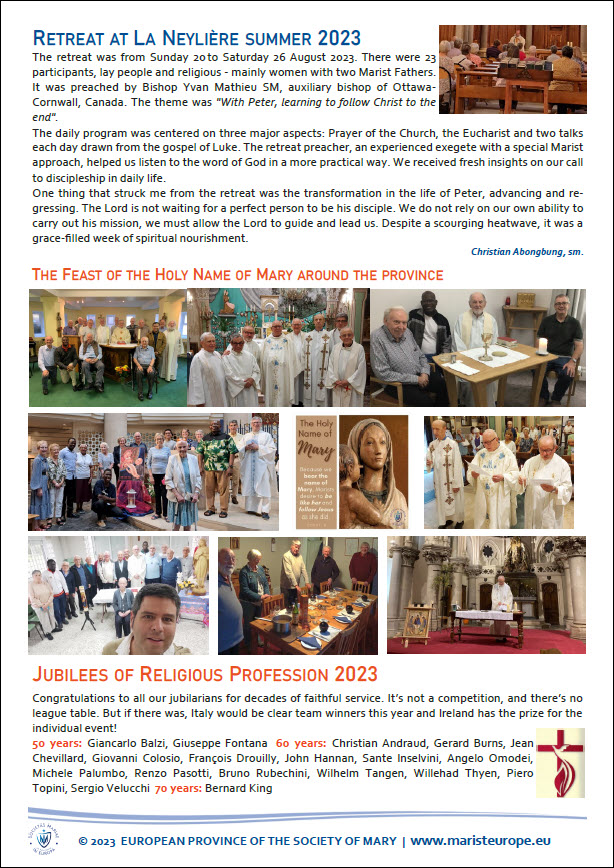 ---
Superior-General's reflection
In his October reflection, Superior-General, Fr John Larsen, points to recent events in the lives of younger Marists, the call to unity and the month of the Rosary. To download click here or go to Superior-General's page. [Oct 08]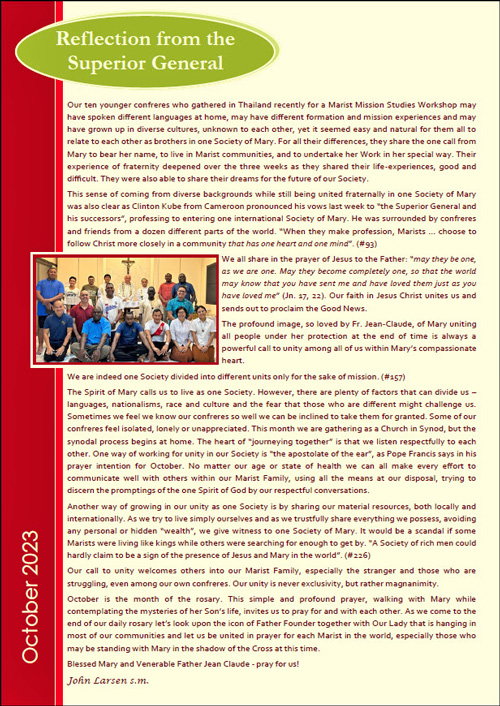 ---
Laity Newsletter
Marist Laity Australia's October newsletter includes comment on another Marist Camino event in 2024, the upcoming referendum on The Voice to Parliament, the recent passing of Br Des Murphy FMS, prayers for Synodal Assembly in Rome and other updates. To access click here. [Oct 06]

---
Senator visits Fr Paul Glynn
On Oct 05 veteran missioner, Fr Paul Glynn, 94, was paid a visit by Senator Iwao Horii, Japan's State Minister for Foreign Affairs. Accompanied by members of the Japanese Consulate in Sydney, Senator Horii dedicated one of his three days in Australia to see Fr Paul at Montbel, Hunters Hill.
They are pictured below exchanging gifts and with Montbel's Acting Superior, Fr Pius Jones, who comments: 'Paul is a bit of a legend according to the senator and was very significant in establishing the friendship between Australia and Japan where he is held in high regard.' [Oct 05]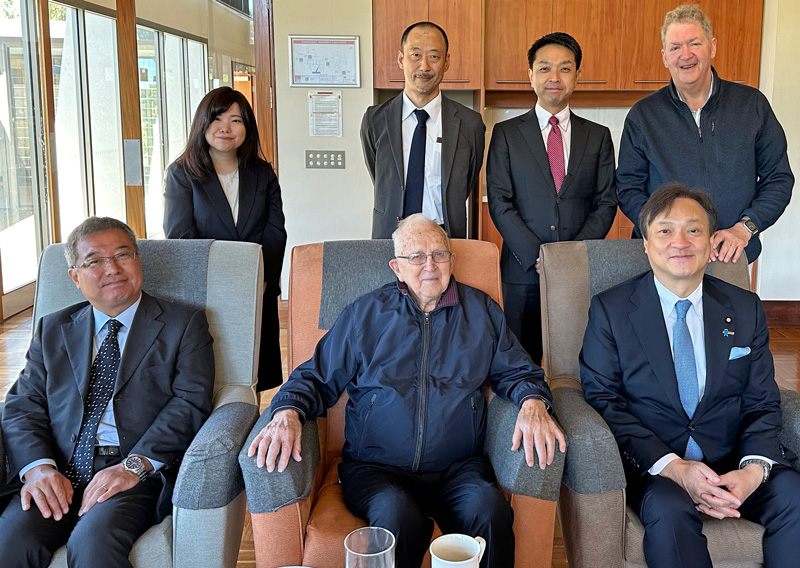 ---
Clinton Kube final vows
Sep 30 saw confreres and friends gather in the chapel of Villa Santa Maria, Rome, as Marist seminarian, Clinton Asunkwain Kube SM pronounced perpetual vows in the Society of Mary. On Oct 22 he will be ordained deacon by Wellington's Archbishop Paul Martin SM, presently in Rome for the Synod.
Clinton acknowledges the influence of Australian, Fr Bob Barber, on his vocation during boyhood in the parish of Bambili, Cameroon. [Oct 02]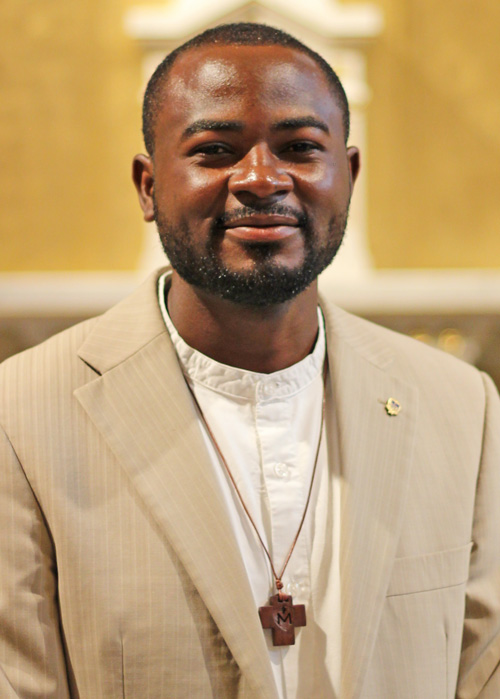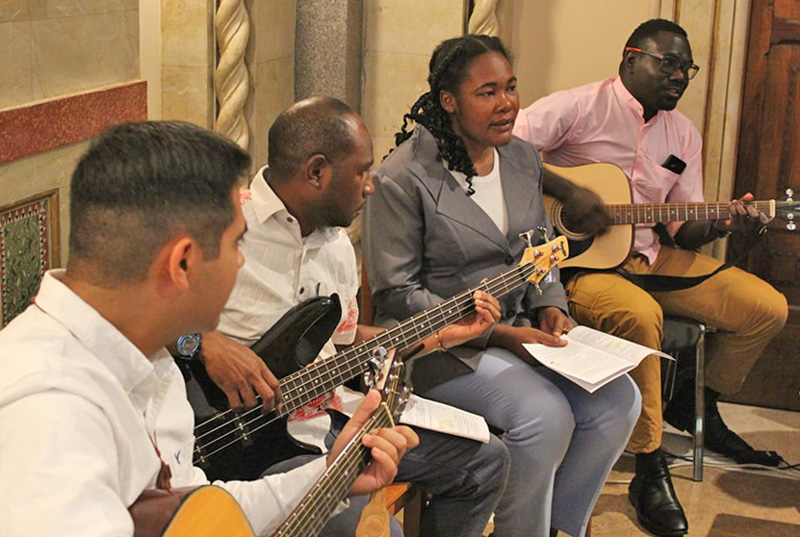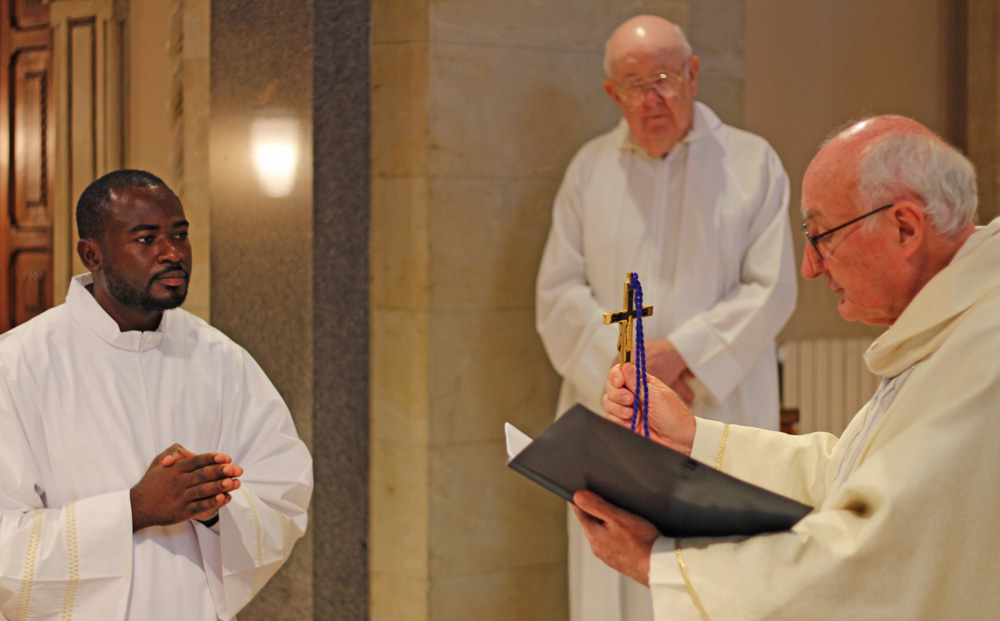 Above: Scenes from the Sep 30 ceremony including Clinton prostrate during the singing of the Litany of the Saints and receiving his profession crucifix from Superior-General, Fr John Larsen. Below: Africa Marist District Superior, Fr Albert Kabala, with Clinton. | Theologate rector, Fr Tony Kennedy, pouring celebratory drinks. | The late Fr Bob Barber SM.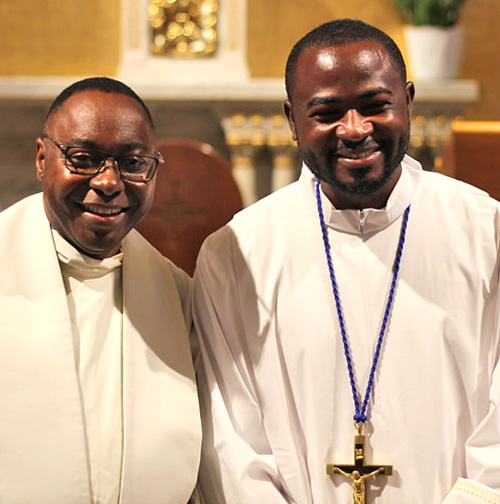 ---
Jubilees and District retreat
Fr Paul Glynn SM celebrated his platinum jubilee (70 years of priesthood) and represented absent jubilarians during the Eucharist to end this year's District retreat on Sep 29. A celebratory luncheon followed at Montbel, Hunters Hill, when the other jubilarians, Frs John Begg and Jim Carty (60 years), Kevin Head (NZ) and James Collins (50 years), were also honoured.
District Superior, Fr Tony Corcoran, presided at the Mass in Holy Name of Mary church. In a recent newsletter he remarked: 'I take this opportunity, on behalf of the District, to congratulate our confreres on their significant anniversaries, to thank them for their years of dedicated service to God's People and their gift of themselves to the life and mission of the Society of Mary.'
Congratulations and 'ad multos anos!' [Oct 02]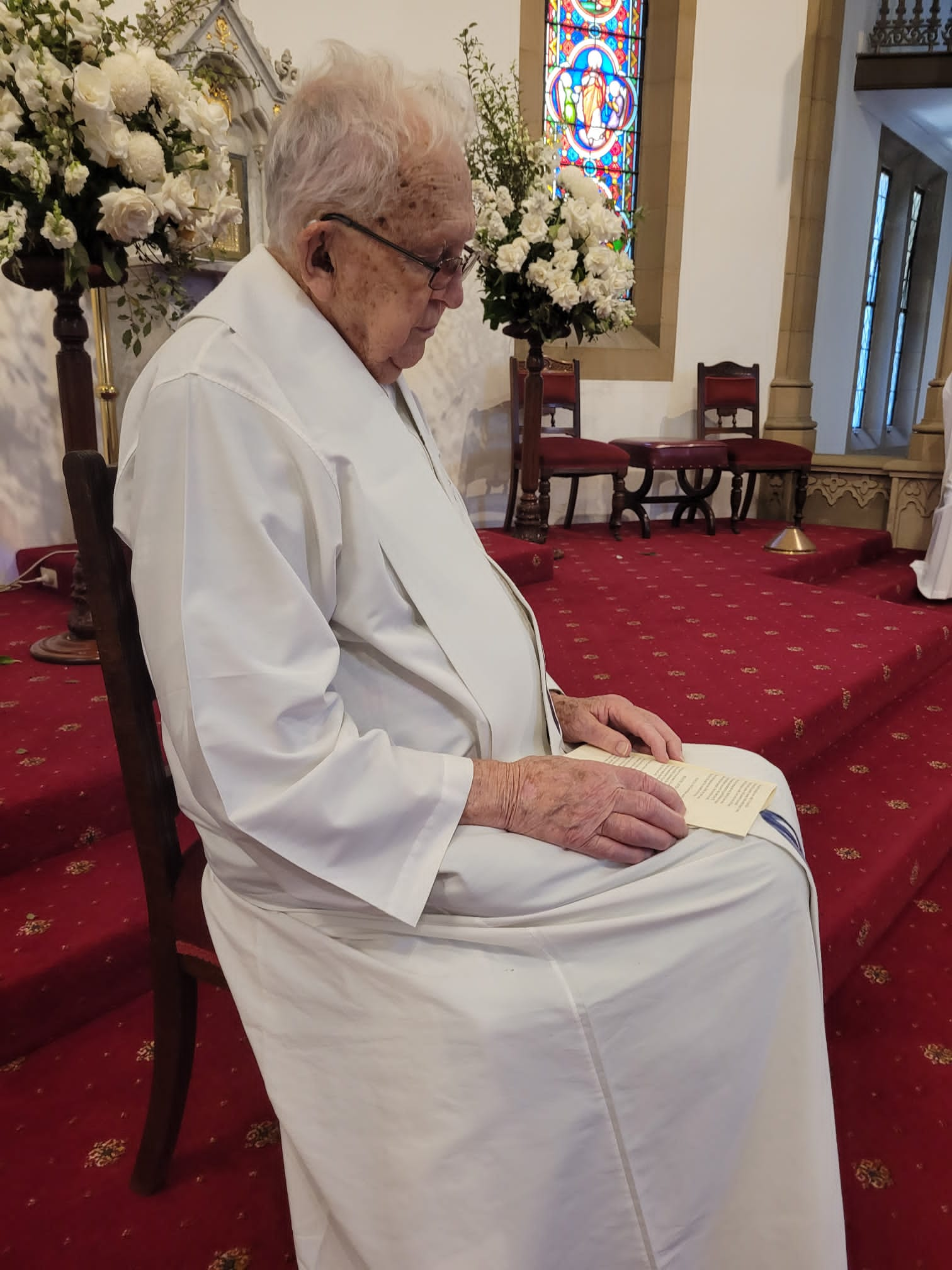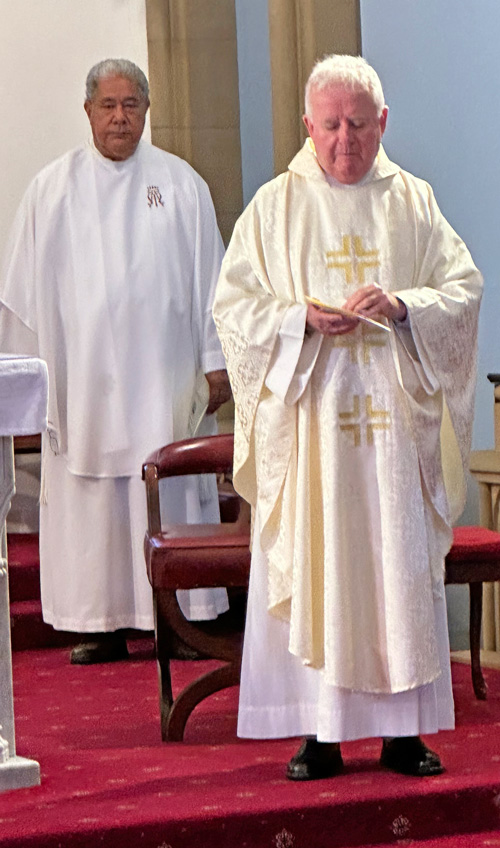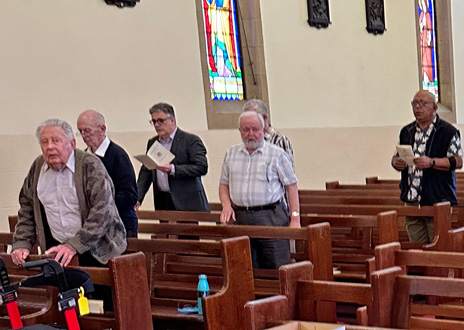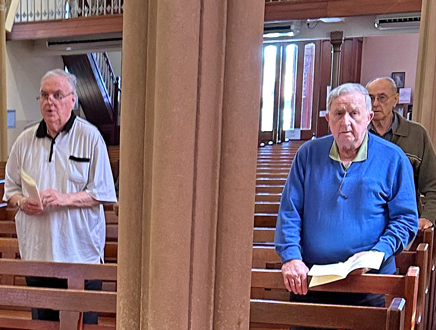 Above: Scenes from the jubilee Mass in Holy Name of Mary church, Hunters Hill. Below: Fr Paul Chandler O Carm and retreatants in the chapel of Montbel. | Jubilarians' luncheon, Montbel.