---
December news
Colin calendar: 2020 | 2021
Click here for News 2008 to 2017 | For News 2018 and 2019 go to News 2020 tab above.
---
Marist Asia news
Superior of the Marist Mission District of Asia, Fr Christopher Ganzon SM, has sent a final bulletin for 2020. The 11-page Christmas newsletter gives comprehensive and colourful reports on the Marists in Davao and Matti (Philippines) and Ranong (Thailand). Click here. [Dec 31]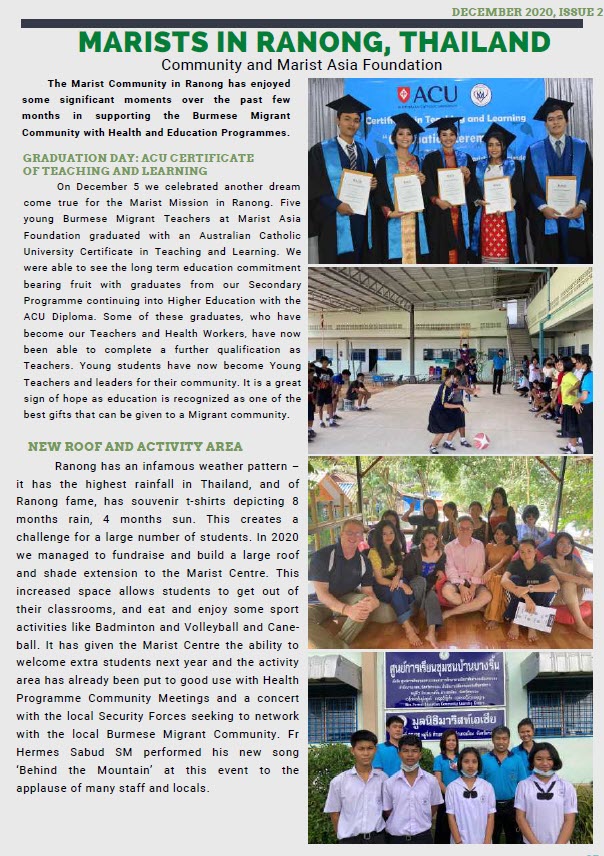 ---
Two Marist ordinations
In colourful ceremonies in Cameroon and Bougainville two Marist deacons were ordained priest in recent days. Frs Guy-Roger Assogoma (Dec 12) and Floyd Gatana (Dec 29) were ordained in events reflecting the cultures of Africa and the Pacific.
In 2021, COVID-permitting, Fr Floyd will be part of the Society of Mary's new mission at Marayong in Sydney's outer-western suburbs. [Dec 30]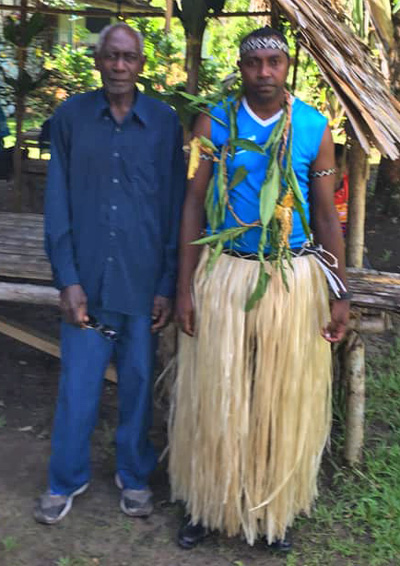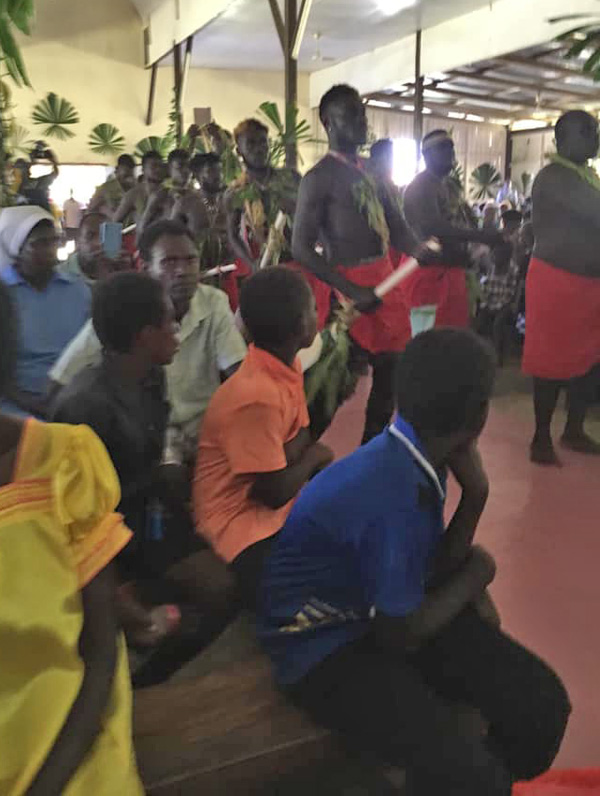 Scenes of the ordinations. Above: Floyd Gatana with his father before the Hahela, Buka, ceremony | Traditional entrance | Litany of the Saints | Bishop's instruction. Below: Fr Guy-Roger after his ordination in Cameroon.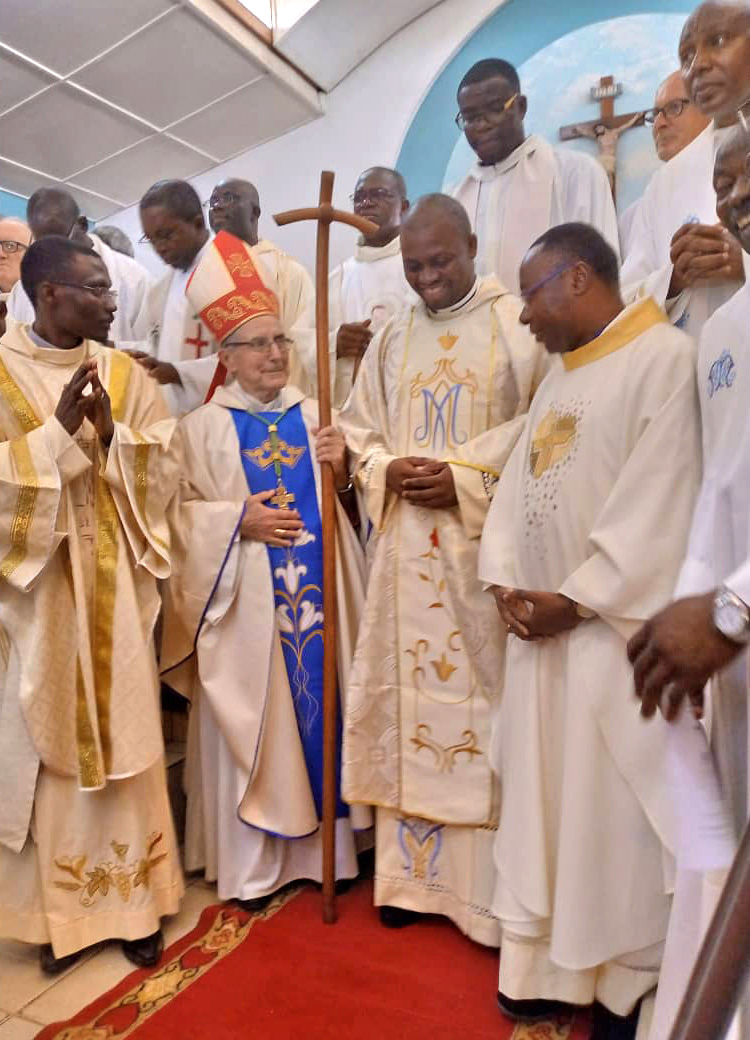 ---
Greetings from all over
Marists in Africa, Asia and Italy are amongst those sending news and Christmas greetings in recent days.
Messages included an update from Australian, Fr Tony Kennedy (rector of the Marsit International Theologate, Casa Di Maria, Rome), Fr Christopher Ganzon (Leader of the Marist District of Asia), Fr Christian Abongbung (rector of the Marist St Peter Chanel's scholasticate, Yaoundé, Cameron) and Fr Lionel Mechavez (announcing his handing over leadership of Balay Pasilunan homeless boys' ministry in Davao, Philippines). [Dec 26]
Click for: Fr Tony Kennedy's letter from Rome | Fr Christopher Ganzon's greeting from the Asia District | Fr Christian Abongbung's greeting from Africa | Fr Lionel Mechavez' letter from Davao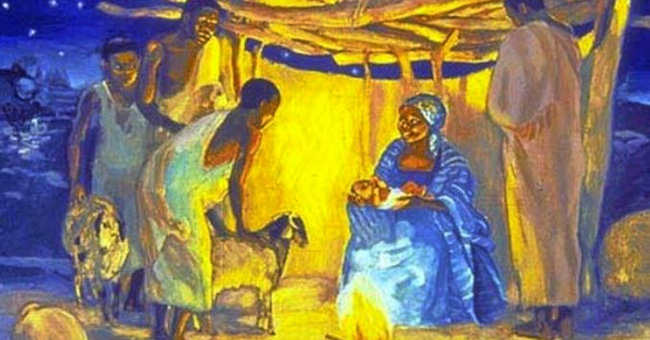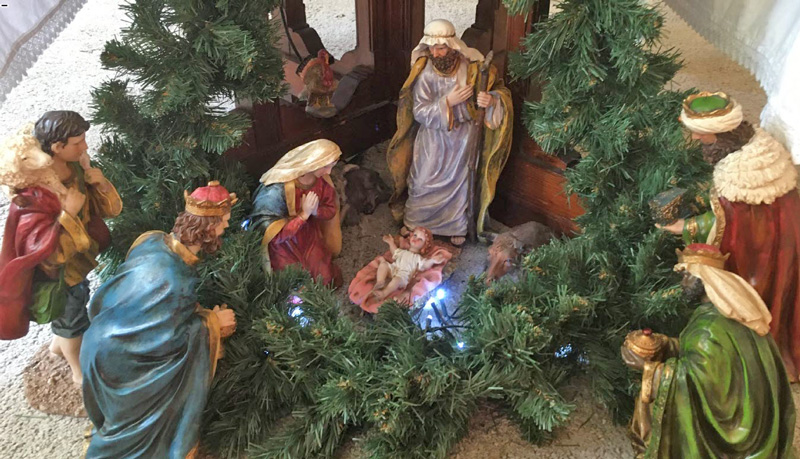 Above: Different cultures are reflected in the crib scenes sent from various parts of the Marist world. Below: Community of Casa di Maria, Rome: standing, from left: Fr Xavier Sariman, students Hayden Powick (NZ), Carlos Olivares (Mexico), Jaime Martinez (Mexico), Clinton Kube (Cameroon), YvesTuma (Cameroon), Fr Larry Duffy, Charles Mbara Apeke (Cameroon); seated: Cameron Mota (Bougainville), Iosefo Amuri (Fiji), Christian Ngoura (Cameroon), Fr Tony Kennedy. | Fr Lionel Mechavez (second from left) with Balay Pasilungan staff, Davao, Philippines.

---
Christmas begins
With the safety of outdoors, recorded music and a COVID-safe marshal in attendance, parishioners of Holy Name of Mary parish, Hunters Hill, began their celebrations with two Vigil Masses in the grounds of Villa Maria monastery on Christmas Eve.
Frs Paul Pearce and Paul Mahony presided at the twilight Eucharists with family groups socially distant from each other on Villa Maria's lawns. The 7 pm Mass was live-streamed through the parish's YouTube space. [Dec 24]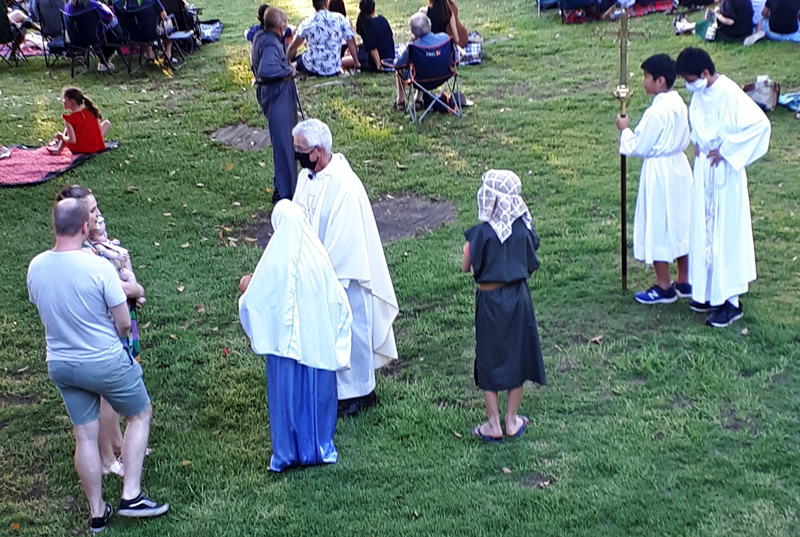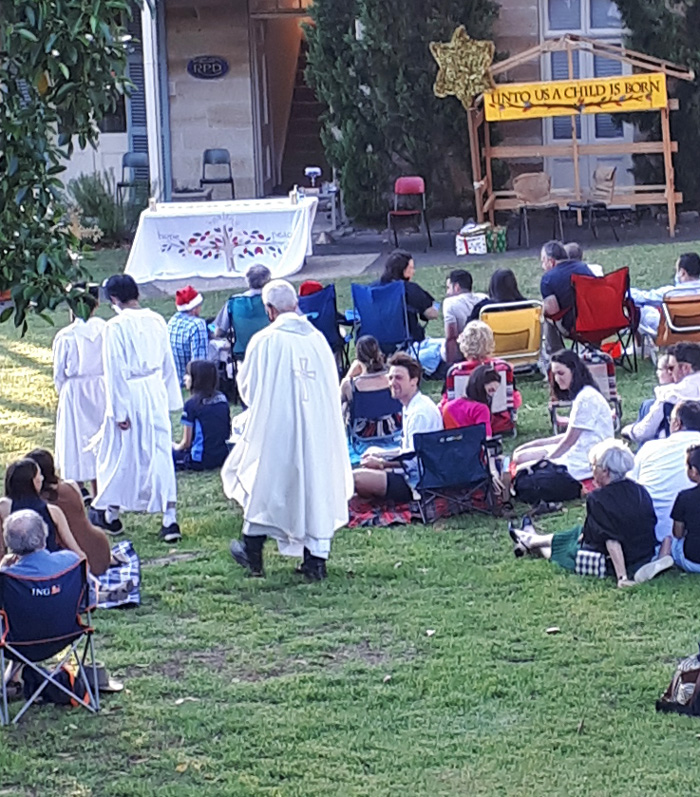 ---
Oceania news bulletin
Latest news from the Oceania Marist Province includes reports on Cyclone Yasa in Fiji and the end of an era at Chanel College, Samoa. Click here or go to Members' Page. [Dec 24]
---
Final SM Bulletin for 2020
The last Bulletin from Rome for this year records the ordination of Fr Guy Roger in Cameroon and details of the International Novitiate team for 2021. Click here or go to Members' Page. [Dec 19]
---
Who are the good angels?
For Andrew Dumas' Christmas reflection for Marist Laity Australia: click here. Go to MLA website: click here. [Dec 18]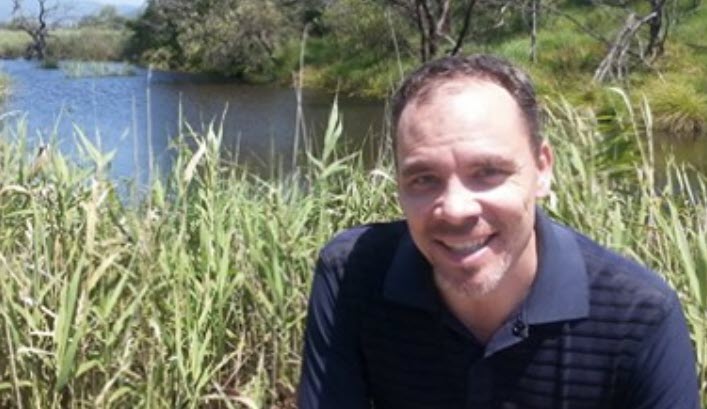 ---
Provincial Circular
The latest issue of the Australian Province Provincial Circular is on the Members' Page. [Dec 17]

---
Forum Novum
A double volume of the Marist journal, Forum Novum, is the latest addition to the Marist International website.
The page's introduction explains the title: 'In 1816 twelve young men promised to begin the Society of Mary at the Marian shrine above the city of Lyon, Fourvière. The Latin name was Forum vetus. From there the journal takes its name. Forum Novum is the place to present something of the life, history, and spirituality of this congregation today.'
In recent years the journal, edited by Fr Alois Greiler SM, has been uploaded to the Marist website and contains the fruits of a wealth of contemporary scholarship on Marist history and themes. Go to Forum Novum: click here [Dec 16[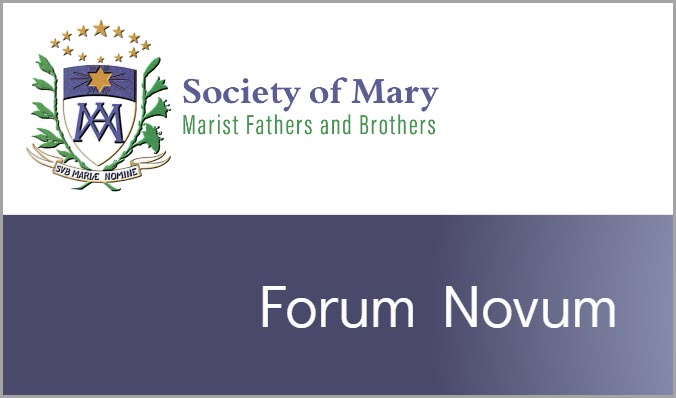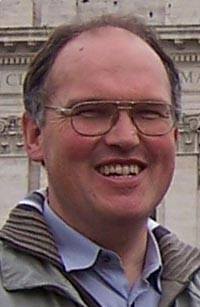 ---
Euroinfo
In addition to Marist news in Europe, the latest Euroinfo advertises the Australian-produced Colin calendar for 2021. Click here or go to Members' Page. [Dec 15]
---
SM Bulletin
This week's bulletin from Rome features the Auckland ordination of Fr Ben D'Souza SM and the new website of Tutu's Rural Training Centre. It also advertises content tables of Forum Novum (appearing on this website soon). For SM Bulletin: click here or go to Members' Page. [Dec 12]
---
CRA Bulletin
The last bulletin from Catholic Religious Australia for 2020 is now available: click here [Dec 11]
---
Ranong graduations
Congratulations to the graduates of the Australian Catholic University Teacher Training program conducted at the Marist mission for immigrant youth at Ranong, Thailand. The mission continues with MMC support since its foundation in 2006.
Fr Frank Bird SM reports: 'It was a wonderful day to celebrate another dream turned into a reality: Teacher Training on the Thai Burma Border. We're on track with the second group of young teachers who will finish next June. Also looking forward to the graduation of twelve ACU Diploma students in May.'
The recent graduations are featured in this week's JPIC Blog. Go to JPIC page. [Dec 07]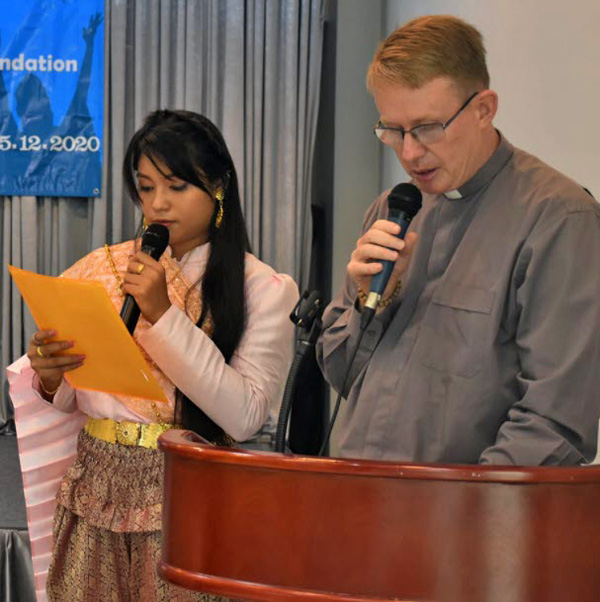 Scenes from the Dec 05 ceremony at Ranong, including Marists, Frs Larry Sabud and Frank Bird, above.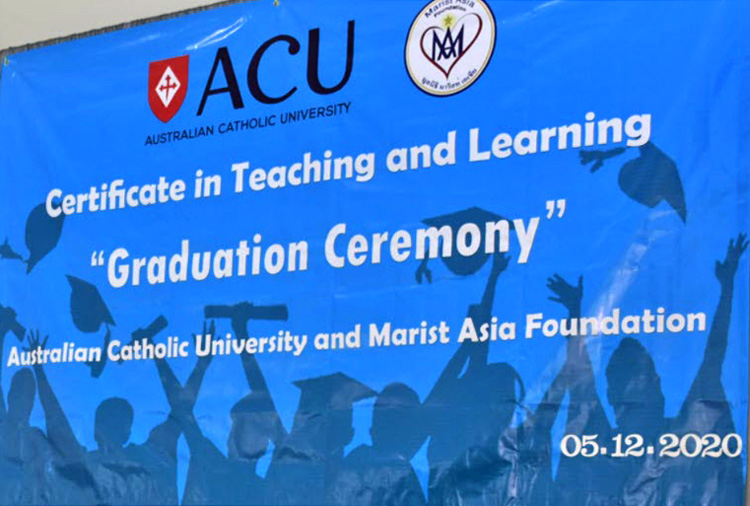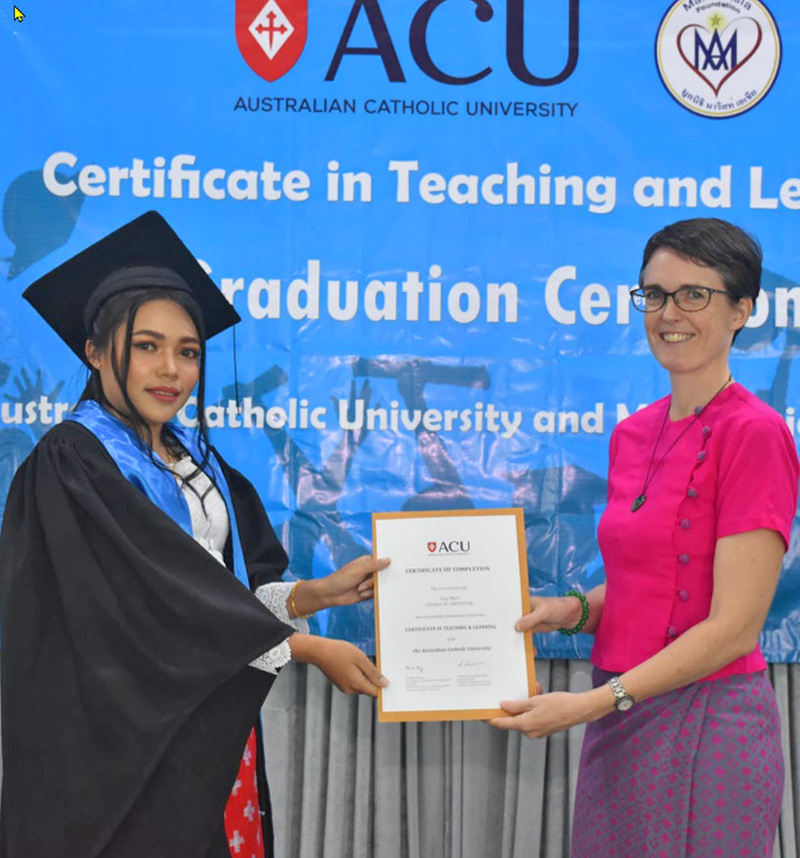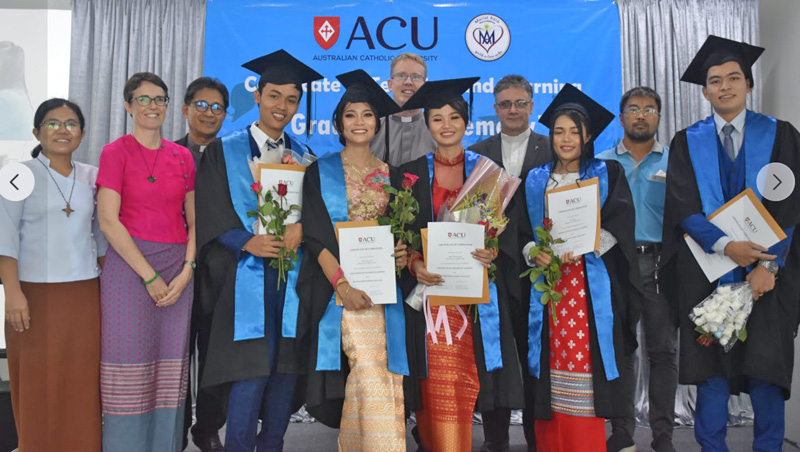 ---
Superior-General's Reflection
In his December message Fr John Larsen points to the earthiness of the crib, St Joseph the dynamic dreamer and Mary in her contemplation as inspirations for today's Marists. Click here or go to Superior-General's Page. [Dec 05]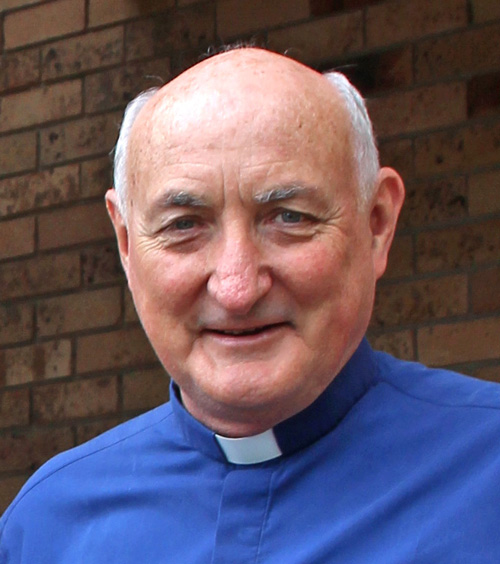 ---
MMC newsletter
The Summer issue of the Marist Mission Centre Newsletter has reports on MMC-supported projects for children in the Philippines, Thailand and on the Thai-Myanmar border. To download: click here. Go to the Members' Page or MMC website: click here. [Dec 04]