---
For previous years, go to News menu, above
---
---
SM Bulletin
This week's SM Bulletin reports on the International Novitiate team and venue for 2023, new District Superior for South America, Atlanta school visit and Laudato Si Movement leadership retreat. Click here or go to Members' Page.
This will be the last SM Bulletin until September, owing to the August summer break in Italy. [Jul 29]
---
New Marist icon
Featuring the Blessed Virgin as 'Sedes Sapientiae' (Seat of Wisdom), a new icon has been written by Melbourne iconographer, Dr Ursula Betka. The icon as commissioned for the chapel of Aquinas College, North Adelaide, at the suggestion of Br Michael Green FMS and includes figures of the four Marist Founders, Marcellin Champagnat, Jean-Claude Colin, Jeanne-Marie Chavoin and Françoise Perroton.
An article on the icon is included in a recent edition of Lavalla magazine. [Jul 29]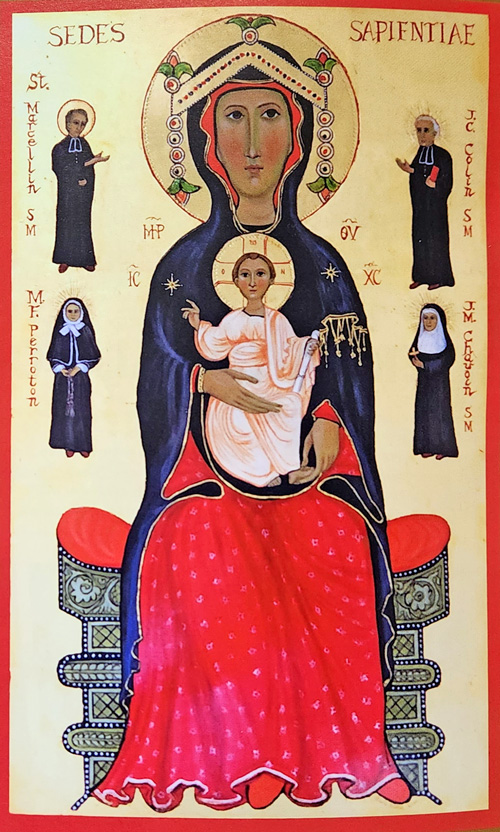 ---
Marist Sisters gather
Several significant events were marked by the Marist Sisters gathering at Hunters Hill on Jul 23. The customary celebration of the Promise of Fourvière in 1816 was the backdrop to welcoming Sr Grace Ellul home to Australia after serving as Congregational Leader for seven years and to farewell Sr Kate McPhee, (pictured below) recently elected as a General Councillor. Also honoured was Sr Fidelis McTeigue, celebrating sixty years as a Marist Sister. [Jul 25]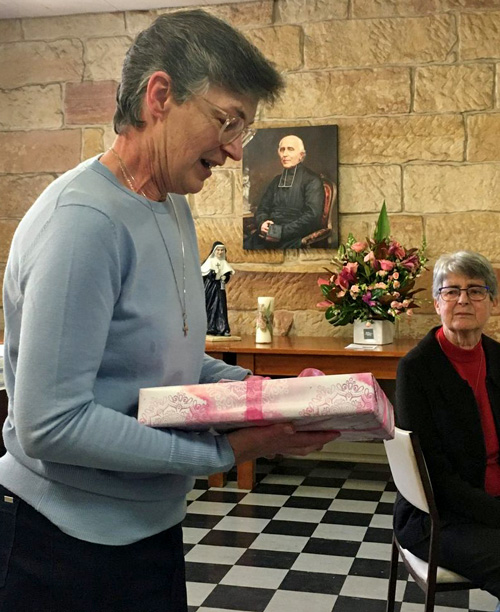 ---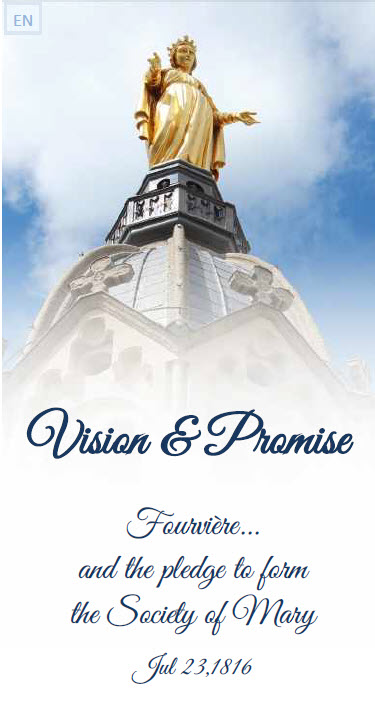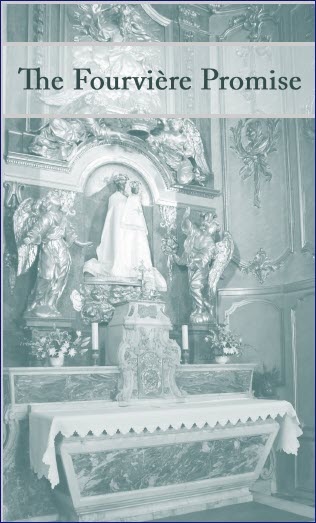 Anniversary of the Fourvière Pledge
Click here ... or here ... or here ... or here.
---
SM Bulletin
This week's SM Bulletin reports on the European provincial's situation, on Fr Gerald Arbuckle's award and on 2023 Marist Youth Gathering preparations. Click here or go to Members' Page. [Jul 22]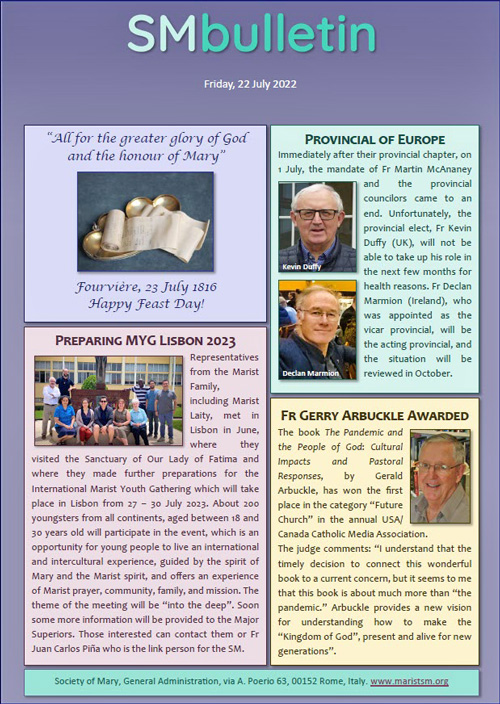 ---
Vocation webinars
The latest in the series of webinars for the Marist Year of Vocations will take place over Jul 29-31. Three workshops are planned to help improve the skills of those involved or interested in the ministry of enriching, encouraging, assisting and fostering Marist Vocations. Program details are:
Fri, Jul 29, 8.30 pm Rome / Sat Jul 30, 4.30 am E Aust:: Sr Brenda Dophin 'The Process of Accompaniment'.
Sat, Jul 30, 1.00 pm Rome / 9 pm E Aust: 'Vocational discernment'. Different Marist confreres from all around the world will talk about their experience accompanying young people: Frs Albert Kabala (Africa), Jose-Maria Da Silva (Latin America), Lauro Arcede (Philippines), Matthew Crawford (NZ) and Milikiade Rayalu (Oceania).
Sat, Jul 30, 8.30 pm Rome / Sun, Jul 31, 4.30 am E Aust: Layman Miguel Angel Espinosa 'The use of social media in Vocations ministry'.
Each 90-minute session will have simultaneous translations and space for sharing and participation as in previous seminars. To register, email to This email address is being protected from spambots. You need JavaScript enabled to view it. before Jul 25, indicating workshop/s of interest and language preference from English, Spanish or French. [Jul 19]
---
News from Brazil
From St Peter Chanel's formation community, Belo Horizonte, Brazil, comes recent news including the visit of Superior-General, Fr John Larsen. For the English edition, click here. [Jul 18]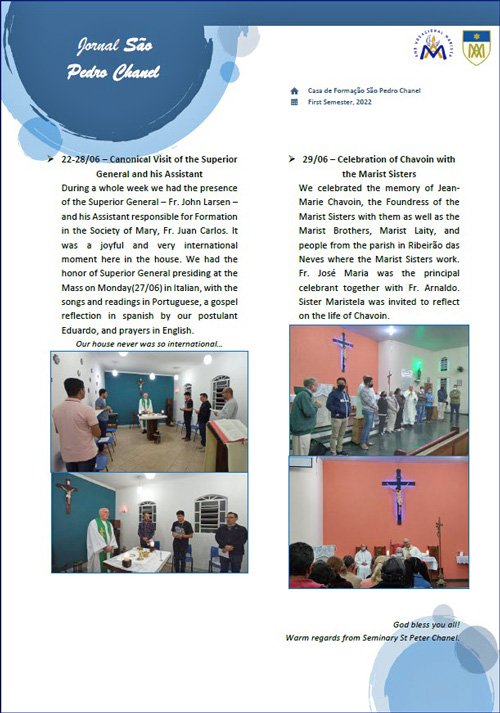 ---
Preparing for Fourvière
A range of multi-lingual resources is available for Marists preparing to celebrate their foundational anniversary of Jul 23. On this day in 1816 the pioneer Marist aspirants pledged to form the Society of Mary, a tree with many branches: the Marist Family. Resources can be found on the Colin website's Fourvière page or by clicking on individual items below.
A recent addition to the Fourvière resources is Fr Alois Greiler's 'A background to the Fourvière Pledge' with selected bibliography: click here

The pledge itself is in twenty-six languages: click here. [Jul 16]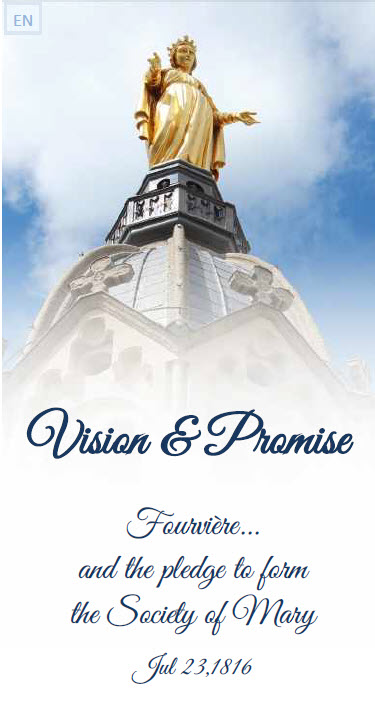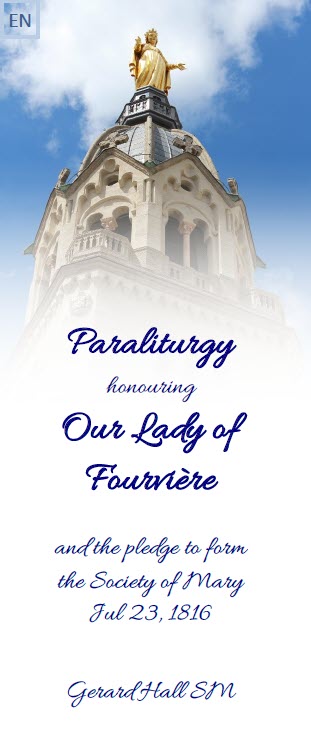 ---
SM Bulletin
This week's SM Bulletin reports on Fr Justin's Taylor's Auckland talk on Jean-Claude Colin and on the South American Chapter and Visitation by Frs John Larsen and Juan-Carlos Piña. Click here or go to Members' Page. [Jul 15]
---
SMs in Melbourne
Three Marists from different provinces are pictured below on the occasion of the Catholic Biblical and Theological Conference at Australian Catholic University's Melbourne campus. From left: Frs Gerard Hall (Australia), Mikaele Tuimavave (Oceania) and Kevin Waldie (NZ). Fr Mika has recently arrived from Samoa for post-graduate studies at ACU, residing with the Marist Brothers. [Jul 15]
---
First prize
Marist anthropologist and author, Fr Gerald Arbuckle SM, has been awarded first place in the 'Future Church' category of awards of the Catholic Media Association of USA. Fr Gerry's book. The Pandemic and the People of God: Cultural Impacts and Pastoral Responses, has been described by the judge as 'providing a new vision for understanding how to make the "Kingdom of God", present and alive for new generations. It is a book brimming with hope and the confidence of the creative spirits of the human person who desires to live in solidarity, compassion, and a commitment to justice.'
Congratulations, Fr Gerry! [Jul 15]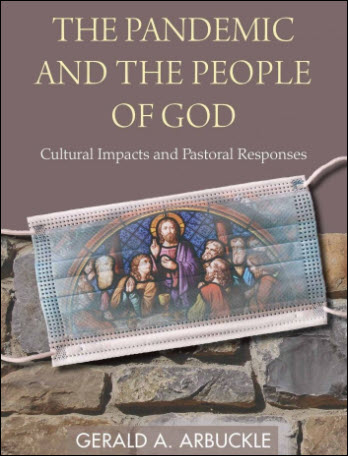 ---
Euroinfo
From Paris, the July issue of Euroinfo reports on the European provincial chapter, farewell party at the provincial house, jubilees and the Champagnat feast day. Click here or go to Members' Page. [Jul 13]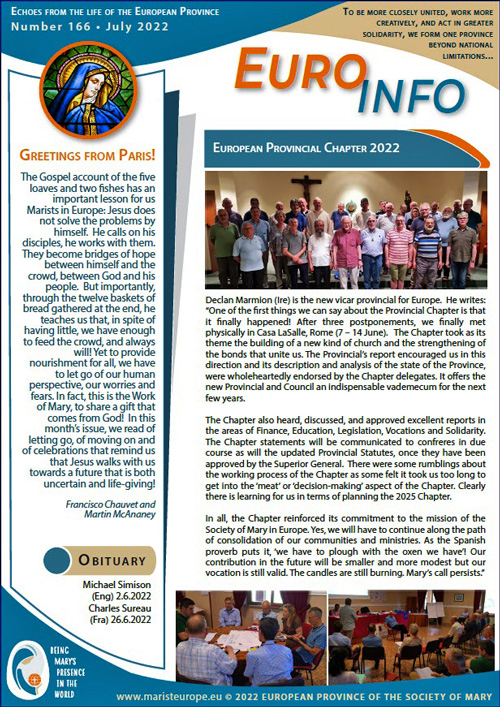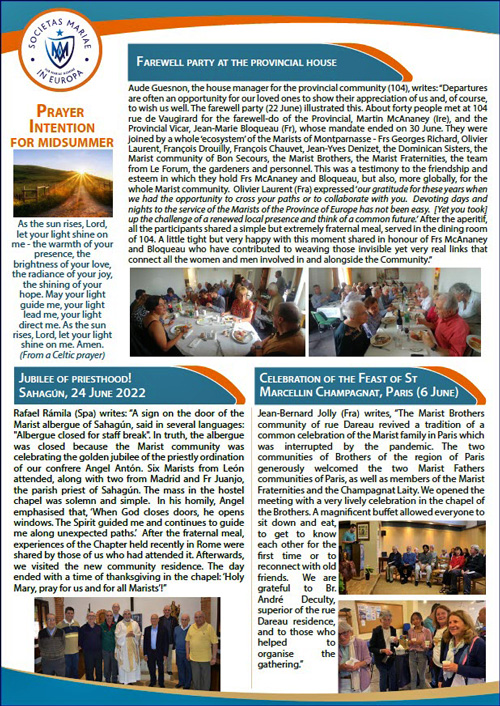 ---
St Peter Chanel
Oceania's first martyr, Peter Chanel SM, was born on this day in 1803 in the hamlet of La Potière, France, and baptised at nearby Montrevel on Jul 16.
From 'A Marist reflects on St Peter Chanel': 'The Chanel family lived in the little country hamlet of La Potière in France, not all that far from the mountains near Switzerland. Claude Chanel was a farmer. He had some sheep and a few cows and grew some crops as well. His wife, Marie-Anne, was not a well-educated woman. She couldn't read or write, but she had a very strong Catholic faith. They had three children before a fourth one died, so when she found herself pregnant a fifth time Madame Chanel dedicated the child in her womb to the Blessed Virgin Mary. A healthy baby boy was born, and they called him Peter.
'Years later, when Peter heard about what his mother had done, he added the name, Mary, and became Peter Mary Chanel. Later still, he chose the confirmation name of a young Jesuit saint whom he admired very much: St Aloysius Gonzaga. And so we have Peter Aloysius Mary Chanel.' [Jul 12]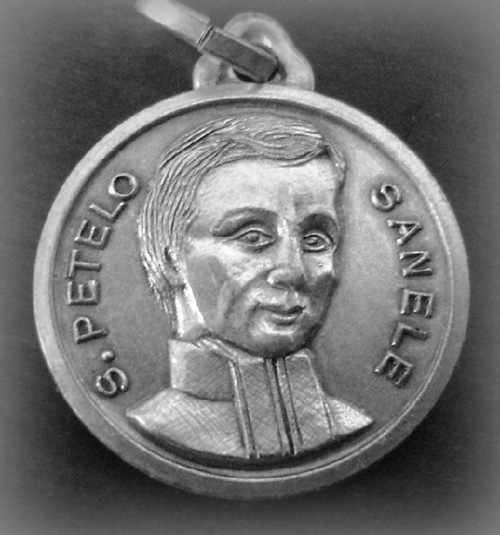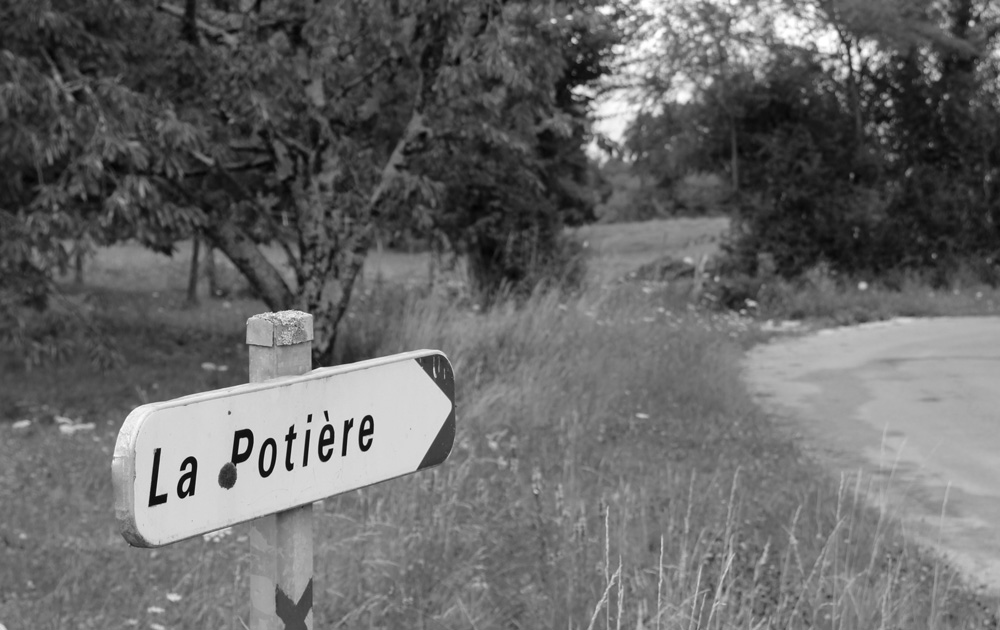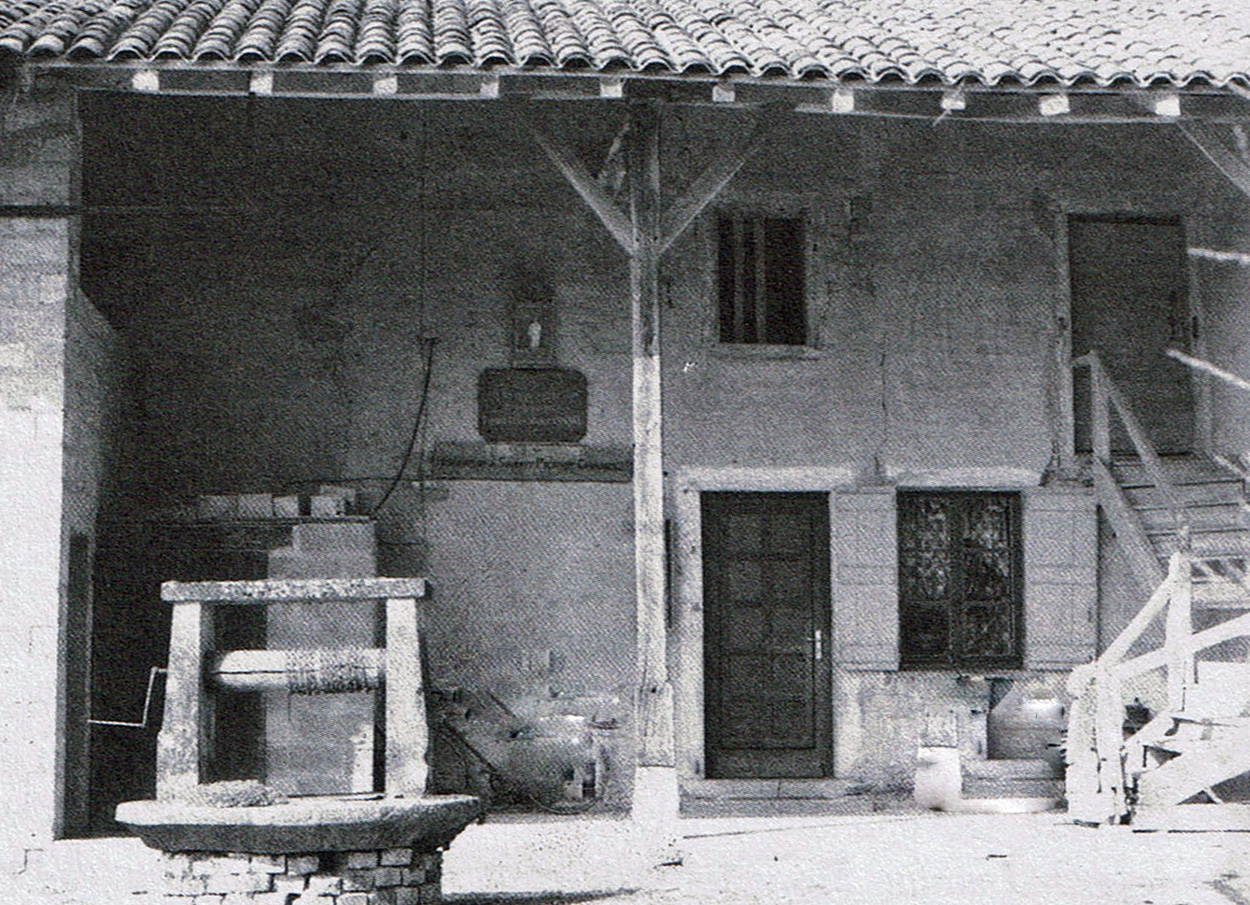 Above: The hamlet of La Potière, where Peter Chanel was born. Below: The church and font of Montrevel, place of his baptism.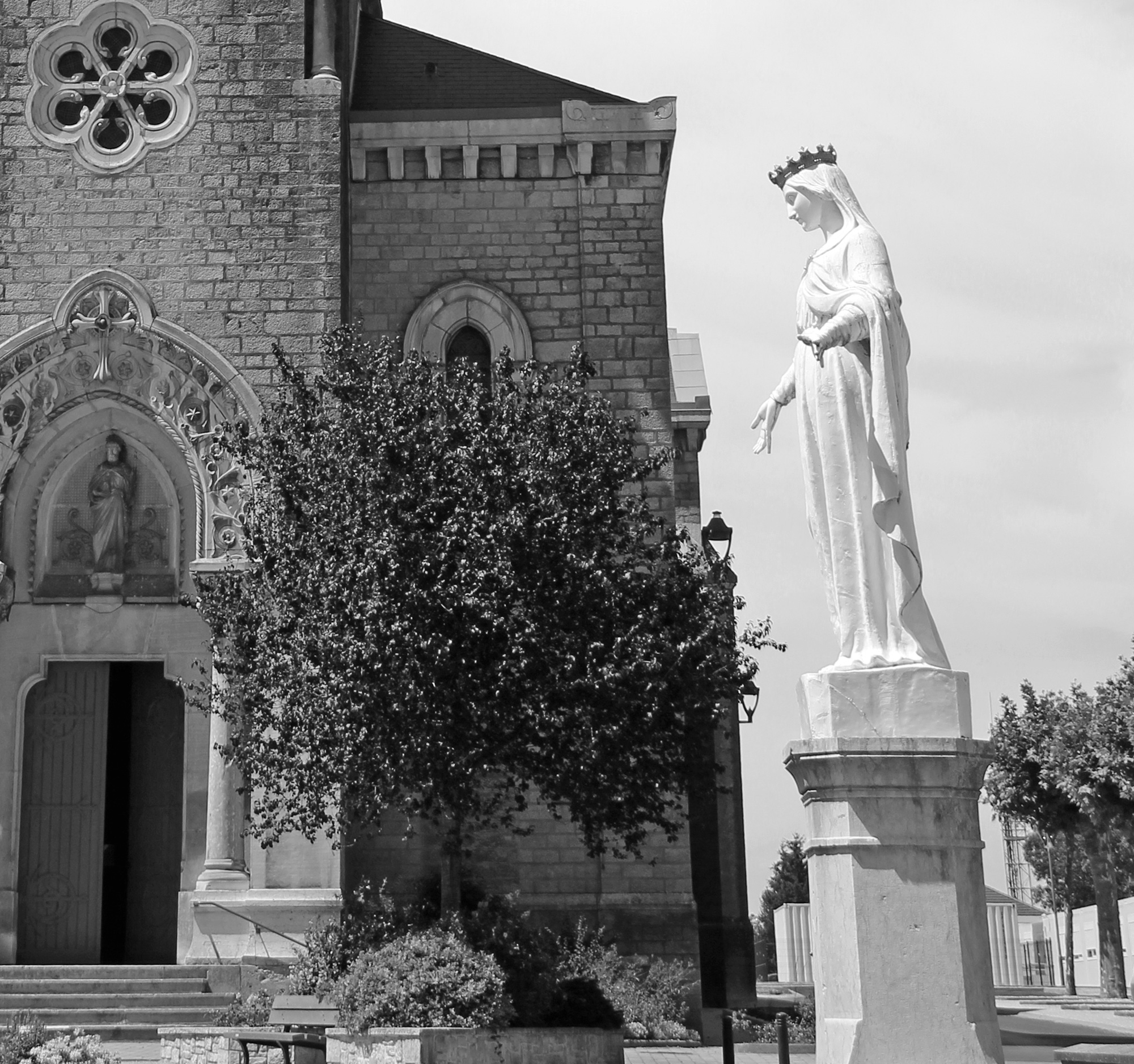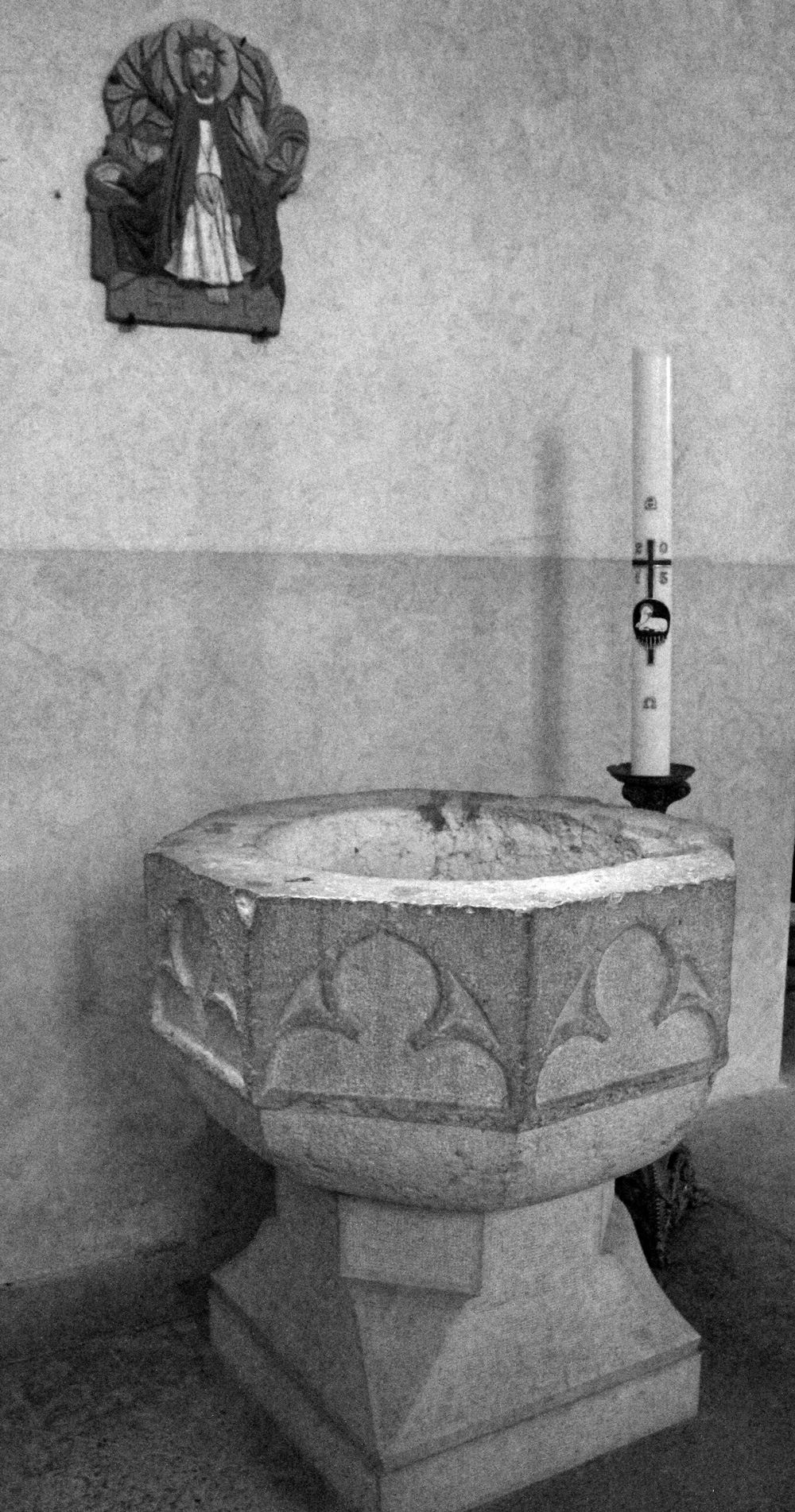 ---
Familia Marista
From Spain Fr Rafael Ramilla SM sends Familia Marista, twelve pages of news (English and Spanish) including a report on Fr Stephen Wang's recent presentation on vocation promotion. To download, click here. [Jul 09].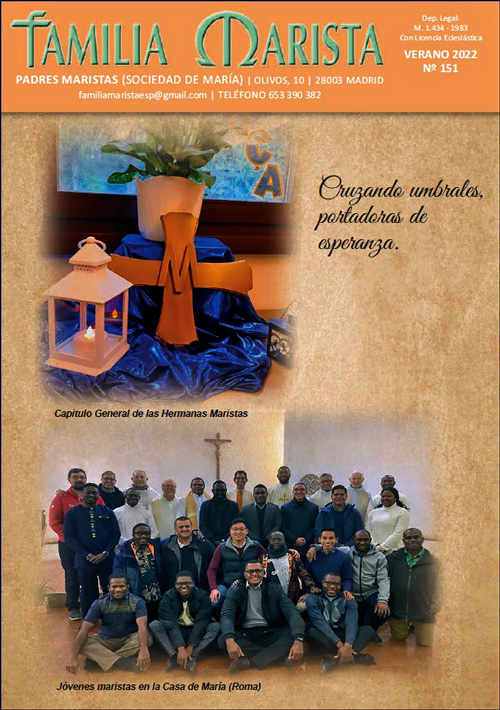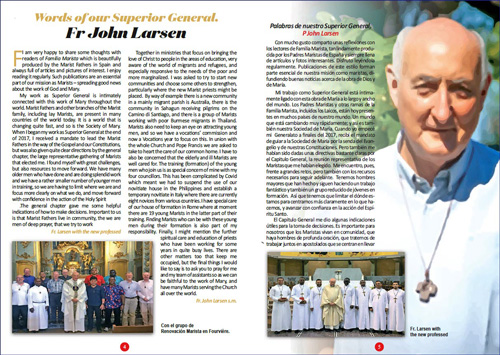 ---
The Source
For the latest issue of La Sorgente (The Source) from the Marist International Theologate, Rome, click here. [Jul 09]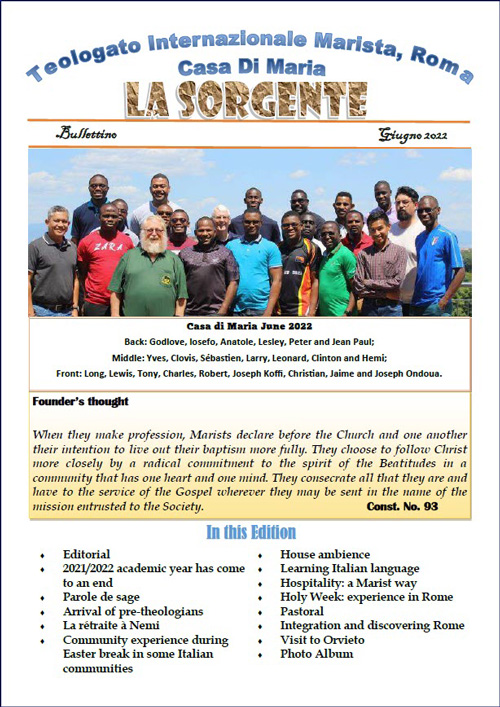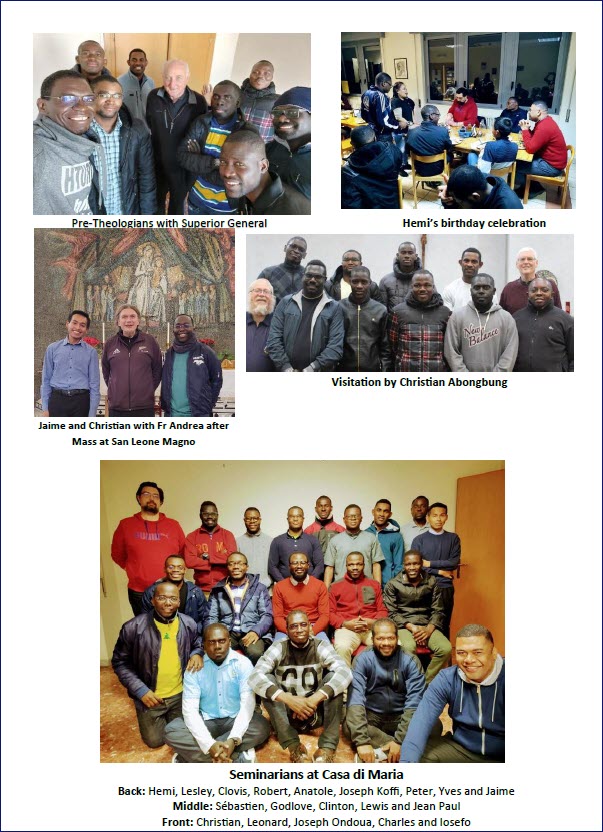 ---
SM Bulletin
This week's SM Bulletin reports on the forthcoming series of vocation promotion Zooms, the retreat in USA and Europe's Provincial Chapter. Click here or go to the Members' Page. [Jul 08]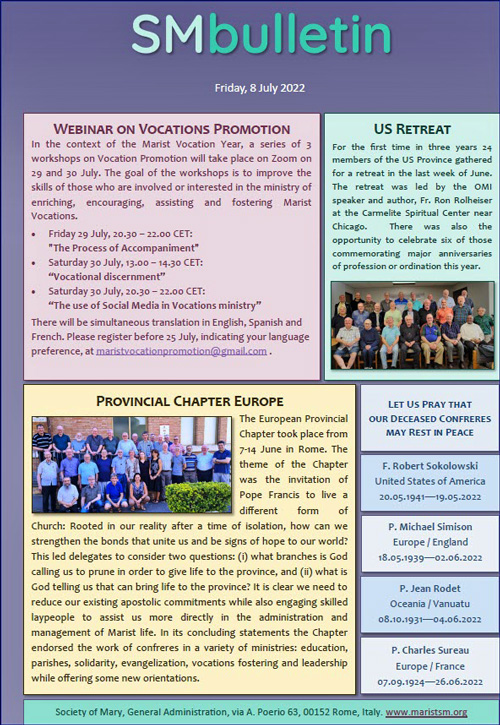 ---
South American Chapter
From Belo Horizonte, Brazil, Fr Patrick O'Neil reports on the District Chapter being held this week: 'Last Monday, JUl 04, the Maristas began the South American District Chapter with members from Peru and Brazil. Also present are Fr John Larsen, Superior General, his Assistant, Fr Juan Carlos Piña, a Marist Sister and two Marist Laity. The meeting is being held in Igarapé, near Belo Horizonte. Please pray that our reflections bear fruit.' [Jul 08]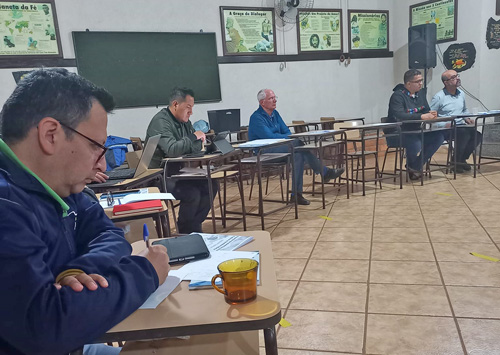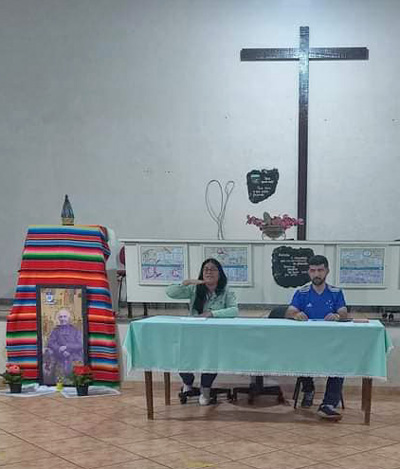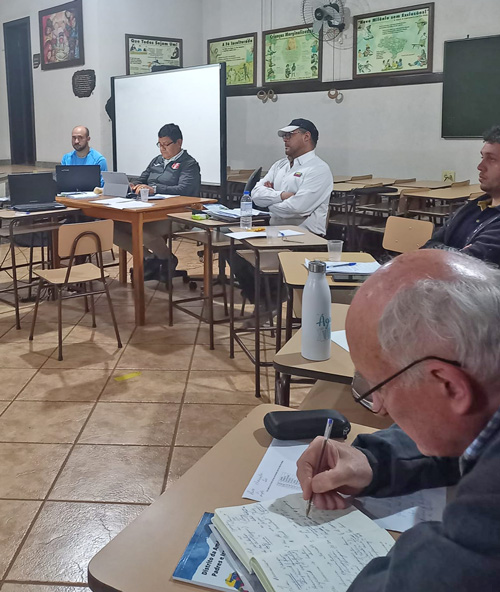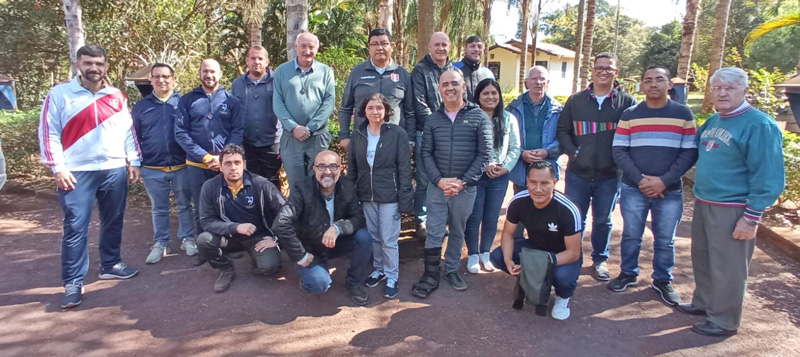 ---
Provincial Circular
For the latest Provincial Circular, go the Members' Page. [Jul 07]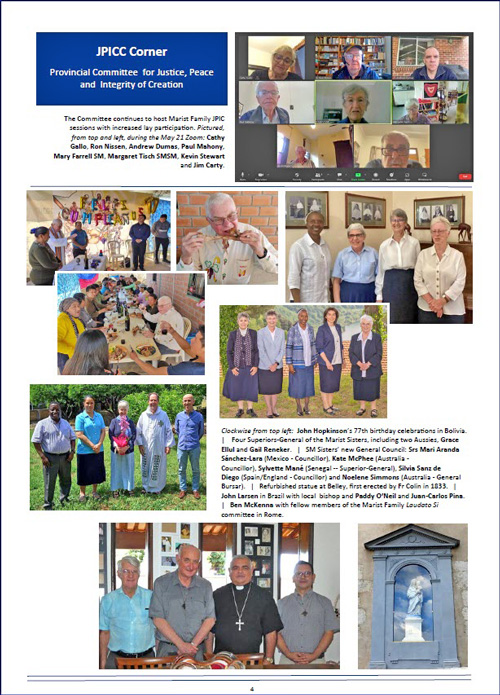 ---
Arrivals
Pictured below at Sydney airport on Jul 01 Frs Tony Kennedy and Paul Mahony returned after the marathon flight from Rome to Perth. As the Marist International Theologate begins its summer break, Fr Tony will spend family time in Gunnedah, while Fr Paul resumes his care of the Montbel community, Hunters Hill, following pilgrimage and pastoral ministry in Italy during June.
Fr Pius Jones, who has been filling in at Montbel, returns to Brisbane on Jul 04. Welcome home, Frs Tony and Paul and thank you, Pr Pius ! [Jul 03].
---
What gives us life?
In his monthly reflection Superior-General, Fr John Larsen SM, writing from Brazil and the Marist Mission of South America, discusses pro-life issues and life-giving options for Marists. He is pictured below with the local bishop and Frs Patrick O'Neil and Juan-Carlos Pina (Assistant-General).
For his reflection click here or go to Superior-General's Page. [Jul 02]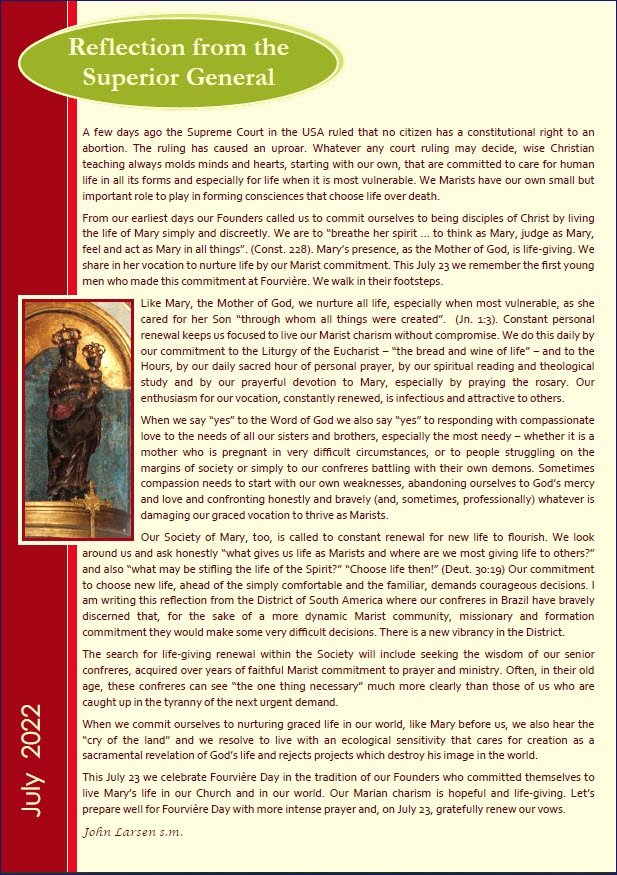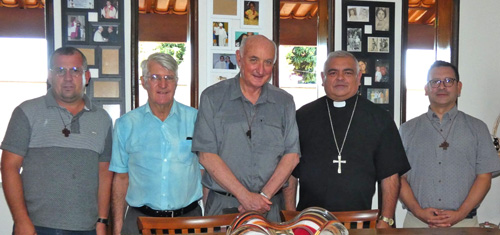 ---
Farewell for Fr Pio
Celebrations at Corinda, Qld, on Jun 26 marked a farewell to Fr Pio Fong SM, soon to leave Australia for New Zealand. He is pictured below with members of the Fijian community and many of the married couples and other laity amongst whom he has ministered in recent years. Fr Pio leaves Brisbane on Jul 10 to take up pastoral ministry in the diocese of Auckland. We wish you well, Fr Pio! [Jul 02].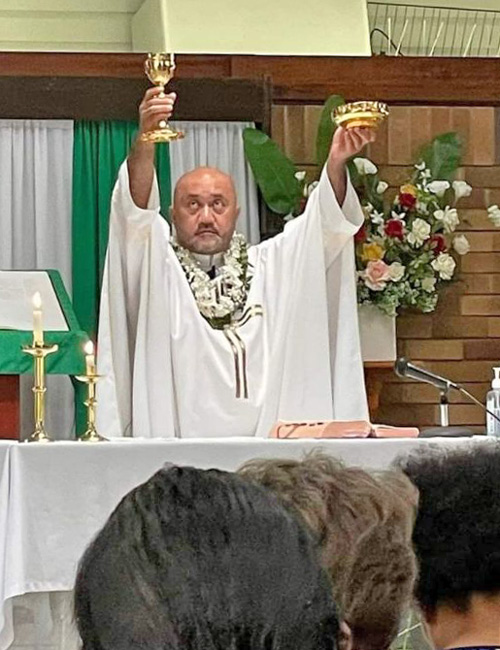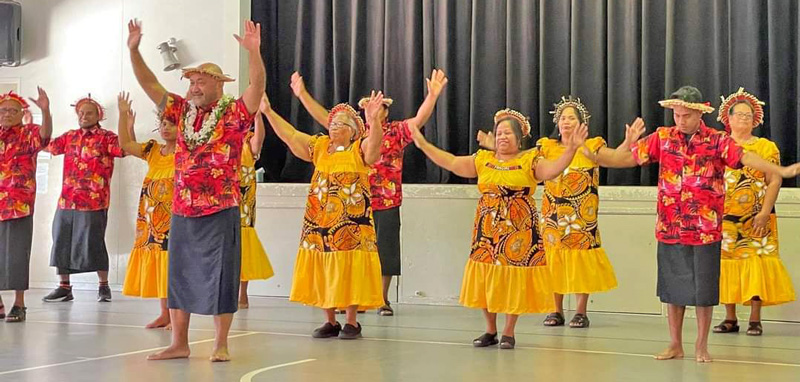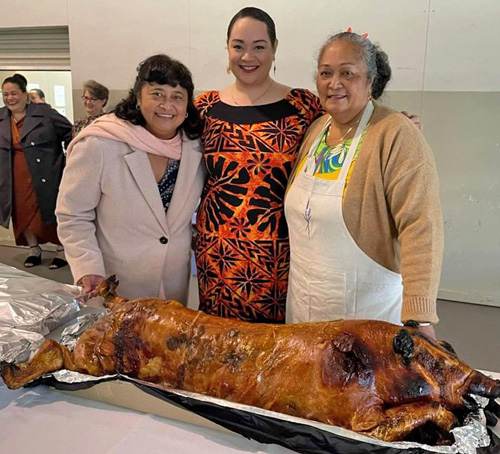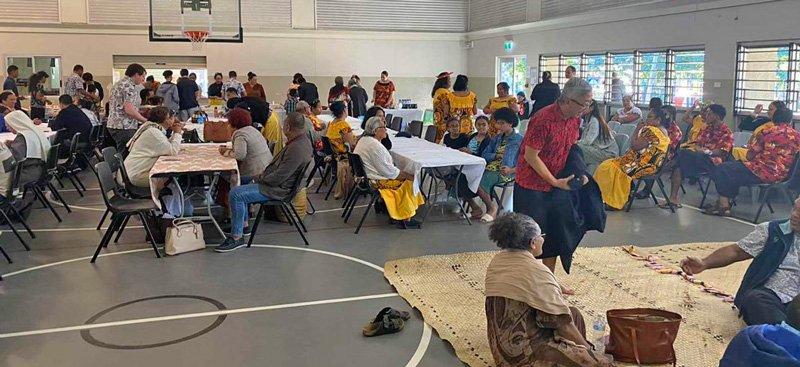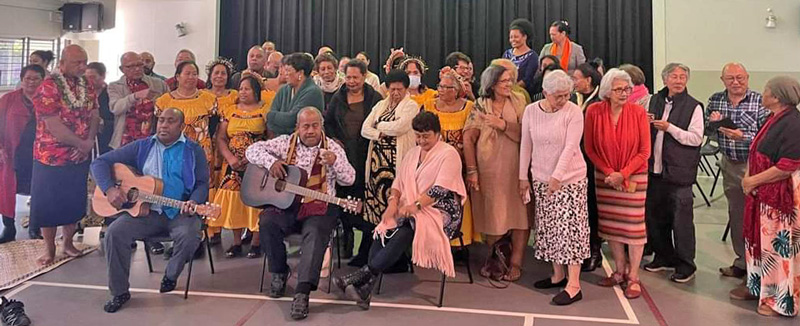 ---
Fr Hoppy's 77th
From Tarija, Bolivia, Brisbane-born Marist missionary, Fr John Hopkinson, writes on the Jun 25 occasion of his 77th birthday about its biblical significance as well as reflecting on his missionary years in South America. He is pictured below during recent celebrations. For Fr Hoppy;s circular letter, click here. [Jul 01]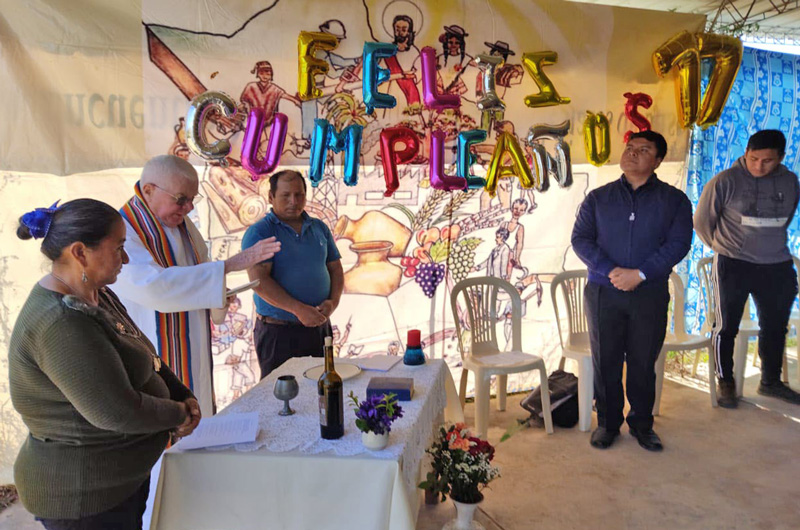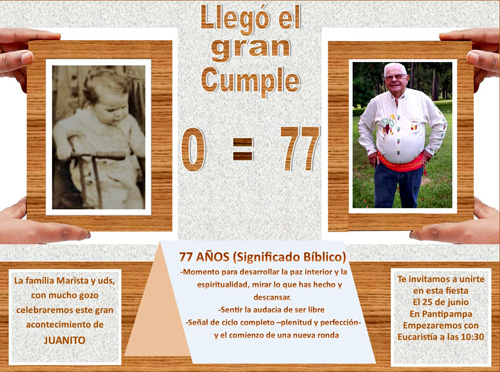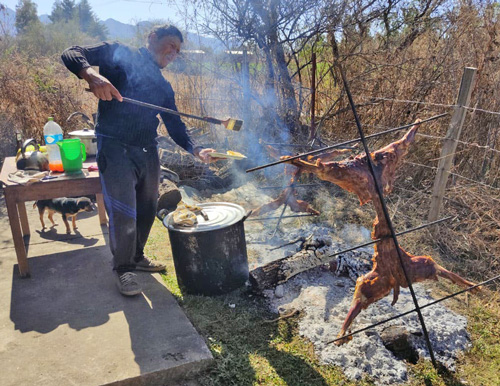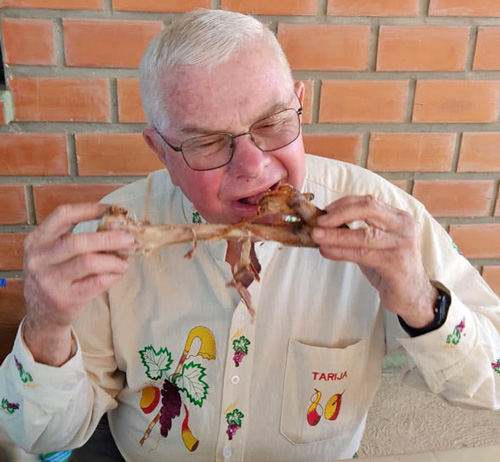 ---
---
---