---
Click here for News 2008 to 2017 | Click here for News 2018 then go to News tab above
---
---
Newsletters (text folllowing) [Jun 29]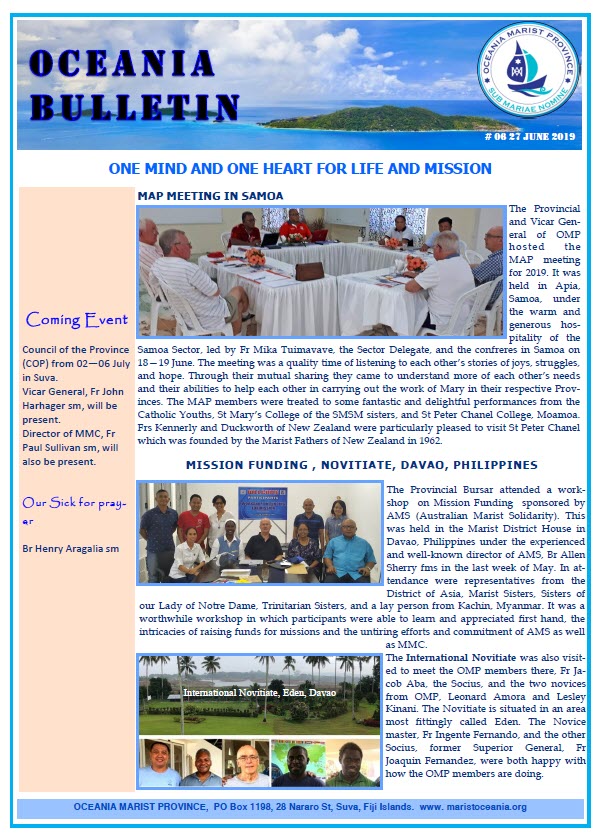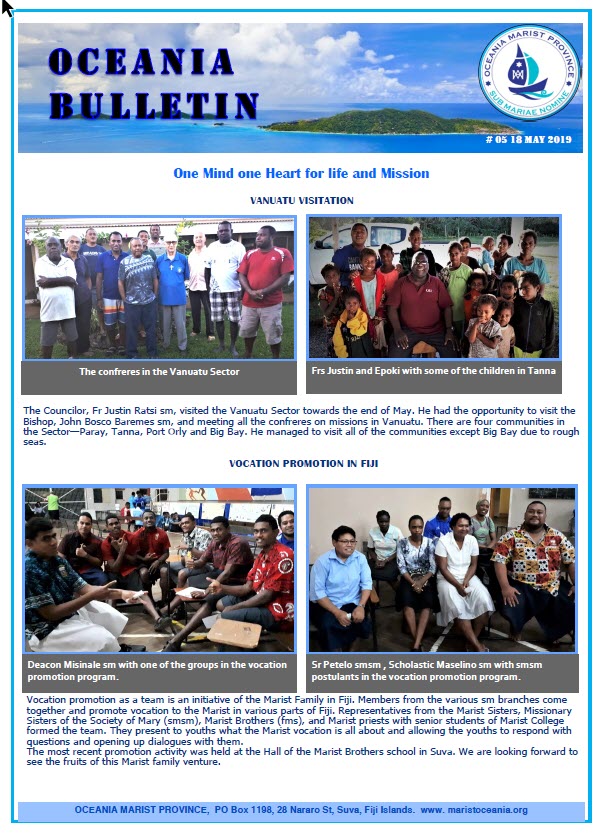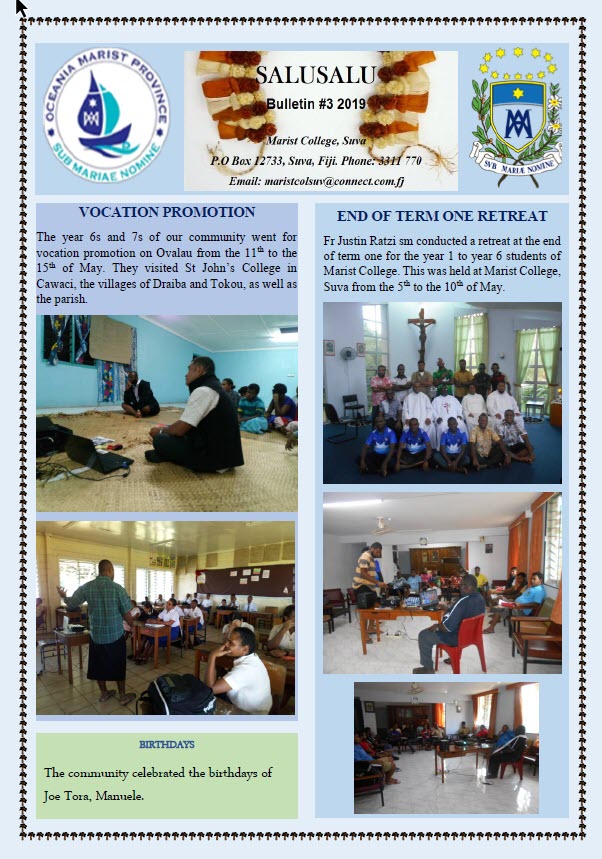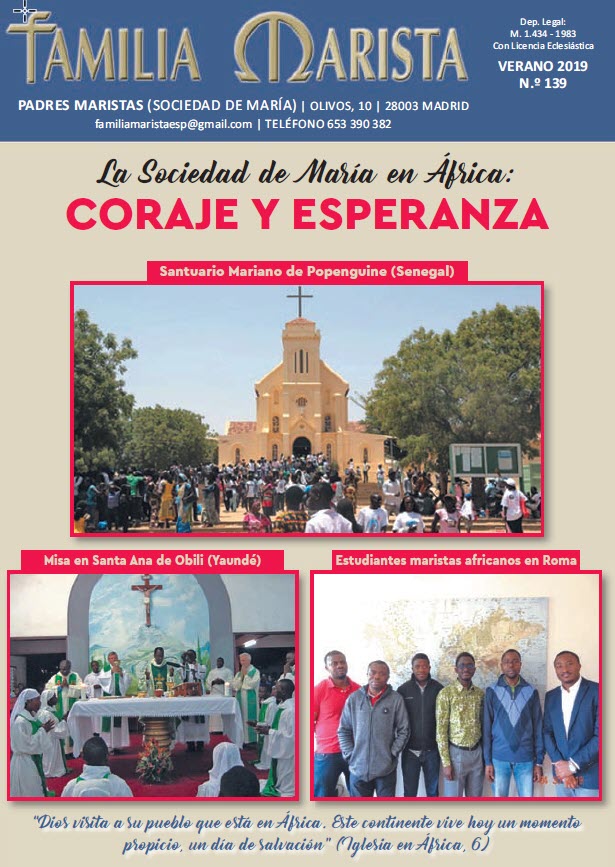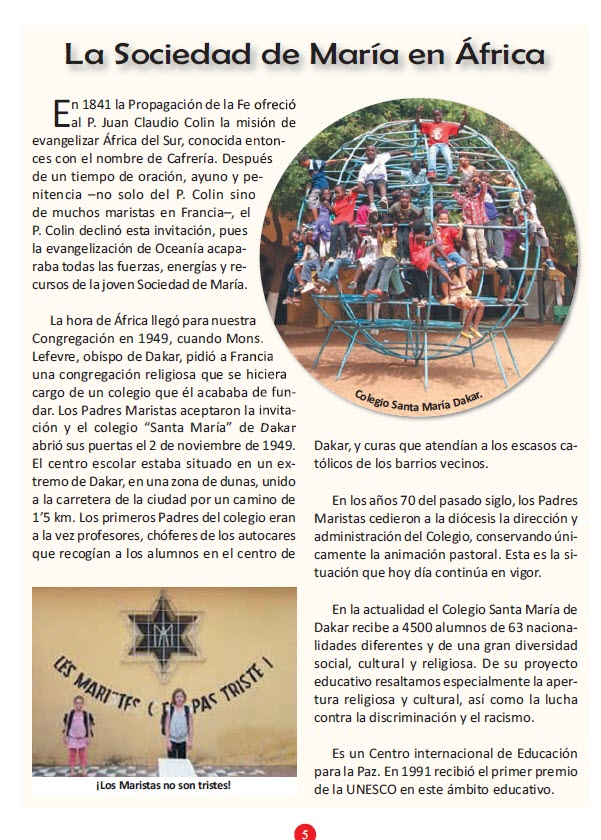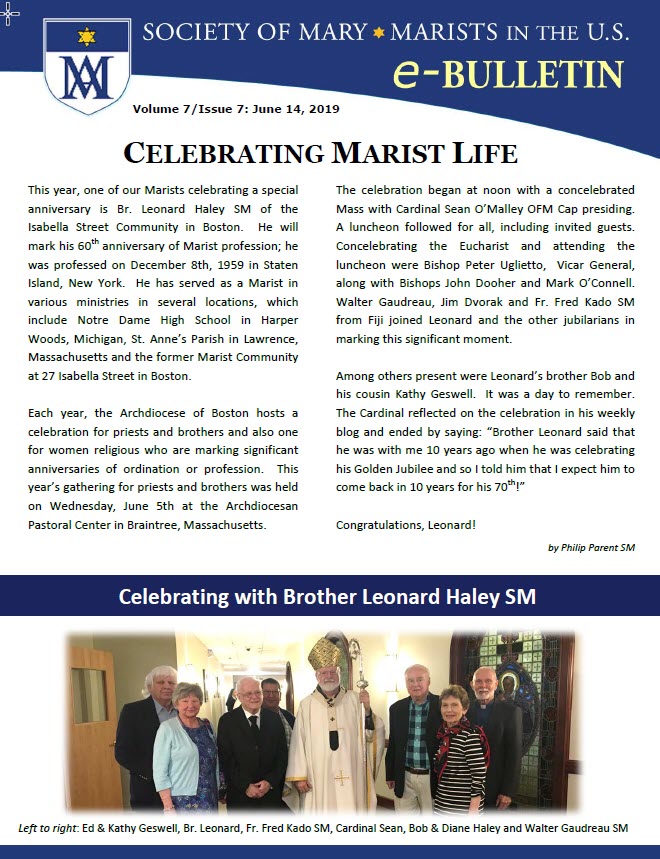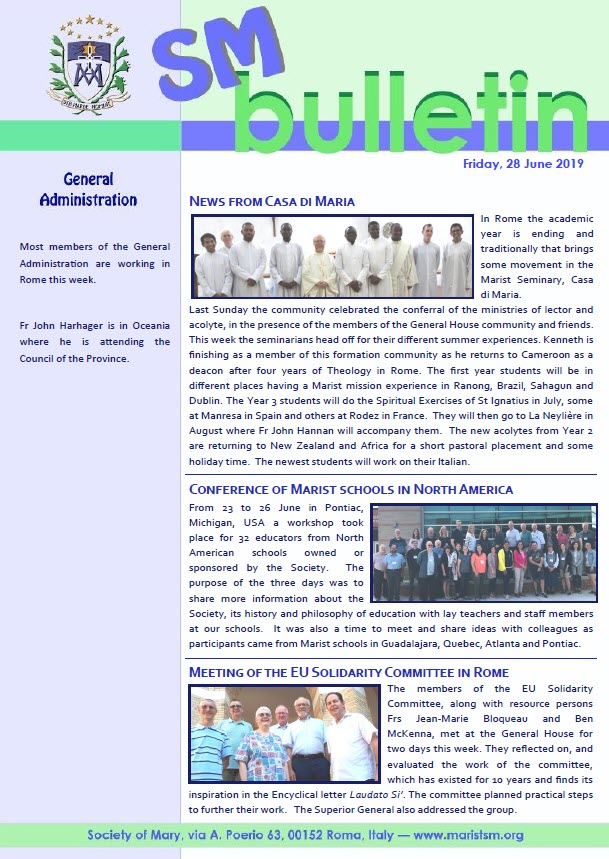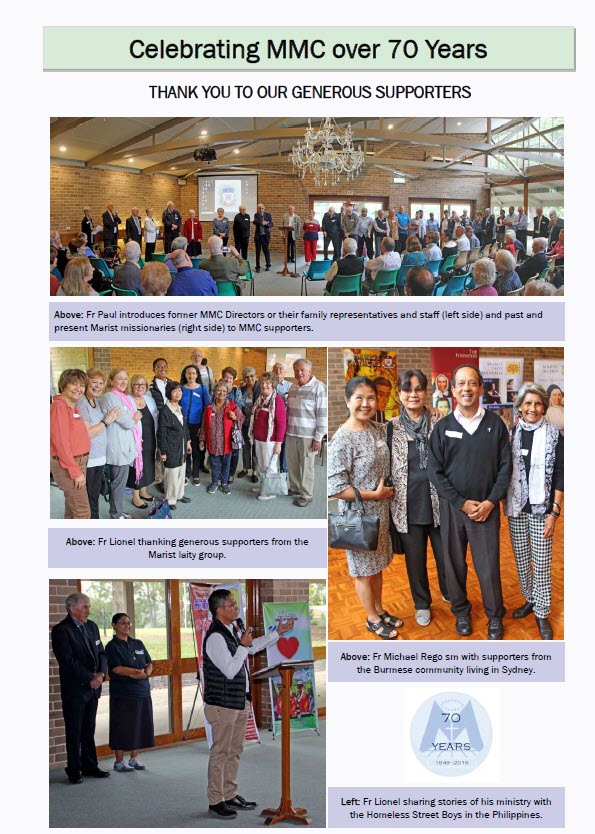 Latest Provincial Circular
Available at Members Page [Jun 28]

---
Fr Chris in Sydney
Returning from the recent Marist Asia-Pacific meeting in Samoa, Fr Christopher Ganzon sent several days in Sydney, catching up with confreres.
As leader of the Marist Mission District of Asia, Fr Chris represents Marists working in Davao and Digos (Philippines) and Ranong (Thailand). [Jun 27]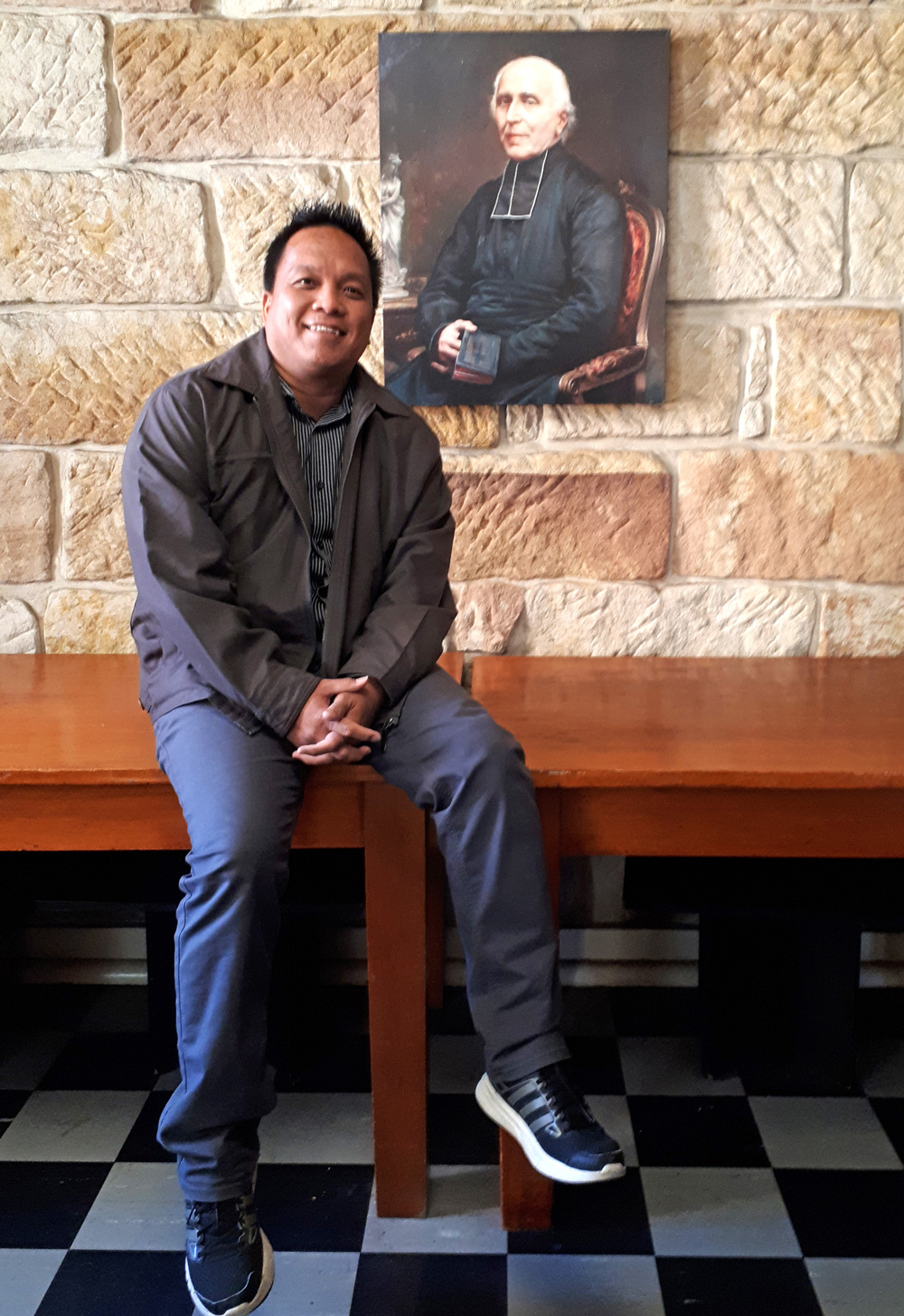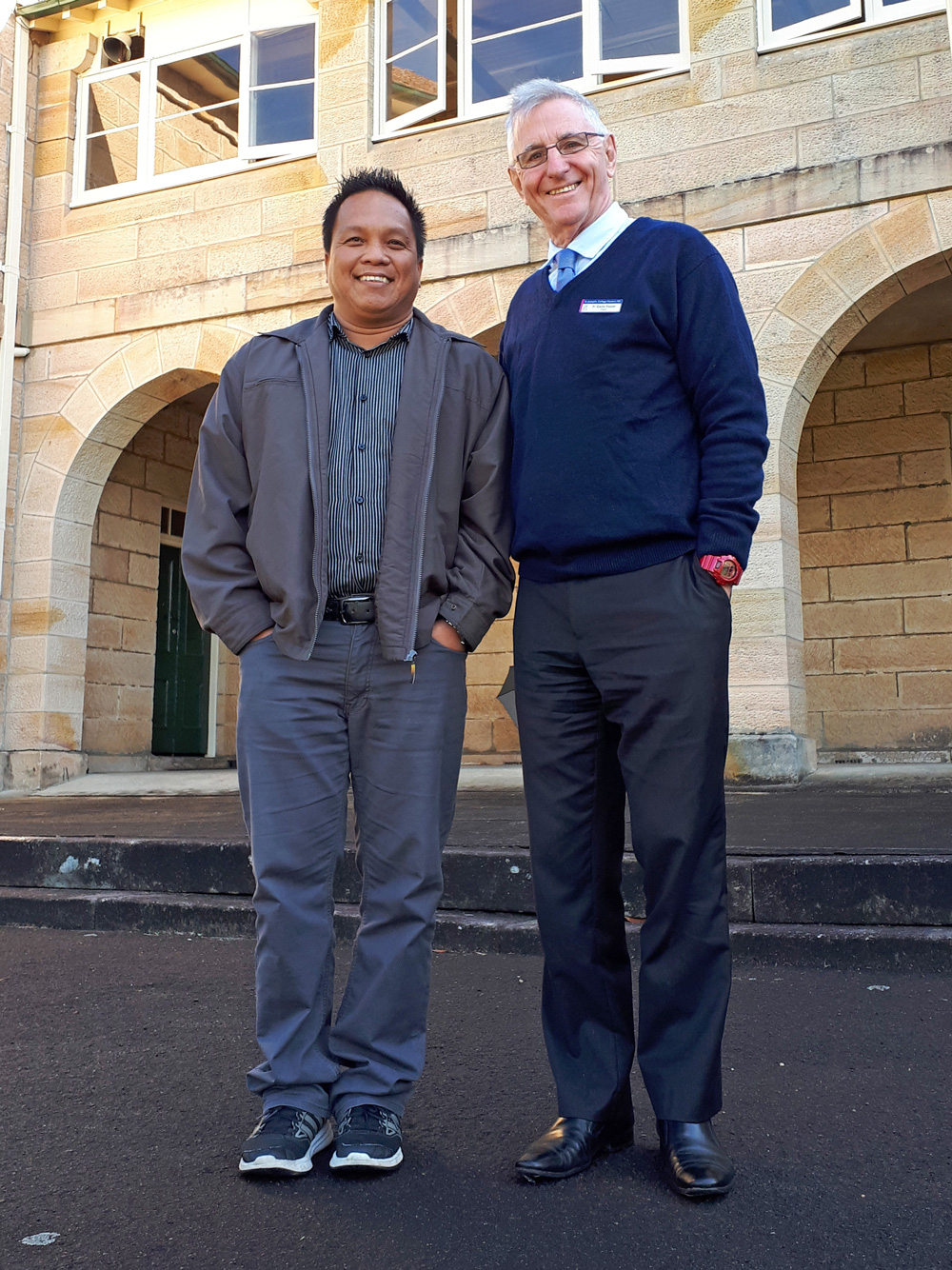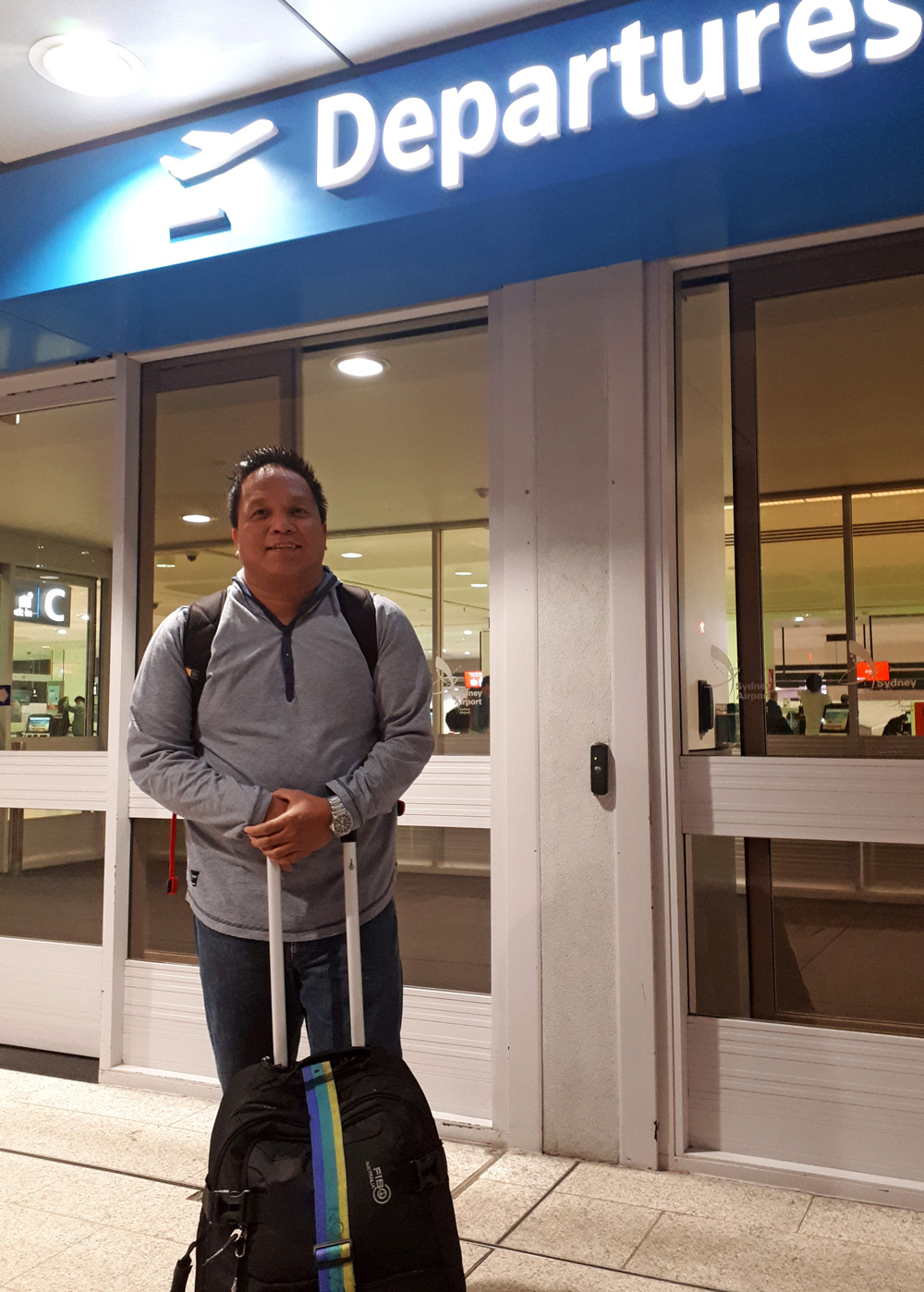 Above: Fr Chris at Villa Maria monastery, Hunters Hill, where he stayed as a participant of the 'Spirituality and Lifestyle' program in 2012 | ... with Fr Gavin Foster with whom he worked in the Philippines | ... time to leave, from Sydney airport
---
MAP in Samoa
The annual meeting of Marist-Asia Pacific leaders is being held in Apia, Samoa, this week.
The provincials of Australia, New Zealand and Oceania and the Asia Mission District leader, with their vicars, were welcomed by the Apia Marist and college communities before commencing work sessions to review and plan for collaboration in the Asia-Pacific region. [Jun 19]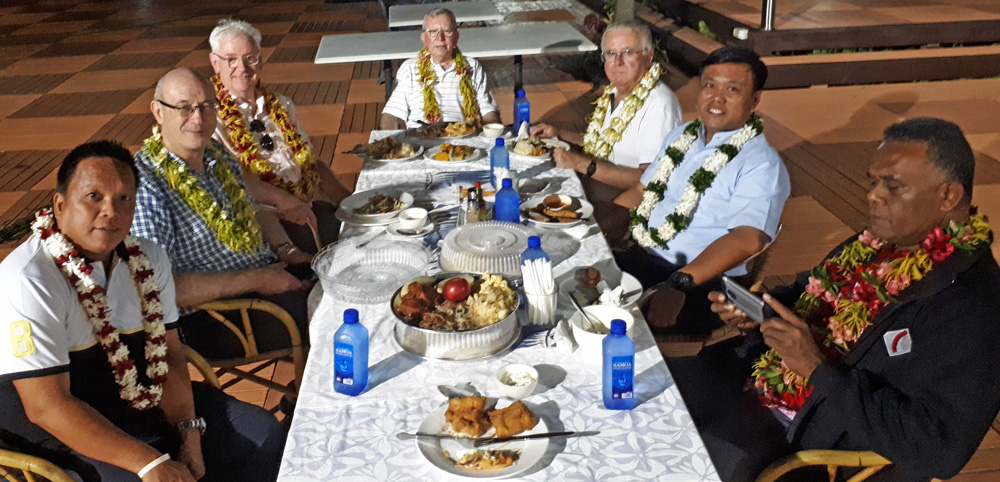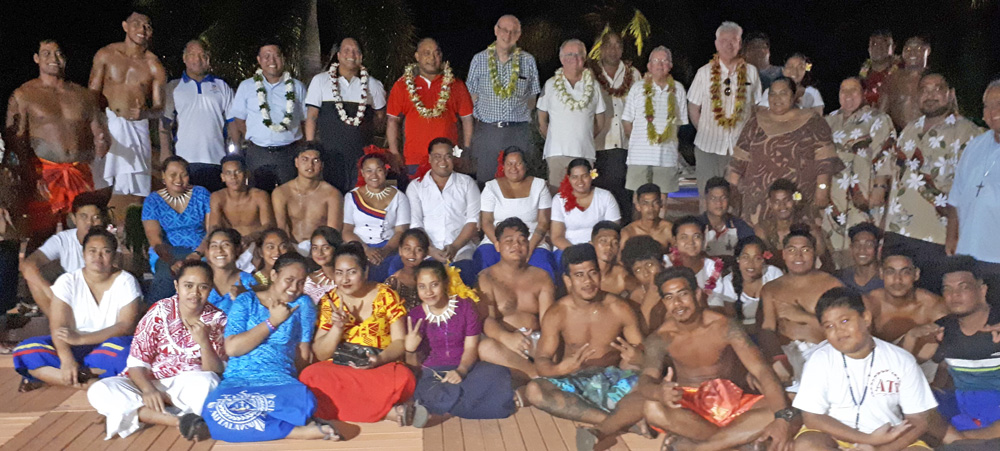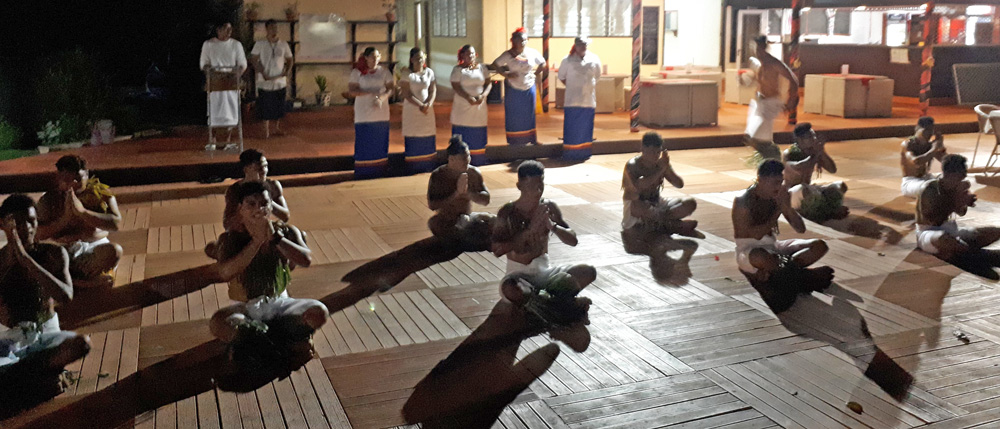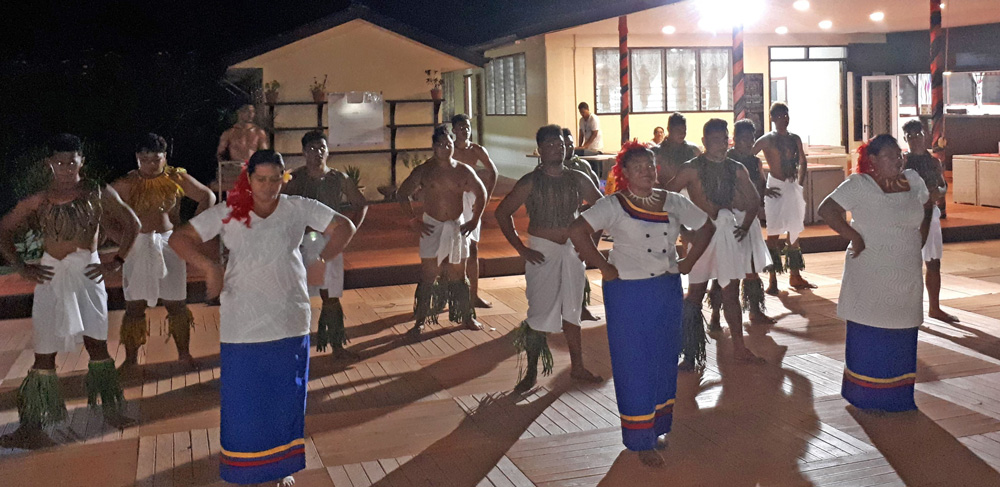 Above: MAP guests are welcomed by the Apia commnity. Below, standing, from left: Frs Christopher Ganzon (Asia), Peter McMurrich (Aust), Tim Duckworth and David Kennerly (NZ), Lauro Arcede (Asia); seated: Milikiade Rayalu (Oceania), Tony Corcoran (Aust), Setefano Mataele (Oceania) | MAP in session.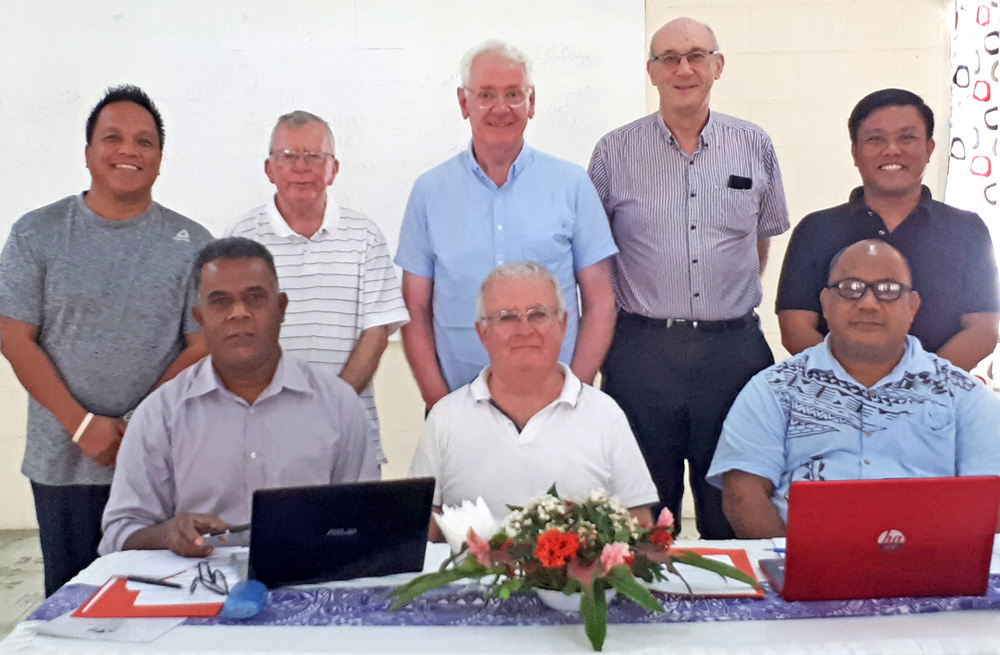 ---
AMS 10th anniversary
At an evening gathering at St Joseph's College, Hunters Hill, NSW, on Jun 18 the Marist Brothers' development agency, Australian Marist Solidarity (AMS), celebrated its tenth anniversary. Brs Chris Wills and Anthony Robinson and Mr David Buckley were presented with special awards for their contribution to AMS.
Retiring director of AMS, Br Allen Sherry, acknowledged the support and example of the Marist Mission Centre in the years leading up to AMS, including assisting the beginnings of the Brothers' work in Cambodia and the development of the Villa Maria centre, funded by MMC in 2005 (see further below). [Jun 18]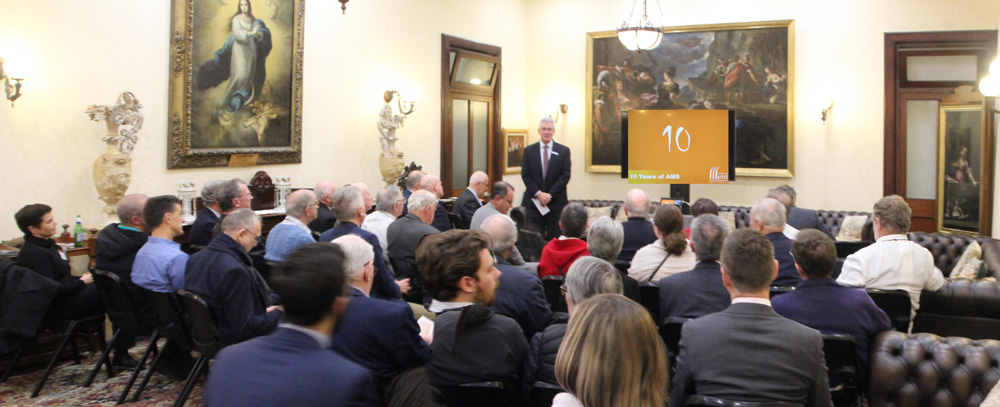 Above: St Joseph's Director of Advancement, Richard Quinn, welcomes the gathering . Below: Retiring leader of AMS, Br Allen Sherry FMS, with board member, Frank Malloy, AMS board member and executive officer of the Marist Association of St Marcellin Champagnat. | Visual presentation of ten years of AMS and its preliminary years of development | AMS staff joined with a range of supporters from all parts of the Marist Family.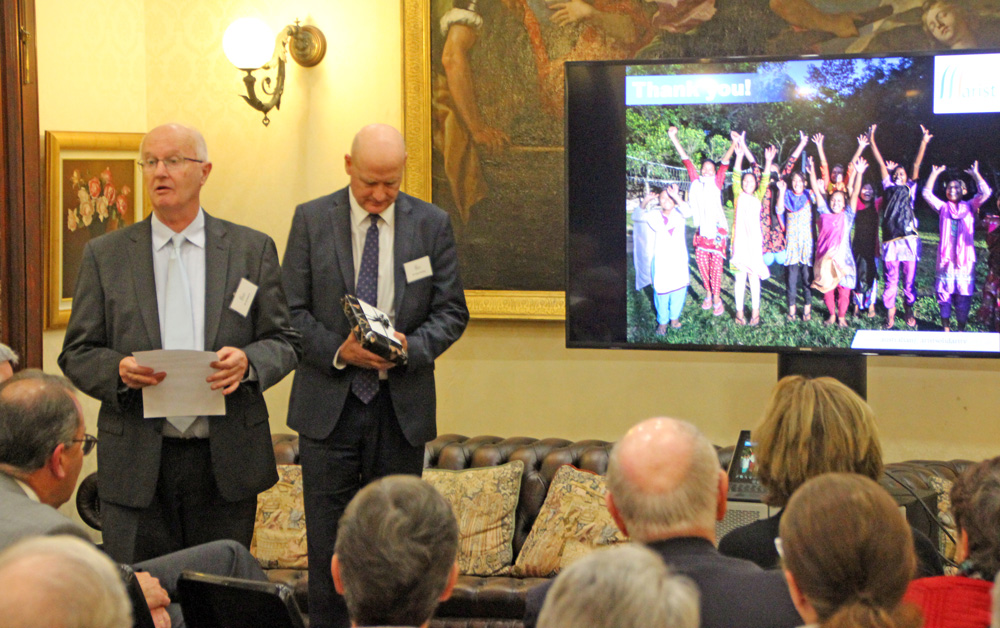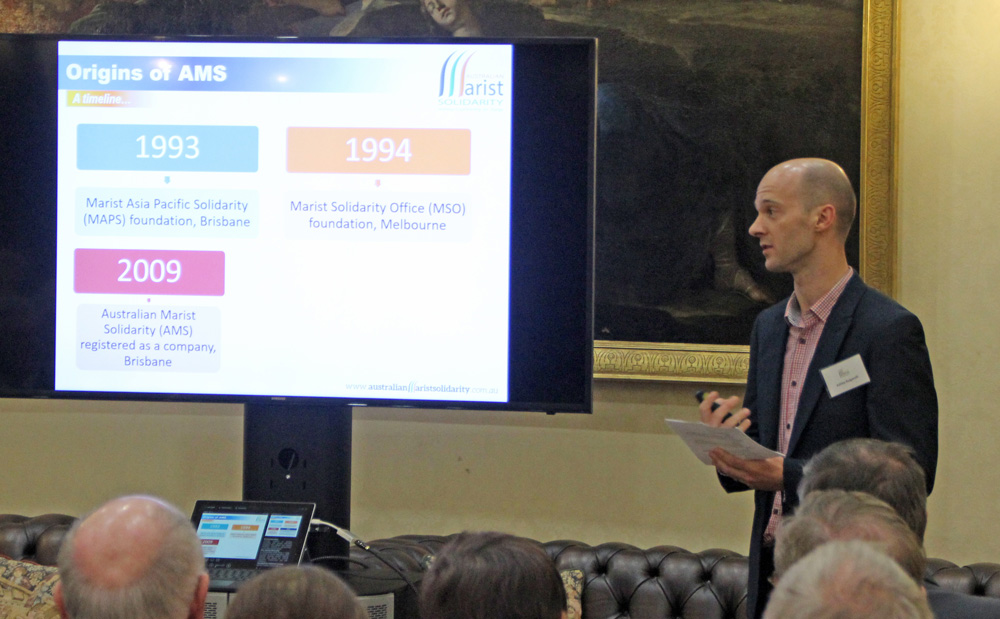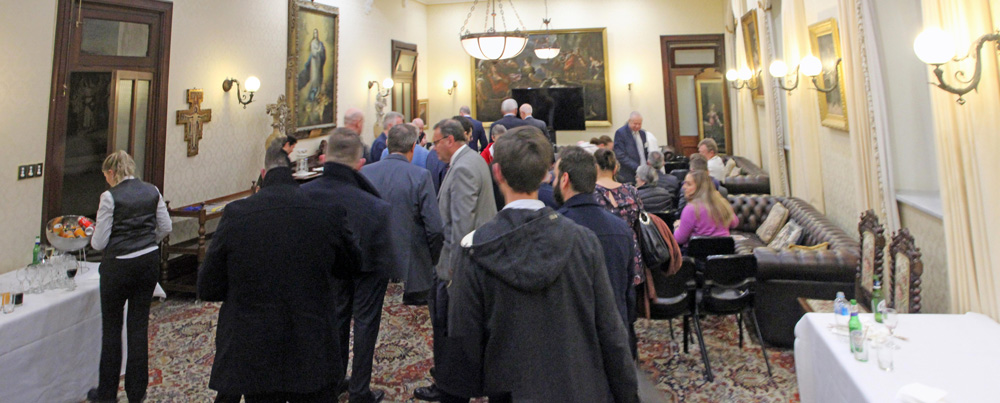 Below: Flashback to 1999 and MMC-supported Lavalla school project for physically-handicapped children in Cambodia | The late Br Terry Heinrich at the 2006 opening and blessing of Villa Maria hostel (named by its founder after the Hunters Hill monastery, NSW).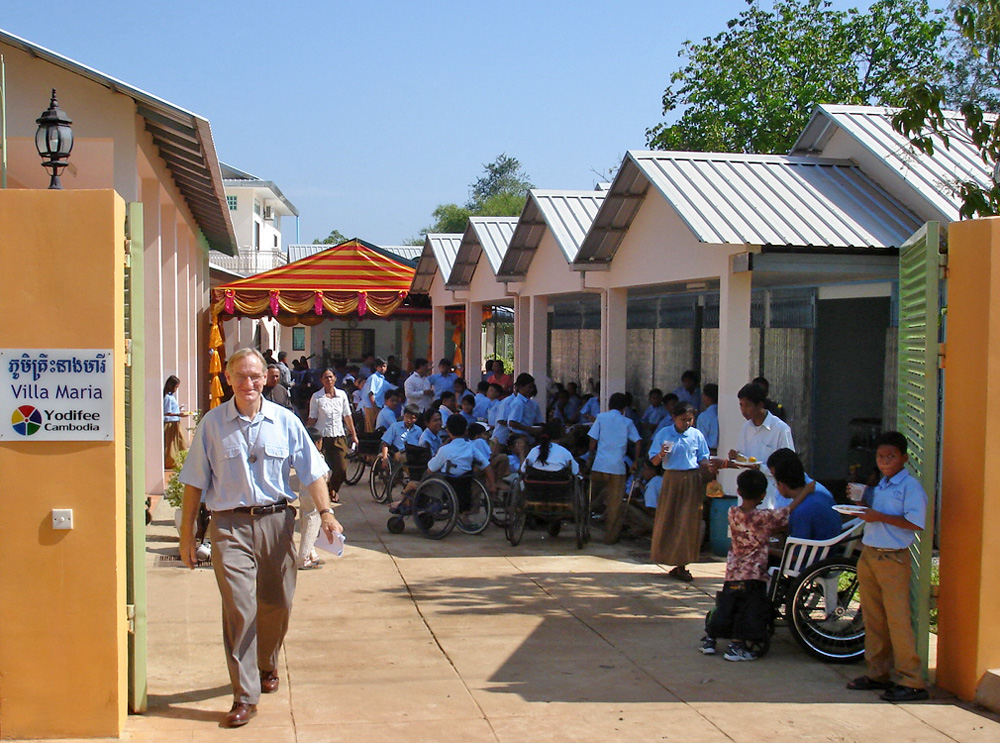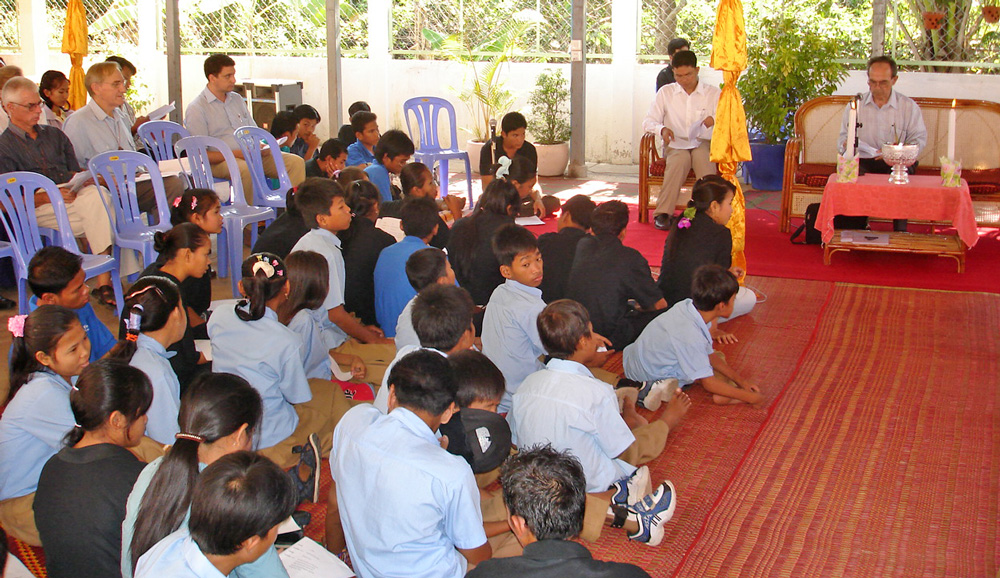 ---
Apia bound
Representing the Marist Mission District of Asia, Frs Christopher Ganzon and Lauro Arcede passed through Brisbane recently en route to Apia, Samoa, for the annual meeting of MAP (Marist Asia-Pacific).
During their Brisbane visit the Filipino Marists stayed at the Marist House of Welcome, Paddington, hosted by Fr Gerard Hall. [Jun 18]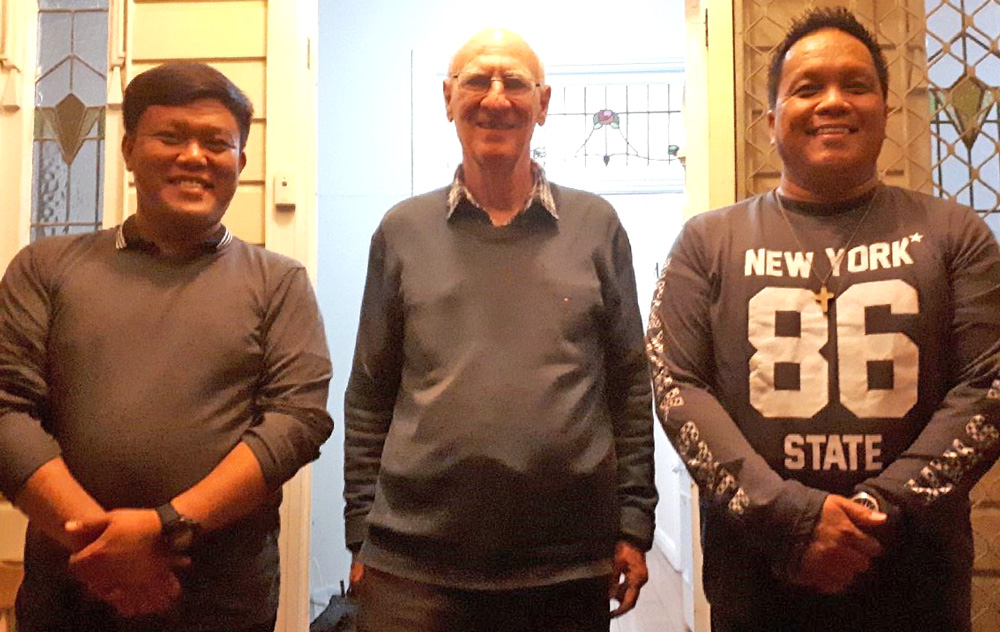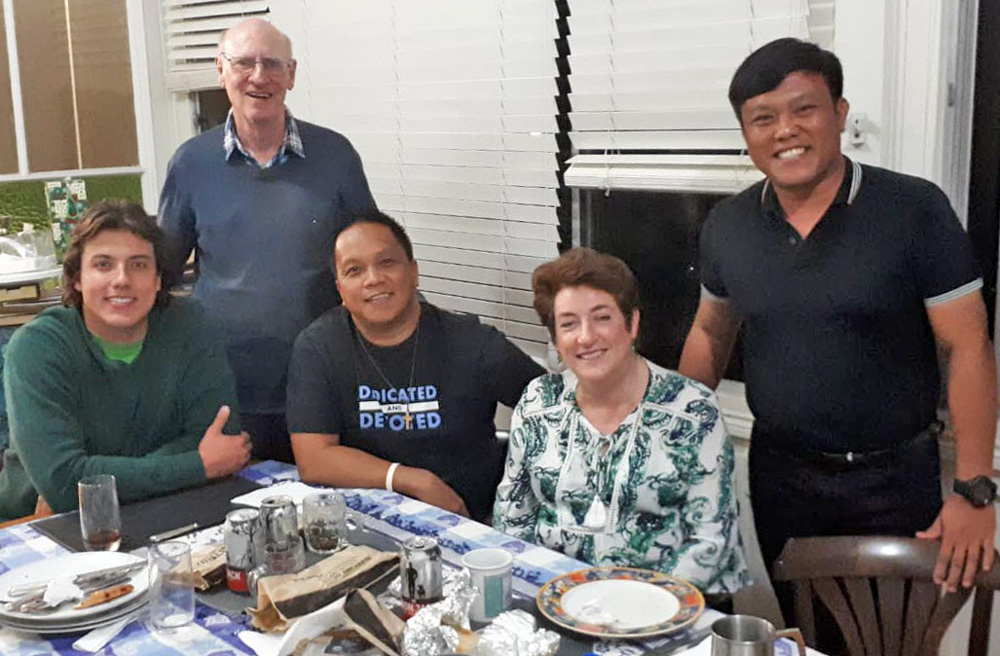 Above, from left: Frs Lauro Arcede, Gerard Hall and Christopher Ganzon | Lay Marist, Paulo Rezende, Frs Gerard Hall and Christopher Ganzon, Margaret Woods (coordinator, Marist Laity Australia) and Fr Lauro Arcede. Below: Marist House of Welcome, Paddington, Brisbane.

---
Lay Marist commitment
Following a reflection afternoon , 'The Marian face of the Church', led by Margaret Woods (co-ordinator, Marist Laity Australia) on Jun 15 at Lavalla Centre, Rosalie, Brisbane, a ceremony in the nearby parish church saw the commitment of three Lay Marists.
The ceremony took place during the Eucharist celebrated by Marist House of Welcome leader, Fr Gerard Hall SM, and was attended by Brisbane-based members of the Marist Family. [June 16]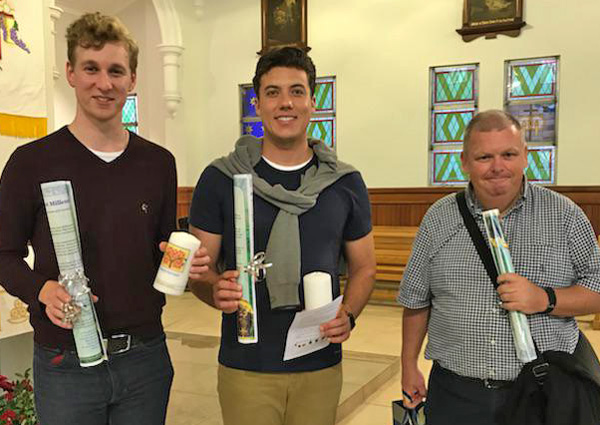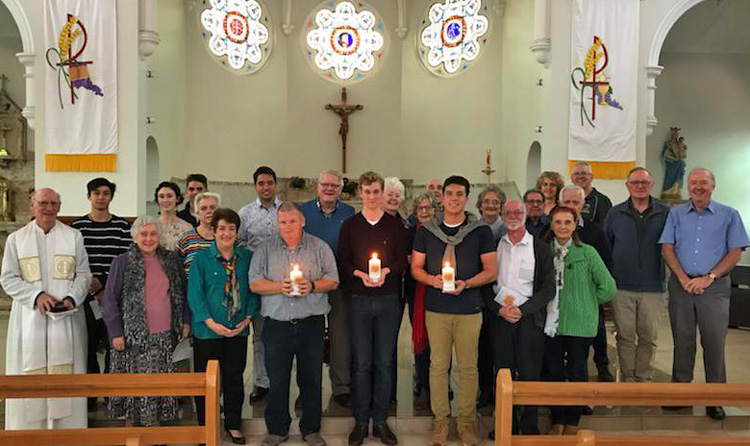 Hayden Kennedy, Paulo Rezende and Jeremy Fraser, after their Marist Lay commitment at Sacred Heart church, Rosalie, Brisbane.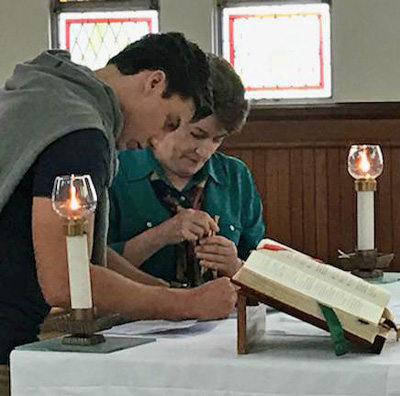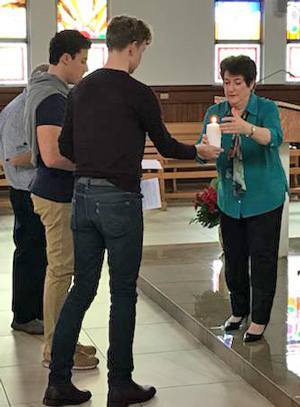 ---
Late autumn
The webmaster's backyard: final glimpses of late autumn in the grounds of Villa Maria monastery, Hunters Hill. [Jun 15]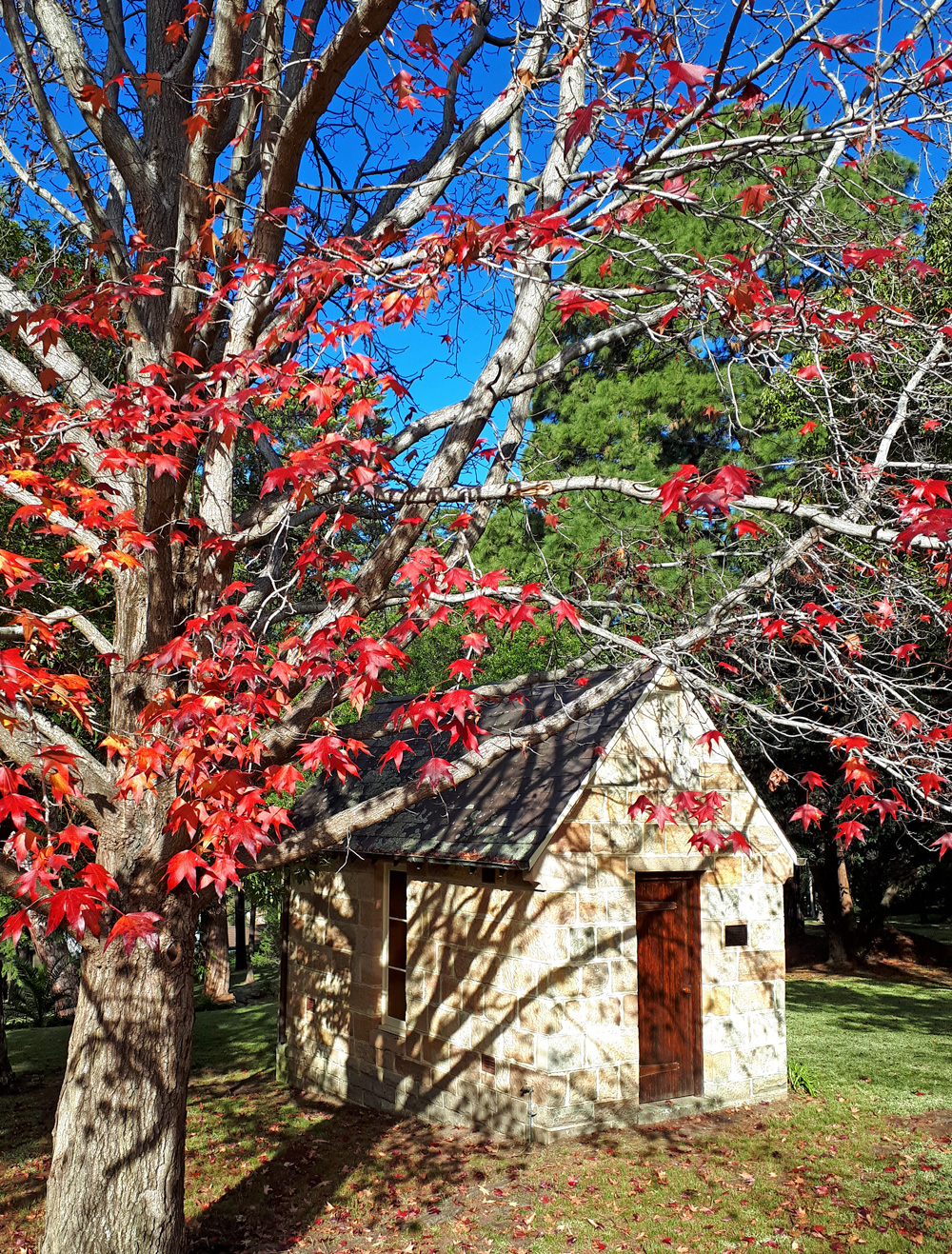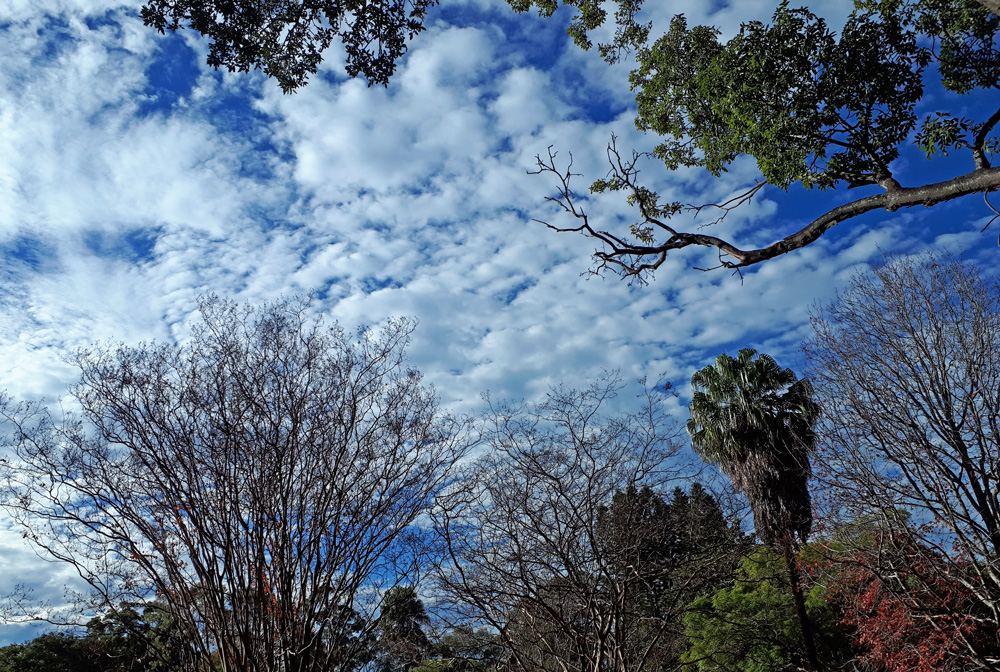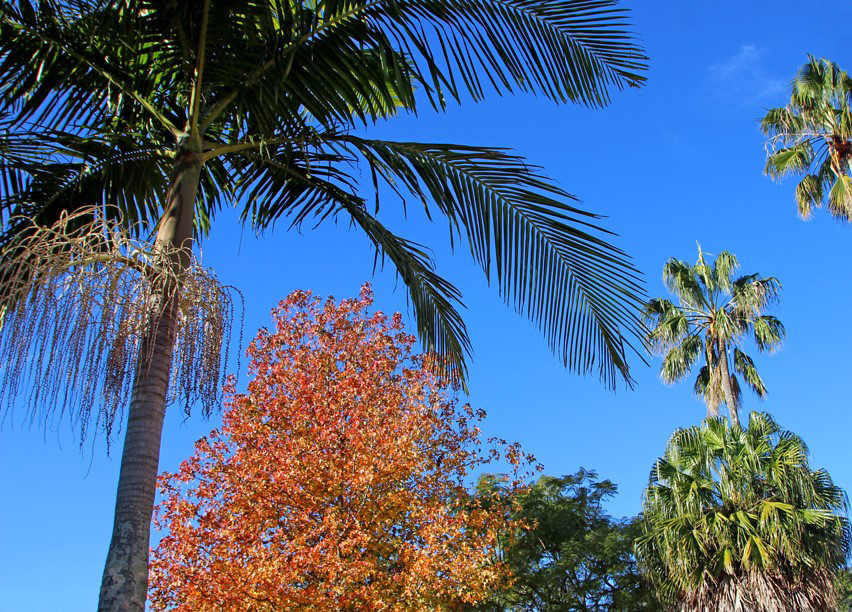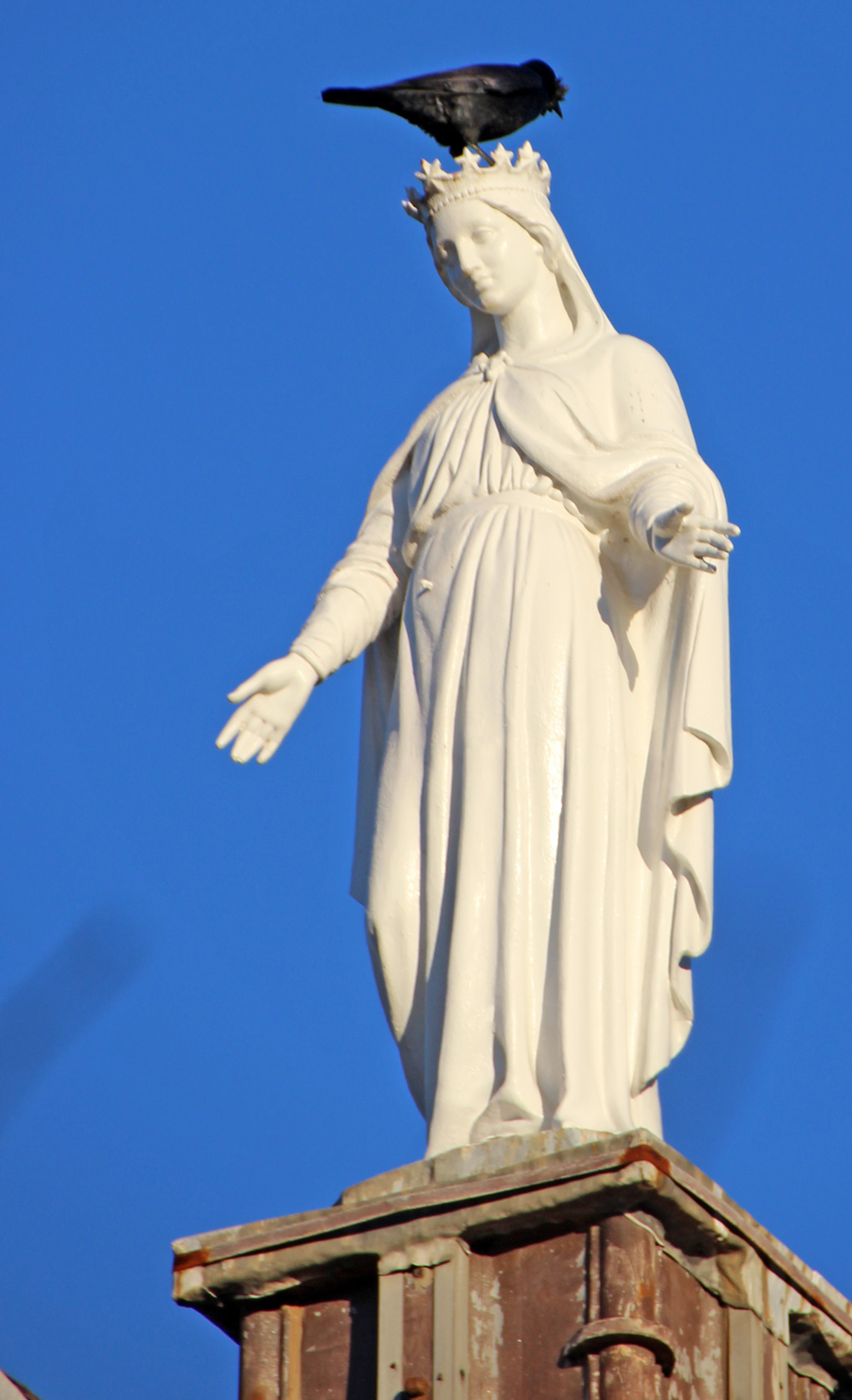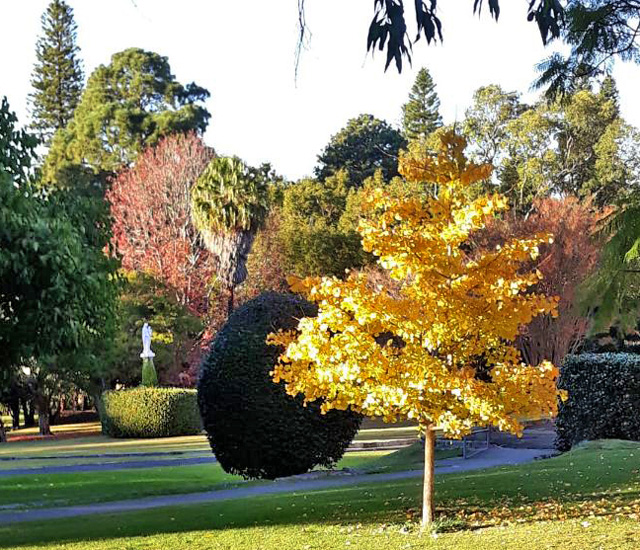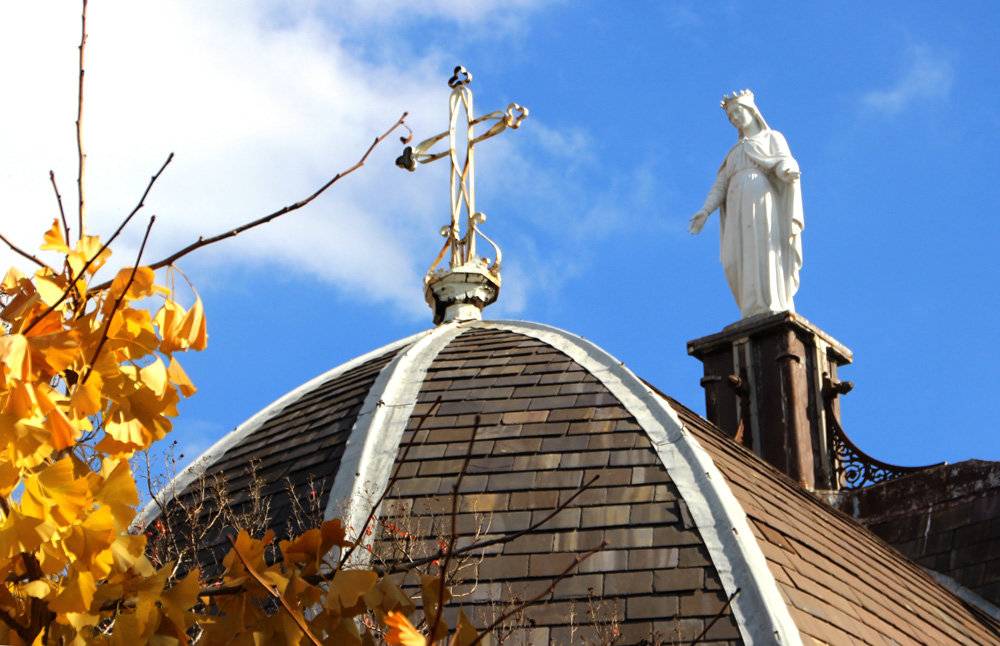 Above: Gingko blooms (far left, from Fr Paul Mahony's window) Below: Late autumn mist

---
Refugee Week 2019
The Refugee Council of Australia is again promoting Refugee Week, Jun 16-22, Thu, Jun 20 is World Refugee Day.
For details click here or go to the RCOA website. [Jun 14]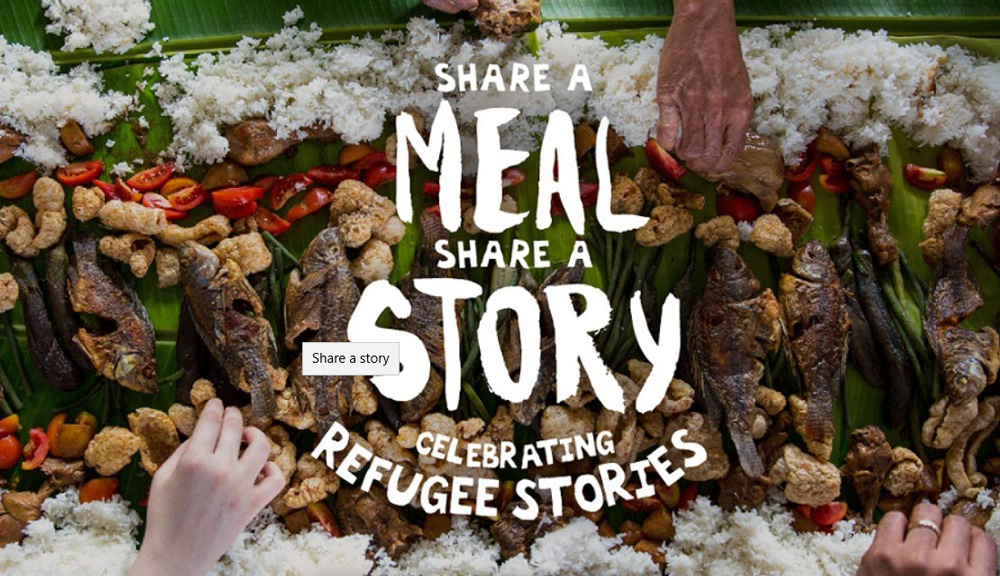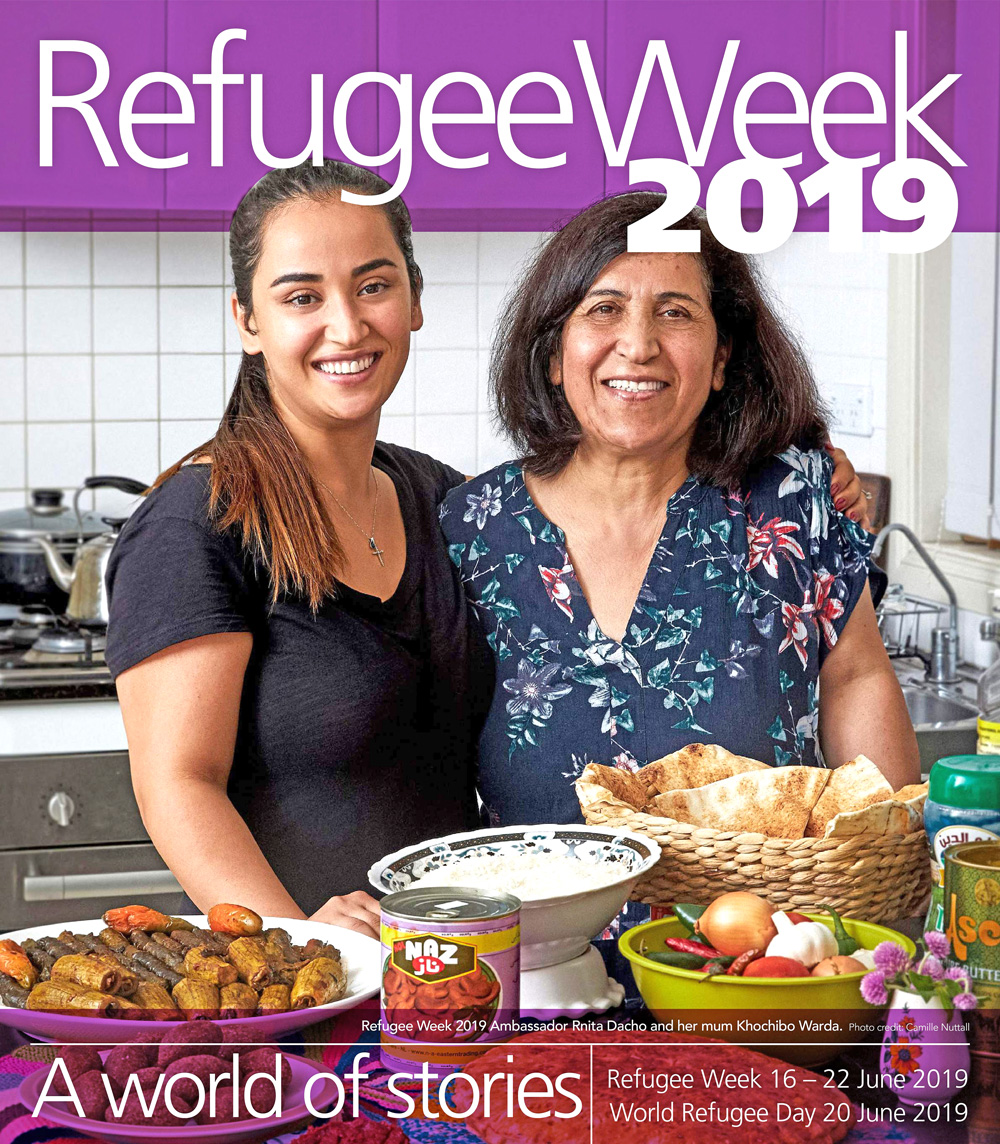 ---
Sisters' Jubilees
Two former Superiors-General (Srs Margaret Purcell and Gail Reneker) were amongst five Marist Sisters honoured at jubilee celebrations on Jun 09.
The jubilarians are Srs Margaret Purcell and Philomena Hall (70 years professed), Sr Marie Berise Nash (60 years) and Srs Gail Reneker and Beverly Lewis (50 years), their period of Marist commitment totalling an impressive three hundred years!
All were present at Holy Name of Mary church, Hunters Hill for the Pentecost Sunday event with the exception of Sr Philomena, resident in St Anne's Nursing Home, Hunters Hill.
Congratulations, Sisters! [Jun 09]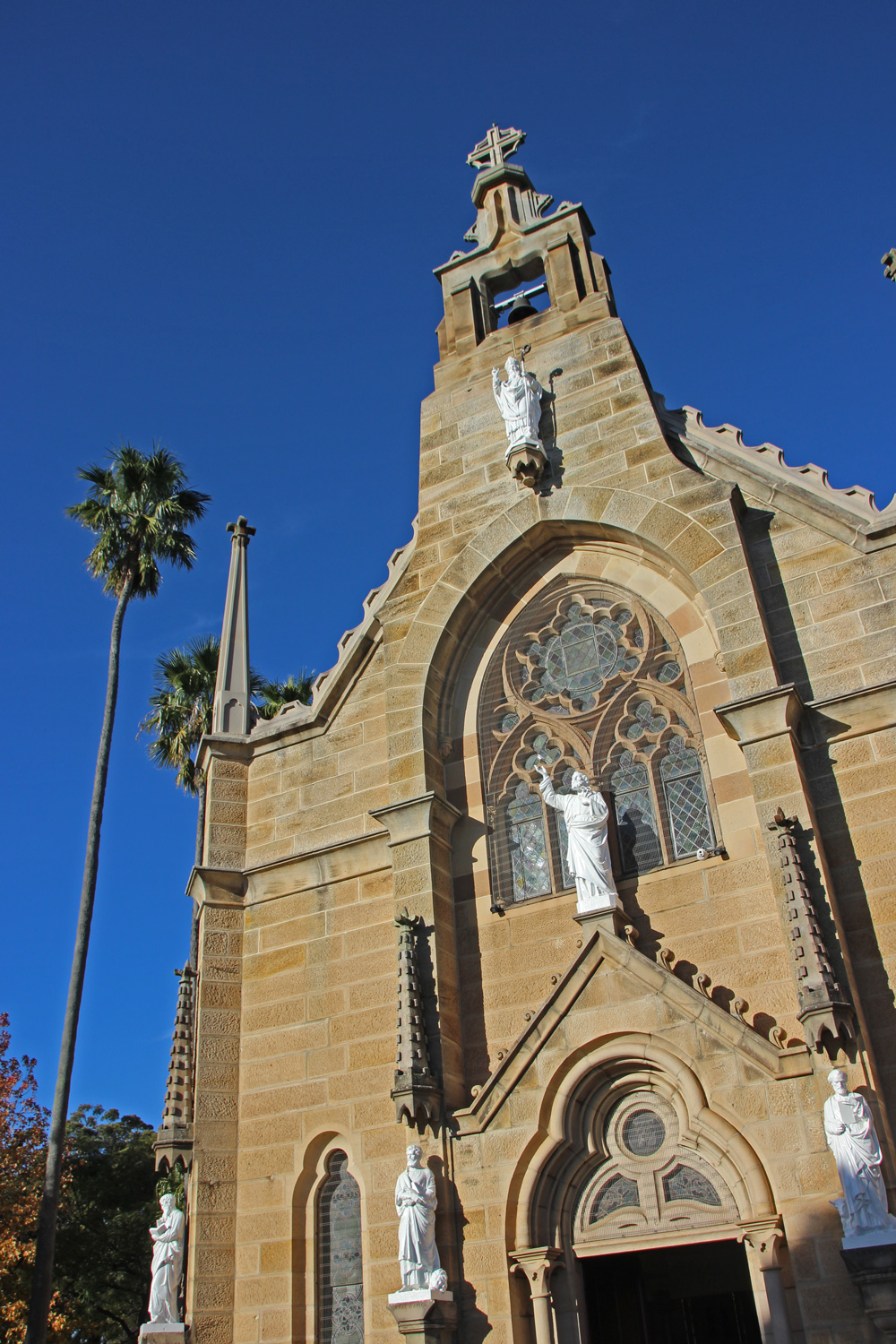 Above: Jubilee celebrations beginning at Holy Name of Mary church. Below: Marist Fathers' provincial, Fr Tony Corcoran SM, preaching on the gift of the Holy Spirit, and the parish's Pentecost Confirmation banner | Jubilarians renewing their religious vows, from left Srs Margaret Purcell, Marie Berise Nash, Gail Reneker and Beverley Lewis. Further below: Celebrations continue at nearby Villa Maria monastery.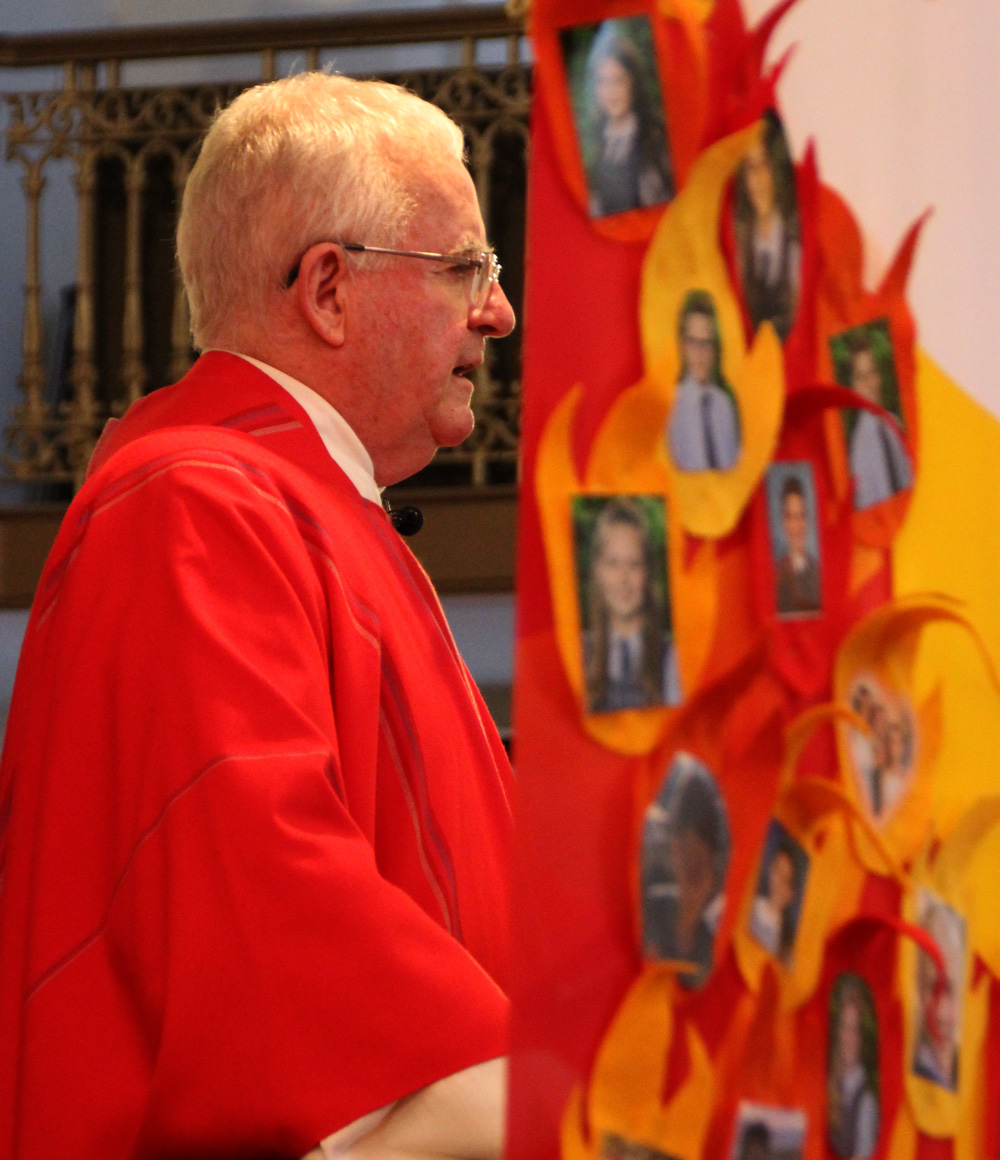 ---
Davao Workshop
From Myitkyina, Myanmar, Paul Brang Mai reports on the recent workshop in Davao, Philippines, on 'Funding for Mission'.
Conducted by Marist Brother Allen Sherry FMS, the two-day workshop was attended by Marist Family members from the Philippines and Oceania, as well as Paul Brang Mai, a former student in Mindanao.
Approaching the seminar Paul commented: 'I hope this seminar will be applicable and practical as I am planning to expand my mission as an educator here in Myitkyina where many young people are in loss of hope and motivation to pursue their future careers.' For his report, click here. [Jun 09]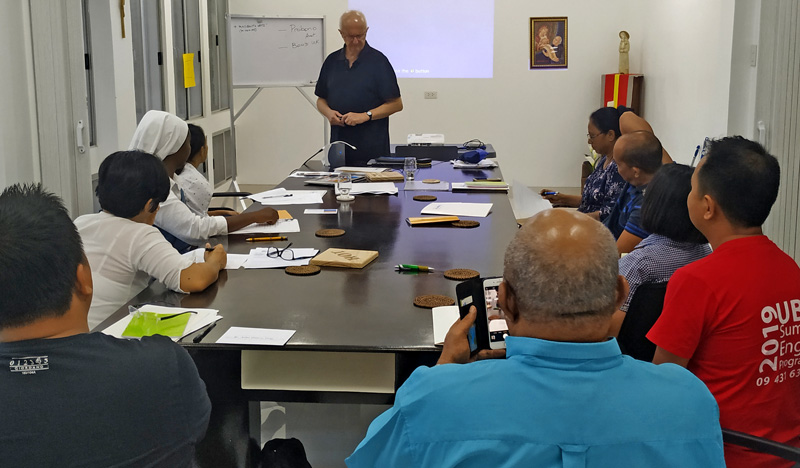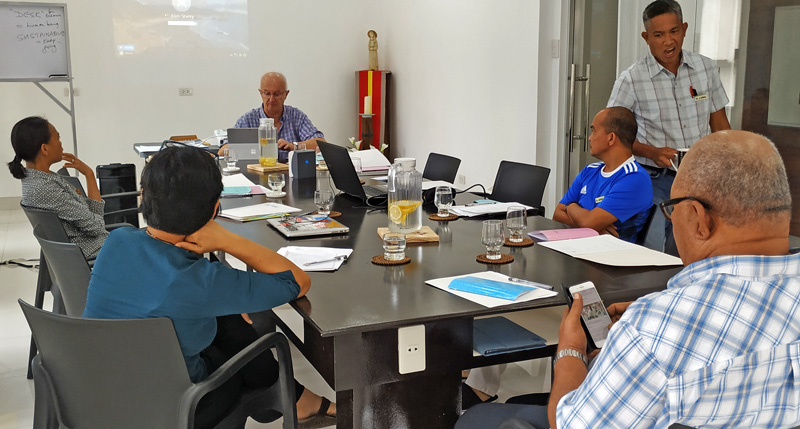 ---
Latest bulletins
Marist newsletters from Europe and Oceania can be downloaded from here: Euroinfo | Oceania. The Superior-General's June reflection and recent SM Bulletins from Rome are accessible at the Members' page. [Jun 05]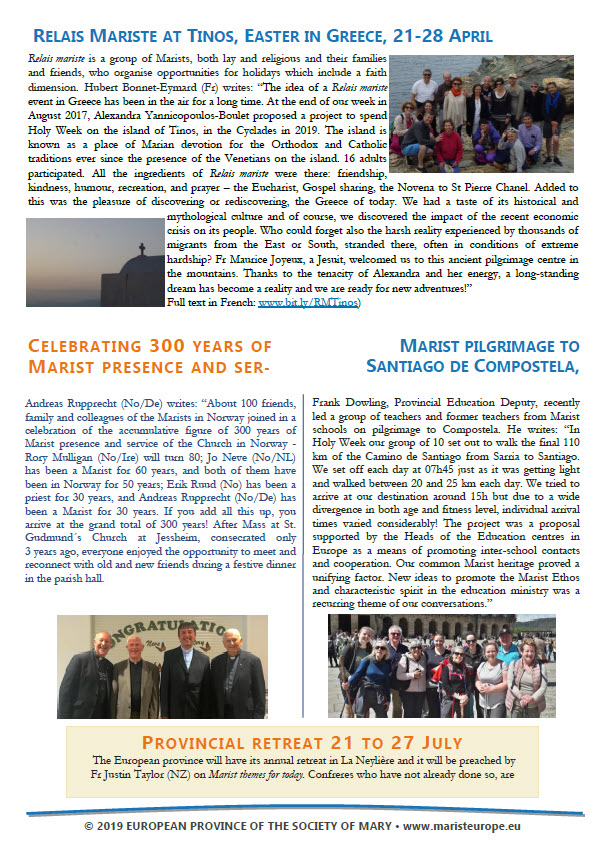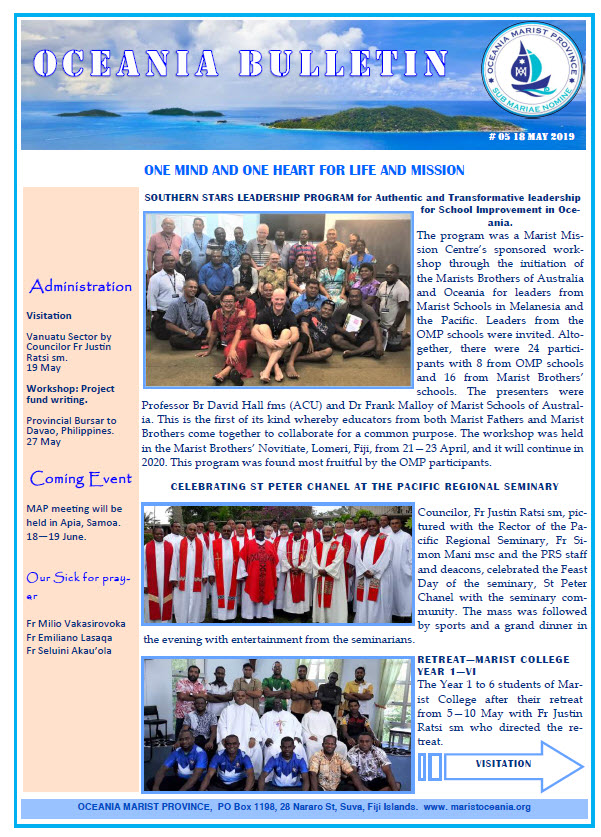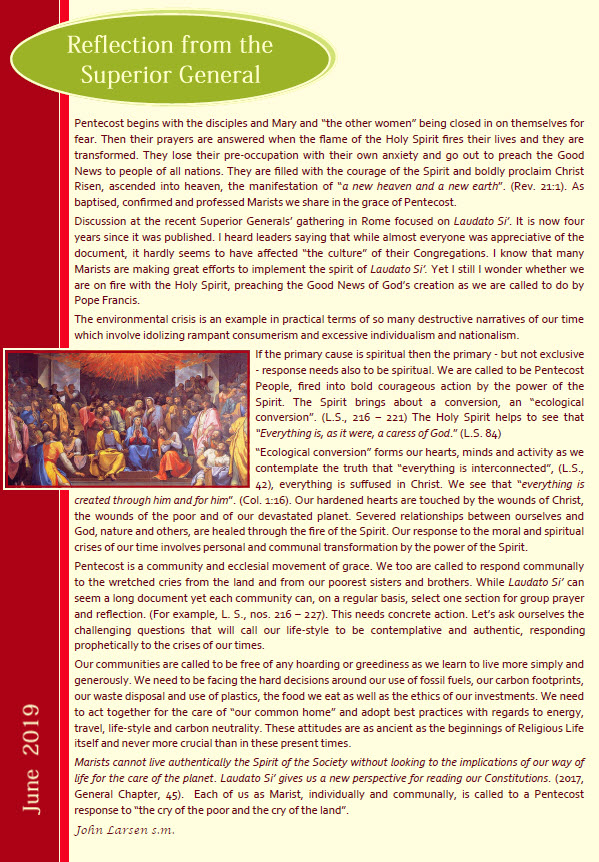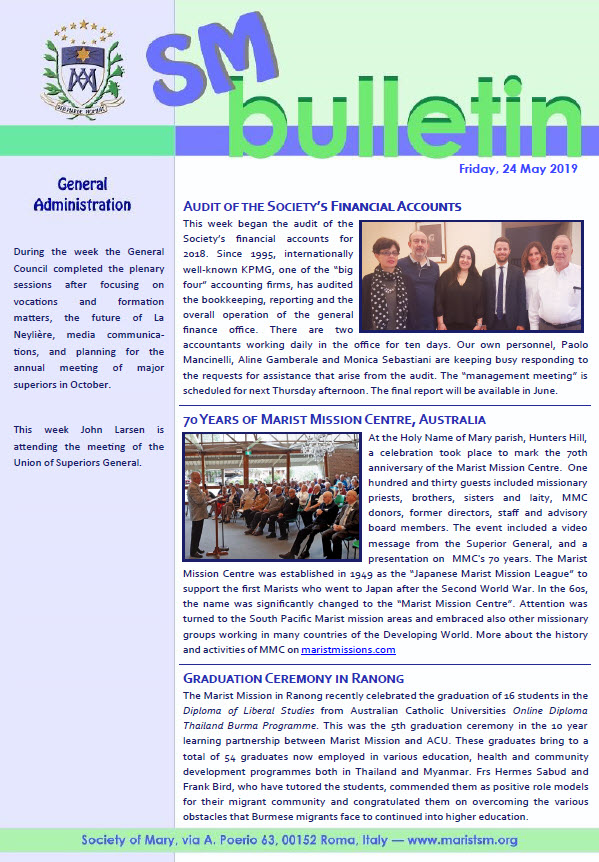 ---
Mission Centre annual report
The Marist Mission Centre's Annual report for 'AMCOA' in 2018 is now available. The 22-page report depicts MMC's diverse 'Sustaining Hope' projects and includes an audited financial report.
Go to MMC website or click here. [Jun 04]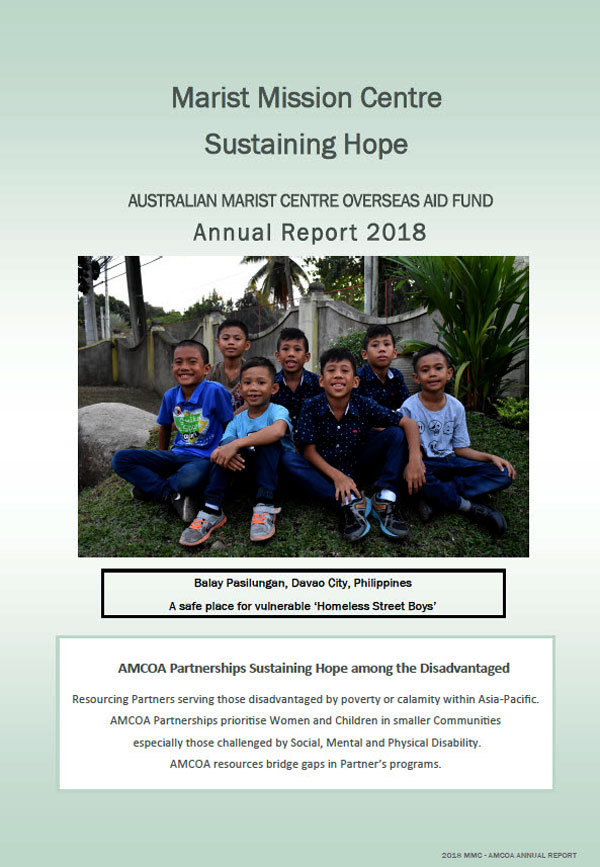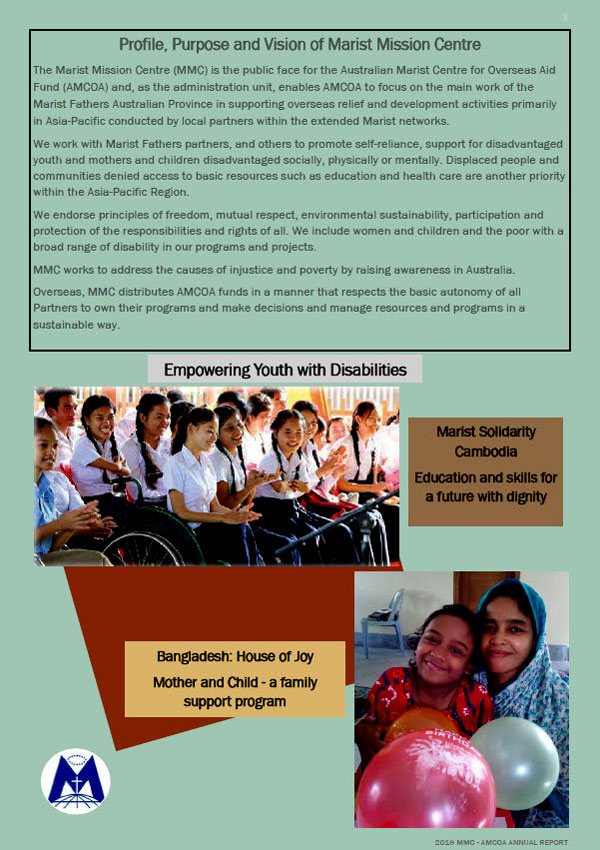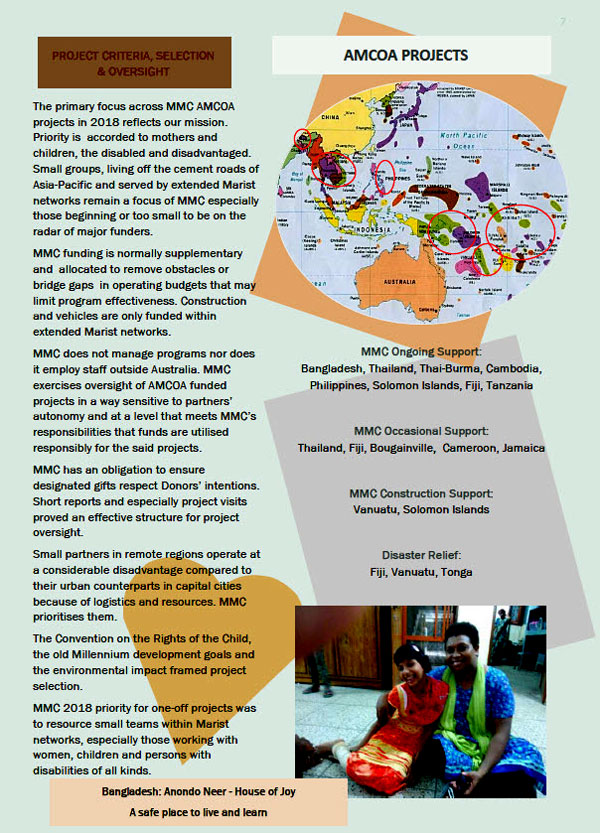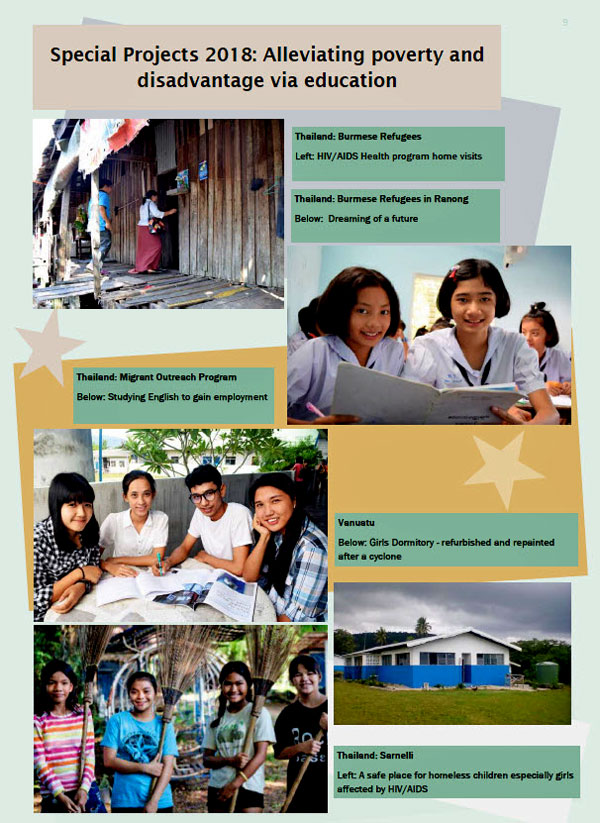 ---
Br Terry Heinrich remembered
From the outskirts of Phnom Penh, Marist Solidarity Cambodia reports on a moving ceremony to remember Marist Brother Terry Heinrich, founder of Lavalla school for physically disabled youngsters:
'On Wednesday 29th May the community of Lavalla and some staff and students from Villa Maria gathered to inter Br Terry's ashes in the memorial that has been placed here at Lavalla. Amongst those gathered were Br Darren Burge and Jacob Heinrich – Brother Terry's nephew who is working at the RMIT campus in Vietnam. As well as some of Terry's ashes, a set of his rosary beads and some of his Marist symbols were interred in the niche in the memorial.
'The gentle ceremony was led by Father Kevin Conroy, a Maryknoll friend of the Marists here in Cambodia. This ceremony was in many ways a chance for the many friends of Brother Terry here in Cambodia to welcome him home. The ceremony ended with the children singing Sub Tuum. The staff and students could now feel that Br Terry was here to look over the people and place that he loved.'
Lavalla school was established in 1998 with the help of the Marist Mission Centre and AusAID and was visited several times by MMC's 'The Other Half' groups. [Jun 01]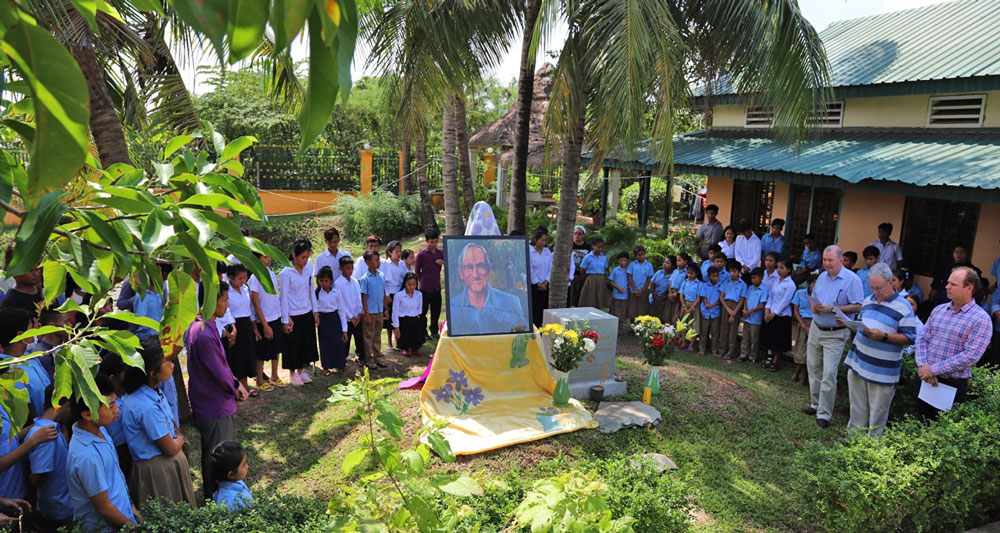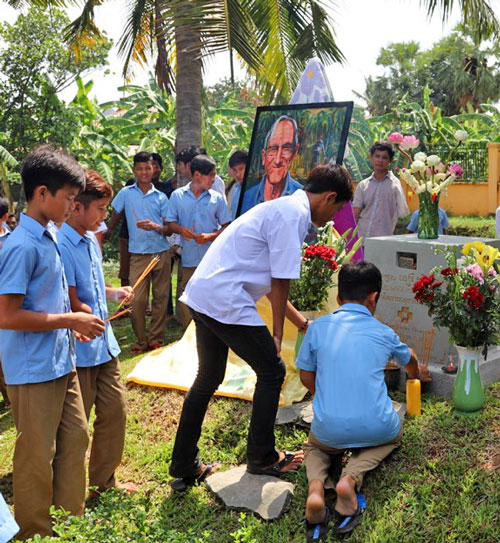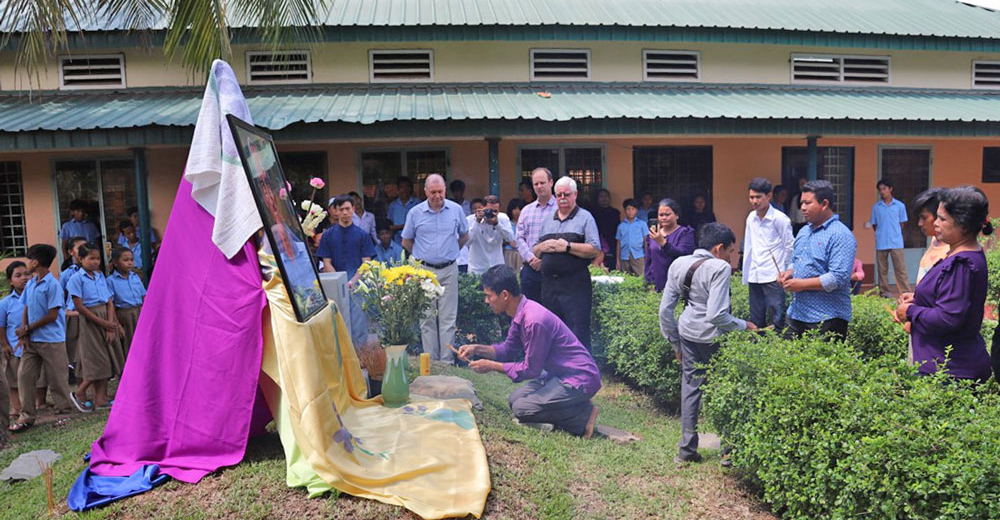 Above: Scenes from the recent ceremony at Lavalla school. Below: Br Terry (centre, back row) with the 2017 Lavalla staff | ... with former Ashgrove student and TOH-er, Sam Hodge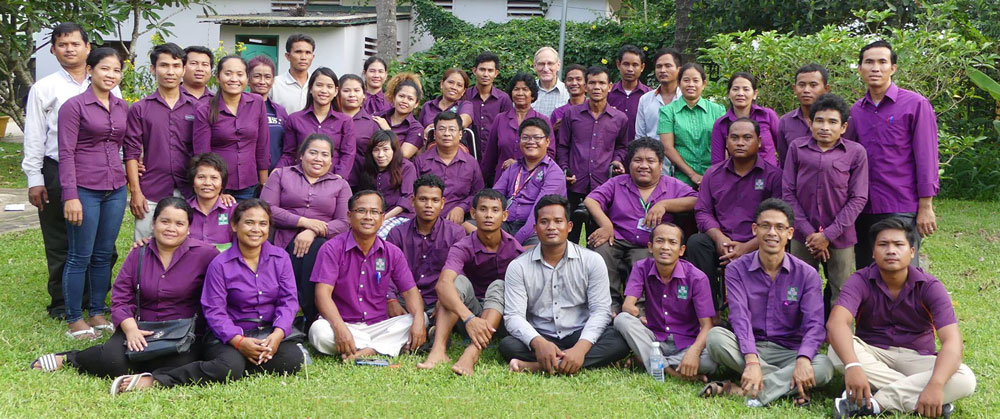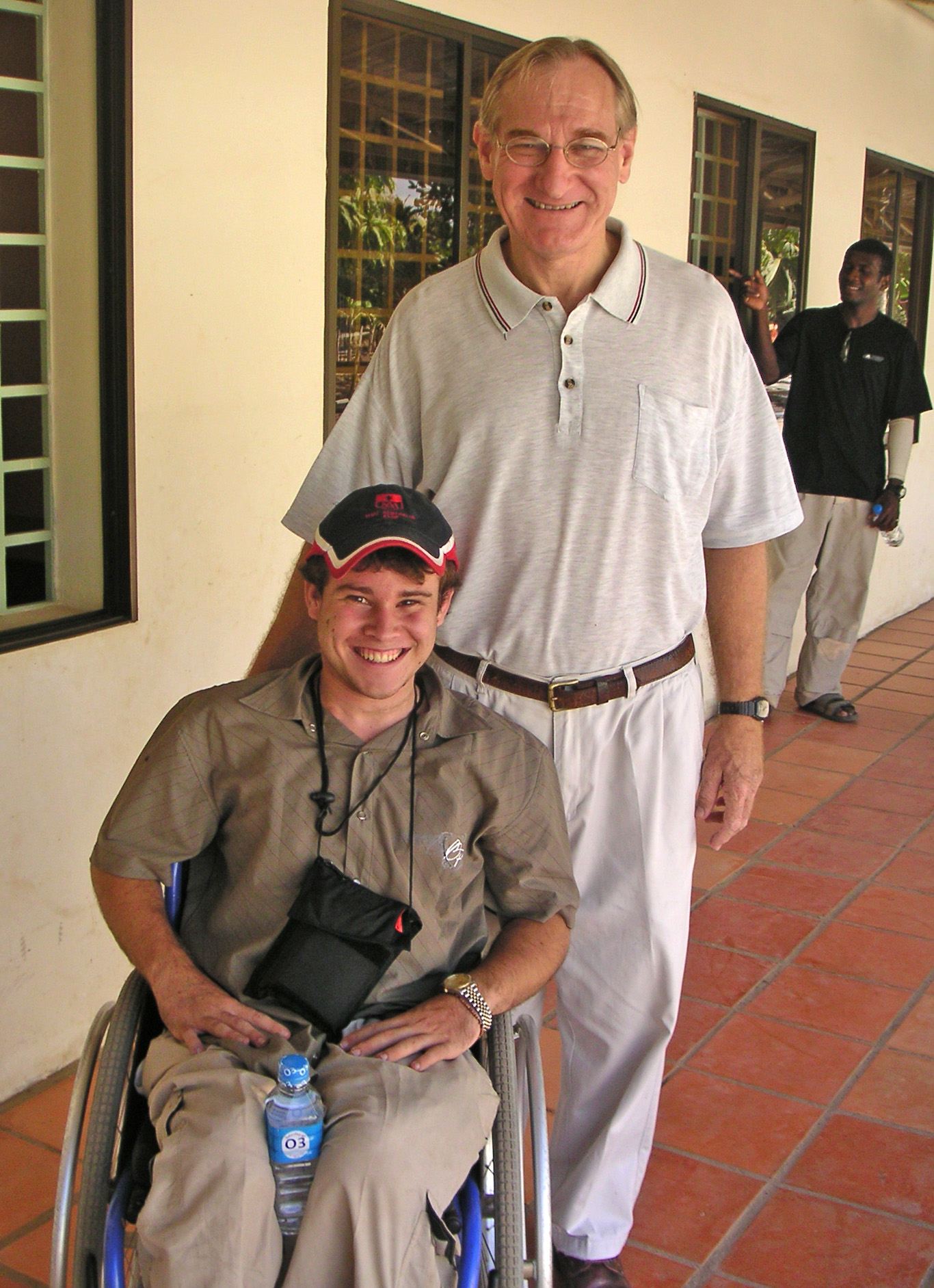 ---