---
Click here for News 2008 to 2017 | For News 2018 and 2019 go to News 2020 tab above.
---
Mass for 5th Sunday of Lent
From Holy Name of Mary church, Hunters Hill, Fr Kevin Bates SM presides at Mass for the Fifth Sunday of Lent.
For YouTube link, click here. [Mar 28]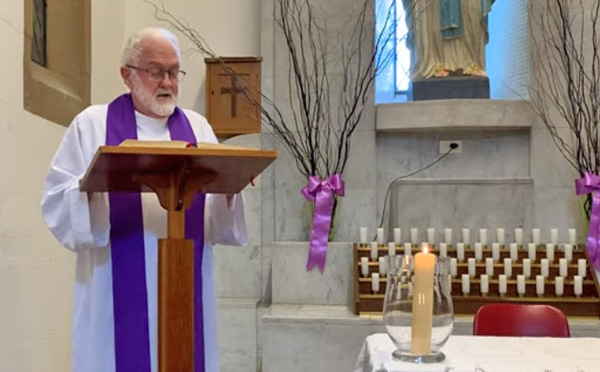 ---
'Urbi et Orbi'
The papal address, 'Urbi et Orbi' ('to the city and the world') given on significant occasions, was delivered by Pope Francis on Mar 27, alone in a rainy piazza of St Peter's in the Vatican. In the course of his address Pope Francis meditated on the calming of the storm from the Gospel of Mark.
This was followed by a prayer before an icon of Mary and Child with the singing of the 'Sub Tuum' and solemn blessing with the Blessed Sacrament by the Holy Father.
For the 'Urbi et Orbi' text, click here. [Mar 28]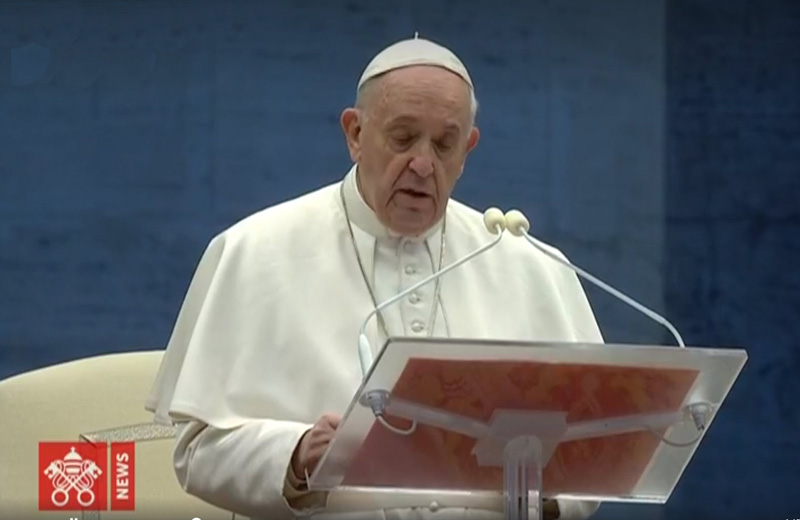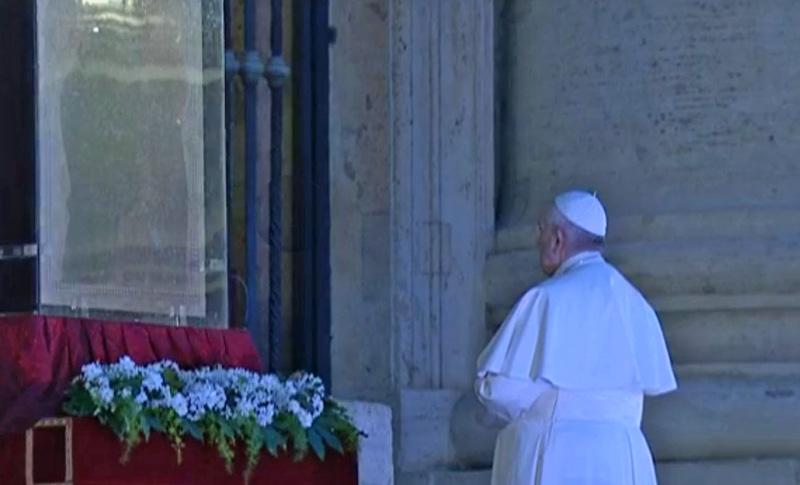 ---
Jaime's rooftop garden
During Rome's pandemic lock-down, Mexican Marist seminarian, Jaime Perez Martinez SM, has used time to restore abandoned garden plants and reflect on their new lease of life. Indeed, Jaime, a student at Casa di Maria, the Marist International Theologate, points to how much life can flow from these restricted times. Good on you, Jaime! A fine use of lock-down time.
For Jaime's reflection, 'Principles of Death, Principles of Life', click here. [Mar 28]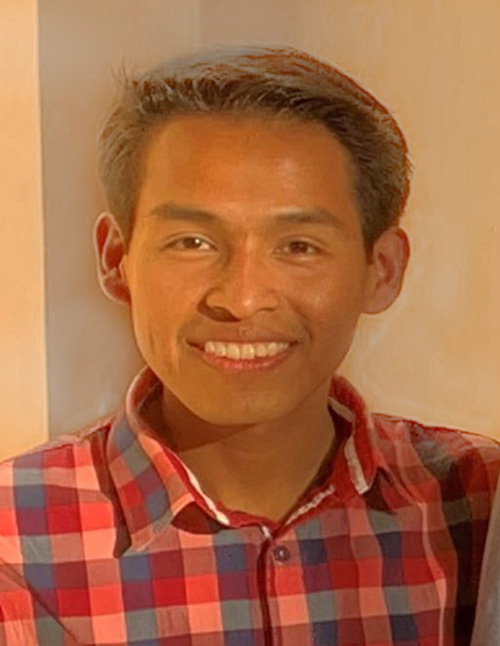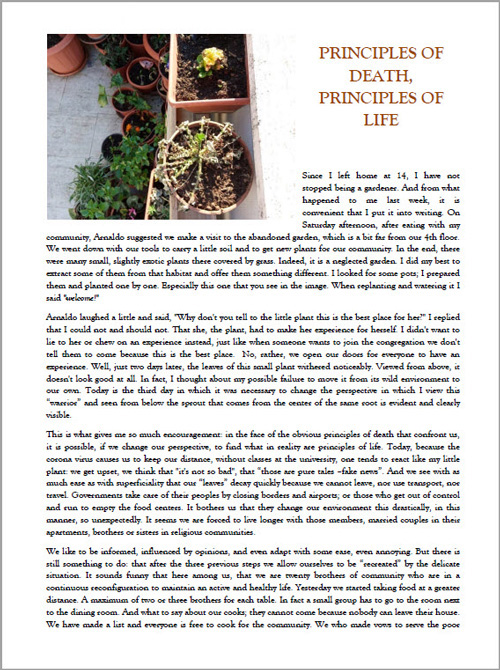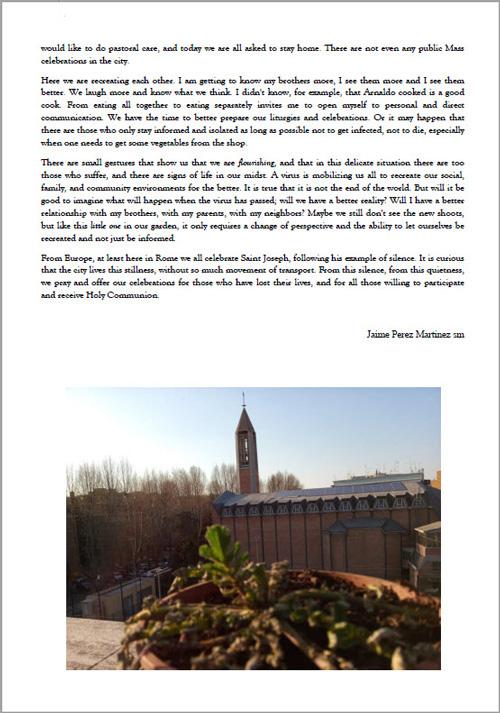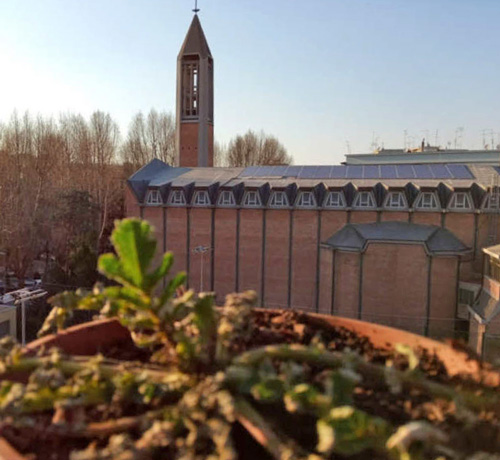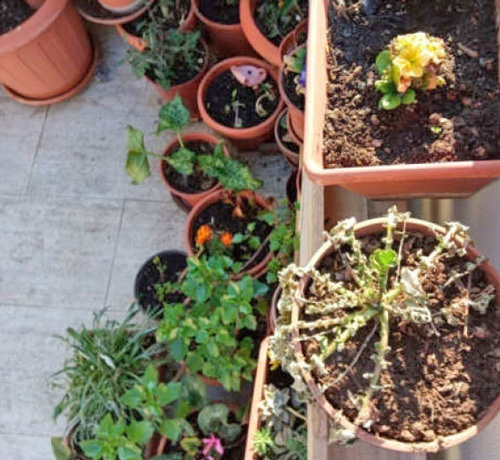 ---
Missionary bishop's passing
Marists and the people of Bougainville mourn the passing of Bishop Henk Kronenberg SM (85) at Enschede, the Netherlands, on Mar 25. Bishop Henk had been bishop of Bougainville for ten years until his retirement in 2009 and had worked in Marist communities and with fellow bishops in the Pacific since his priestly ordination in 1961.
May he rest in well-deserved peace. [Mar 26]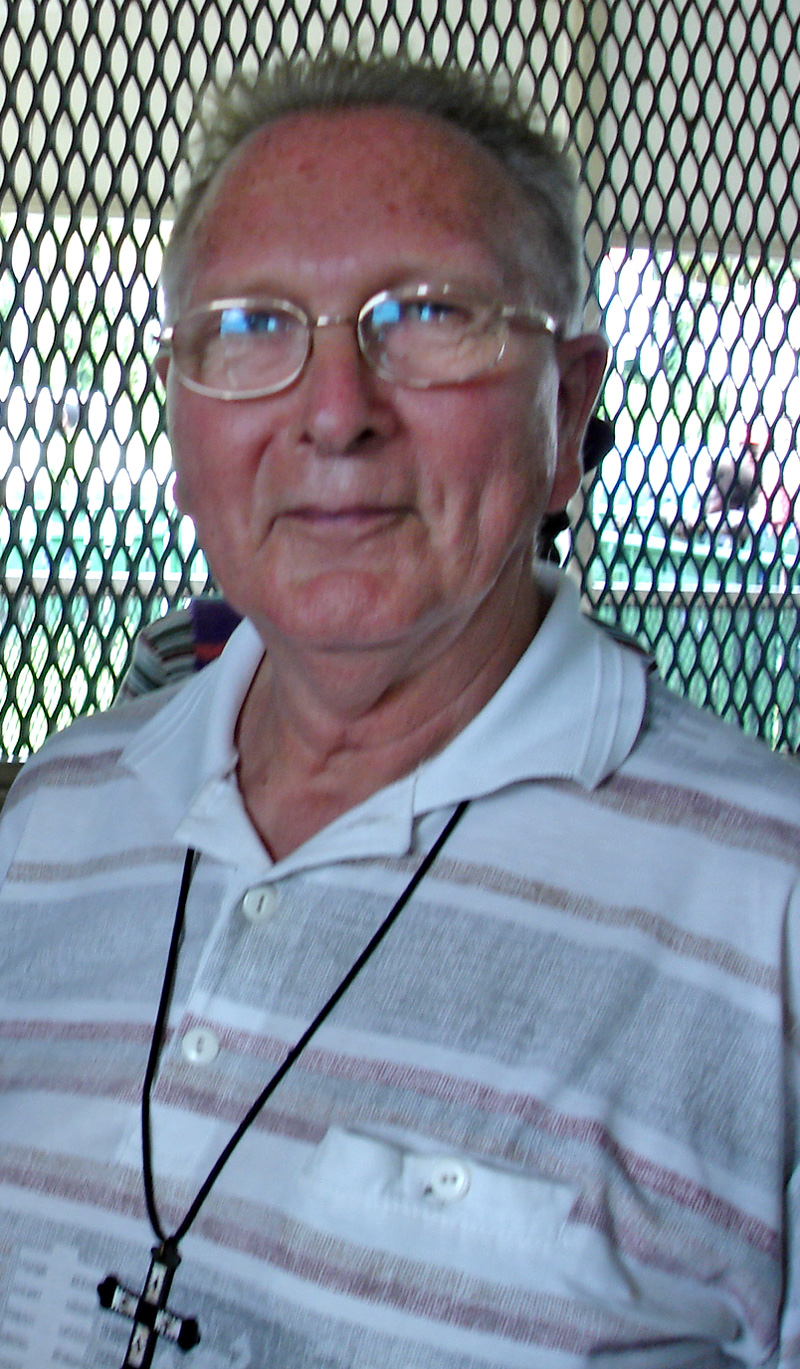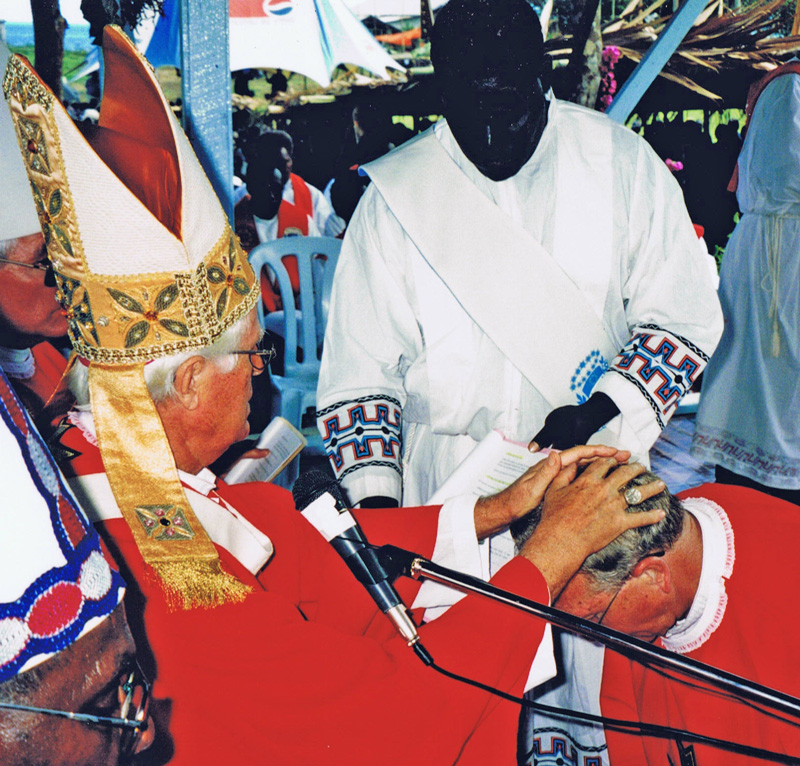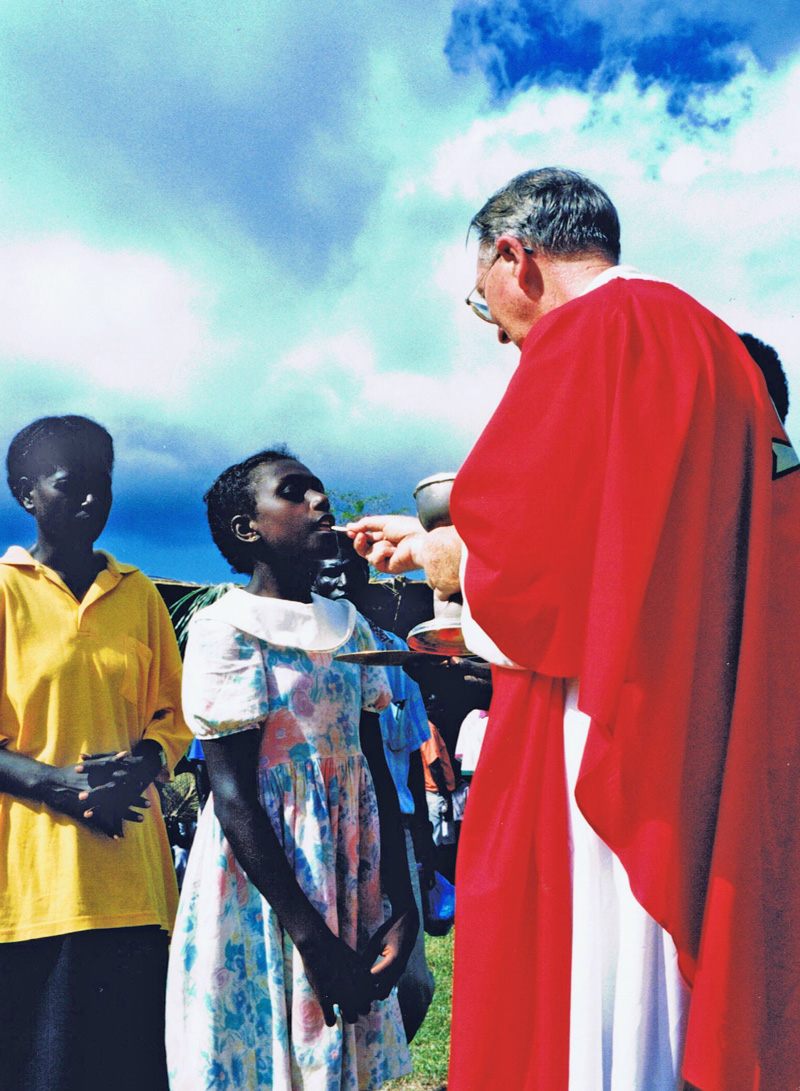 Above: Bishop Henk Kronenberg... and scenes from his episcopal ordination at Tsiroge, Bougainville, on Jul 14, 1999. Below: Bishop Henk with Marist Mission Centre representative, Michael Kneipp, and Sister Lorraine Garasu CSN at Buka in 2006 | with fellow countryman, the late Fr Hendry Saris SM, at Hahela.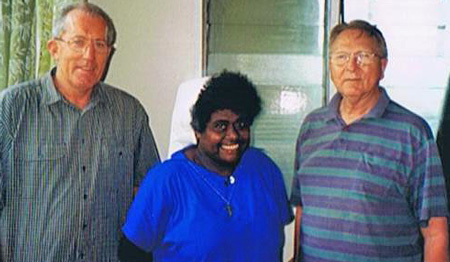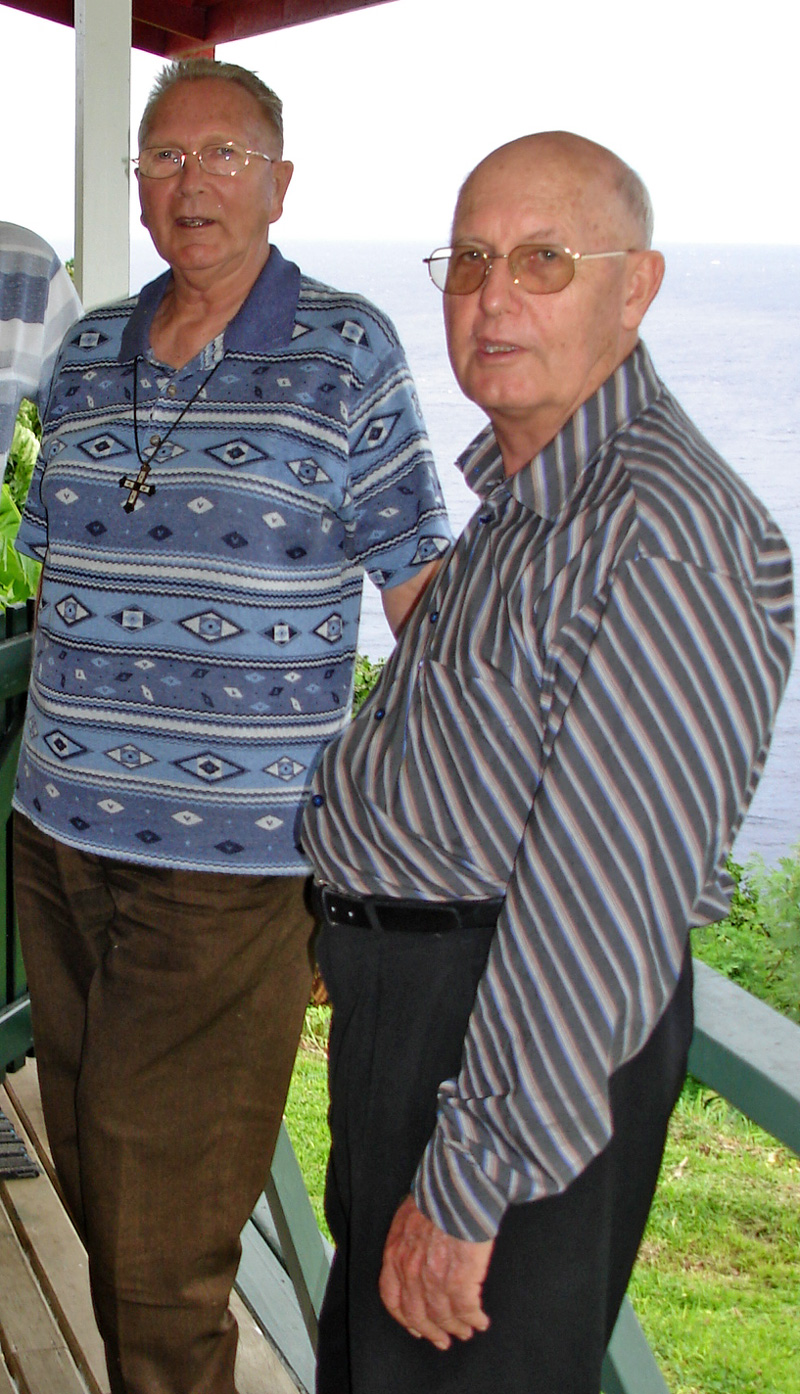 ---
Four Generals' letter
The Superiors-General of the four professed branches of the Marist Family have sent a letter to all Marists on the Feast of the Annunciation.
Accompanying the letter, Fr Johin Larsen SM says: 'Happy feast of the Annunciation today! In the midst of so much discouraging news in our world just now, the Annunciation is Good News indeed.. Here is a letter from our four Superiors General of the our Marist family, prepared some time ago, but still a message of hope and encouragement for today.
'We are, as always, united as one family bearing Mary's Name. Pray for each other on this feast of Mary's generous response to the Word of God.'
Click here.for the letter. [Mar 25]
---
Chipping away
Maintenance in the grounds of Villa Maria monastery, Hunters Hill, sees regular disposal of fallen limbs and dead trees, with the sounds of a wood-chipper ringing through the normally serene precincts of Villa's historic mission cemetery. [Mar 23].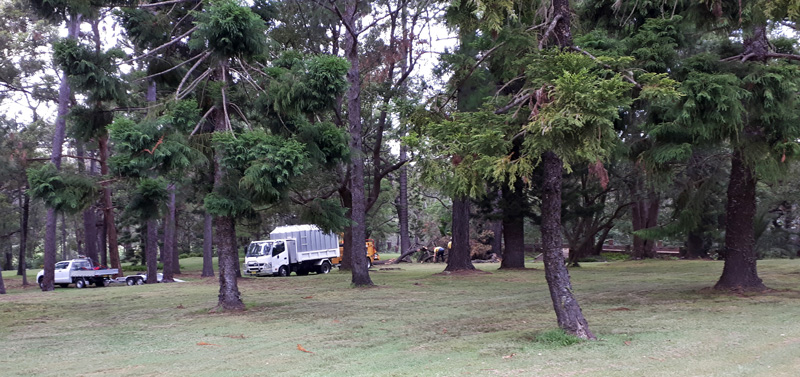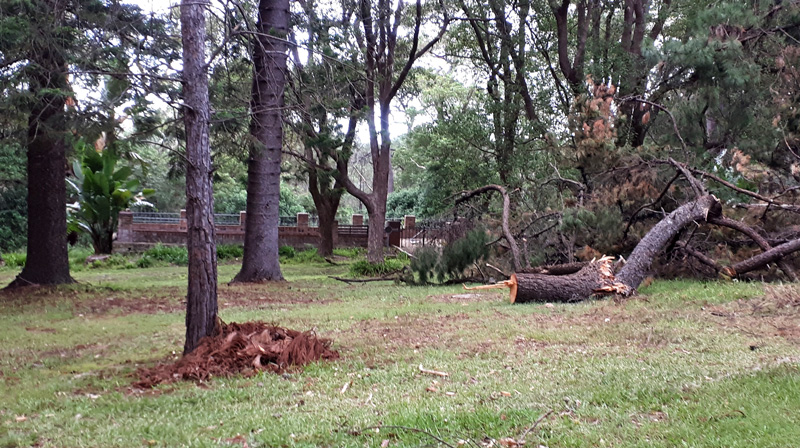 ---
Parish Mass on video
Parish priest, Fr Kevin Bates SM, celebrates a videoed Mass for the Fourth Sunday of Lent from the chapel of Holy Name of Mary church, Hunters Hill. Click here. [Mar 22]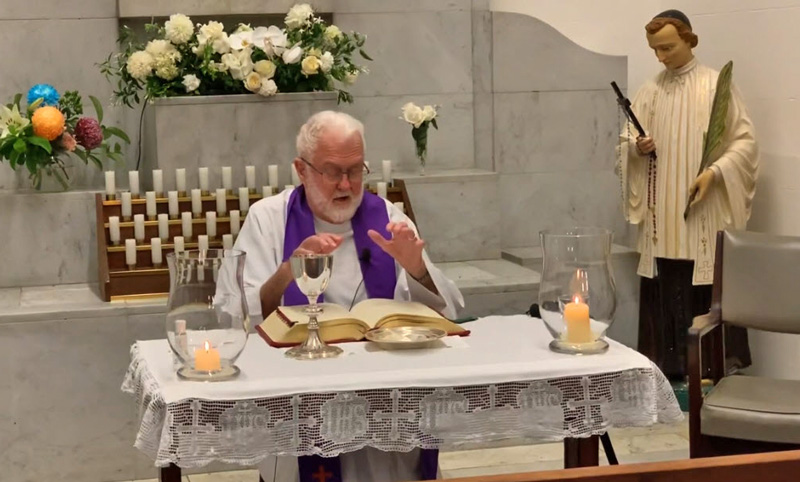 ---
Pandemic - poems and prayers
With the spread of COVID-19, thoughtful reflections, poems and prayers, are emerging as well.
Click below for: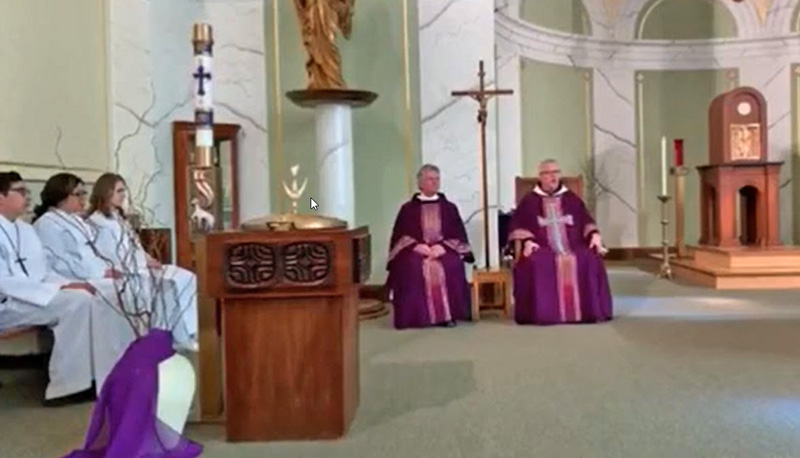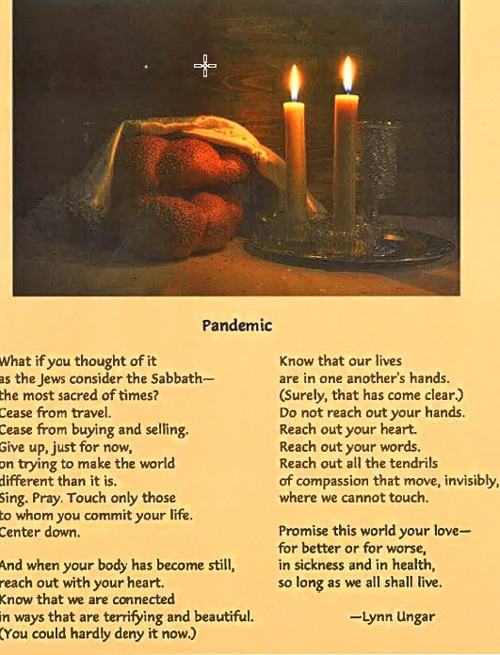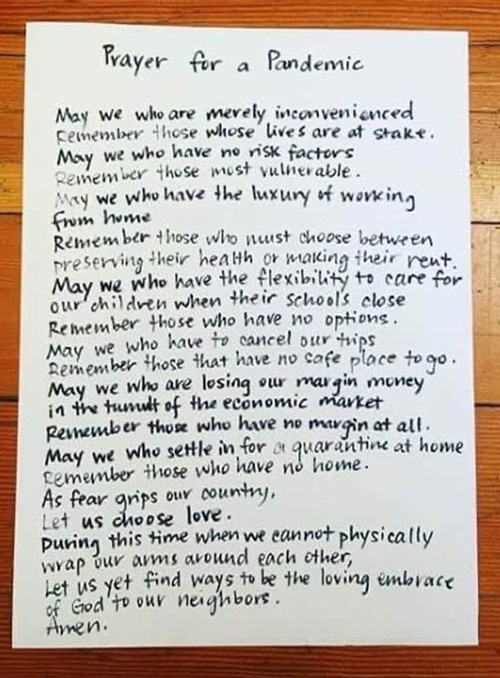 ---
Novena begins in Rome
Members of the Villa Santa Maria community, the General House of the Marist Fathers, began their novena of prayer for protection and healing in the face of the COVID-19 crisis. The prayer has been circulated throughout the Society of Mary and is now being used by Marist communities worldwide. For the prayer, click here. [Mar 20]

---
Marist parish messages
The parish priests of Sydney's two Marist parishes have sent messages to their people about the COVID-19 crisis . Click for:
[Mar 20]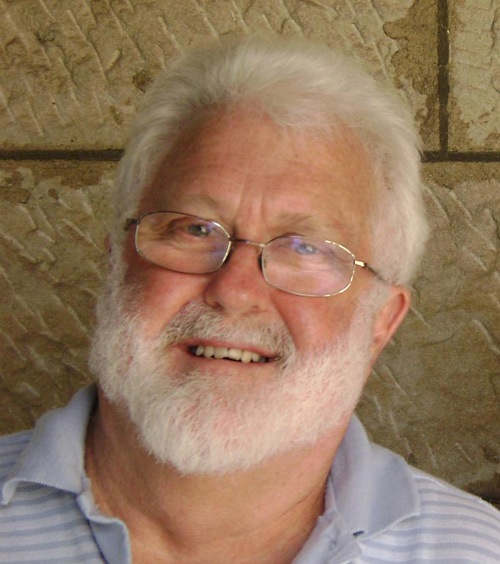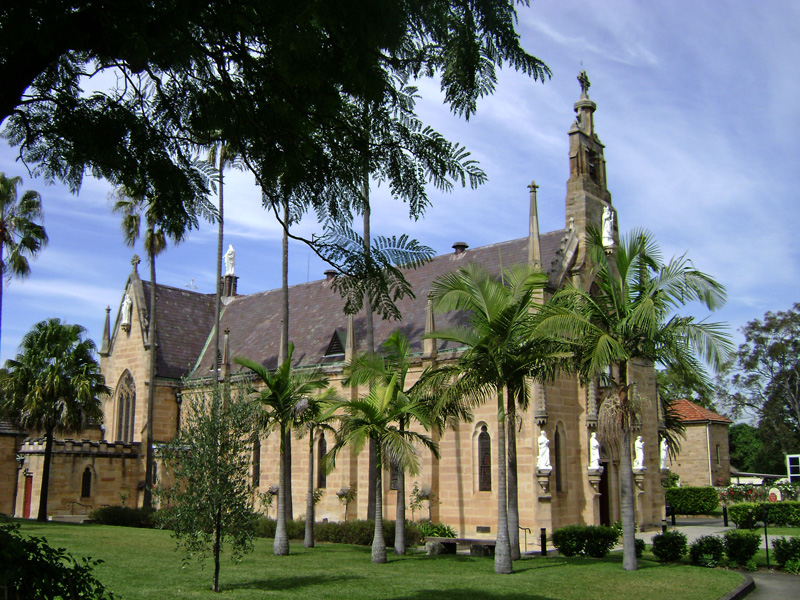 ---
Call to prayer
In a special letter to all members of the Society of Mary, Superior-General, Fr John Larsen SM, has called for prayer during these times of the COVID-19 pandemic.
He says: 'I invite each community to come together for the next nine days to pray before the icon of Mary and Ven. Jean-Claude Colin. We pray for everyone affected in any way by this virus. If we cannot come together as a community we can pray individually, knowing that we are united in Spirit as one Society.
'Ideally, we would begin this novena of prayer on the Feast of St. Joseph, March 19, or whenever we can.'
For Fr John's letter and prayer, click here. For Novena prayer (three on a page), click here. [Mar 19]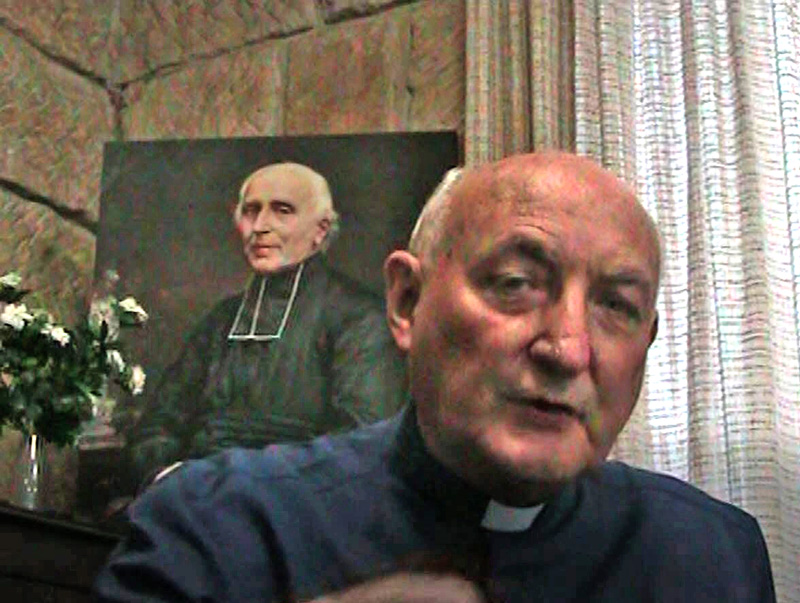 ---
Locked down in Rome
From Casa di Maria, the Marist International Theologate in Rome, Fr Tony Kennedy reports:
'We have been locked down for a few days now here in Rome. Everyone is ok so far. Schools and universities closed on 5th March. The seminarians have plenty of work to do thanks to the lecturers. Some have online classes each day, others just have lots of reading and work to do.
'Last Wednesday night the government expanded the lockdown, which had been in the north of the country, to all of Italy. The bars, cafes and restaurants are all closed. The churches are only open for prayer - no public masses, no weddings, no funerals. Even the football / soccer has been stopped. Supermarkets and chemists are about the only shops open. Fortunately there do not seem to be any shortages, plenty of toilet paper here!
'There are fewer buses and many more police around. You are not supposed to go out of the house except for shopping, to go to work, to go home and for medical appointments. You have to carry a form which states why you are out of the house. The police have been checking and many people have been fined for not complying with the restrictions.

'The house is getting cleaner as members of the community look for something else to do. You can't study all day! Luckily the weather has been very nice and we have access to the roof of our building. Over the weekend we had a couple of bbqs.
'The Italian people have started each day to do something from their balconies as a sign of solidarity. You may have seen some coverage of this. Some have banged pots, sung patriotic songs and even played musical instruments. Last night they shone torches and candles at 9 pm. We joined in too.

'Hopefully the tomato plant which sprung from the dirt in the corner of my balcony will produce some fruit. It is flowering already - it was a very mild winter.
'I hope everyone is safe and well wherever you are. I am not sure how long these restrictions are going to last. It is certainly messing up lots of plans of people all around the world.'
Thanks, Fr Tony! [Mar 17]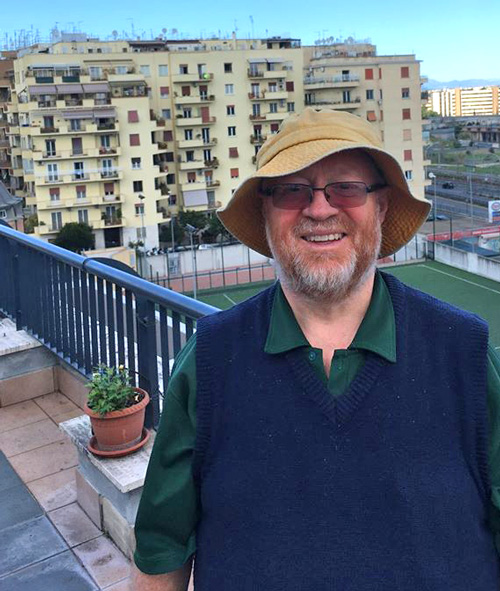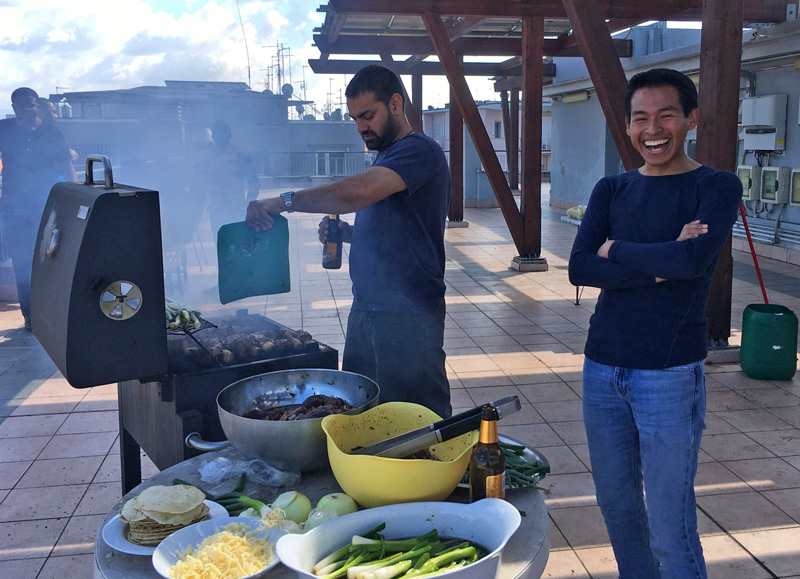 Above: Fr Tony Kennedy with Marist theologate students and one of their lock down barbecues. Below: Casa di Maria's struggling tomato plant. | Deserted streets near the theologate. | Local supermarket's laden shelves.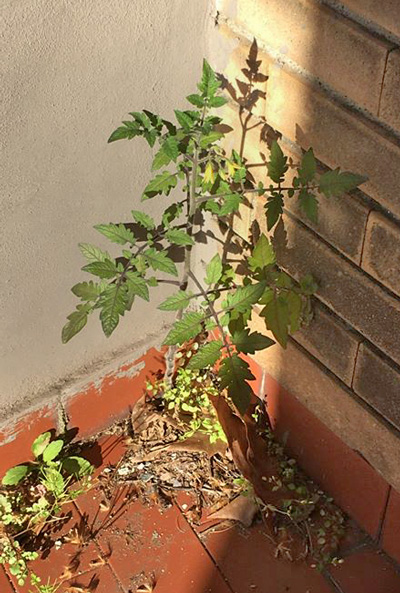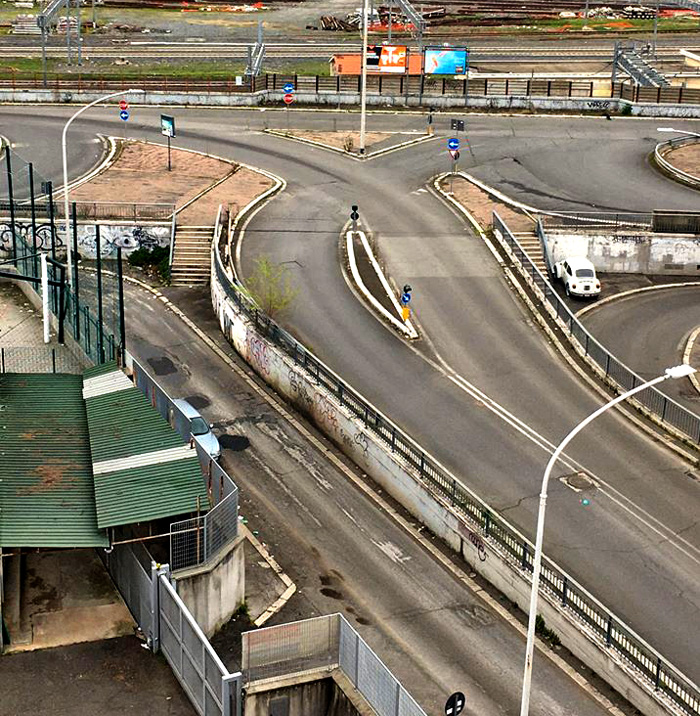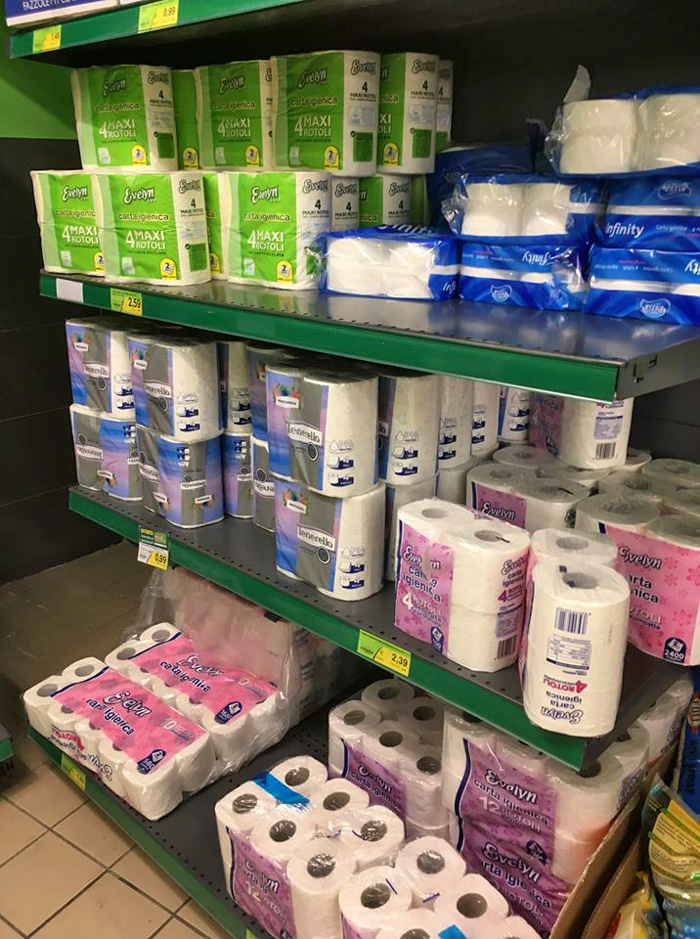 ---
| | |
| --- | --- |
| | St Patrick's Day blessings ! |
---
Seeking graces
Throughout the world a growing number of people are seeking graces through the intercession of Marist Founder, Ven Jean-Claude Colin. A new page on the Colin website invites prayers for some of those people, among whom there are currently two Australians.
Click for the 'Seeking graces' page: [Mar 16]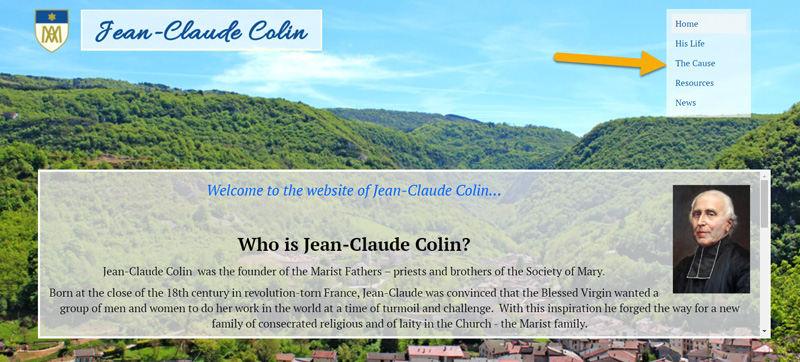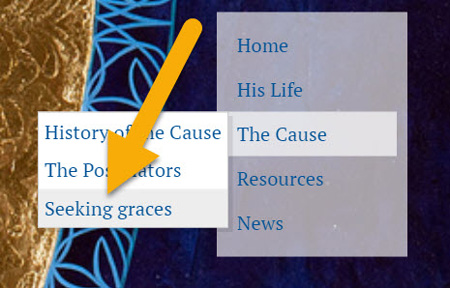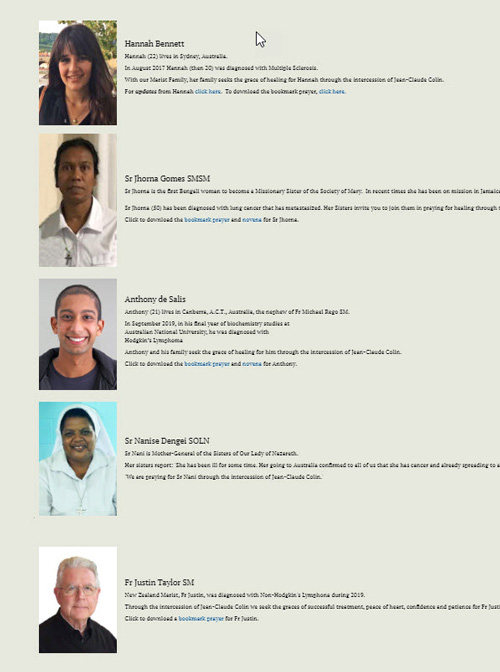 ---
Message from above
Sydneysiders, be advised.. [Mar 12]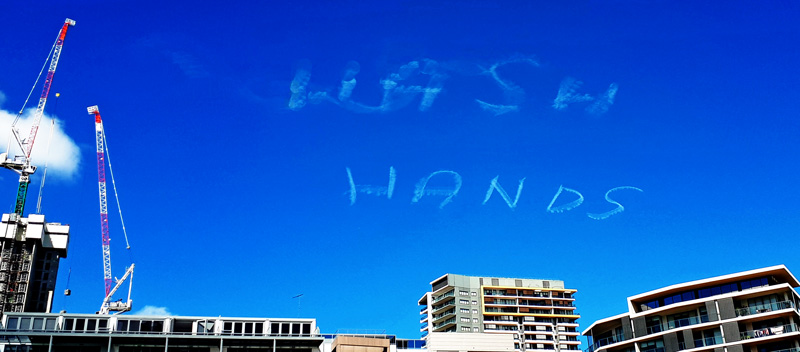 ---
Lenten carbon fast
Catholic Religious Australia's calendar for the Lenten carbon fast is available, click here. (Apologies to CRI for the late uploading.) [Mar 10]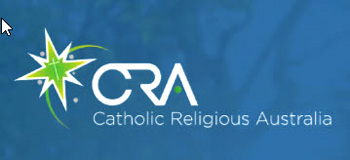 ---
Words of encouragement
Mar 09 marks the anniversary in 1822 of a letter from Pope Pius VII to the Marist aspirants. Whilst not yet an official approval of the Society of Mary, the Holy Father's 'Brief of Praise' came as an encouraging step forward for the Marist project.
Biographer, Fr Justin Taylor SM, writes of this and surrounding events in Chapter 6 of 'Jean-Claude Colin, Reluctant Saint'. The anniversary, along with other dates of Marist significance, is noted in the Colin calendar produced annually for anyone keen to celebrate Marist anniversaries, available on request through the Colin website. [Mar 09]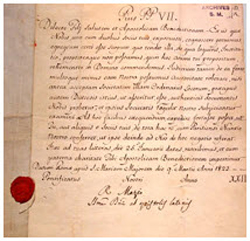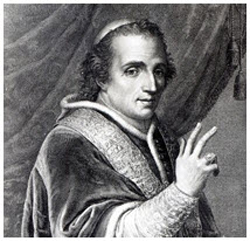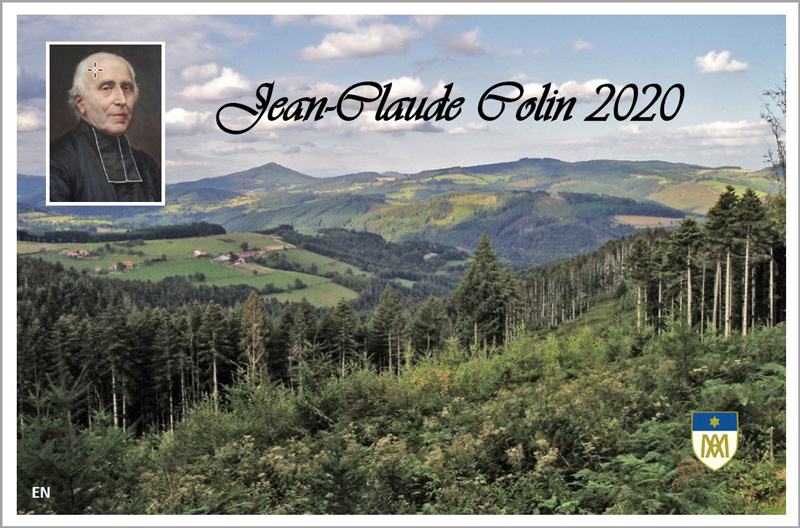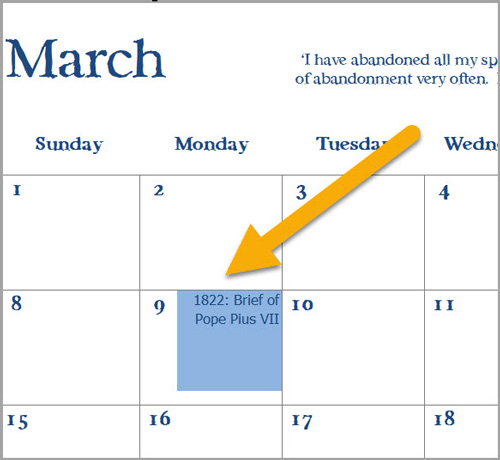 ---
---
JPICC meets
The Marist Family Committee for Justice, Peace and Integrity of Creation held its first meeting for 2020 on Mar 07. The Hunters Hill session heard reports on activities including ecological programs, immersion experiences, use of social media, support for homeless, refugees and stateless children.
The committee continues to support the Marist Father's JPIC 2018 initiative to establish a world-wide Blog, a recent item of which featured Fr Jim Carty's reflections on the bushires of Australia.
Below from left: Fr Jim Carty, Andrew Dumas (Marist Laity Australia), Fr Kevin Stewart and Sr Ruth Davis SM (Fr Ron Nissen not pictured). Other Committee members are Sr Margaret Tisch SMSM, Br Paul Murphy FMS and Frs Kevin Bates and Paul Mahony. [Mar 07]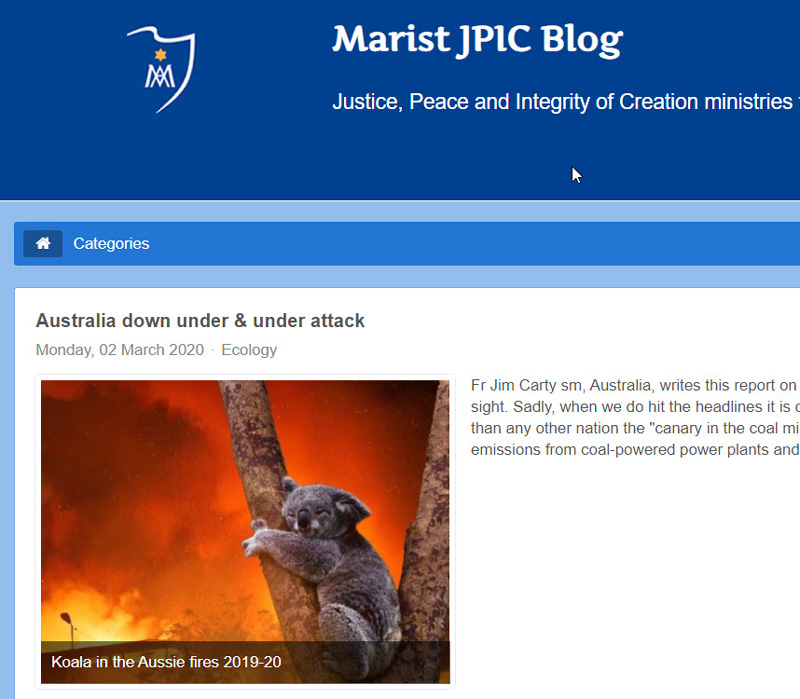 ---
March message
This month's reflection from Superior-General, Fr John Larsen SM, follows his recent trip to Peru and speaks of the essentials of Marist community and mission. Click here or go to his special page: Superior-General's reflections. [Mar 07]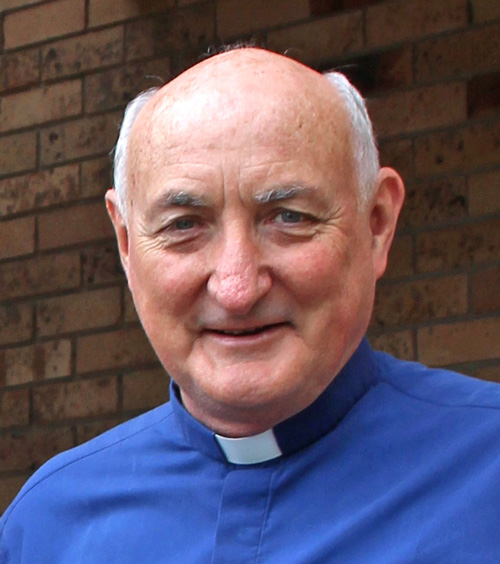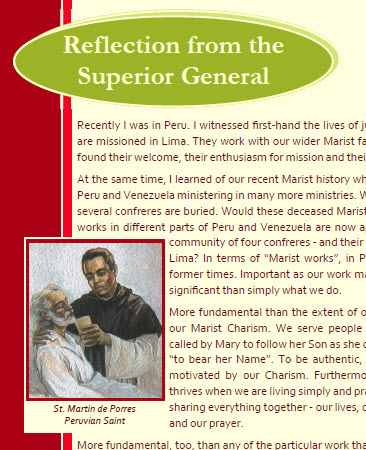 ---
Restructuring meetings begin
As part of a province-wide discernment for future planning, the first of a series of local meetings was held on Mar 05 at Maryvale/Montbel, Hunters Hill.
Witih extensive experience in similar work for not-for-profit groups, facilitator, Paul Bullen, led the meeting and used colour-coded indicative voting as a guide for progress. Discussion focussed heavily on the document prepared beforehand for community discernment. [Mar 06]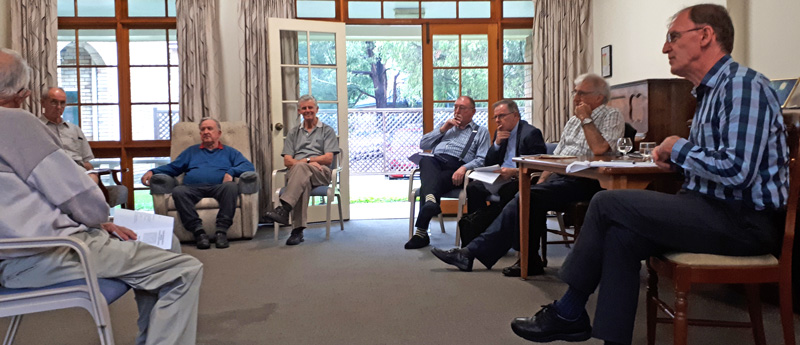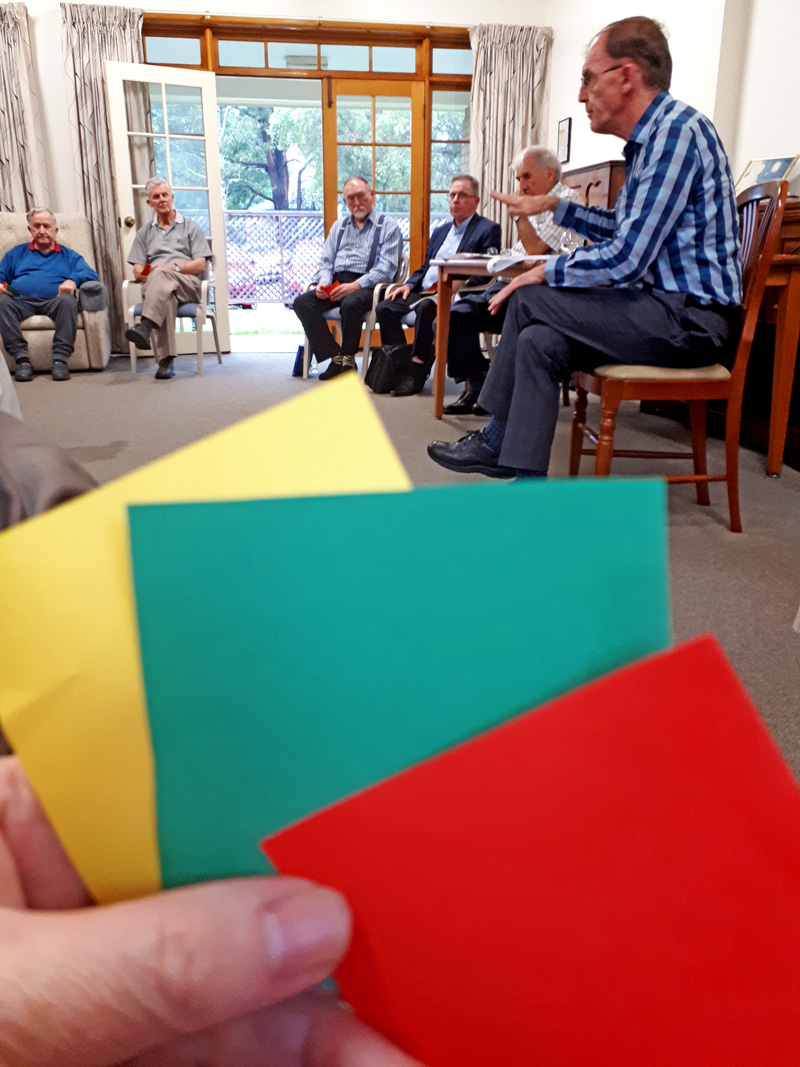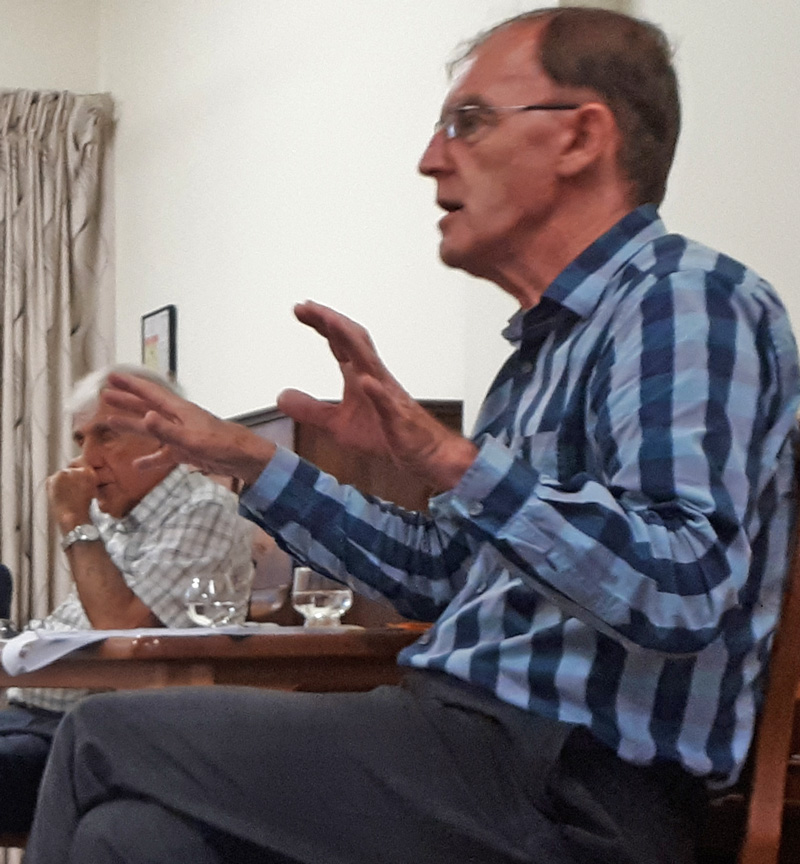 ---
Pacific news
Latest issue of the Marist Oceania Bulletin is now available. Click here or go to Members' Page. [Mar 02]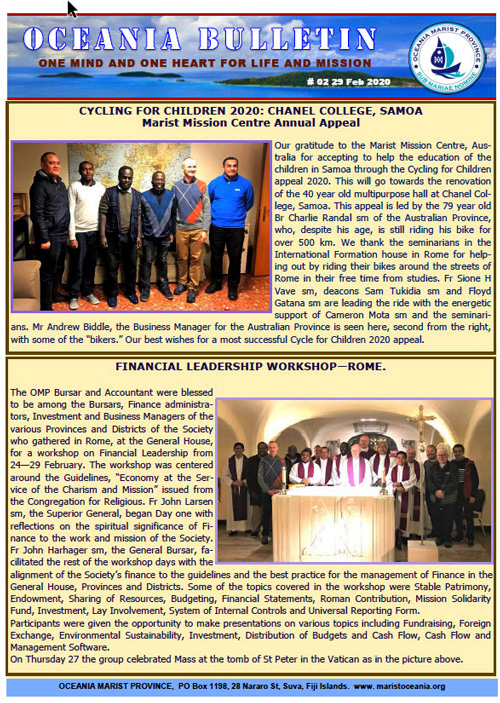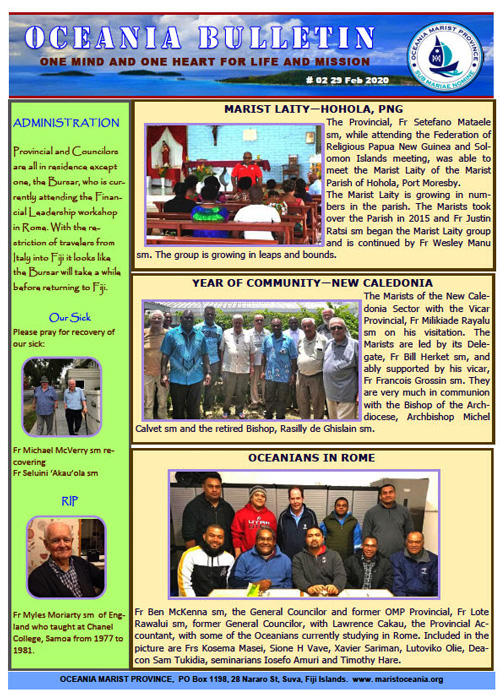 ---
Br Terry's street library
A new sight on Mary St, Hunters Hill, is the street library erected by Br Terry Garrett SM. Drawing on a swag of handyman skills (and surfeit of paperbacks in nearby Montbel's reading room), Br Terry encourages parishioners and passers-by to borrow and replace at will. Thank you, Br Terry ! [Mar 01]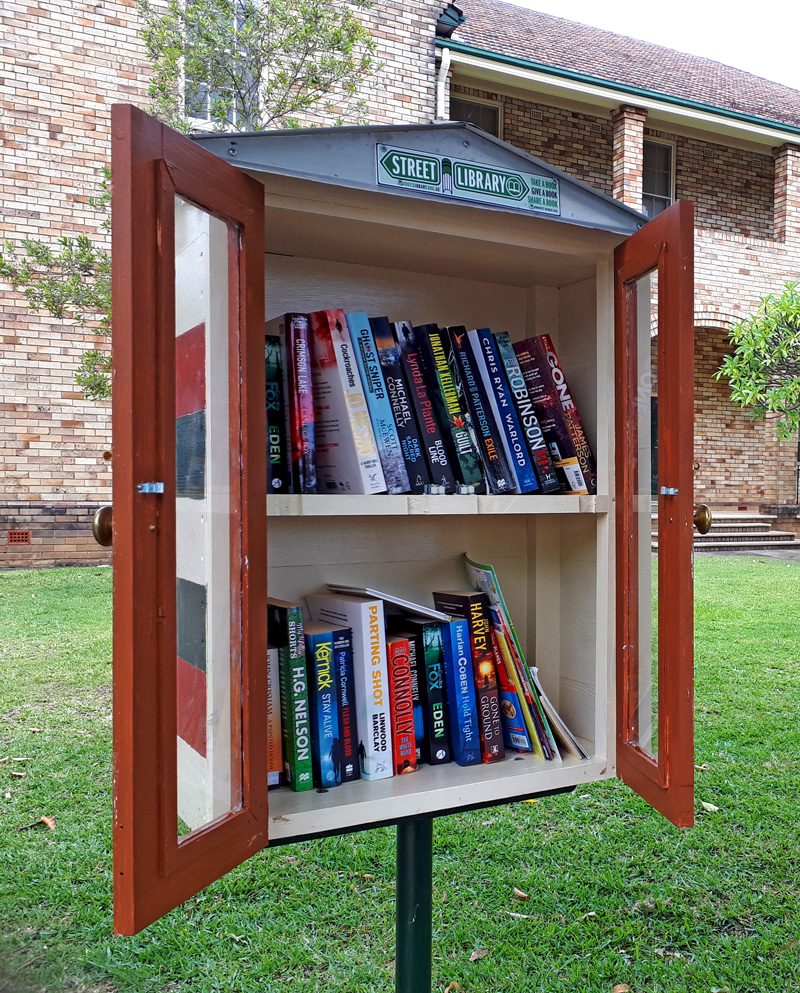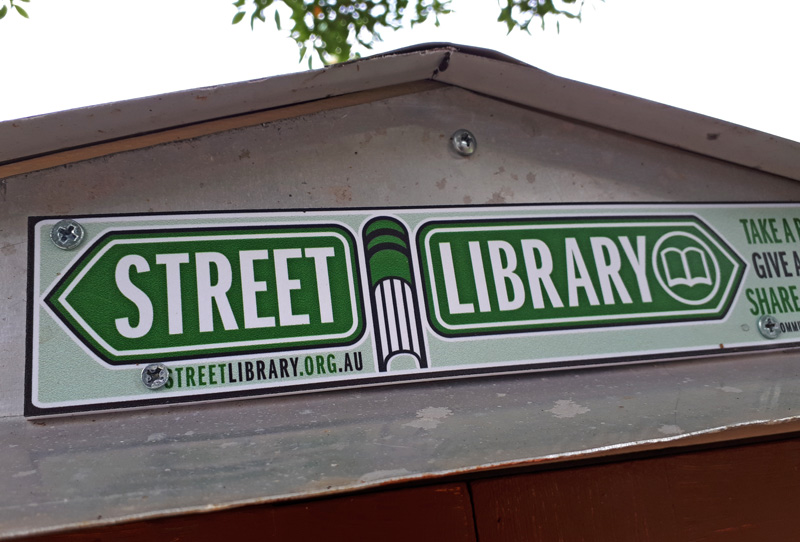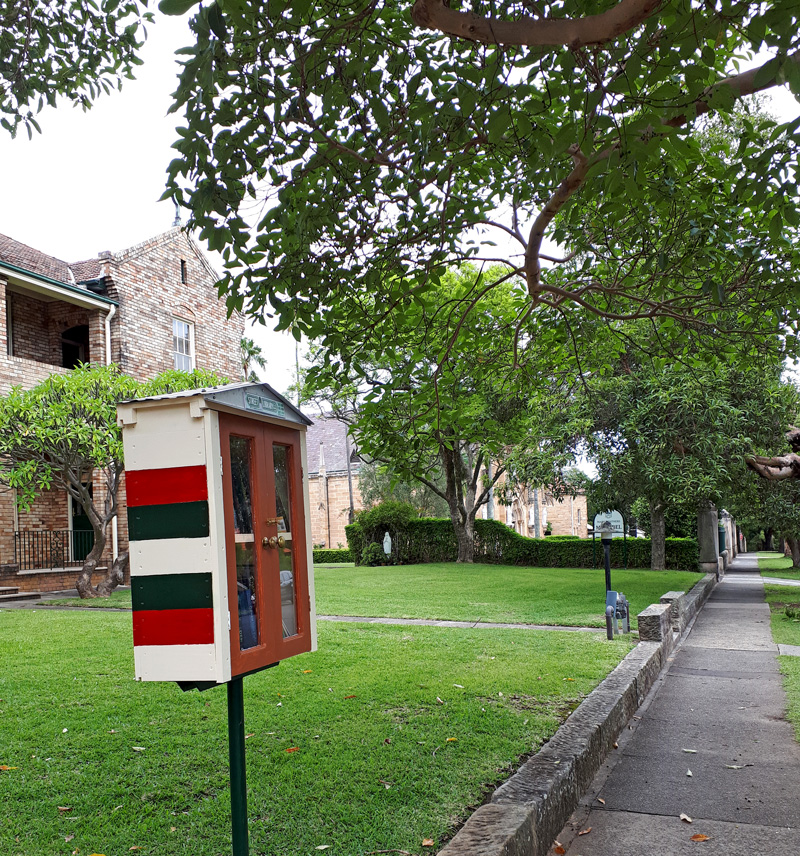 Above: The street library, outside the Maryvale/Montbel residence. Below: Br Terry at work in his workshop, adjacent to the Hunters Hill-Ryde Mens' Shed. (See 'Busy bees', February News).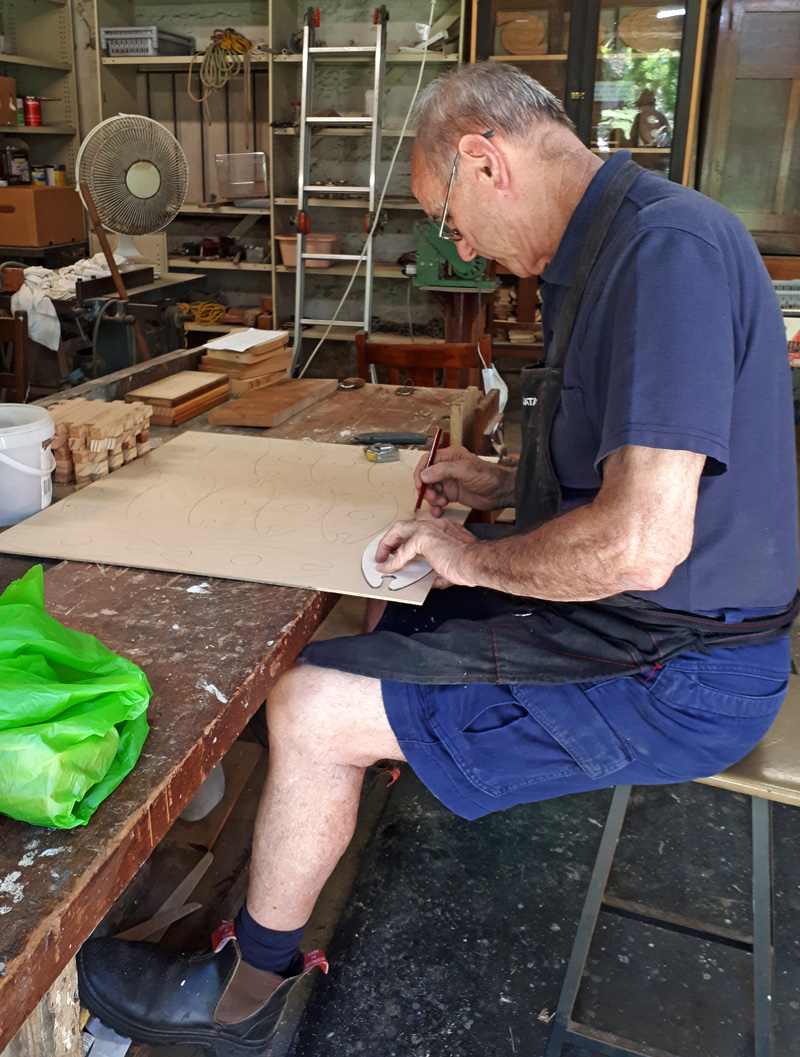 ---