---
October news
Colin calendar: 2021 | Colin calendar 2022 order form: click here

Click here for News 2008 to 2017 | For News 2018 to 2020 click here
---
SM Bulletin
From Rome, this week's SM Bulletin reports on the ordinatiion in Suva of Fr Joe Tora and the publication of Fr Tom Ryan's book on the thought and spirituality of Jean-Claude Colin. It also lists the Marists who have died over the past year and who will be remembered especially during the month of November. Click here or go to the Members' Page. [Oct 29]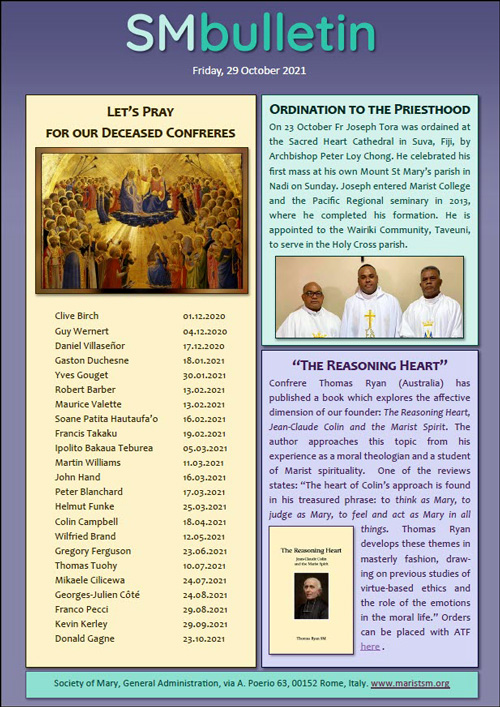 ---
Provincial Circular
Latest issue is on Members' Page: click here. [Oct 26]

---
Pandemic and People
Fr Gerald Arbuckle's latest book, The Pandemic and the People of God: Cultural Impacts and Pastoral Responses, can now be ordered.
The book first dissects the painful cultural and human costs of the pandemic. Vaccines alone will not resolve its enduring consequences. It then offers practical guides for individuals, churches institutions, and nations yearning for a 'new heaven and a new earth' animated by solidarity, compassion, and justice.
It can be ordered from Amazon, Book Depository or Garratt Publishing, Melbourne. Click here for other details. [Oct 25]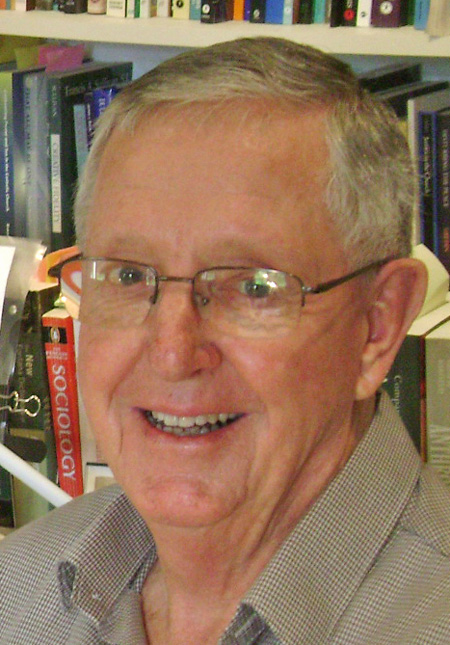 ---
Fiji ordination
In a ceremony at Sacred Heart Cathedral, Suva on Oct 23, Fr Joseph Tora SM was ordained priest by Archbishop Peter Loy Chong. Fr Joe was a member of the Marist College community, graduating from Pacific Regional Seminary, Suva.
Currently there are twenty-five students from Pacific nations at Marist College of whom several will soon leave for Italy and the Marist International Novitiate.
Congratulations, Fr Joe ! [Oct 24]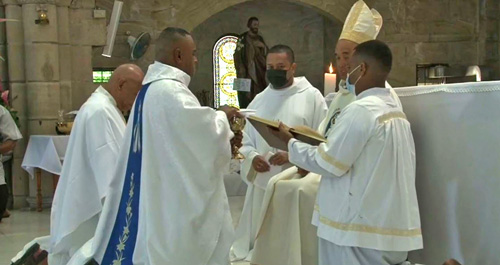 ---
National Day of Sorrow and Promise
Now in its fourth year, this day will be held on Sunday, Oct 24, acknowledging survivors of abuse within the Catholic Church and all those who have been hurt by that abuse and looking to a better, safer future.
Catholic Religious Australia have prepared a liturgy booklet for the event: click here. For CRA's Promise Statement click here.
For further reading related, see Australasian Catholic Record's recent review of Fr Tom Ryan's book, 'Shame, Hope and the Church: A Journey with Mary': click here. [Oct 23]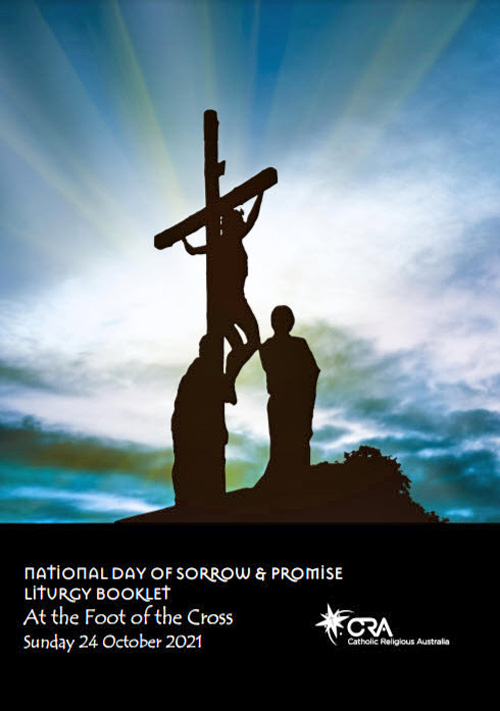 ---
SM Bulletin
From Rome this week's SM Bulletin reports on the fortthcoming Year of Vocations, the handover of Sacré-Coeur in Quebec and Fr Gerry Arbuckle's book on the Pandemic. Click here or go to Members' Page. [Oct 22]
---
Euroinfo
From Paris comes the October issue of Euroinfo, reporting on 175 years of Marist education in Toulon, depatrthe leaving of Coslada (Spain) and the return of Relais Marist in FRance. For Euroinfo: click here or go to Members' Page. [Oct 19]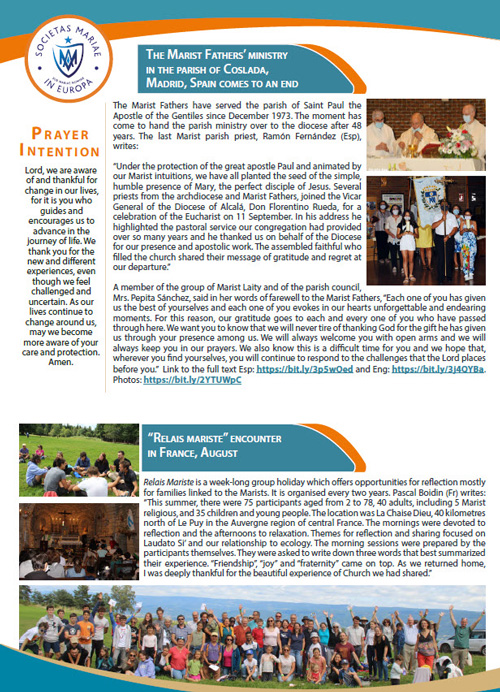 ---
SM Bulletin
From Rome, SM Bulletin reports on the ordination of Fr Hayden Powick SM in New Zealand, the announcement of the Council of the Society in 2022 and activities of the General Administration. Accompanying the Bulletin is the 2022 Kalendarium, an annual listing of liturgical and Marist dates.
For the SM Bulletin, click here and Kalendarium, click here or go to Members' Page. [Oct 17]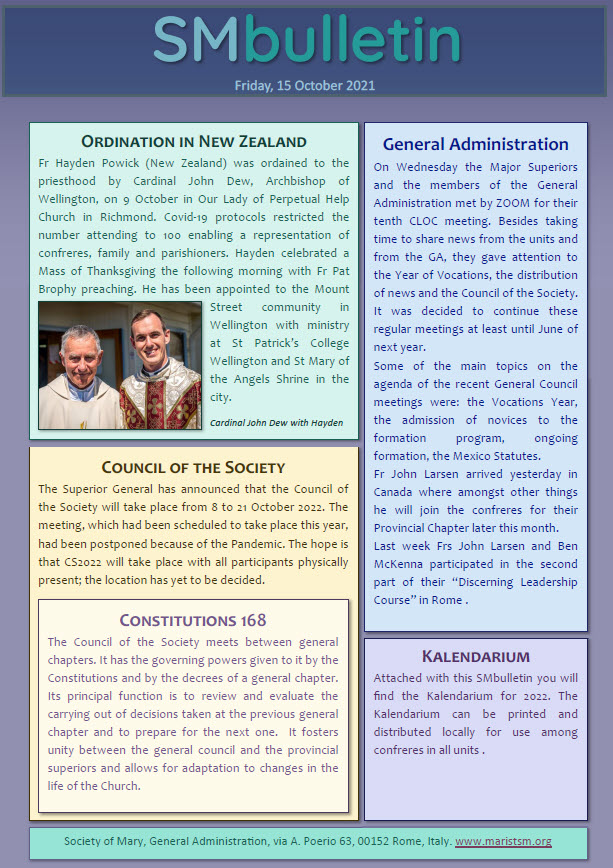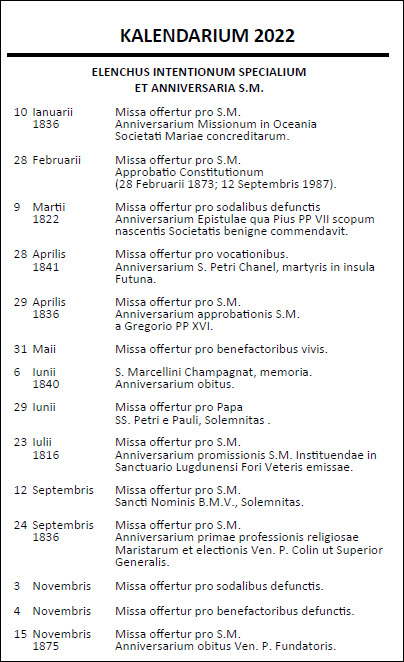 ---
Ordination of Fr Hayden Powick SM
SM Bulletin reports of the recent priestly ordination of Kiwi Marist, Hayden Powick SM: 'Fr Hayden Powick was ordained to the priesthood by Cardinal John Dew, Archbishop of Wellington, on 9 October in Our Lady of Perpetual Help Church in Richmond.
'Covid-19 protocols restricted the number attending to one hundred enabling a representation of confreres, family and parishioners.
'Fr Hayden celebrated a Mass of Thanksgiving the following morning with Fr Pat Brophy preaching. He has been appointed to the Mount Street community in Wellington with ministry at St Patrick's College Wellington and St Mary of the Angels Shrine in the city.'
He is pictured below with Wellington's Cardinal John Dew. Congratulations, Fr Hayden ! [Oct 15]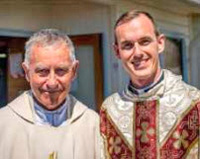 ---
SM Bulletin
Fr Rome, this week's SM Bulletin reports of the final profession of four young Marists and on the visit of Fr Ben McKenna to Senegal. Click here or go to the Members' Page. [Oct 09]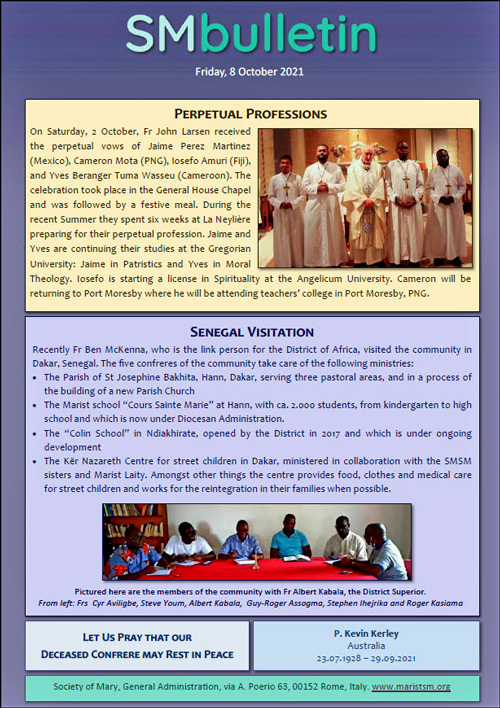 ---
Farewell, Fr Kevin
Requiem Mass for Fr Kevin Kerley, SM, OAM, was celebrated at Holy Name of Mary church, Hunters Hill, on Oct 08. Provincial, Fr Anthony Corcoran, presided at the liturgy, livestreamed and COVID-limited, which was followed by interment in the mission cemetery of Villa Maria monastery.
For more on Fr Kevin's life and recent death, click here. May he rest in peace. [Oct 08]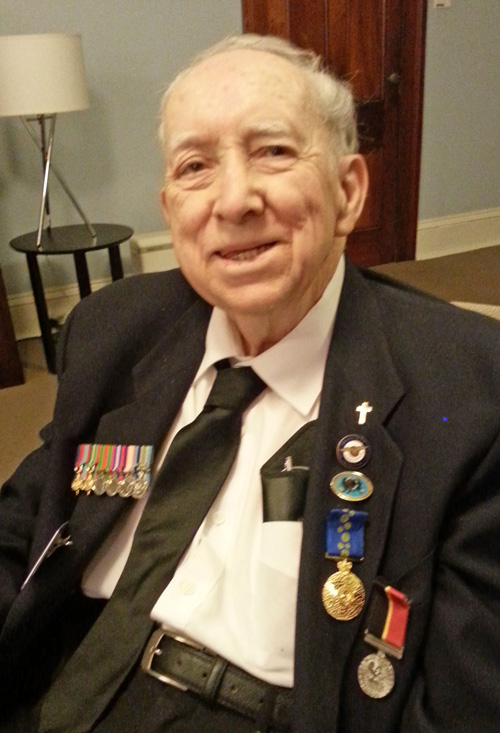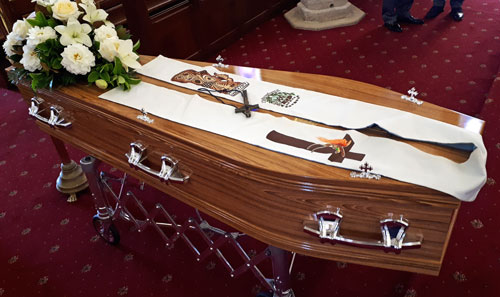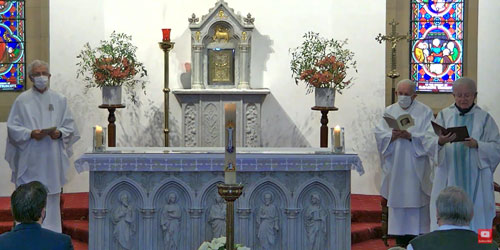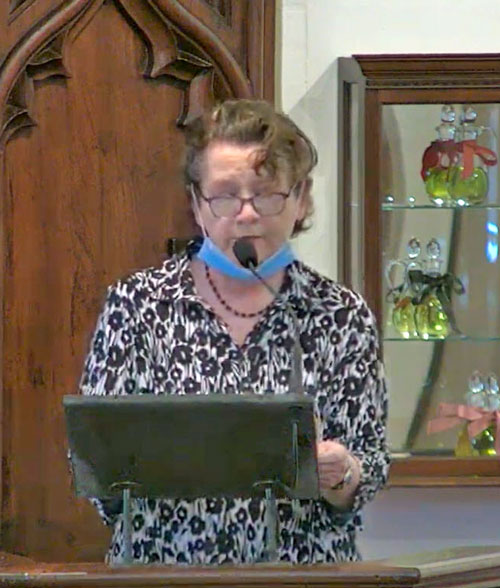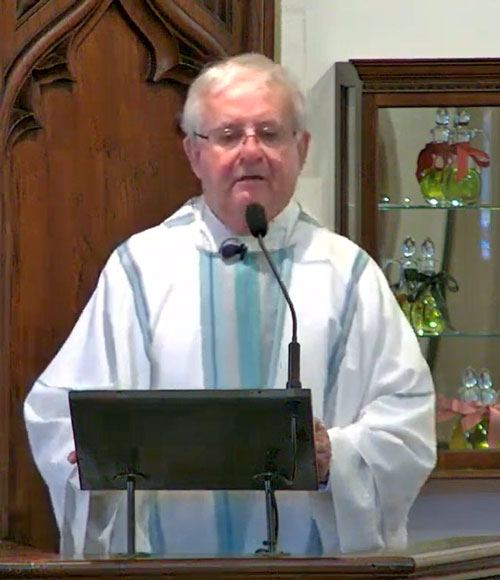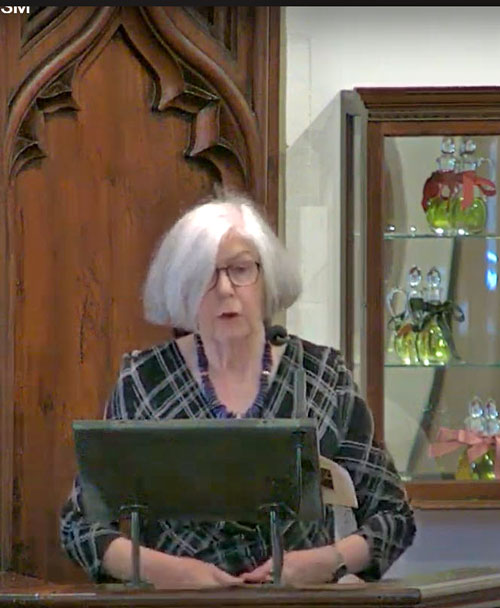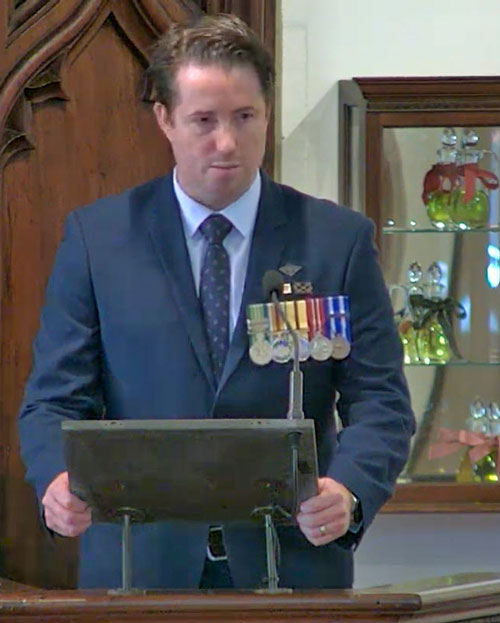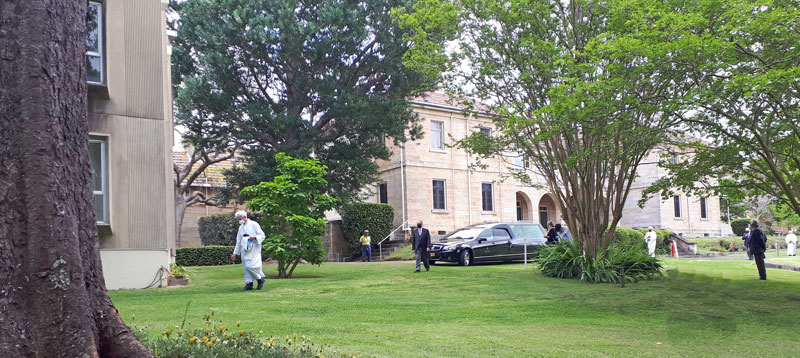 ---
Familia Marista
From Madrid, Spain, comes the third issue of Familia Marista for 2021. The Spanish language 24-page newsletter includes an article from Fr Paddy O'Hare on the Marist mission in Japan. English translations for Fr Paddy's article and those on vocations in Asia and Pacific, and for seminarian Clinton Kube's Sahagun experience are included on a separate document: click here. For Familia Marista, click here [Oct 07]
---
Oceania newsletter
Latest news from the Marist Oceania Province includes reports on the pandemic in Fiji, PNG and New Caledona, Holy Name of Mary celebrations, youth ministry in Bougainville and a tribute to Fr Kevin Kerley. For the Oceania Bulletin, click here or go to Members' Page. [Oct 06]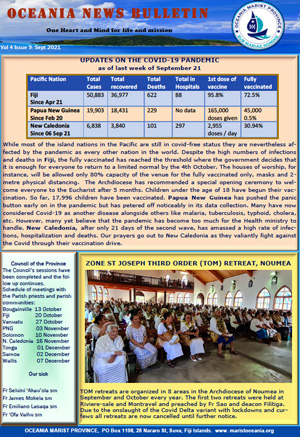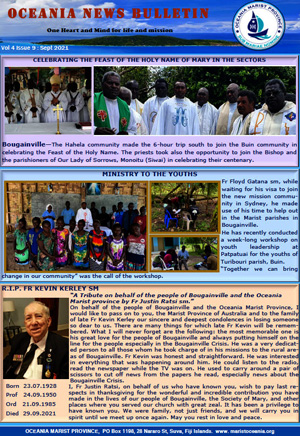 ---
Final professions
Four young Marists took perpetual vows as members of the Society of Mary in a ceremony in Rome on Oct 02. Superior-General, Fr John Larsen SM, presided at the final profession Mass celebrated in the chapel of Villa Santa Maria, the General House of the Marist Fathers.
The finally professed Marists are Yves Beranger Tuma (Cameroon), Cameron Mota (PNG), Jaime Martinez Perez (Mexico) and Iosefo Amuri (Fiji), members of the Marist International Theologicate, Casa di Maria, commmunity.
Congratulations, Yves, Cameron, Jaime and Sefo ! [Oct 02]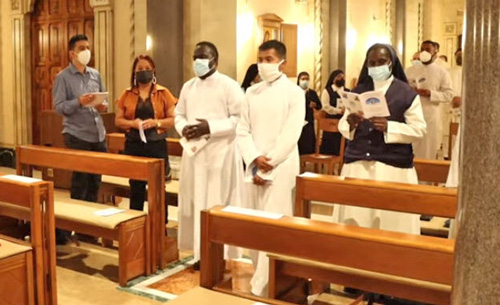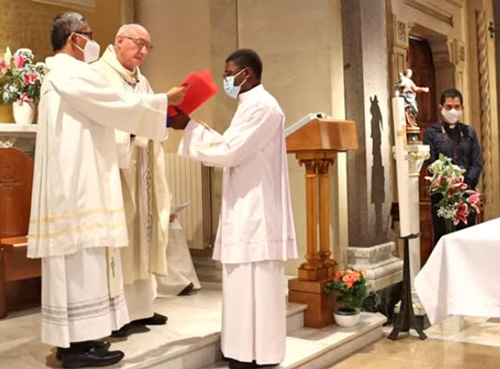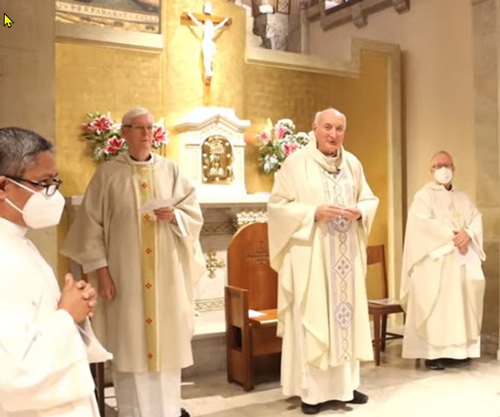 Above: Scenes from the final profession Mass at Villa Santa Maria, including Fr John Larsen addressing the livestreamed audience watching the ceremony from as far away as Moscow and Mexico, Sahagun and Sydney. Below: Participants in the liturgy included Casa di Maria's Fr Tony Kennedy and homilist, Fr John Harhager, Vicar-General of the Society of Mary.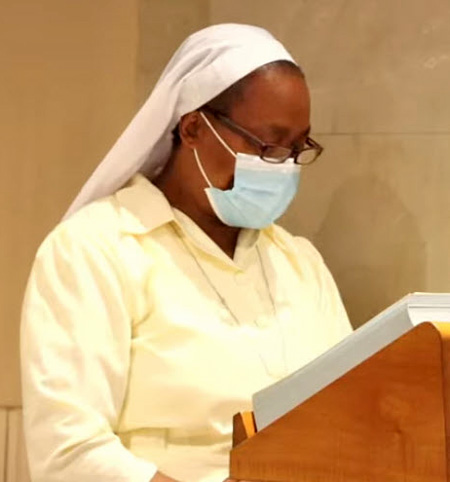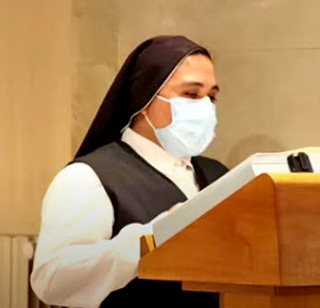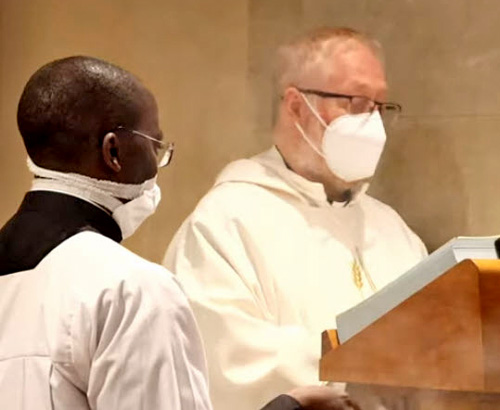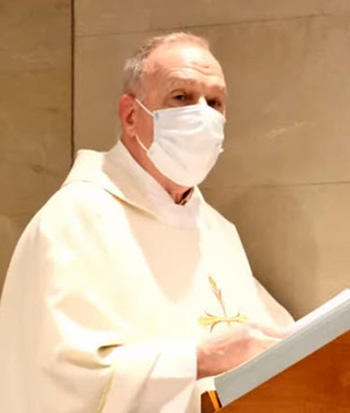 Below: The four young Marists presenting themselves for final profession. | Litany of the Saints. | Individual taking of vows. | Renewing temporary vows last month at the shrine of Our Lady of Fourvière, France, from left, Jaime, Yves, Cameron and Iosefo.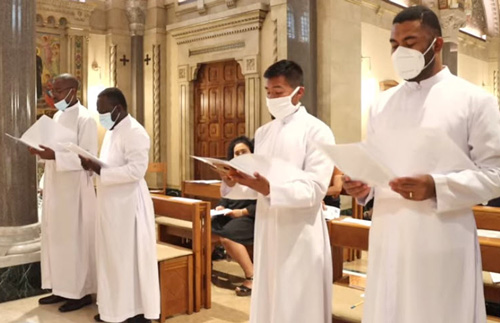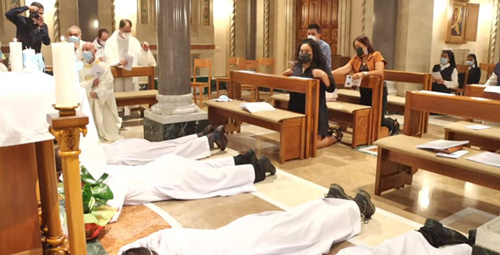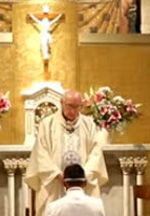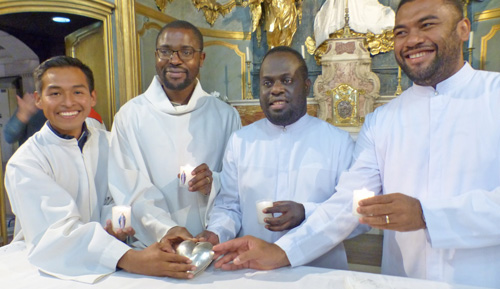 ---
Superior-General's reflection
On the eve of final profession of four young confreres, Fr John Larsen's October reflection invites Marists to deepen and delight in their commitment to community life. For the reflection click here or go to the Superior-General's Page. [Oct 01]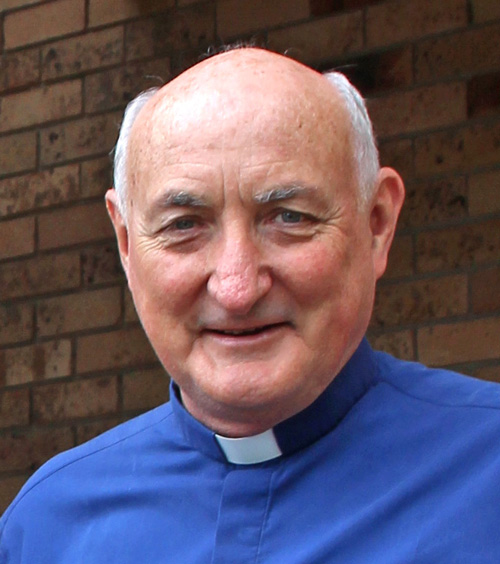 ---