---
For previous years, go to News menu, above
---
---
---
Vocations webinar
The second in a series of online seminars for the Marist Year for Vocations was held on Apr 29. Over sixty members of the Marist Family from various parts of the globe heard a presentation from Westminster diocese priest, Fr Stephen Wang, (pictured below) speaking on contemporary issues in vocations ministry. Fr Stephen was recently appointed rector of the English College in Rome.
The event was hosted by Fr Daniel Fernandez SM (below, right) on behalf of the Marist Fathers' international committee for the Year for Vocations. The next webinar (a series of three) will be held on Jul 29/30. [Apr 30]]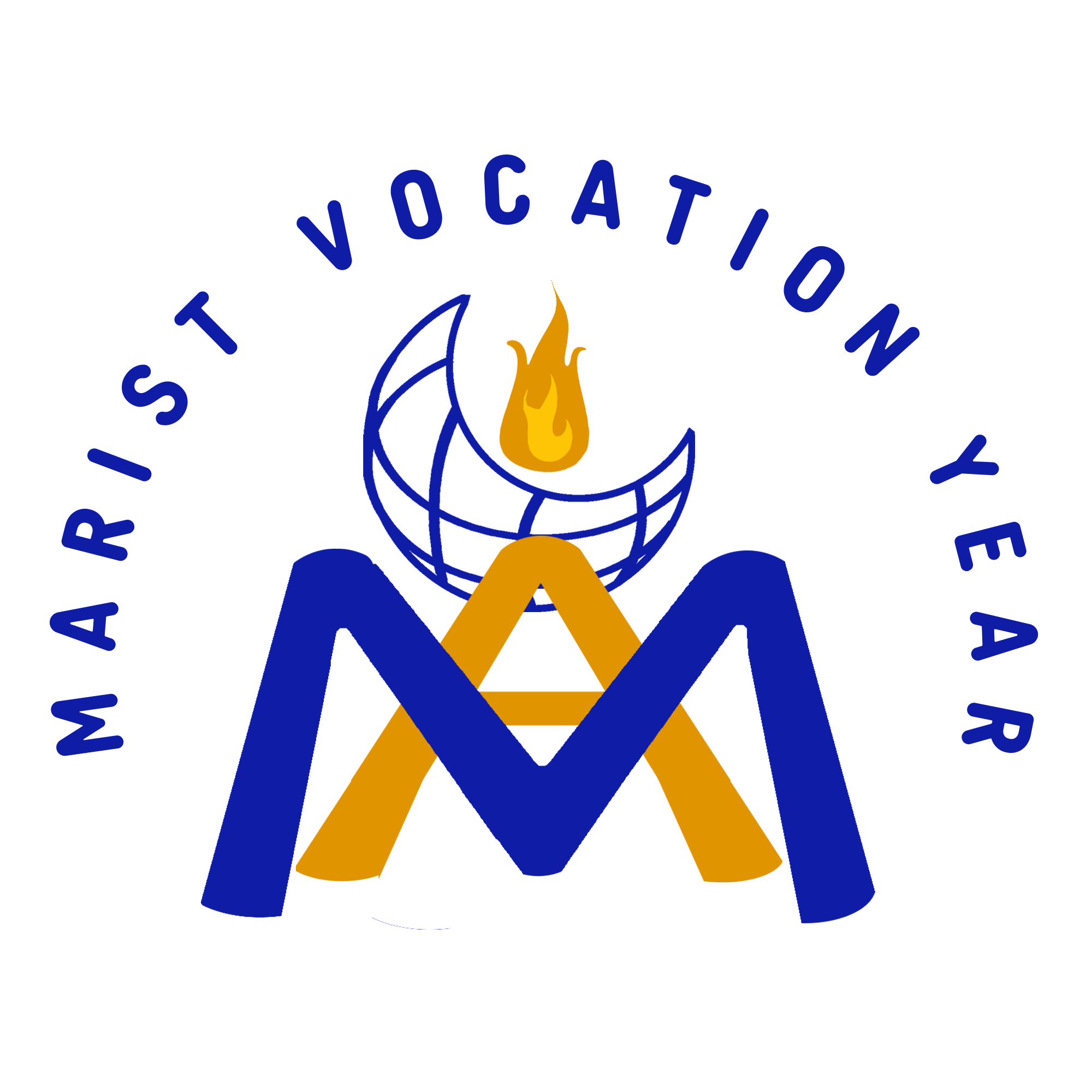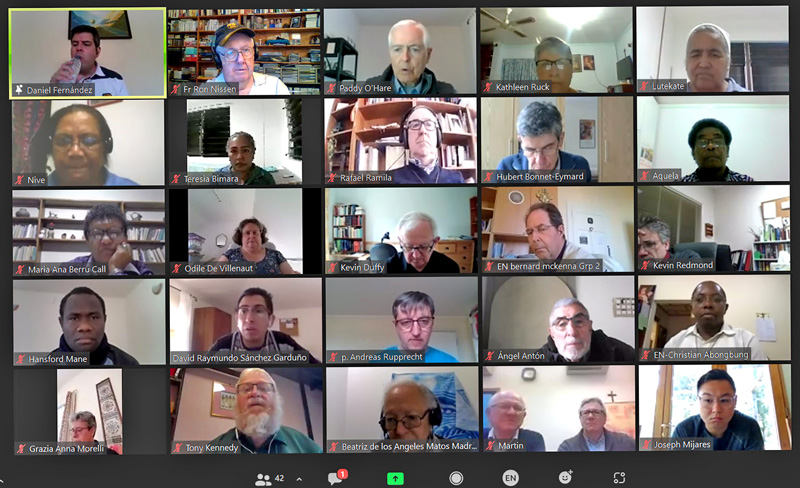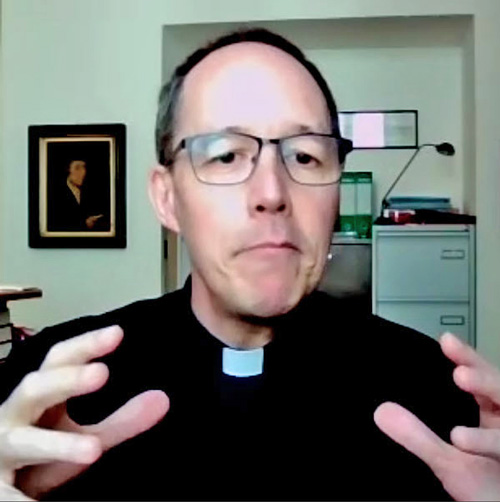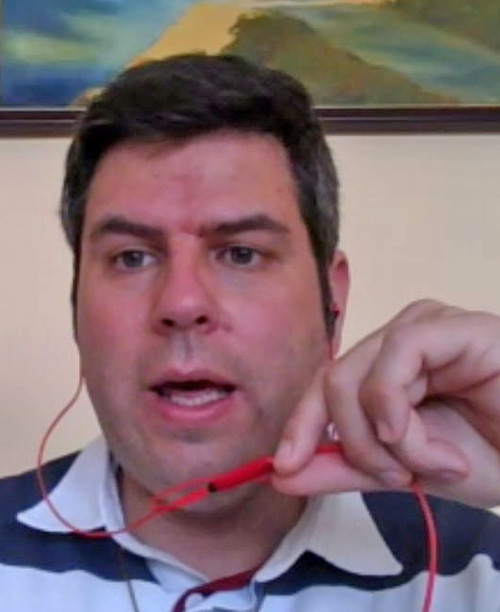 ---
SM Bulletin
From Rome, this week's SM Bulletin reports on Fr John Larsen's visit to USA, Peter Chanel celebrations at the General House and the Vocations Webinar set for Apr 29.
To download, click here or go to Members' Page. [Apr 29]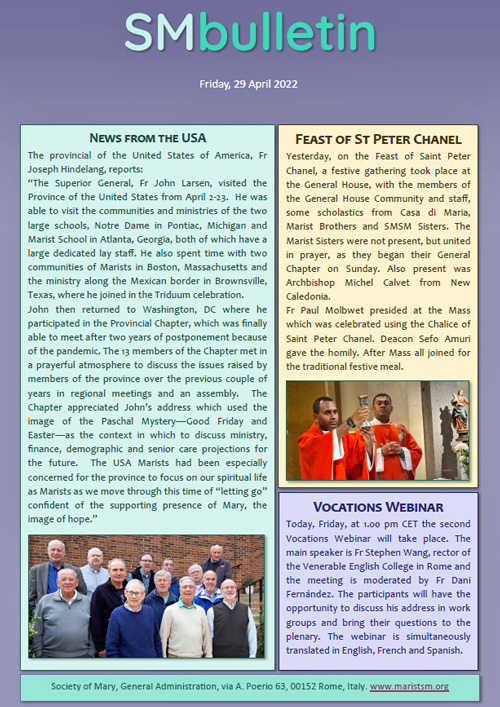 ---
On whatever distant shore
On Apr 29, 1836, mission-minded Pope Gregory XVI gave his official approval to the establishment of the Society of Mary. Ending a twenty-year journey of preparation and emerging leadership, Fr Jean-Claude Colin accepted the Pope's invitation for the fledging Marist group to undertake the missions of the south-west Pacific.
The Holy Father and the Congregation 'Propaganda Fide' were looking for missionaries to send to the distant and unevangelised islands. Fr Colin responded: 'We will work on whatever distant shore'.
Marists today offer Mass for God's blessing on the Society of Mary. Happy 186th anniversary !
For 'On whatever distant shore' click: English | French | German | Portuguese | Spanish [Apr 29]

---
Prayer to St Peter Chanel

St Peter Chanel, you left your homeland to proclaim Jesus, Saviour of the world, to the peoples of Oceania.
Guided by the Spirit of God, who is the strength of the gentle, you bore witness to love, even laying down your life.
Grant that, like you, we may live our daily life in peace, in joy, and in fraternal love.
May your prayer and example call forth from our midst many workers for the Gospel
so that God's Kingdom may reach to the ends of the earth. Amen.


Feast Day Apr 28 | Prayer: click here | Prayer service: click here
---
St Peter Chanel
On the south-west Pacific's distant isle of Futuna on April 28, 1841, the Society of Mary and the vast world of Oceania received their first martyr: Fr Peter Chanel SM. Click for 'Life of St Peter Chanel'. For 'A Marist reflects on St Peter Chanel', click here. [Apr 28]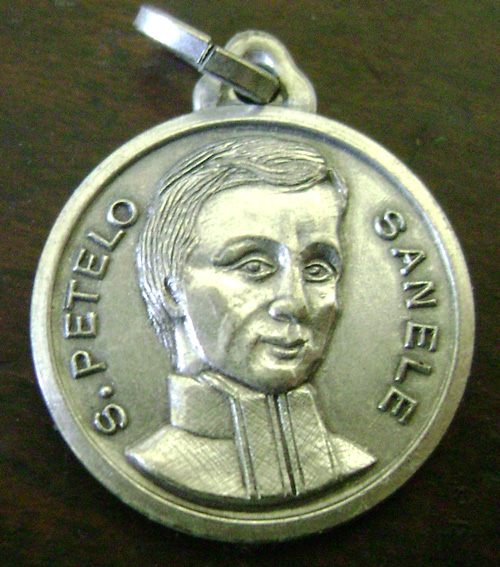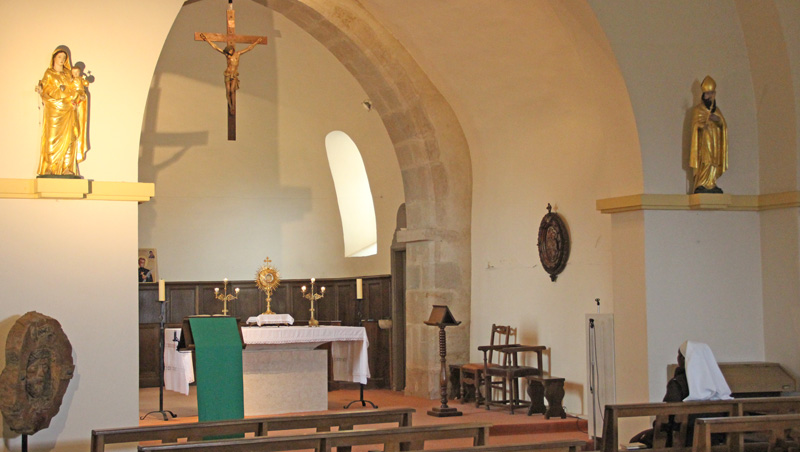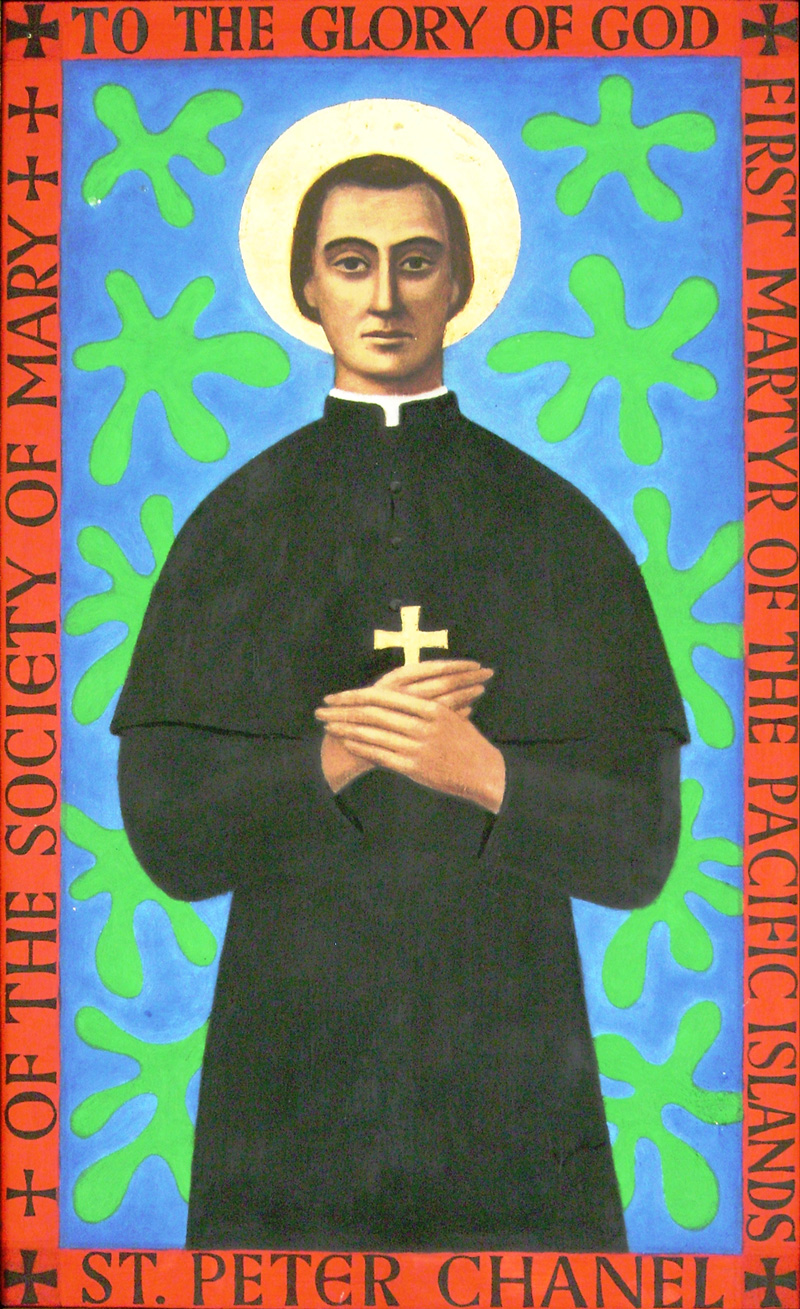 Above: Contemporary images of St Peter Chanel including that (at right) by Australian artist, John Coburn, presented to St Peter Chanel's Scholasticate, Toongabbie, NSW, in the 1960s and now hanging at Montbel, Hunters Hill. Centre: a sister at prayer in the parish church of Cuet, France.. Below: La Potière, where Peter Chanel was born. | The parish church of nearby Cuet.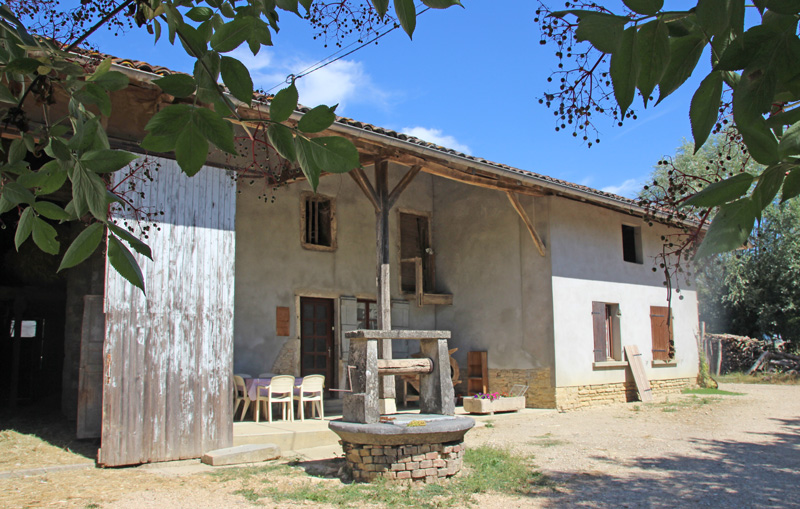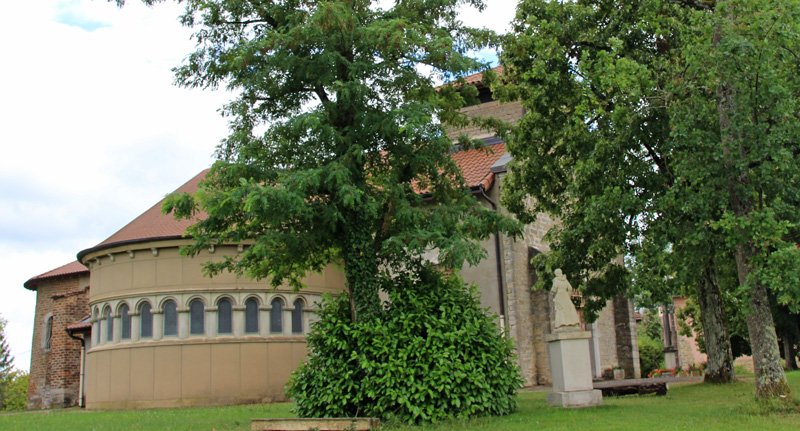 Below: In the church of Cuet, paintings depicting two miracles through the intercession of St Peter Chanel. | Reliquary, and windows showing the arrival in 1837 of the young priest in Futuna and his martyrdom four years later.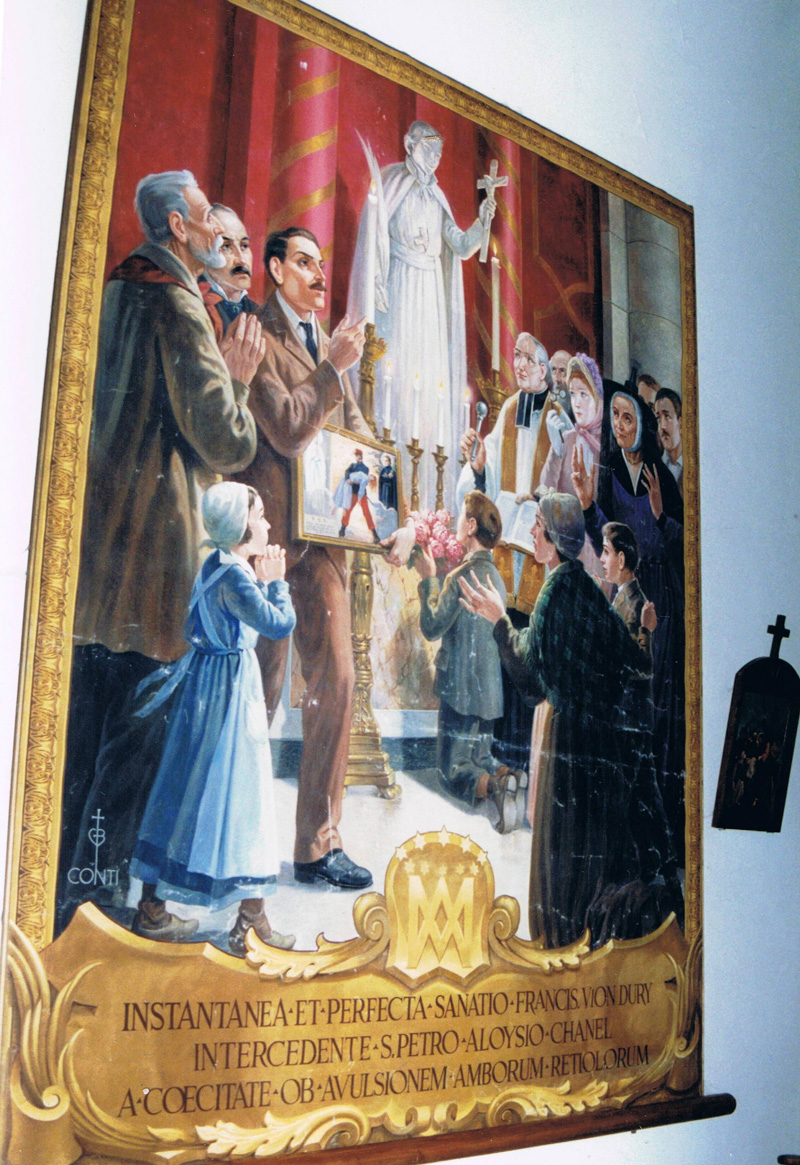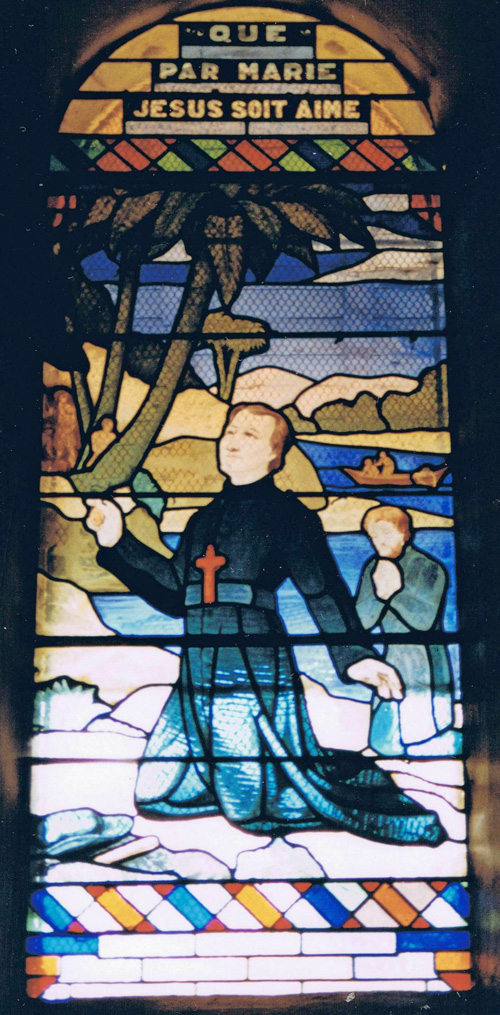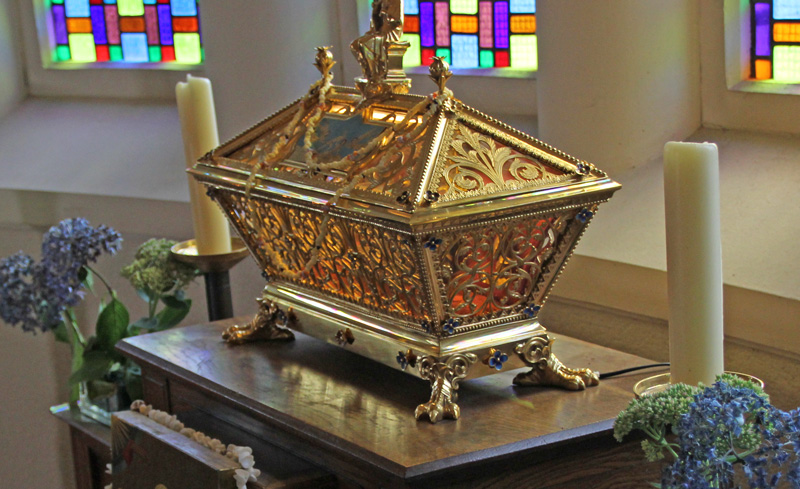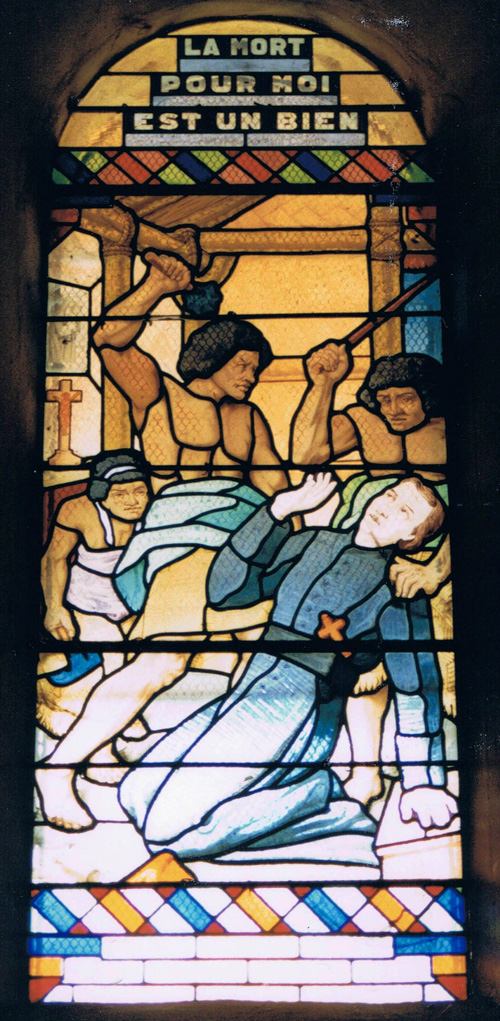 ---
Sisters in Chapter
The 30th General Chapter of the Marist Sisters has commenced in Italy. Australian Sisters at the Chapter are Srs Grace Ellul (Superior-General), Vivienne Goldstein (General Councillor), Noelene Simmons (General Bursar), Gail Reneker, Kate McPhee and Judith Lythall. Pictured below are scenes from the opening liturgy at Nemi on Apr 24. The Chapter, with its theme of 'Crossing Threshholds - Bearers of Hope', will conclude on May 15. [Apr 26]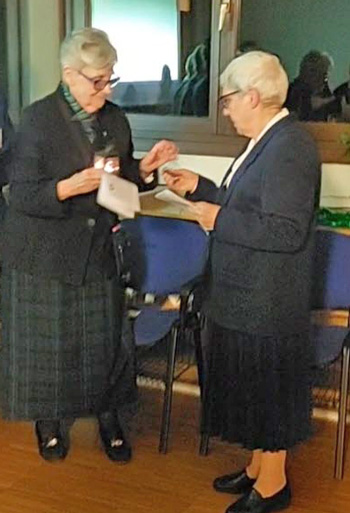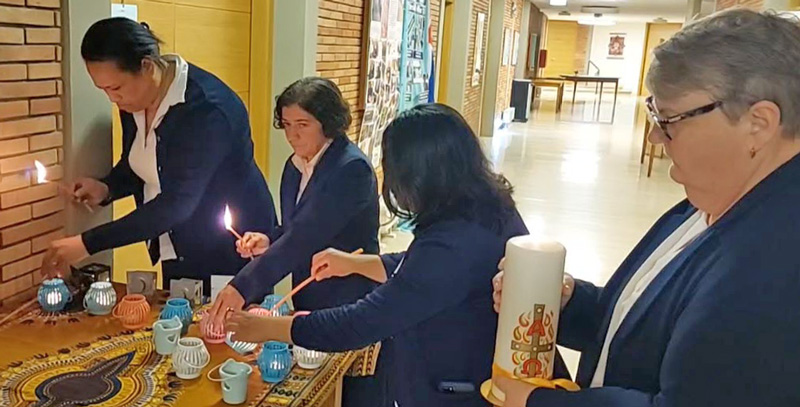 Abive: The Sisters gather at the Nemi centre on the outskirts of Rome, led by Superior-General, Sr Grace Ellul SM. Below, Australian Sisters: Sr Judith Lythall leading Sr Grace in procession to the Chapter hall. | Srs Gail Reneker, Noelene Simmons and Kate McPhee, with Sr Vivienne Goldstein nearby.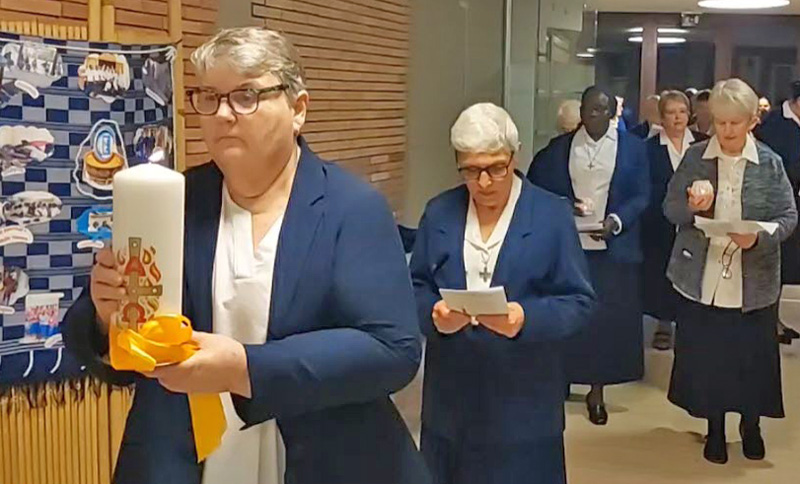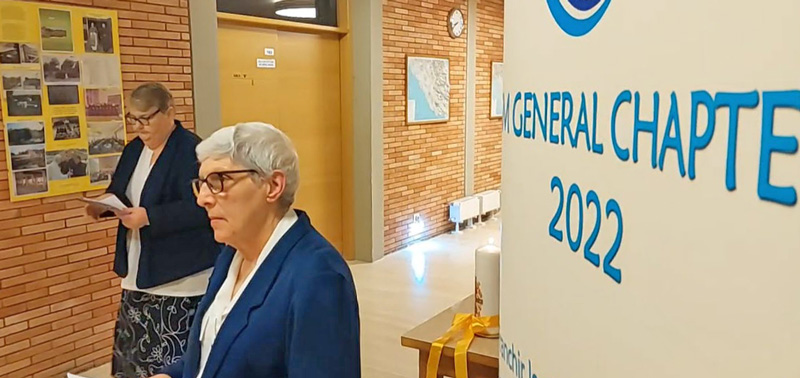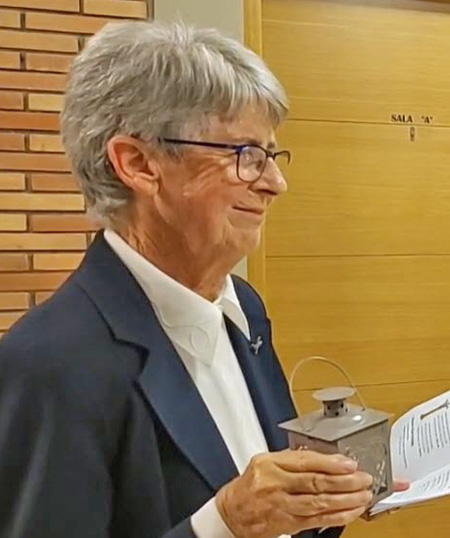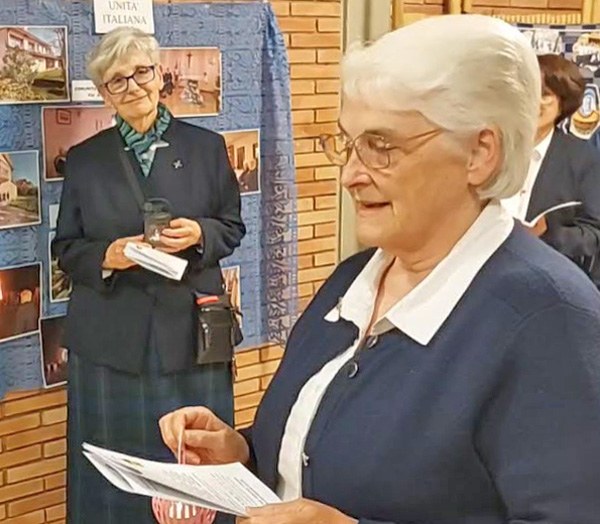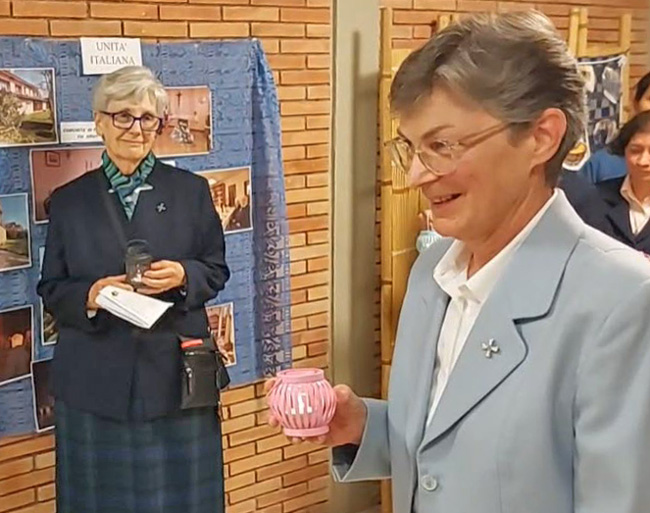 ---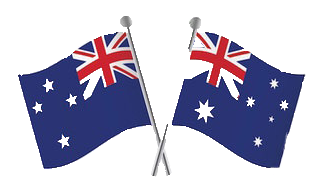 Lest we forget
[Apr 25]
---
SM Bulletin
From Rome this week's SM Bulletin reports on the new statue of St Peter Chanel in Dublin, Marists welcoming refugees, activities of the General Administration and Marists involved in International Mission postings.
To download, click here or go to Members' Page. [Apr 22]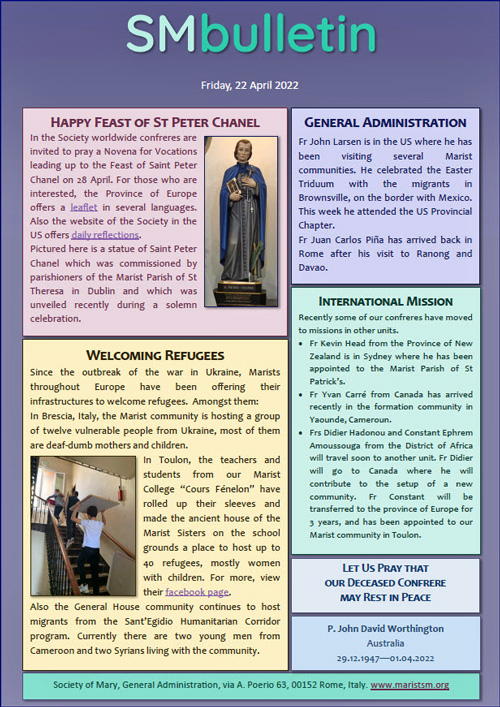 ---
Farewell, Fr John Worthington
Marist provincial, Fr Anthony Corcoran, presided at the Requiem Liturgy for Fr John Worthington at Holy Name of Mary church, Hunters Hill on Apr 21. Two of Fr John's siblings, Peter and Robyn, delivered eulogies and seminary classmate, Fr Michael Whelan, gave the homily.
The Mass was followed by cremation at Macquarie Park, North Ryde, while vigil gatherings of confreres and family members were held on the previous evening in the chapel of Montbel. Friends and famly members travelled from the UK, Brisbane and the Northern Rivers district of NSW to farewell Fr John.
For more on the life of Fr John Worthington, click here. [Apr 21].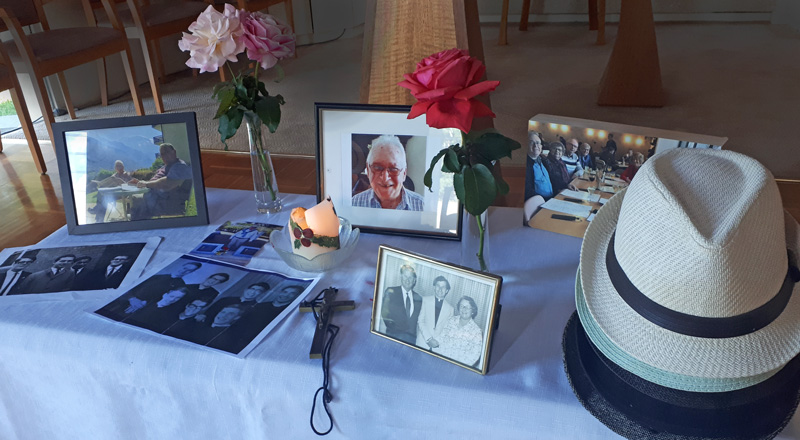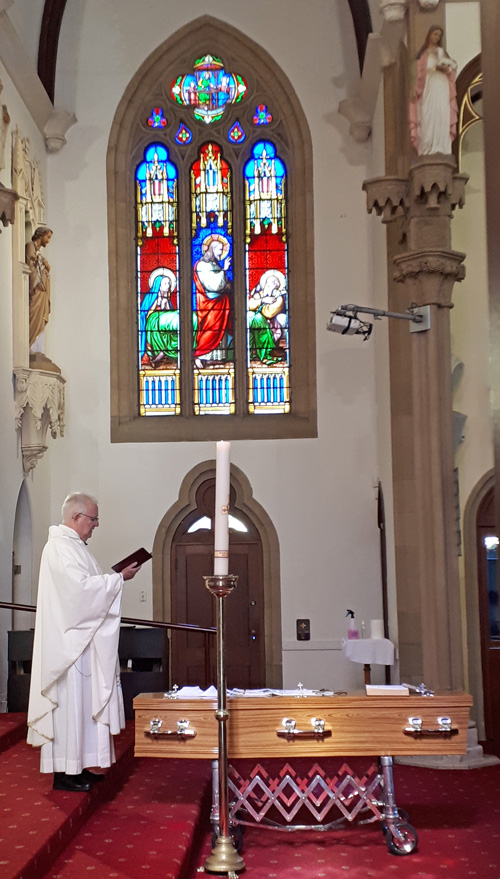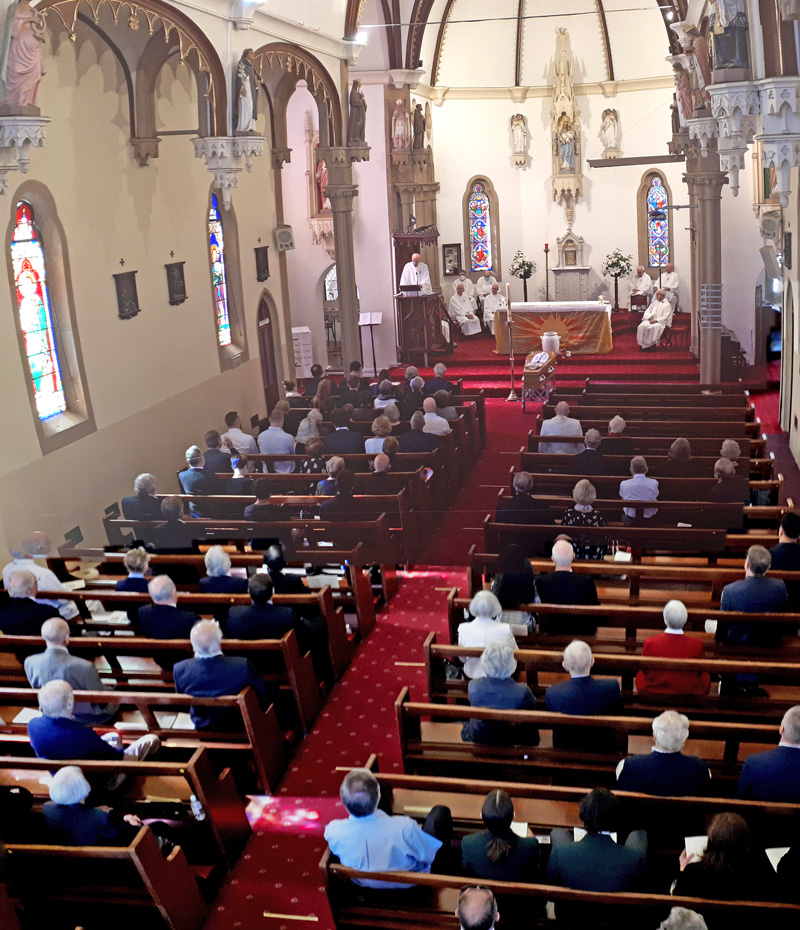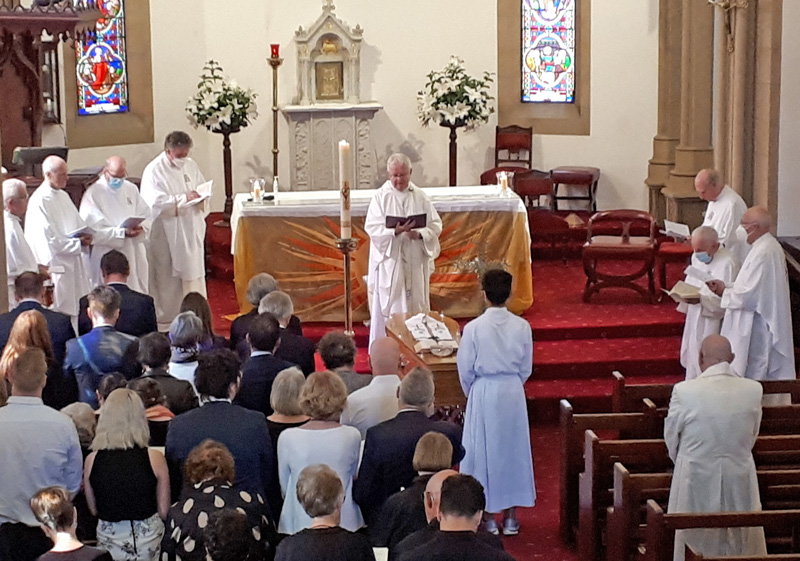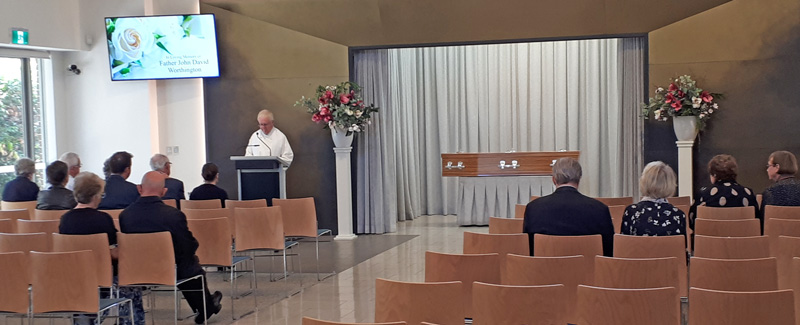 ---
Le Rameau
From Yaoundé, Cameroon, Fr Christian Abongbung SM sends the latest issue of Le Rameau (The Branch), featuring Easter reflections from members of the community of St Peter Chanel's scholasticate. Twenty colourful and interesting pages, in English and French. To download, click here. [Apr 21]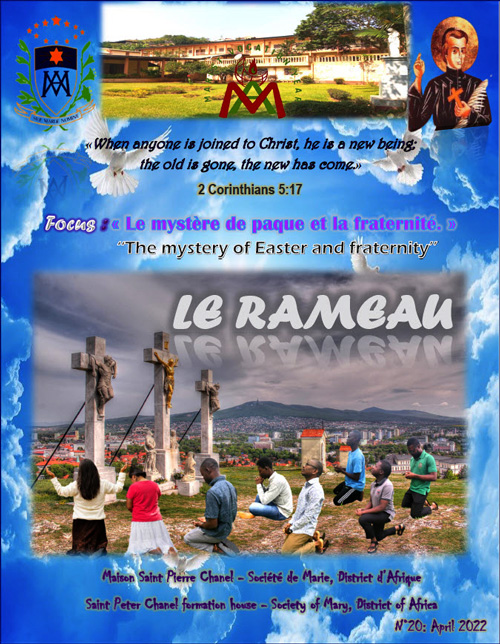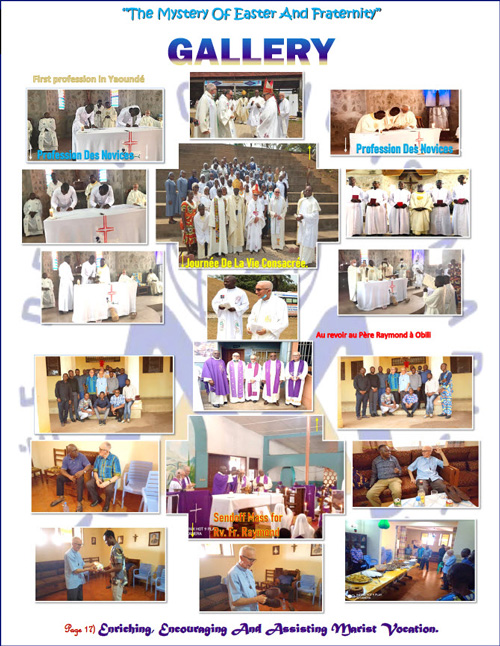 ---
Euroinfo
From Paris the latest issue of Euroinfo reports on Marist education in Europe, refugees from Ukraine, new pilgrim house in Spain and the appointment of a new Hospitality Director at La Neylière.
For Euroinfo click here or go to Members' Page. [Apr 20]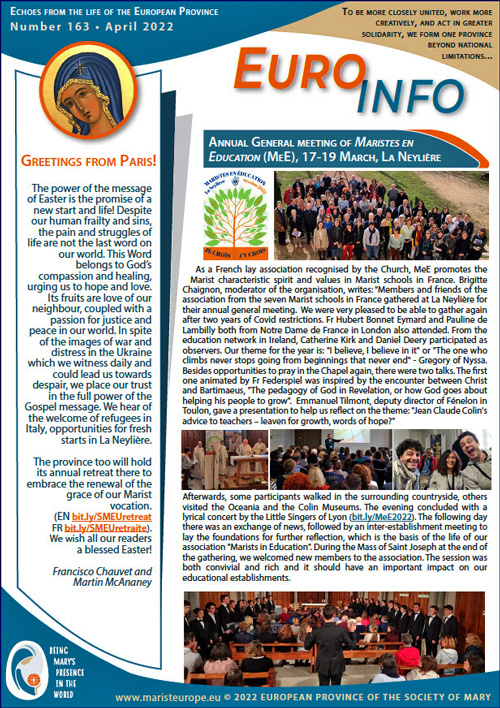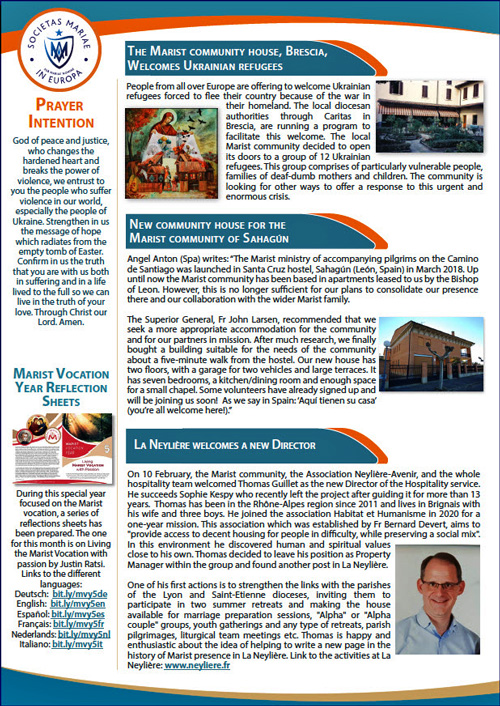 ---
Easter in Tuscany
Pictured below are scenes from the community of the Marist International Novitiate's celebration of Easter at Montauto, Tuscany, Italy. Fr Paddy O'Hare presdies at the Easter Vigil while (further below) novitiate socius, Fr Sione Hamala, leads the Palm Sunday liturgy. [Apr 18]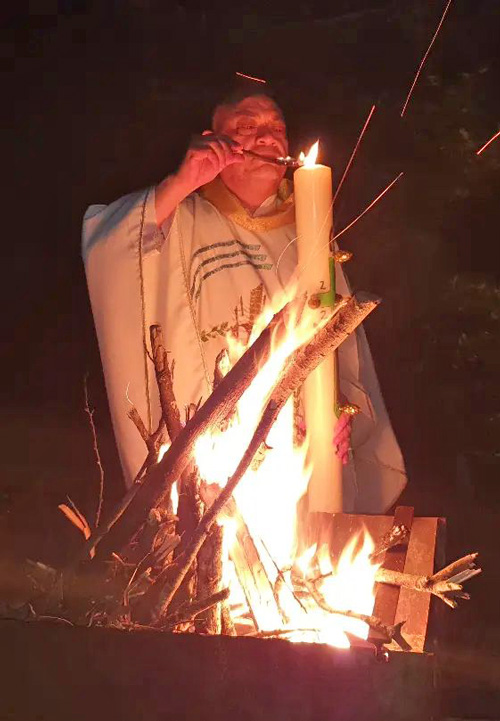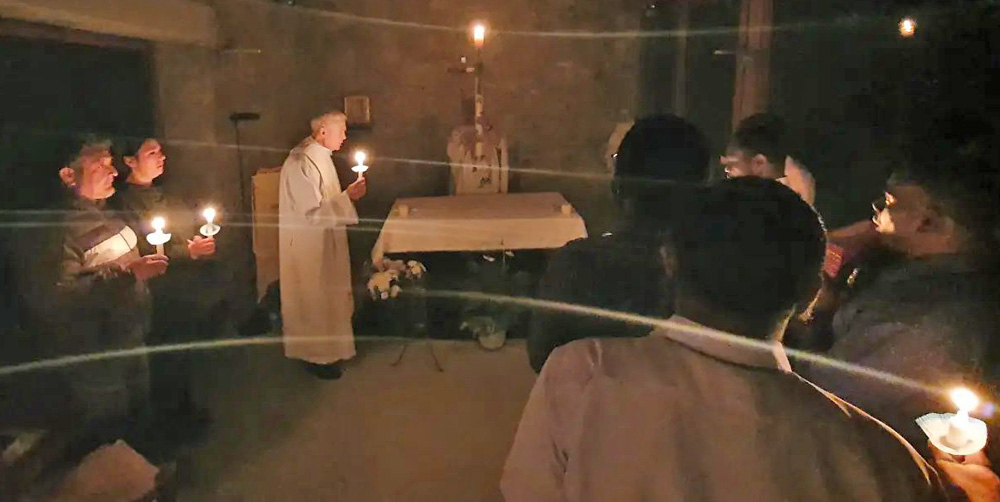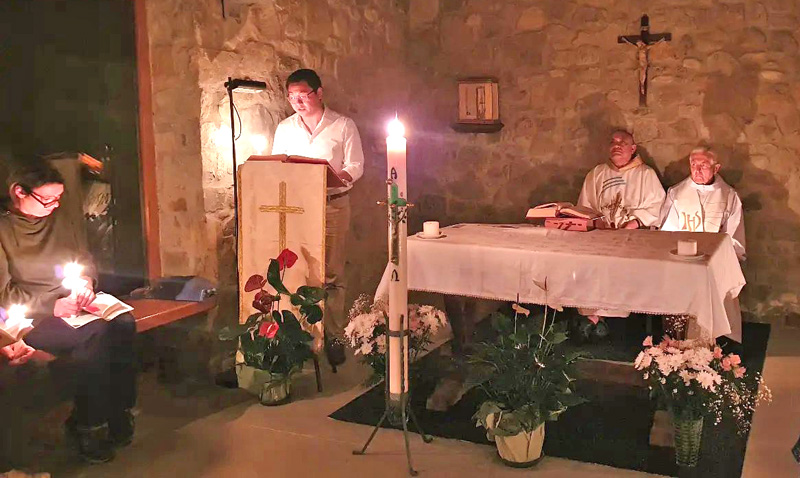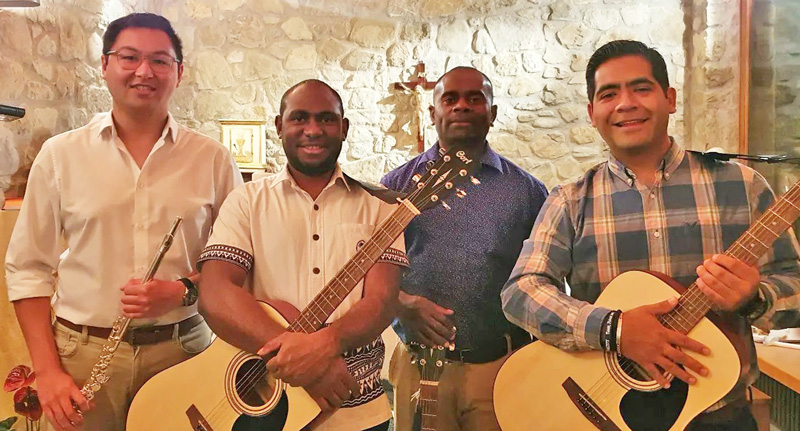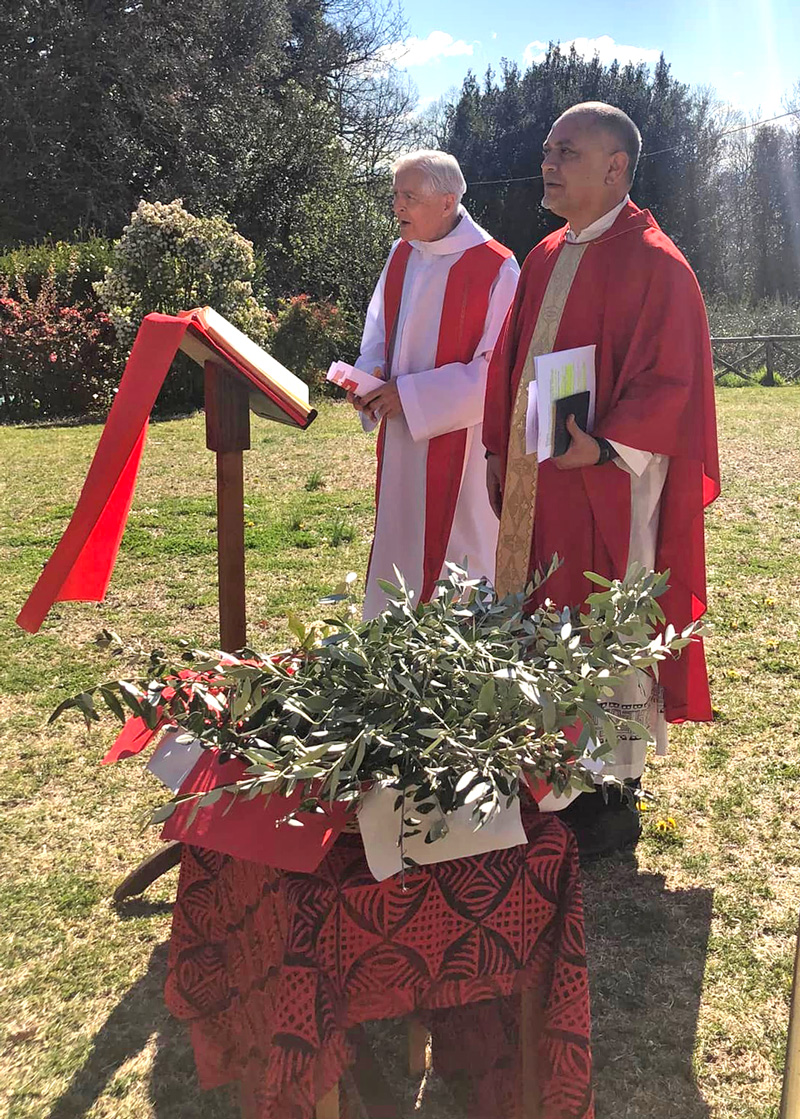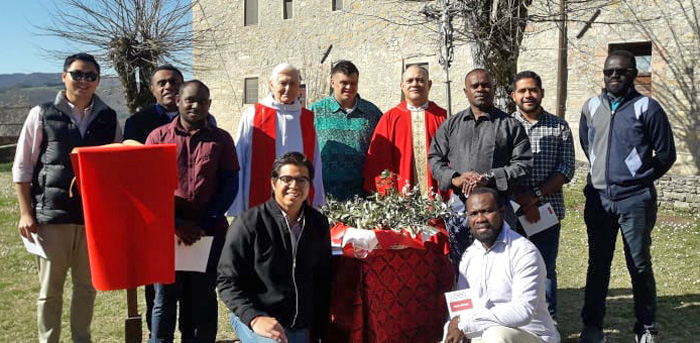 ---
Walking for Wilai
Responding to the plight of orphaned and stateless girls in Thailand and Myanmar, the 2022 Walk for Wilai concluded in Penola, S.A., on Apr 10. Twelve participants, including Wilai Foundation co-founder, Fr Jim Carty SM, followed 200km of path from Portland, Victoria.
For a pictorial summary of the Walk, click here. [Apr 15]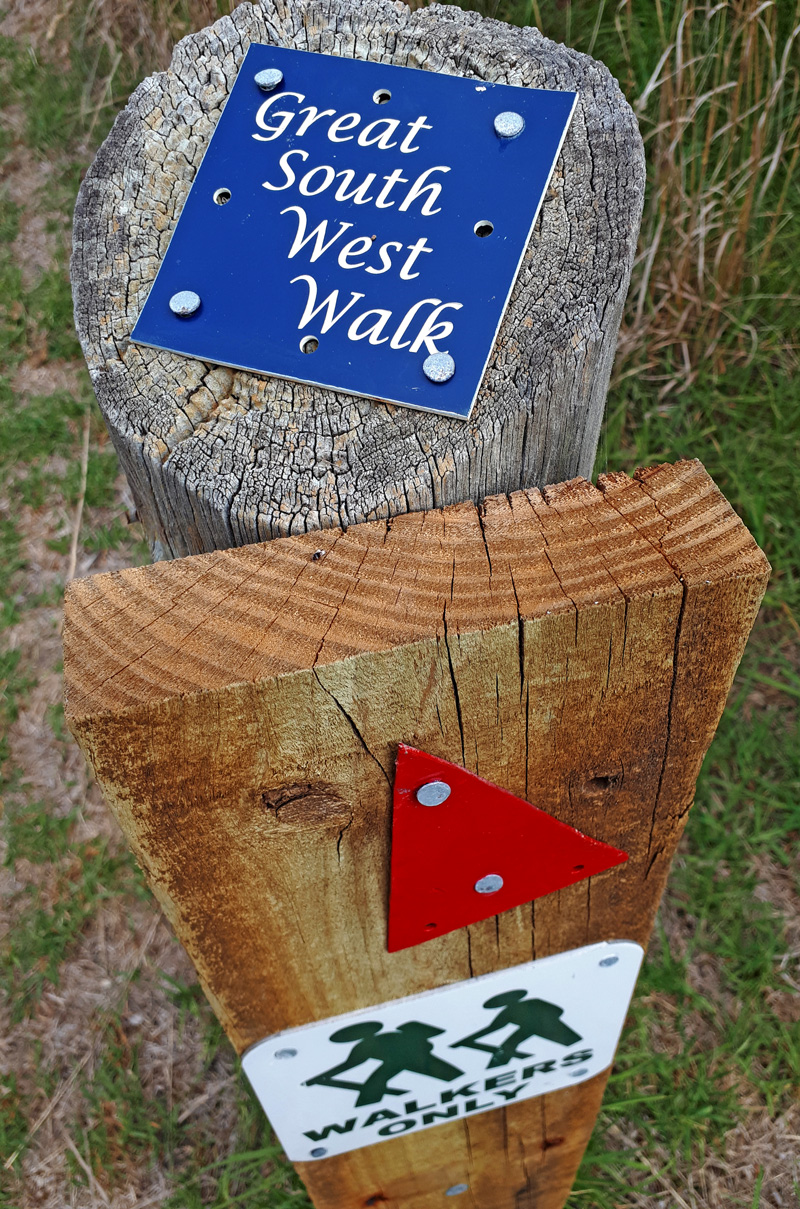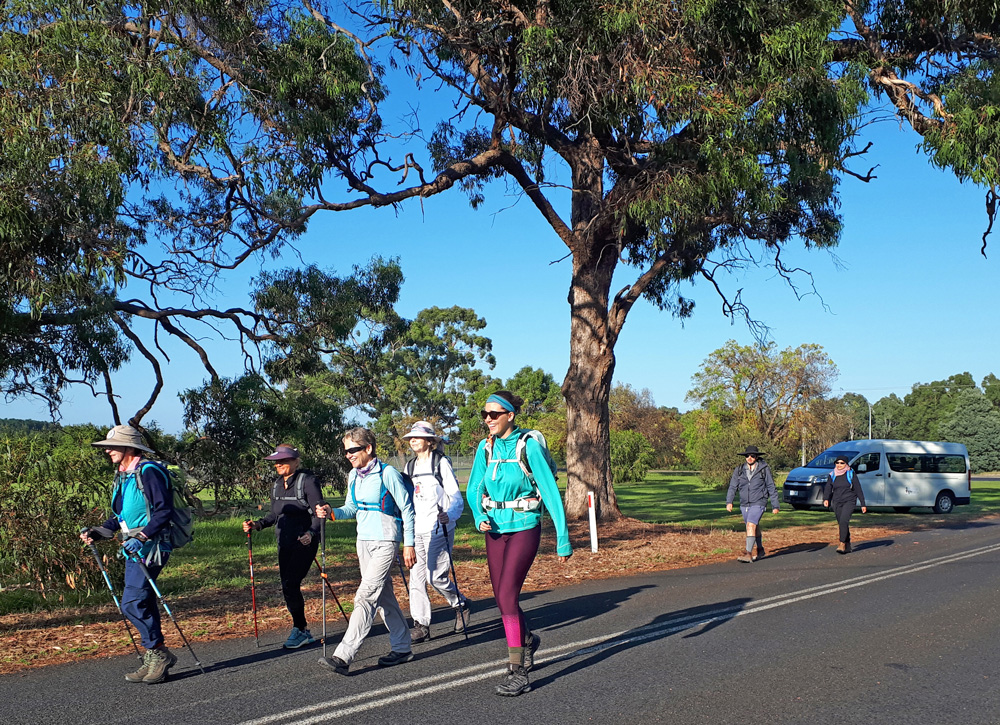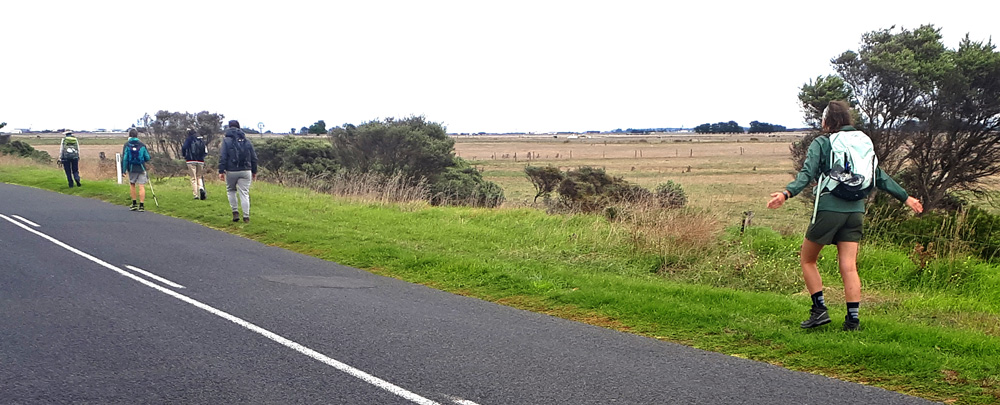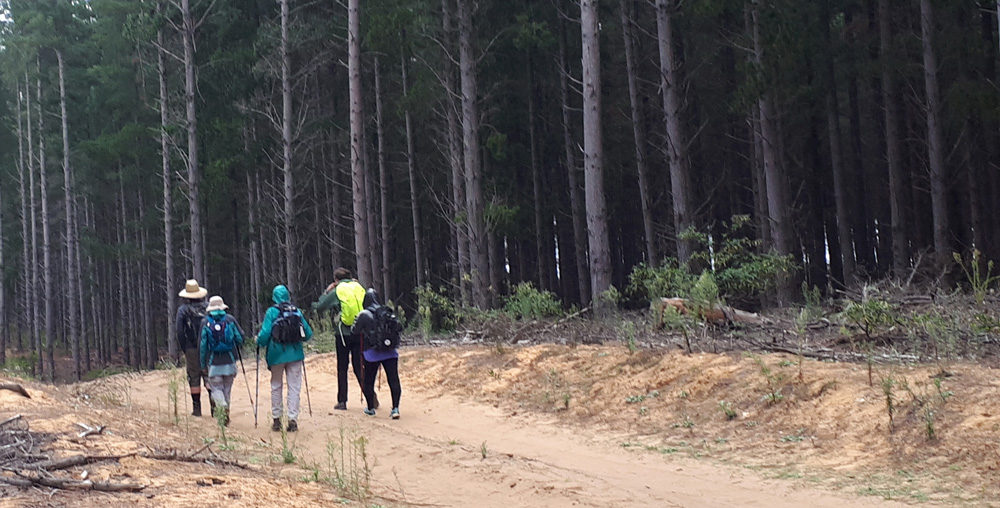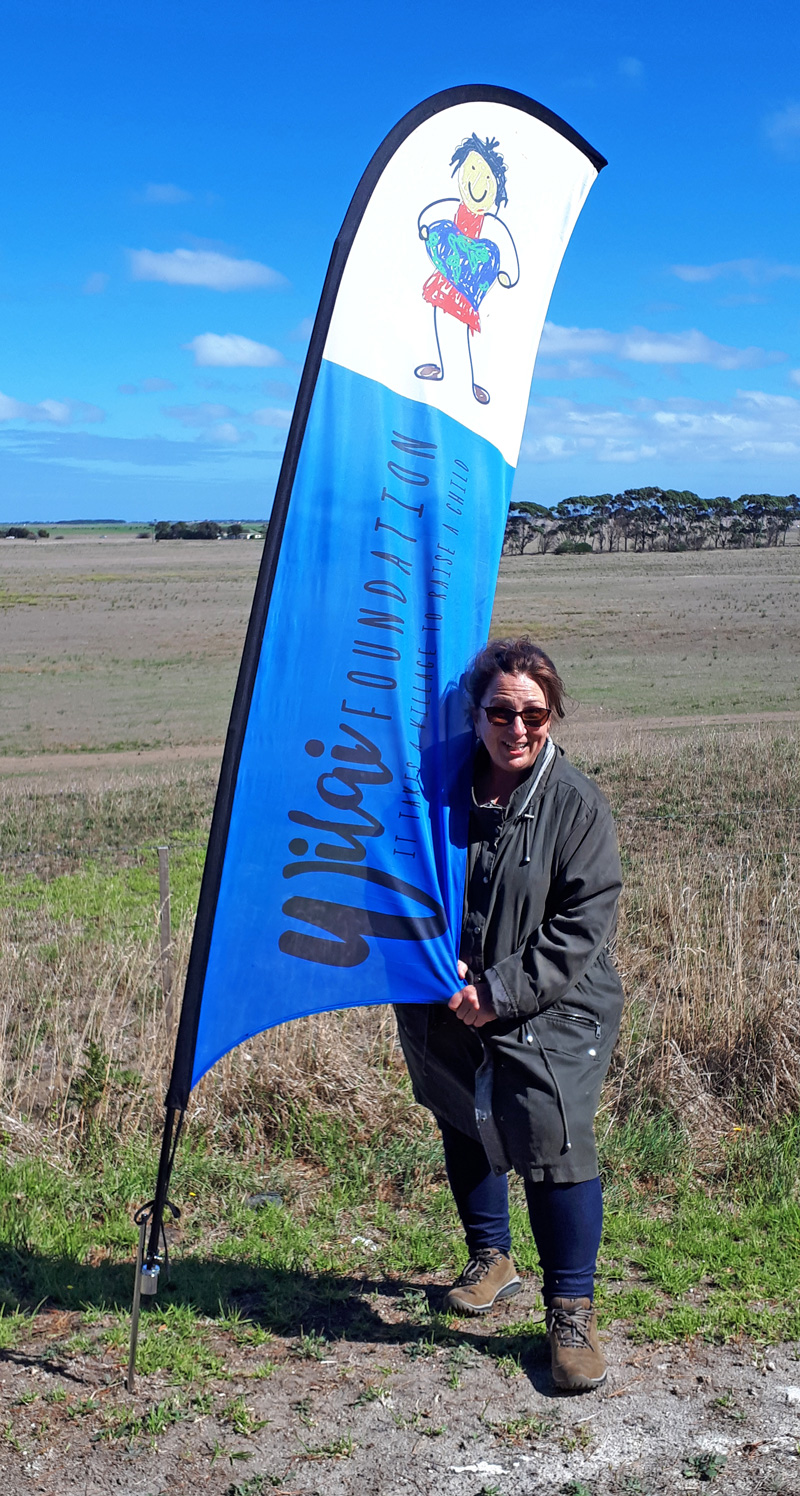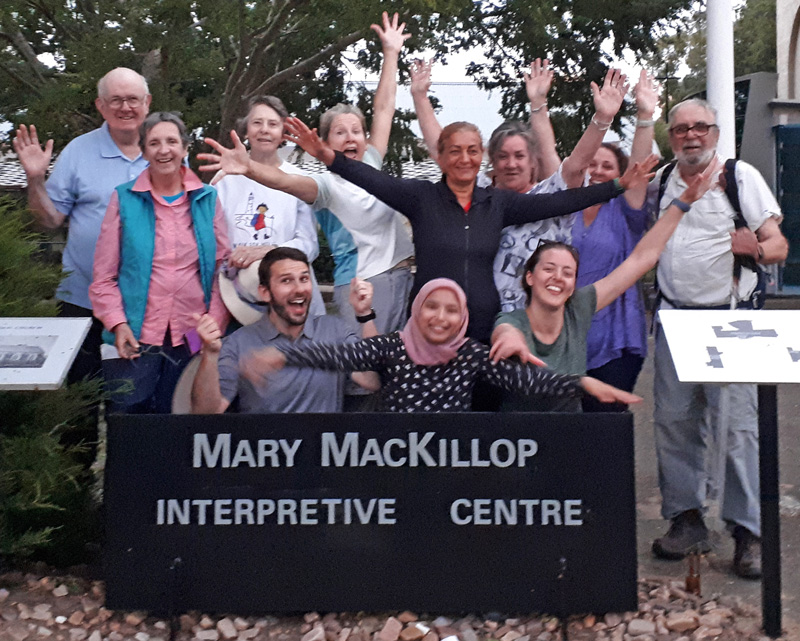 ---
Davao chapel blessed
From the Marist Mission District of Asia, Disrict Superior, Fr Christopher Ganzon SM, reports on the blessing of St Peter Chanel's chapel, Davao: 'On March 25 during the Solemnity of the Annunciation of the Lord, the district chapel of the Society of Mary-Marists in Davao was blessed and inaugurated by Archbishop Romulo G. Valles DD.
'The special celebration was attended by members of Marist branches, benefactors, donors, neighbours and friends. The chapel is built to provide a place of encounter for God's people (Marist missionaries and students) as they are called to participate in His mission. "The spiritual life is nourished and sustained by contemplation of the word of God. This heightens awareness of the presence of the risen Jesus in the everyday life and work of Marists. His presence inspires them to make of their lives an unceasing prayer." (SM Constitutions No 118).
'The construction has faced many difficulties because of the pandemic but God has journeyed with the skilled workers to make it both a religious and meaningful experience. The blessing and inauguration of the chapel echo the words of the psalmist who says "Unless the Lord builds the house, those who build it labour in vain. Unless the Lord guards the city, the guard keeps watch in vain. (Ps 127:1)
'The whole structure, interior and landscaping carry rich symbolisms and meaning which invite every faithful to discover them as that faithful spends time to encounter the Divine.
'Those present shared a sumptuous meal in a Pacific Island background in honour of the chapel's patron saint, St. Peter Chanel, the first Marist saint and proto-martyr of Oceania. "Ad majorem Dei Gloriam et Dei Genetricis Honorem" ' [Apr 12]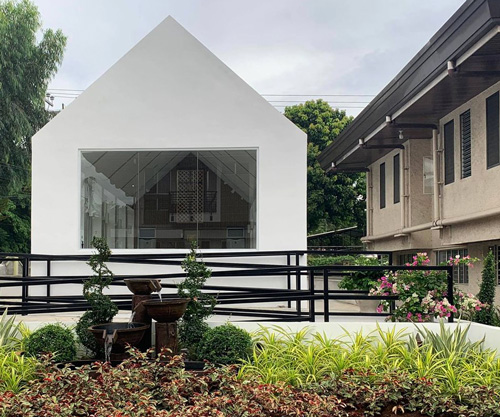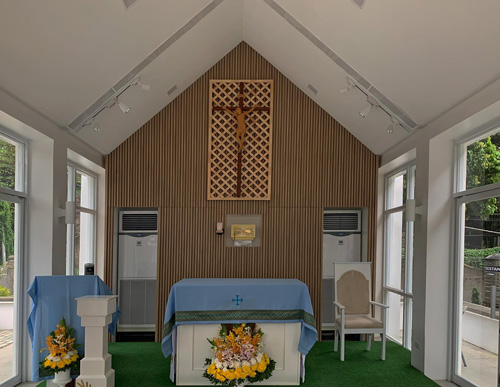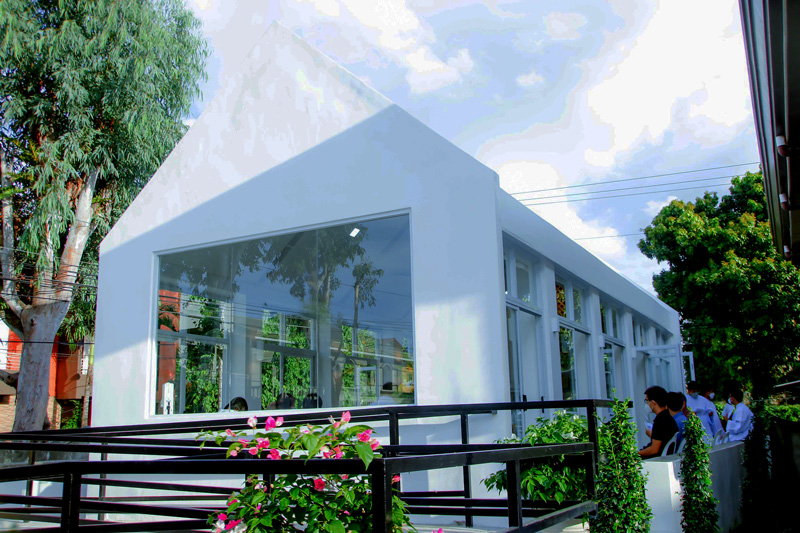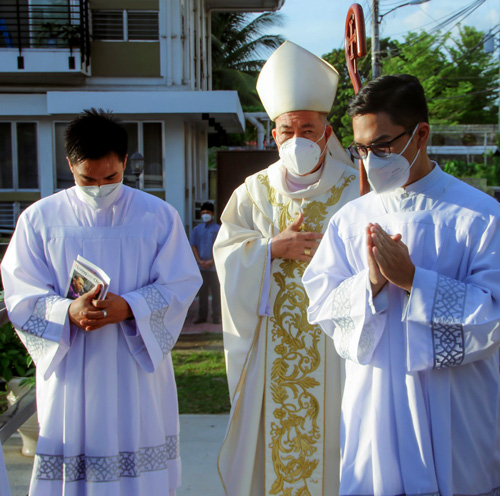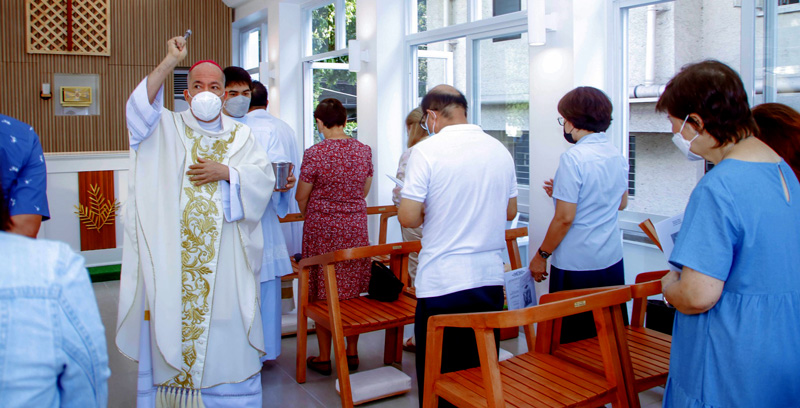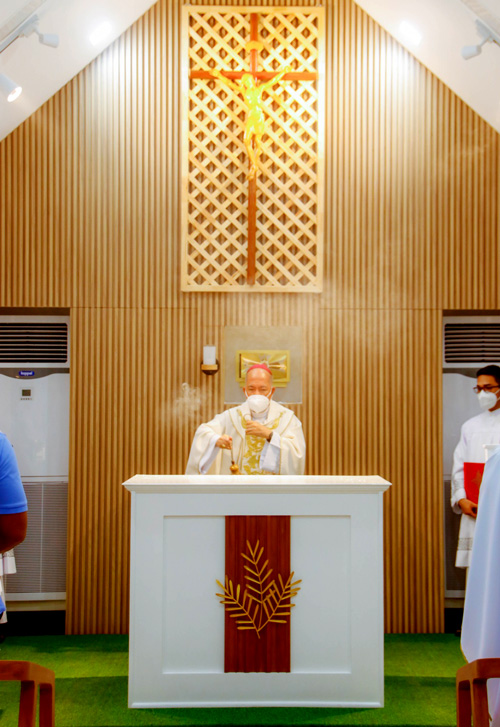 Scenes from the Mar 25 blessing by Archbishop Romulo G. Valles of St Peter Chanel's chapel, Davao including, below, Frs Christopher Ganzon and Lauro Arcede with architect, James Barcelona.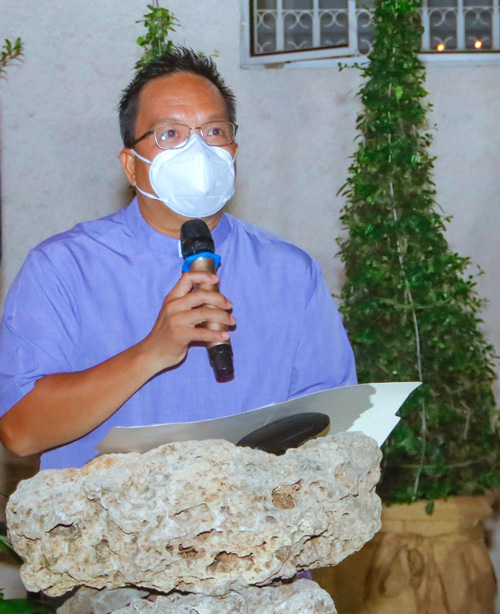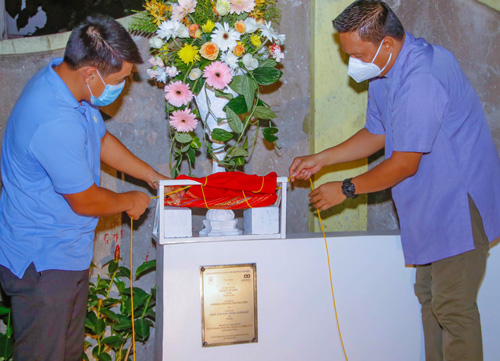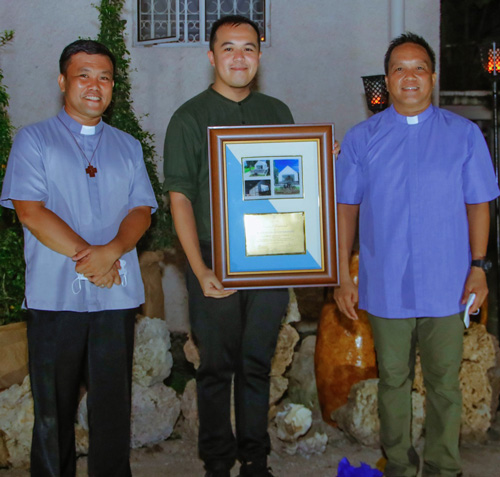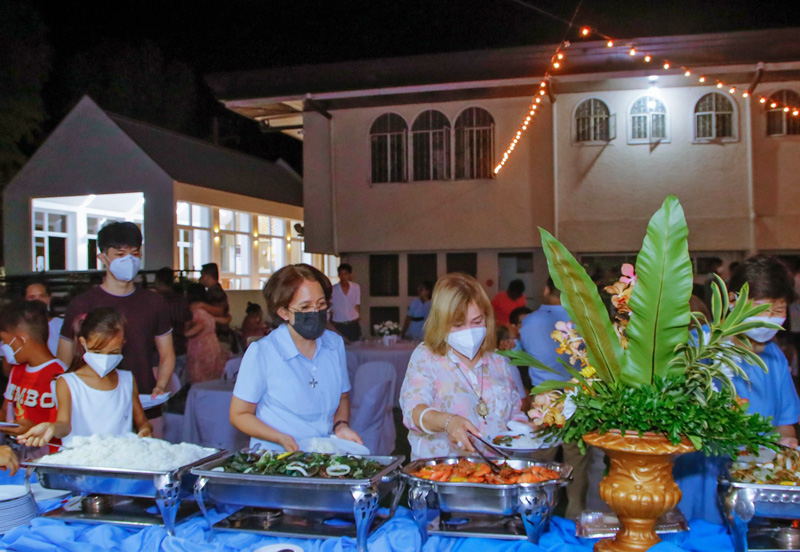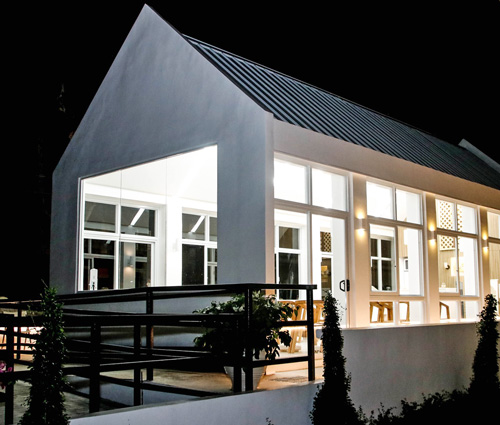 ---
Four newsletters
From different parts of the Marist world we have bulletins: Familia Marista from Spain, Marist Mission Centre's autumn newsletter, Oceania Marist Bulletin for April and Fr John Hopinson's Easter letter from Bolivia. [Apr 11]
Click for: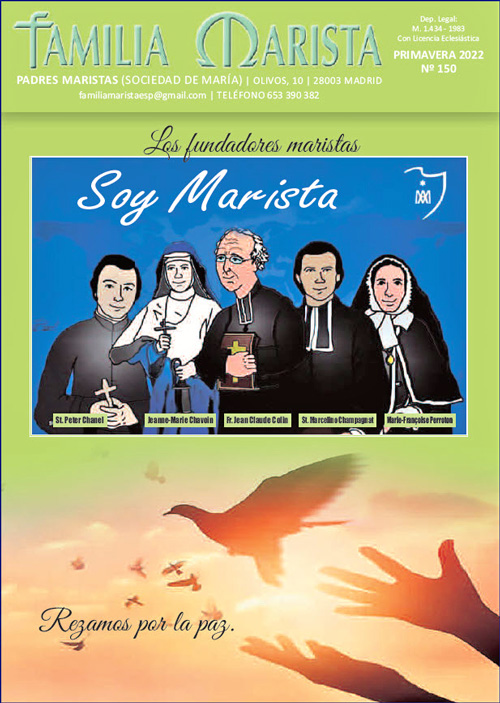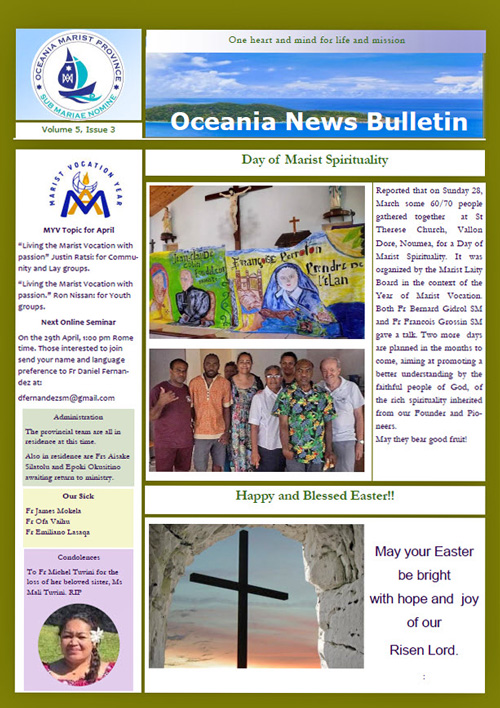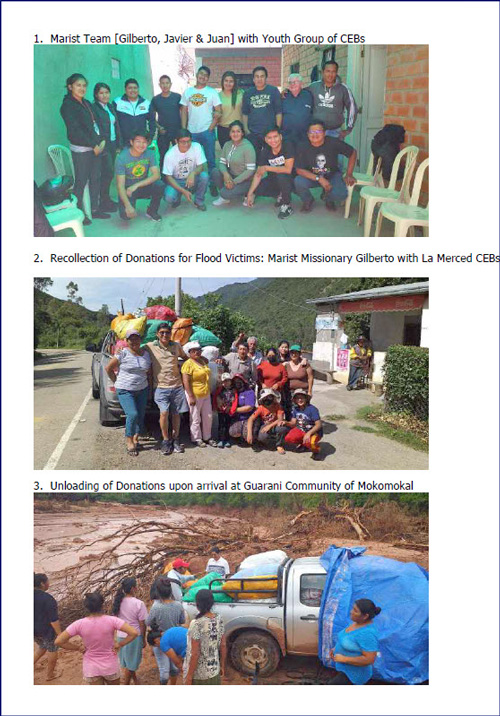 ---
Br Ludovic memorial unveiled
As the Marist Brothers celebrate 150 years of education in Australia, a bust of Br Ludovic Laboureyras FMS, principal of the first Marist Brothers school, was unveiled and blessed at St Patrick's, Church Hill, Sydney, Apr 08. It was on this date in 1872 that St Patrick's school, Harrington St, Sydney, was opened under Br Ludovic's leadership.
For the commemorative booklet, click here. [Apr 09]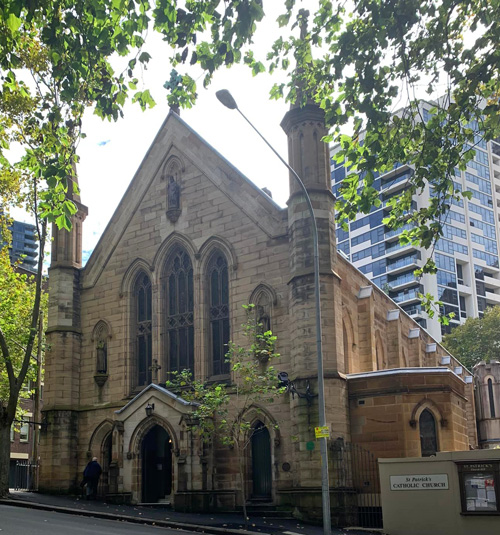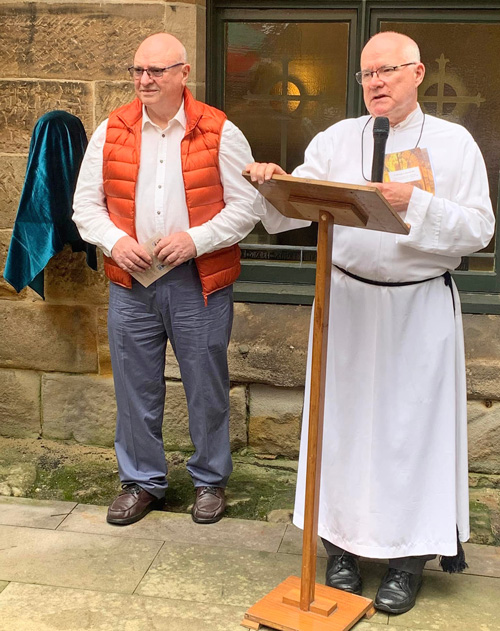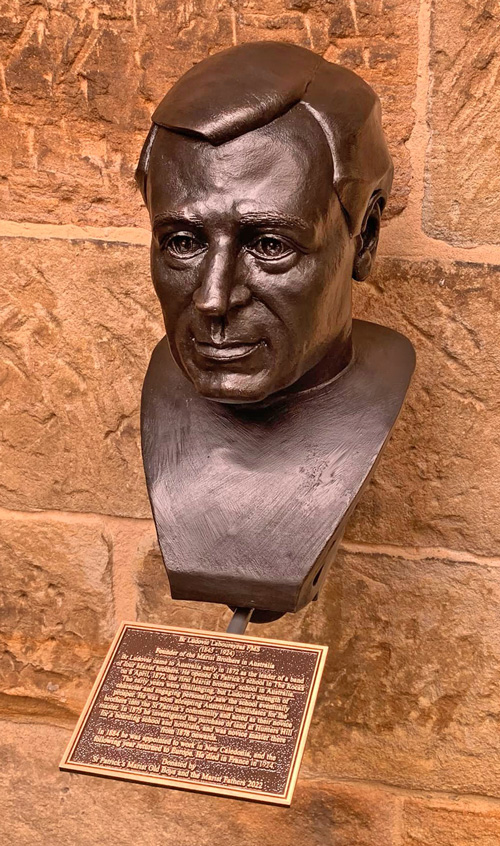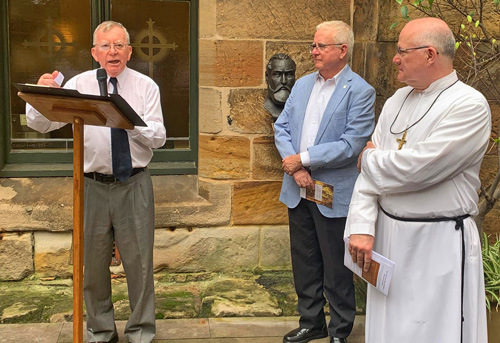 Scenes from the Apr 08 event at St Patrick's, including Marist Brothers provincial, Br Peter Carroll FMS, with sculptor, Roger Apte, and acting parish priest and historian, Fr Peter McMurrich SM, with Marist Fathers' provincial, Fr Anthony Corcoran SM.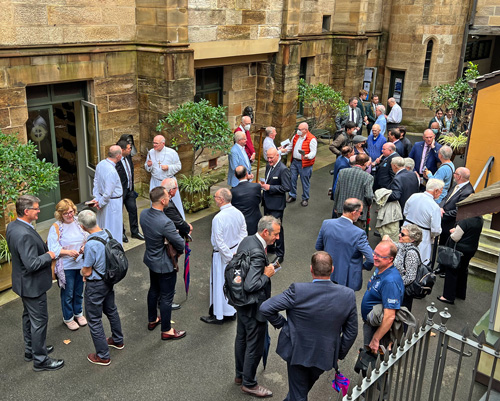 ---
Superior-General's reflection
In his April reflection Fr John Larsen invites Marists to draw encouragement from the Easter moments. For the reflection click here or go to Superior-General's page.. [Apr 02\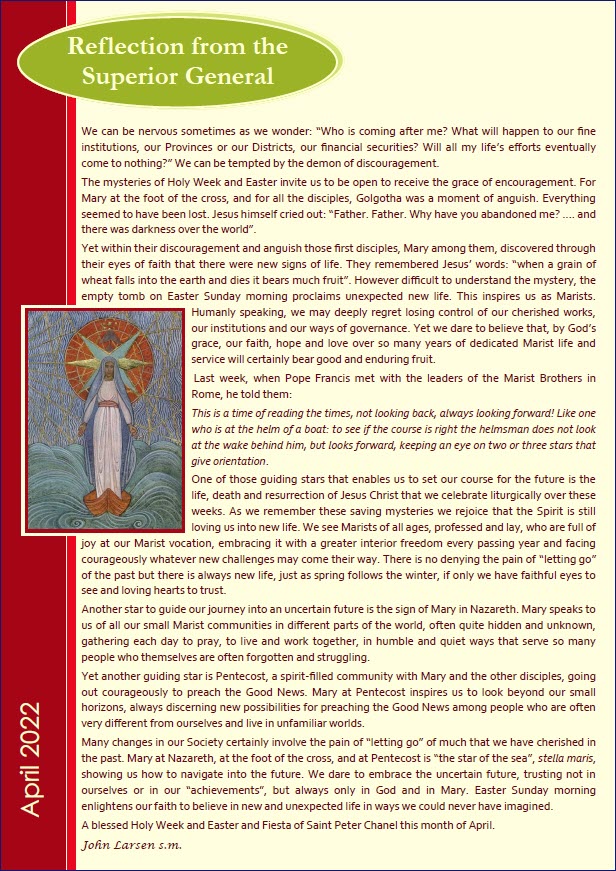 ---
Passing of Fr John Worthington
With sadness we note the passing of Fr John Worthington SM who died peacefully on Apr 01 in the Royal North Shore Hospital, Sydney. He had been admitted earlier in the week with COVID-19, his condition exacerbated by many health preconditions suffered overed recent years.
Australian Marist Provincial, Fr Anthony Corcoran, writes: 'We have lost a dedicated Marist, who has served the mission of the Society generously in secondary education, in formation in Africa, and in pastoral ministry particularly in Brisbane.
'John courageously bore a number of health issues following his stroke sixteen years ago. In recent years his health has deteriorated. He was very frail on his entering hospital with the virus. His death is a merciful release from these burdens. May he rest in peace.'
For a summary of the life of Fr John, click here. [Apr 01]
---