---
May news
Colin calendar: 2021

Click here for News 2008 to 2017 | For News 2018 to 2020 click here.
---
---
SM Bulletin
This week's SM Bullletin contains updates on activities of the General Administration and the International Marist Youth website (see below), as well as a report on the ginkgo planting at Villa Santa Maria (see below). Click here or go to Members' Page. [May 29]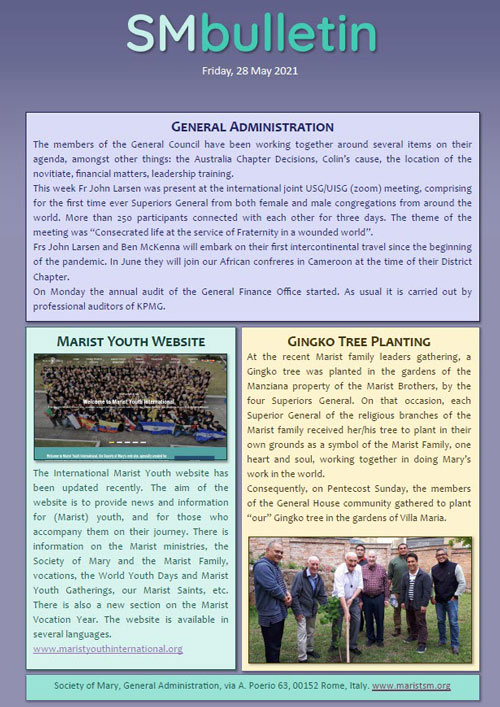 ---
International Marist Youth
The website of International Marist Youth has been updated highlighting many aspects of the Society of Mary's commitment to the young. The multi-language site, www.maristyouthinternational.org continues to be linked to this website's 'Link' page. [May 29]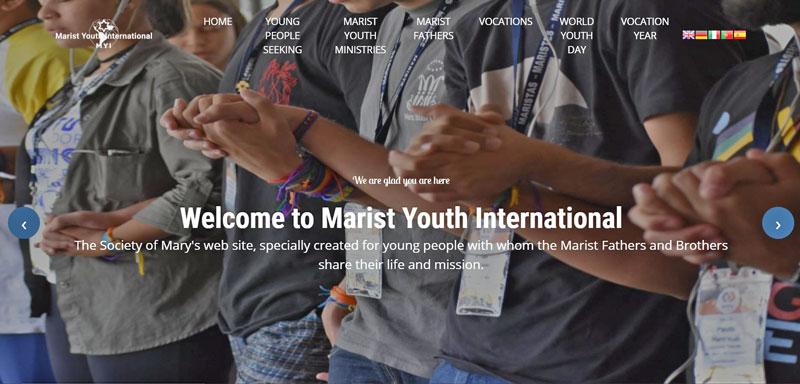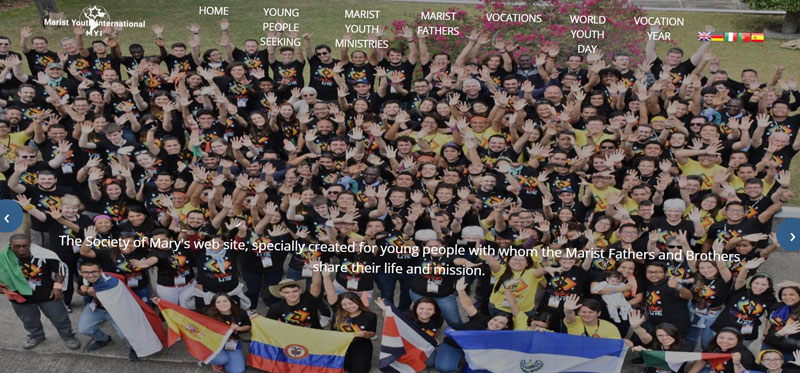 ---
Ginkgo plantings
From Rome Fr Ben McKenna reports: 'On Pentecost Sunday our Superior General, Fr John Larsen, together with the General House community, planted a ginkgo tree, one of five present during the annual two-day meeting of Marist Superiors-General and councillors held this year at Manziana, a Marist Brothers Centre north of Rome, May 14-15. The Marist Project has long been understood as a tree of many branches to which all types of people can belong.
'At the end of the meeting the four Superiors-General planted one tree in Manziana, each taking a tree home to their respective General Houses to be planted in their own grounds: as a symbol of the Marist Family, one heart and soul, working together in doing Mary's Work in the world. The theme for the meeting was: Marist Family – grounded, branching and reaching out. Its three main topics were Learnings from the Pandemic, Co-operating with places of Marist Origin and the Laudato Si 7-Year action plan.'
The ginkgo is the oldest known living tree, originating in China over 300,000,000 years ago. As a symbol of endurance, it features in a book currently being written by Australian Marist author, Fr Paul Glynn. [May 28]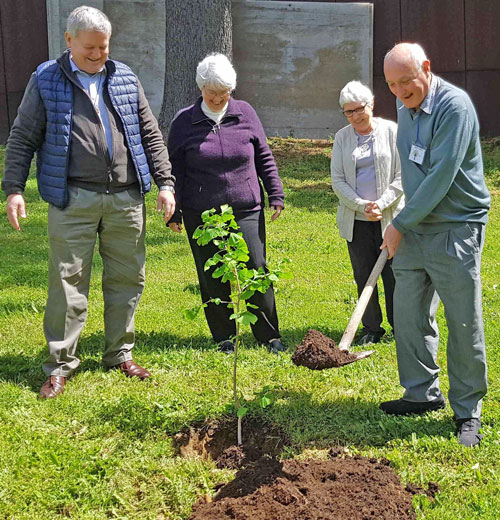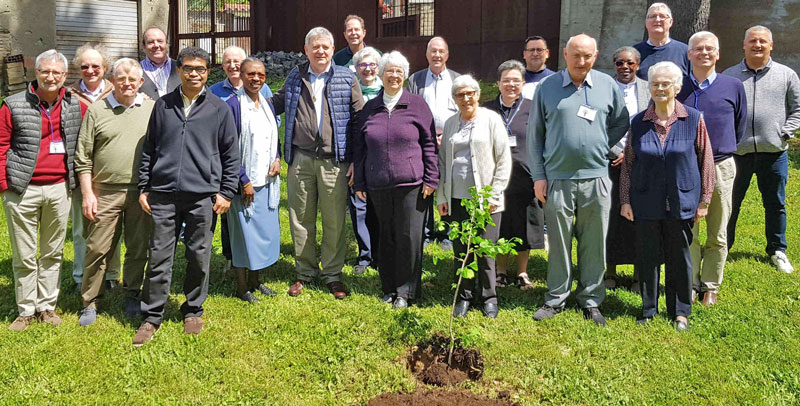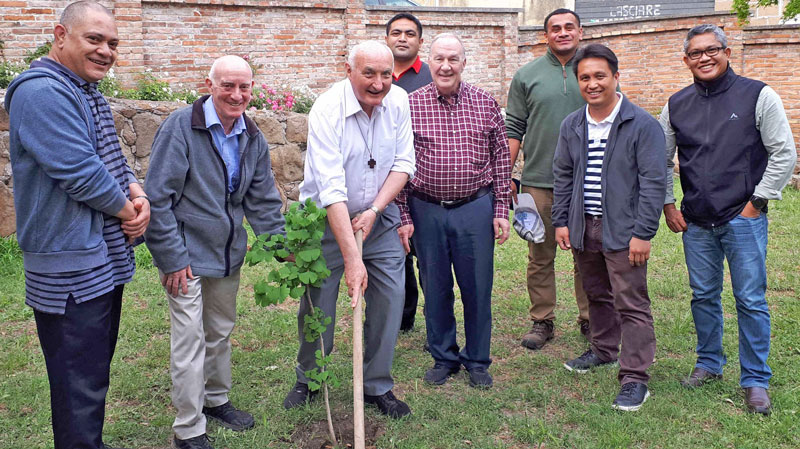 Above: Other Marist Superiors-General watch Fr John Larsen plant a ginkgo at Manziana. | The assembled Marists and their ginkgo at Manziana. | Fr John Larsen planting the Society of Mary's ginkgo at Villa Santa Maria, Rome, watched by community members. Below: Fr Paul Glynn with one of Villa Maria's ginkgos, Hunters Hill, NSW. | The varying shades of the ginkgo coming to its autumn gold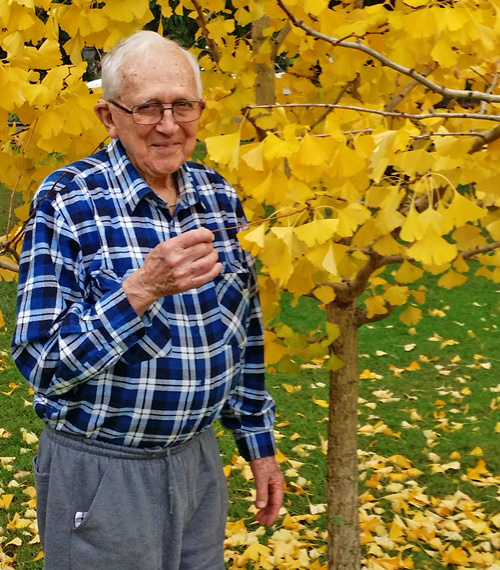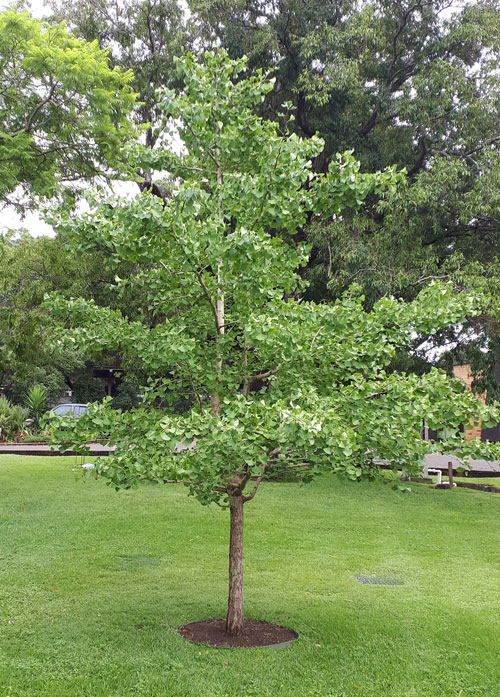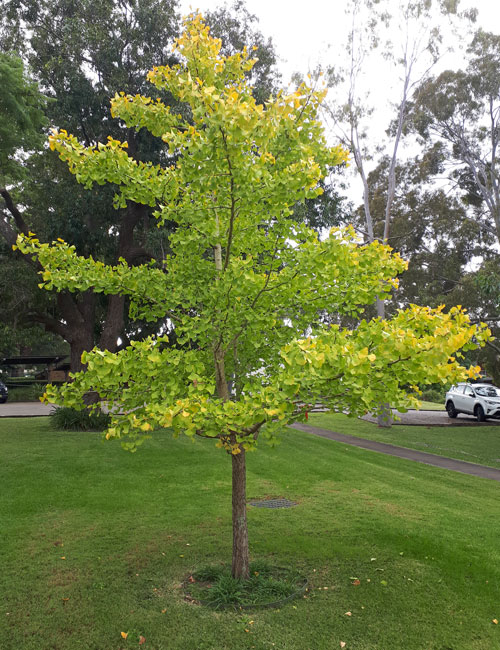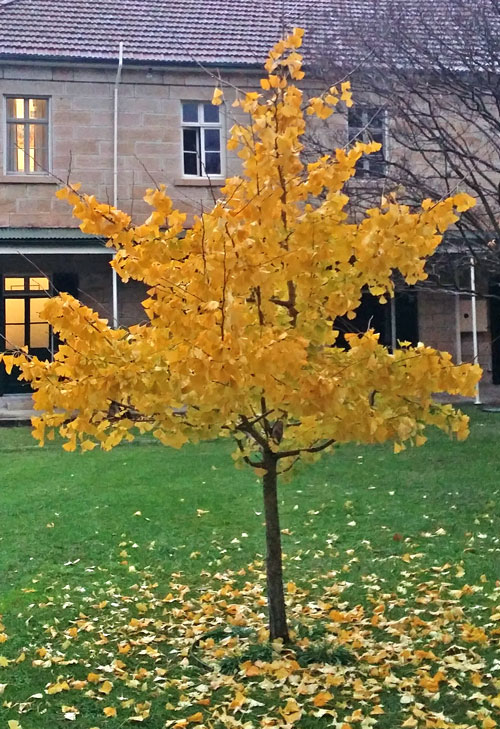 ---
Garden rosary
On May 22 the Hunters Hill Marist Lay group gathered in the presbytery garden with its Marian shrine to pray the rosary for the Our Lady's month. Prayers were led by Mrs Josiane Espinosa and music by Fr Aliki Langi and the parish ukulele group accompanying the rosary with Fatima-like 'Ave's' between decades. [May 26]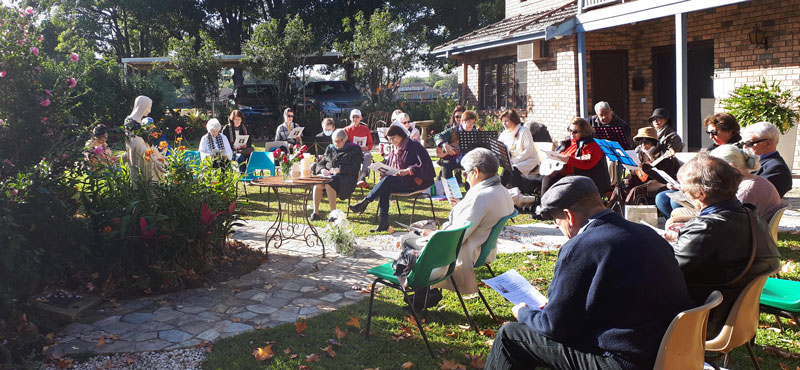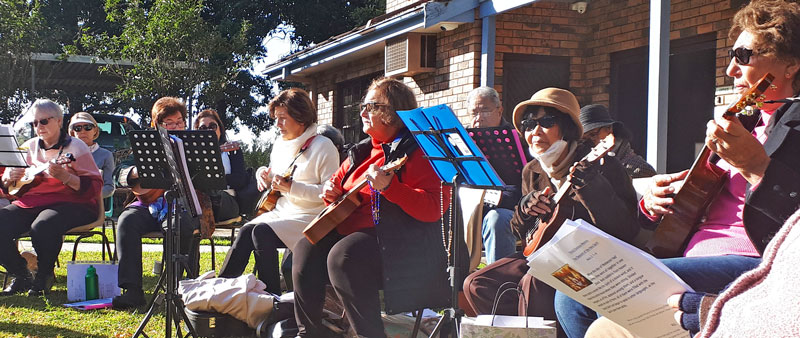 ---
SM Bulletin
From Rome this week's SM Bulletin reports on the reappointment of Fr Christopher Ganzon as Leader of the Asia Mission District, a Year of Vocations and the General House staff inservice (see below, 'HQ staff enrichment'). For the SM Bulletin, click here or go to Members' Page. [May 22]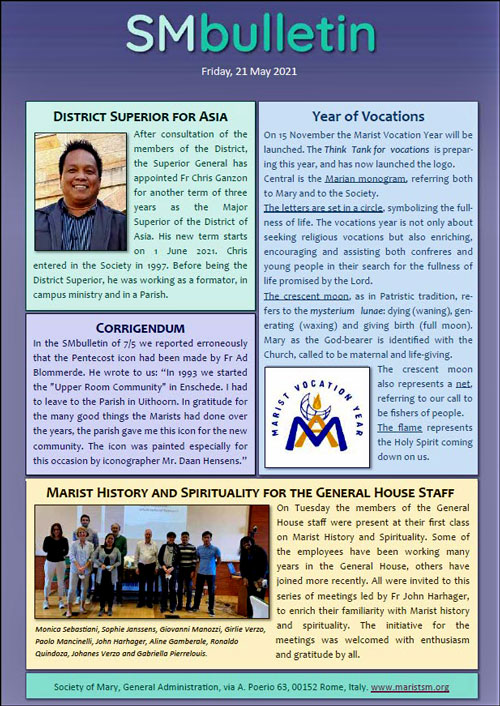 ---
HQ staff enrichment
Members of the ancilliary staff of the Marist Fathers' General House, Villa Santa Maria, Rome, recently experienced the first of series of sessions focussing on Marist history and spirituality. The inservice was led by Vicar-General, Fr John Harhager SM.
As SM Bulletin (above) reports: 'On May 18 the members of the General House staff were present at their first class on Marist History and Spirituality. Some of the employees have been working many years in the General House, others have joined more recently. All were invited to this series of meetings led by Fr John Harhager, to enrich their familiarity with Marist history and spirituality. The initiative for the meetings was welcomed with enthusiasm and gratitude by all.' [May 21]
Below, from left:
Monica Sebastani, Sophie Janssens, Giovanni Manozzi, Girlie Verzo, Paolo Mancinelli, Fr John Harhager, Aline Gamberale, Ronaldo Quindoza, Johanes Verzo and Gabriella Pierrelouis.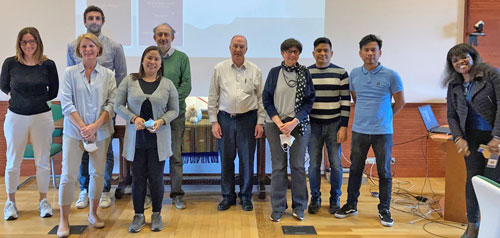 ---
SM Bulletin
This week's SM Bulletin reports on the meeting of leaders of the religious branches of the Marist Family at Manziano, Italy. Discussions are focussing on issues related to the pandemic, the places of Marist origins and continuing implentation of 'Laudato Si'.
Click here or go to Members' Page. [May 15]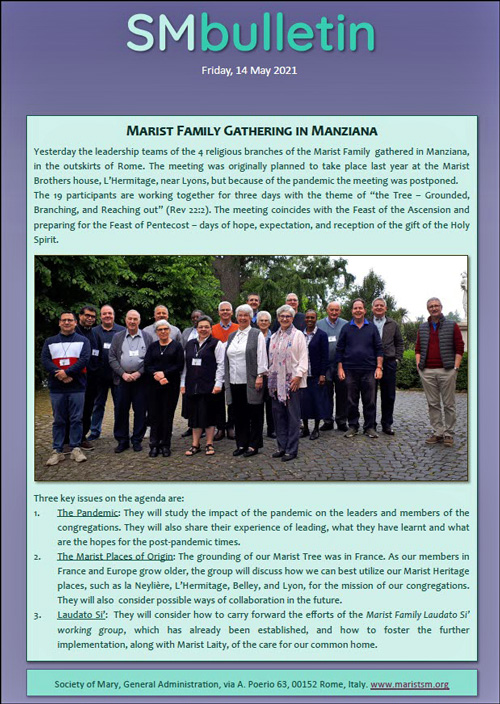 ---
Euroinfo
This month's Marist news from Europe reports on the Fathers' Walk at Lyon, Solidarity Commission reflections, Lay Marist webinar in Norway, overseas students in Lyon and the publication of 'Au bout du monde'. Click here or go to Members' Page. [May 14]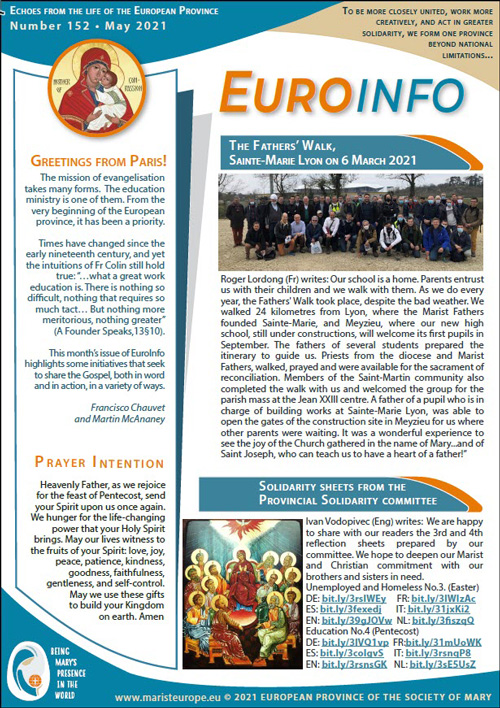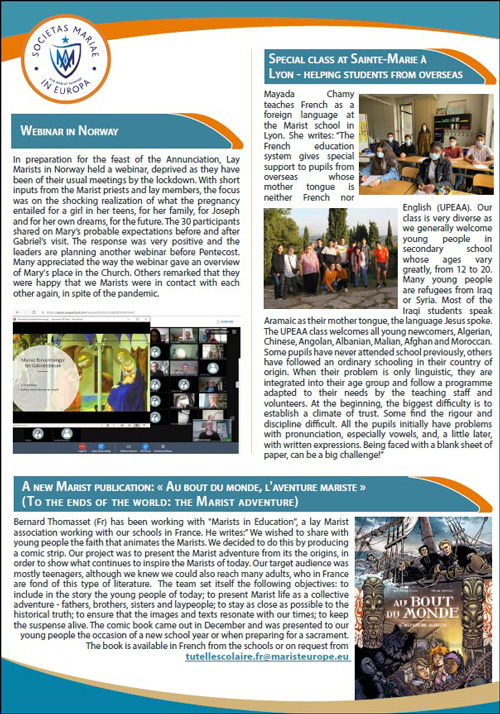 ---
Passing of Judy Saliba
Australian Marists note with sadness the recent sudden death on May 08 of Mrs Judy Saliba after a short ilness. Judy had served as secretary of the Provincial Office, Hunters Hill, NSW, during the period of five successive provincials.
Provincial, Fr Anthony Corcoran, and several other Marists and staff members were present at her funeral at Macquarie Park crematorium on May 13.
Judy is survived by her husband, Fred, and son, Peter, and family. May she rest in peace. [May 13]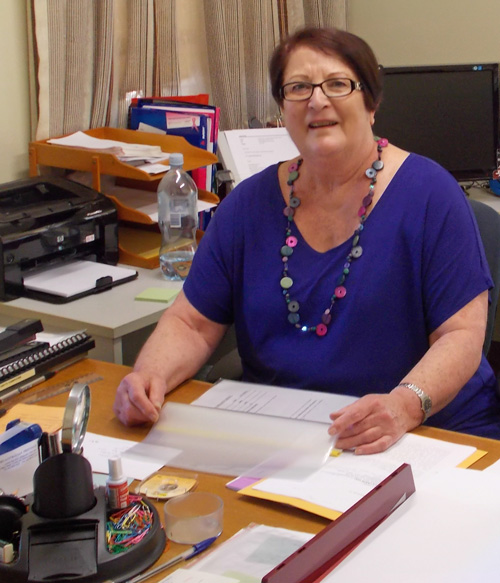 Above: Judy at her provincial office desk as she is remembered by many Marists | At Montbel and her retirement farewell in Mar 2013.
---
SM Bulletin
From Rome this week's SM Bulletin reports on Laudato Si initiatives in the Pacific, Fr Ad Blommerde's cenacle icon and Fr Kerry Prendeville's book on the Ghari people of Guadalcanal. Click here or go to Members' Page. [May 08]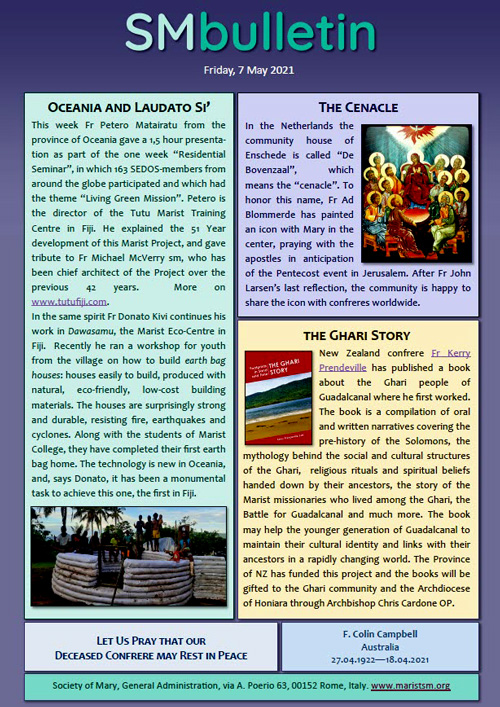 ---
32 years of care for kids
From Davao, Philippines, the Marist Mission District of Asia and Balay Pasilungan report on the 32nd anniversary celebrations of the ministry for vulnerable children in Mindanao: 'The Foundation thanks all our benefactors, donors, staff and to those of you who have been journeying with us and helping make this mission possible. As we continue this God's project, making changes in the life of these young ones, may God's grace, love and peace be with us always. Special thanks and blessings to Marist Mission Centre Australia and other benefactors and donors.'.
Balay Pasilungan ('Shelter Home'), was founded by Fr Pat Devlin SM on May 04, 1989, and has been a home and refuge to vulnerable children living in highly dangerous situations, exposed to abuse and exploitation.
Pictured below: District Superior, Fr Christopher Ganzon SM and fellow Marists at the celebratory Eucharist, with special events for boys and staff. [May 06]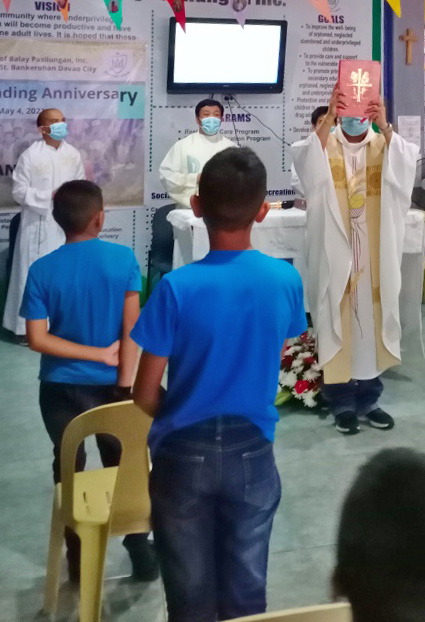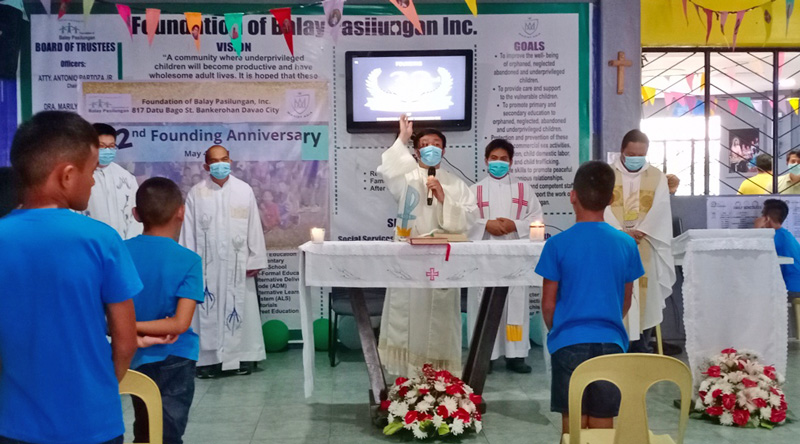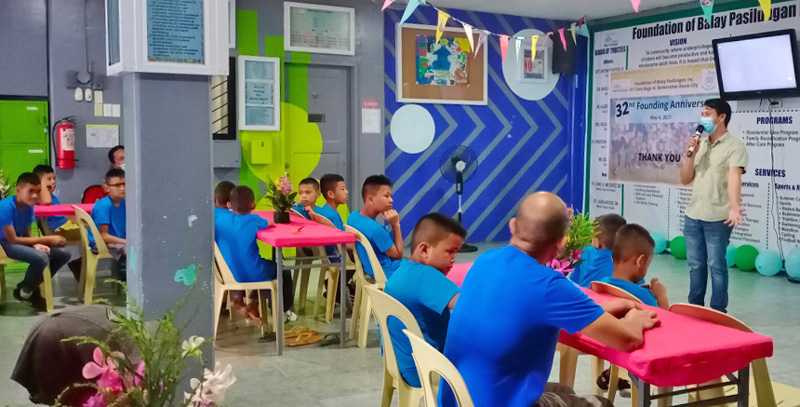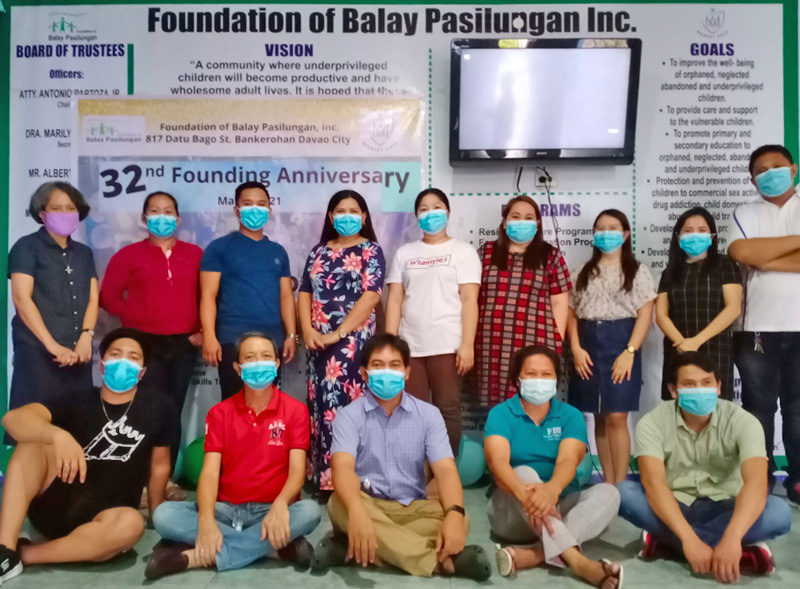 ---
Grace in the clouds
In his monthly reflection Superior-General, Fr John Larsen, invites Marists to search for the graces hidden in the clouds besetting our times. Click here or go to Superior-General's Page. [May 01]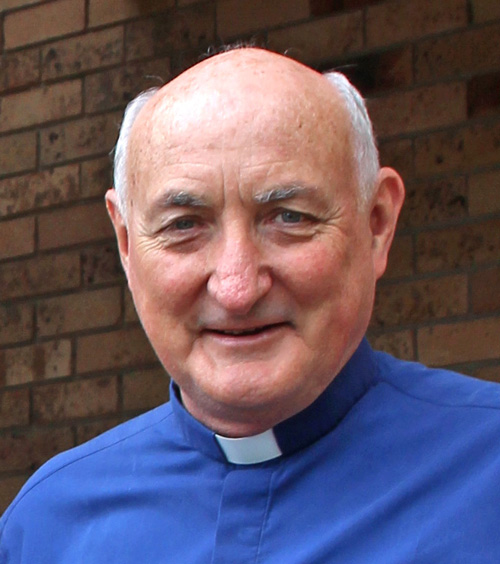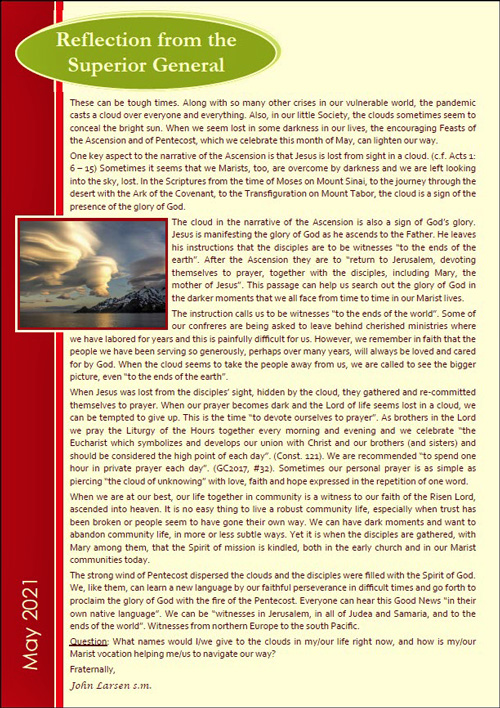 ---