---
July news
Colin calendar: 2021

Click here for News 2008 to 2017 | For News 2018 to 2020 click here.
---
---
Marist Voices
Marist Laity International has released, in four languages, its latest bulletin, Marist Voices, as part of an ongoing promotion of the life of the Marist laity. In attractive 'flipbook' format Marist Voices reports on activities in Australia, Brazil, France, Mexico, NZ and Peru. Its 43 pages include articles on the founders of the Marist Family branches and a life of Jean-Claude Colin for children.
Click for English | French | Spanish | Portuguese [Jul 29]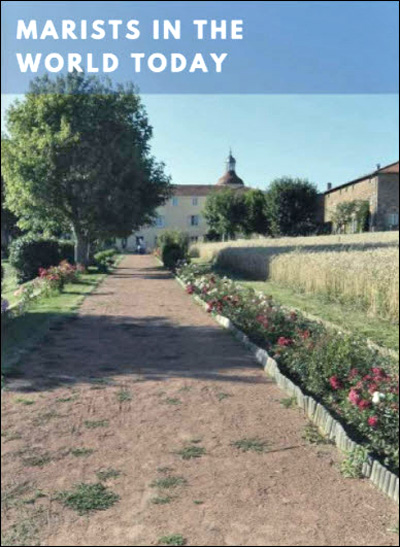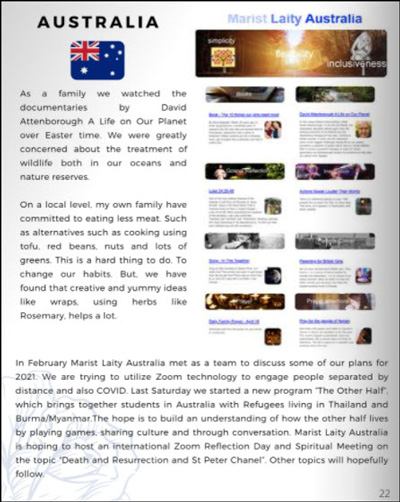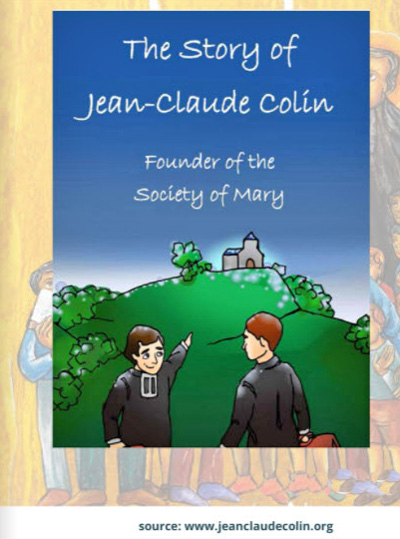 ---
Farewell, Br Mika
Australian Marists join the many who mourn the passing of Br Mikaele Cilicewa SM (74) in Suva, Fiji, on Jul 24. Br Mika was a member of the international Marist community serving the Koori ministry in Macksville, NSW, from 2003 to 2013. He spent a period in 2014 in the Maryvale/Montbel community before returning to his native Fiji.
Farewell, Br Mika. May you rest in peace, [Jul 26]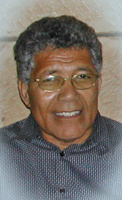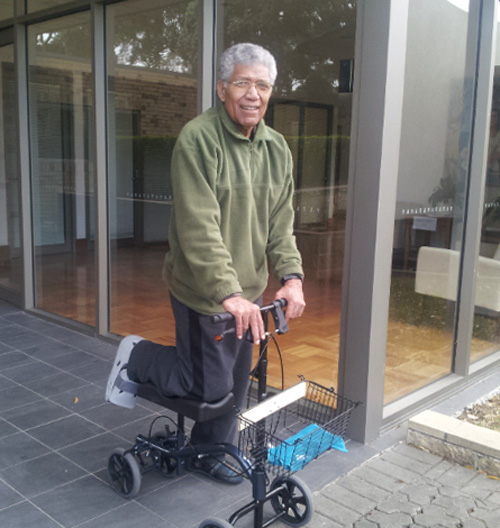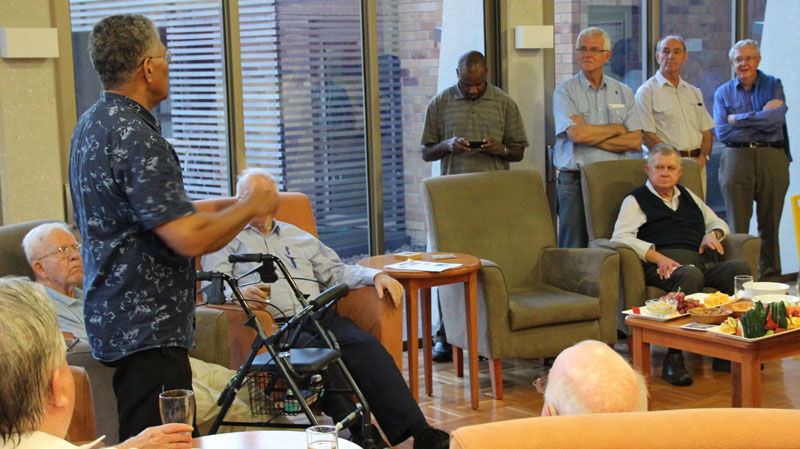 Above: Br Mika at Hunters Hill. | After surgery in 2014. | Returning to Fiji in 2015. Below: With Marists on renewal in France, 2008. Pictured also are Australians, Br Charles Randle and Fr Paul Pidcock. | Br Mika with indigenous elder at Macksville in 2013. | ... and with then-Superior General, Fr John Hannan.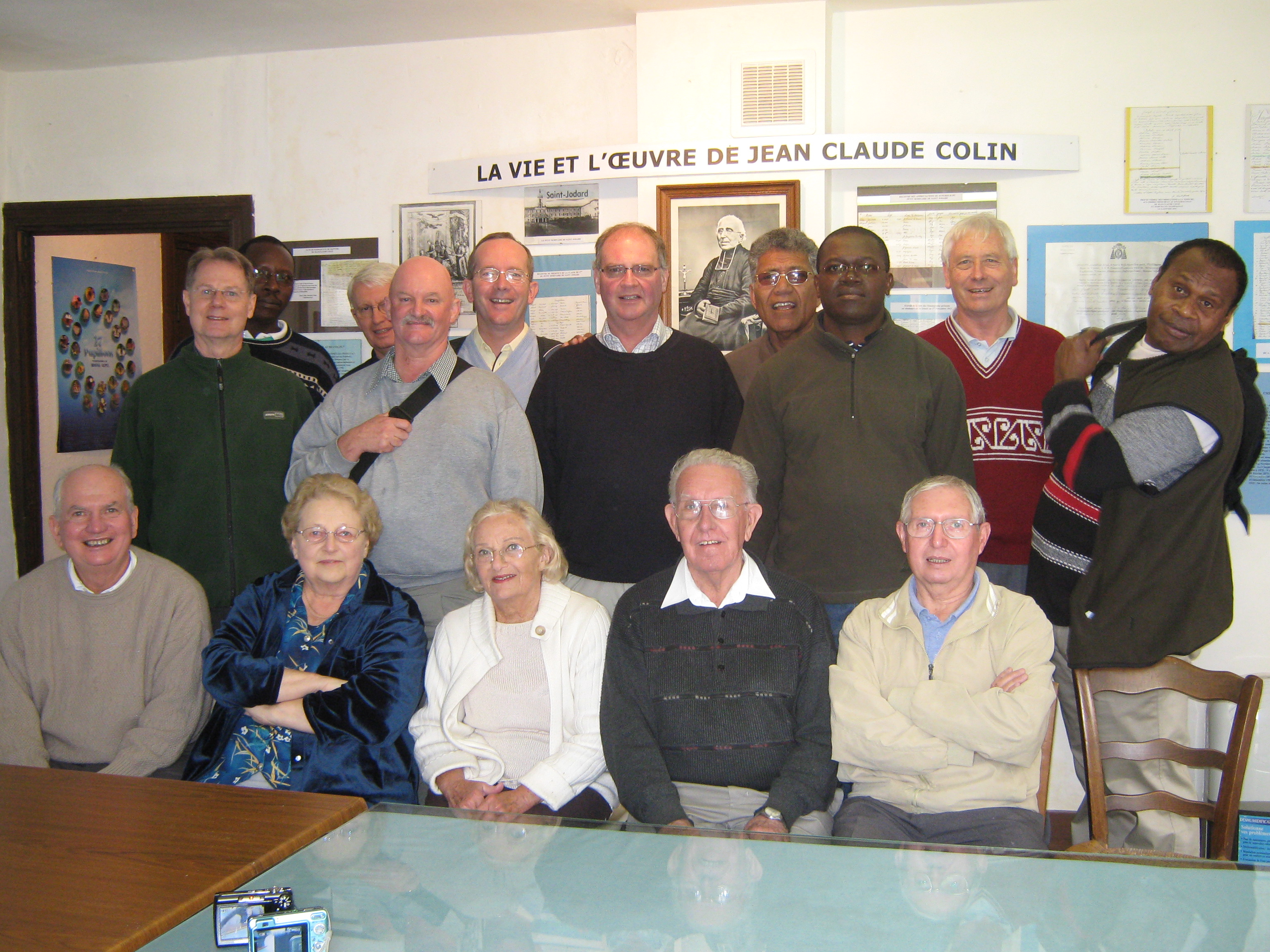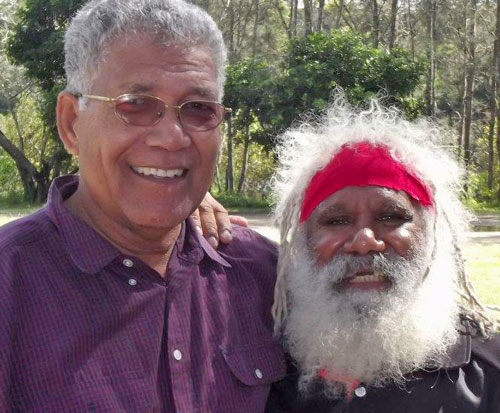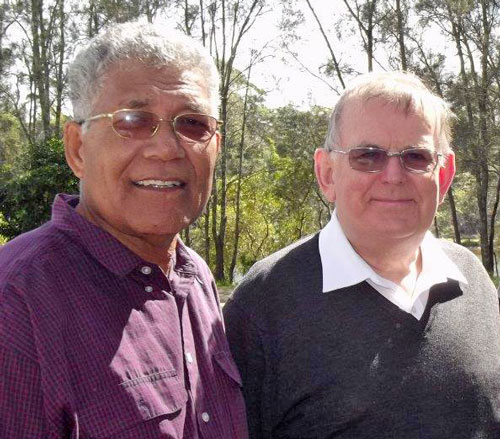 ---
Fourvière events
Marists in different parts of Australia, and indeed of the world, gathered recently to celebrate the Fourvière Pledge anniversary. Marist Laity Australia conducted a Zoom reflection attracting fifty Marists from all Family branches and nine countries. Other celebrations were held in Rosalie, Qld, and Hunters Hill, NSW. [Jul 26]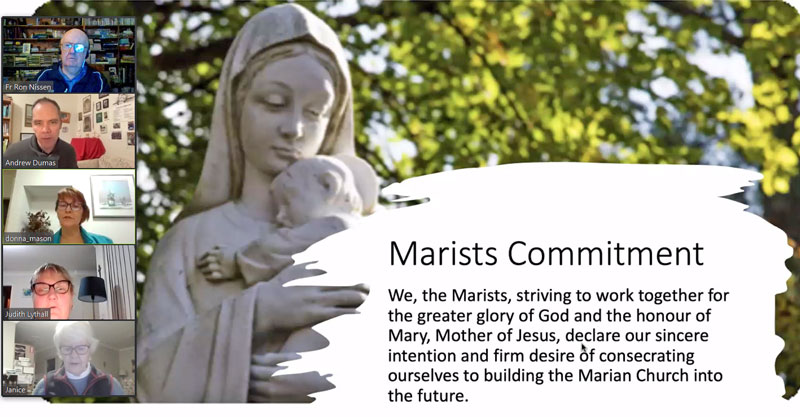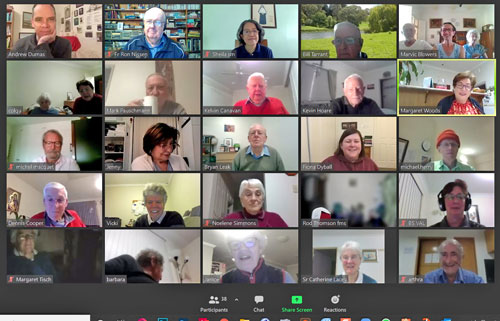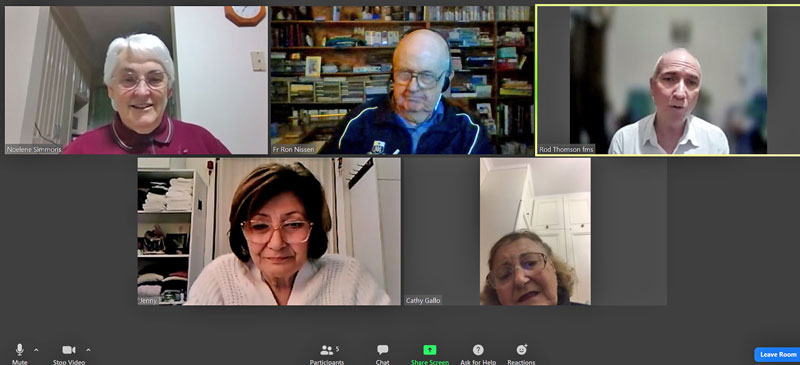 Above: The Fourvière Zoom, conducted by MLA's Andrew Dumas, with all Marist Family branches represented (laity, sisters, brothers, missionary sisters and priests) from Australia, Bangladesh, France, Italy, New Zealand, Peru, Philippines, Sri Lanka and USA. The session included 'break room' opportunities for small groups to share their Marist vision.
Below: Fr Gerard Hall SM leads a paraliturgy for fellow Marists (laity, brothers and priests) gathered at Rosalie. | Fr Tom Ryan presides at a commemorative Eucharist in the chapel of Montbel, Hunters Hill. | Canvasses of the interior and exterior of the ancient chapel of the Blessed Virgin, Fourvière.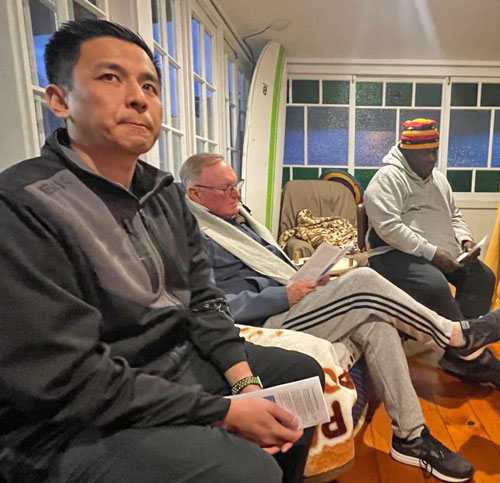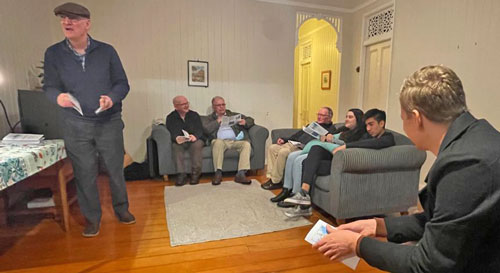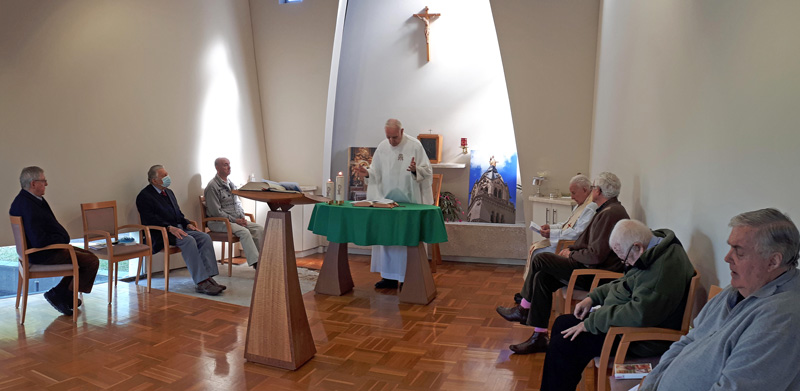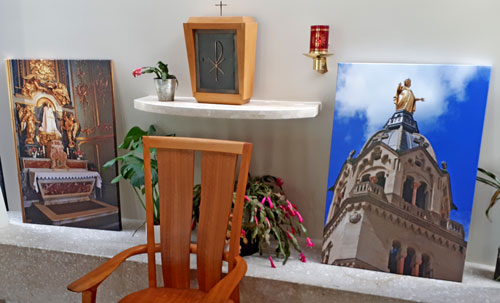 ---
SM Bulletin
This week's SM Bulletin reports on young Marists' post-graduate studies in Rome and on the Marist Mission in Ranong, Thailand. Click here or go to Members' Page. [Jul 24]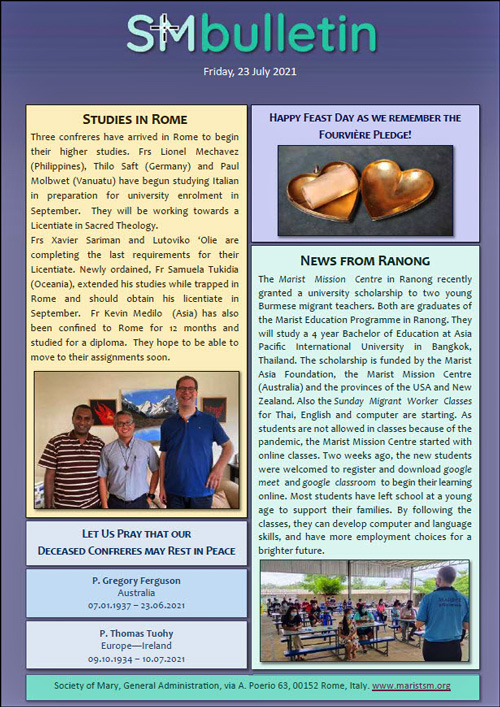 ---
Marist Asia Newsletter
From the Philippines, Fr Christopher Ganzon sends the latest Marist Asia Newsletter, ten pages of news and colour. The newsletter includes a report from Fr Kevin Medilo waiting in Rome before coming to establish the new mission in Sydney's outer west. Click here [Jul 24]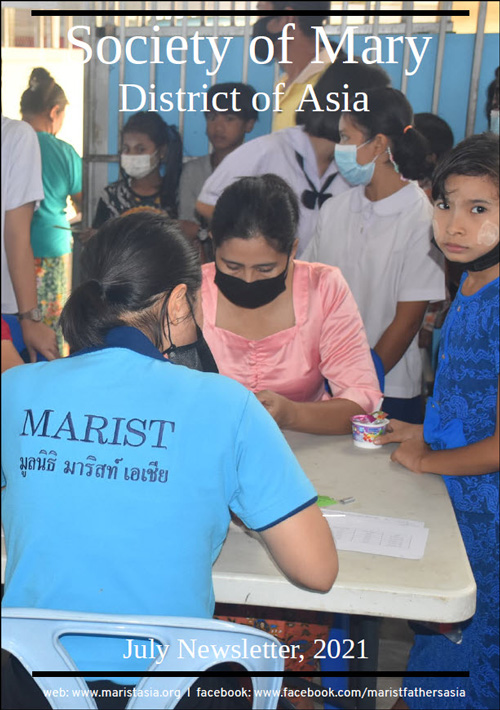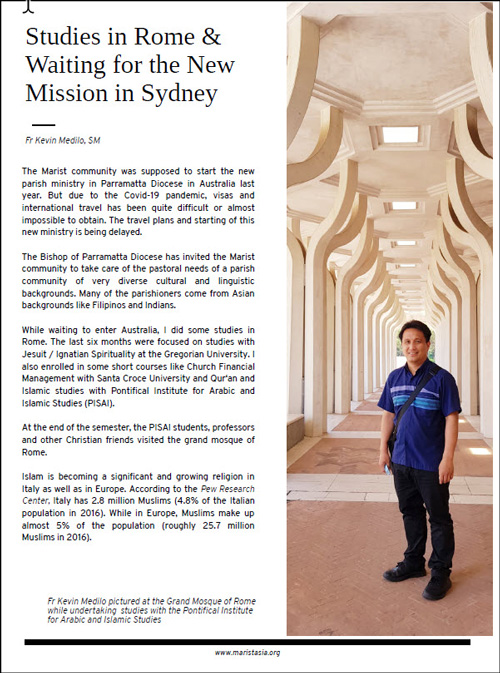 < class="mce-object mce-object-undefined">
---
Fourvière pledge remembered
Members of the Marist Family throughout the world recall today, Jul 23, a key moment in their history when the pioneer Marist aspirants pledged to form the Society of Mary. The event took place in the ancient chapel of the Blessed Virgin at Fourvière, Lyons, France, in 1816.
Fr Justin Taylor SM records the eve and day of the Fourvière pledge in chapter three of 'Jean-Claude Colin, Reluctant Founder, 1790-1875'. click here.
For more about Fourvière, see below, 'Fourvière in lockdown'. [Jul 23]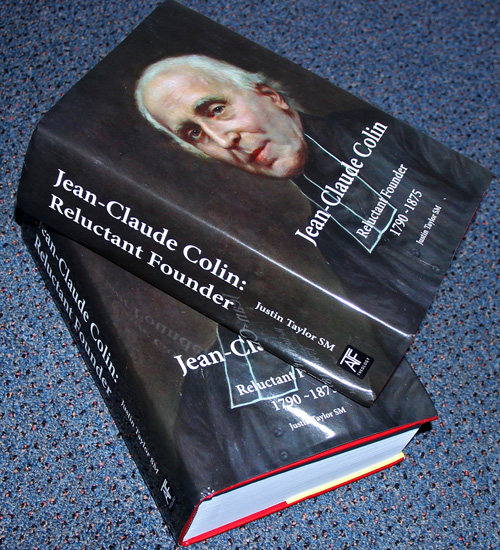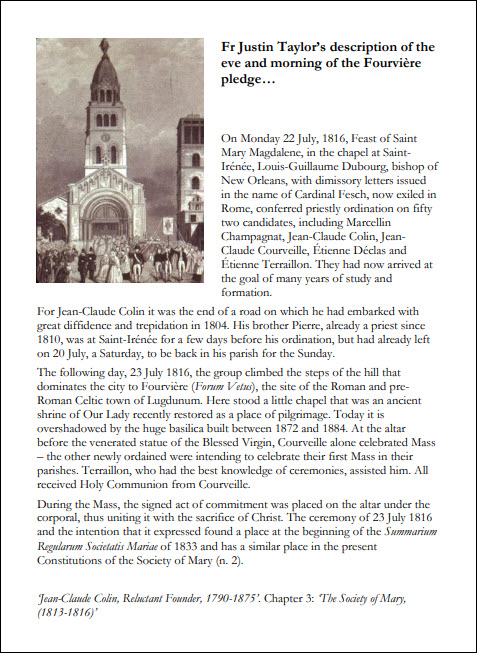 ---
SM Bulletin
From Rome, this week's SM Bulletin reports on Fourvière resources, a Royal award for a Tongan Marist and the closure of San Giovanni Evangelista school in Rome. Click here or go to Members' Page. [Jul 17]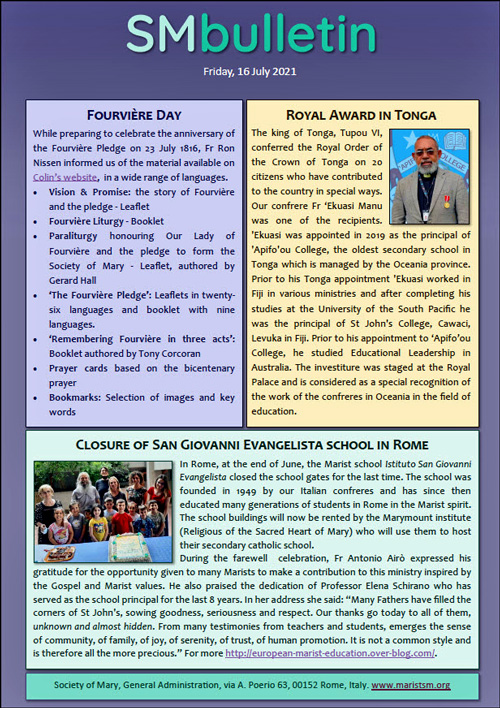 ---
Fourvière in lockdown
Customary celebrations to mark the Jul 23 anniversary of the Fourvière pledge have been curtailed by the current COVID-19 lockdowns. The pledge to form the Society of Mary was made by a dozen young Marist aspirants in 1816 and is remembered each year by all branches of the Marist Family.
This year Marist Laity Australia advise: 'In order that we may be able to have a united celebration in the context of COVID-19, Andrew Dumas and Margaret Woods have provided some resources. They include a slide show and printable booklet. This prayer and liturgy contain a video of four Marists reflecting on the meaning of Fourvière, discussion questions, common prayer and song. http://www.maristlaityaustralia.com/fourviere2021

'Alternatively, all are invited to join Marist Laity Australia on Sun, Jul 25 at 7 pm (Eastern Australian Time) to celebrate Fourvière together. Register at (tinyurl.com/fourviere2021) to receive the Zoom link for this celebration online.'

A range of multi-lingual Fourvière resources is also available on the Colin website's Fourvière page or by clicking on individual (English) items below. Most are also available in Dutch, French, German, Italian, Portuguese and Spanish. Click here. The pledge itself is in twenty-six languages. Click here.

Vision & Promise | Fourvière in three acts | Fourvière liturgy: print read only | Prayer cards | Paraliturgy | Bookmarks [Jul 16]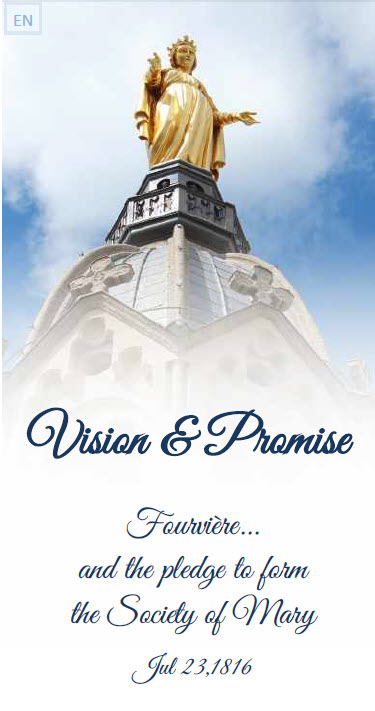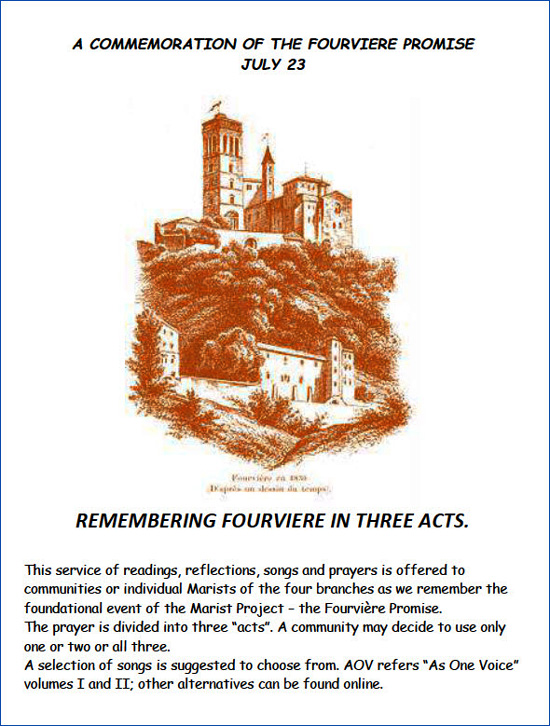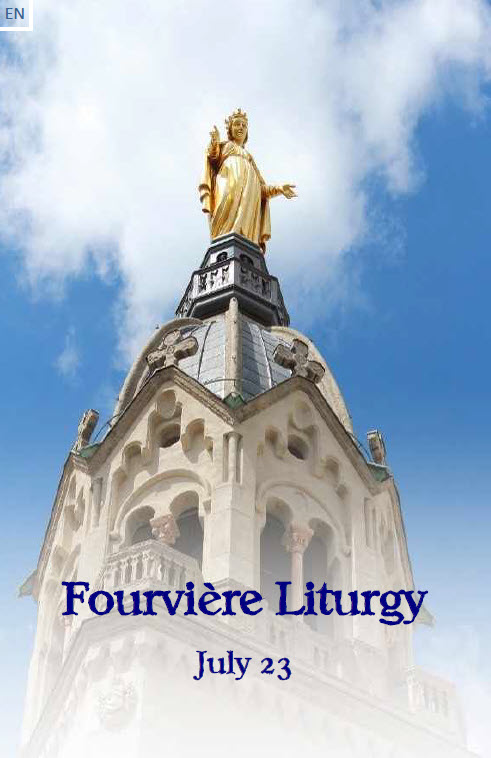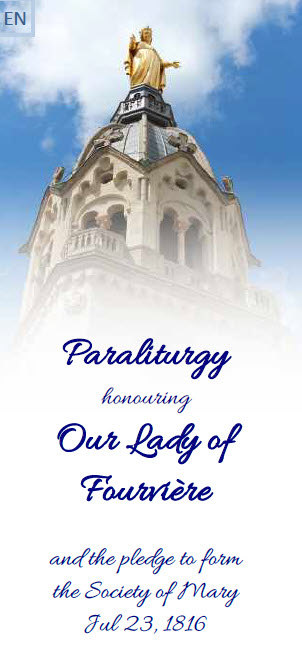 ---
La Sorgente
From Casa di Maria, the Marist International Theologate in Rome, Fr Tony Kennedy sends the latest issue of La Sorgente (The Source). Its twelve pages have many images of life in the student community as well as ordinations and other special events. For La Sorgente, click here. [Jul 14]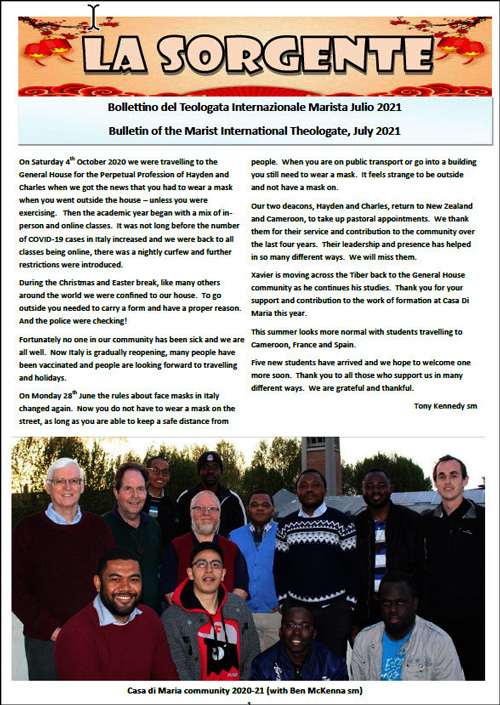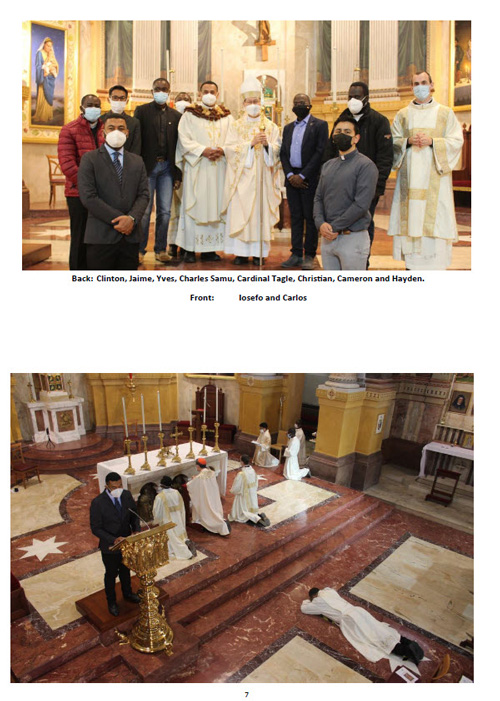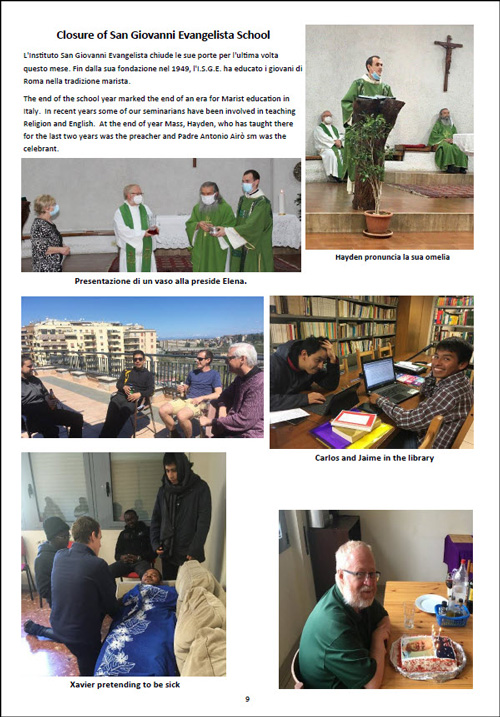 ---
Chanel anniversaries
On Jul 12, 1804, in the hamlet of La Potière, near Montrevel-en-Bresse, France, Peter Chanel was born to Claude-François Chanel and Marie-Anne Sibellas, their fifth child. Three more siblings were to come. A few days later, Jul 16, in the main parish church of Montrevel, baby Peter was baptised.
Also in July, twenty-three years later, on Jul 15, 1827, Peter Chanel was ordained priest by Bishop Alexander Devie in the provincial city of Bourg-en-Bresse, soon to join the infant Society of Mary and become one of its first missionaries -- and its first martryr and saint.
For a short history of St Peter Chanel, click here. [Jul 12]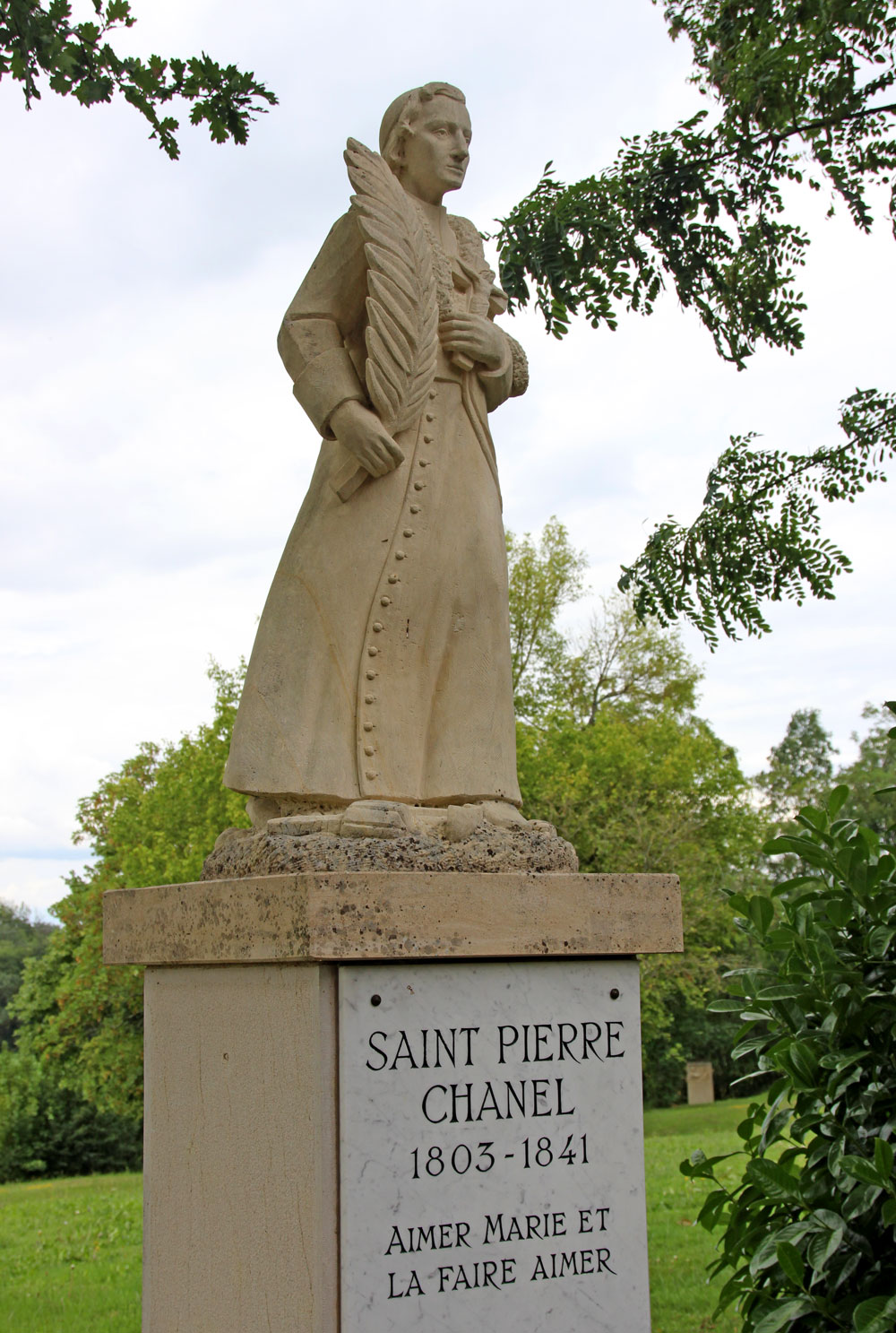 Above: Statue of St Peter Chanel at the church of Cuet, a few kilometres from the birthplace of Peter Chanel (right) at the hamlet of La Potière. Below: Baptismal font and church at Montrevel | Monastery of Brou, Bourg-en-Bresse, where Peter Chanel was ordained priest in July 1827.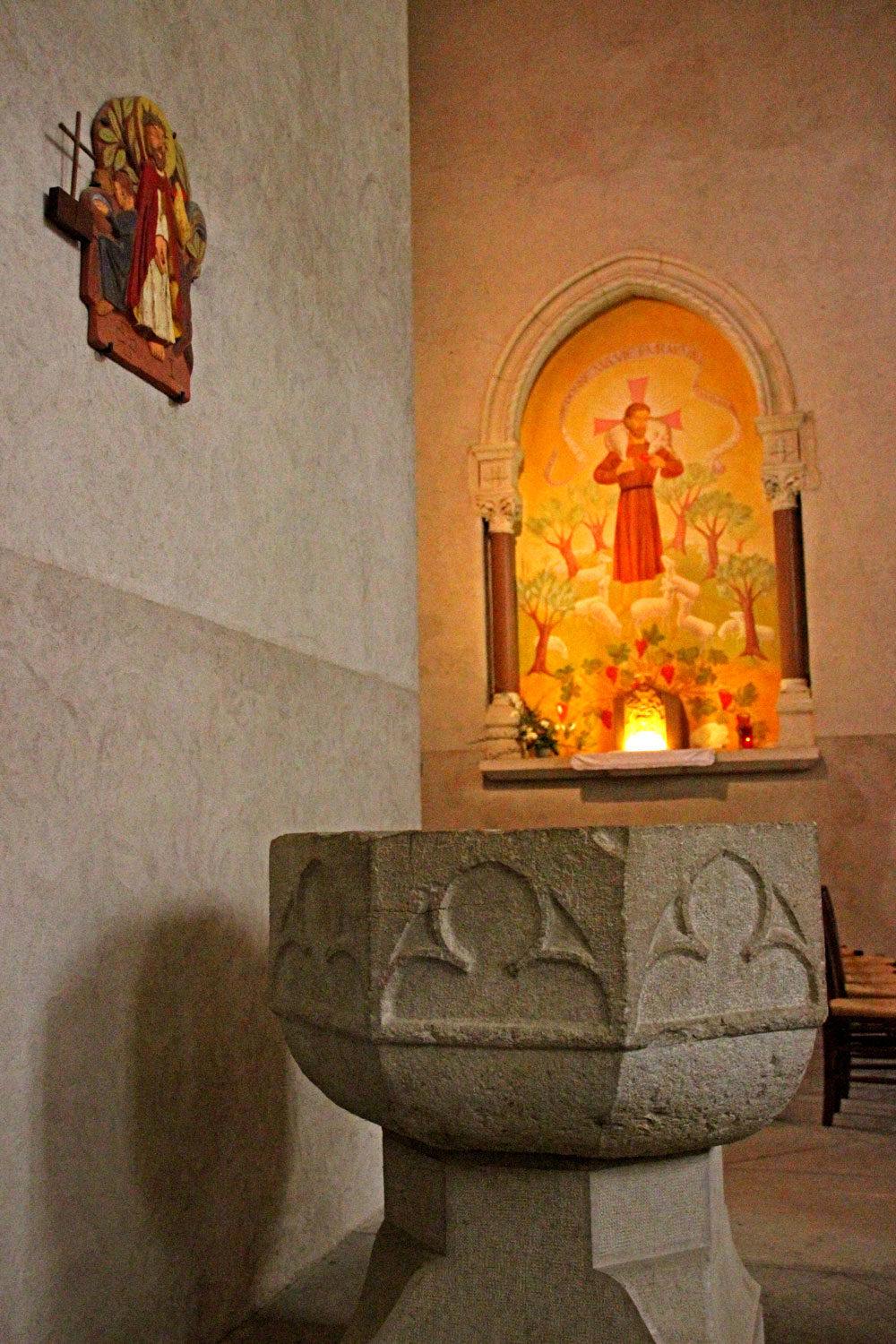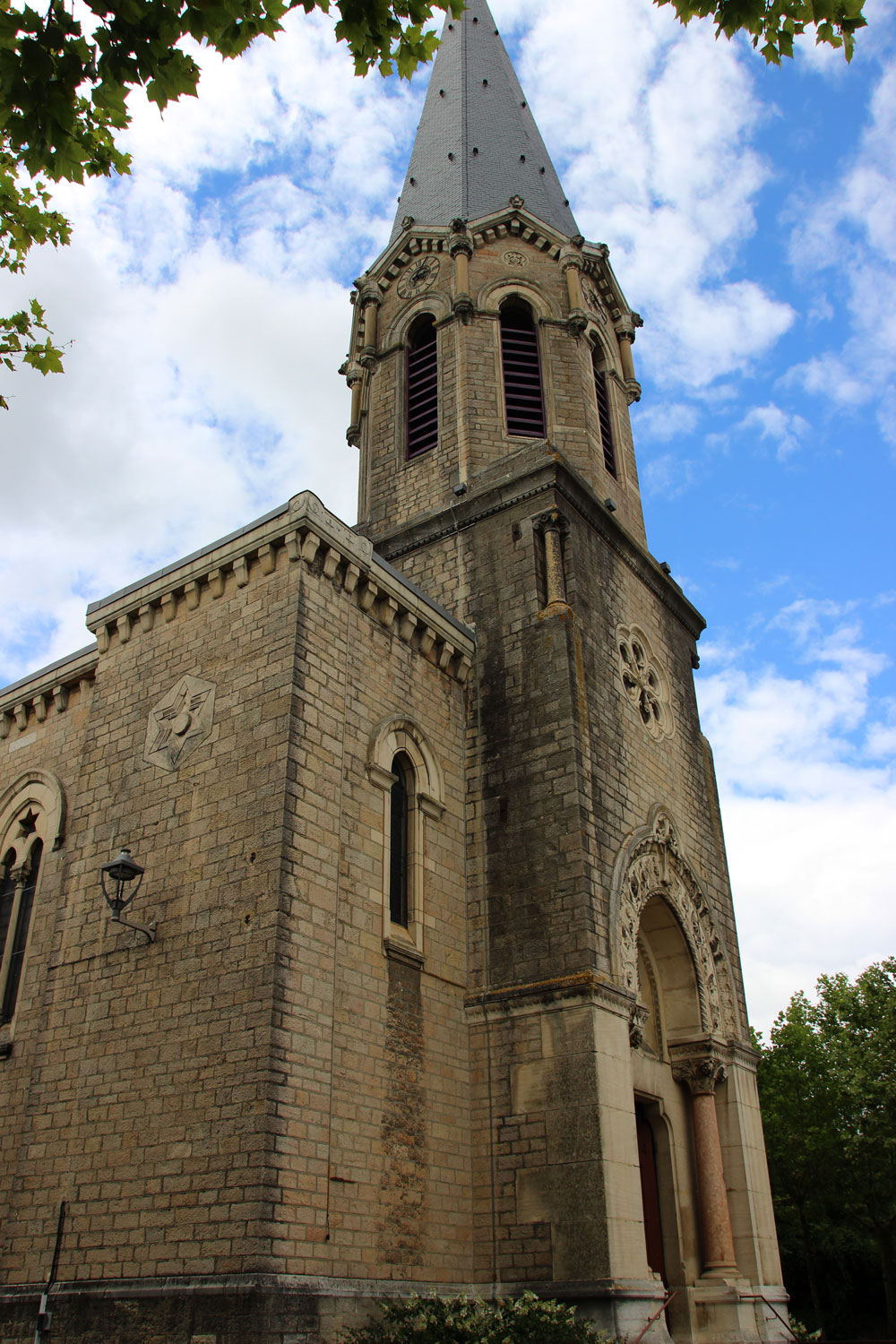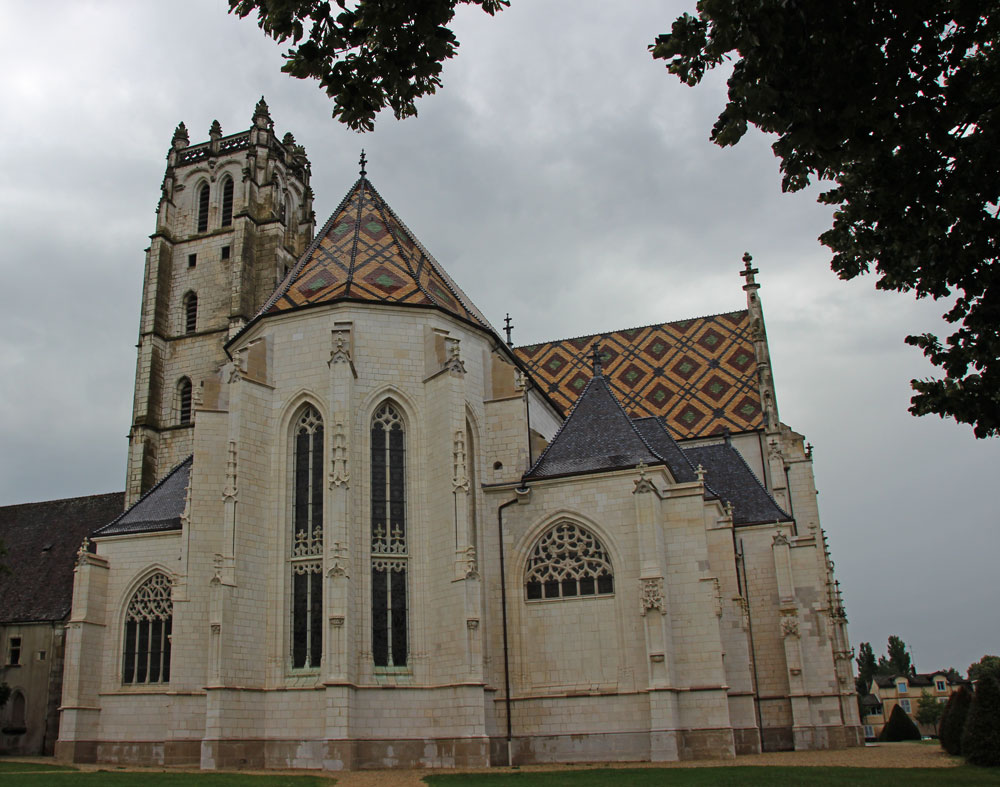 ---
Medal of Honour
In a ceremony at Nuku'alofa, Tonga, on Jul 09, principal of Apifo;ou College, Fr Ekuasi Manu SM, received the King's Birthday Medal of Honour.
Fr Ekuasi reports: 'I had quite a unique experience last Friday as I was called to come to the King's Palace Office. Upon my arrival I noticed that there were quite a few people already seated. I inquired and found out that this was a Medal of Honor presentation to mark His Majesty's Birthday. So I sat at the back and honestly I didn't really know the people there.
'After the official welcome, prayers, and introduction, the ceremony began. Well, I couldn't believe it when my name was the first to receive the honorary medal!!
'It's just my third year here at Apifo'ou College so I'm still mesmerized by the experience! Like the saying, the reward for hard-work is more hard-work!'
Fr Ekuasi had studied educational leadership in Brisbane, living in the Marist community of Paddington before taking office at Apifo'ou. Congratulations, Fr Ekuasi ! [Jul 12]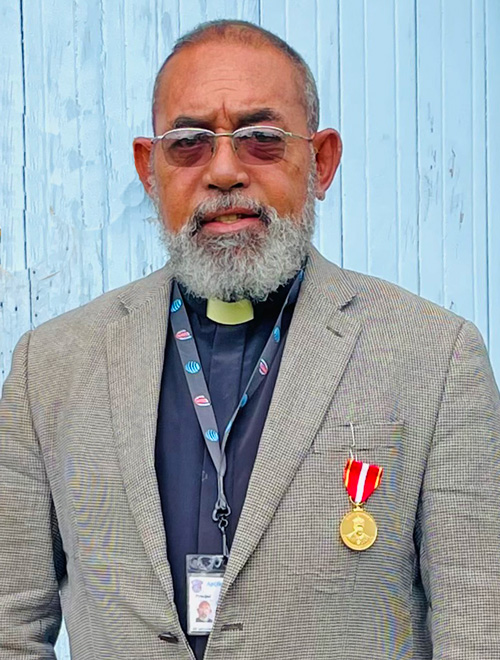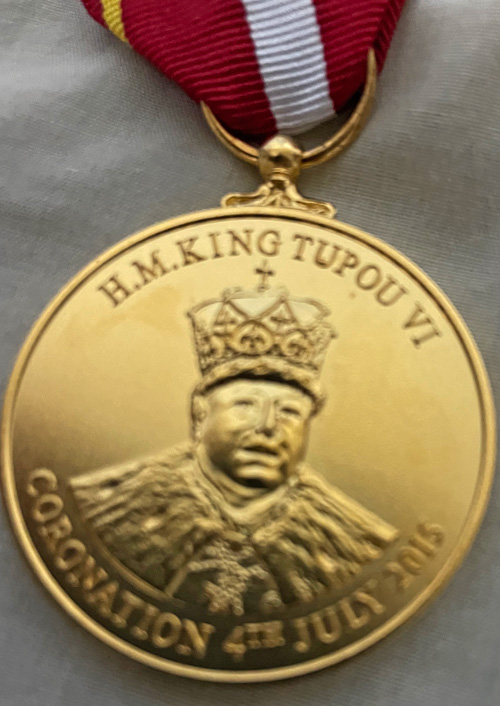 ---
Euroinfo
From Paris and the headquarters of the Marist European Province, Euroinfo reports on high school graduations in Rome, re-opening of the Camino hostel in Spain and the ministry of intercessory prayer. Click here or go the Members' Page.. [Jul 09]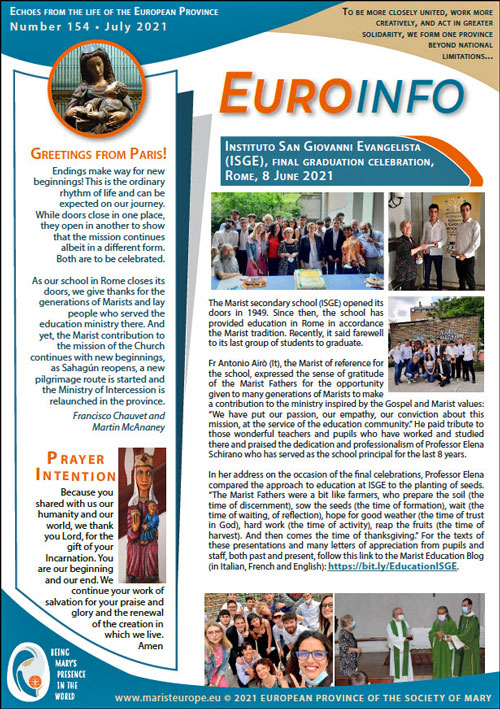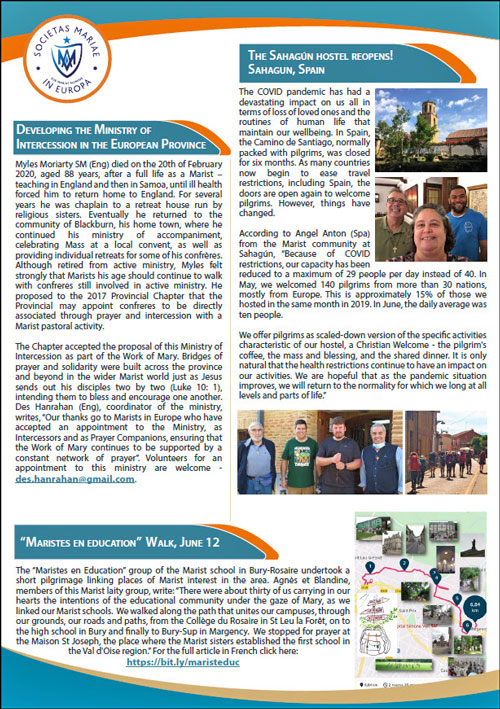 ---
SM Bulletin
From Rome, this week's SM Bulletin reports on the Provincial Chapter in Mexico, Leadership Discernment in Rome and Australian, Fr Ray Chapman's, walk through the Bugey mountains. Click here or go to Members' Page. See also, below, 'Camino in the making' [Jul 09]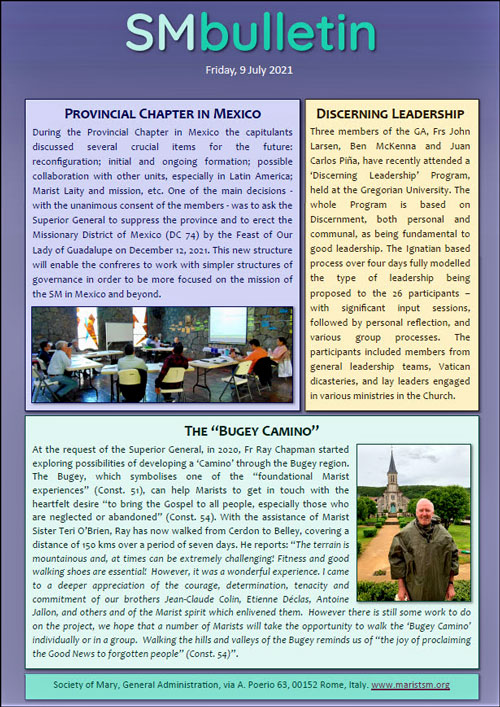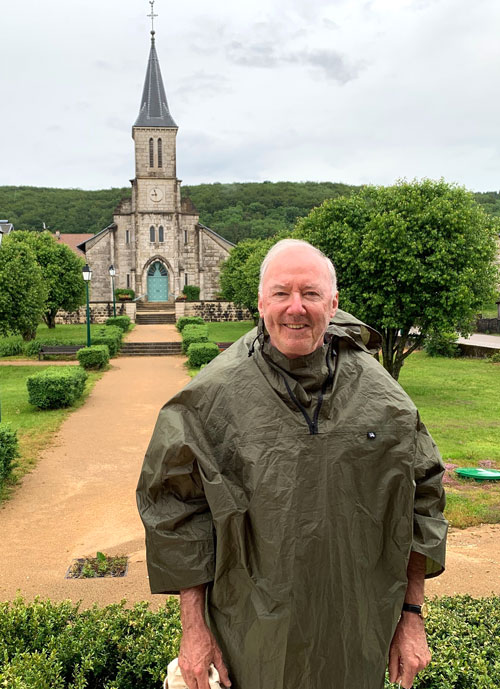 ---
Ranong report
From Ranong, Thailand, Fr Frank Bird SM sends a six-monthly report on the Marist Asia Foundation, supporting the educational, health and other needs of Burmese migrant people.
Fr Frank adds: 'We hope you may enjoy seeing some stories and smiles from the Thai Burma Border in Ranong. There have been ups and downs, the challenges continue with Covid and the Military Coup, but we keep going. We are joyful and humbly proud of the blessings that come from the Marist Centre and Team in the middle of the Migrant Community in Ranong. Thanks for being part of the compassion in action!'
The Ranong mission has been assisted by Australia's Marist Mission Centre since it began in 2006. For the report click here [Jul 09]
Herston celebrations
It was party time for Brisbane-based Marists this week when Herston confreres gathered to celebrate two anniversaries: community leader, Fr Mchael Carroll' 68th birthday and Fr Harry Moore's 56th anniversary of priestly ordination. Congratulations to both! [Jul 07]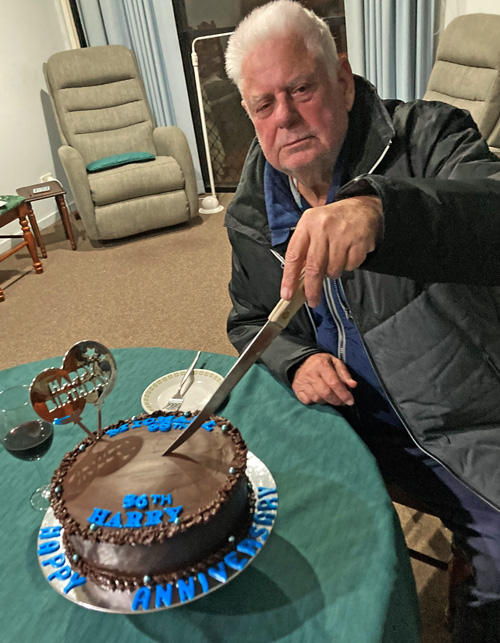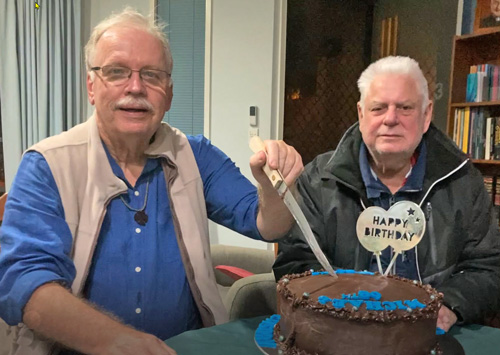 ---
Camino in the making
Australian Marist, Fr Ray Chapman, reports from south-east France on the development of the Bugey Camino. The week-long walk is planned for the rugged Bugey mountains, part of the massif dividing France from Switzerland and will trace some of the steps taken by pioneer Marist missionaries led by Founder, Jean-Claude Colin in the 1820's .
Throughout 1825 to 1829 Fr Colin and his tiny mission bands evangelised twenty-seven Bugey parishes as part of a post-Revoution renewal of Catholic life. The missions continued after Fr Colin was called in 1829 to take over a secondary college at Belley, thus introducing the infant Society of Mary to the ministry of education.
Unlike the original missioners who could reach the Bugey people only in their housenound winter months, participants in the Camino will explore the Bugey in summer. For other information on the Bugey and its missions, go to the Colin website and 'Options for pilgrims', esp 'The Bugey Missions': click here. [Jul 06]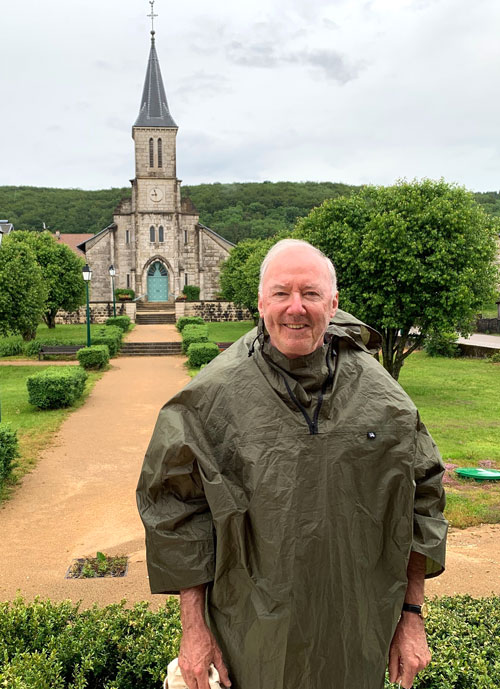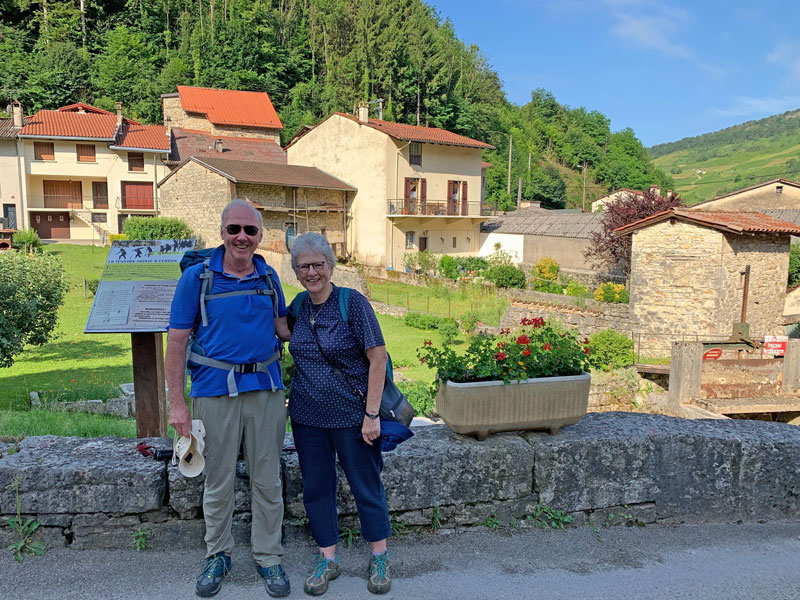 Above: Fr Ray at the village of Aranc on his first exploratory walk through the Bugey. | ...with Marist Sister, Teri O'Brien, an authority on the Bugey's geography and Marist mission history.. Below: Cattle outside of Arandas. | Fast-flowing river near Chaley.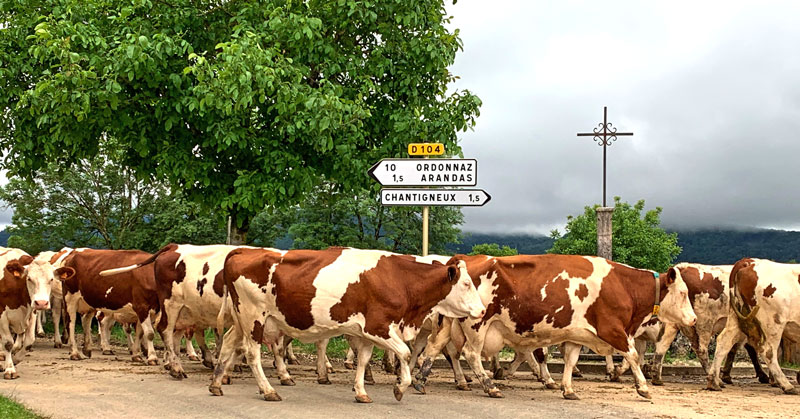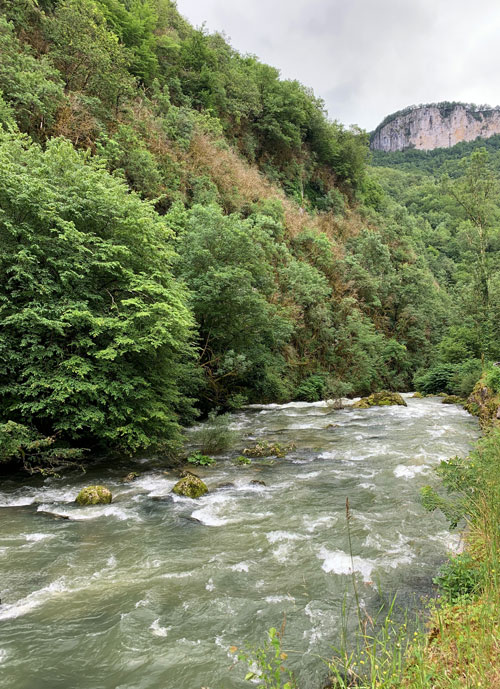 ---
Anniversaries in Rome
Two members of the Society of Mary's General Administration were honoured at a Sunday luncheon on Jul 04 at Villa Santa Maria, Rome. Celebrating important anniversaries of priestly ordination were Secretary-General, Fr Pat Devlin (50 years) and Superior-General, Fr John Larsen (40 years).
The luncheon followed Mass in the chapel of the General House. (See below)
Congratulations, Frs Pat and John. Ad multos annos! [Jul 05]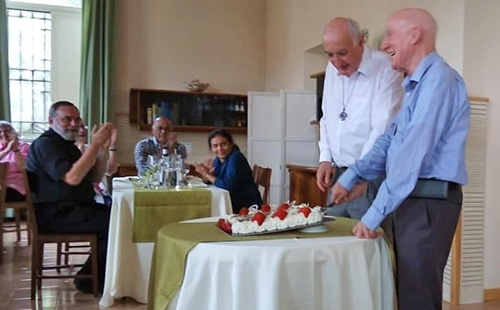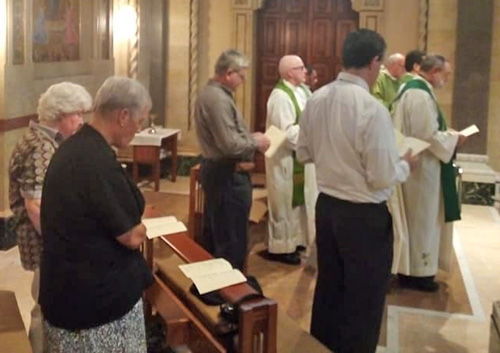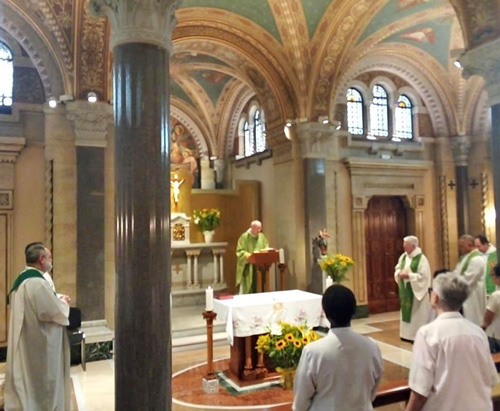 ---
NAIDOC Week
Jul 04-11 is NAIDOC Week with the 2021 theme of 'Heal Country!', encouraging First Australians to continue to seek greater protections for their lands, waters, sacred sites and cultural heritage from exploitation, desecration, and destruction. For more on this theme, click here. [Jul 04]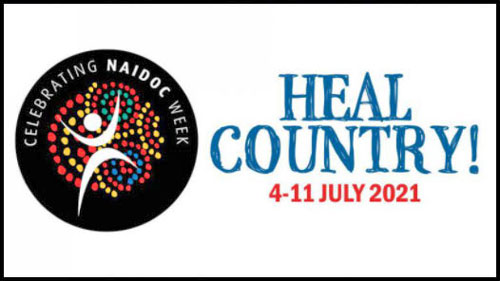 ---
'Source and summit'
The July reflection of Superior-General, Fr John Larsen SM, hghlights the centrality of the Eucharist in Marist life: Click here or go to Superior-General's page, [Jul 02]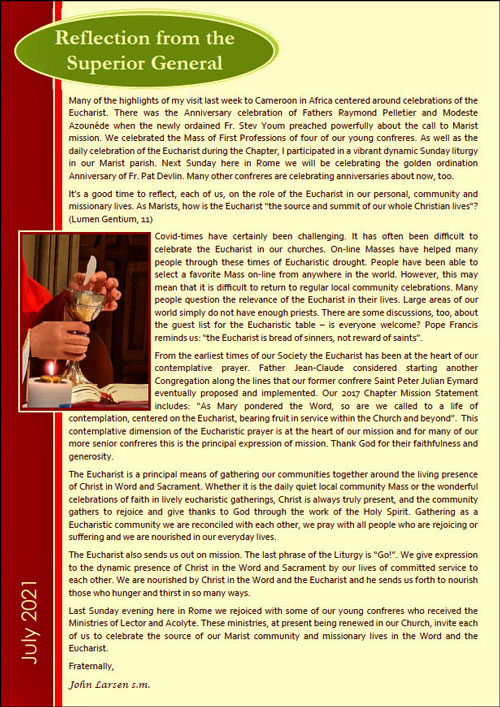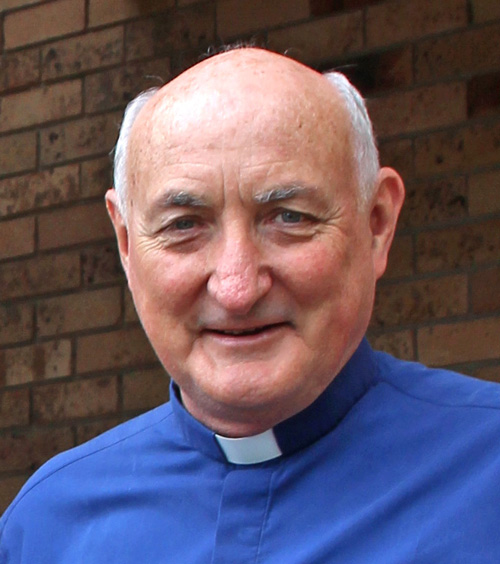 ---
Sarnelli newsletter
From northern Thailand comes the bulletin from the Redemptorist mission, Nongkhai, and Sarnelli House with inspiring stories of dramatically disadvantaged children and their later successes. The newsletter is authored by Australian, Kate O'Riordan, Marist International Care volunteer sent to Sarnelli by the Marist Mission Centre in the early 2000s. A special column features down-to-earth comments from Sarnelli's founder, Fr Mike Shea CSsR.
MMC Australia has supported Sarnelli's rural outreach program for over two decades. For the Sarnelli newsletter, click here. [Jul 02] .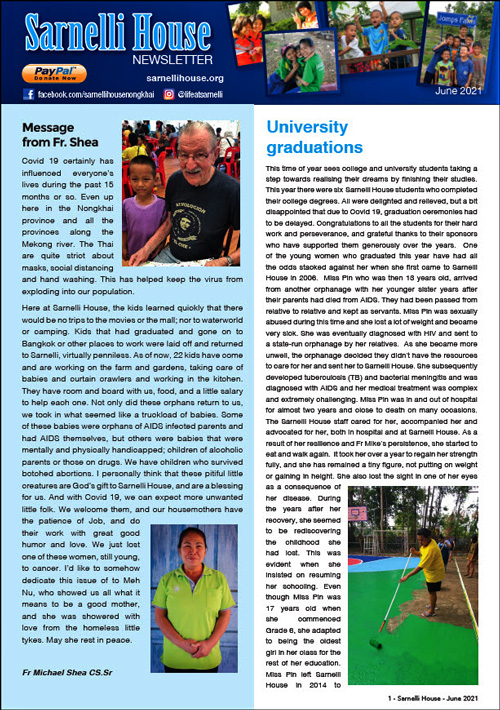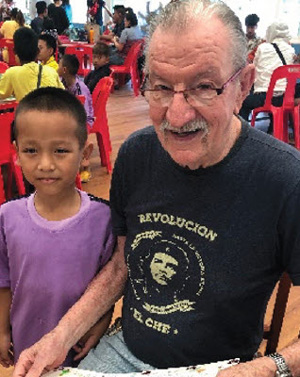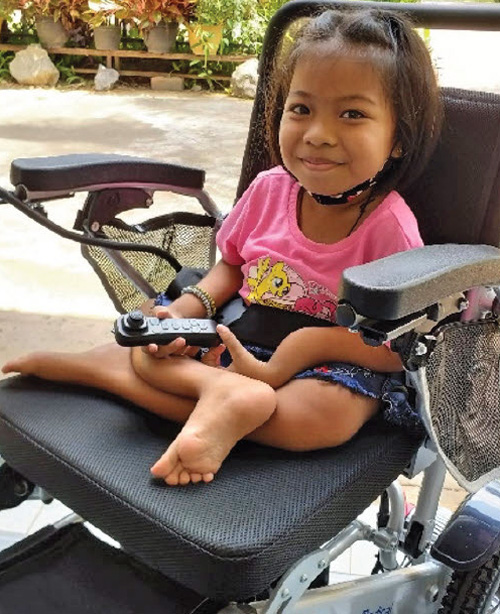 ---