---
For previous years, go to News menu, above
---
---
MMC newsletter
The Autumn issue of the Marist Mission Centre newsletter is now available reporting on projects in Asia and the Pacific. Click here or go to the MMC website. [Mar 28]
---
SM Bulletin
This week's SM Bulletin reports from Rome on two new international appointments, Spain's Sahagun pilgrim ministry and Tutu's 'Knights of Colin'. Click here or go to Members' Page. [Mar 26]
---
Miltrup memoirs launched
The book of Fr Franz Miltrup's memoirs was launched in Brisbane on Mar 18. The German Marist's record of wartime experiences was first entitled 'My 50 Years in Bougainville' then edited by historian and writer, Christine Leonard, and given its new title of 'When The Garamuts Beat'.
Australian Marist and former missionary in Bougainville, Fr Harry Moore SM, was one of the two speakers who launched the book at a private function in Brisbane.,
The book's publishers comment, 'Franz Miltrup's life was long and eventful. Born in Germany and ordained a Catholic priest during the rise of Adolf Hitler and the Nazi Party, the young Franz Miltrup SM left his homeland in late 1937, destined for the island of Bougainville. The Second World War brought catastrophic hardship to the islands and their people. Some missionaries remained after nearly all the European civilians fled. Narrowly avoiding execution twice, Franz Miltrup made a dramatic escape in 1945. With the aid of Coast Watcher Paul Mason and his Bougainvillean commandos, Franz Miltrup walked barefoot across the mountains to the Allied forces based at Torokina.
'The memoir also deals with the tumultuous change that followed the war, as an emerging nation embraced self-determination in the closing years of Australia's colonial administration. Tales of adventure, faith, and peril, of other missionaries in Franz Miltrup's Marist community are included. When The Garamuts Beat will interest anyone captivated by Pacific history, the impacts of the Second World War on our closest neighbour, and the social change that ensued. Franz Miltrup's life was one of total commitment and love for the people he chose to spend his life with.'
To obtain the book, go directly to Leonard Stories's website: click here (or to InHouse Publishing click here). [Mar 23]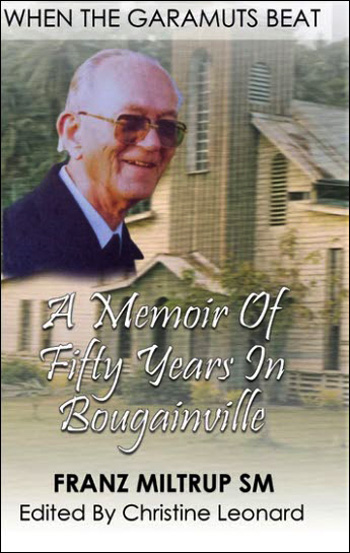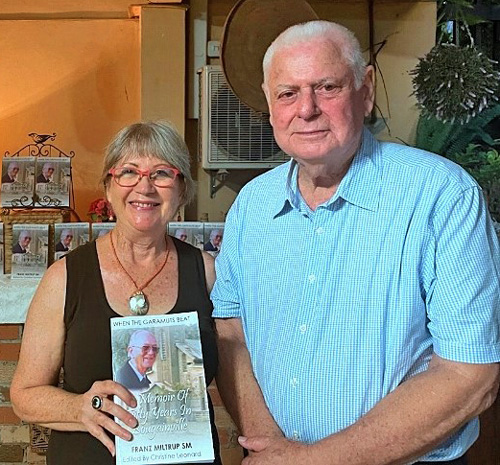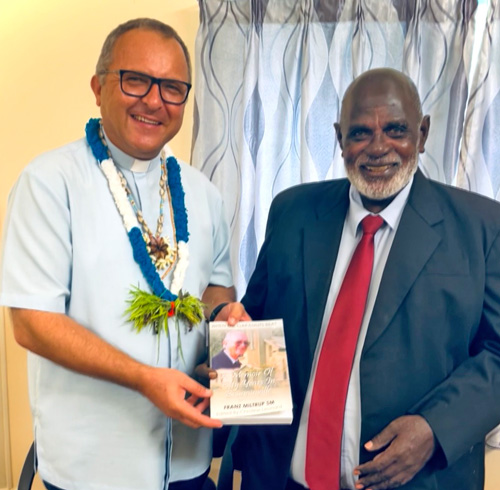 Above: Christine Leonard with Fr Harry Moore SM at the Brisbane launch. | Bougainville's Bishop Dariusz Kałuża MSF is presented with a copy of the book by Hon Simon Pentanu, Speaker of the Bougainville House of Representatives.
---
Oceania news
This month's News Bulletin from the Marist Oceania Province reports on cyclones in Vanuatu, ecological programs in the Solomons and provincial visitation to the Solomons.
Click here or go to Members' Page. [Mar 18]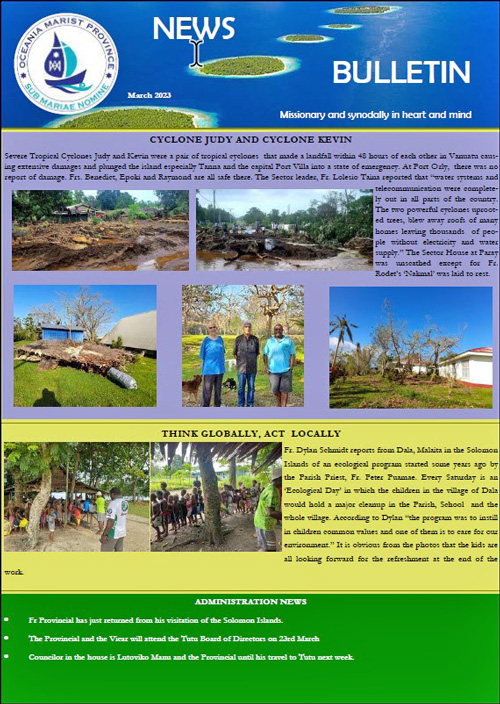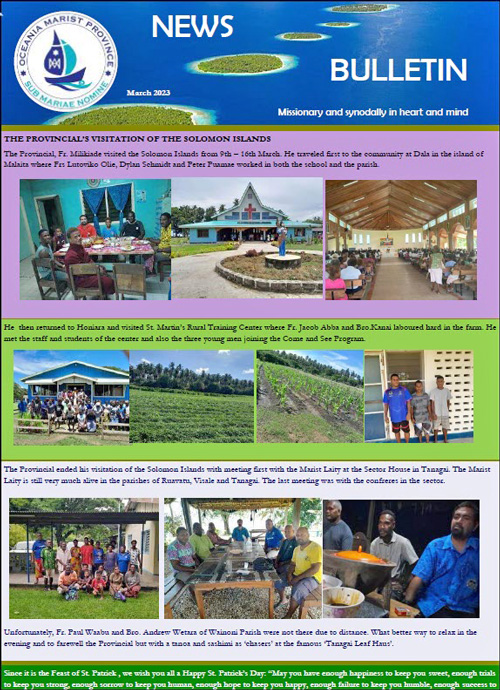 ---
SM Bulletin
From Rome this week's SM Bulletin announces the Omnes Gentes missionary outreach to Turkey with a team of Marist Fathers and Marist Missionary Sisters, and also reports on Fr Donato Kivi's recent address, Care for our oceans. Click here or go to Members' Page. [Mar 18]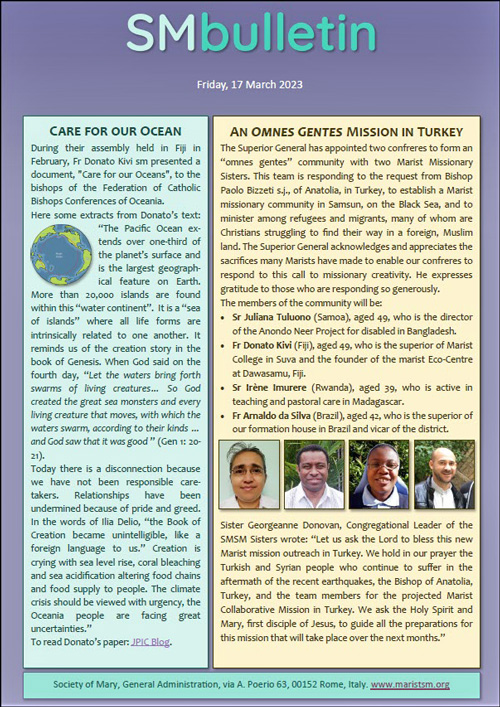 ---
Hope for the future
From various parts of the Marist world comes news of several formation communities. [Mar 13]
Below: In the Philippines, two members of the MICS (Marist Interested College Students) program have been accepted as postulants at St Peter Chanel's community, Davao. From left, Raul Angelo Bautista and Paterno (Jun) Bernadio are pictured with Frs Kevin Medilo, Roque Rebito, Christopher Ganzon (Asia District Superior) and Gil Casio during a ceremony welcoming them as postulants in the District's formation program. | With Fr John Guo Wang, Jun and Angelo show their award for a recent presentation at the University of Immaculate Conception's research forum.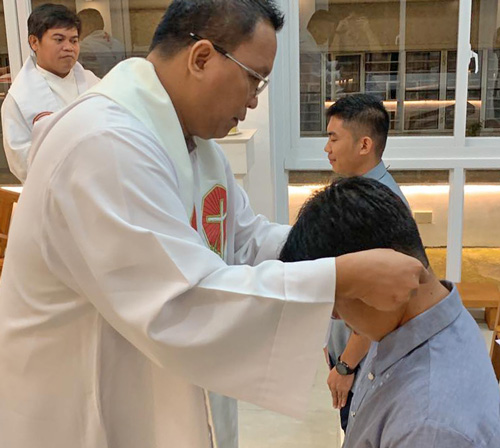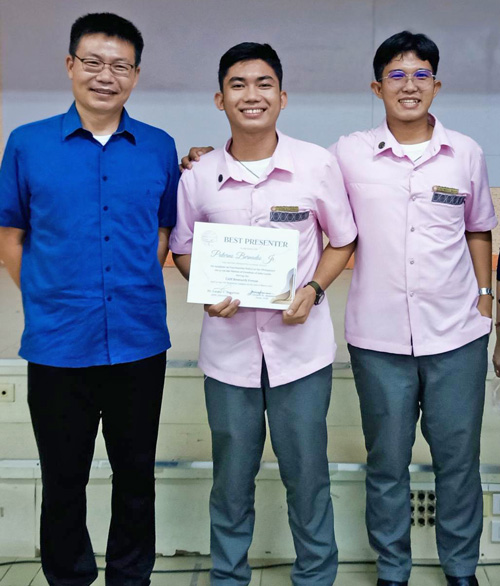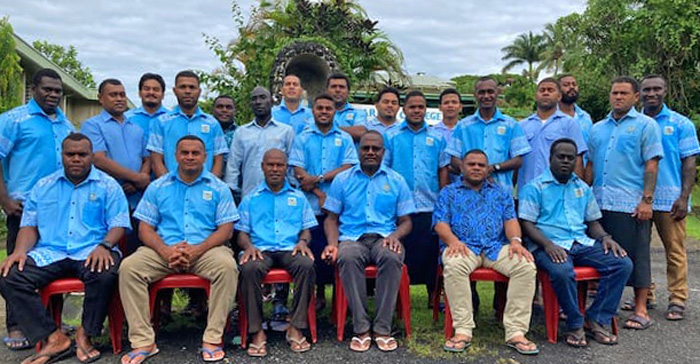 Above: The community of Marist College, Suva, gather to begin their academic year. Below: Fr Joseph McHugh SJ leads the Oceanian seminarians in a recollection on 'Vocation, Discernment and Spiritual Direction'.
Further below: St Peter Chanel's formation community, Belo Horizonte, Brazil. From left, Fr Arnaldo Da Silva (formator), Renan Lima, Eduardo Agurto, Fr Alfred Rosëner, Fr José Maria (bursar) and Victor Abel.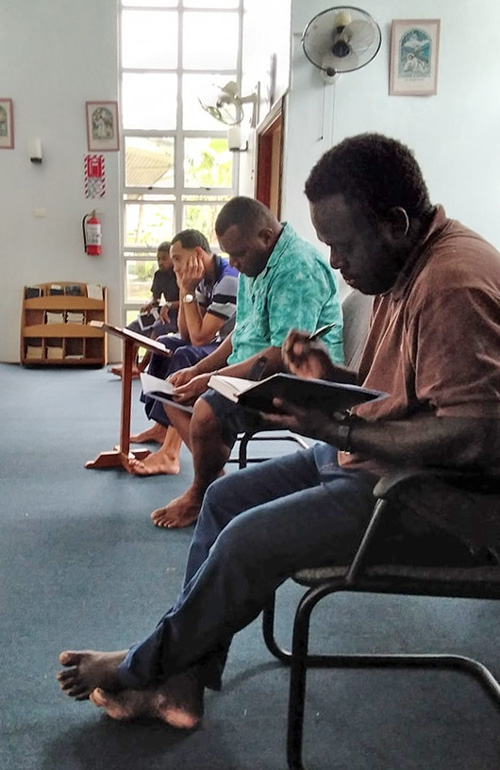 ---
SM Bulletin
From Rome, this week's SM Bulletin reports on cyclones in Vanuatu, General Administration, Colinian Renewal Retreat and positive news from Hannah Bennett in Australia.
To download click here or go to Members' Page. For Hannah's most revent updates click here. [Mar 10]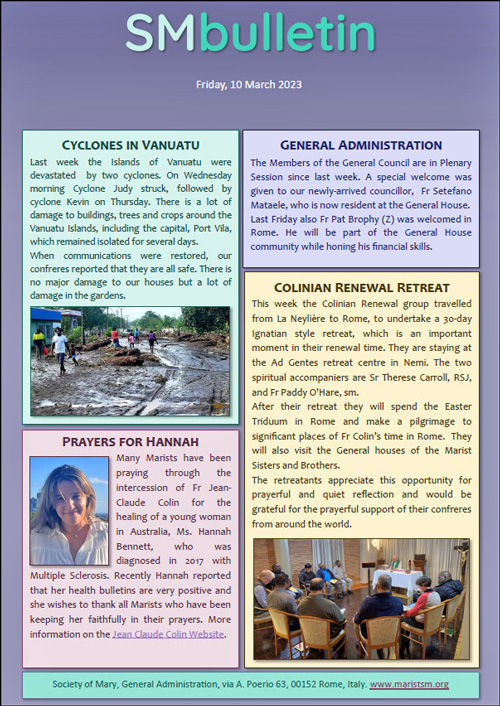 ---
Words of encouragement
Mar 09 marks the anniversary in 1822 of a letter from Pope Pius VII to the Marist aspirants. Whilst not yet an official approval of the Society of Mary, the Holy Father's 'Brief of Praise' came as an encouraging step forward for the Marist project.
The anniversary, along with other dates of Marist significance, is noted in the Colin calendar available on request: click here. Biographer, Fr Justin Taylor SM, writes of this and surrounding events in Chapter 6 of 'Jean-Claude Colin, Reluctant Saint'. [Mar 08]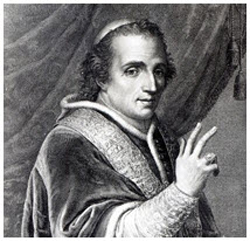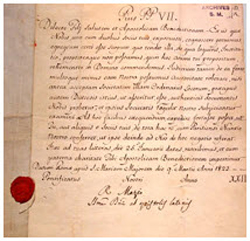 ---
Colinian Renewal continues
From La Neylière, France, Australian Marist, Fr Ray Chapman SM, reports on the progress of the Colinian Renewal Program: 'The program is going extremely well and the confreres seem to be gaining a great deal from it. We've visited a number of places of Marist origin... On Tuesday we are travelling to Rome to begin a 30-day Ignatian style retreat based at Nemi. The confreres are looking forward to being able to do a retreat and to be in Rome for the Easter Triduum. We'll stay on for a week afterwards to visit the places frequented by Fr Colin on his trips to Rome and then we'll visit the Marist family general houses and return to La Neylière on Apr 15.' [Mar 06]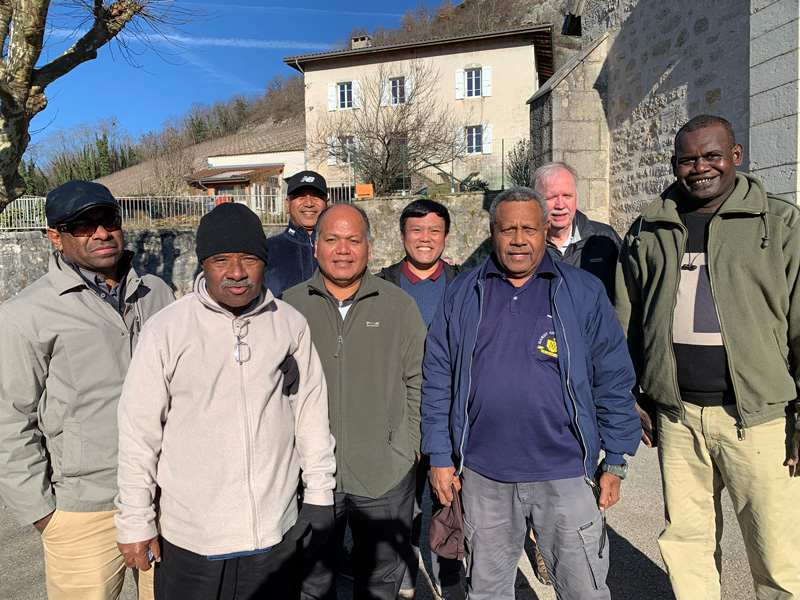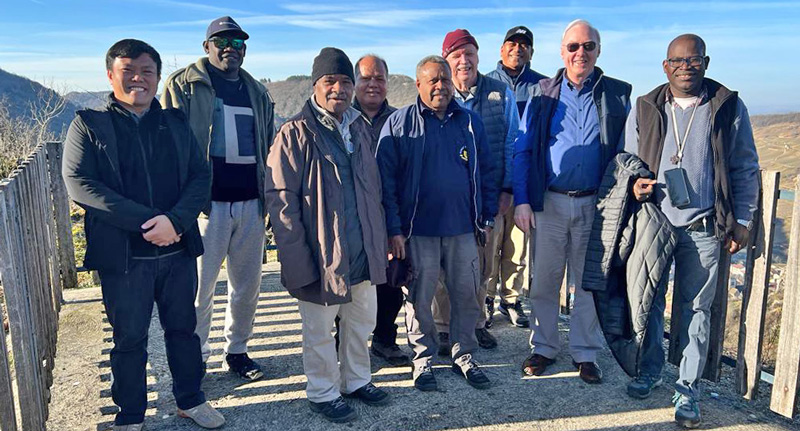 Above: The CRP group at Cerdon by St John the Baptist church. In the background is the presbytery where Marist Founder, Jean-Claude Colin, spent the early years of his priesthood. | At La Balme in the Bugey mountains, close to Cerdon, where the pioneer Marist missions preached their first renewal mission in Jan 1825. Below: The group at Mass in the chapel of Bon Repos, Belley, foundational Mother House of the Marist Sisters and resting place of their Foundress, Jeanne-Marie Chavoin. | Outside the chapel of La Capucinière, Belley, where the first Marist professions took place in Sep 1836.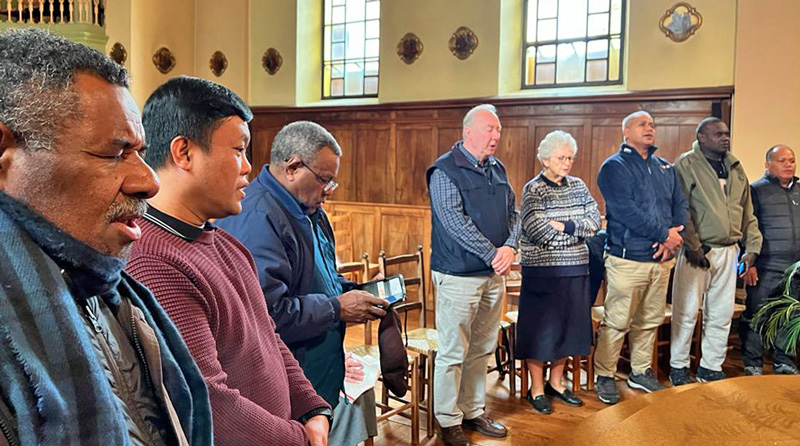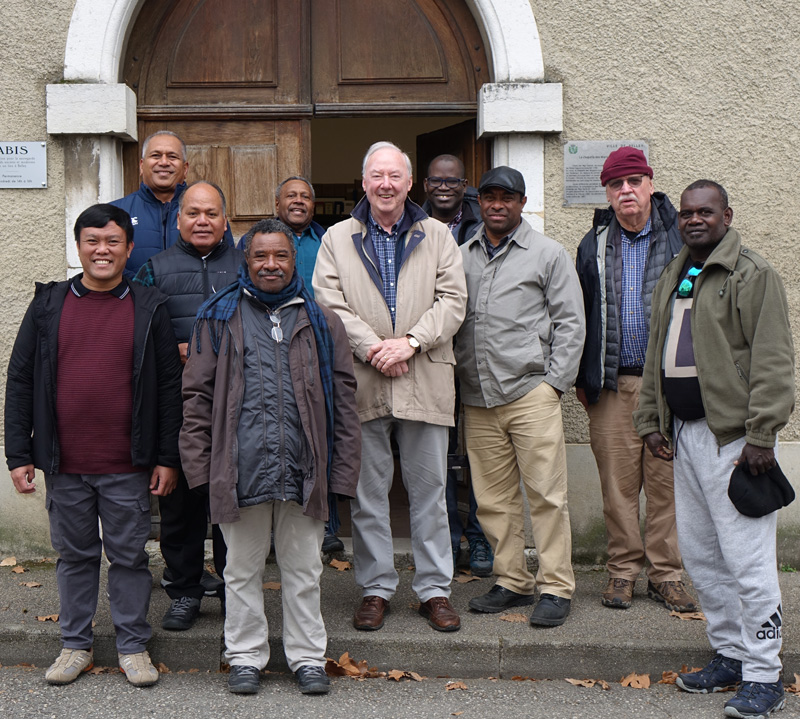 ---
Superior-General's reflection

This month's reflection from Fr John Larsen SM is a Lenten meditation. What are the temptations that can assail Marists? And what are the Marist ways in dealing with them? Thoughtful Lenten reading. To download click here or go to Superior-General's page. [Mar 03]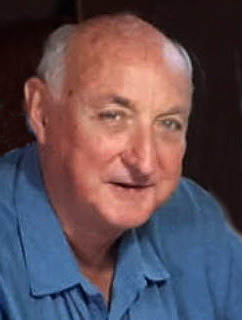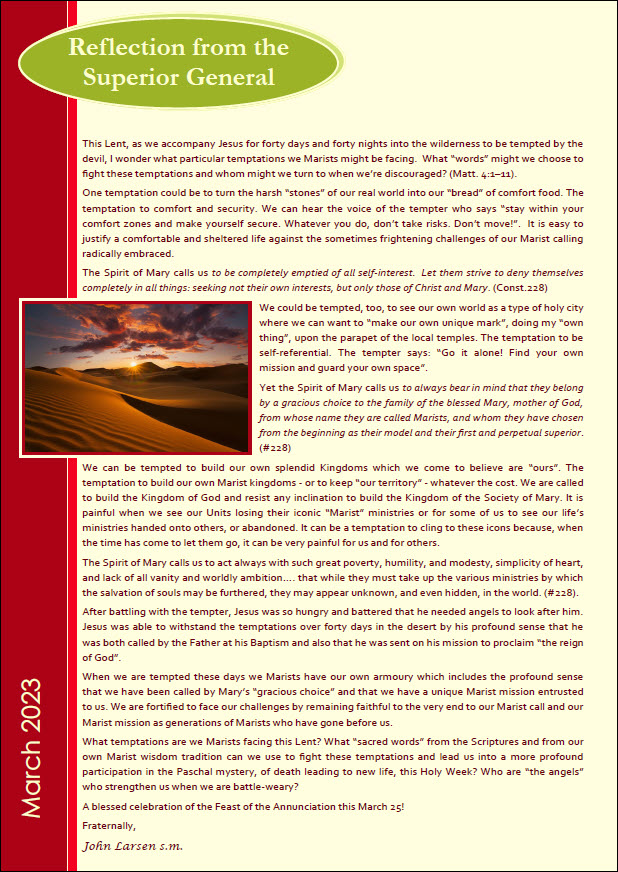 ---
Fr Paul's Wednesday talks
A member of the Marist community of Mayvale/Montbel, 94 yr old Fr Paul Glynn SM is now a regular speaker at the first Wednesday of the month Rosary group at Holy Name of Mary parish, Hunters Hill. Pictured below speaking on Mar 01 about devotion to Mary in the early Church, Fr Paul displayed papyrus images of the Sub Tuum hymn.
His next talk is scheduled for the Wednesday of Holy Week, Apr 05, following the 9 am parish Mass. The group meets in the Chapter Hall adjacent to Holy Name of Mary church. All are welcome. [Mar 01]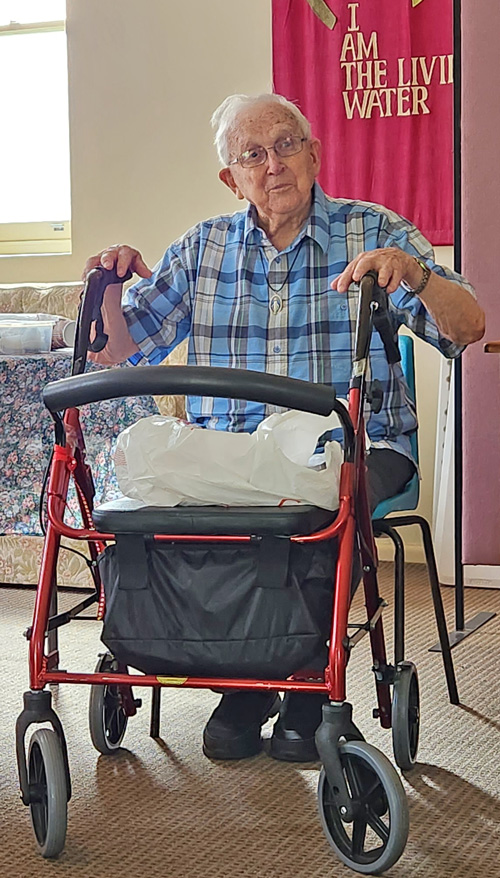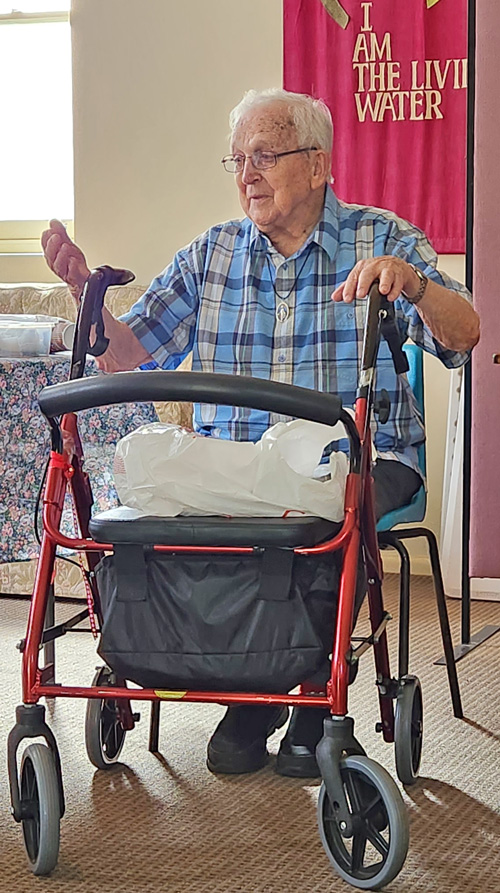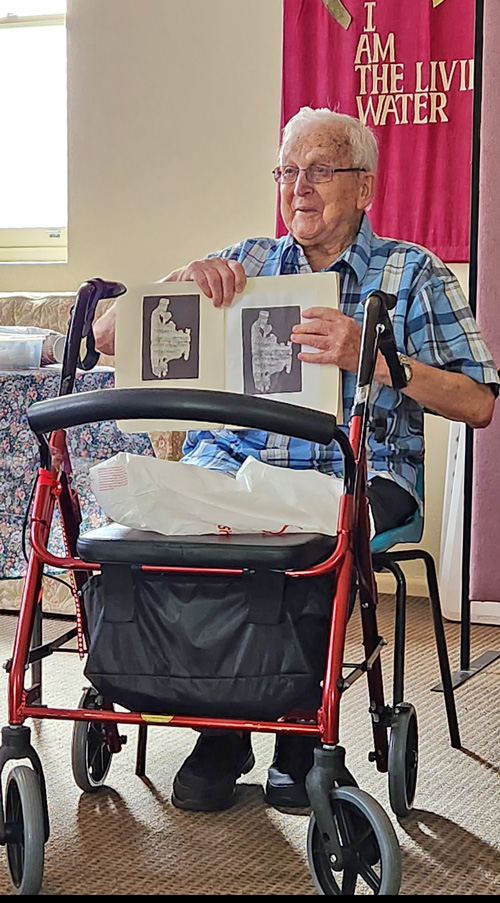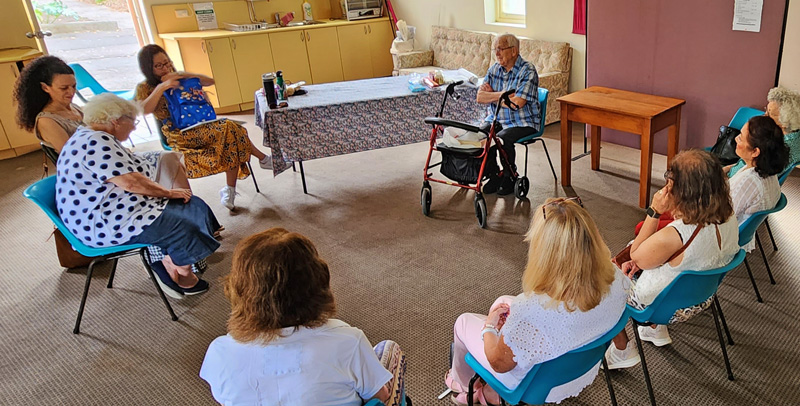 ---
Fr Colin and prayer
Mar 01, and another page is turned on the Colin Calendar for 2023. The year's theme, 'Jean-Claude Colin and Prayer', features monthly quotes from Fr Colin selected by Marists in various parts of the world.
Produced in Australia and distributed throughout the Society of Mary, the calendar is available free of charge on request from the Colin website: click here. It includes significant Marist anniversaries and liturgical dates.
March's quotation from Fr Colin is 'I insist heavily on meditation. I could not insist on it too much: I feel impelled to. The reason is that the whole success of our enterprise depends on this single point.' [Mar 01]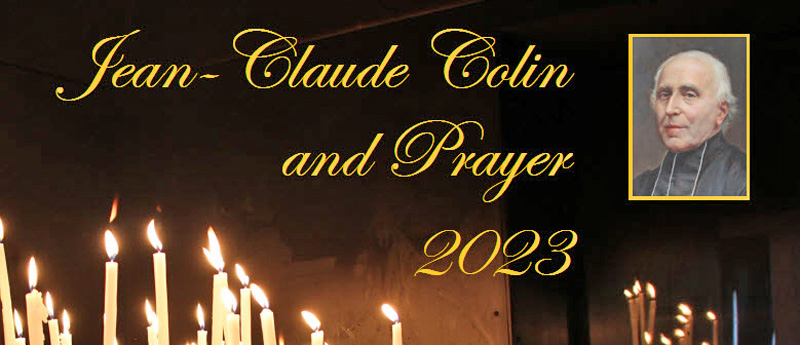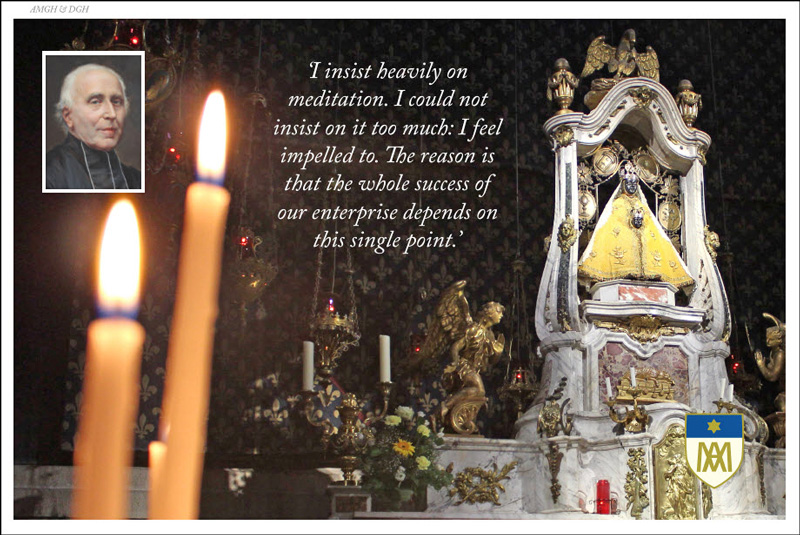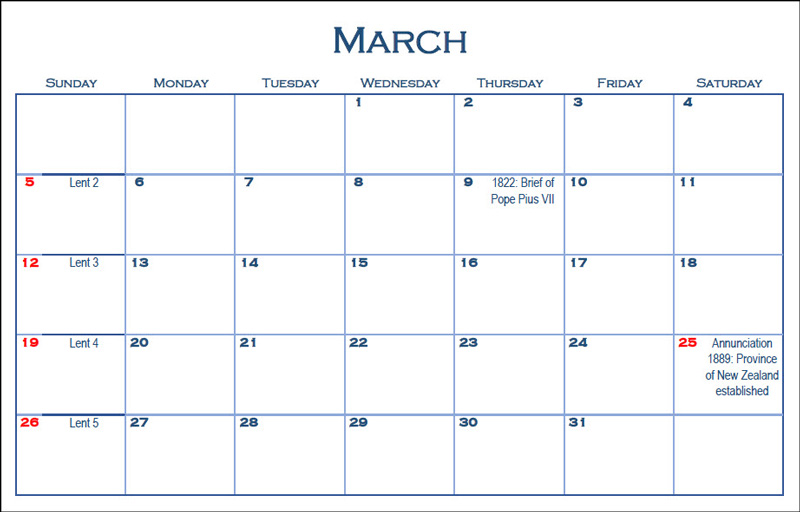 ---
Superior-General's reflection (coming soon)

This month's reflection from Fr John Larsen SM focusses on ts.
To download click here or go to Superior-General's page. [Mar 03]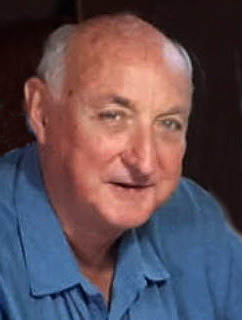 ---
---
---