April 2018 news
Click here for News 2008 to 2017
---
The nod from Rome
On Apr 29, 1836, mission-minded Pope Gregory XVI gave his official approval to the establishment of the Society of Mary.
Ending a twenty-year journey of preparation and emerging leadership, Fr Jean-Claude Colin accepted the Pope's invitation for the fledging Marist group to undertake the missions of the south-west Pacific. Happy 182nd anniversary, Marists ! [Apr 29]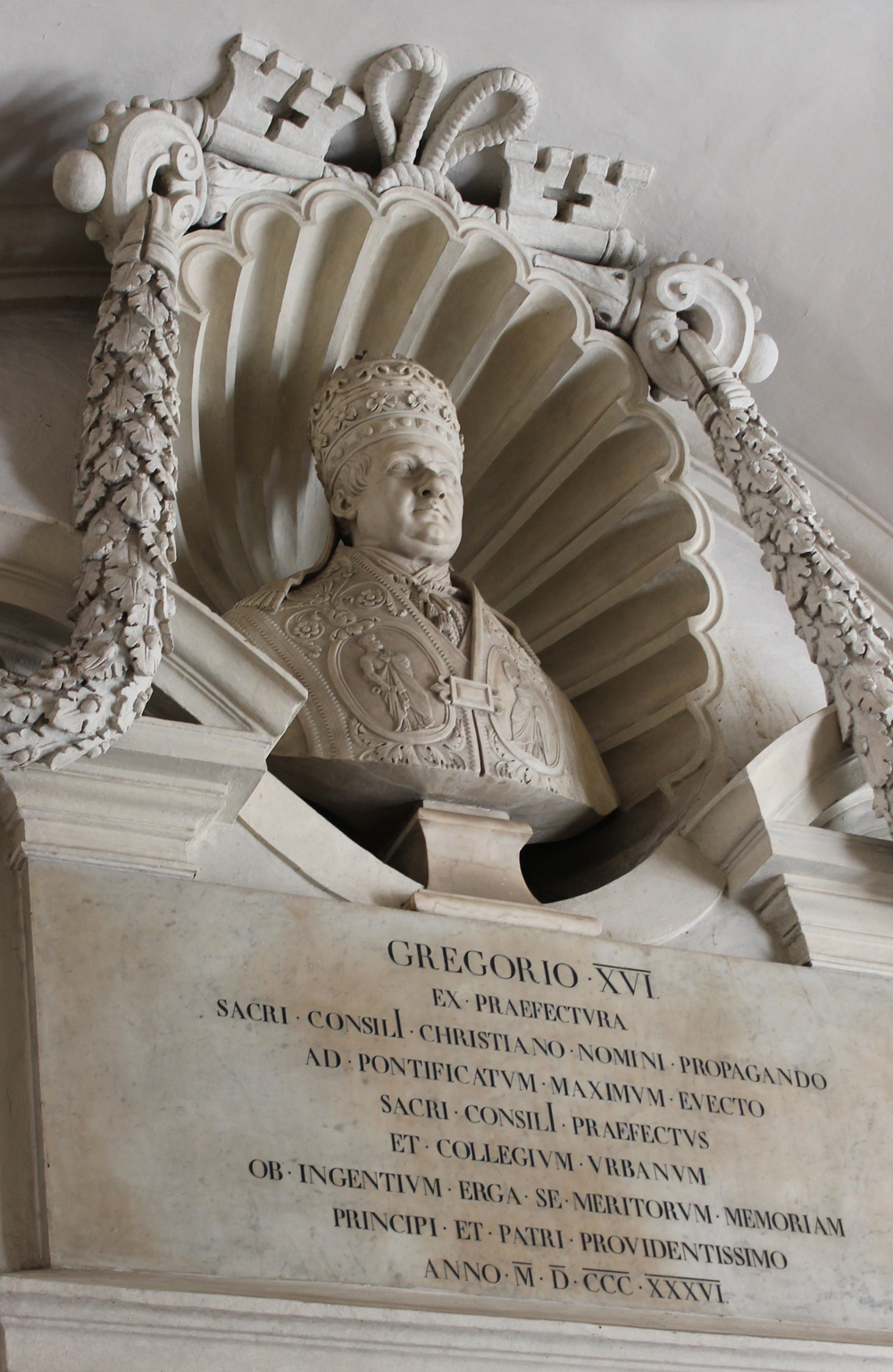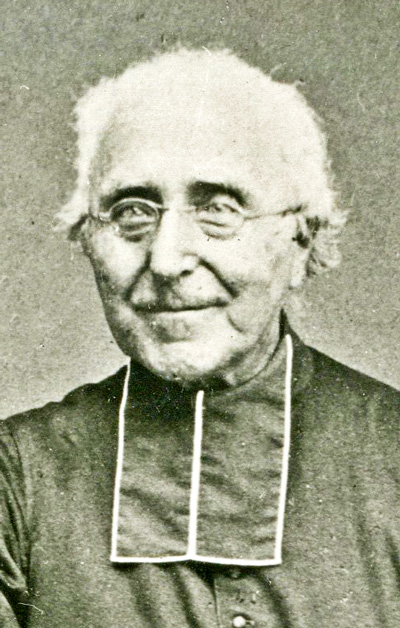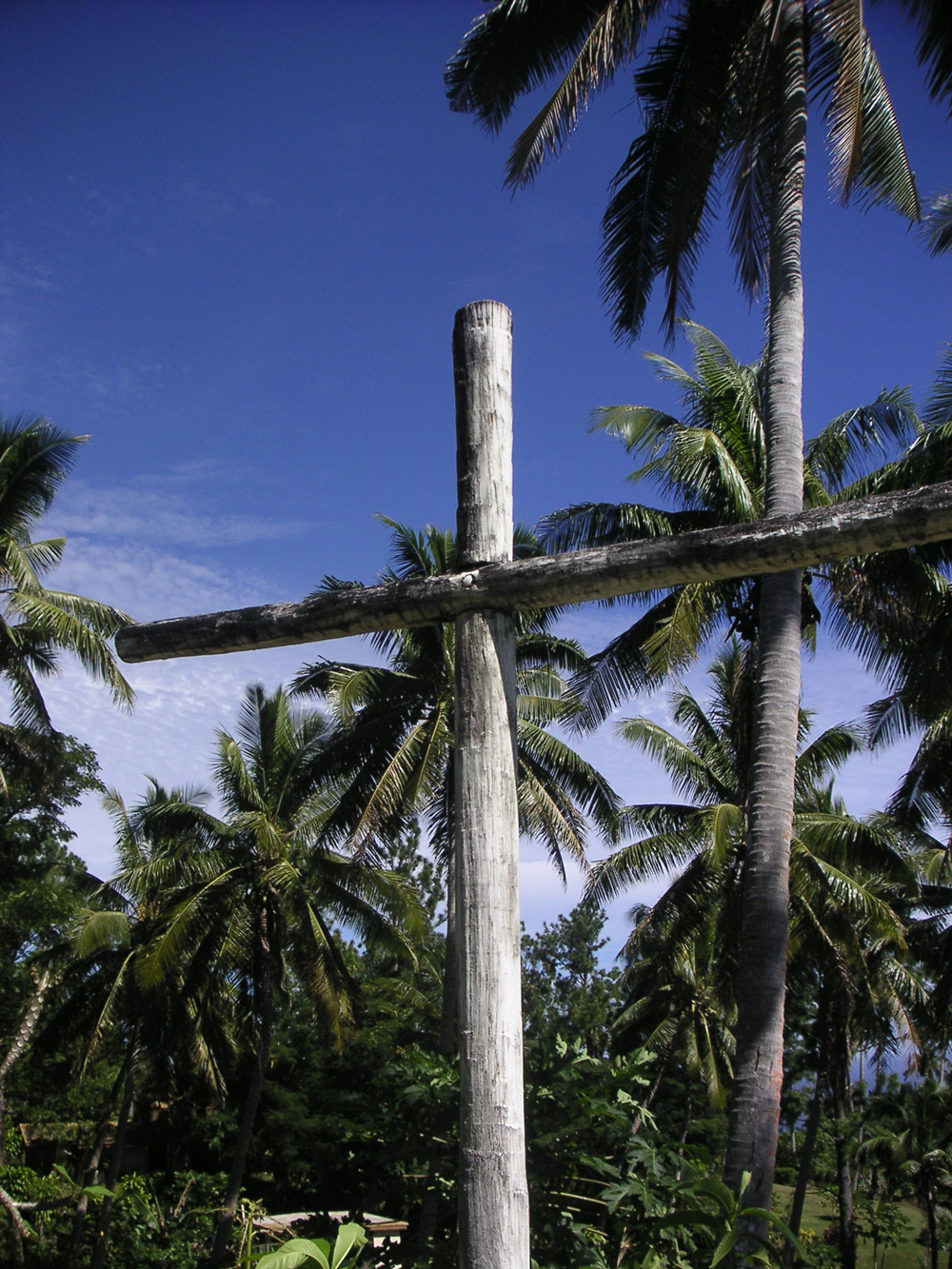 ---
Superior-General's reflection
This month's reflection from Fr John Larsen mentions the opening of the Marist 'Camino' community in Spain -- and the significance of St Peter Chanel. See Members page. [Apr 28]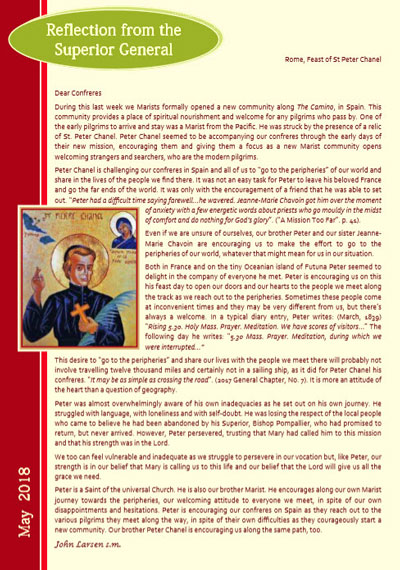 ---
St Peter Chanel feast
On Apr 28, 1841, the young Marist missionary, Fr Peter Chanel SM, was clubbed to death on the island of Futuna in the south-west Pacific, becoming the first martyr and saint of Oceania -- and of the Society of Mary.
For the 6-page cartoon life of St Peter Chanel, first published in Harvest magazine in 1970, click the following page numbers: 1 2 3 4 5 6
For a short Life of St Peter Chanel, click here [Apr 28]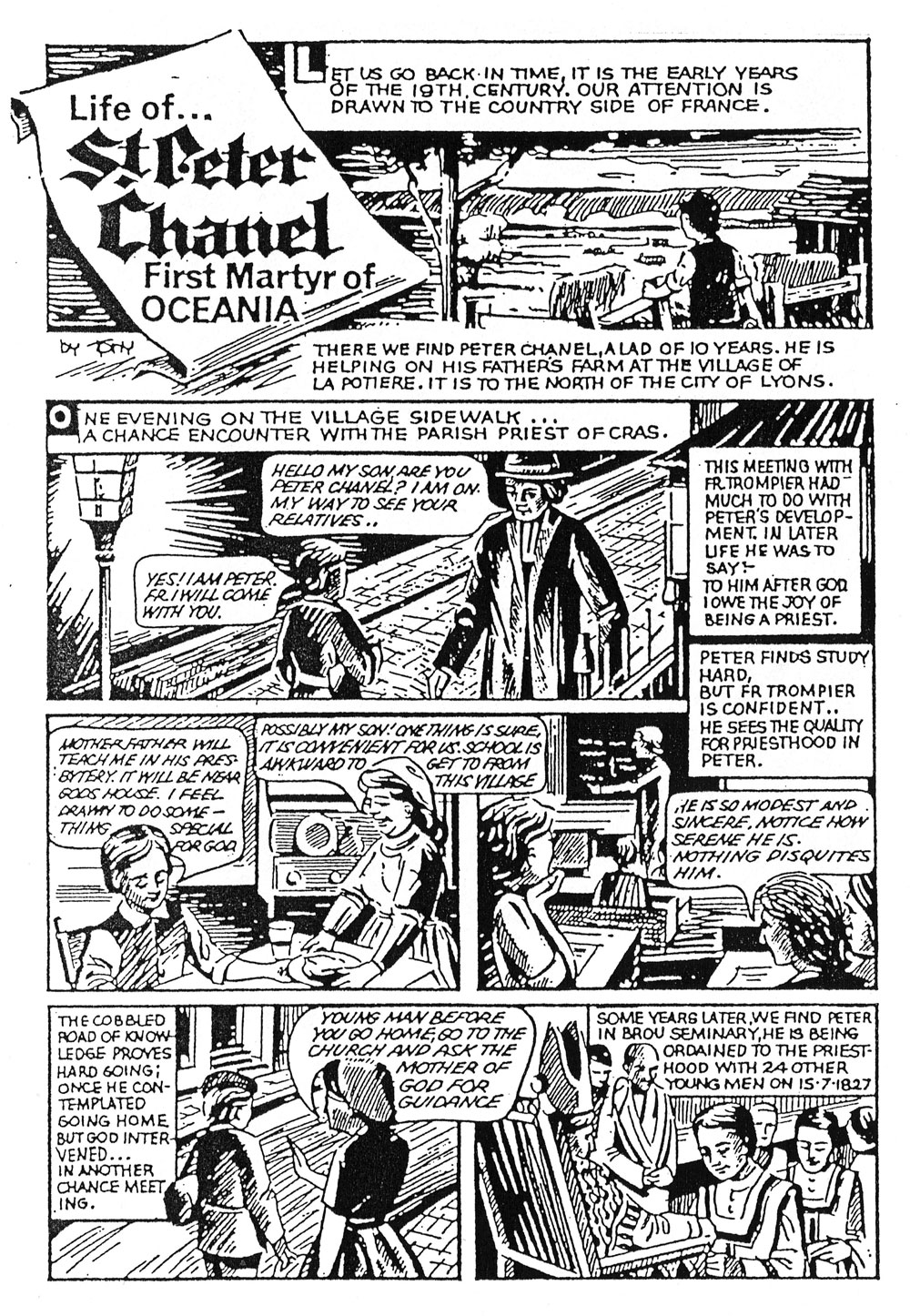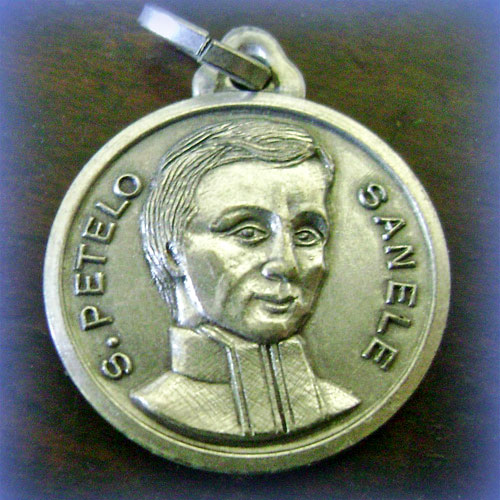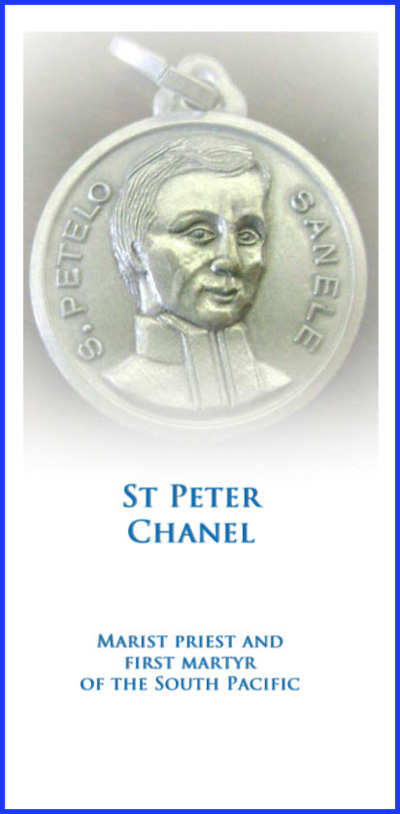 Below: Peter Chanel's name is one of the first inscribed on the silken scroll of Fourvière. The names of all Marist missionaries departing for the Oceania mission are contained in the gilded heart originally hanging on the statue of Madonna and Child in the ancient chapel shrine in Lyon, France.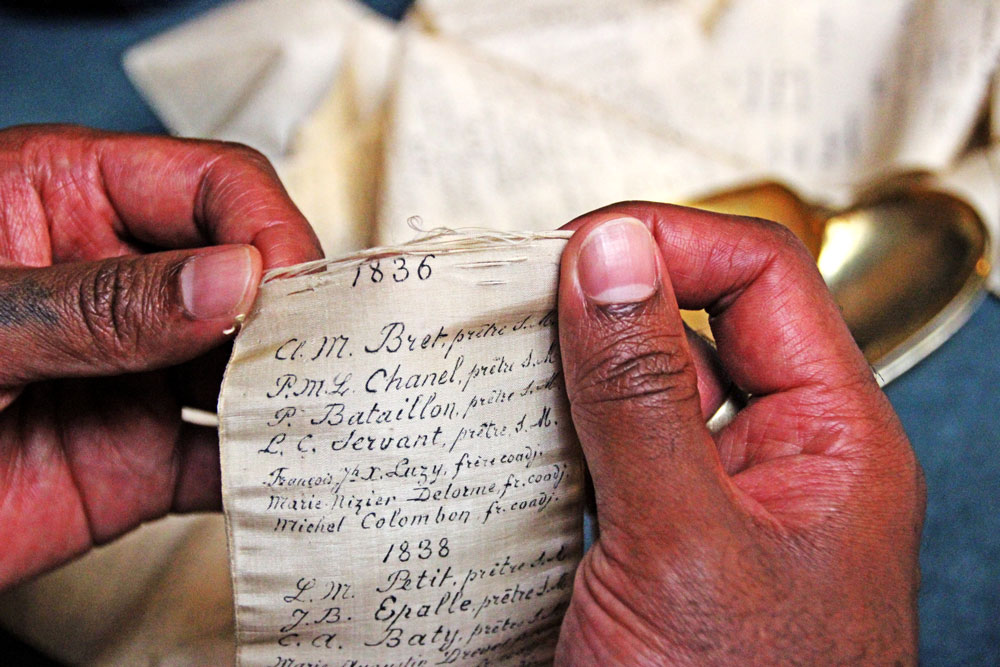 ---
Thai Redemptorists visit
Three members of the Redemptorist province of Thailand spent some days in Sydney recently, en route to visiting their students in Melbourne.
Frs Puwania Tantikun, Davidjieng Ketsu and Mathee Srivorakul were welcomed by Marists at Villa Maria, Hunters Hill, recognising a forty year tradition of hospitality offered by Redemptorists to Marist and other religious passing through Bangkok.
While in Sydney the three priests called on their confreres at Kogarah, before moving to Melbourne to visit two Thai students currently studying theology at YTU. [Apr 27]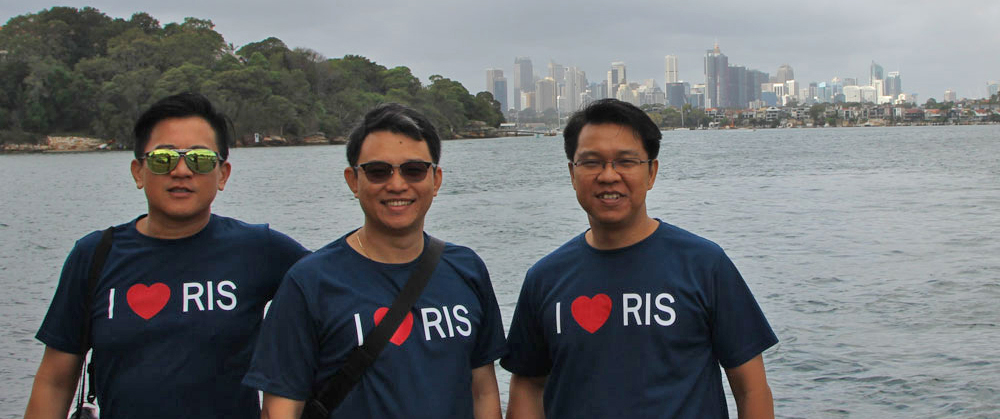 Above: Frs Davidjieng, Mathee and Puwanai at Woolwich, Sydney. ('R.I.S.', by the way, reflects their connection with the Redemptorist-run Ruamrudee International School at Minburi, Bangkok.) Below: Visiting Sydney's sights | ... with Redemptorists at Kogarah | ... and Thai CSsR students in Melbourne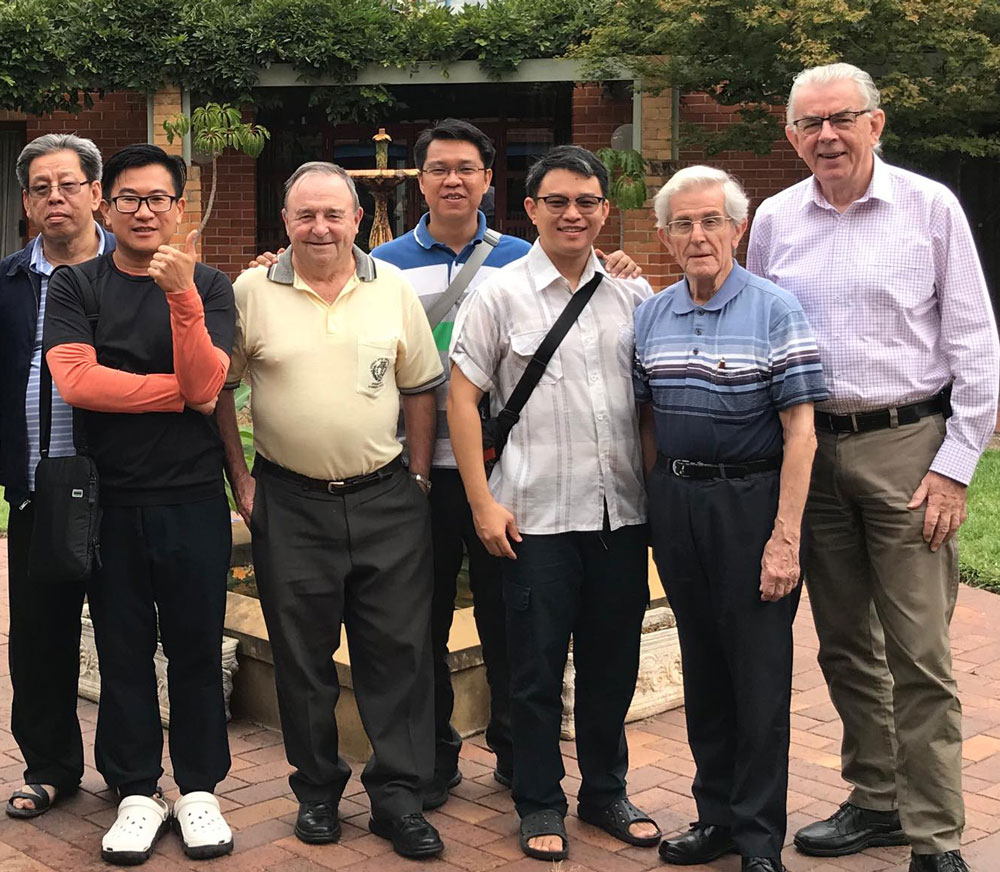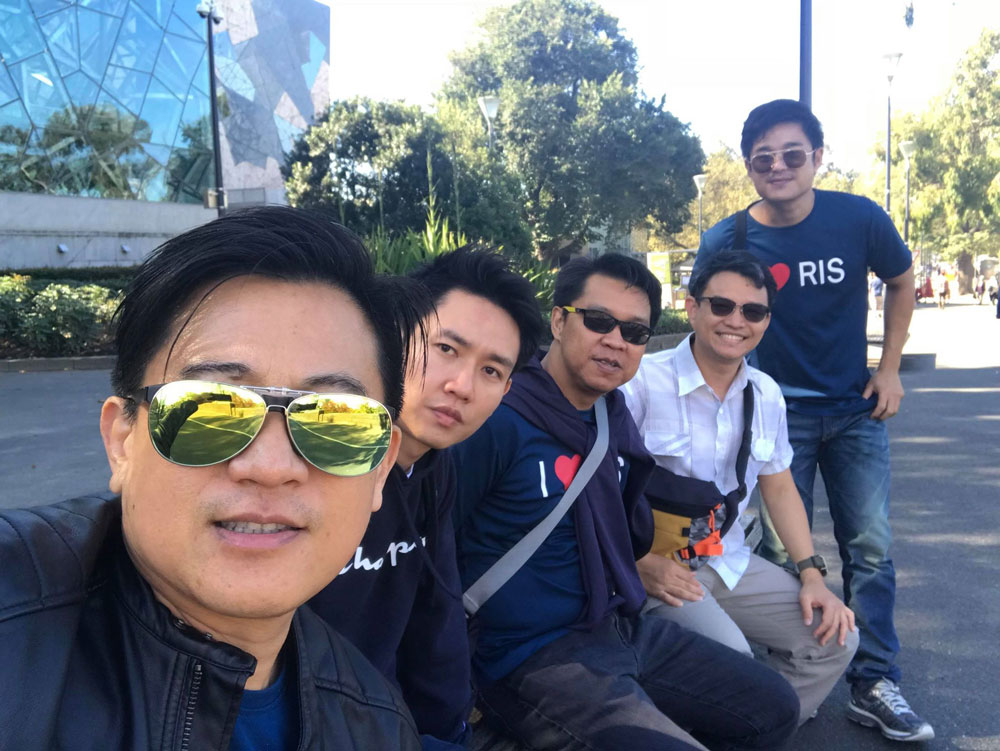 ---
Vocation Sunday
Click here for Pope Francis' message. [Apr 22]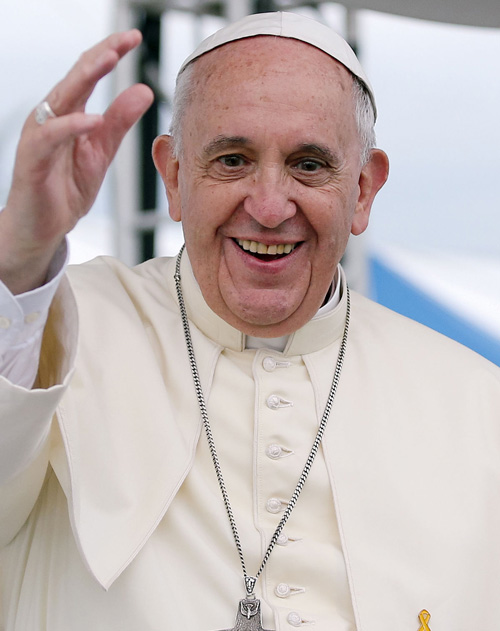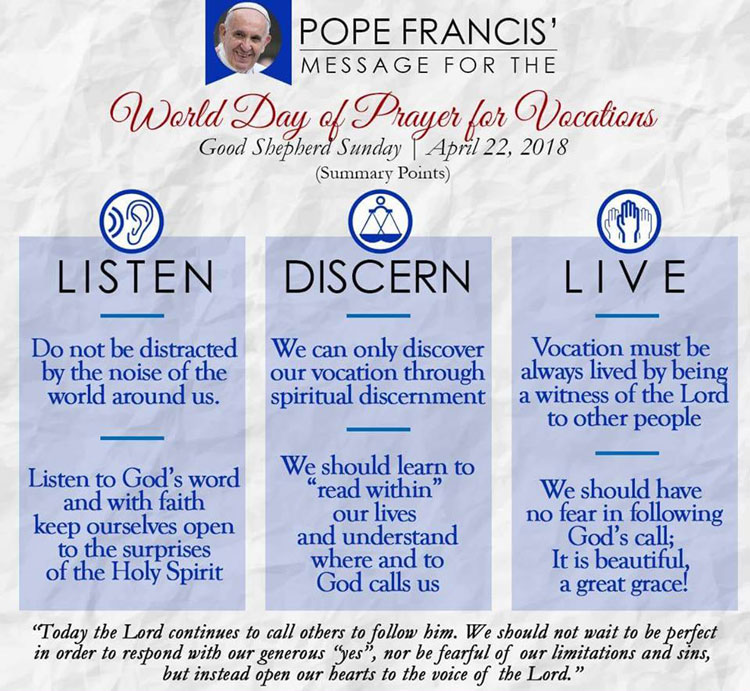 ---
Chanel novena
Each year Marists across the world pray for new members to the Society of Mary through the intercession of their first Saint, Peter Chanel SM, leading to his feast day, Apr 28..
For the Nov 19-27 novena, click here | For a short Life of St Peter Chanel, click here [Nov 19]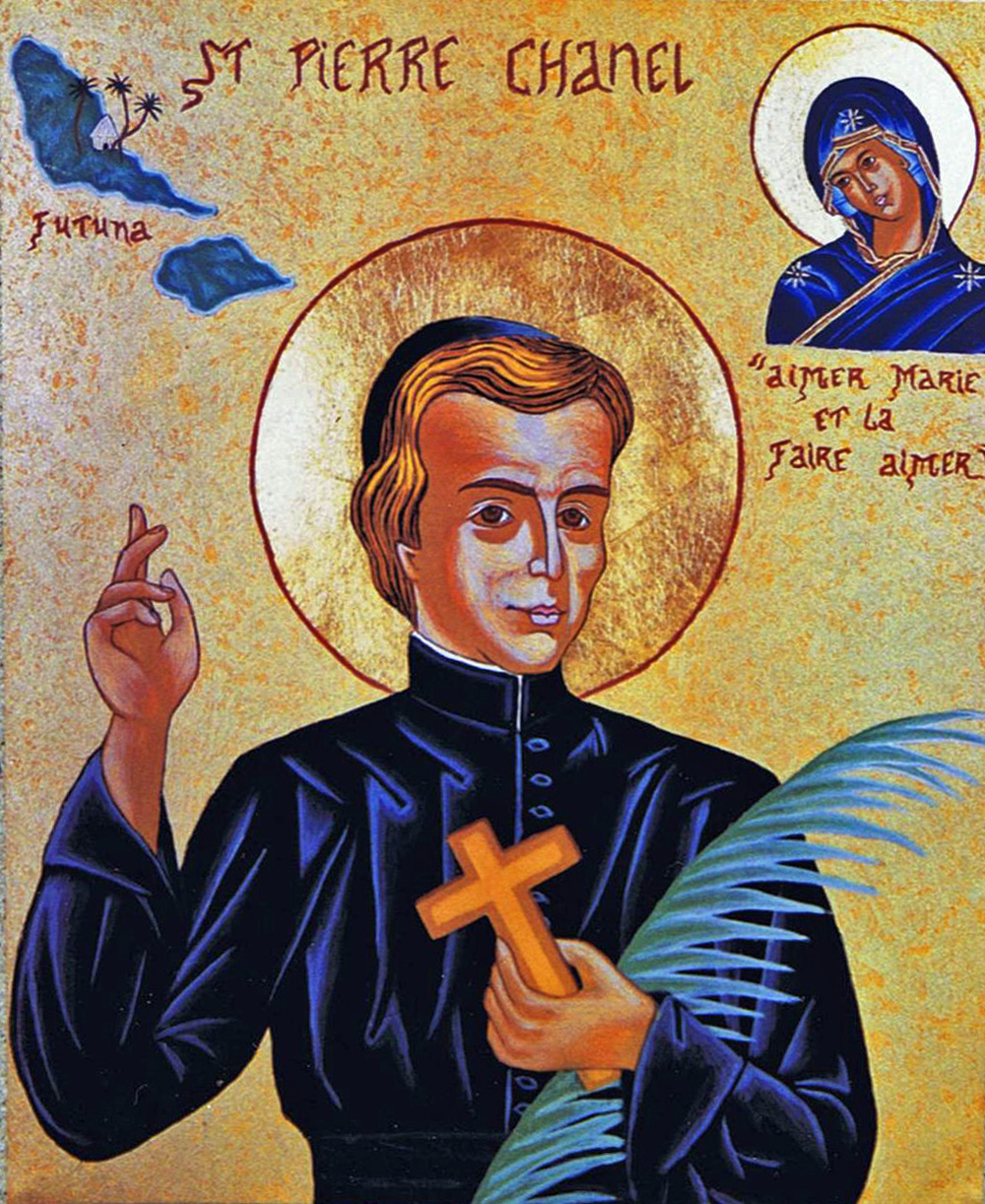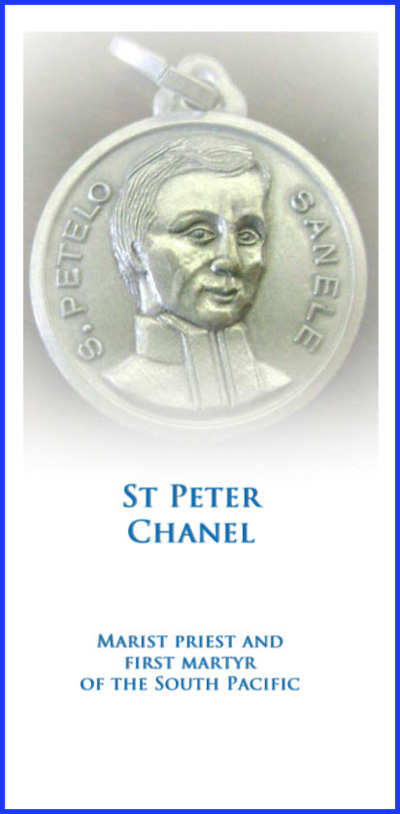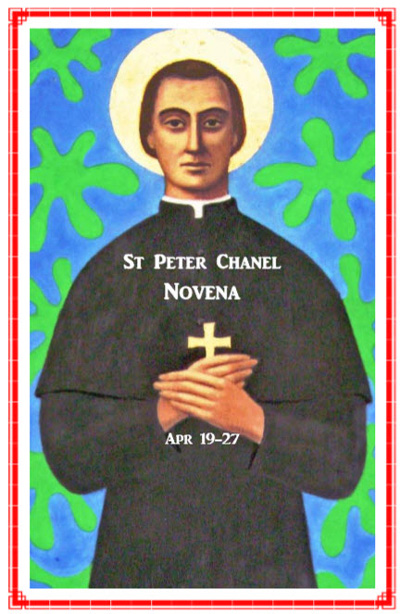 ---
Bishop Paul and 'a sea of possibilities'
Marist bishop of Rarotonga, Bishop Paul Donoghue SM, passed through Sydney this week en route to Port Moresby, PNG, and the meeting of the Federation of the Catholic Bishops Conferences of Oceania.
Theme of the week-long conference (Apr 11 - 17) is 'Care for our common home of Oceania: a sea of possibilities'.
.As well as his pastoral role in the far-flung Cook Islands, Bishop Paul heads up CEPAC (the episcopal conference of the Pacific).
He is pictured below, presiding at the Eucharist with the Maryvale/Montbel community, Hunters Hill, during his brief Sydney stopover. [Apr 12]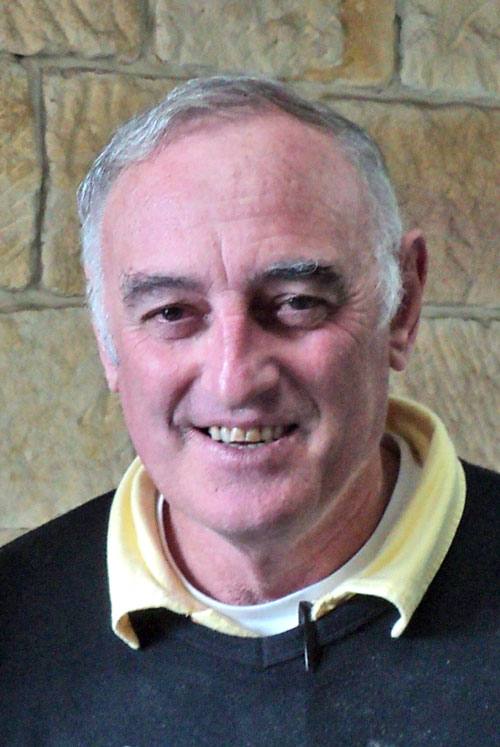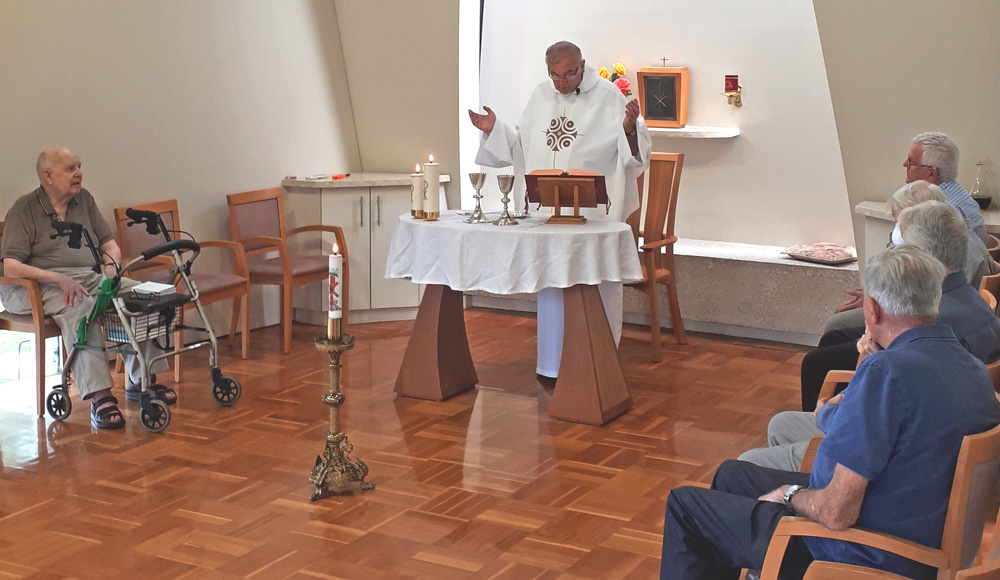 ---
Fiji gold !
From the Gold Coast, Qld, and the Comonwealth Games, Fr Ekuasi Manu SM reports on the success of one of his former pupils at St John's College, Cawaci, Fiji. 18 yr old Levuka-born, Eileen Cikamatana, set a new Games record in the 90kg women's weightlifting event on Apr 09.
Fr Ekuasi relates: 'It's a proud moment for Eileen who lifted 130 kg in the clean and jerk to win the gold medal for Fiji. We were pretty vocal here at the venue!' Congratulations, Eileen -- and Fiji !
Pictured below: Eileen with Fr Ekuasi | ...and other Pacific well-wishers [Apr 10]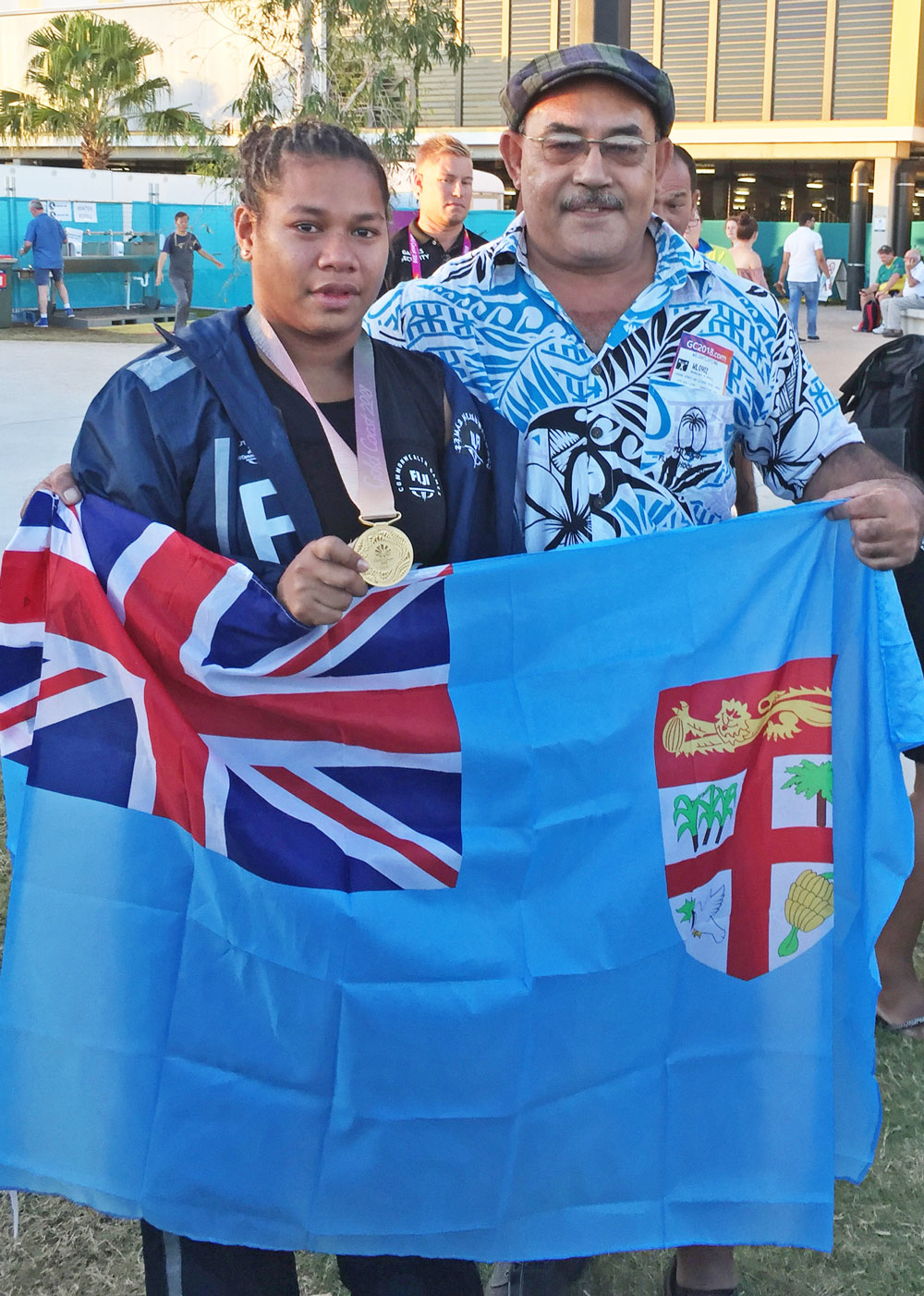 ---
Bishop Joel Konzen ordination
From Rome, SM Bulletin reports:
'On Tuesday 3 April the episcopal ordination of Fr Joel Konzen took place at the cathedral of Christ the King in the Archdiocese of Atlanta, Georgia, USA by Archbishop Wilton Gregory.
'At the ceremony were present also the Apostolic Nuncio, Archbishop Christophe Pierre, Fr John Harhager representing the Superior General, Fr Paul Frechette, provincial of the Marist province of the USA, and many other confreres and friends, clergy and bishops.
'Bishop Joel chose as motto "Miserere Gaudens", which can be translated as "Be Merciful and with a Cheerful Heart".
On Monday evening solemn vespers took place in the presence of the Archbishop, Marist confreres, Bishop Joel's family and many friends. You can watch the video of the ceremonies and of bishop Joel's press conference here: www.livestream.com/archatl [Apr 07]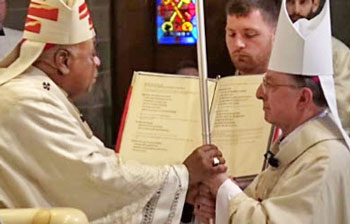 Above: Bishop Joel Konzen receiving the crozier from Archbishop Gregory. Below: The new bishop's crest and its motto 'Be mericful with a cheerful heart' | Bishop Joel after his ordination, with friends including Marist vicar-general, Fr John Harhager SM (far left) and US Marist priovincial, Fr Paul Frechette SM (left, front)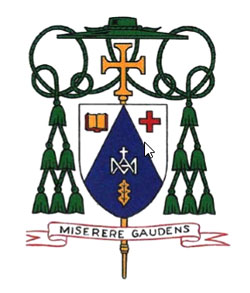 ---
'Reluctant Founder' coming soon
The definitive biography of Marist Founder, Ven Jean-Claude Colin, is moving towards completion.The 1,000-page book,'Jean-Claude Colin, Reluctant Founder, 1790~1875', contains twenty-nine chapters and scores of colour and black and white illustrations, promising to be an engaging and attractive tome for Marist and other readers alike.
Author, Fr Justin Taylor SM, and publisher ATM's Hilary Regan met in Sydney on Apr 04 to finalise details of publication, expected in several months. [Apr 06]
Pictured below: Probable design for the book's dust jacket | hard copy of the draft text | Hilary Regan and Fr Justin Taylor at Villa Maria, Hunters Hill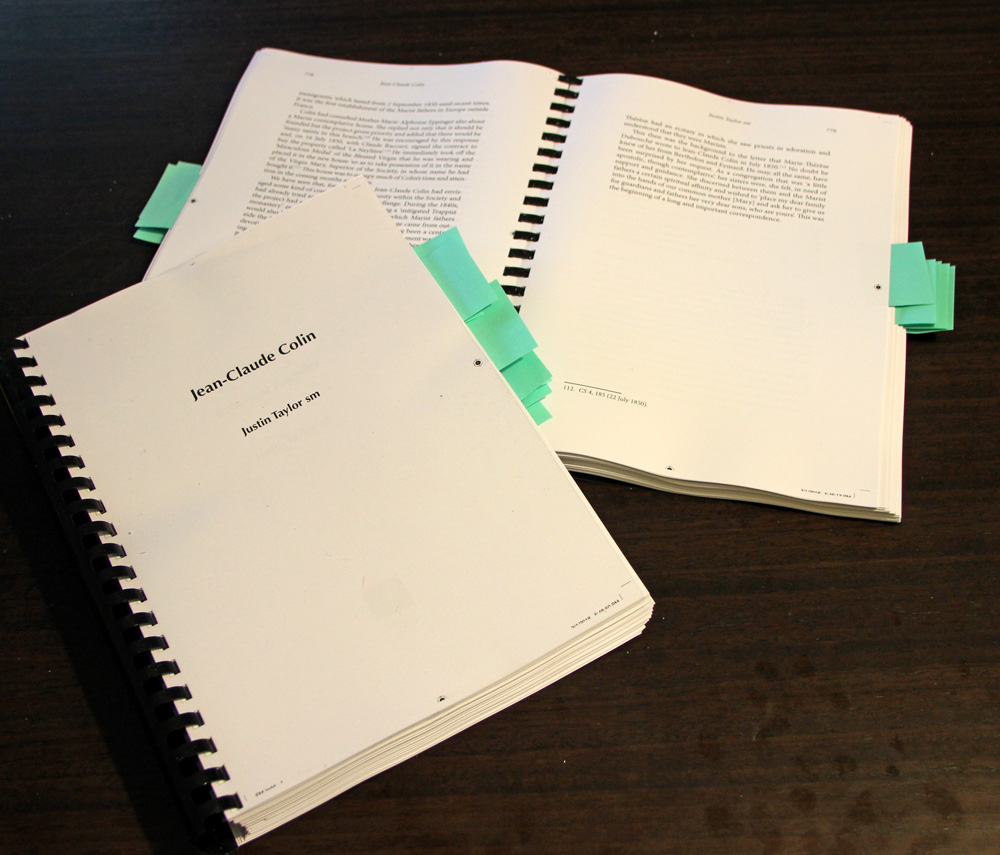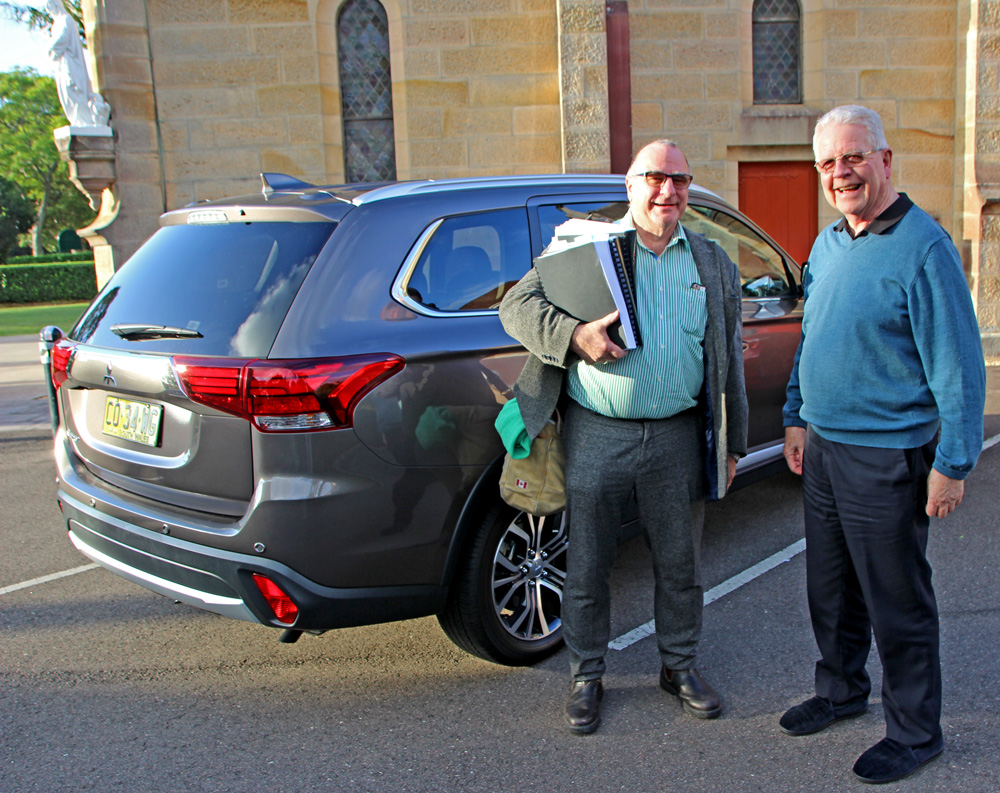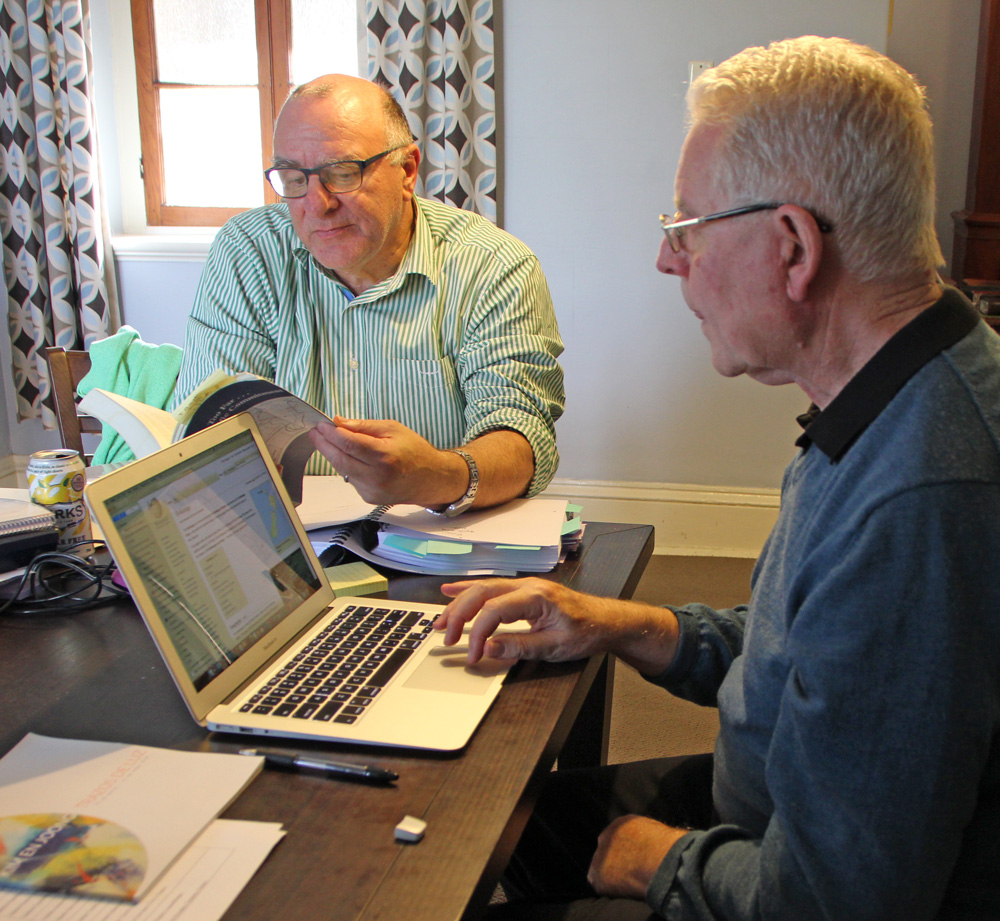 ---
Social Justice diary
From the Australian Catholic Social Justice Council publications, we draw another month of the Social Justice Diary. Click here for April. [Apr 01]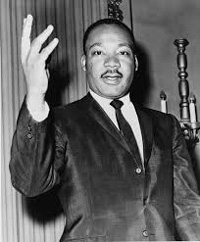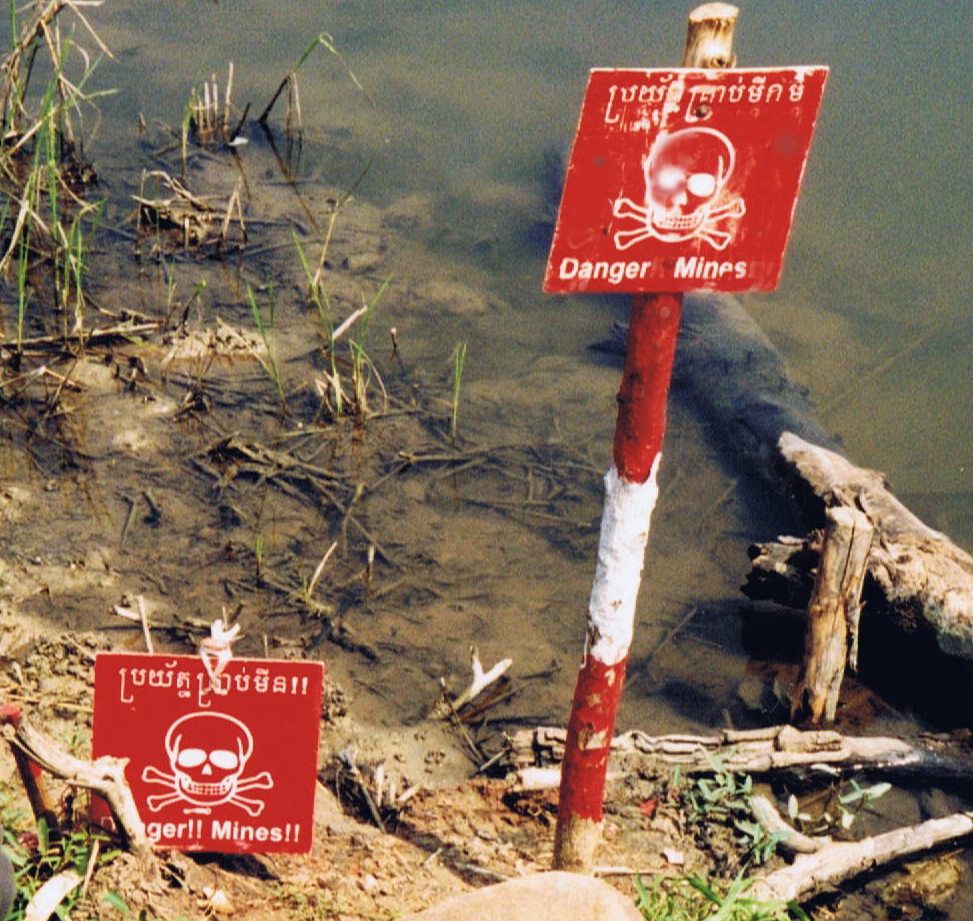 ---
Marist news from Europe
Latest Euroinfo includes the new Marist ministry offering welcome to pilgrims on the Camino to Compostela, Spain. Download here [Apr 01]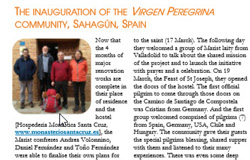 ---