---
Click here for News 2008 to 2017 | For News 2018 and 2019 go to News 2020 tab above.
---
Anniversary of Marist approval
On Apr 29, 1836, the infant Society of Mary received official approbation from the Church through a letter from the mission-minded Pope Gregory XVI.
The Holy Father and the Congregation 'Propaganda Fide' were looking for missionaries to send to the distant and unevangelised south-west Pacific. Marist Founder, Jean-Claude Colin, responded: 'We will work on whatever distant shore... '. (Click here for a short life of Fr Colin)
Marists today offer Mass for God's blessing on the Society of Mary. [Apr 29]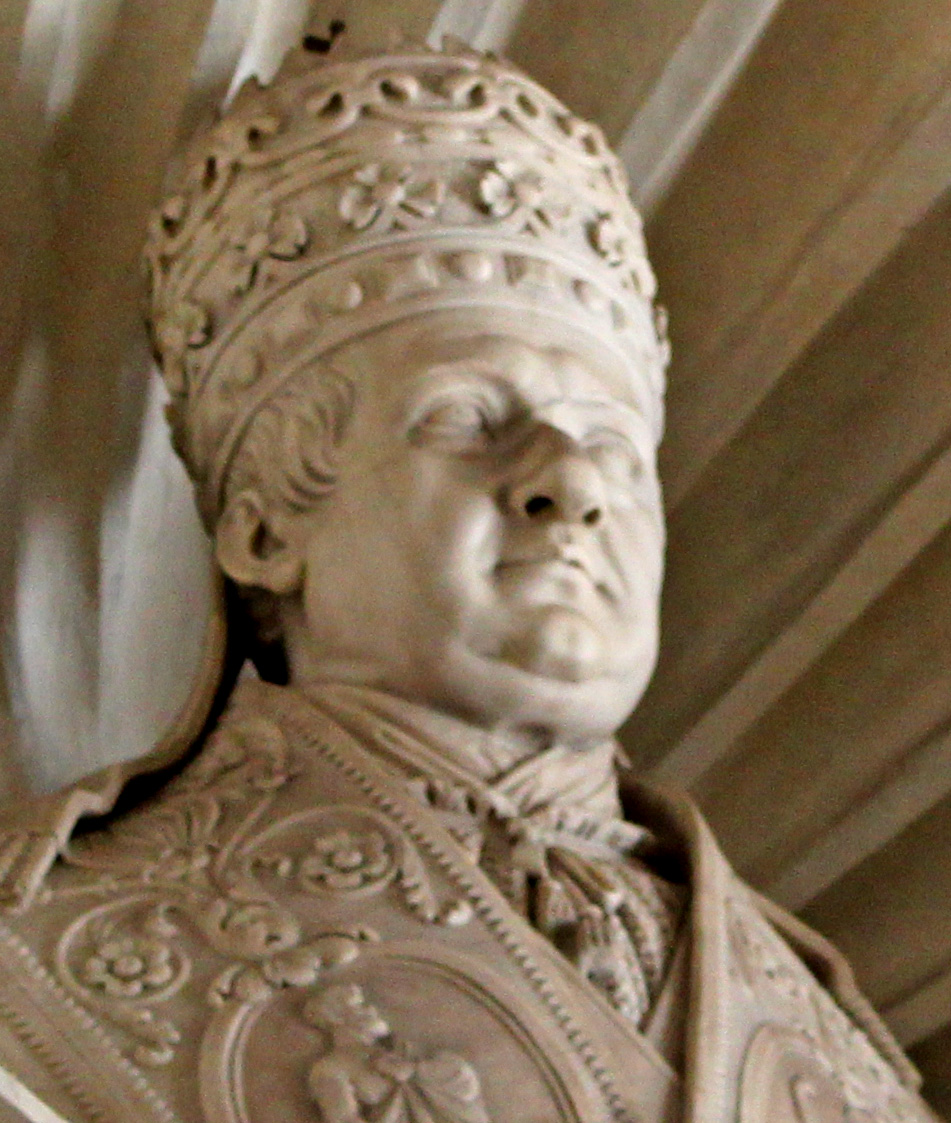 ---
Spring clean for historic chapel
In anticipation of the Apr 28 feast day of St Peter Chanel, Fijian Marist, Fr Pio Fong, descended on the historic chapel dedicated to the saint for a massive 'spring clean'.
Originally part of the 'Priory' complex across nearby Tarban Creek, Gladesville, the chapel was transferred to St Peter Chanel's scholasticate, Toongabbie, in 1954 as the Priory grounds were resumed for government use.
Accounts of its origins vary. Some believe St Peter Chanel's remains lay here in the 1850's en route from Futuna to France. Others suggest it was once a washroom!
The building was again moved, this time from Toongabbie to its present site in the grounds of Villa Maria monastery, Hunters Hill, and dedicated on Jul 23, 1984.
During the closing days of autumn 2020, the chapel received a welcome 'spring clean'. Thank you, Fr Pio ! [Apr 29]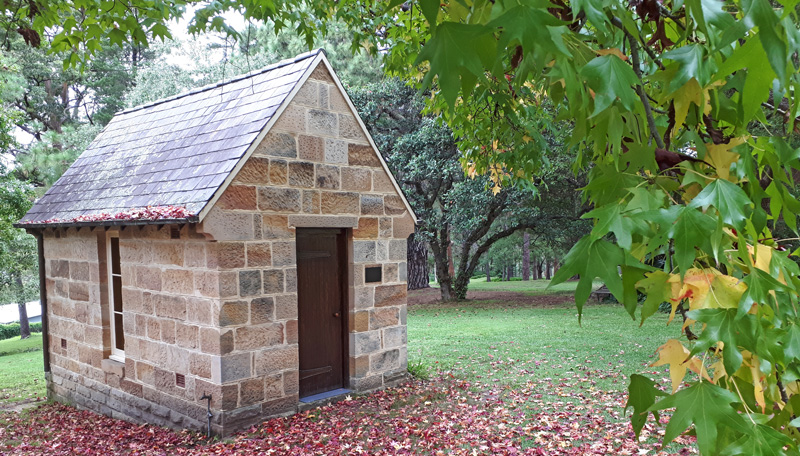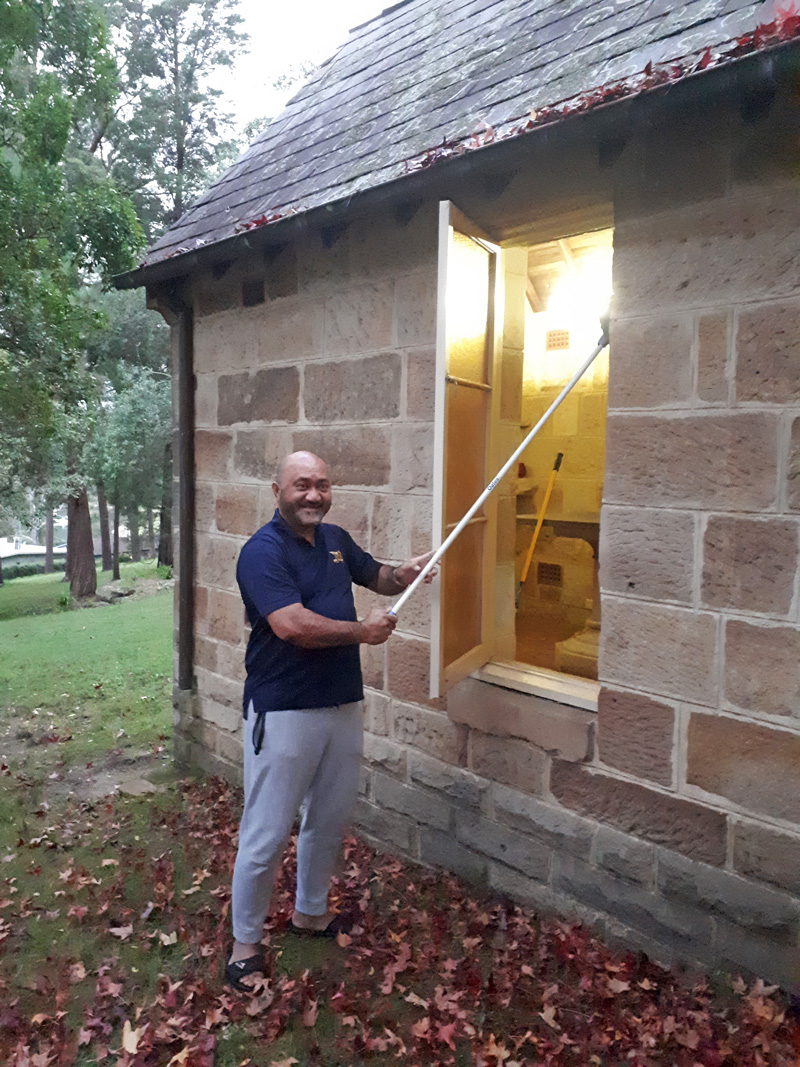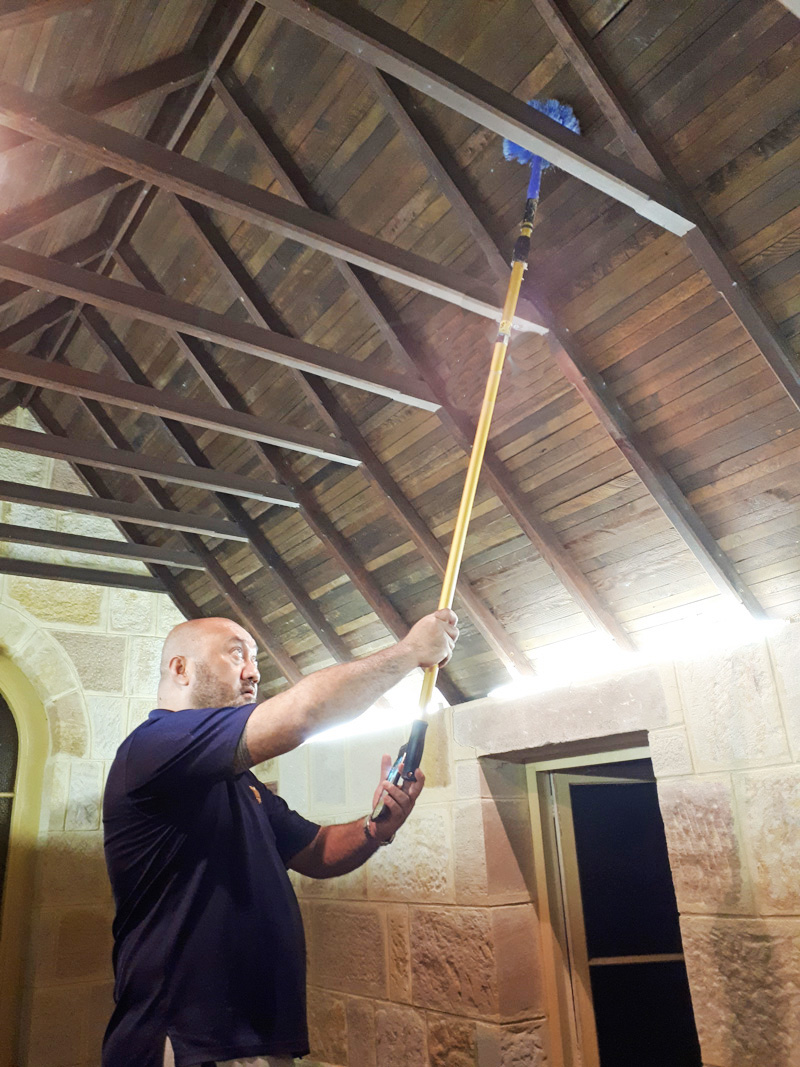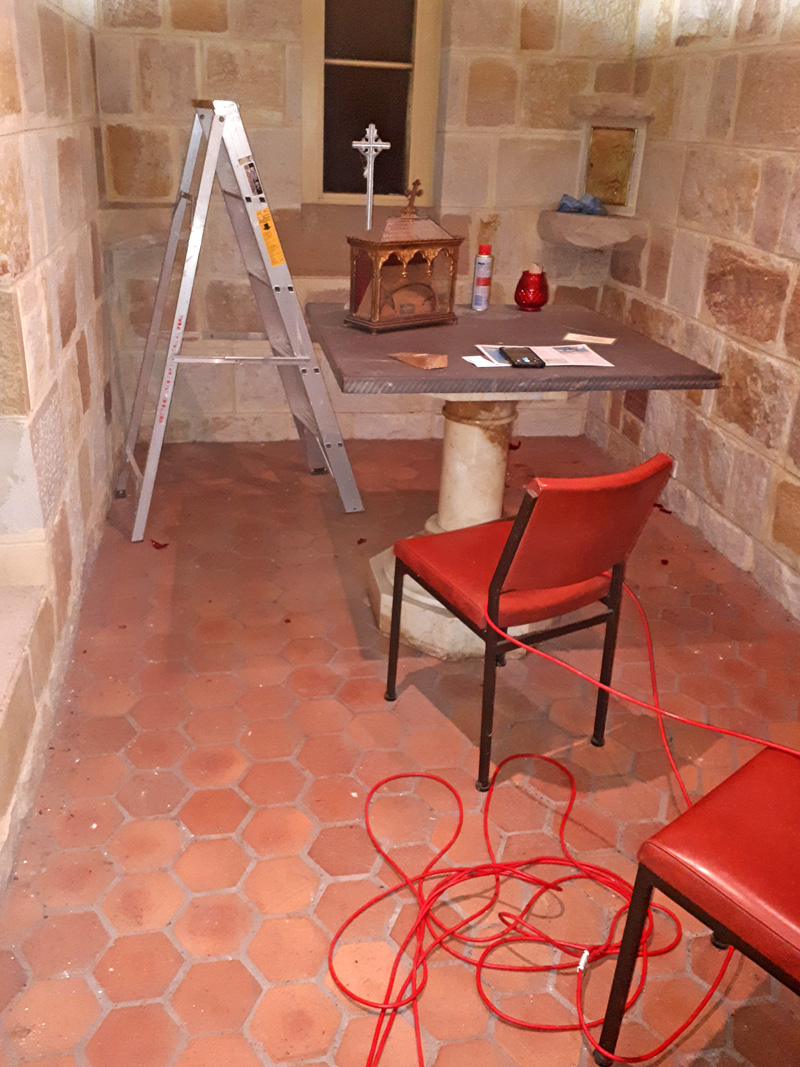 Above: St Peter Chanel's chapel, in autumn tones awaiting its spring clean. | Fr Pio Fong and the spring clean.
Below: The chapel restored to pristine state. | Villa Maria community at Evening Prayer for St Peter Chanel's feast day. | Carved statue of St Peter Chanel. | Relic of the saint kept in the chapel.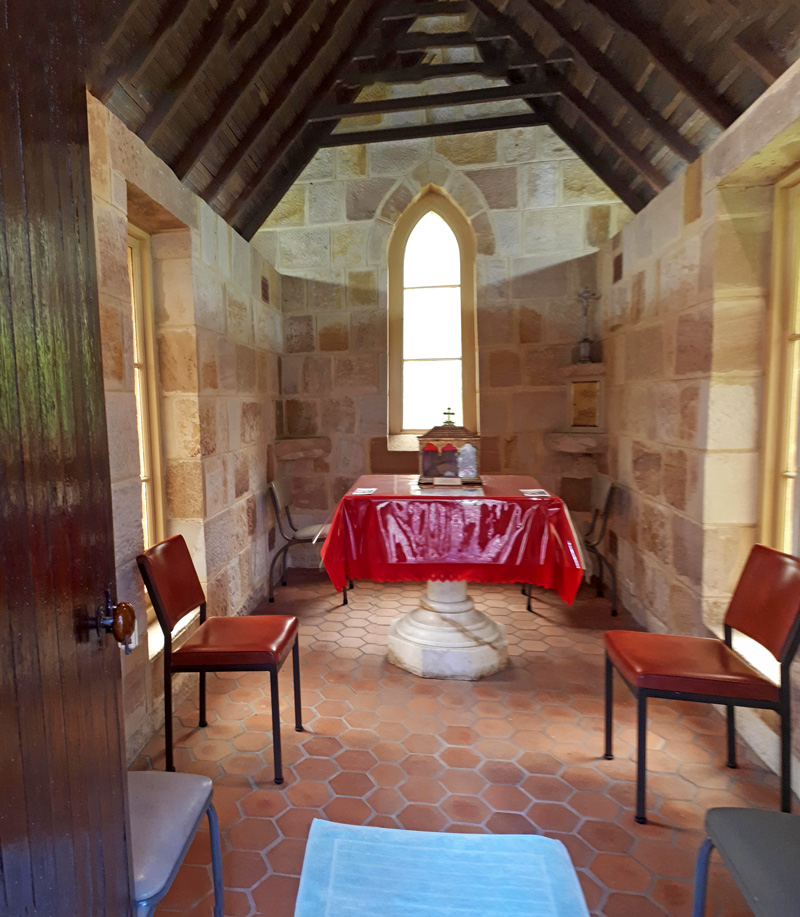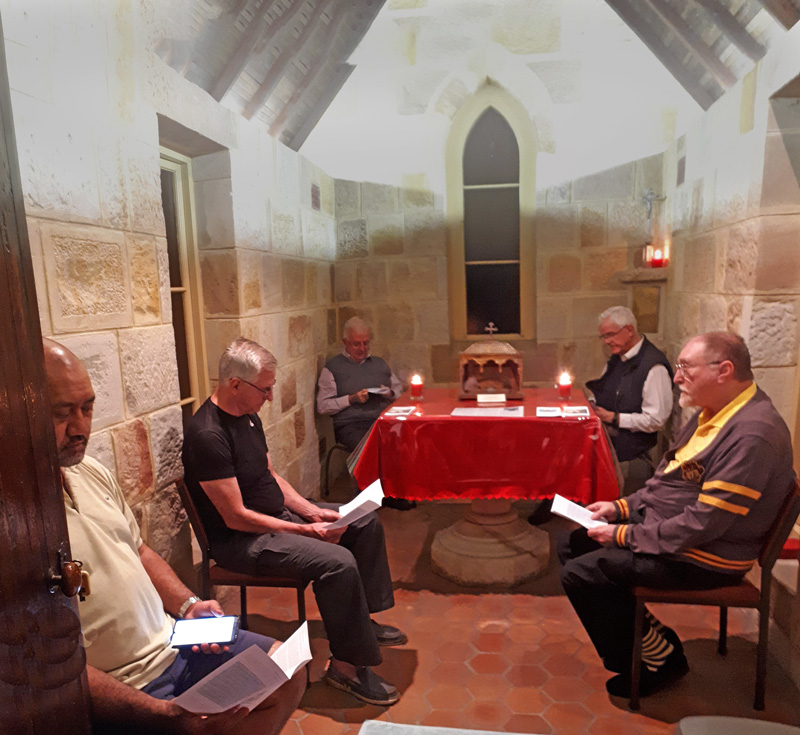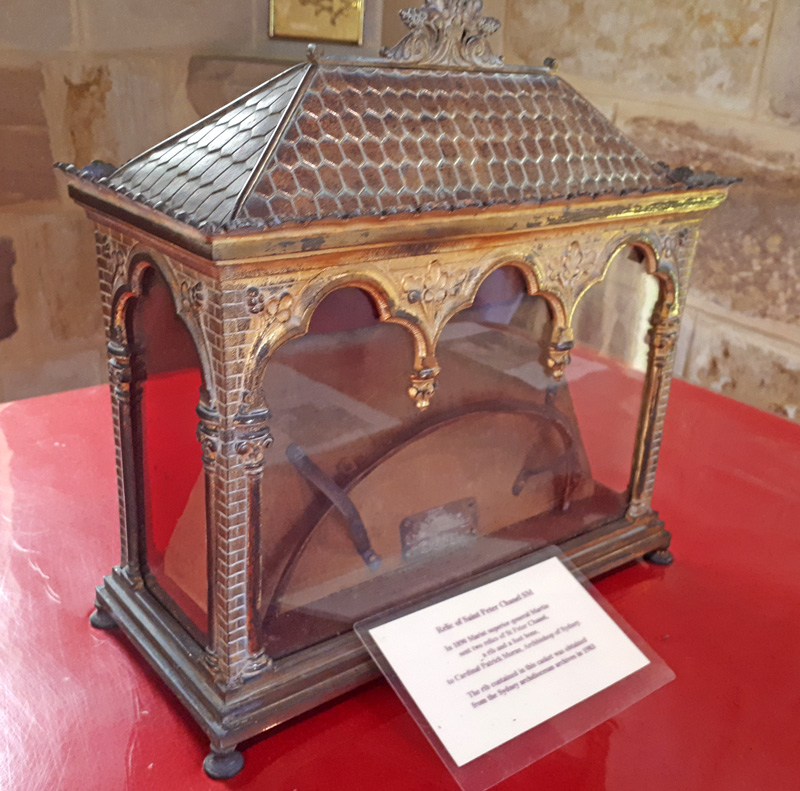 ---
St Peter Chanel SM
First martyr of Oceania, Apr 28, 1841
1960's painting by John Coburn (detail)
---
Our Brother Colin, 98
Apr 27 is the 98th birthday of Br Colin Campbell SM, oldest member of the Society of Mary's Australian Province.
Resident at the Marist Aged Care facility, Montbel, Hunters Hill, Br Colin has a track record which includes World War II service in the Pacific, decades of missionary work in the Oceania Marist Province and continuing ministry in senior years in Sydney... see flashback photos, below.
Happy Birthday, Br Colin! [Apr 27]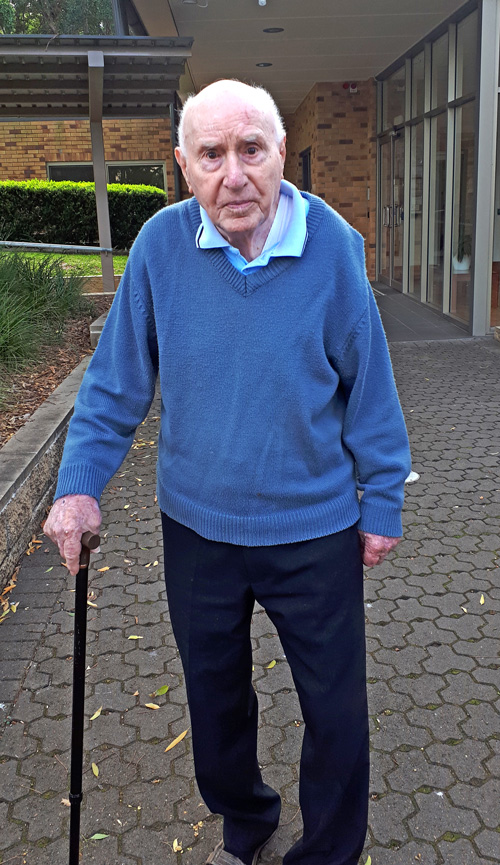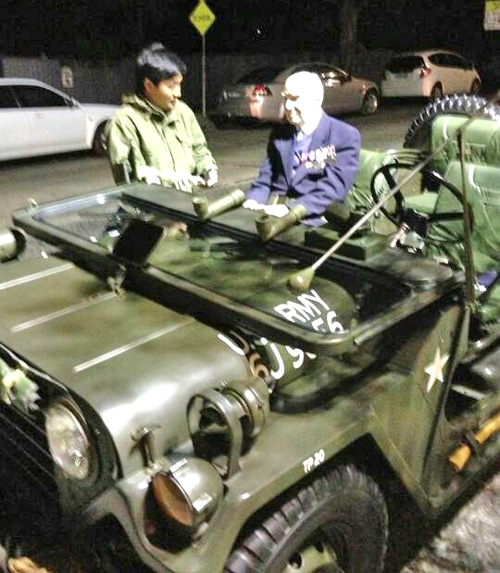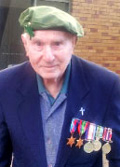 Above: Br Colin on his last birthday, 2019. | ....an honoured guest at Anzac celebrations, 2014. Below: Lending a listening ear to patrons of St Patrick's coffee shop, Church Hill, 2012... and his long-service award for this ministry, 2011. | Cutting a 95th birthday cake, 2017. | Enjoyiing a cold one, Villa Maria, ca 2007.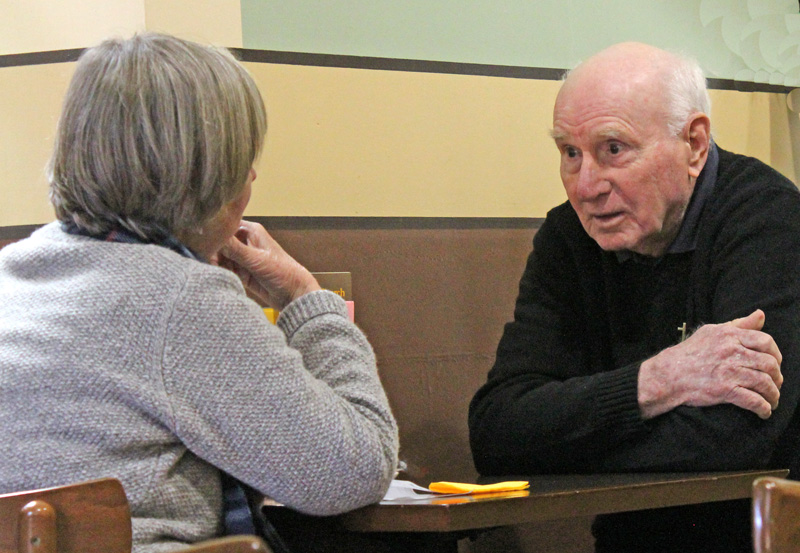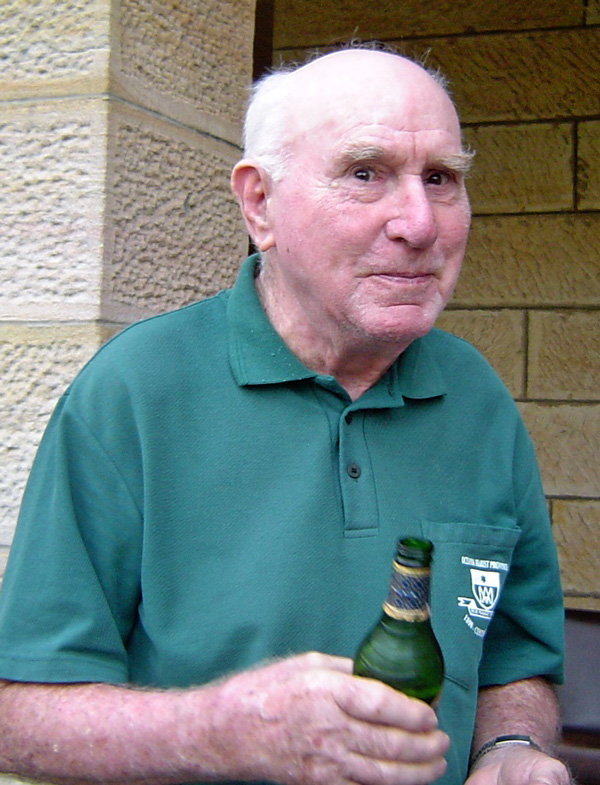 ---
Provincial Circular
Latest issue available at Members' Page. [Apr 27]

---
We will remember them...
Anzac Day 2020
---
Easter at Casa di Maria
From the Marist International Theologate, Rome, Fr Tony Kennedy reports on Easter and life at Casa di Maria during lockdown.
'Here in Rome we are all okay. The university classes are resuming after a two week break for Easter. In the community we were able to celebrate the Holy Week liturgies and a couple of birthdays. Some have been doing some more exercise on our roof.
'There have also been a lot of online meetings through Zoom with the other Marist formation houses around the world.
'This week we had some liturgy practice for the seven deacons this week. There were a number of role plays for some of the sacraments which were at times quite funny. There are some imaginative members in this community.
'We also had a meeting with some of the community from St Patrick's in Sydney discussing reconciliation. I hope everyone is well wherever you are. Happy Easter.'
Thank you, Fr Tony! [Apr 24]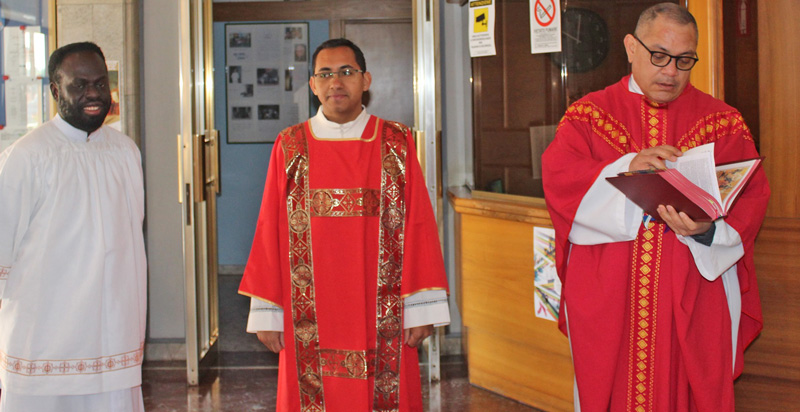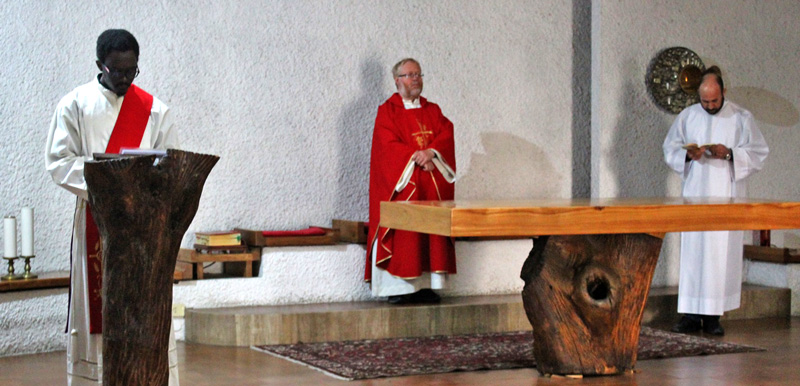 Above: Fr Sione Hamala (Tonga) assisted by Deacon Leandro (Brazil) and Cameron (Bougainville). | Fr Tony Kennedy with Deacon Stev (Senegal) and Fr Arnaldo da Silva (Brazil). Below: At the Easter Vigil, Fr Tony assisted by Deacon Ricardo (Mexico), Jaime (Mexico) reading and Deacon Ricardo sprinkling Easter water.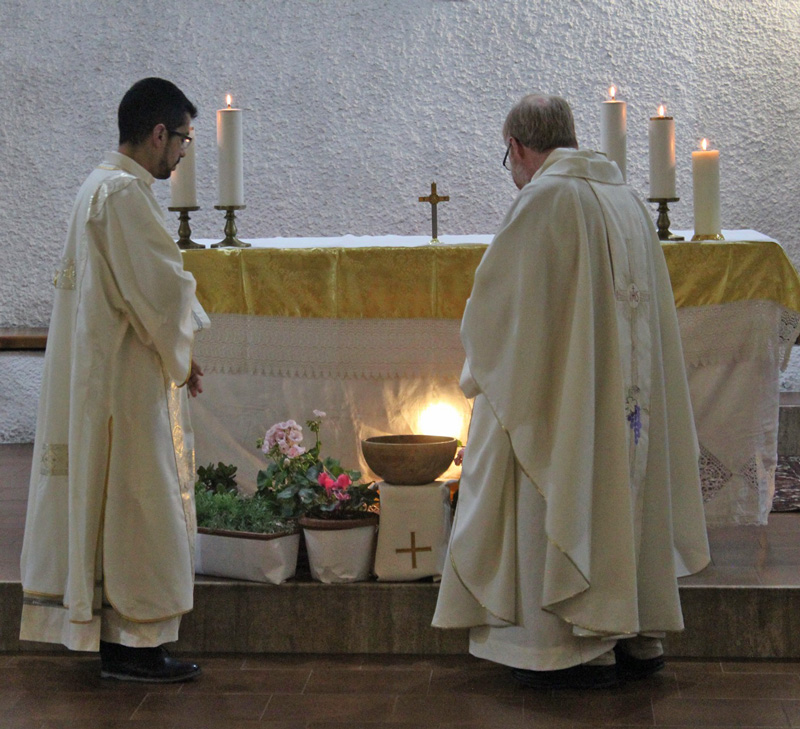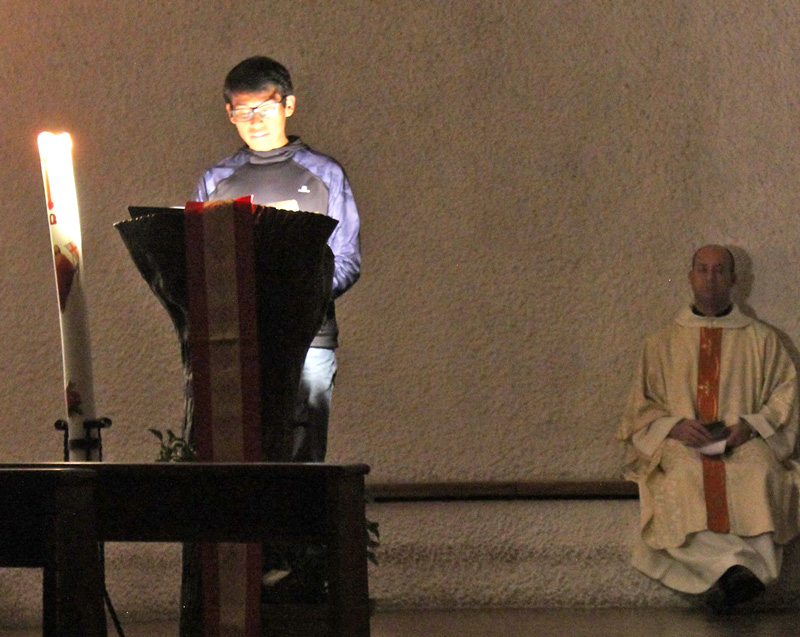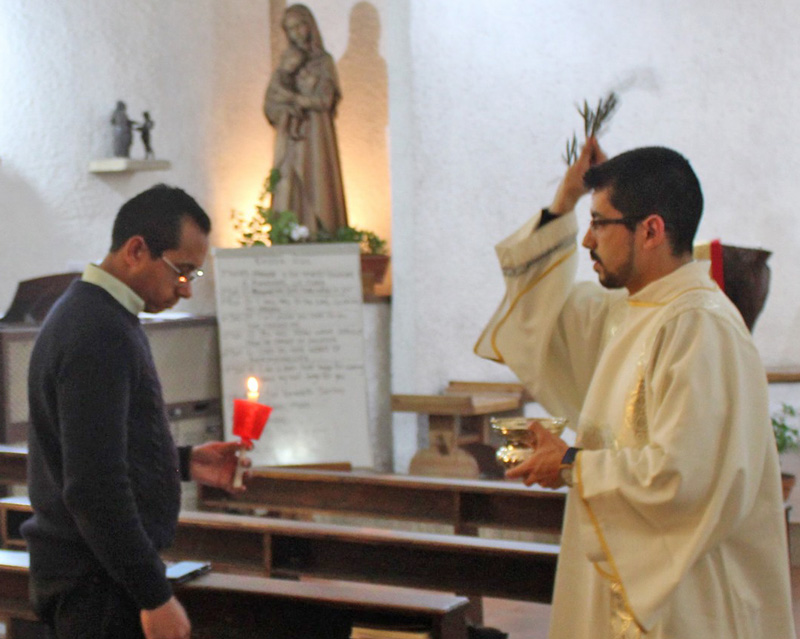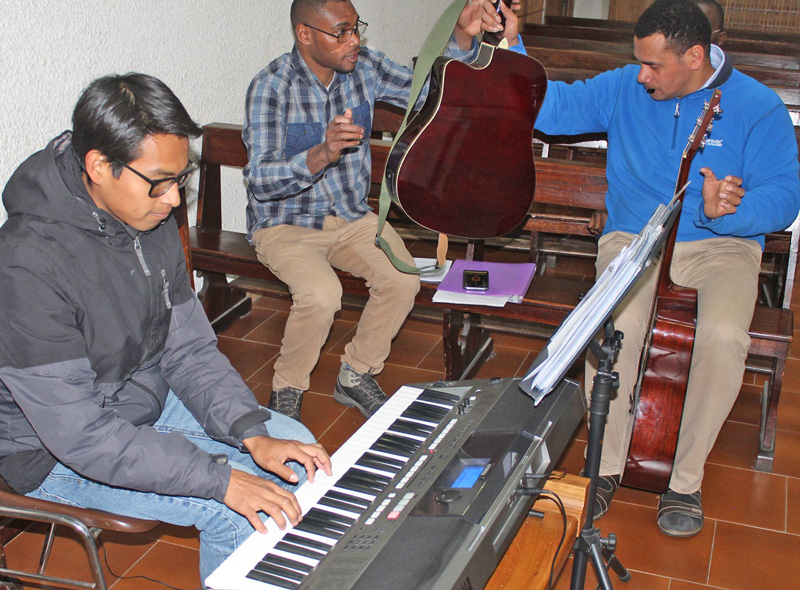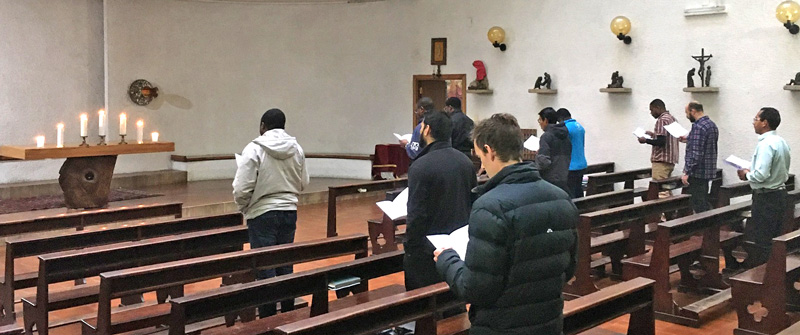 Above: Musicians Jaime (Mexico) at keyboard, Timothy (Solomon Is) and Samu (Fiji) with guitars). | Praying the Divine Office of Tenebrae Holy Saturday morning. Below: Easter Sunday meal, Guy (Cameroon) and Samu (Fiji). | Good Friday delicacy. | Lockdown leadership. | Zooming with Fr Michael Whelan (St Patrick's, Sydney). | Community at Easter.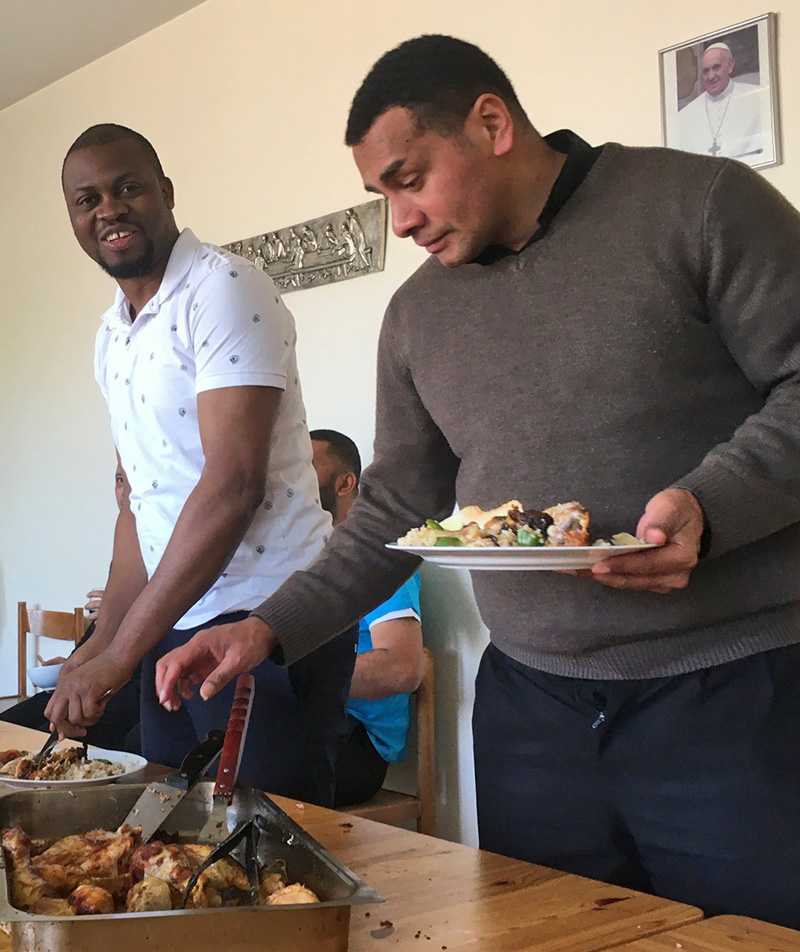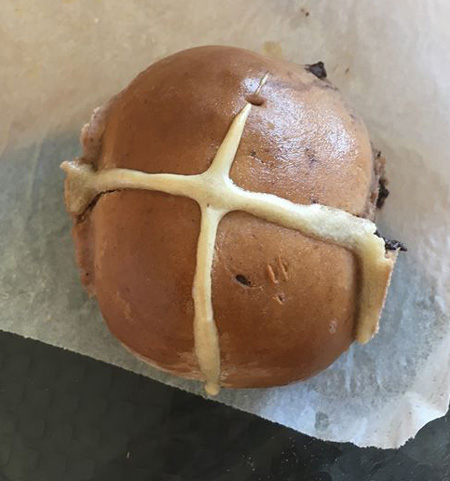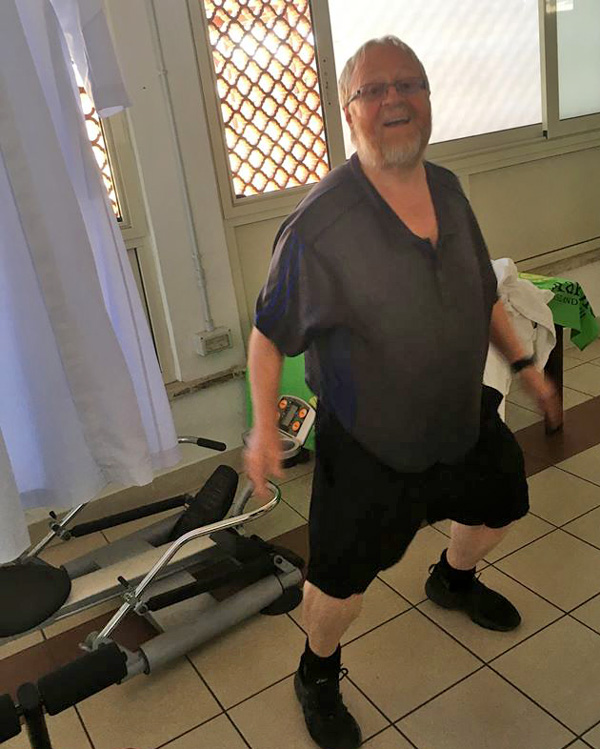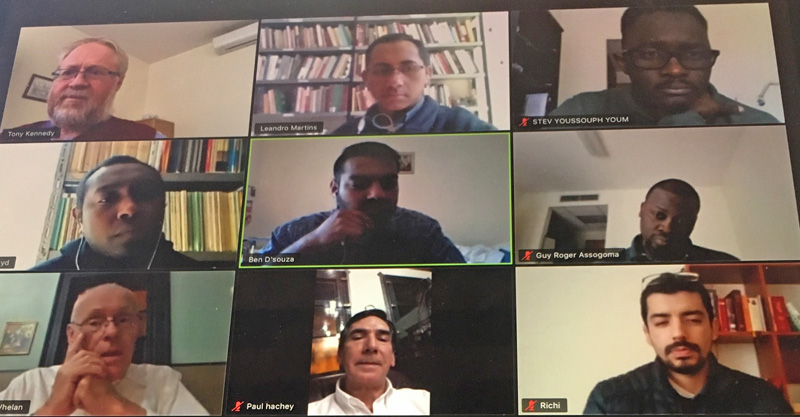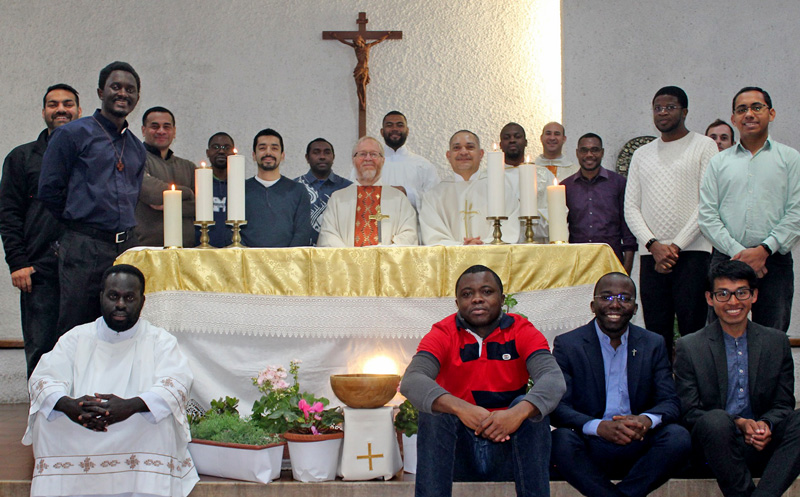 ---
Earth Day's 50th anniversary
Pope Francis has devoted his weekly audience on Apr 22 to marking the 50th anniversary of Earth Day. Go to the text: click here. [Apr 23]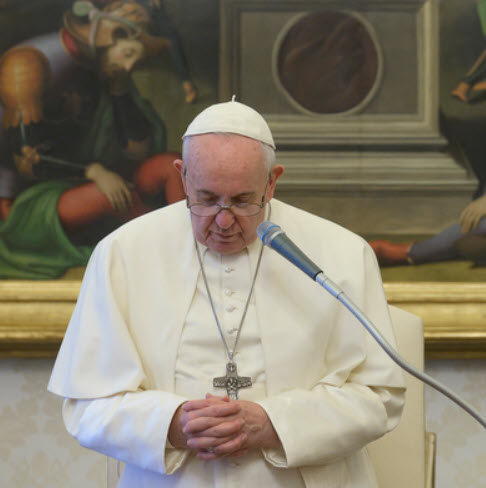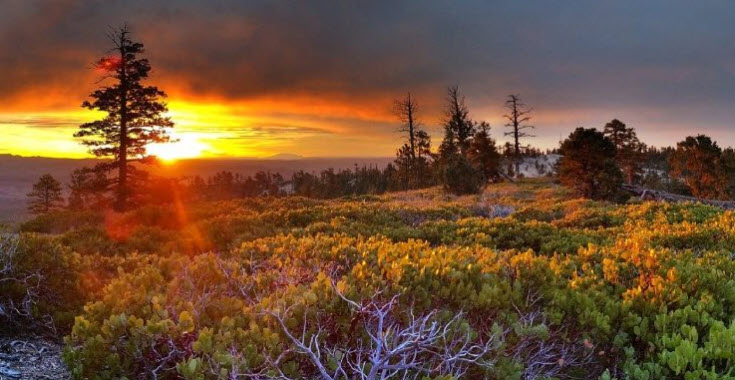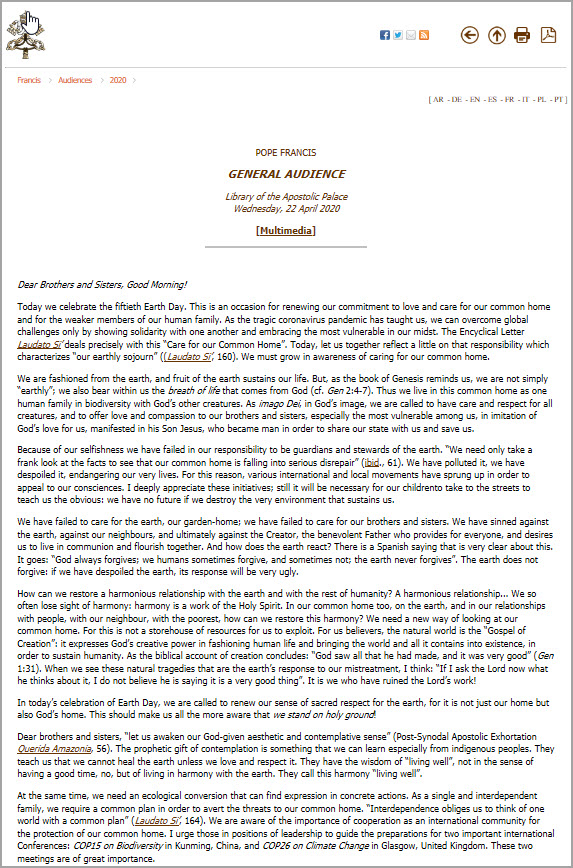 ---
La Neylière in lockdown
From France, Fr Ray Chapman, reports on the resumption of the Colinian Renewal program at La Neylière on Apr 18:
'Greetings from La Neylière! I thought I'd send a few photos of La Neylière in lockdown.
'We have been closed since 19th March but are surviving well at present. Each of us is currently confined to our rooms except for a brief part of the day when we can take advantage of the gardens and surrounding area. We are hoping that some of the other restrictions will be eased soon.
'The presence of COVID 19 at La Neylière caused a bit of a hiatus for the Renewal program but we are gradually getting back on track and everyone is well and in good health again. We recommenced the Renewal program today with Jan Hulshof leading us in a workshop on The Reluctant Founder. It had to take place outside - mindful of the social distancing regulations and with each of us wearing masks!
'Please pass on my personal thanks to the confreres who contacted me recently. II am on the road to recovery and hope to be fully fit soon. Thanks also for those who have continued to pray for the success of the Colinian Renewal 2020. Please keep them going!' [Apr 20]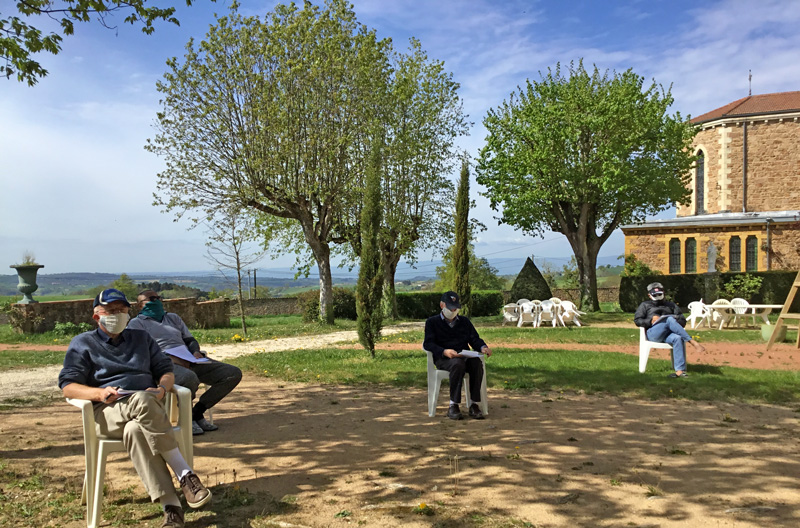 Above: La Neylière in lockdown | Colinian Renewal participants during an open-air session with Fr Jan Hulshof SM (far right) on 'The Reluctant Founder', biography of Ven Jean-Claude Colin who is buried at La Neylière. Below: Filipino Marist, Fr Lionel Mechavez, in lockdown.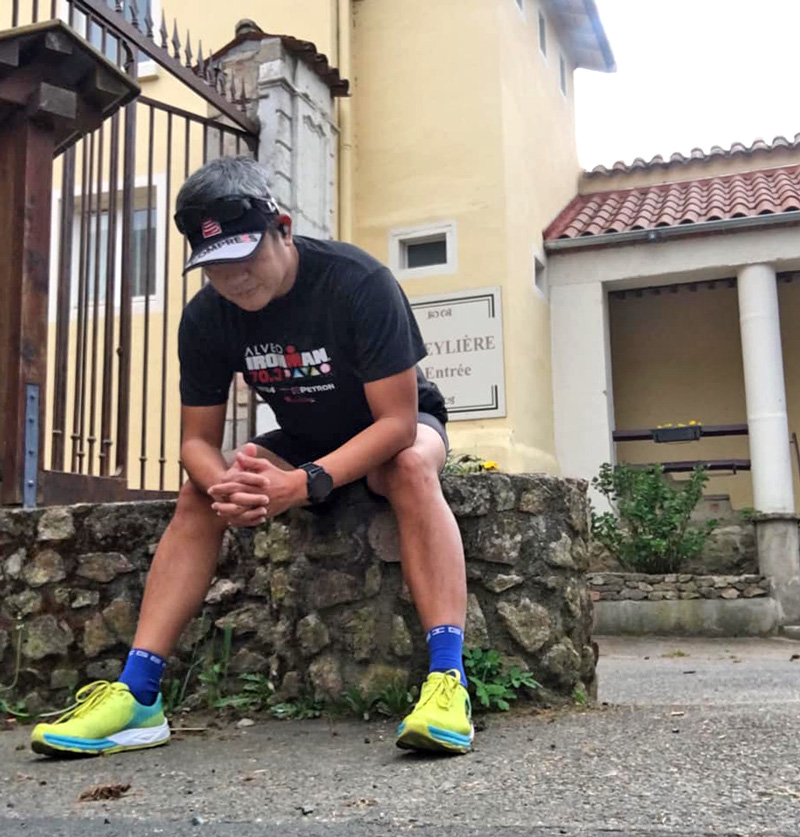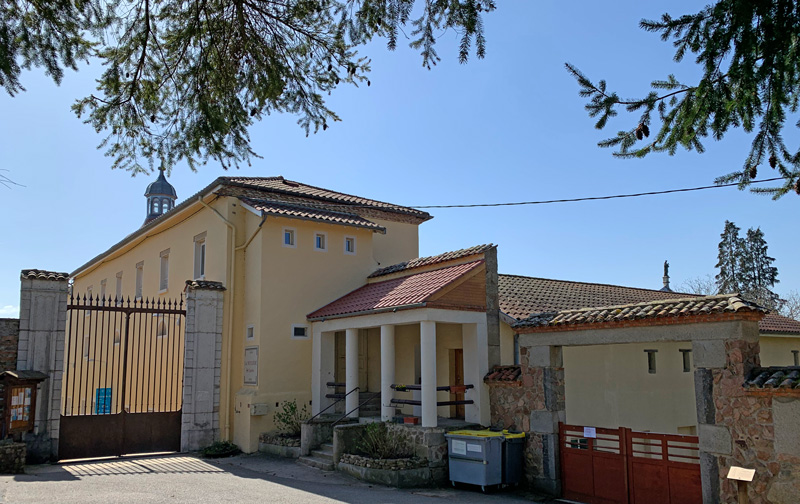 ---
St Peter Chanel novena
Prepared by the NZ Marist province, the annual novena for vocations begins on Sunday, Apr 19, concluding on the eve of the feast of St Peter Chanel SM, first martyr of the Pacific, For the novena, click here. [Apr 18]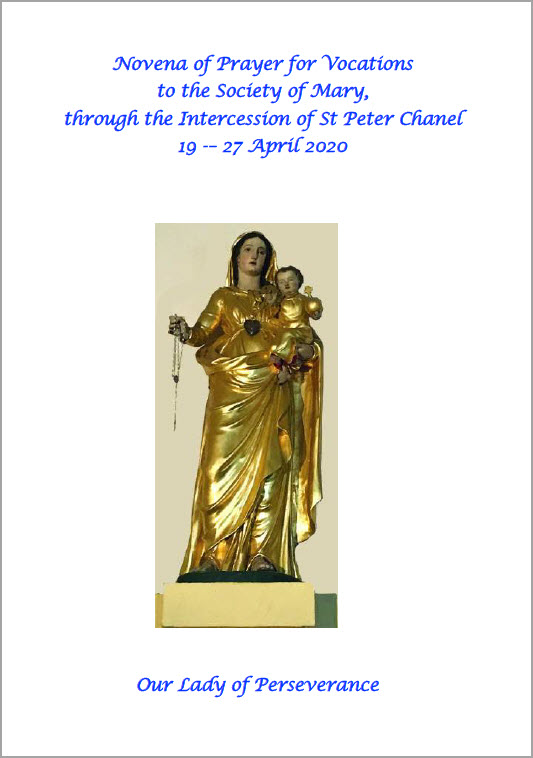 ---
Update from Hannah
From Longueville, NSW, Hannah Bennett gives an update on how she is coping with Multiple Sclerosis and university studies. Hannah continues to express her thanks to the many Marists seeking graces for her through the intercession of Jean-Claude Colin.
Hannah's updates are on the website of Fr Colin. Click here. [Apr 17]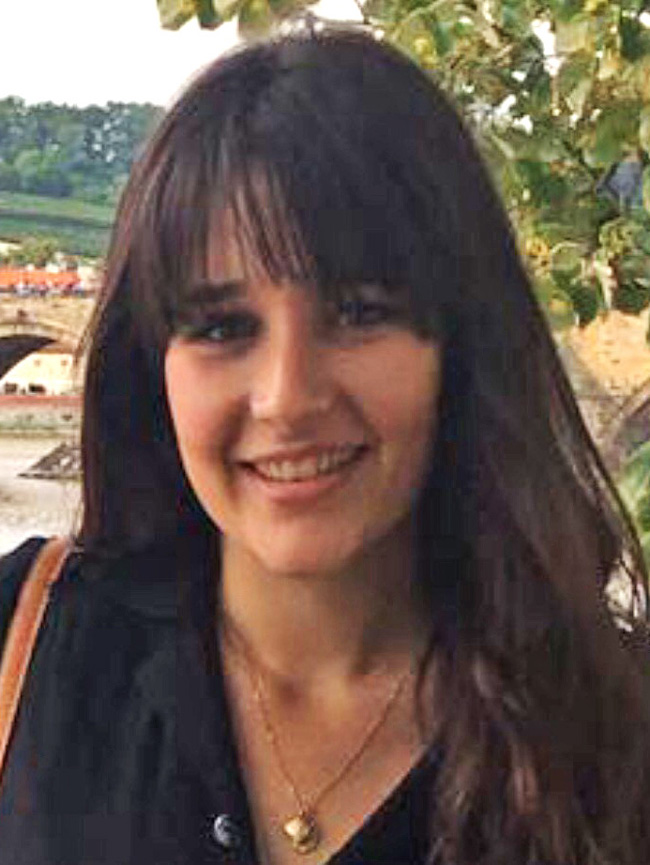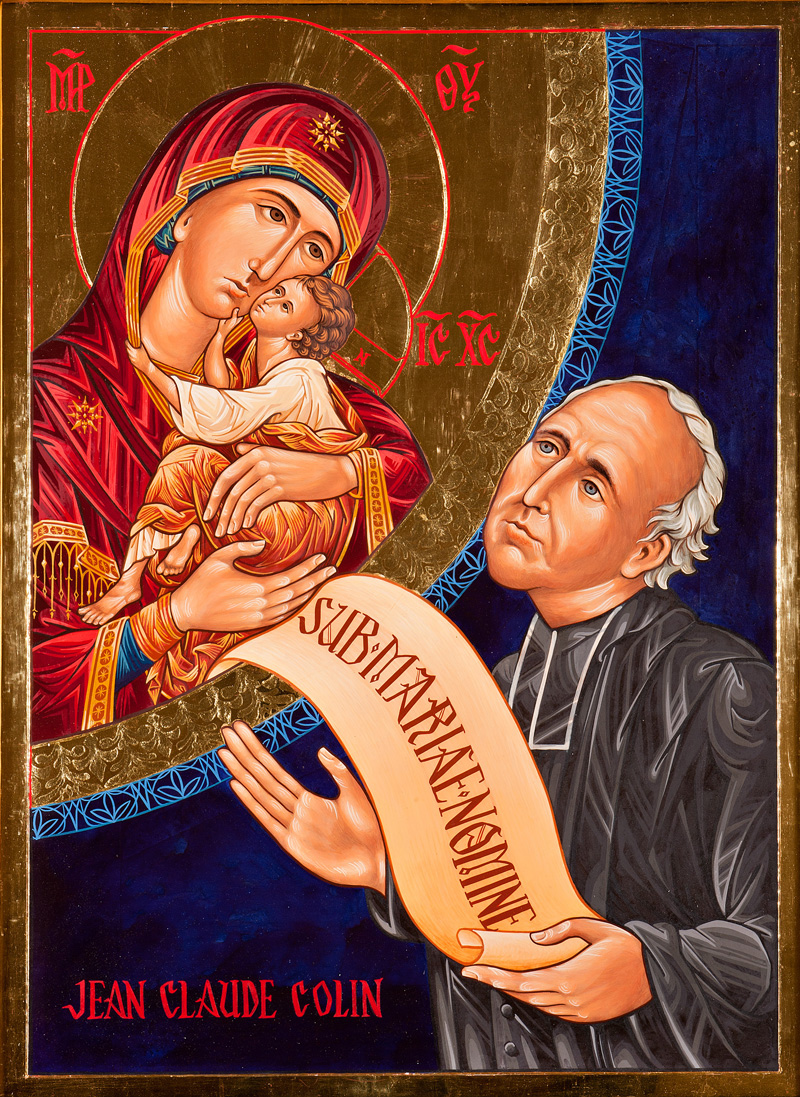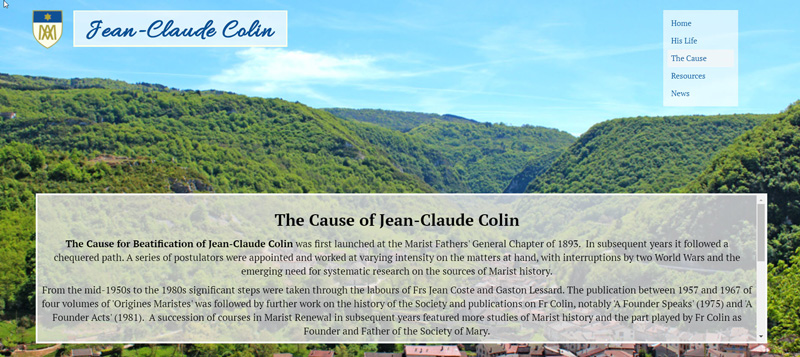 ---
Cyclone Harold
From Vanuatu, Fr François Grossin SM reports of the devastation wrought by Cyclone Harold at Melsisi, Central Pentecost Click here. [Apr 16]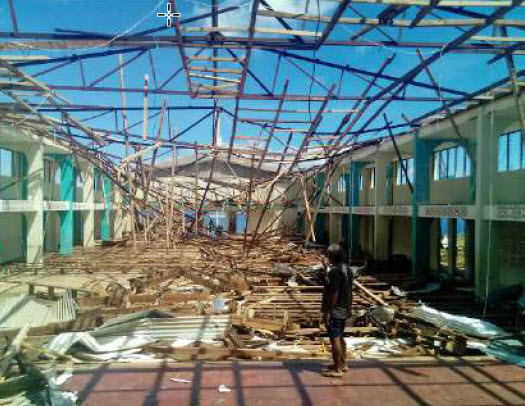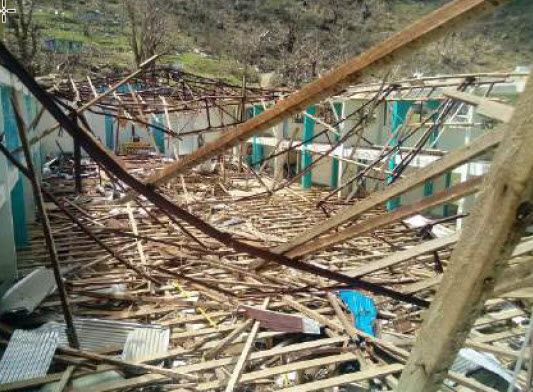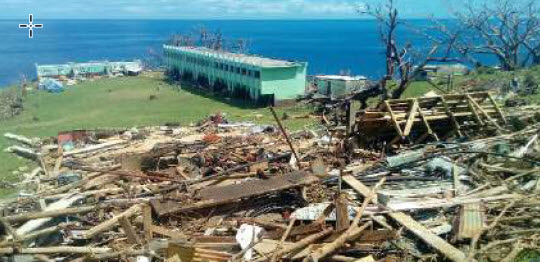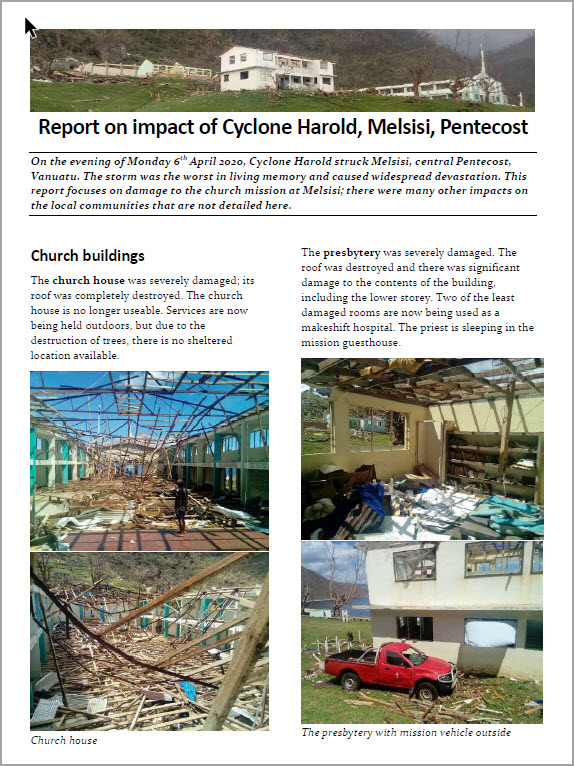 ---
Spaced out at Easter
Like everyone else, Marists of Villa Maria monastery, Hunters Hill, have celebrated Easter with a difference - and careful to observe social distancing. The small community held simple ceremonies for the Sacred Triduum, with special decor for their chapel along with psalms and song, and culminating with an Easter morning Eucharist and festive luncheon. [Apr 13]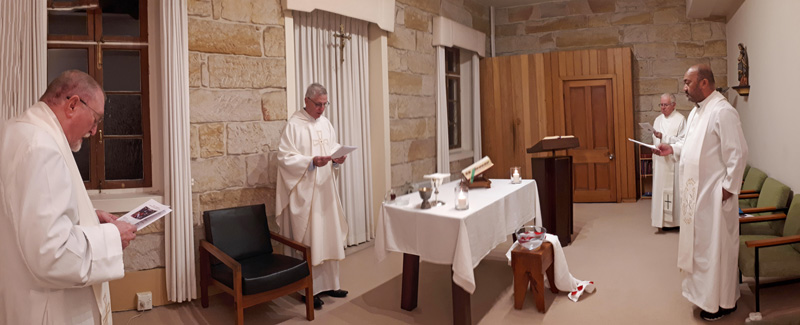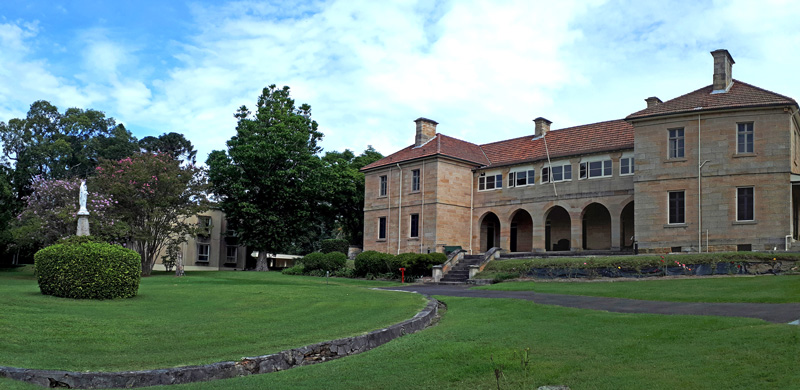 Above: Community superior, Fr Gavin Foster, presides at the Holy Thursday evening Eucharist. Below: Celebration of Good Friday Tenebrae. Further below: Fr Pio Fong prepares a festive meal, assisted by Fr Gavin. | Easter luncheon.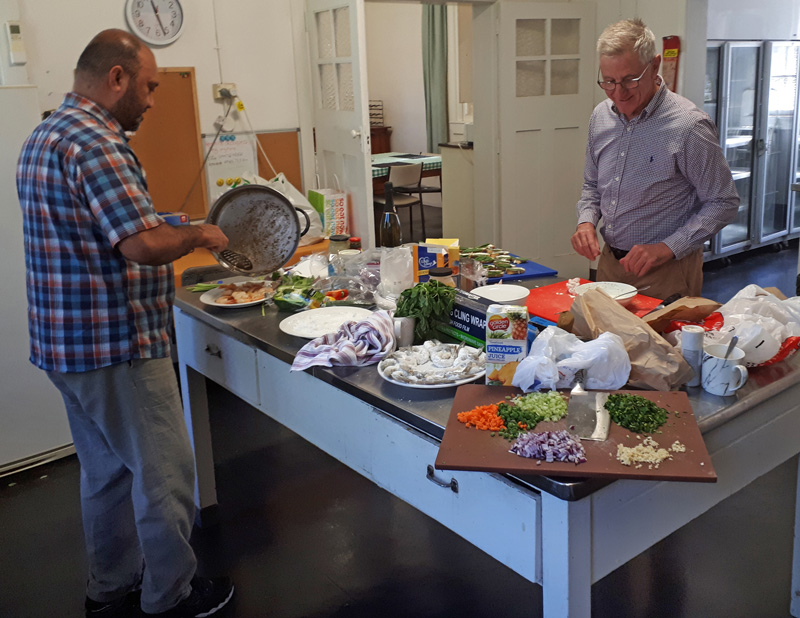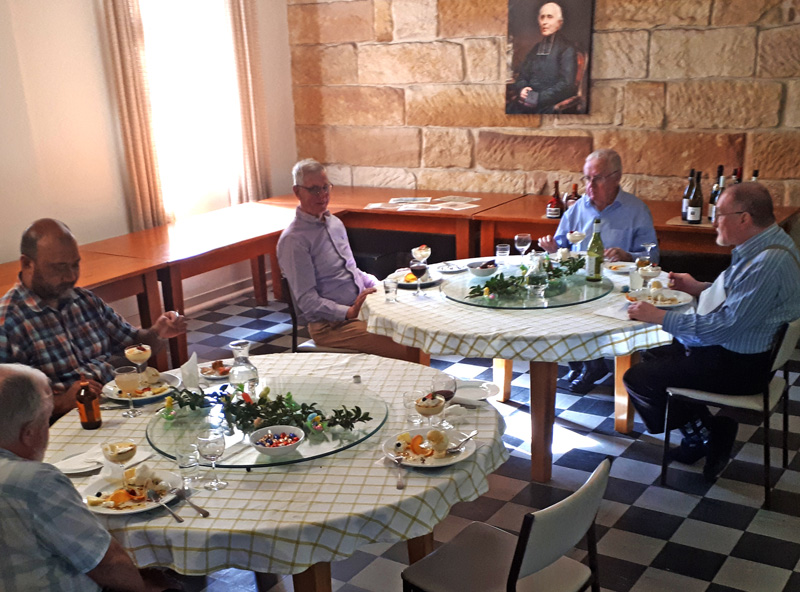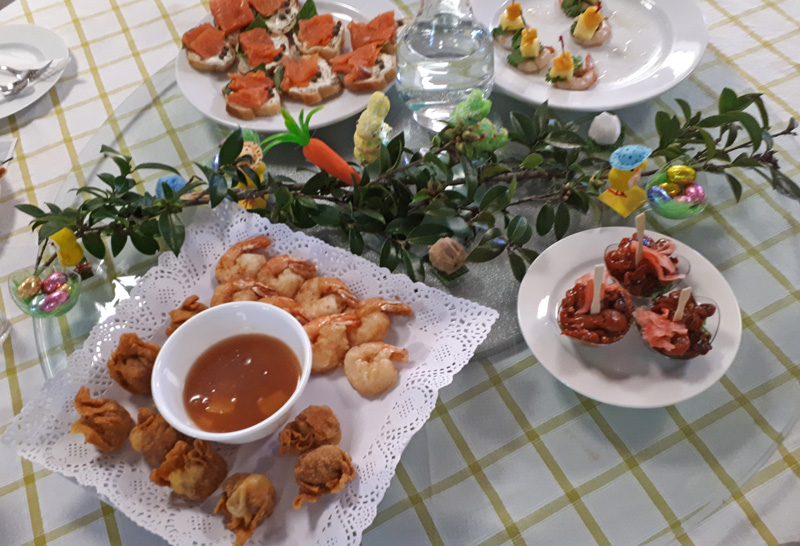 ---
Easter on YouTube
Parishioners and other members of the Marist parish/shrine communities of St Patrick's, Church Hil, Sydney, and Holy Name of Mary, Hunters Hill/Woolwich, can follow the Easter ceremonies on YouTube. Click below for: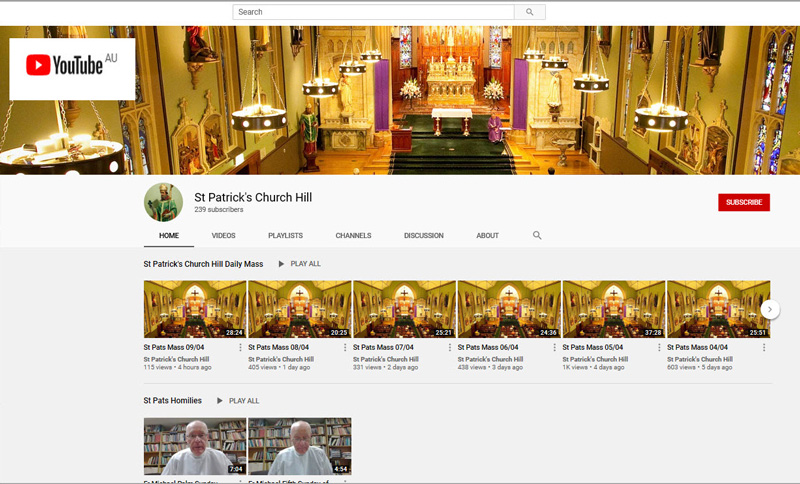 ---
Marist news from all over
Bulletins from Europe, Bolivia, Spain, Oceania and combined Marist formation communities will provide engaging lock-down reading over Easter.
Click below for: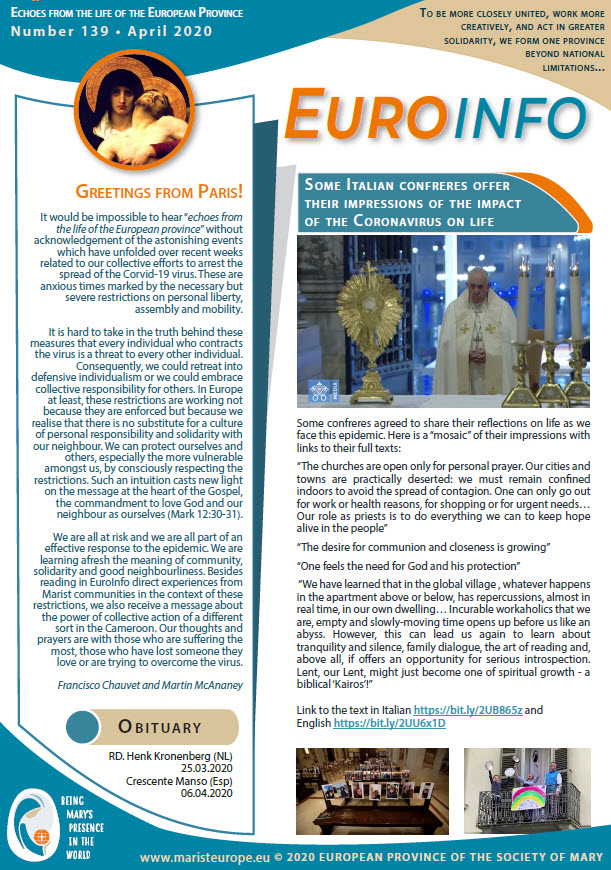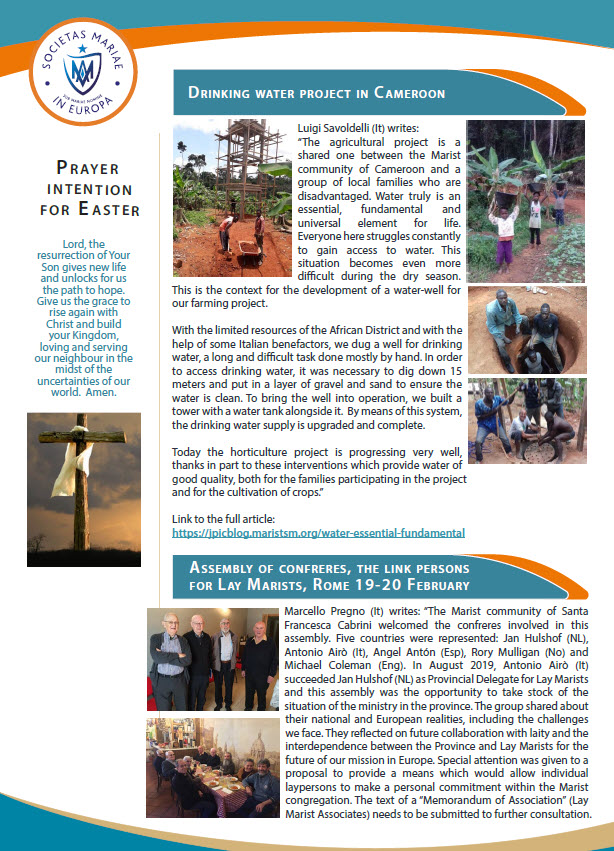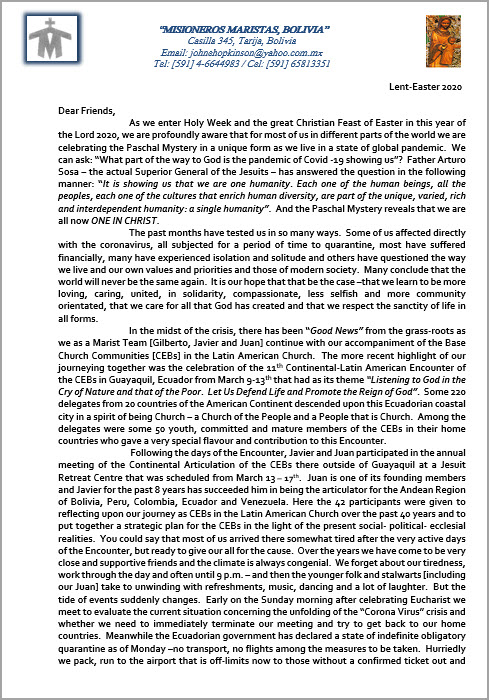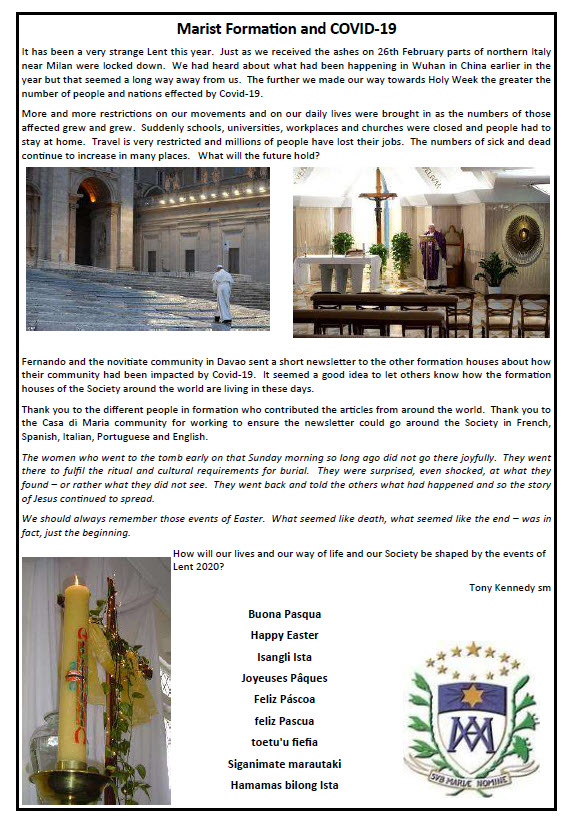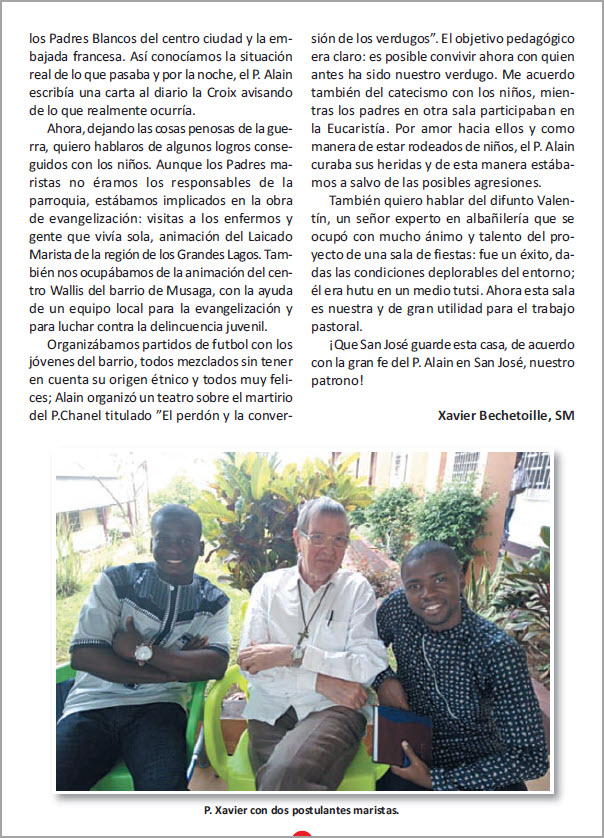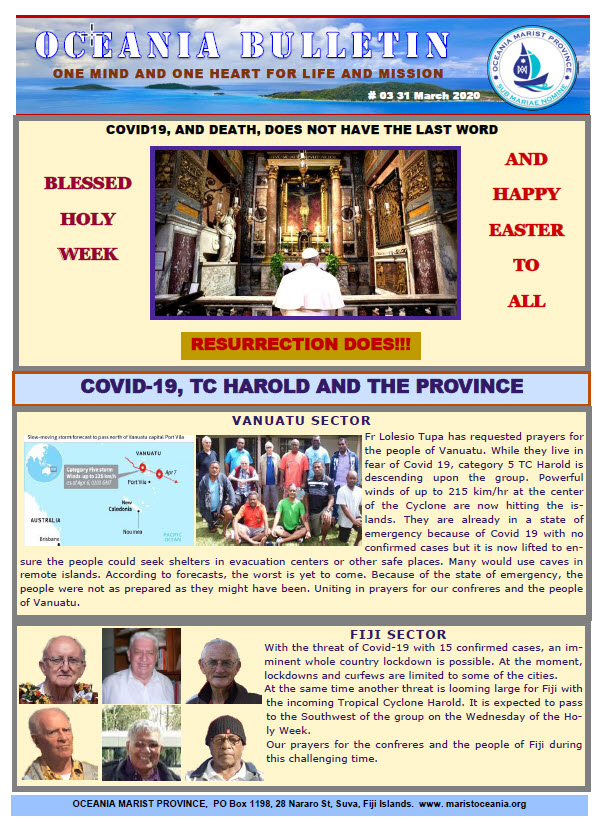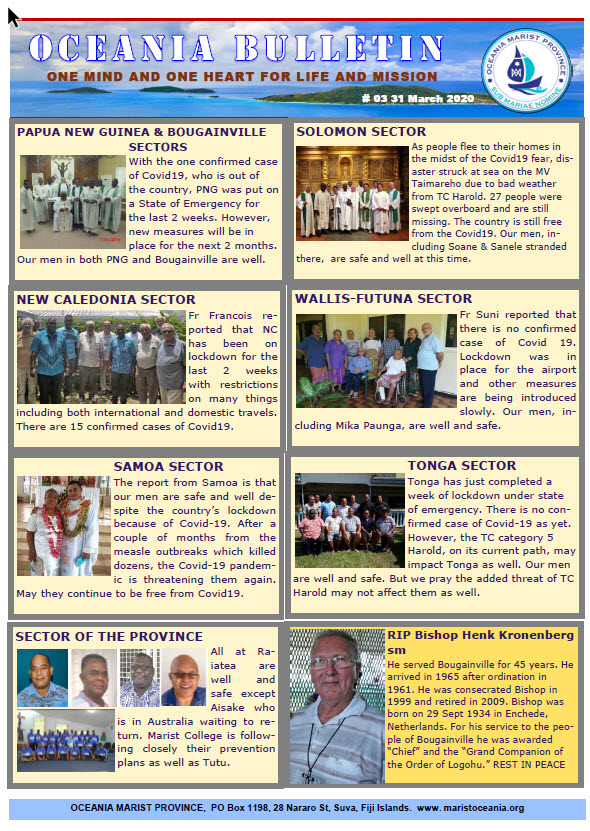 ---
HNOM on YouTube
Parishioners of Holy Name of Mary parish, Hunters Hill-Woolwich, have regular access on the parish's YouTube page to a weekly celebration of Mass. Easy access is through the link from the parish website: [Apr 05]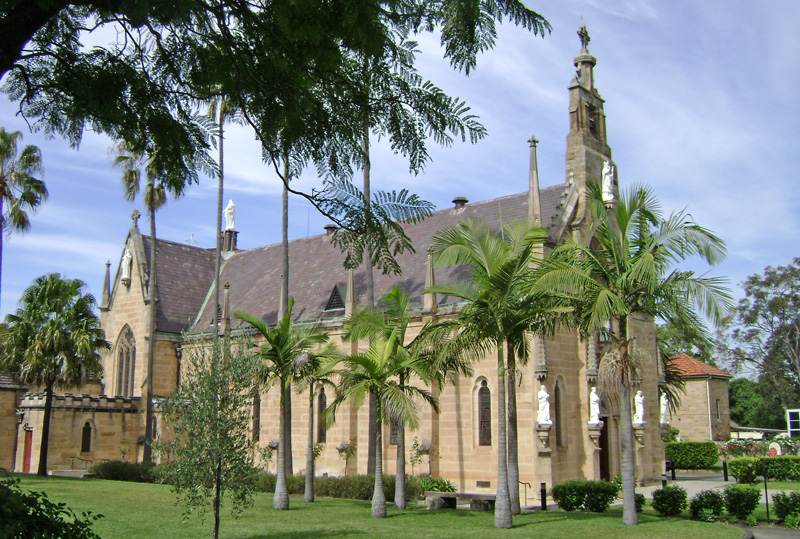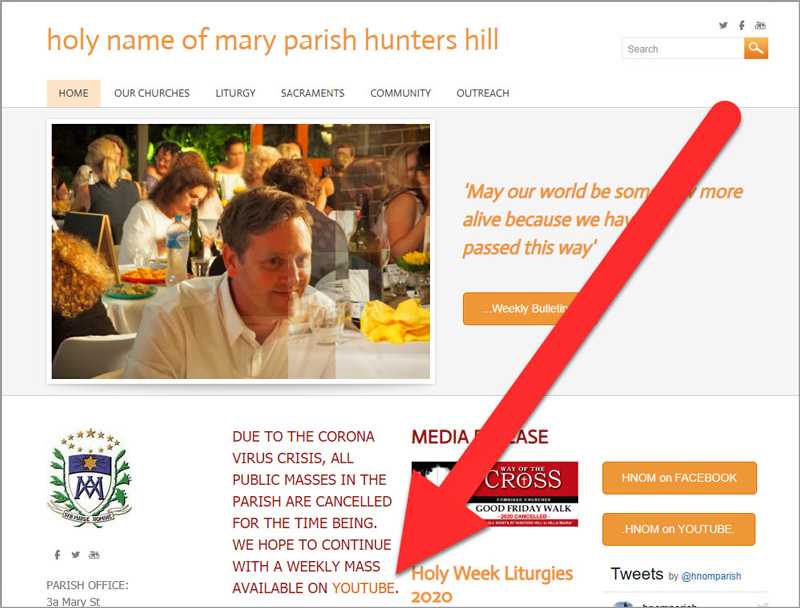 Above: Holy Name of Mary church ('Villa Maria'), Hunters Hill | Link to weekly Masses on the parish website, Below: Scenes from Palm Sunday's Mass with Fr Kevin Bates | Parishioners' family photos adorn the seats of the empty Villa Maria church.SM.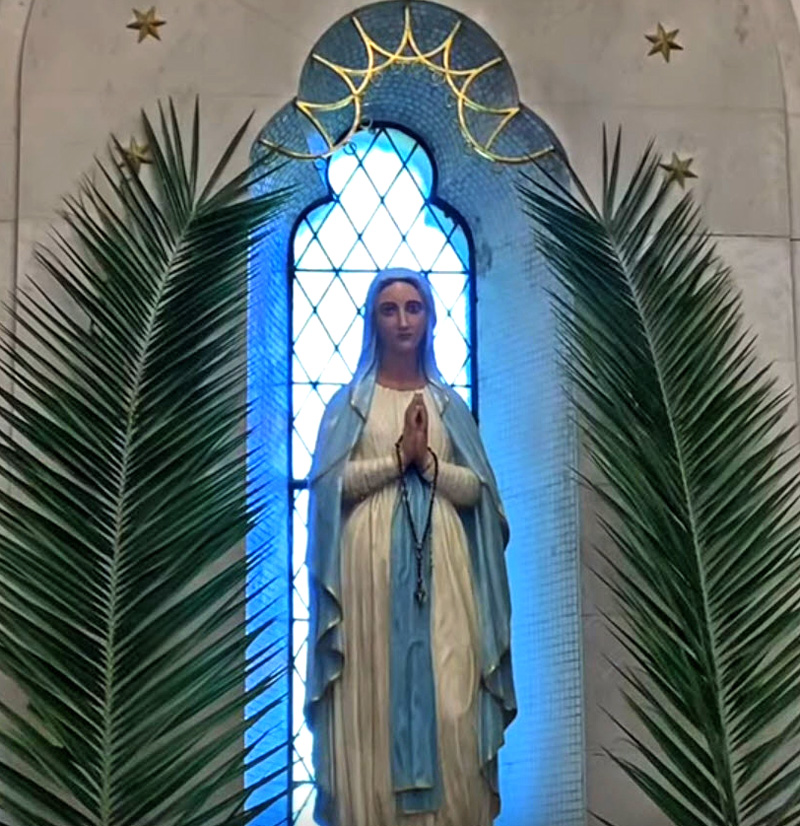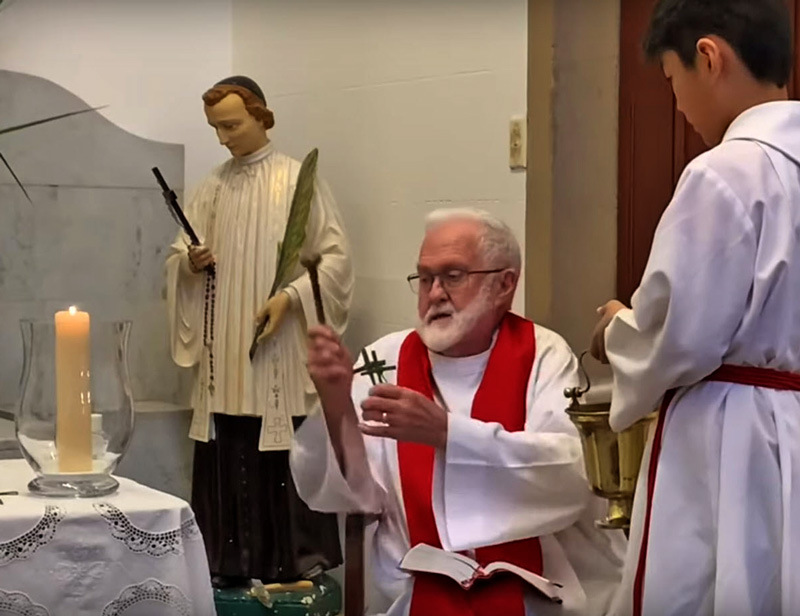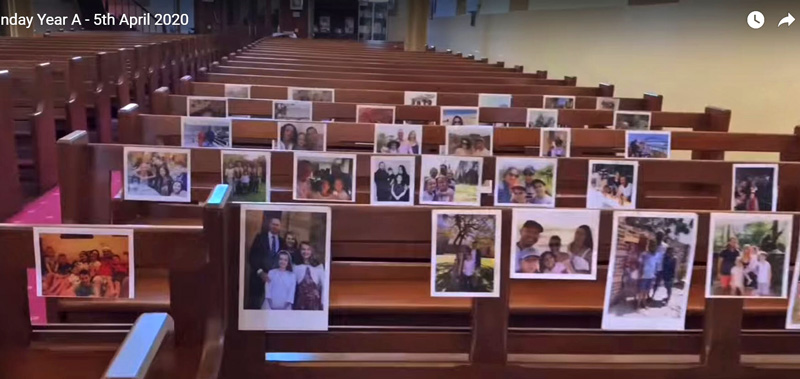 ---
Monthly message from S-G
Fr John Larsen's message for April focuses on 'stability' in these lock-down times. Click here. [Apr 05]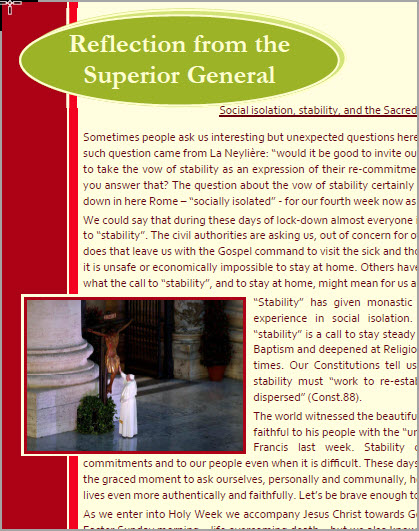 ---
Icon for Monastery chapel
The Marists of Villa Maria Monastery, Hunters Hill, have hung a canvas icon of Ven Jean-Claude Colin in the community chapel. The move was prompted by their beginning a novena of prayer through the intercession of Fr Colin and the Blessed Virgin Mary in the face of the COVID-19 crisis.
Superior-General, Fr John Larsen SM, recently called on Marists to use the pray daily. The community of the Villa Santa Maria, the General House of the Society of Mary in Rome, pray before the original icon. Click here.
For copies of the novena prayer, click here. To download the icon (1Mb, 3Mb or 7Mb) from the Colin website and for an explanation of the icon, click here. [Apr 02]