---
For previous years, go to News menu, above
---
---
Jeanne-Marie Chavoin feast day
Jun 30 marks the 165th anniversary of the death of Jeanne-Marie Chavoin, revered foundress of the Marist Sisters.
Born in the village of Coutouvre in central France in 1786 the young Jeanne-Marie followed the call of the Colin brothers at Cerdon to establish the first community of Marist Sisters. Mother St Joseph, as she was known, died in 1858 at Jarnosse, not far from her birthplace.
We wish our Marist Sisters a very Happy Feast Day ! [Jun 30]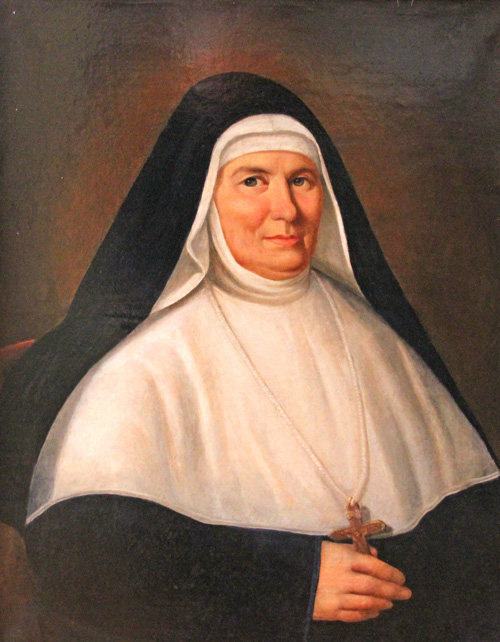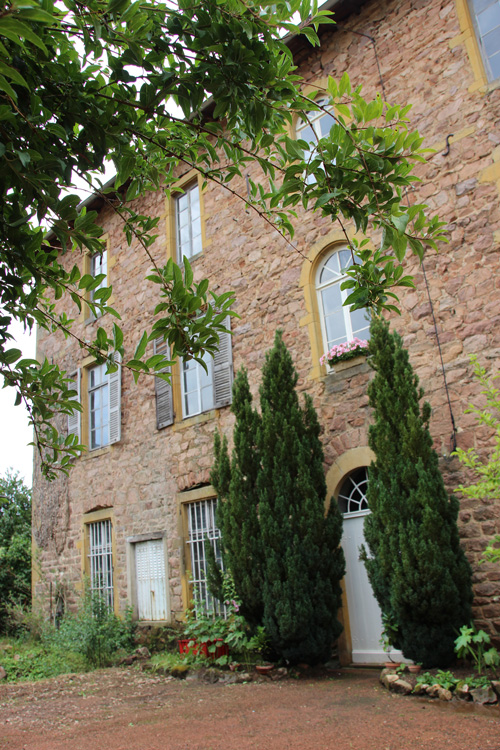 Above: Portrait of Jeanne-Marie Chavoin at Bon Repos, Belley, near her final resting place | Jarnosse: the convent building where she died and the nearby parish church where she was first buried. Below: Tiled cross marking the original burial place of Jeanne-Marie in the church sanctuary of Jarnose | Descriptive panel in the church of Jarnosse.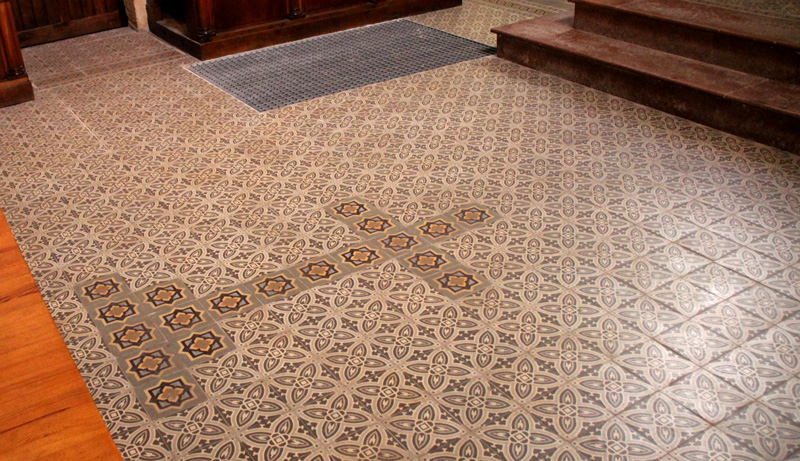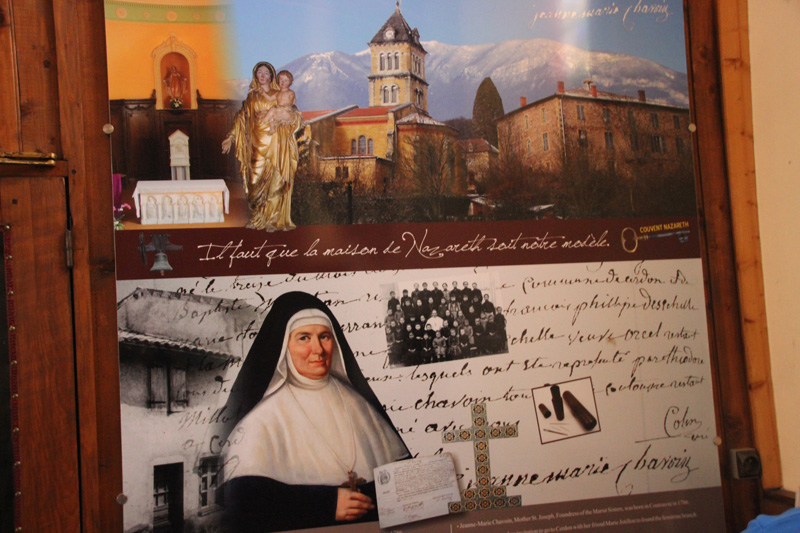 ---
Brazilian ladies' retreat
A group of Sydney's Brazilian Catholic women gathered on Jun 24 at Villa Maria Monastery, Hunters Hill, for a day's retreat. Their Eucharist was led by former Brazil missionary, Fr Paul Mahony SM, in the faculty room of the historic complex. Fr Paul regularly ministers to Portuguese-speaking Catholics in the area. [Jun 30]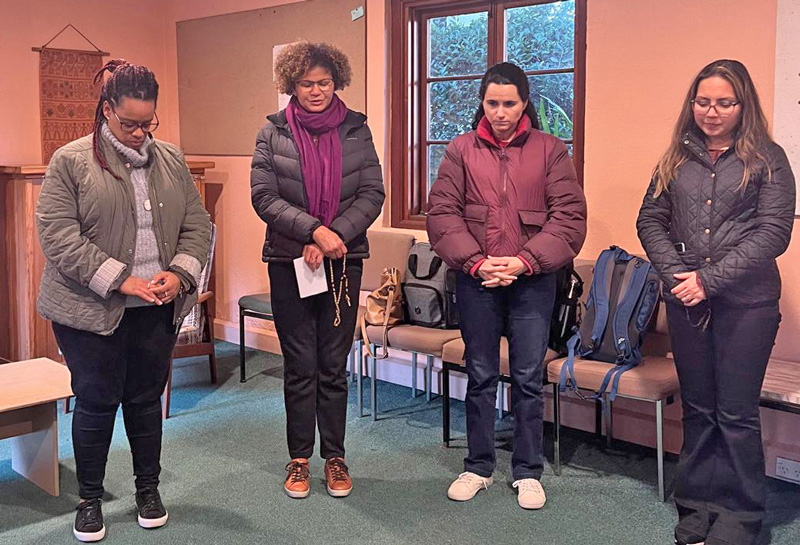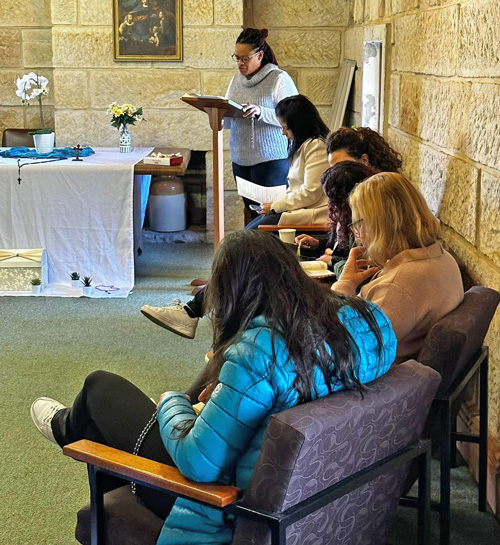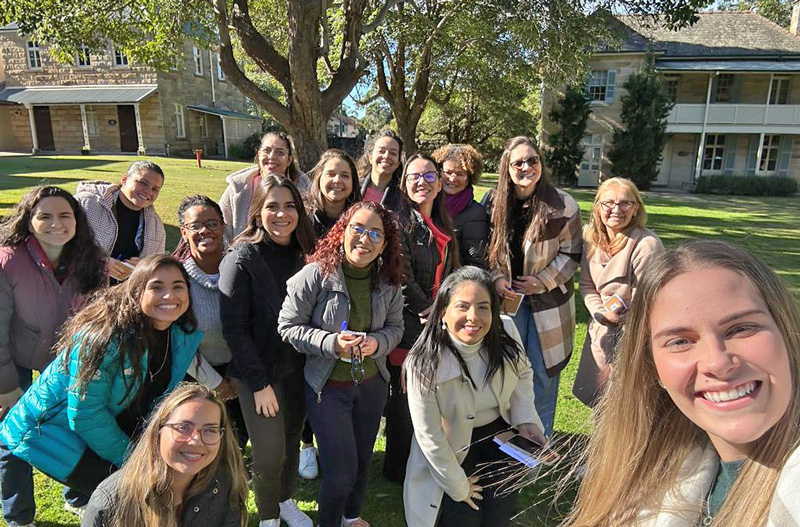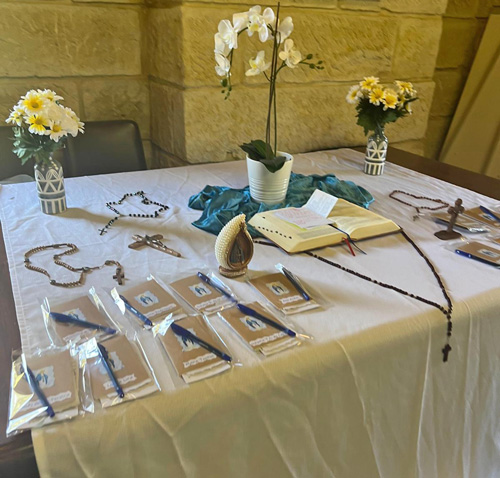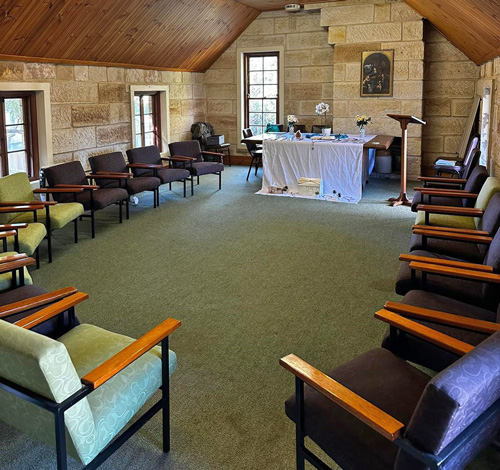 ---
Passing of Fr Tony King SM
Marists in Australia mourn the passing on Jun 27 of Fr Tony King, at Southern Cross Aged Care, Marsfield, NSW, aged 97 and a few weeks short of sixty-three years as a priest.
Fr Tony was widely known and appreciated for his editorship of Harvest magazine, novitiate and seminary formation and spiritual direction. His funeral will take place from Holy Name of Mary church, Hunters Hill, on Jul 05 at 10.30 am. May he rest in peace.
For a summary of Fr Tony's life, click here. [Jun 27]
---
Fourvière Camino
Marist Laity Australia has released plans and an invitation for this year's Jul 23 Fourvière celebrations featurng a Marist Camino, crossing Sydney Harbour Bridge, lunching at St Patrick's, Church Hill, and bussing to a liturgy at Hunters Hill. For details, click here. [Jun 24]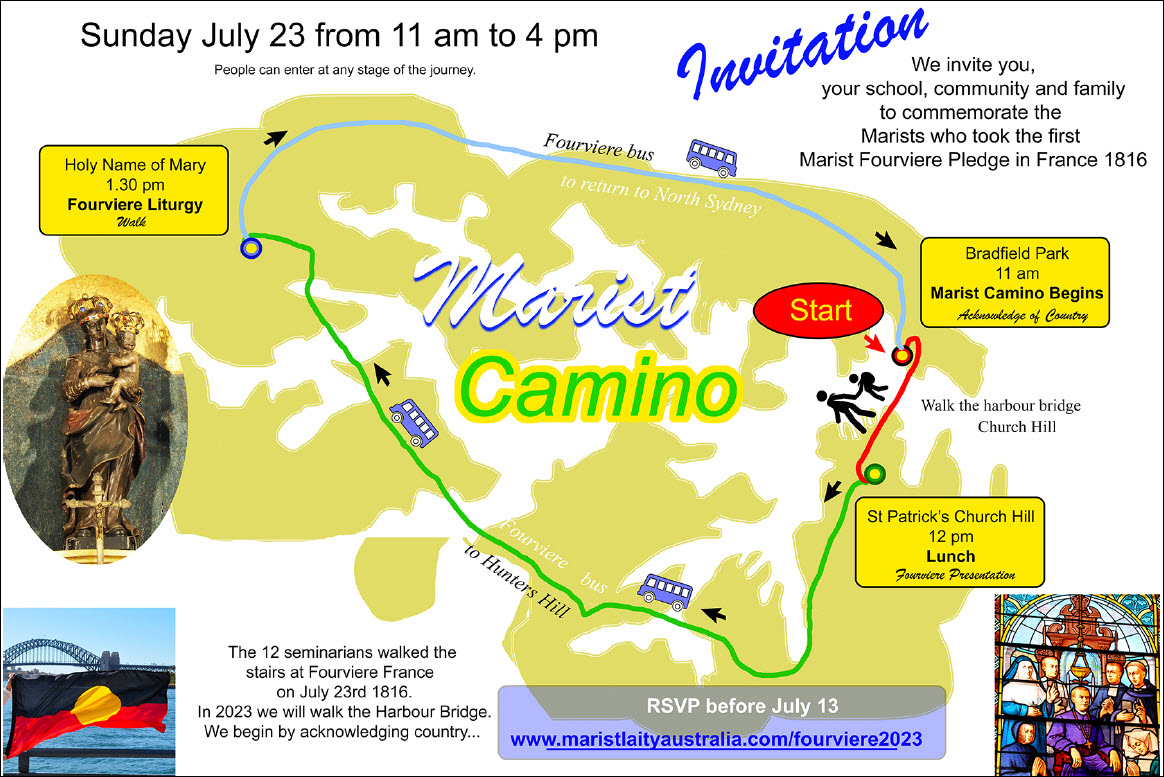 ---
SM Bulletin
This week's SM Bulletin reports from the Solomon Islands and on graduations in Davao and Rome, as well as its usual update on movements of General Council members.
To donwload, click here or go to Members' Page. [Jun 24]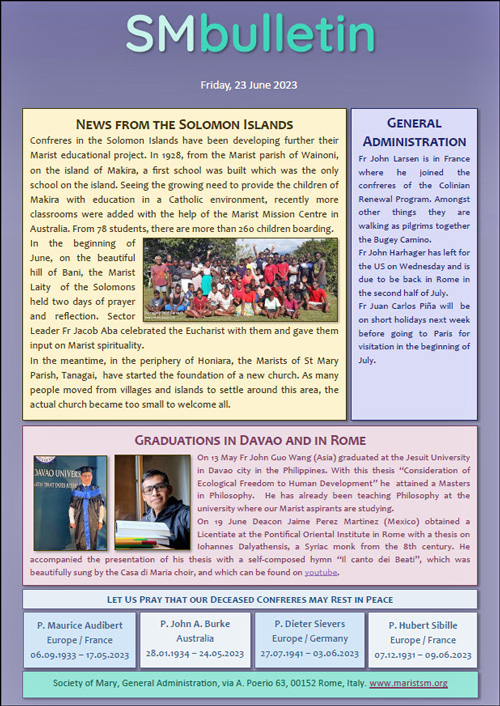 ---
Colinian program nears conclusion
At La Neylière, France, the 2023 Colinian Renewal Program, led by Australian, Fr Ray Chapman, and assisted by Fr Donato Kivi, is drawing to a close.
Features of the final weeks have included a visit to Taizé, input from fellow Australian, Fr Ben McKenna, on the foundational themes of the Society of Mary and a camino (currently in progress) through the Bugey mountains, scene of the pioneer missions of the early Marists. [Jun 22]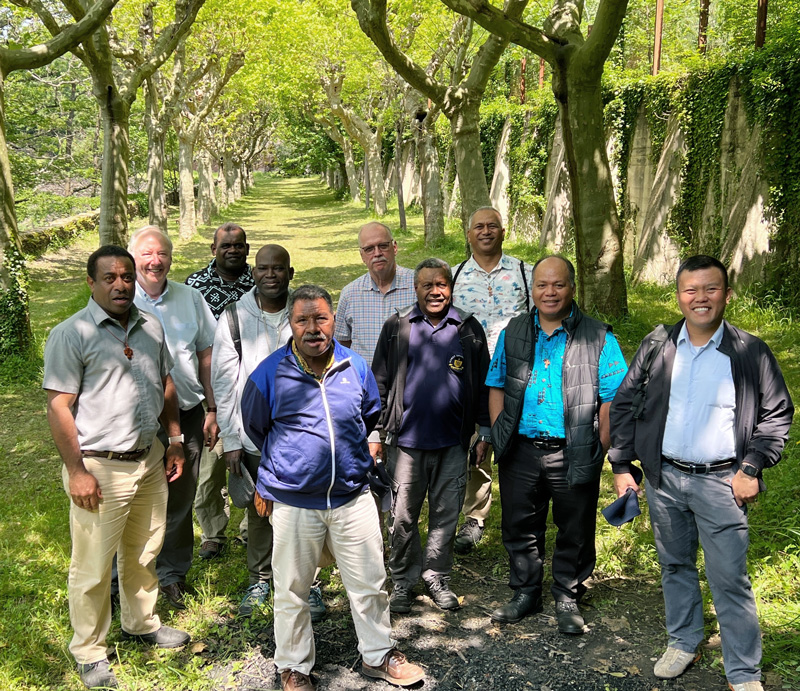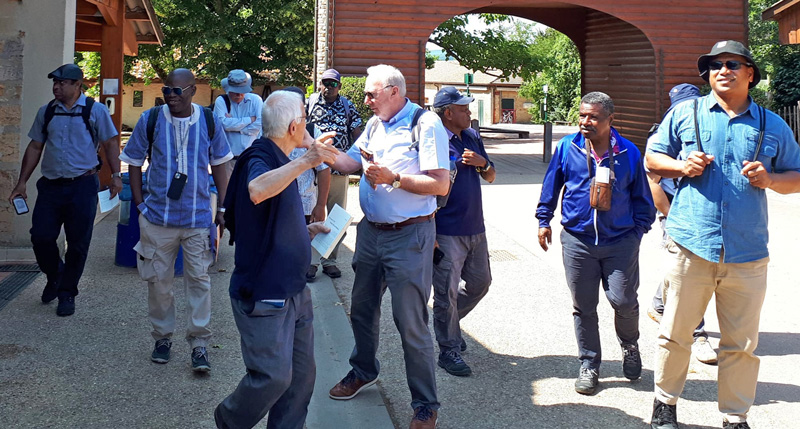 Above: CRP participants in the grounds of La Neylière. | At the communty of Taizé not far from the birthplace of Jean-Claude Colin. Below: With Fr Ben McKenna (back row, far right) ... |.... and with former Superior-General, Fr Jan Hulsof, at La Neylière.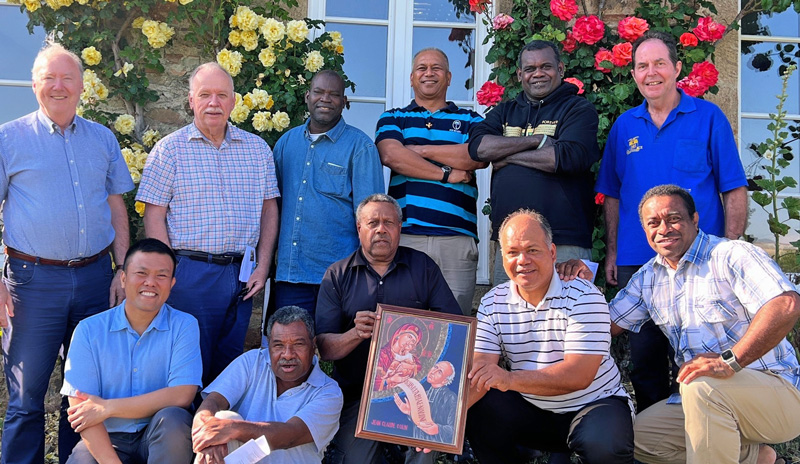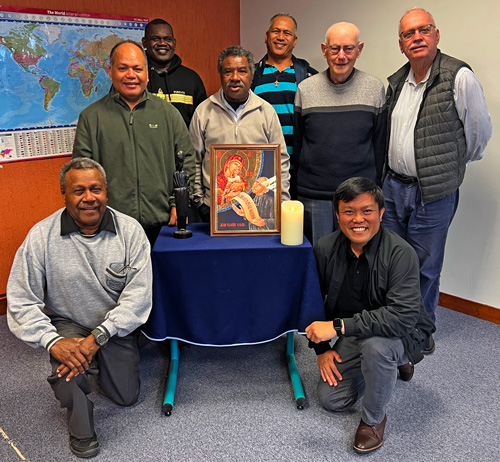 Below: CRP leader, Fr Ray Chapman, and Superior-General, Fr John Larsen, with Mme Andrée Piperini, hostess of Le Clos des Condamines, accommodation centre at Cerdon ... |... and the group on the patio of Le Clos on the eve of the Bugey camino.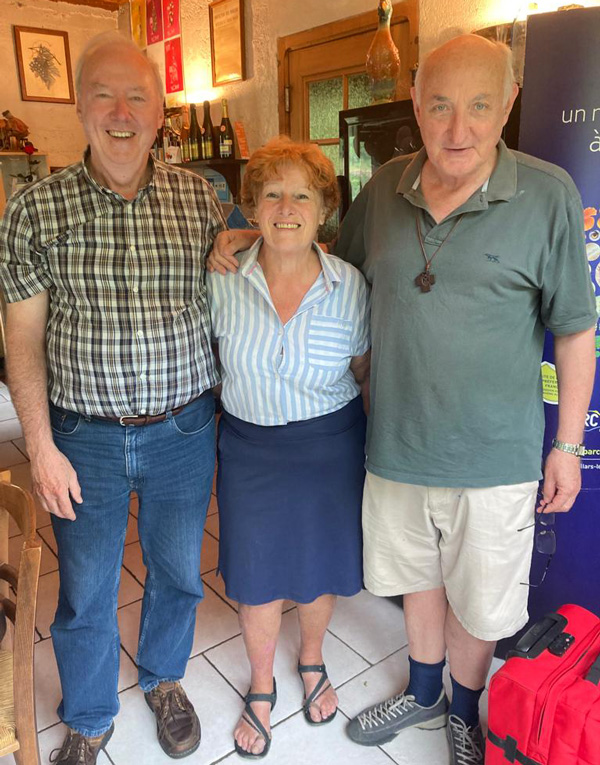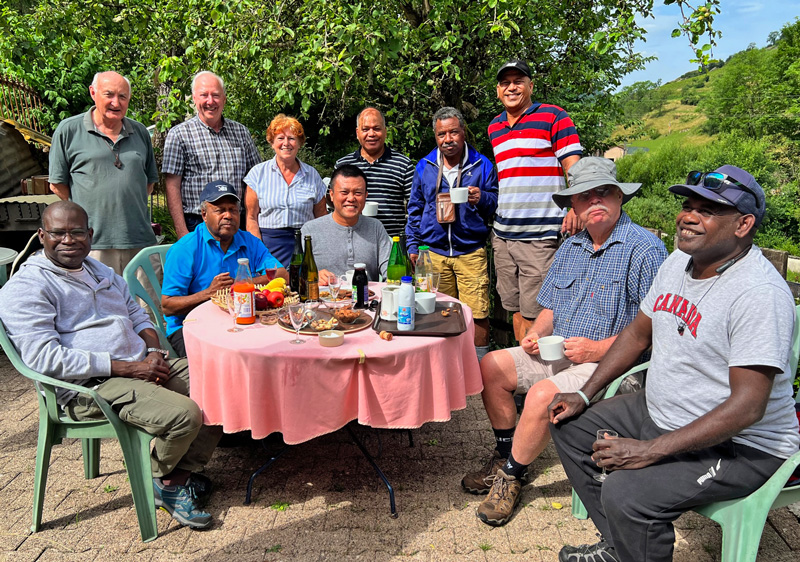 ---
SM Bulletin
The Jun 16 issue of SM Bulletin reports on seventy-five years of Marist presence in Senegal, a new church for Davao and the Colinian Renewal Program.
To download, click here or go to Members' Page. [Jun 21]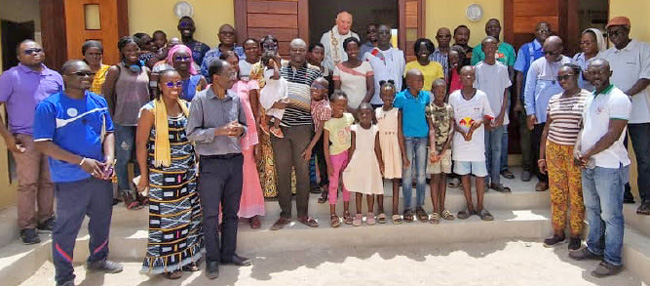 ---
Walking with Christ
Commencing at the inner-city shrine of St Patrick's Church Hill, the annual Walk with Christ procession attracted thousands of Catholic people on the Solemnity of the Body and Blood of Christ, June12.
From the official starting point of Sydney's Martin Place Bishops Umbers, Brady and Meagher led the procession of the Blessed Sacrament through the city streets to St Mary's cathedral to be greeted by Archbishop Anthony Fisher and a large crowd in the cathedtral forecourt..
Scenes from the procession are pictured below. Photos, courtesy of Jonathan Alvin. [Jun 15]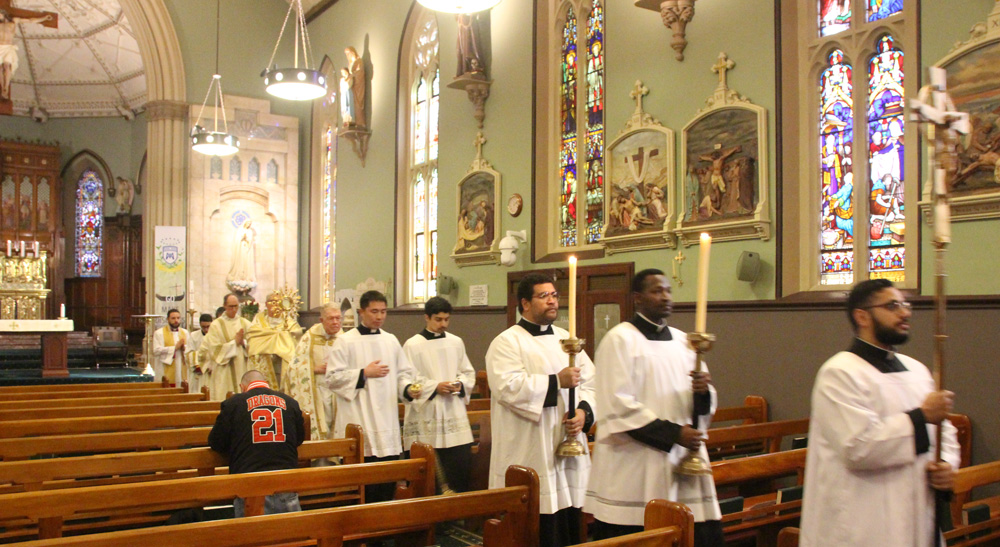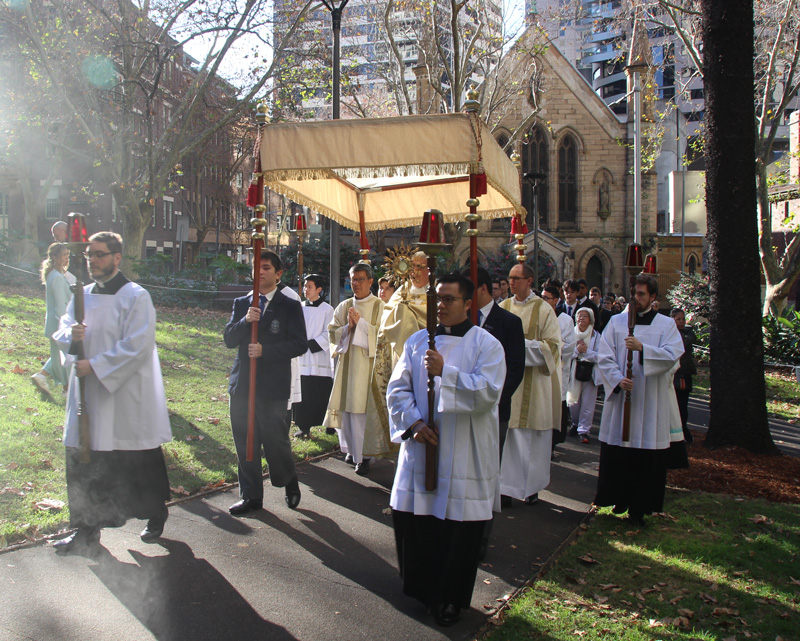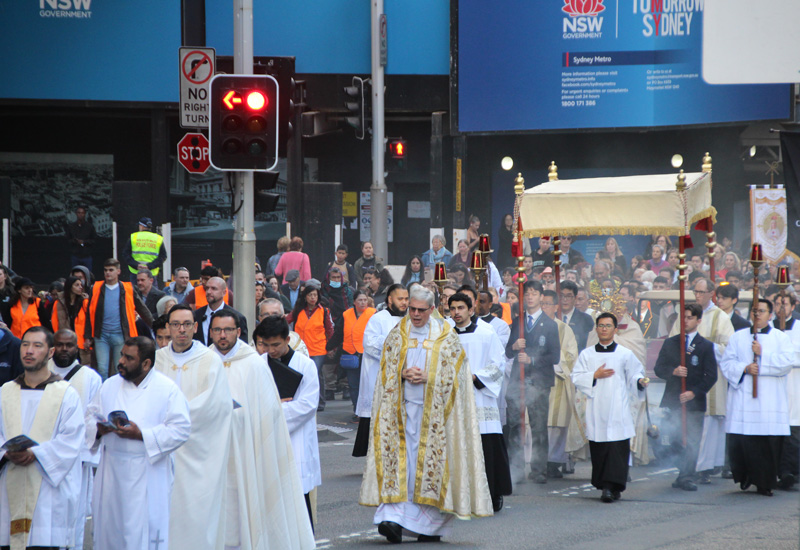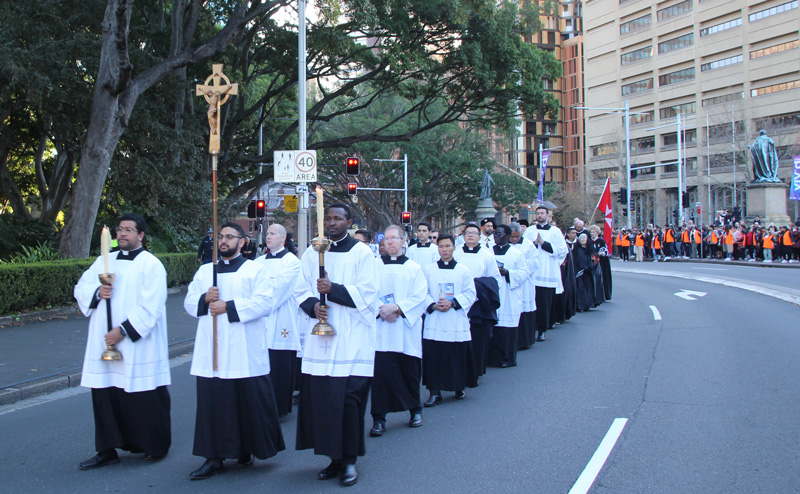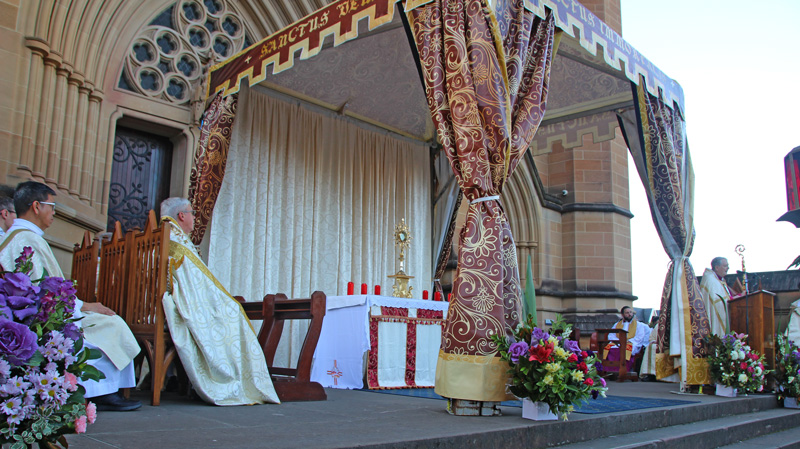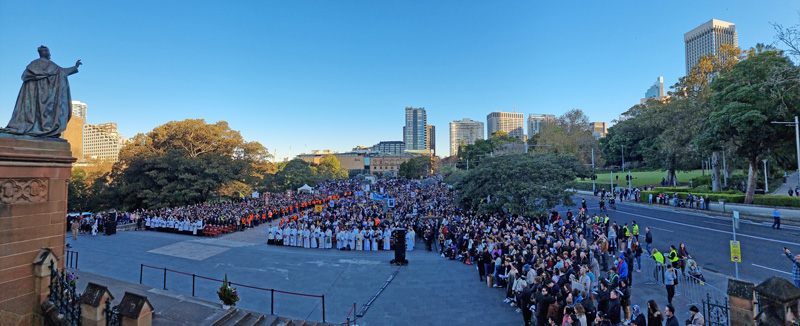 ---
Marist news from the Pacific
Colourful reports from across the Oceania Marist Province. To download, click here or go to Members' Page. [Jun 11]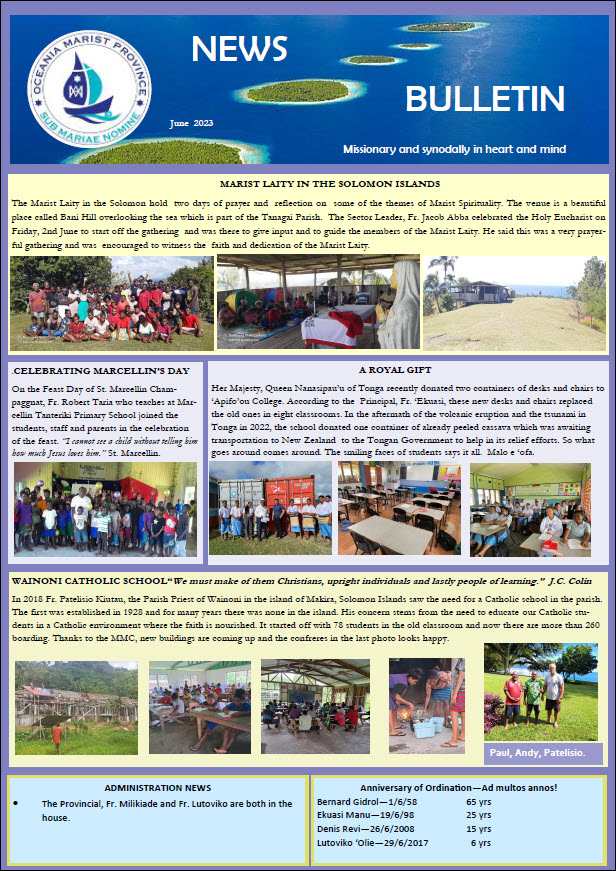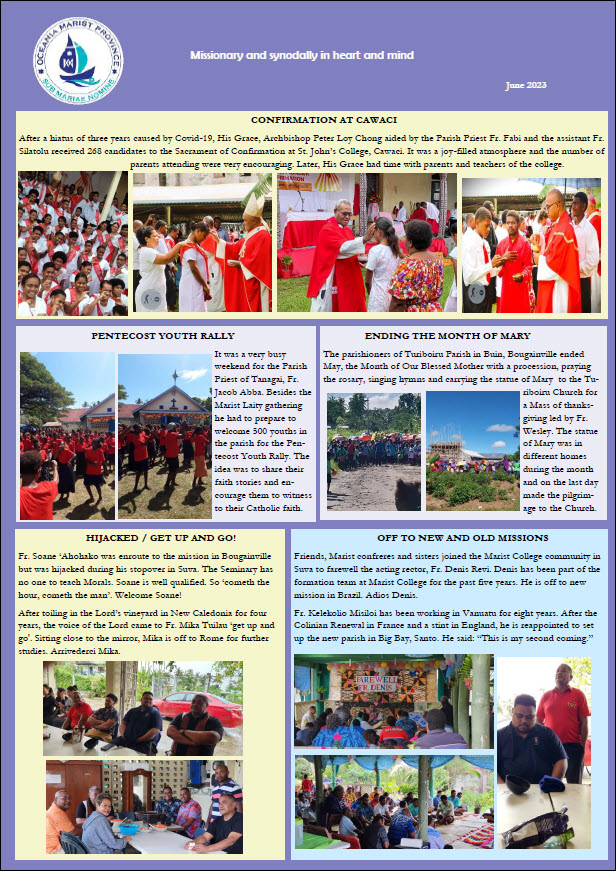 ---
SM Bulletin
This week's SM Bulletin reports on the meeting in Rome of the Marist Family leadership teams and on the Jean Coste prize. To download, click here or go to Members' Page. [Jun 09]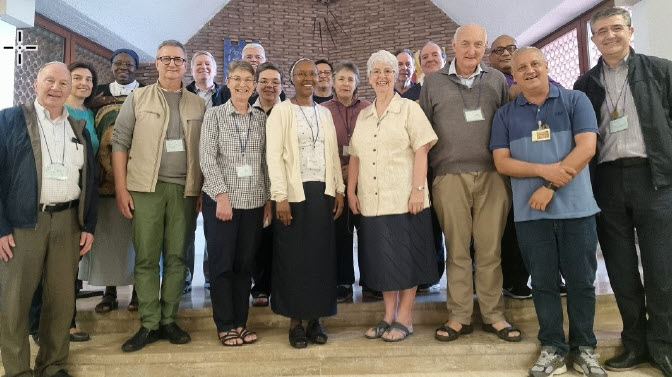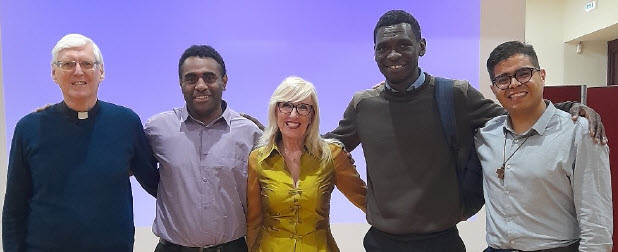 ---
Euroinfo
From Paris, the June edition of Euroinfo reports on Intercession ministry, Covid memorial in Dublin, Yaoundé's Laudato Si' project, Moncalieri community, Education Forum planning and coming events. To download, click here or go to Members' Page. [Jun 09]


---
Mary Street get-together
Members of the Maryvale/Montbel and Villa Maria communities joined with the Marist Brothers of Champagnat House to celebrate the Jun 06 Solemnity of St Marcellin Champagnat.
Pictured beow is community leader, Br Michael Green FMS, welcoming the visitors in the Brother's chapel and who later spoke of St Marcellin during the homily, and the celebratory meal which followed the Mass.
The two retirement communities of Champagnat House and Montbel were opened within a month of each other in 2009.
(See also 'Champagnat Day' below). [Jun 07]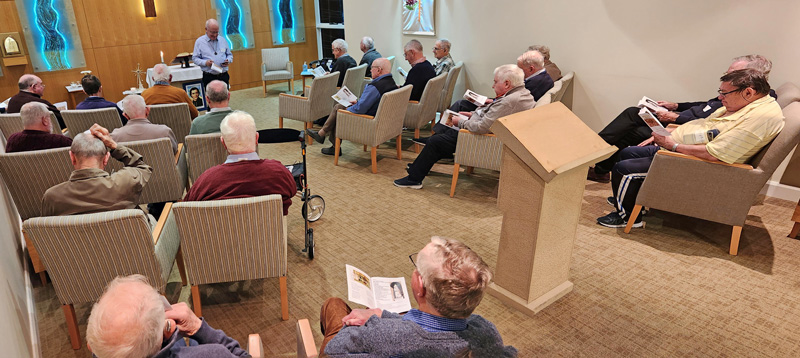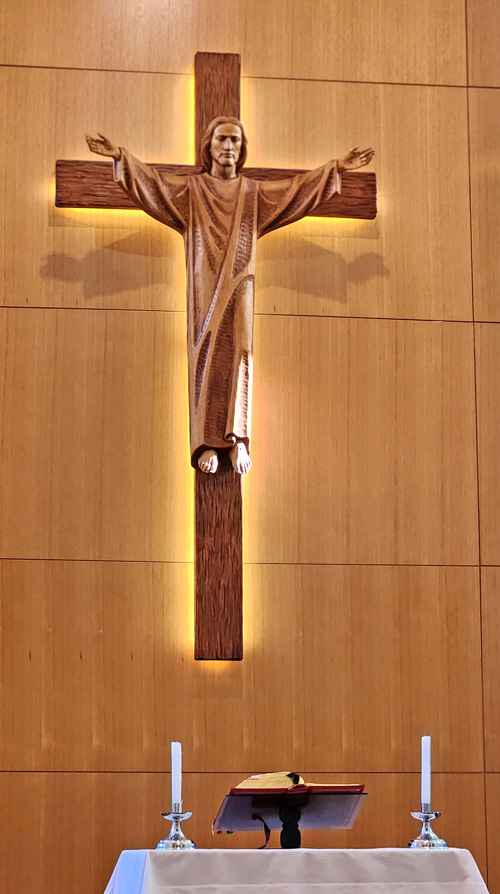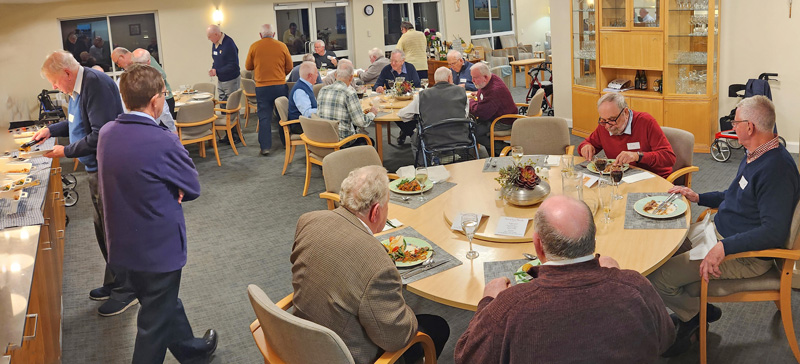 ---
Champagnat Day
Jun 06 marks the anniversary of the death in 1840 of St Marcellin Champagnat, Founder of the Marist Brothers. Fr Justin Taylor SM in his biography of Society of Mary Founder, Jean-Claude Colin,(Ch 15: 'End of the beginning, 1839-40) describes some of the last days of Fr Marcellin: '...on Ash Wednesday, 4 March 1840, Marcellin Champagnat was afflicted with a violent pain in the kidneys, which continued until his death. He now set about making his last dispositions...
'On 18 May, Marcellin dictated his 'spiritual testament'. It is a document that breathes the holiness of the man. Addressing his 'very dear brothers' the dying Champagnat emphasised the unity of the Society of Mary in three branches...
'From 24 to 25 May, (Jean-Claude) Colin was at the Hermitage to say farewell. On 6 June 1840, Marcellin Champagnat died at the age of fifty-one. He was buried two days later.'
Below: Portrait of Marcellin Champagnat in the church of Marhles near his birthplace in France. | The bedroom of Marcellin at the Hermitage, with his bed in which he died, and the chair used by visitors, including Jean-Claude Colin. [Jun 06]

---
MMC winter newsletter
The winter edition of the Marist Mission Centre Newsletter is now available with updates on MMC projects in Asia and the Pacific. To download, click here or fo the MMC website: click here. Also at Members' Page. [Jun 06].
---
Fr John Burke farewell
Marist confreres and other friends gathered at Holy Name of Mary church, Hunters Hill, on Jun 05 to farewell Fr John Burke SM who died on May 24.
District Superior, Fr Tony Corcoran, presided at the Requiem liturgy and Maryvale/Montbel community leader, Fr Paul Mahony, at the graveside ceremony at Macquarie Park cemetery, North Ryde.
See also May news. May Fr John rest in peace. [Jun 05]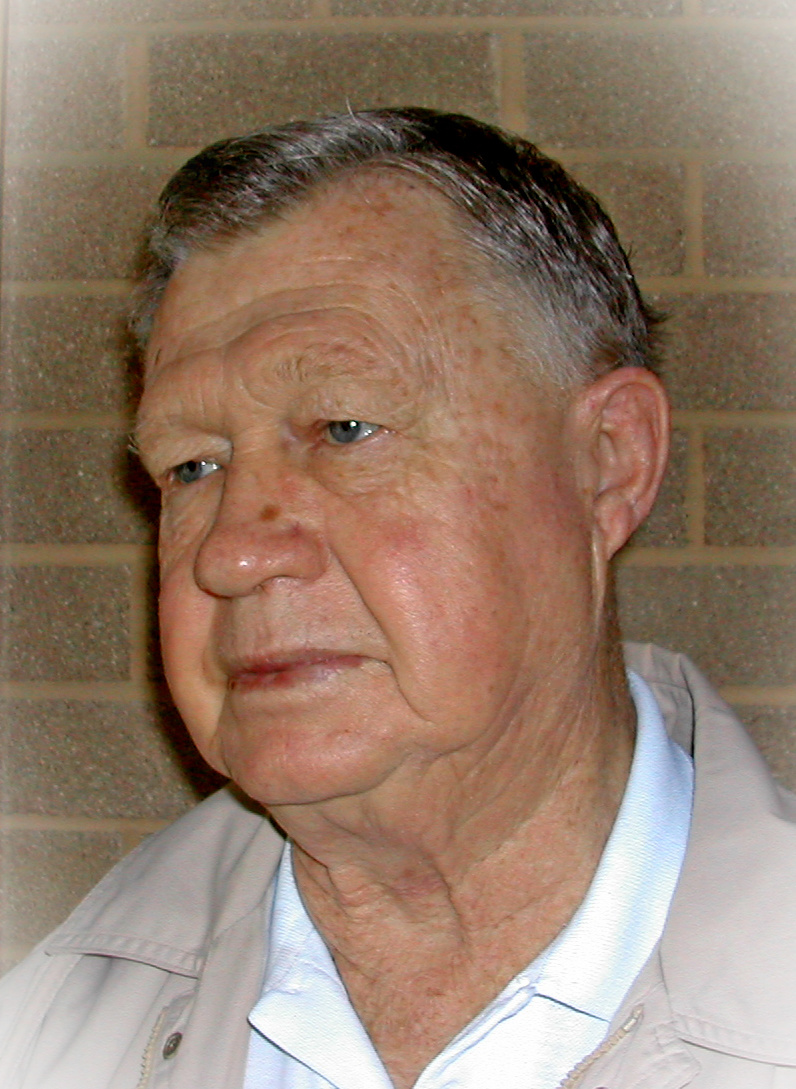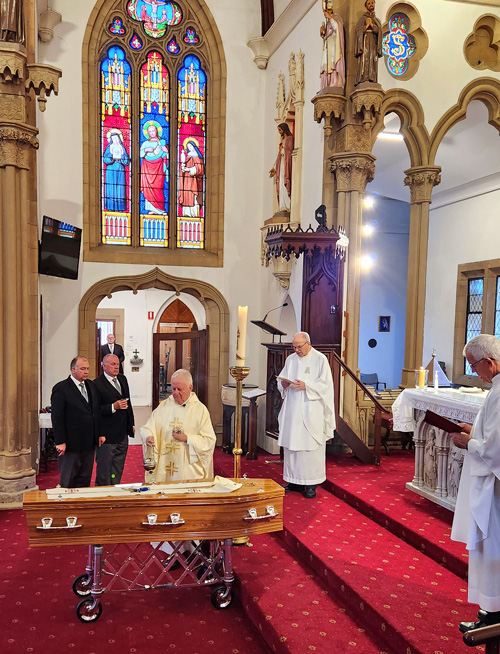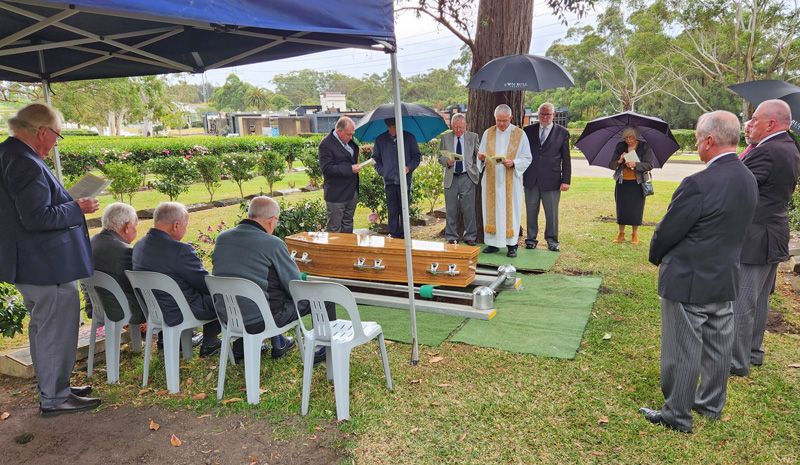 ---
Superior-General's Reflection
This month's reflection from Superior-General, Fr John Larsen SM, speaks of Marists working in parish ministry and the fundamental importance of Marist community life. For the reflection click here or go to Superior-General's Page. [Jun 02]

---
Indigenous elder in Rome
Assistant-General, Fr Ben McKenna SM, reports on the visit to Rome of Indigenous Australian elder, Dr Miriam-Rose Ungunmerr Baumann AM: 'It was a privilege to attend her talks and to meet her personally.' Dr Miriam-Rose is a guest of the Australian Embassy to the Holy See: She is pictured below with Fr Ben,a fellow-Australian. [Jun 02]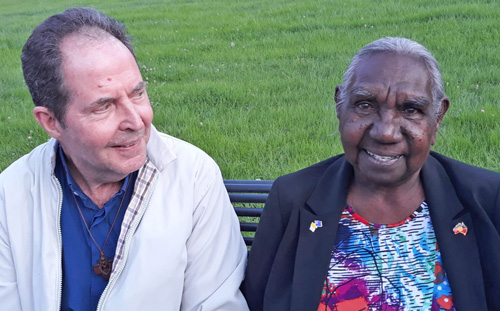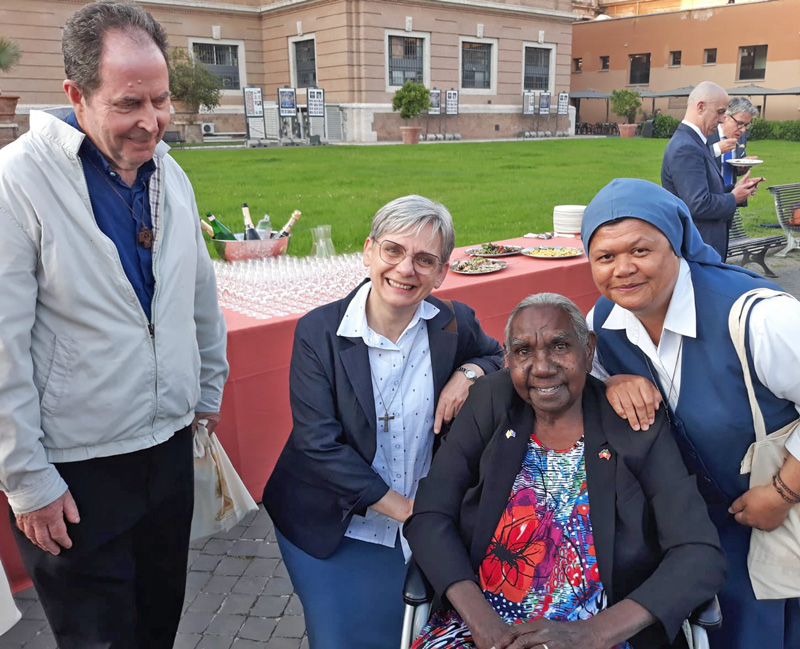 ---