---
For previous years, go to News menu, above
---
---
District Circular
The August issue of the District Circular is available at the Members' Page. [Aug 27]

---
Marists at Campion College event
Four Marists were among the guests at Campion College, Toongabbie, NSW, on Aug 24 for the opening and blessing of the new Academic Centre and Gina Rinehart Library. Campion faculty member, Fr Luke Holohan SM, was joined by District Superior, Fr Tony Corcoran, and Frs Michael Whelan and Garry Reynolds.
The College precinct is on the site of the former St Peter Chanel's Scholasticate, established in 1938 and formation centre for generations of Marists.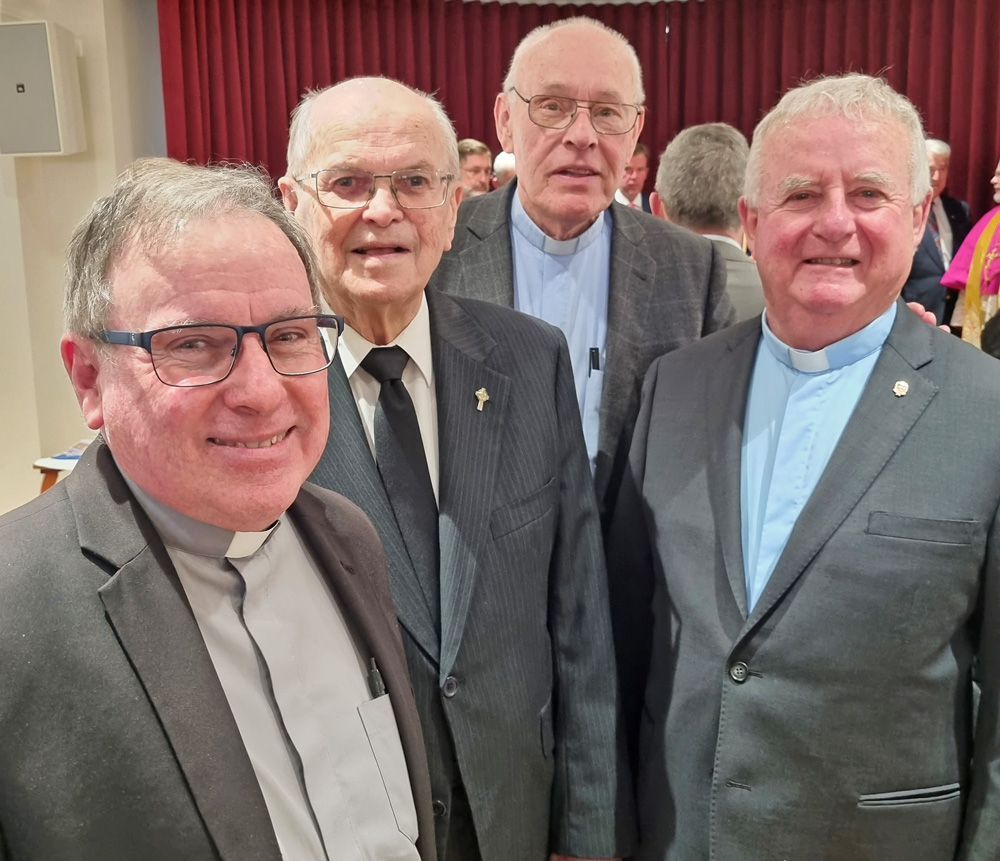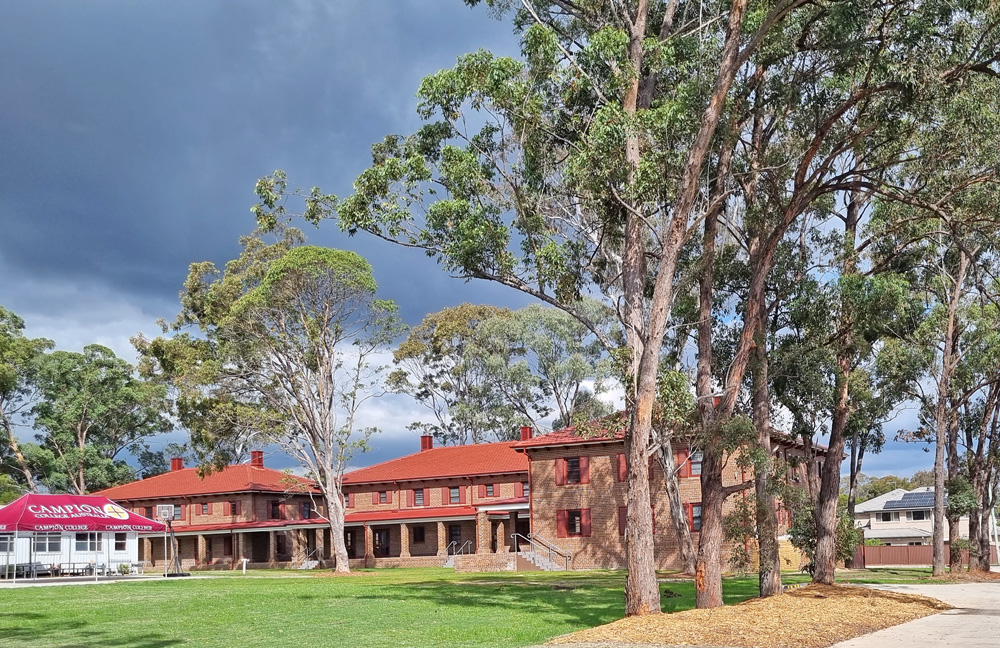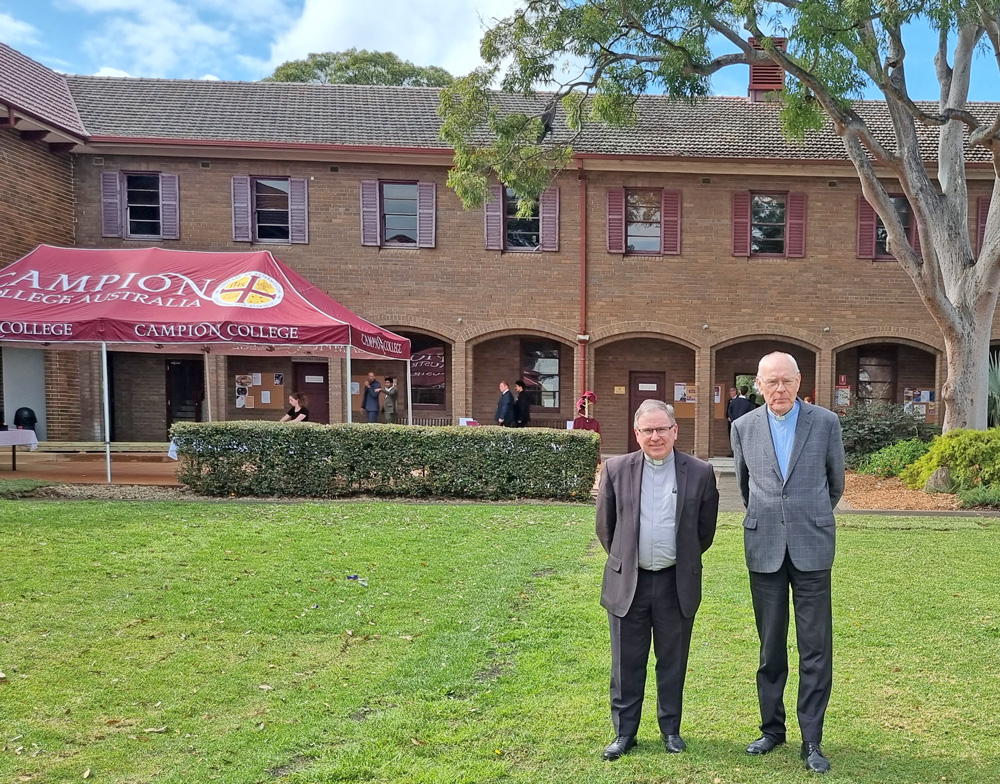 Above: Frs Luke Holohan, Garry Reynolds, Michael Whelan and Tony Corcoran.... and in the College grounds. Below: Interior and skylight of the Gina Rinehart Library. | Campion College president, Dr Paul Morrissey , in the new centre's seventy-seat lecture theatre.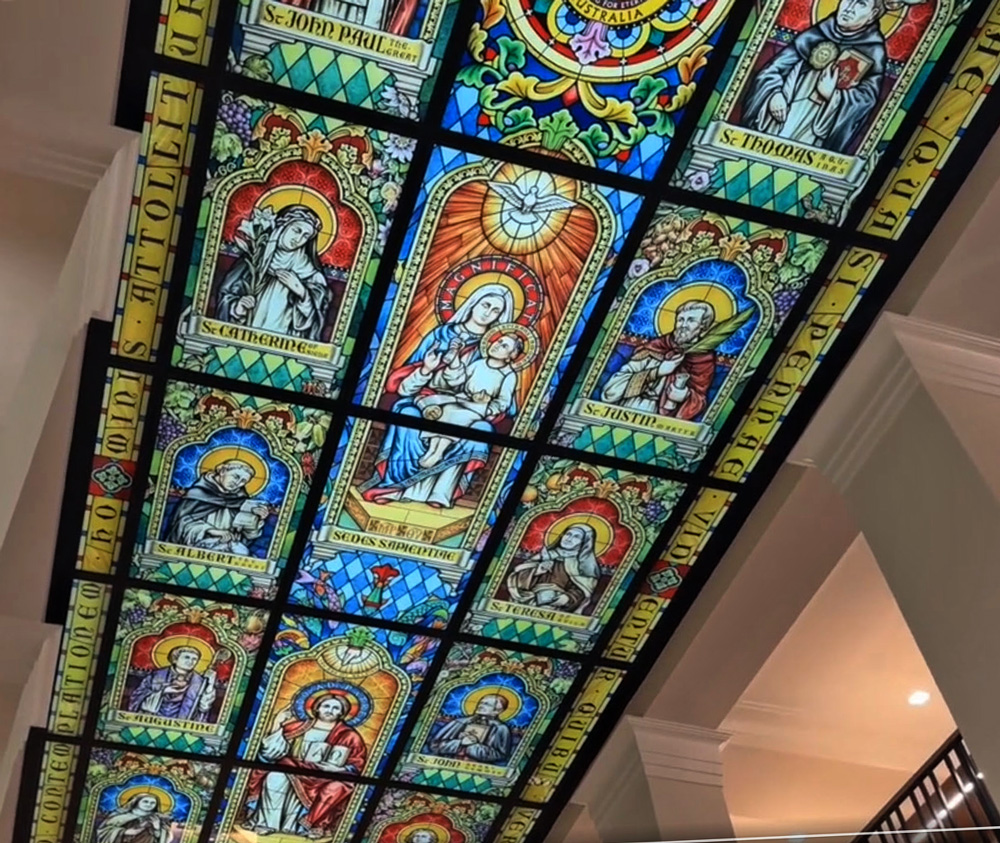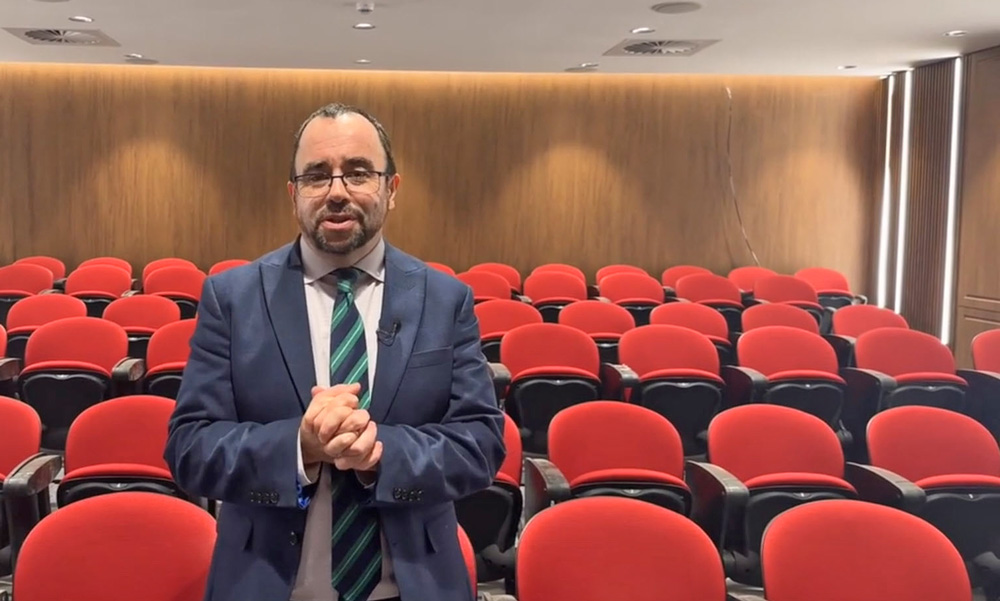 ---
Visit of Fr Lauro da Silva
Local Marists have welcomed Brazilian confrere, Fr Lauro Da Silva, currently making a short visit from Rome to Australia. Fr Lauro recently spent time with the international mission community at Marayong in Sydney's outer west before leaving on a break with Fr Paul Mahony, former missionary in Brazil. On his return to Rome he will complete postgraduate studies while living in the Casa di Maria theologate community.
Fr Lauro is pictured below at Tamworth, NSW, and in a flashback to his first Mass in Brazil in Nov 2016. [Aug 23]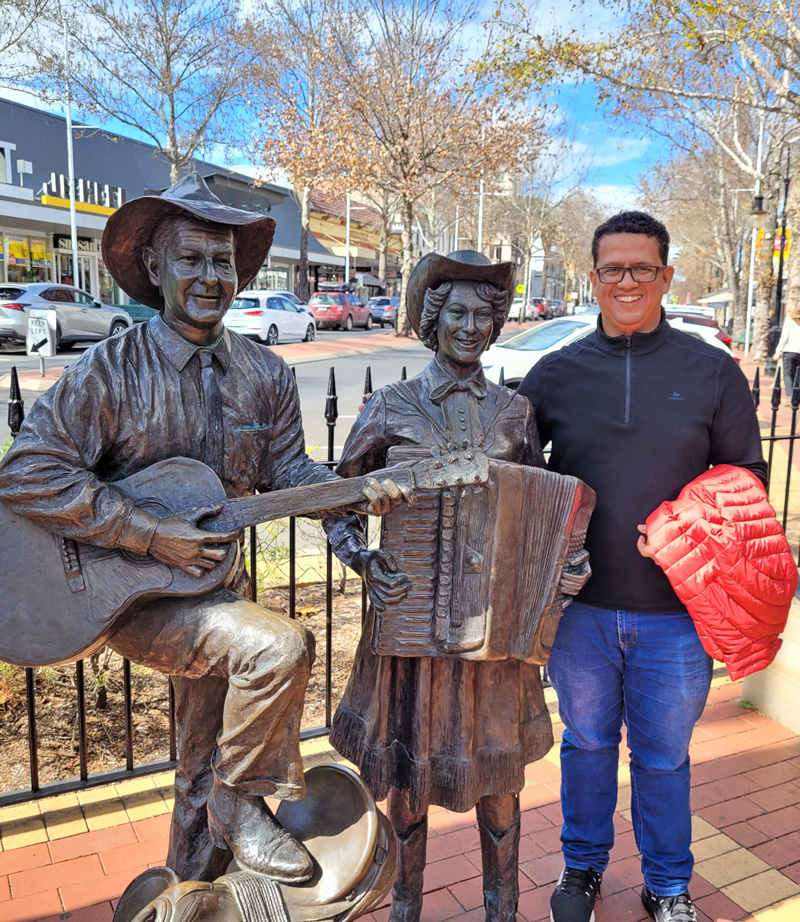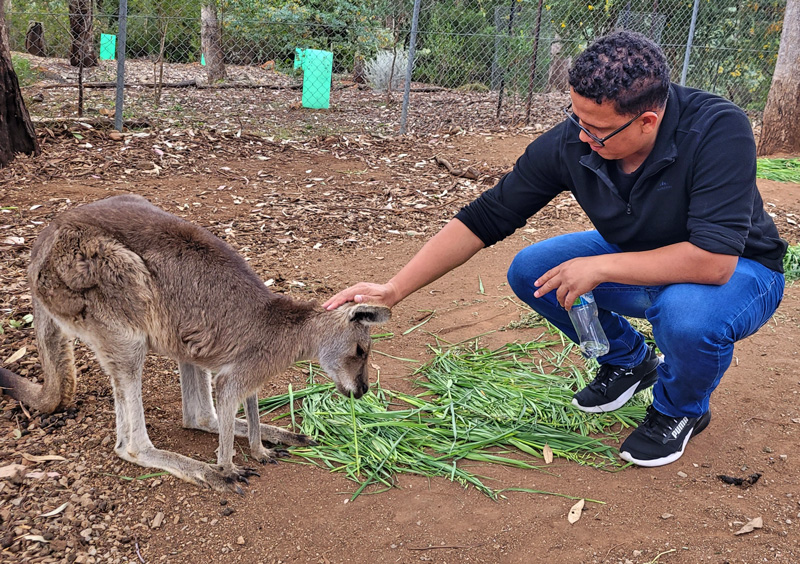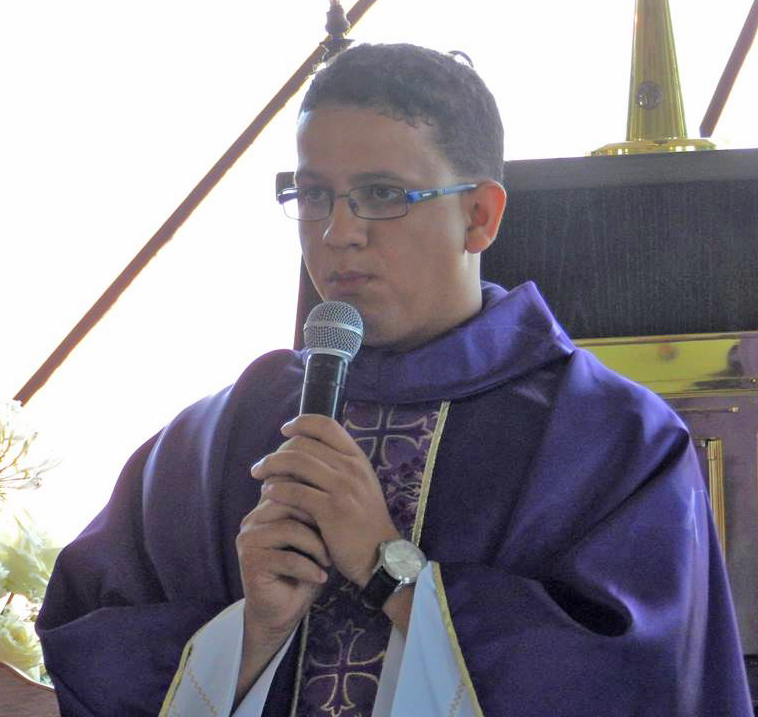 ---
Felling continues
In a project to protect the homes of neighbouring residents in Rocher Ave, Hunters Hill, felling continues of a line of trees on the eastern border of Villa Maria monastery precinct. The extensive grounds remain a haven for hundreds of pines, cedars and indigenous trees and vegetation as well as a wide variety of native bird life. [Aug 23]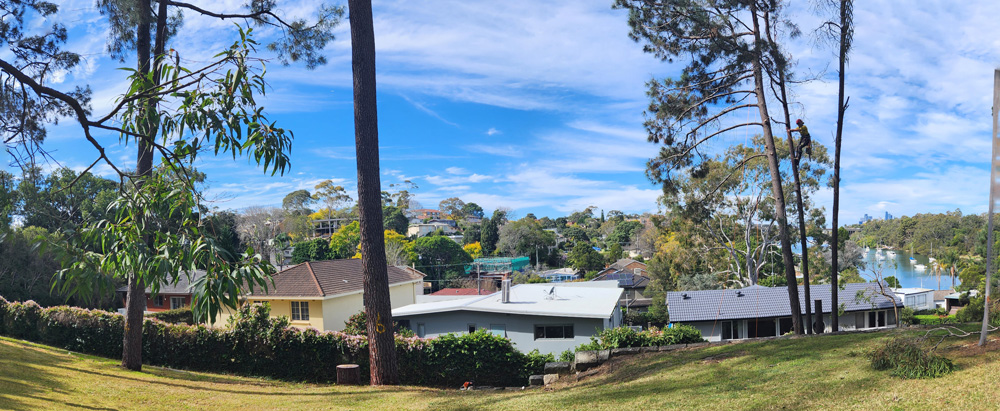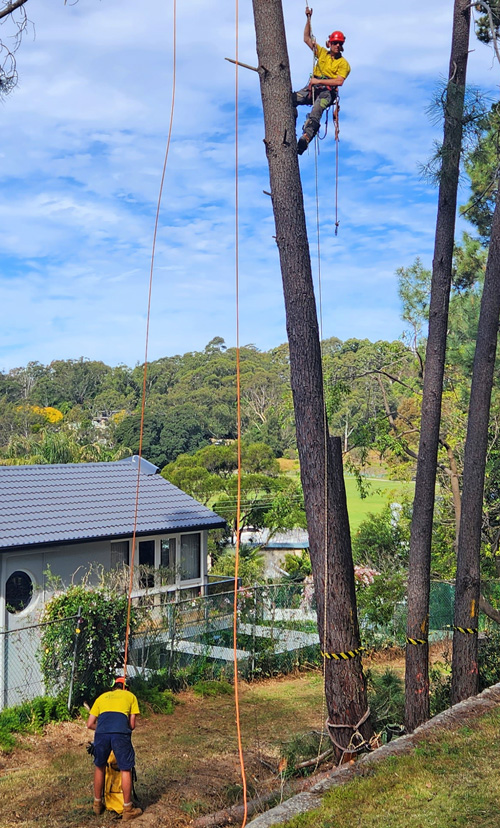 ---
Brothers celebrate Assumption
Members of the Villa Maria monastery community, Hunters Hill, joined the Marist Brothers of nearby Champagnat House on Aug 15 for the Assumption feast day, a major celebration day for the Brothers. The Eastwood community of Brothers was also present for the Mass and dinner where guests were welcomed by community leader, Br Michael Green FMS
Pictured below: Marist Fathers' District Superior, Fr Tony Corcoran SM, presiding at the Eucharist. | Br Wayne Threlfo's Assumption art. | Dinner celebration. [Aug 21]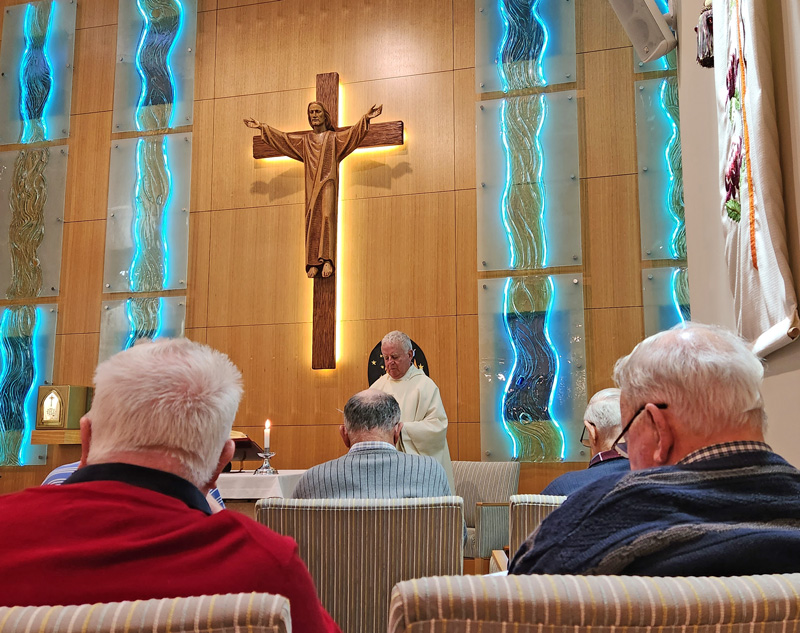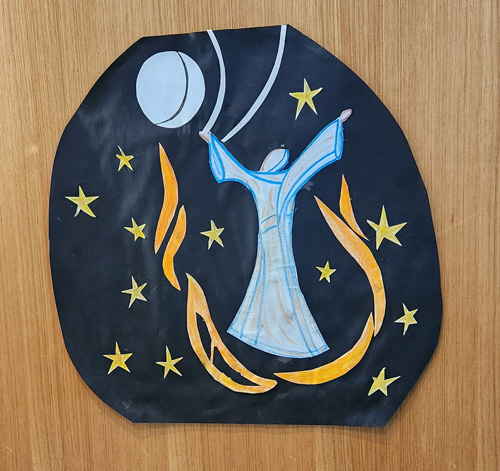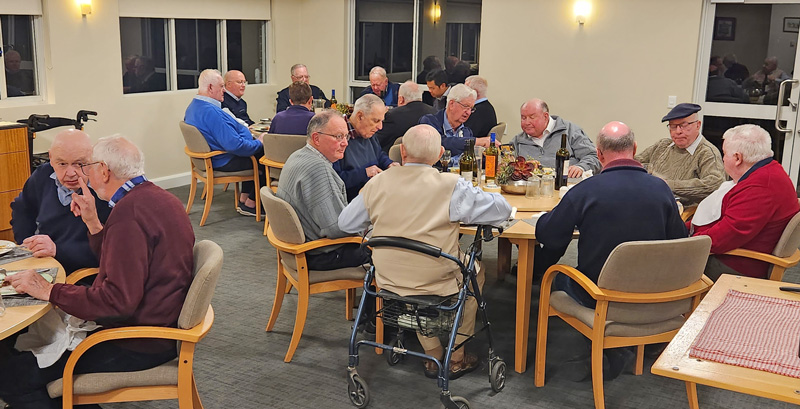 ---
Pacific news
From Suva the latest News Bulletin from Oceania Marist Province reports on graduations at Tutu, confreres at EAPI, Oceania representatives at Laity gathering in England, visitation in NZ and events in the Solomons and Tonga and World Youth Day.
To download, click here or go to Members' Page. [Aug 13]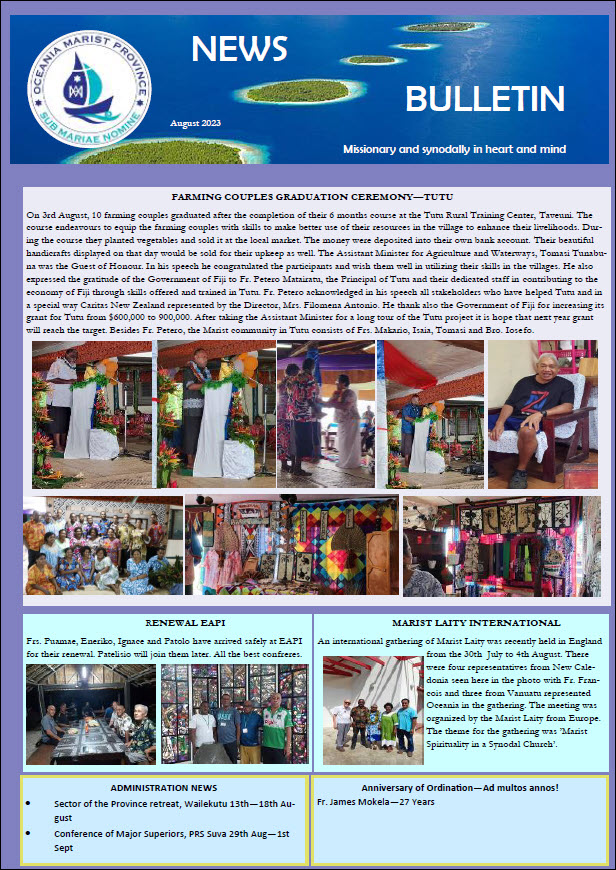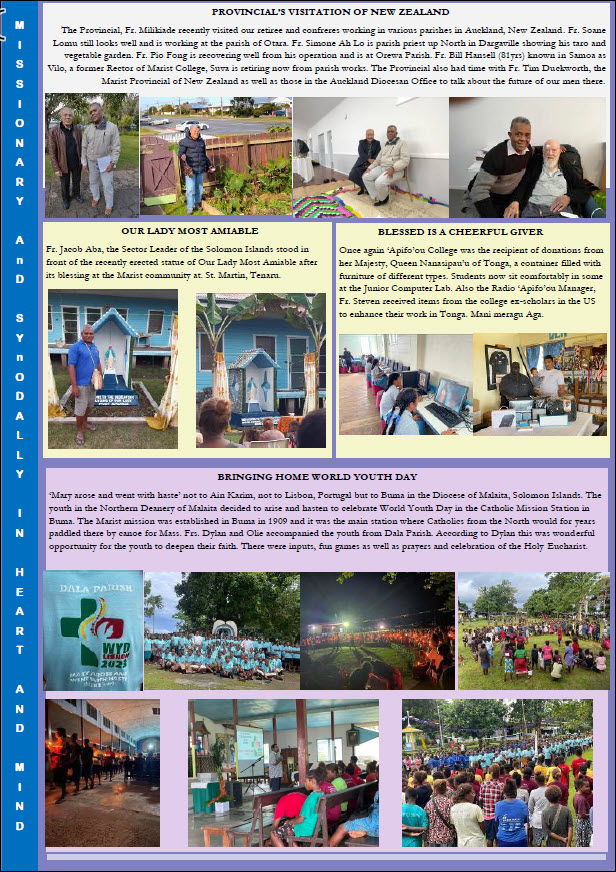 ---
Euroinfo
The August issue of Euroinfo reports on the Colinian Renewal Program and Provincial Retreat at La Neylière and seminarians' pastoral experience in London.
To download, click here or go to Members' Page. [Aug 13]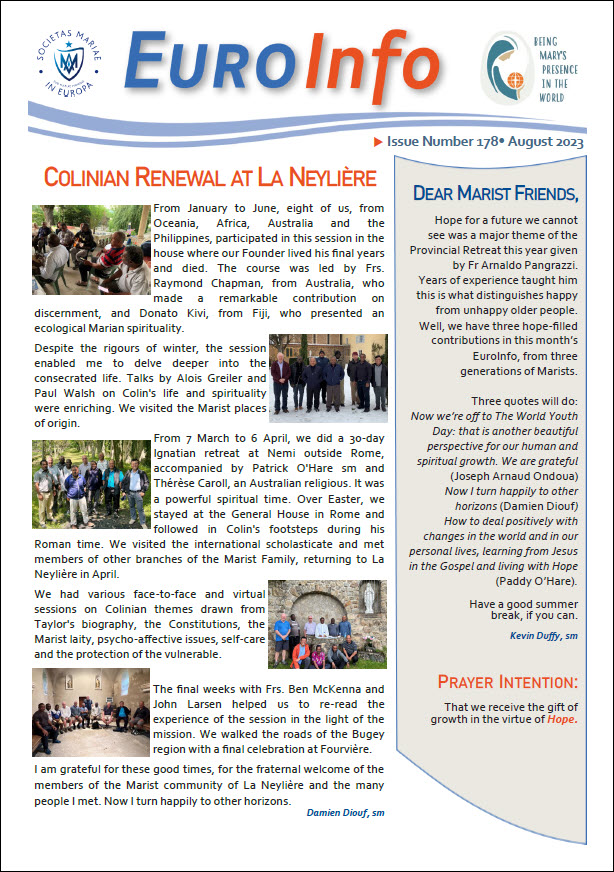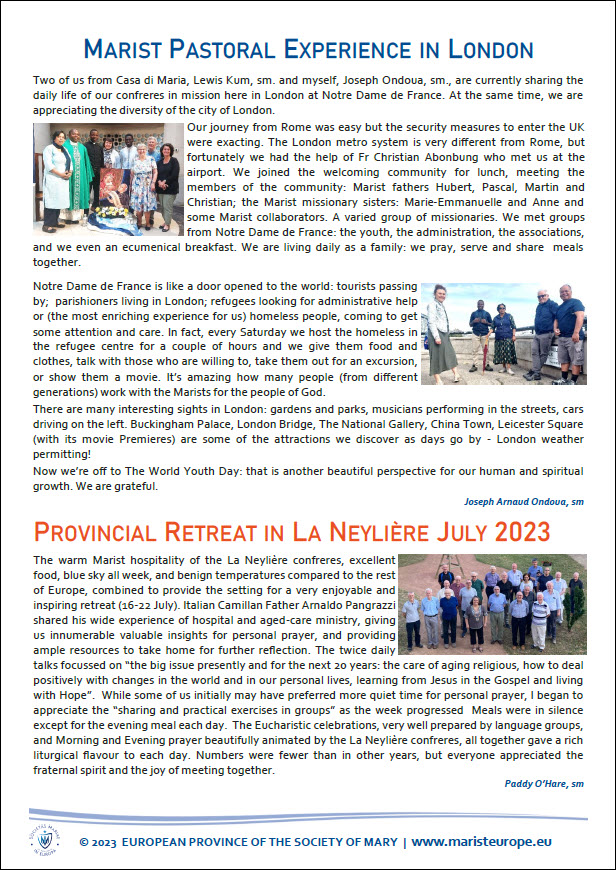 ---
JPICC's 'Voice' Project
Marist Laity Australia and the Marist Family Justice, Peace and Integrity of Creation Committee are collaborating to host an event focussing on the forthcoming 'Voice' referendum. In a 'Q&A' style session at Hunters Hill on Sep 03 social affairs commentator, Kerry O'Brien, will respond to issues raised by participants.
Planning for the event was the main agenda item for the JPIC committee's hybrid meeting on Aug 05. For further details (registration required), click here. [Aug 09]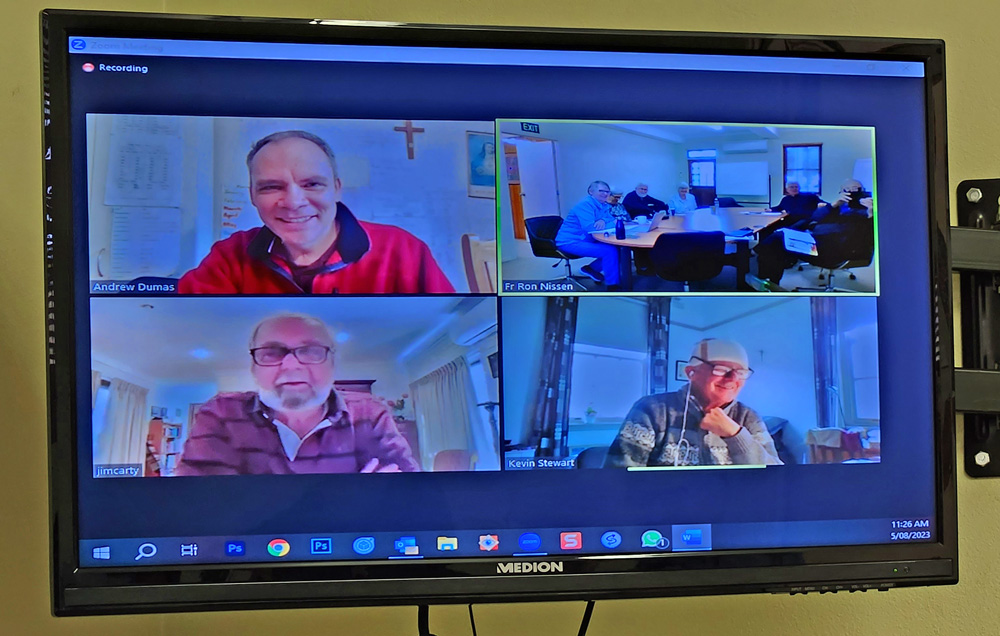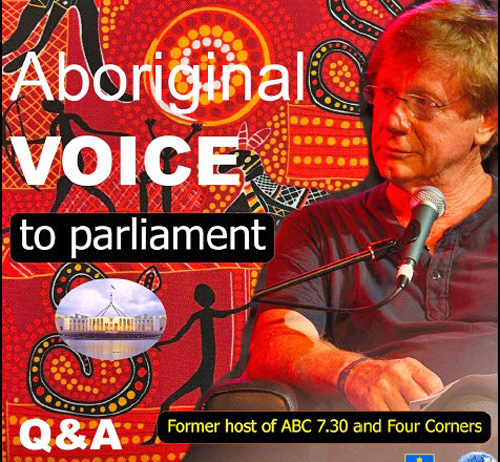 Above: The Marist Family JPIC Committee in session. From left, Fr Paul Mahony SM, Cathy Larkin (MLA), Sr Grace Ellul SM, Fr Kevin Bates SM and Sr Margaret Tisch SMSM. On Zoom screen: Andrew Dumas (MLA), Frs Jim Carty SM and Kevin Stewart SM. Not pictured: Fr Ron Nissen SM.
---
Solemnity of St Mary of the Cross MacKillop

O God, source of all goodness, who have shown us in Saint Mary a woman of faith living by the power of the Cross, teach us, we pray, by her example to live the gospel in changing times and to respect and defend the human dignity of all in our land.
Through our Lord Jesus Christ, your Son, who lives and reigns with you and the Holy Spirit, God forever and ever. Amen.

Collect of the Mass of St Mary of the Cross MacKillop, Aug 08.
---
Japan missioners honoured
Two groups of Japanese paid recent visits to the missionaries' cemetery in the grounds of Villa Maria monastery, Hunters Hill, to honour Marists who had worked in their country. On Aug 06 (anniversary of the bombing of Hiroshima in 1945), Atsuko Arai with a few friends visited the graves of Frs John and Tony Glynn and Syd Nugent, the latter two who were missionaries in Nara Prefecture.
A former English student of Fr Jim Carty in the 1970s, Atsuko became a talented singer and pianist and foundress of the Matusbokuri Children's choir which toured Australia and became friends of Frs Tony and Paul Glynn. She joined Fr Tony's efforts in Reconciliation initiatives between Australia and Japan.
Atsuko's choir is currently on a concert tour in Australia. She is pictured below in prayer at the graves of Frs Tony Glynn and Syd Nugent.
An earlier visit on Aug 04 was paid another group of Japanese with special connections to Fr Syd Nugents', pictured further below, to lay flowers at his grave in anticipation of his anniversary on Aug 08.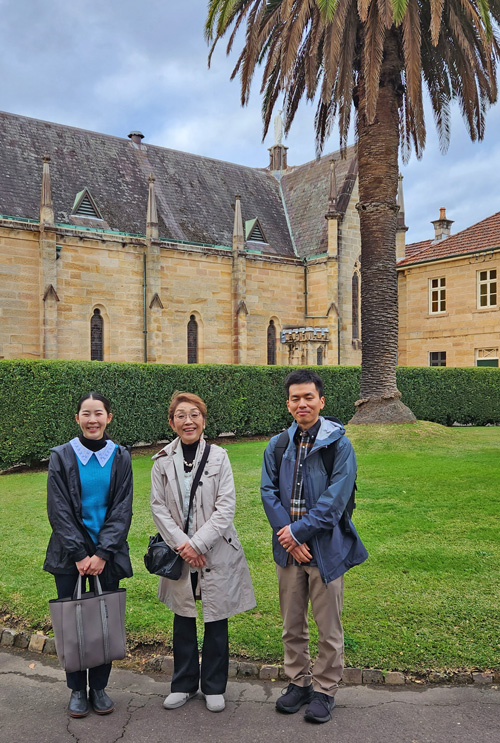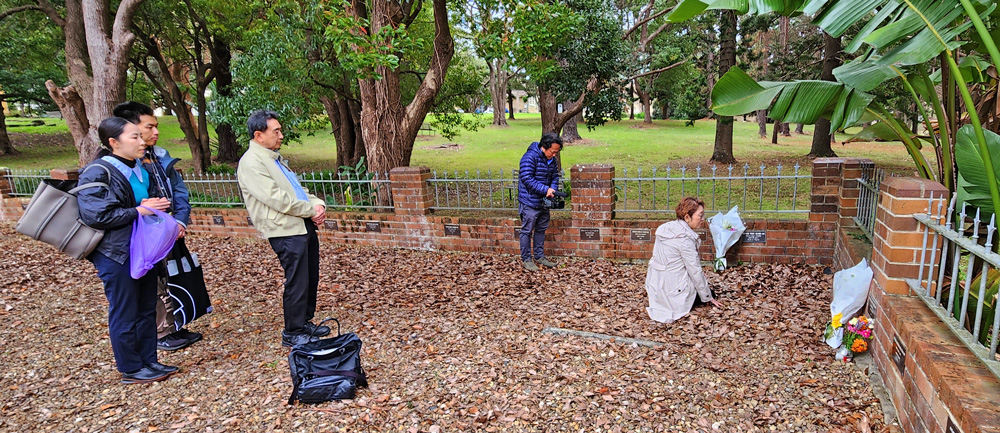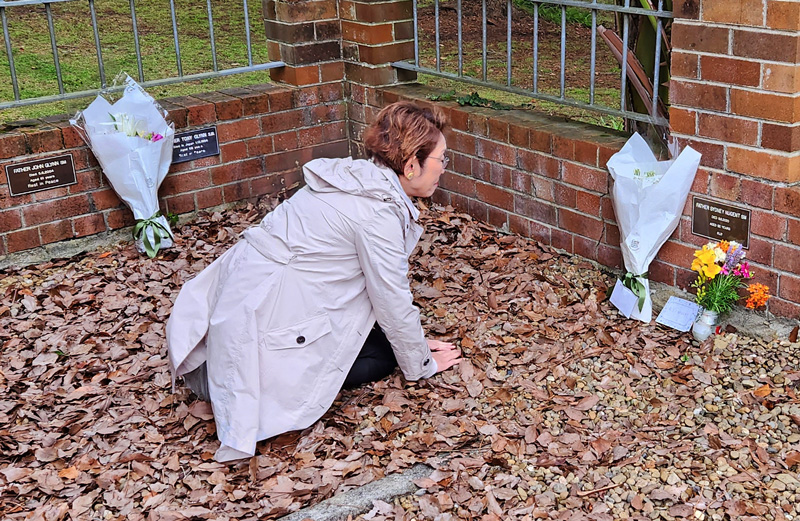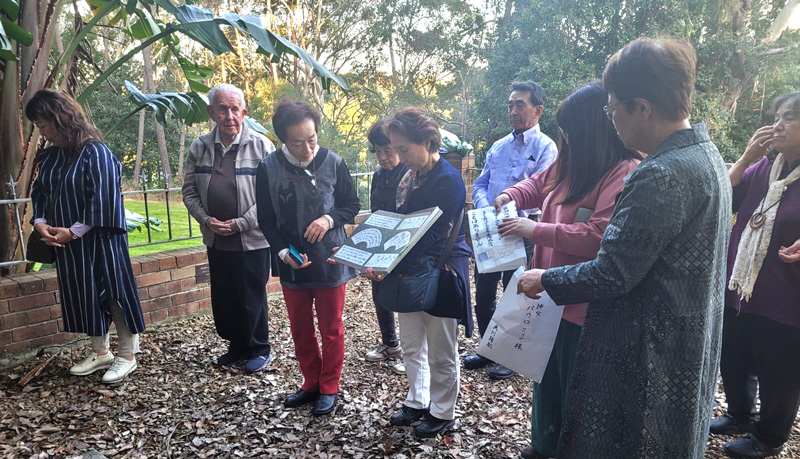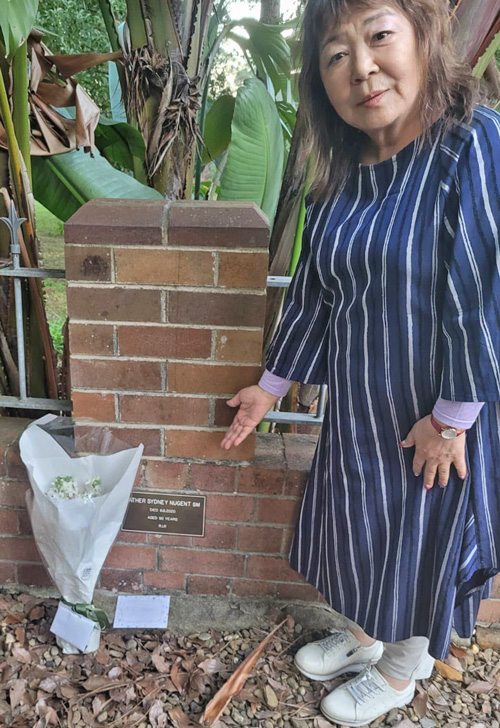 ---
Founder's birthday
Aug 07 marks the anniversary of the birth in 1790 of Marist Founder, Jean-Claude Colin, in the tiny hamlet of Barbery, central France. Orphaned before the age of five, the shy Jean-Claude was to emerge as the leader of the Society of Mary, advisor to Popes and model of a unique way of living Mary's spirit in the revolution-torn world of his time. [Aug 06]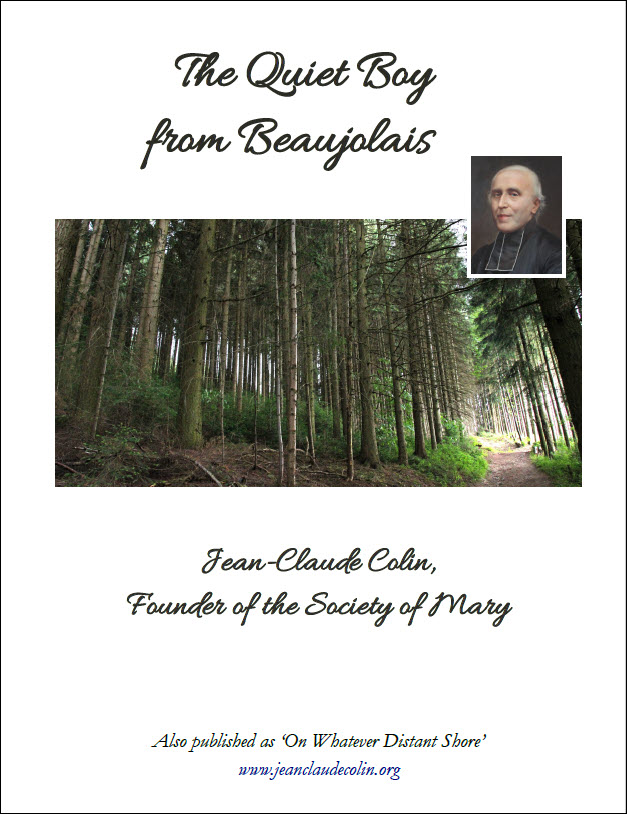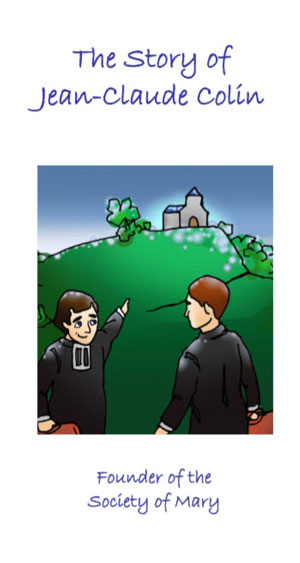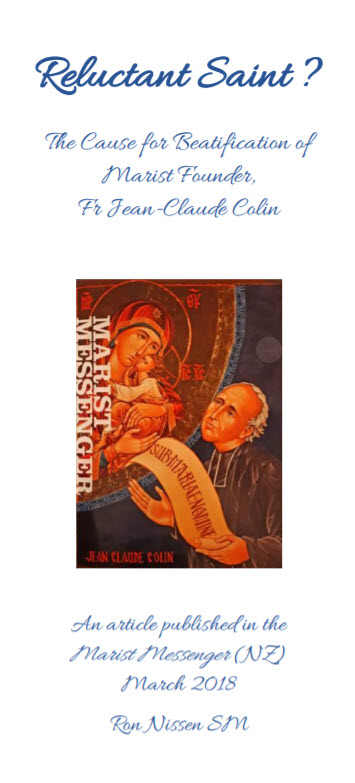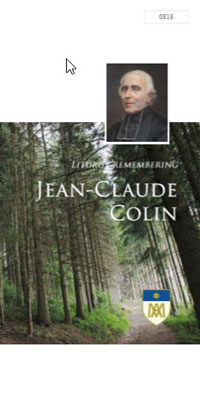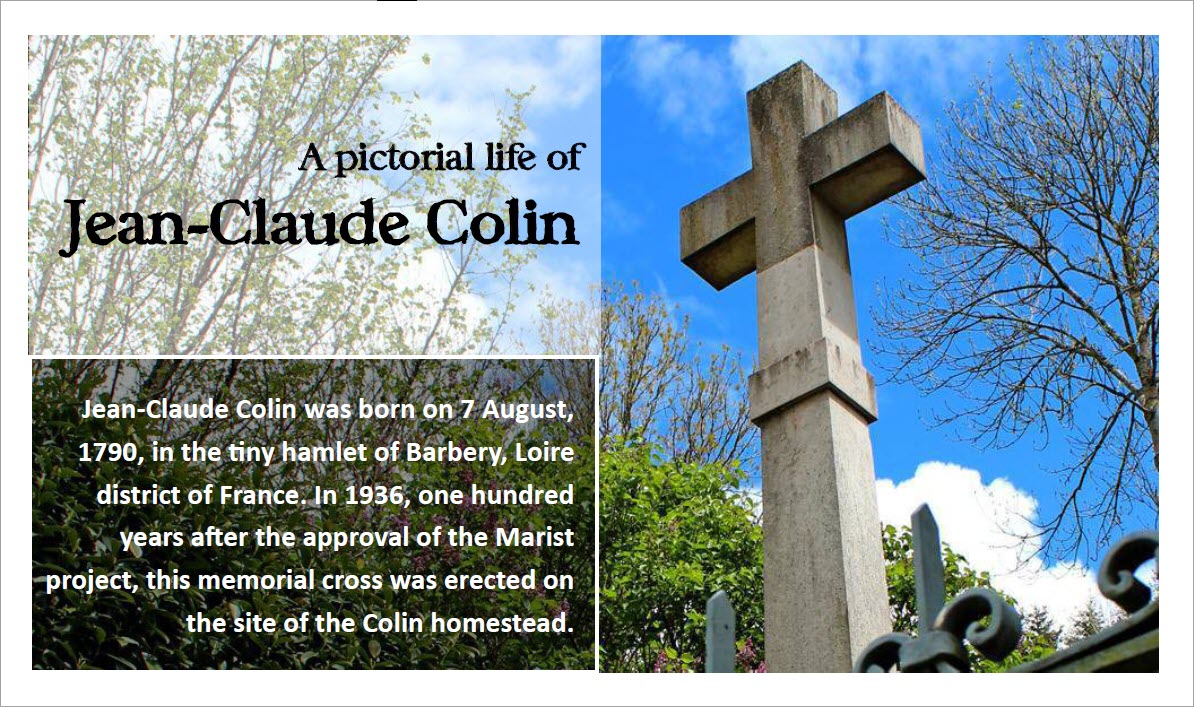 Below: Near the birthplace of Jean-Claude Colin: the forest of Barbery where the Colins would hide their parish priest from militant revolutionaries... and where a shy Jean-Claude would later take refuge for times of solace. | Inscription on the memorial marking the birth place of Jean-Claude Colin, Barbery, France | 'Forget-me-not' flowers growing at the foot of the Barbery memorial.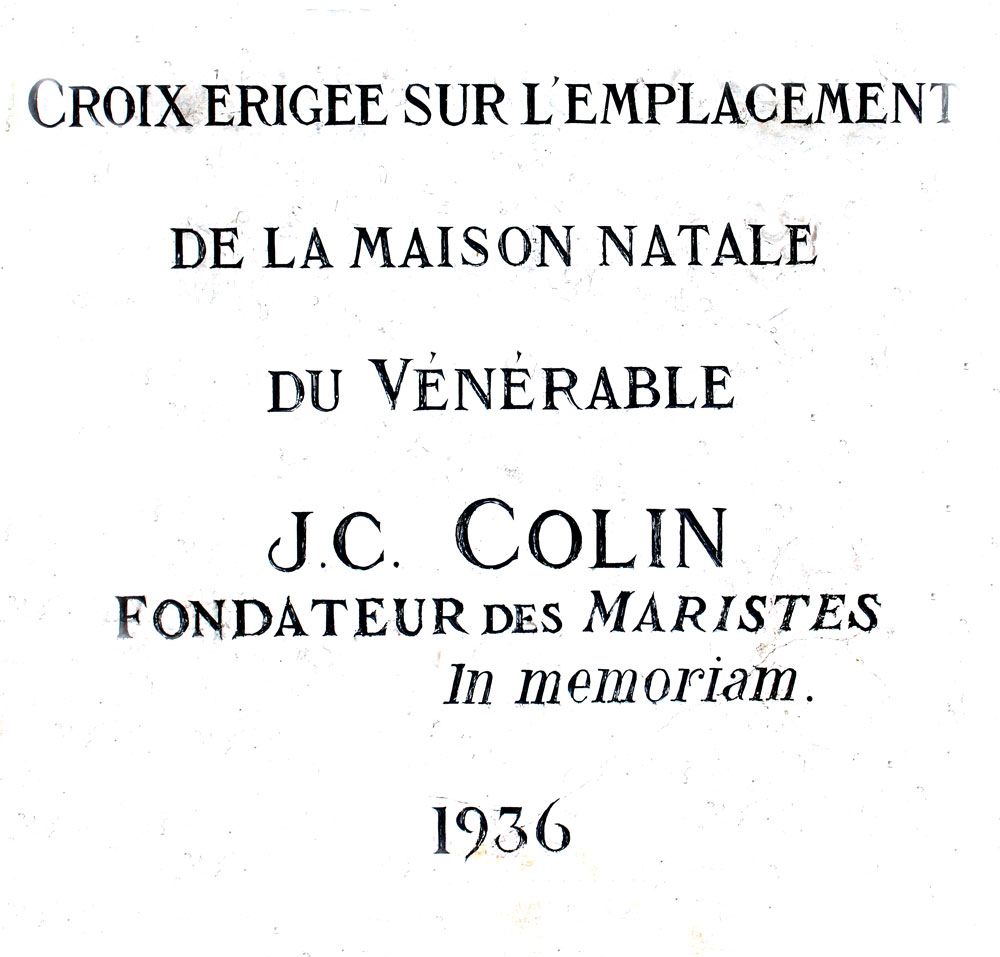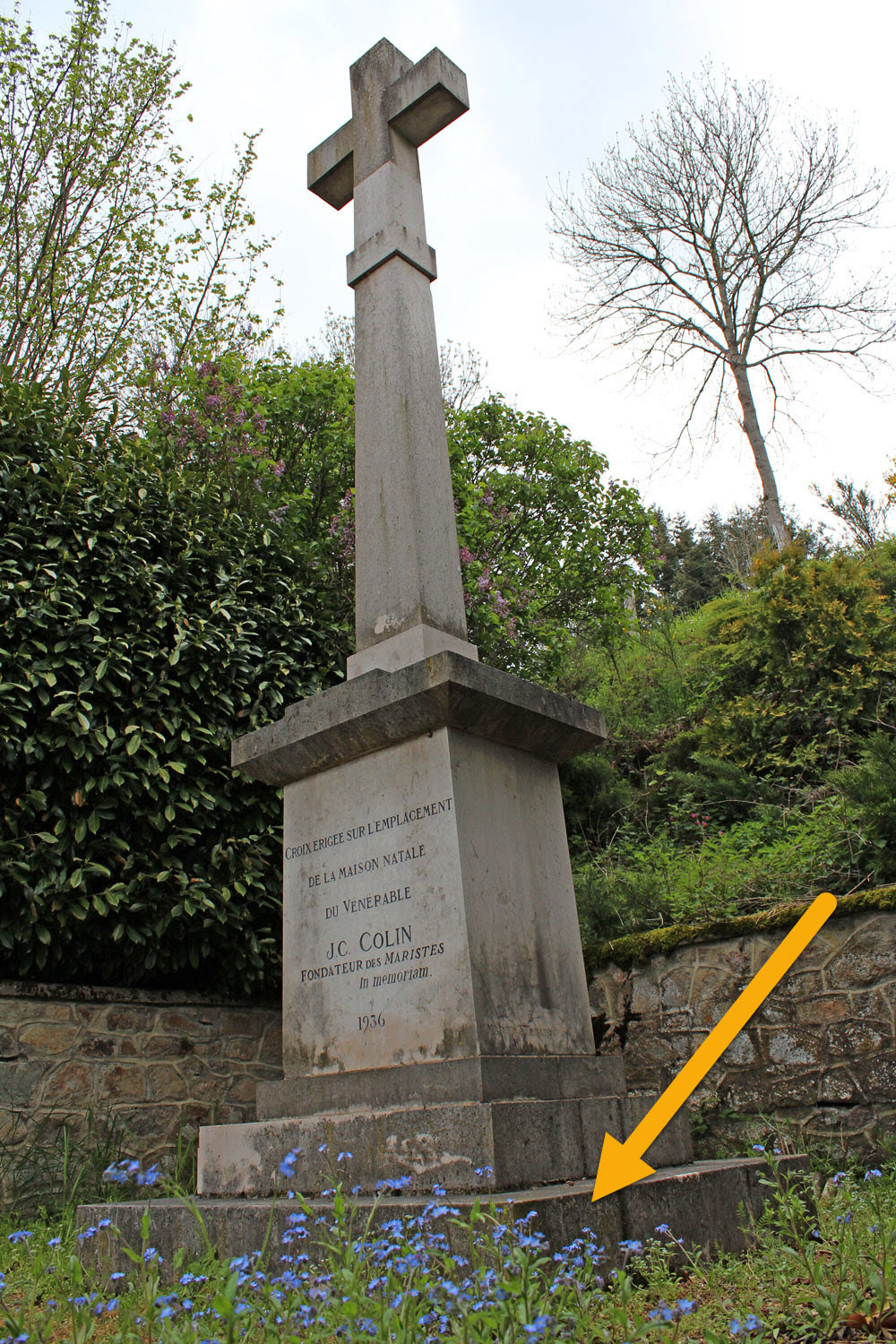 ---
Sister Clare turns 101
Last week at Southern Cross Aged Care, Marsfield, Sr Clare Francis SM, was wondering whether or not to be around for her 101st birthday on Aug 06. 'Yes, I think I will,' she decided. And she made it, much to the delight of the Marist Sisters and other members of the Francis and Marist families. Happy 101st birthday, dear Sr Clare!
Sr Clare is pictured below with birthday balloons and (flashback) with family and friends on her 100th in 2022. [Aug 06]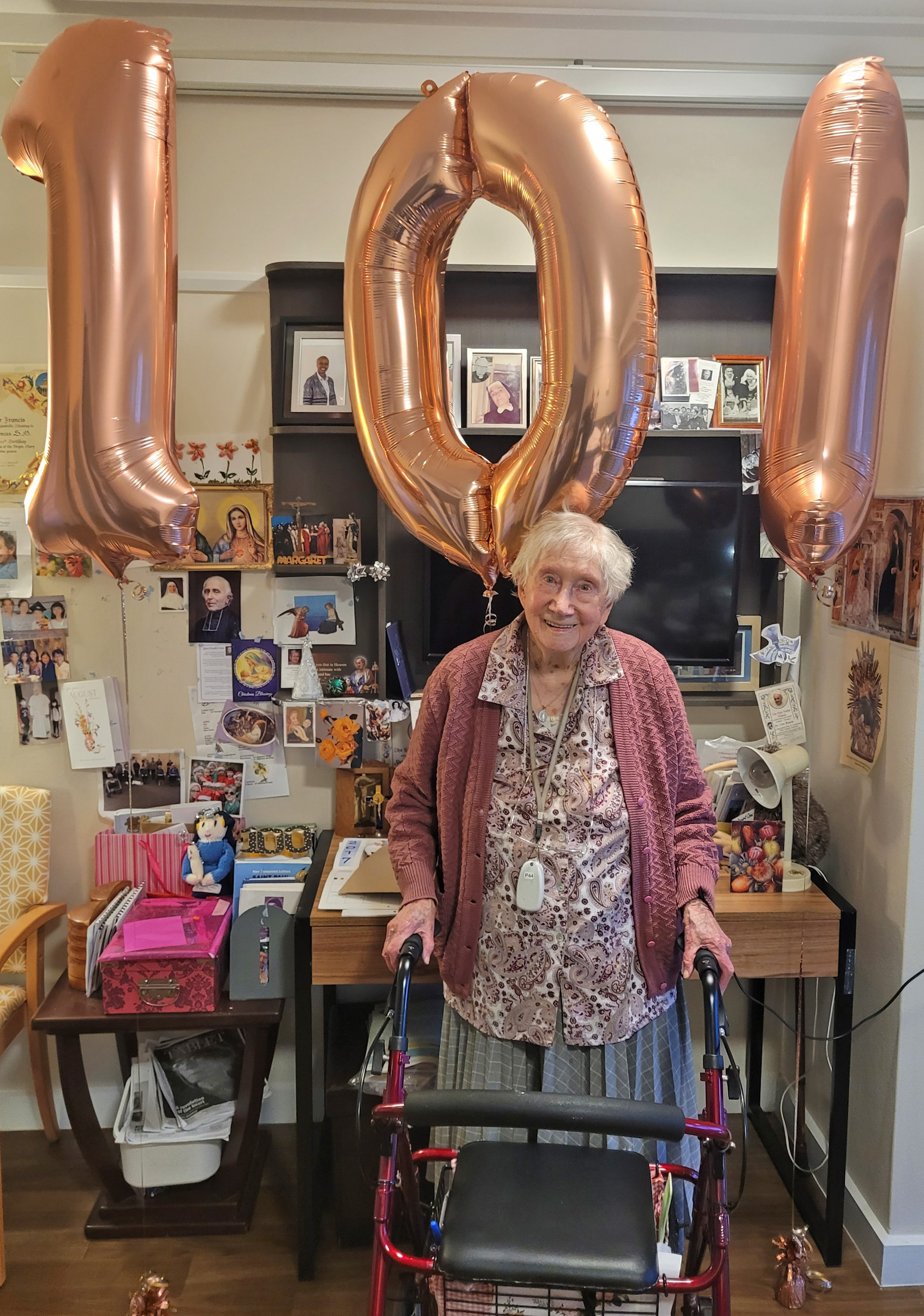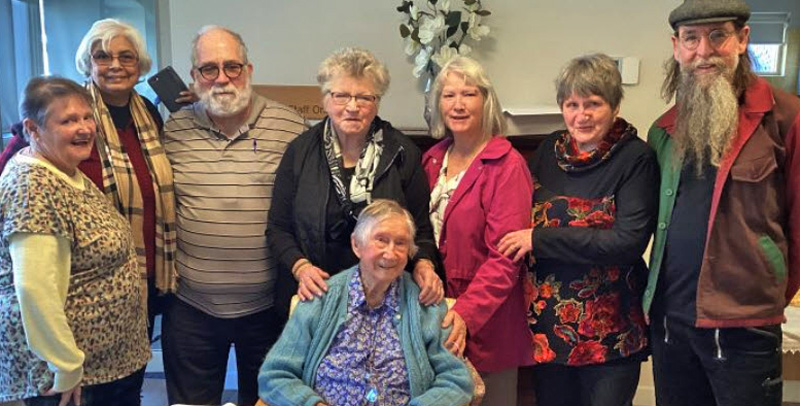 ---
Young Marists at WYD
Seminarians from the Marist International Theologate, Rome, were joined in Lisbon, Portugal, by Fr John Larsen (Superior-General), Fr Juan-Carlos PIña (Assistant-General) and other Marists for World Youth Day 2023. The events were preceded by an international gathering of Marists from the various branches of the Marist Family from across the globe. [Aug 05].
Below Back row, from left, Hansford Mane (Solomon Is), Frs John Larsen, Pat Brophy, Lauro Ferreira and Juan Carlos Piña; Front: David Emmanuel Vences Romero (Mexico), Manu Botabua (Fiji), Eduardo Limon (Mexico), Zulu Serop (PNG), Joseph Mijares (NZ). | Other photos sent by Joseph Mijares SM and Sr Mary SMSM.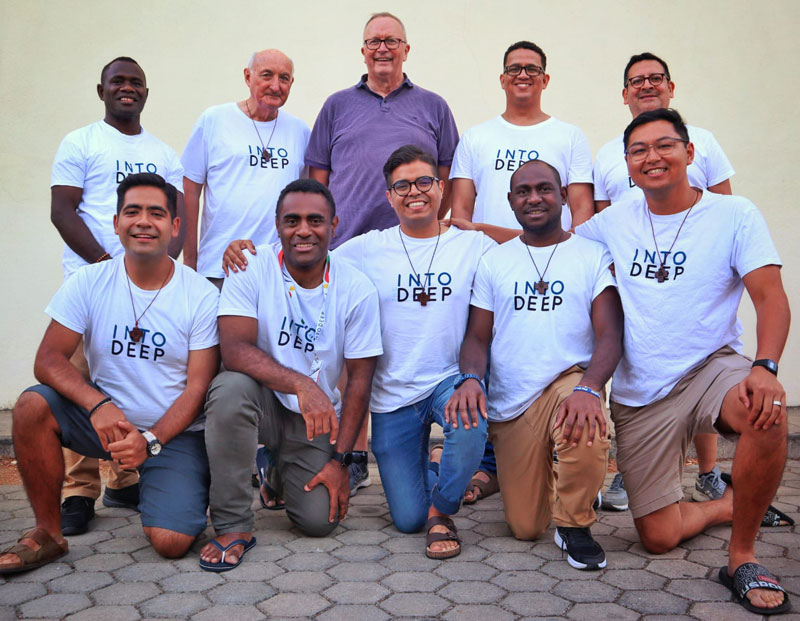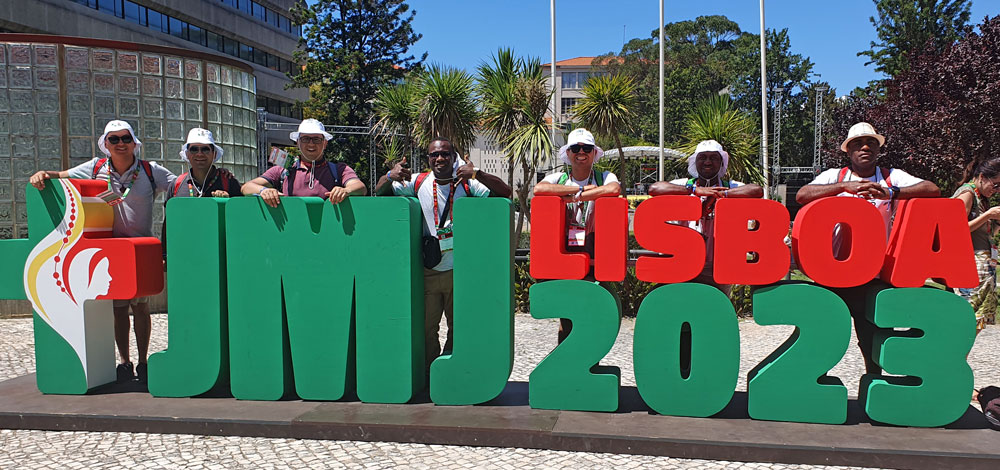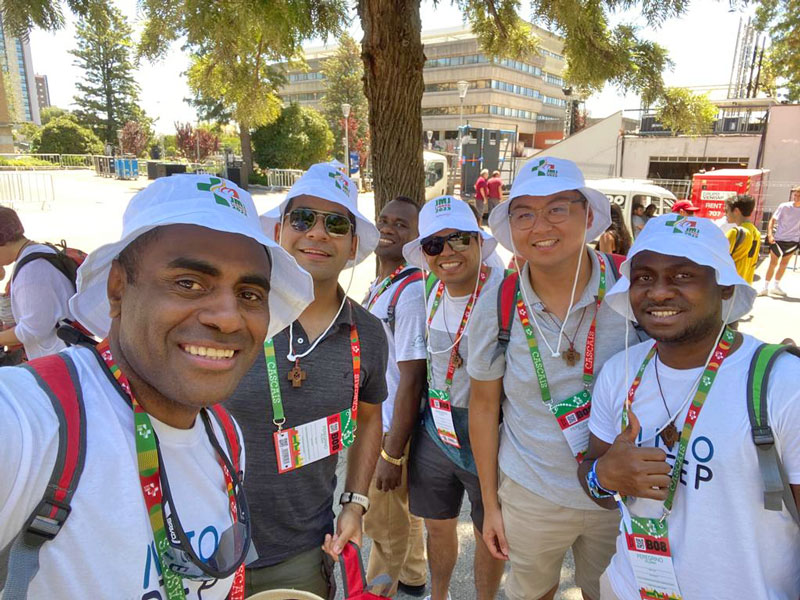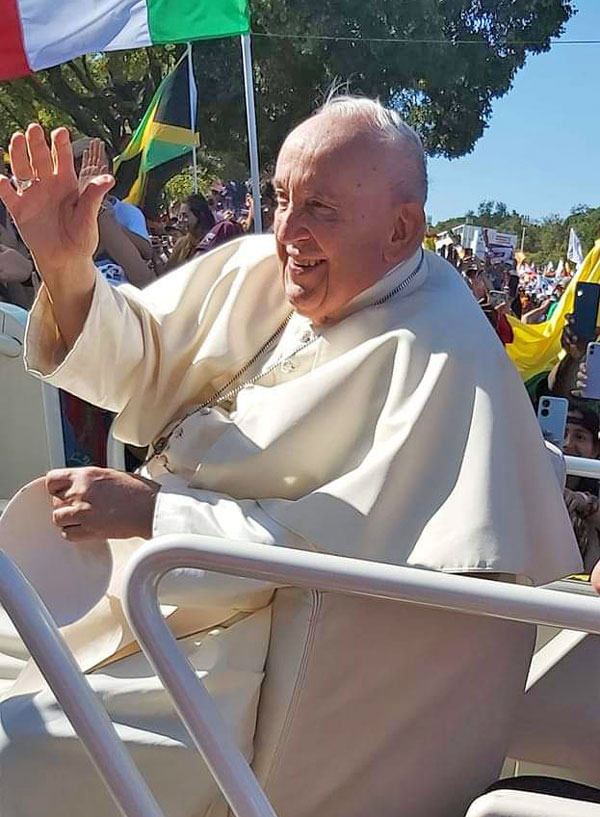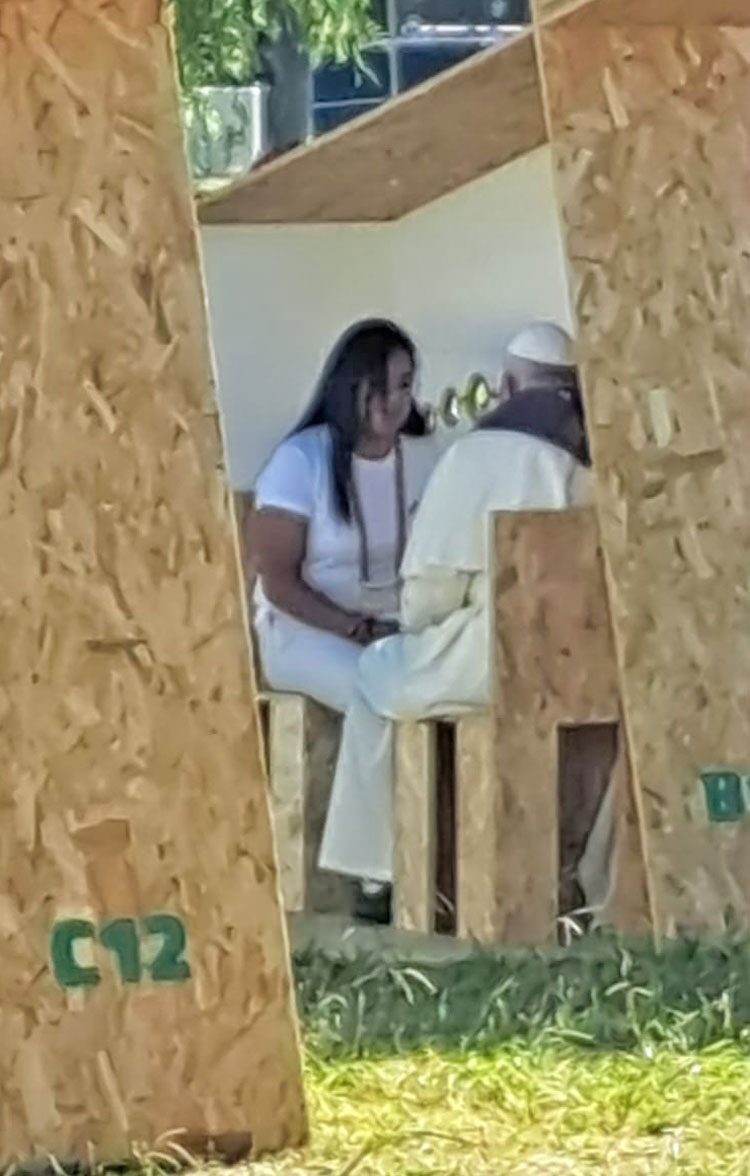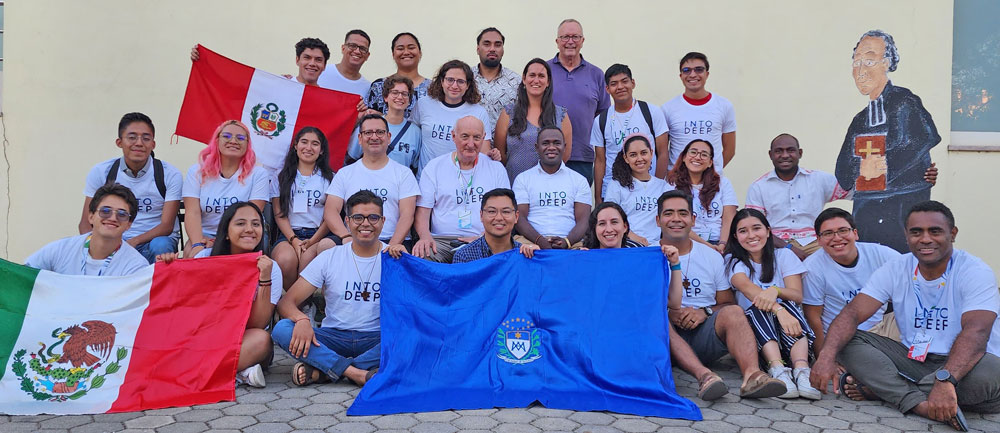 ---
MCC highlights
The first post-Covid Marist Charism and Culture inservice for staff of Marist-founded schools (see MCC staff immersion under way) concluded on Aug 03 after four days of varied activities at Villa Maria monastery, Hunters Hill. The eighteen participants will return to their respective schools with deeper insights into the Marist spirit and its significance both in education and personal life. Pictured below are scenes from this year's inservice. [Aug 04]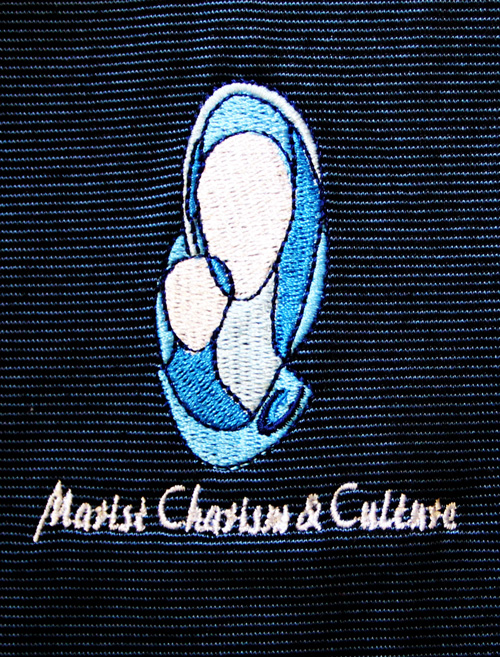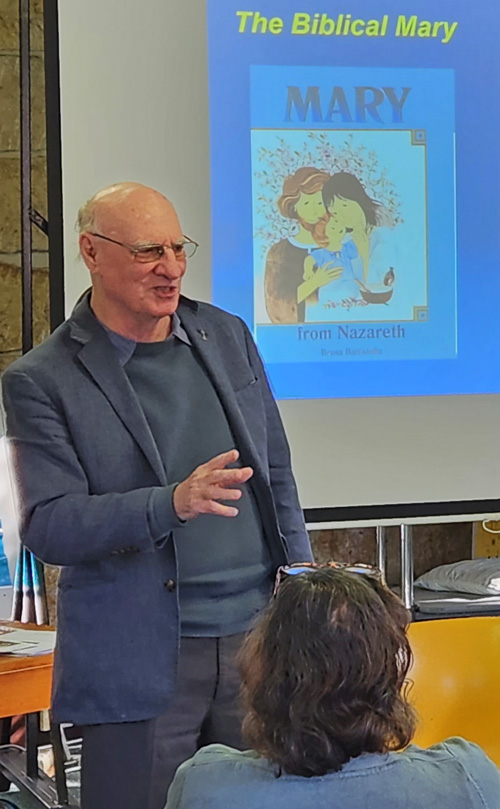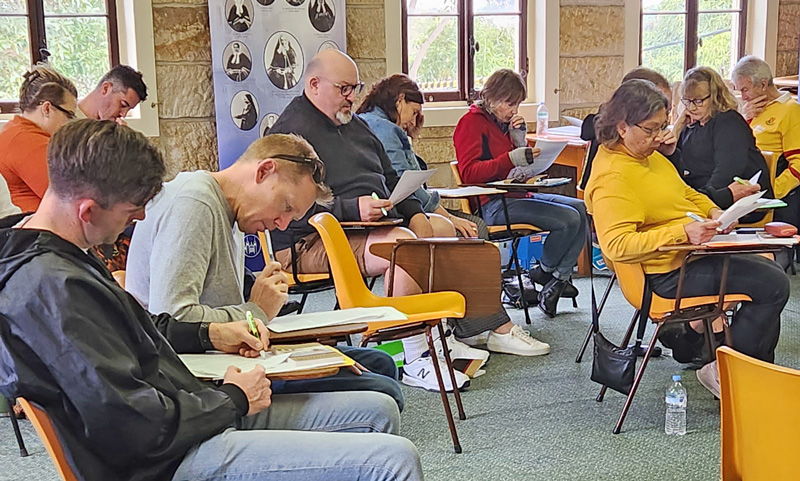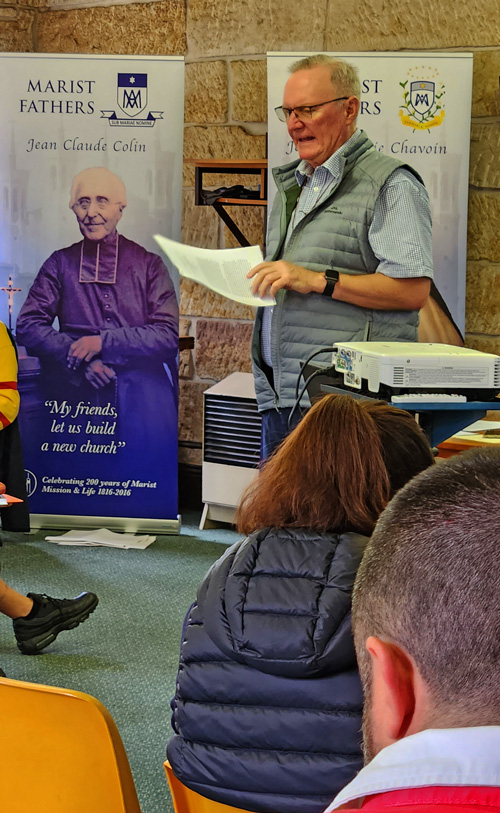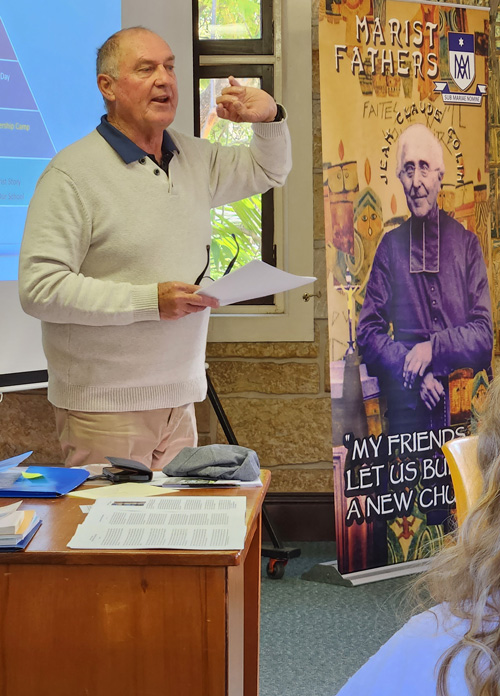 Above: Logo designed by the late Fr Bob Barber SM, keen supporter of MCC. | Input from Fr Gerard Hall SM | Sessions in Woodbury Hall led by Br Neville Solomon FMS and MCC team member, Kim Evans. Below: A popular segment was the opportunity to interview senior Marists. | Participants were invited to join the local Marist community for Morning Prayer and Eucharist in the monastery chapel.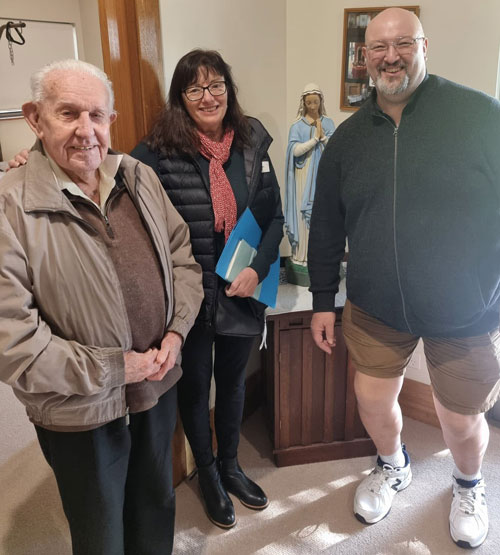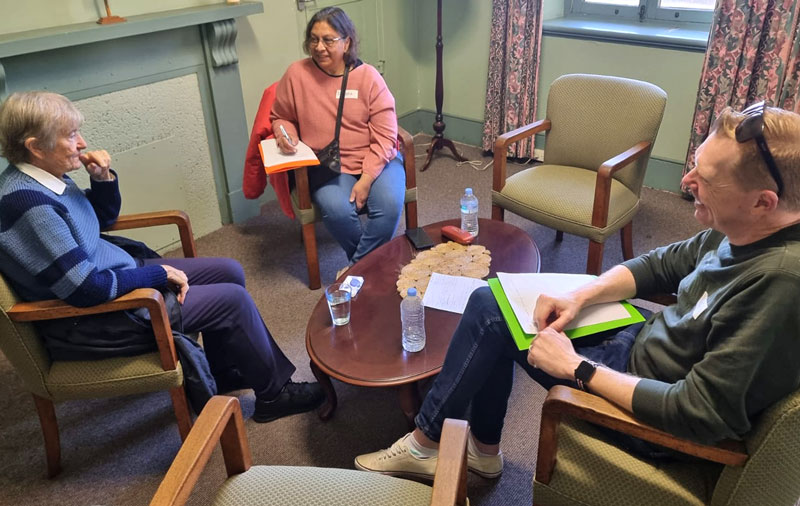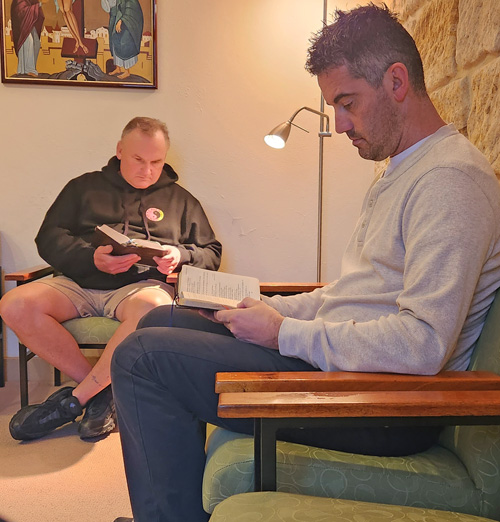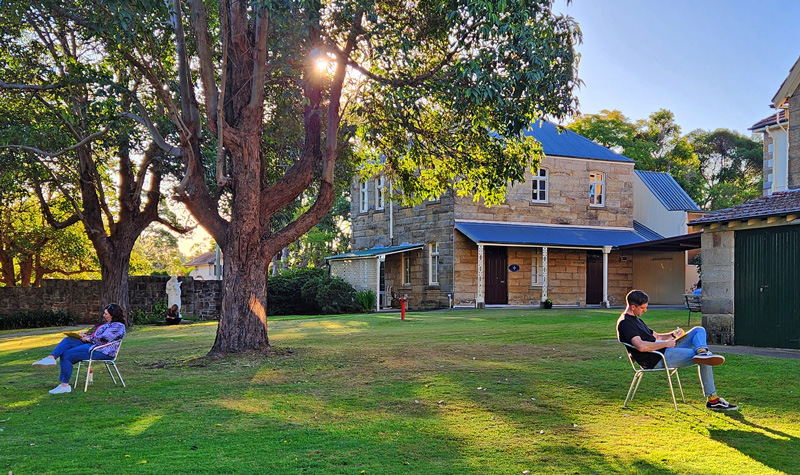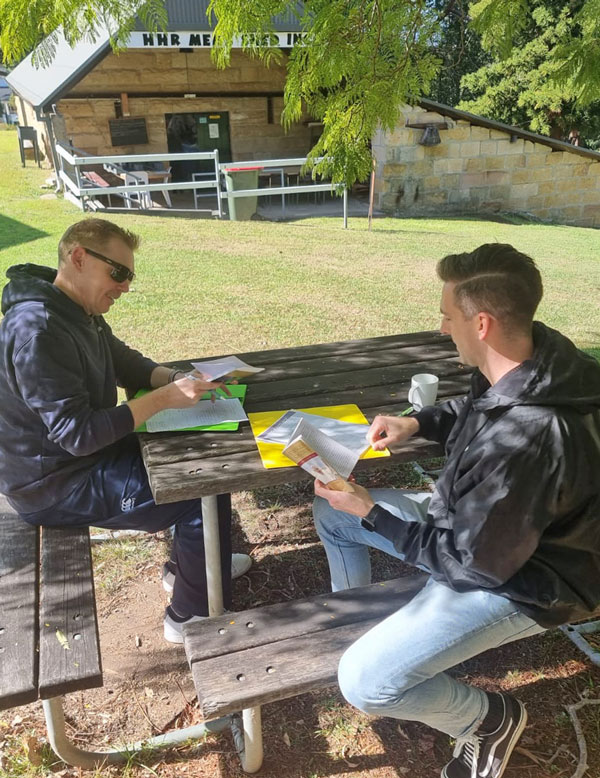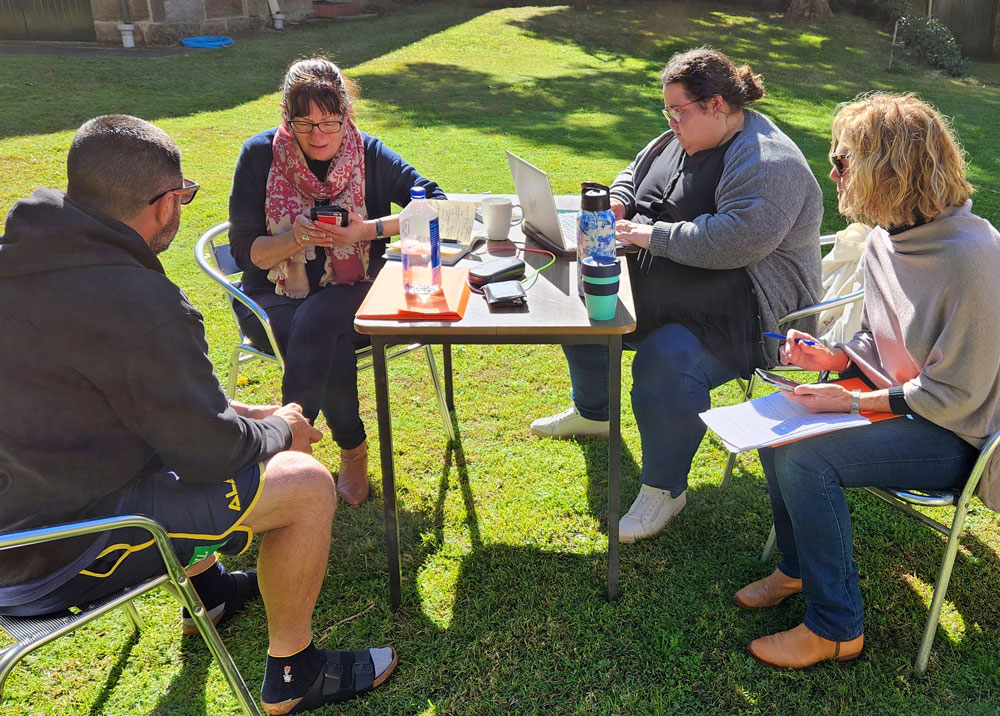 Above: Moments of quiet reflection and small group team work in the grounds of Villa Maria monastery. Below: Concuding liturgy on Aug 03 in Holy Name of Mary church. | Presentation of certificates. | Celebratory dinner at Hunters Hill village.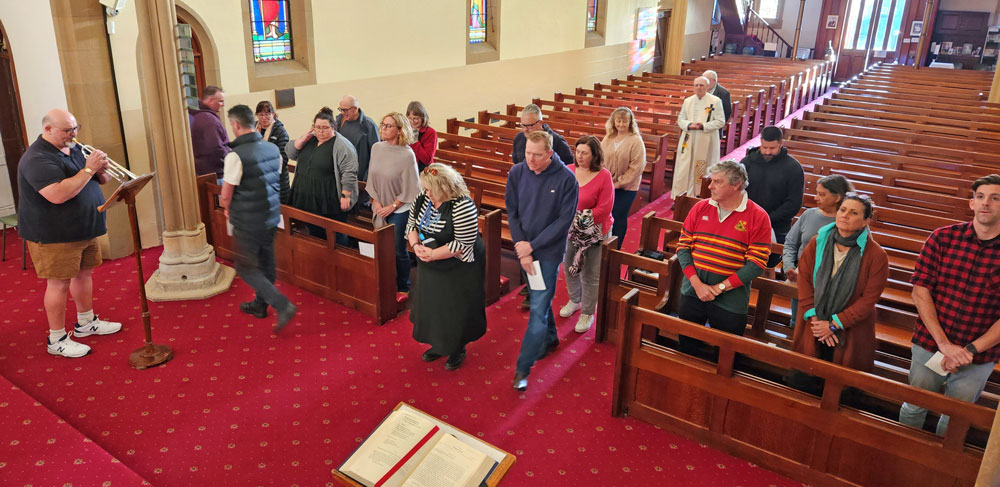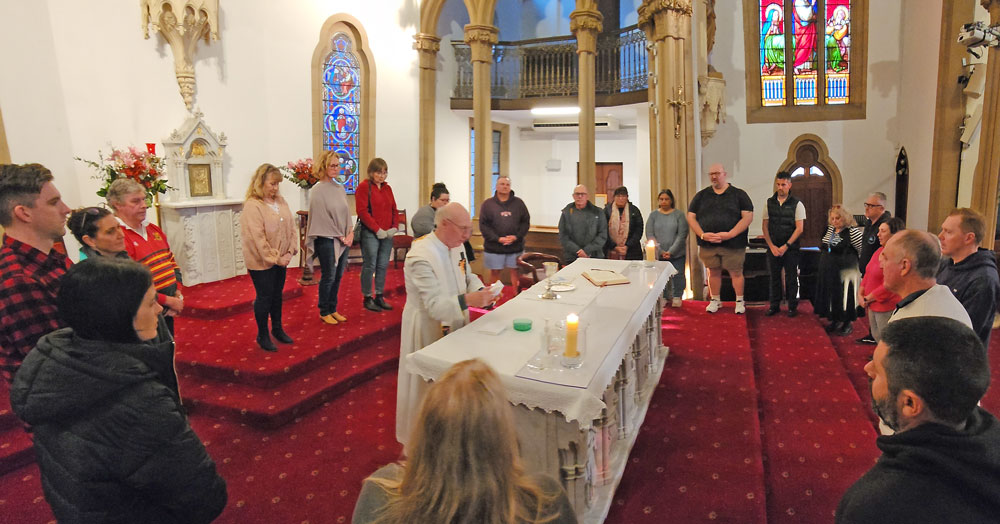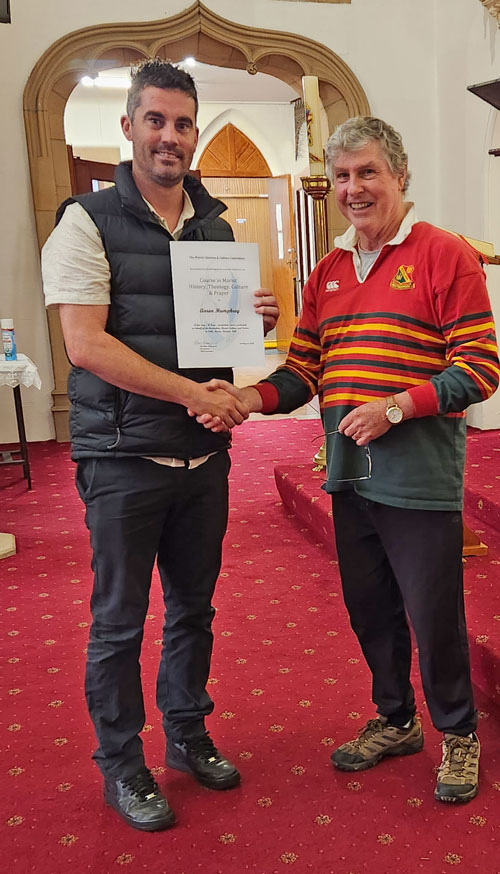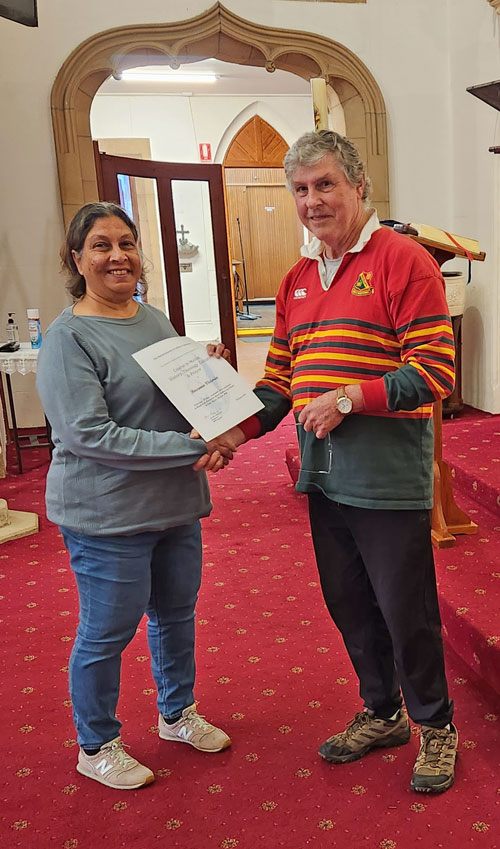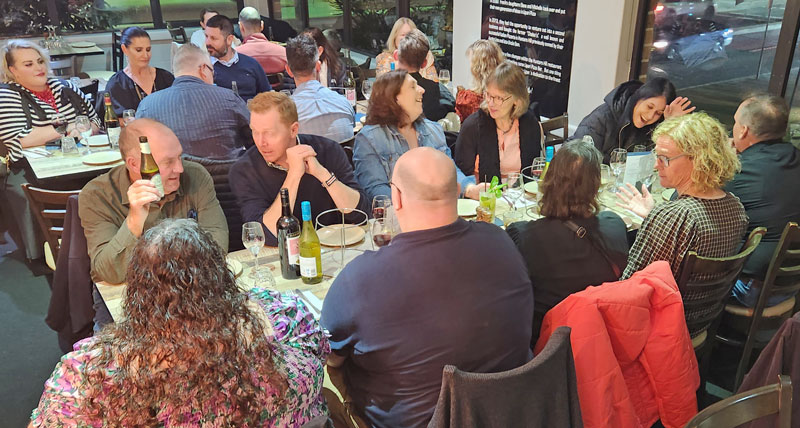 ---
Return to Rome
After holiday time with family in Gunnedah, NSW, and at Villa Maria, Hunters Hill, Fr Tony Kennedy left for Rome on Aug 02 to prepare for a Formators' workshop later this month.
Fr Tony is rector of the Marist International Theologate and leader of the Casa di Maria community of seminarians from all over the Marist world. (See Casa di Maria newsletter)
Bon voyage, Fr Tony. [Aug 01]