August 2018 news
Click here for News 2008 to 2017
---
---
Provincial Circular
Go to Members' page for latest issue. [Aug 31]
---
Sing a new song
Fifty families of Villa Maria parish, Hunters Hill / Woolwich, presented their children for First Holy Communion over the past two weekends.
As parish priest, musician and composer, Fr Kevin Bates, presided, he would invite the First Communicants to sing their own song, composed especially for this occasion.
Pictured below are scenes from one of the recent First Communion Masses at Hoiy Name of Mary church, Hunters Hill. Others were held at St Peter Chanel's church, Woolwich. [Aug 28]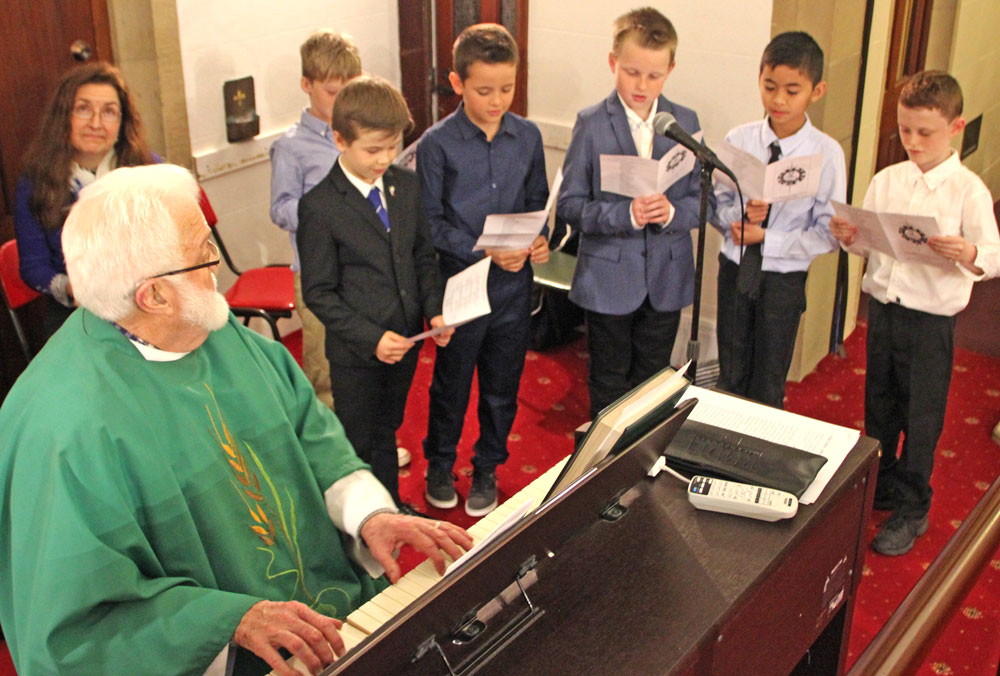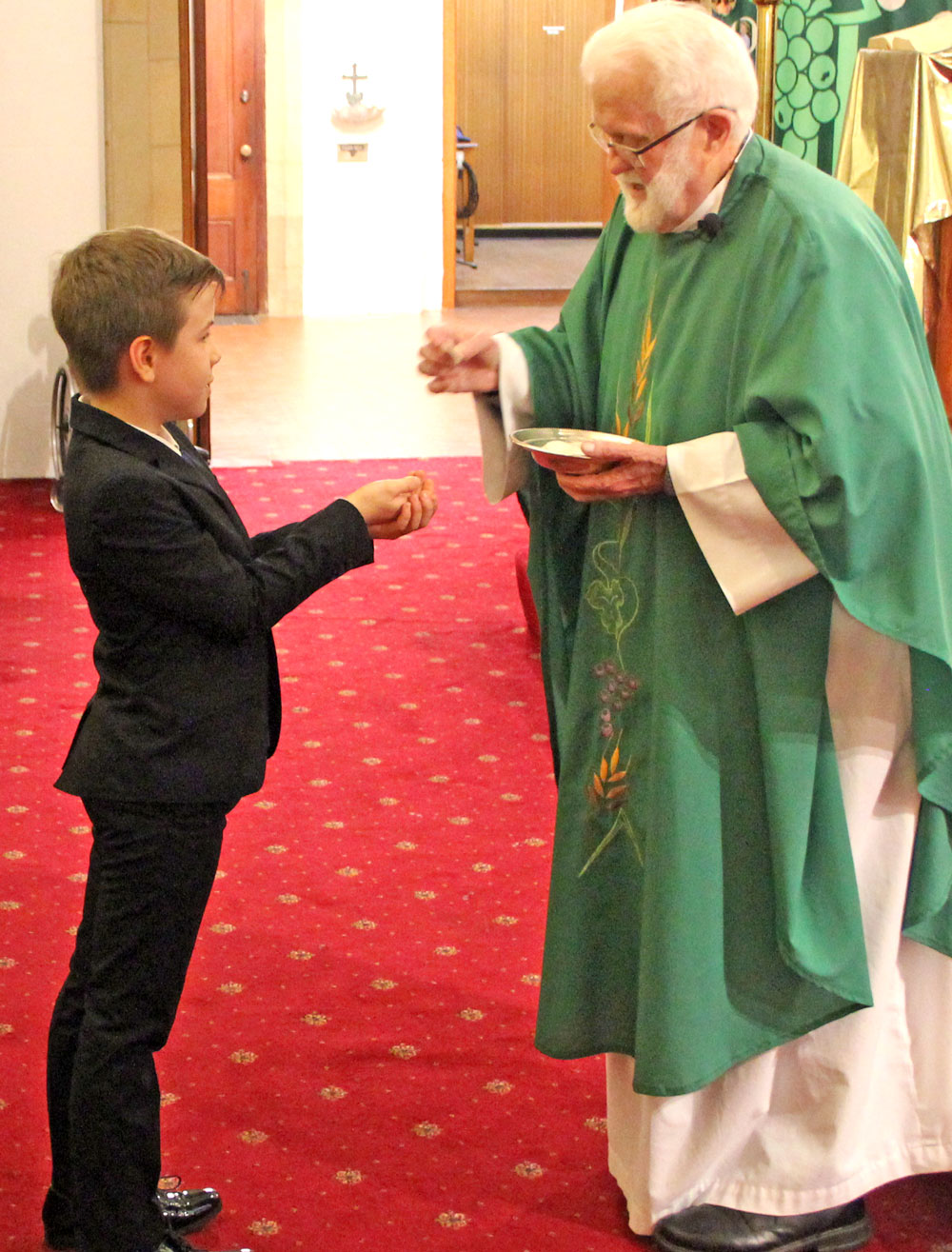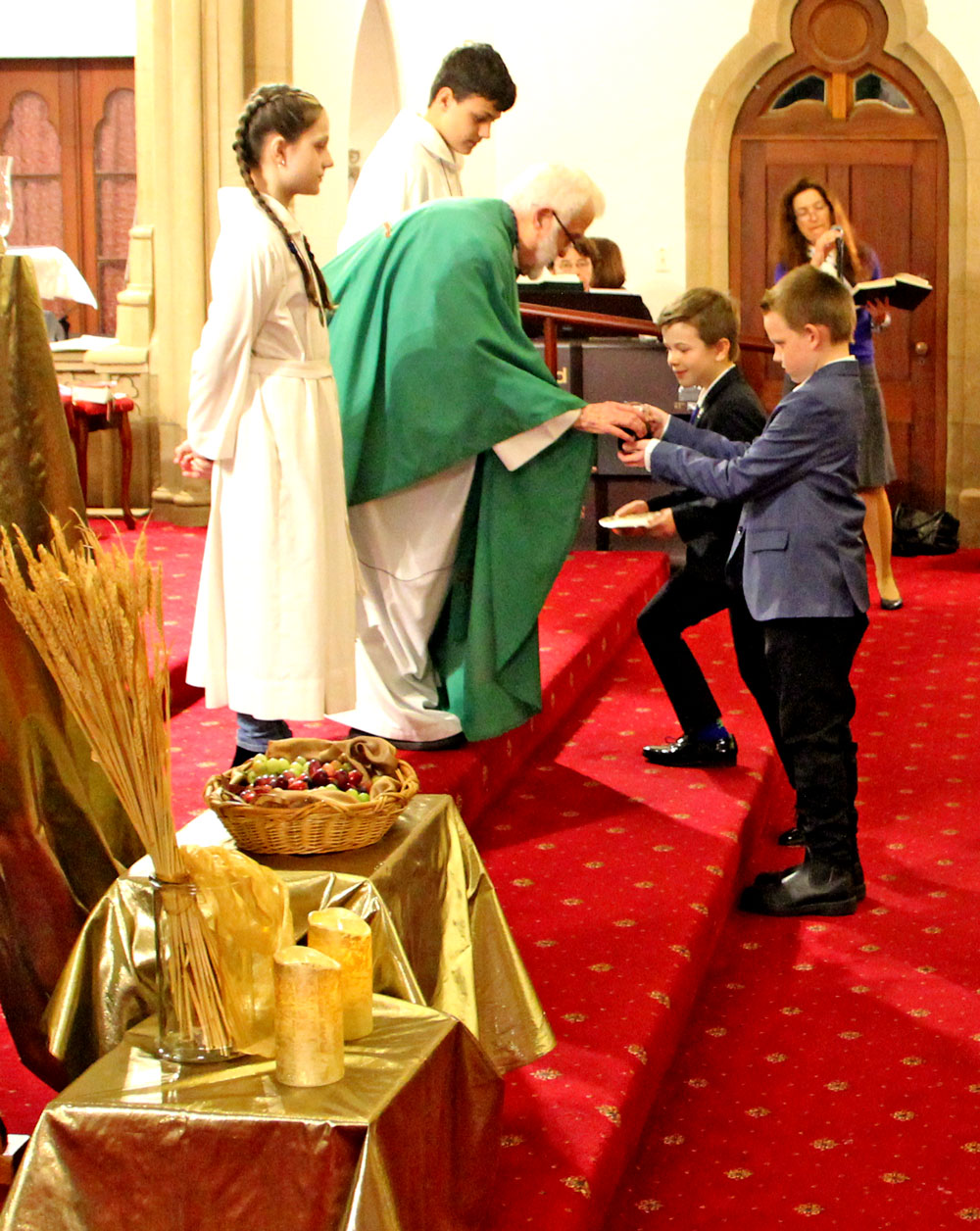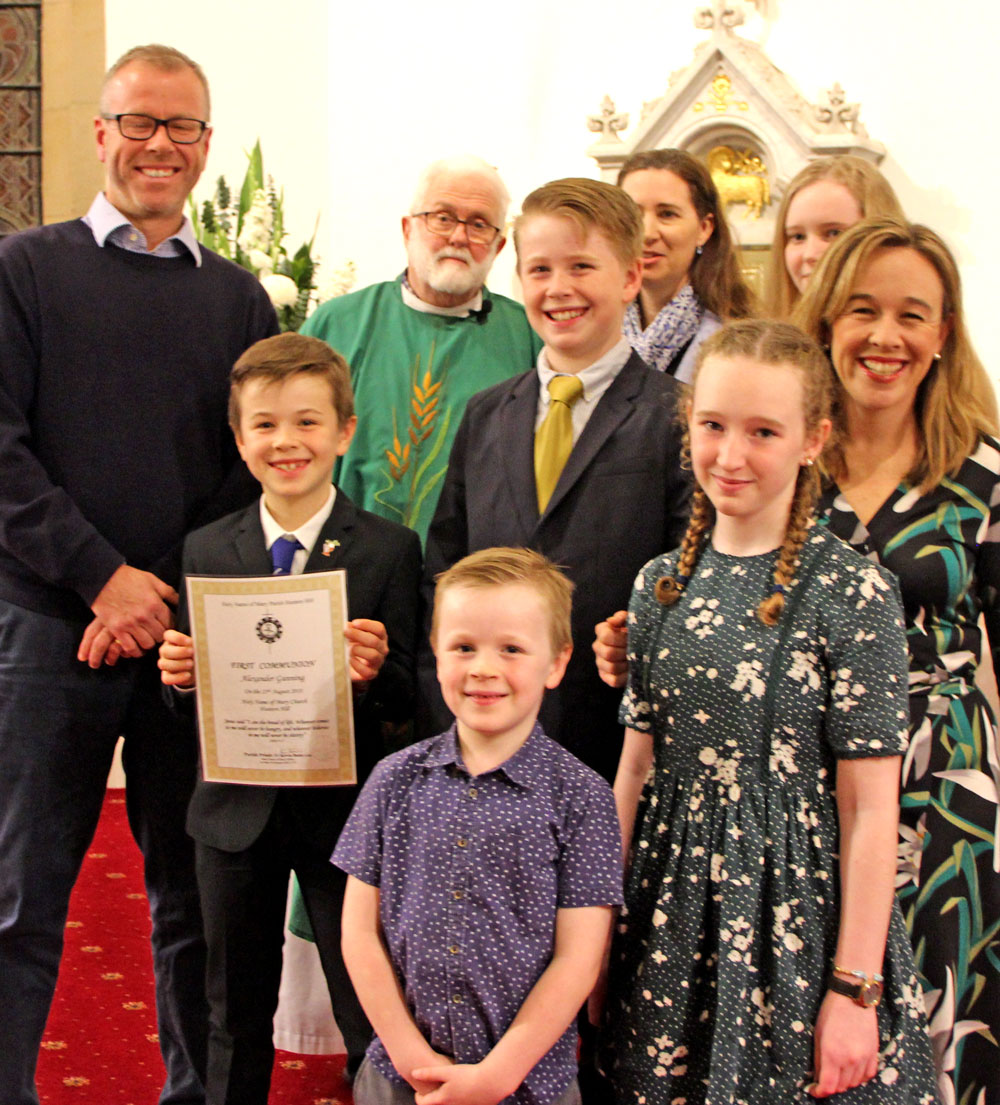 ---
Vicar to continue
Provincial-elect of the Australian Marist province, Fr Tony Corcoran, has asked the present Vicar-Provincial, Fr Peter McMurrich, to continue in his role for at least a further year, as of Jan 2019.
An Aug 27 announcement reports: 'Fr Tony Corcoran will begin his mandate on 1st January 2019, with a full-time vicar provincial to assist him in his day to day leadership and administration. He has approached Fr Peter McMurrich to continue as the vicar-provincial, for a least one year. Peter generously agreed to Tony's request and this was confirmed by the Provincial Council. With Tony, the province extends its sincere thanks to Peter for his availability and generosity.'
Pictured below: Fr Peter McMurruch and Fr Tony Corcoran. [Aug 28]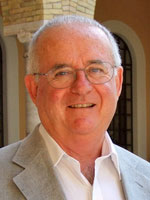 ---
Coming soon at Aquinas Academy
For details of the latest courses and events at Sydney's Aquinas Academy, click here [Aug 27]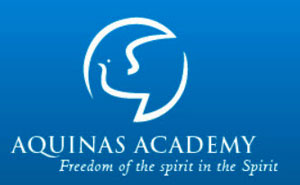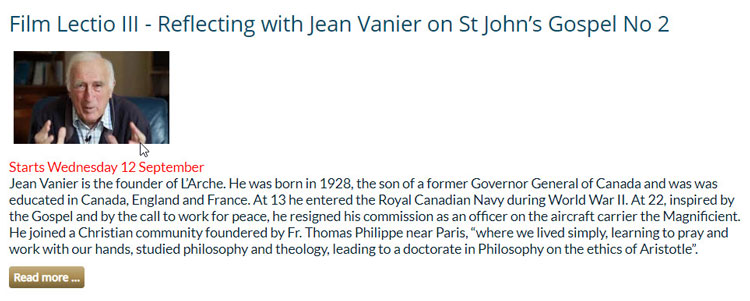 ---
Province retreat
Led by Fr Tom Ryan SM, fifteen Marists are participating in one of the annual provincial retreats.
The first of two, this retreat is being held in the Maryvale/Montbel precinct, Hunters Hill, and features daily presentations by Fr Tom, with opportunities for quiet prayer before the Blessed Sacrament in the Montbel chapel, and in the scenic grounds of Villa Maria monastery. A second province retreat will be held in Brisbane later in the year. [Aug 24]


---
Members Only
For the information of Province members, the 'Members' page is now more easily accessed and with content updated. Latest resource to be added is the Oceania Marist Bulletin (English edition).
An improved, user-friendly log-in area gives access to 'Members Content' and most English-language Marist bulletins worldwide.
Resources currently on the 'Members Content' page are:
Australian Province circulars, bimonthly
SM Bulletins, weekly from Rome
Oceania Marist Province bulletins
Euronfo monthly
e-Bulletins from USA
Superior-General's monthly reflections
Statements and Decisions of the 2017 General Chapter.

[Aug 18]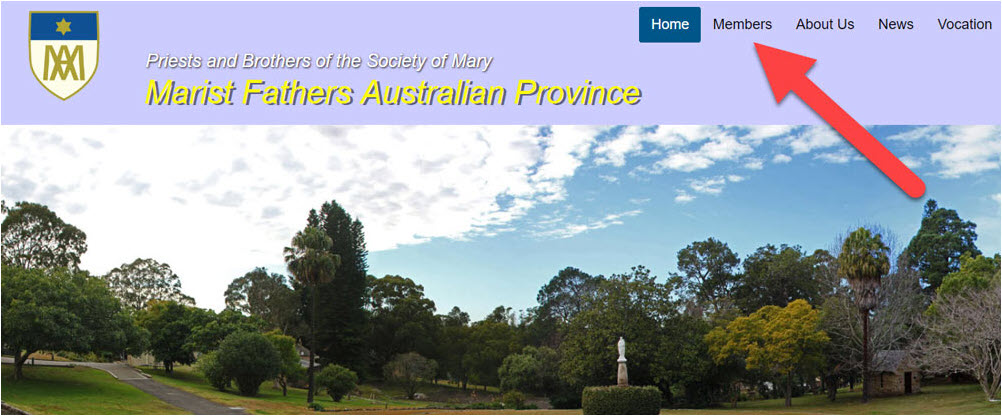 ---
Missionary memories
Marist HQ in Wellington, NZ, reports that the book of the late Br Lawrence Hampton SM is now available on Kindle, as well as in paperback. Br Lawrence is better known to Australian Marists as a watercolour artist, capturing many a scene of historic Villa Maria from nearby 'Oceania House', Hunters Hill, where he lived for some years of his retirement. Br Lawrence died in his native New Zealand in Oct 2015. (Click here)
'A Walk Down the Lanes of Time – A Missionary's Memories of Bougainville', edited by Stephanie Ross, is now available in Kindle format and paperback. For Amazon's ad, click here.
An extract from the synopsis says: 'He was a blacksmith's son who became a farmer, ship's captain, builder, plantation manager and artist. With gentle humour he tells stories about growing up in Christchurch, New Zealand, and the struggles of missionary life.'
Thanks for the memories, Br Lawrence. [Aug 17]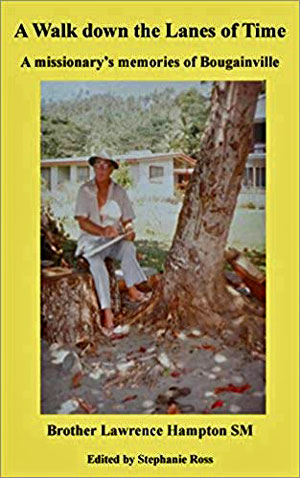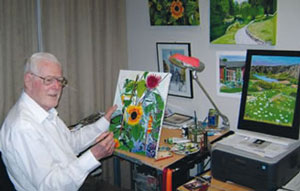 Above: Br Lawrence in Christchurch, 2006 Below: His Sydney home, 'Oceania House'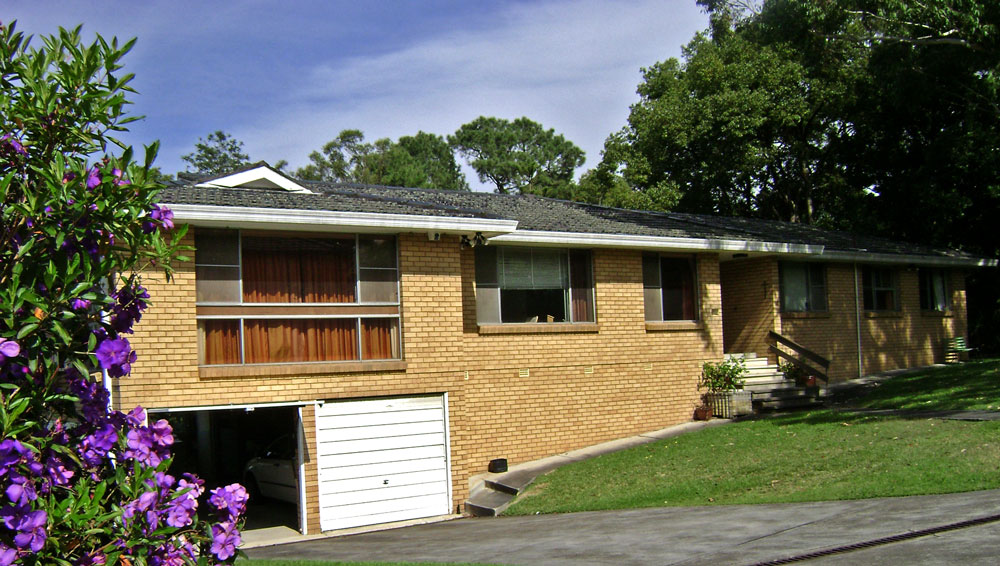 ---
Chasing dreams
Kiwi Marist, Fr Frank Bird SM, has recently visited Australia as part of a journey to help Burmese migrant youth pursue their dreams of education.
Fr Frank heads up the Marist Mission at Ranong, southern Thailand, where the Marist health care and education teams work amongst Burmese migrant workers, youth and children.
During his week-long visit to Australia, Fr Frank spoke with Australian Catholic University leaders in Sydney and Brisbane. ACU has conducted tertiary online programs on the Thai-Burma border since 2003, with initial local funding from Australia's Marist Mission Centre.
To visit the Marist Asia Foundation, click here. [Aug 13]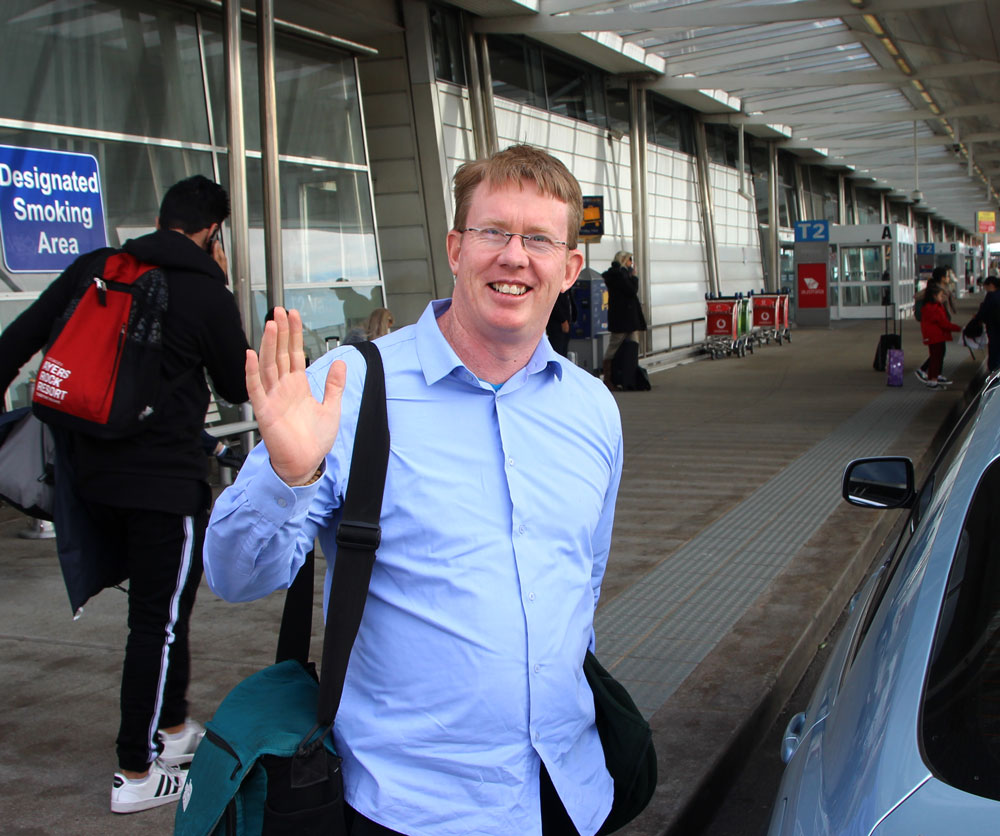 Pictured: Fr Frank Bird on his visits to ACU in Sydney and Brisbane.
---
Farewell, Fr Paul
An overflow congregation at St Michael's church, Thirroul, NSW, farewelled Fr Paul Cooney SM during his Mass of Christian Burial on Aug 11.
Former Australian Provincial and Bursar-General of international Marists, Fr Paul died on Aug 05. He had requested his obsequies to be held at Thirroul near to family and friends who had accompanied him closely during his illness.
Family friend and confrere, Fr Michael Mullins, presided at the Requiem Eucharist, accompanied by Bishop Emeritus Peter Ingham and priests of the Society of Mary and Wollongong diocese.
After the Mass, the hearse carried Fr Paul through a large guard of honour and past the Cooney family home before the short journey to interment at Scarborough cemetery, Wombarra. [Aug 12]

Scenes from Fr Paul Cooney's Requiem and farewell from St Michael's church, Thirroul.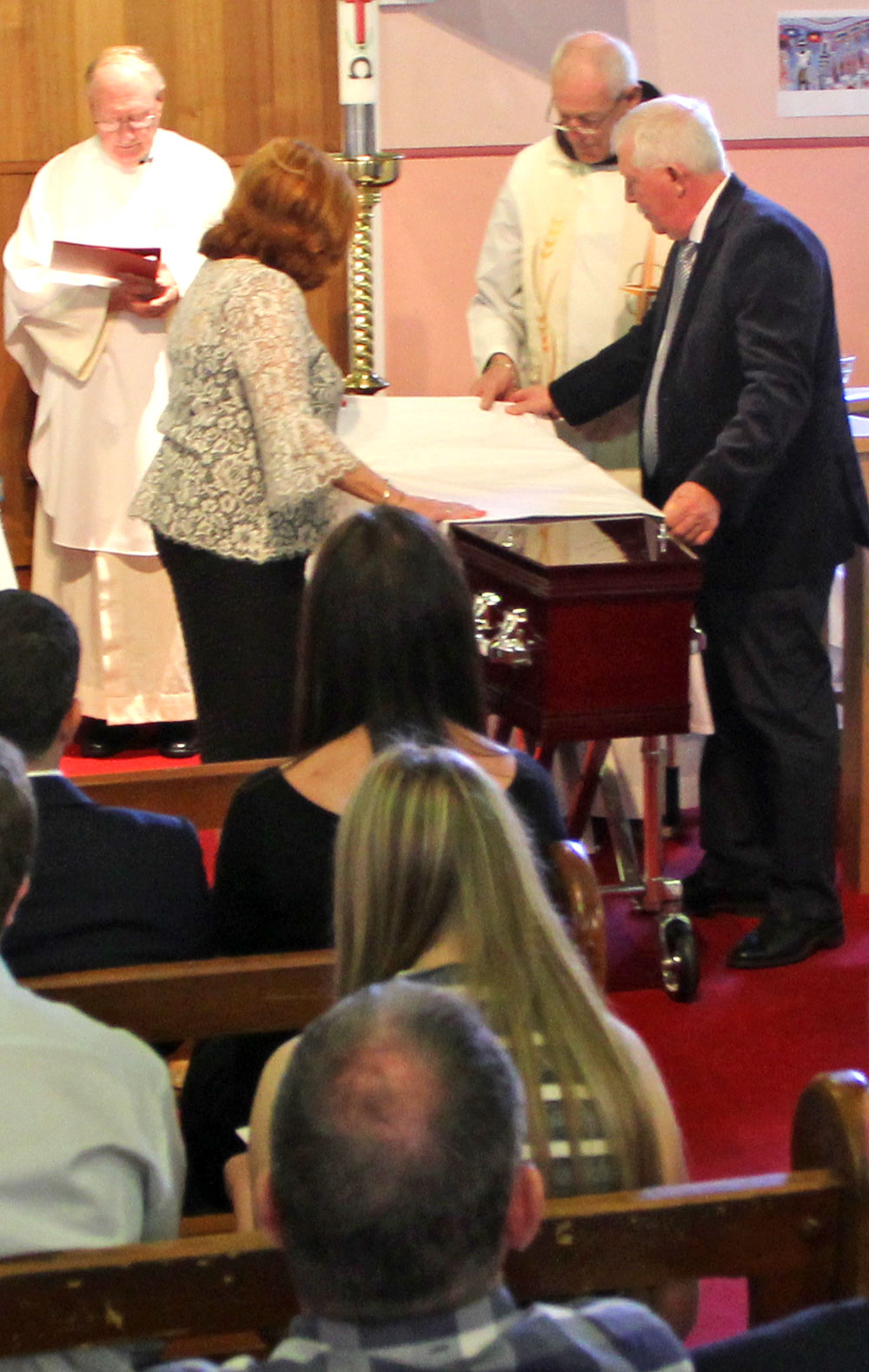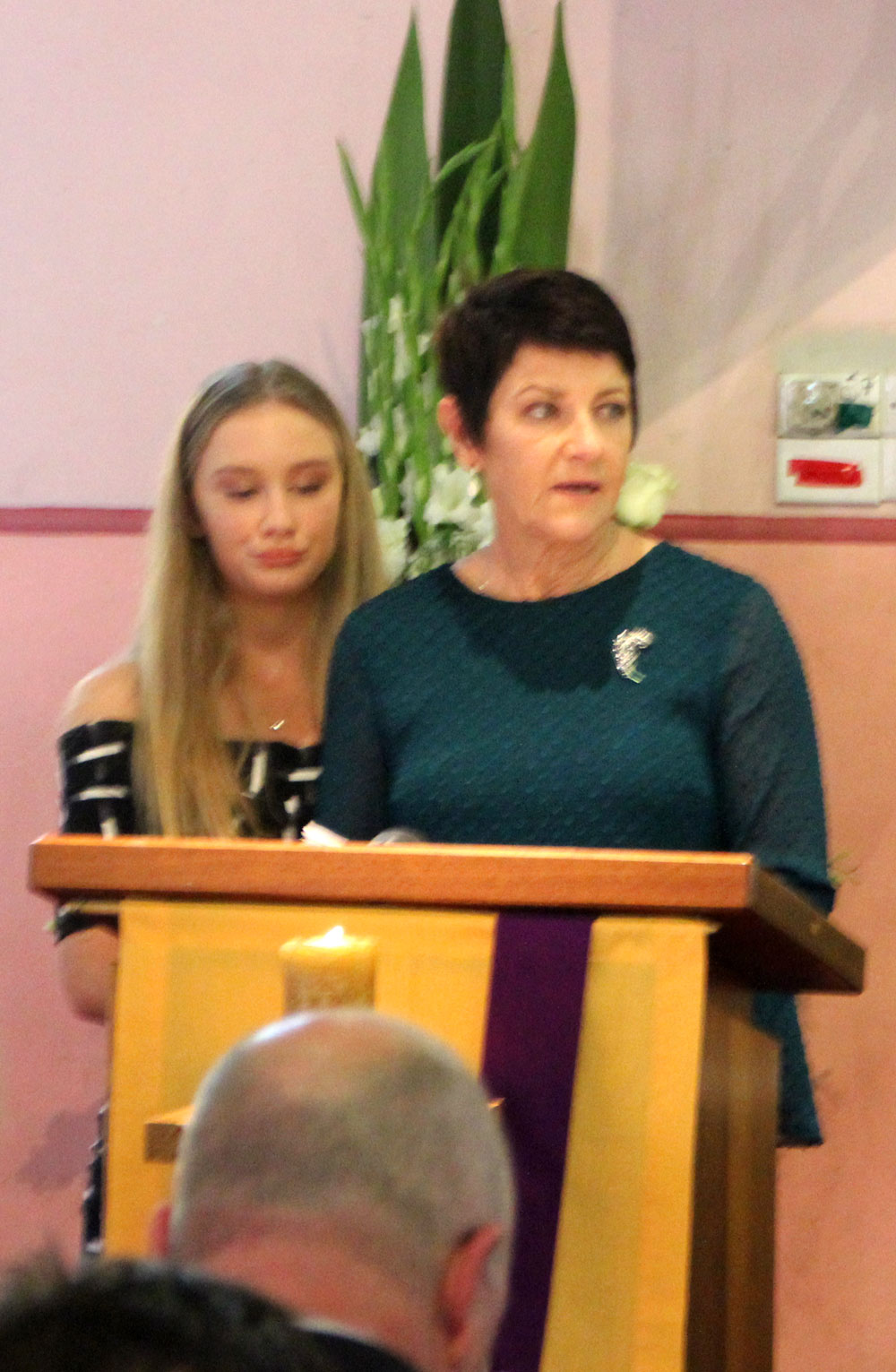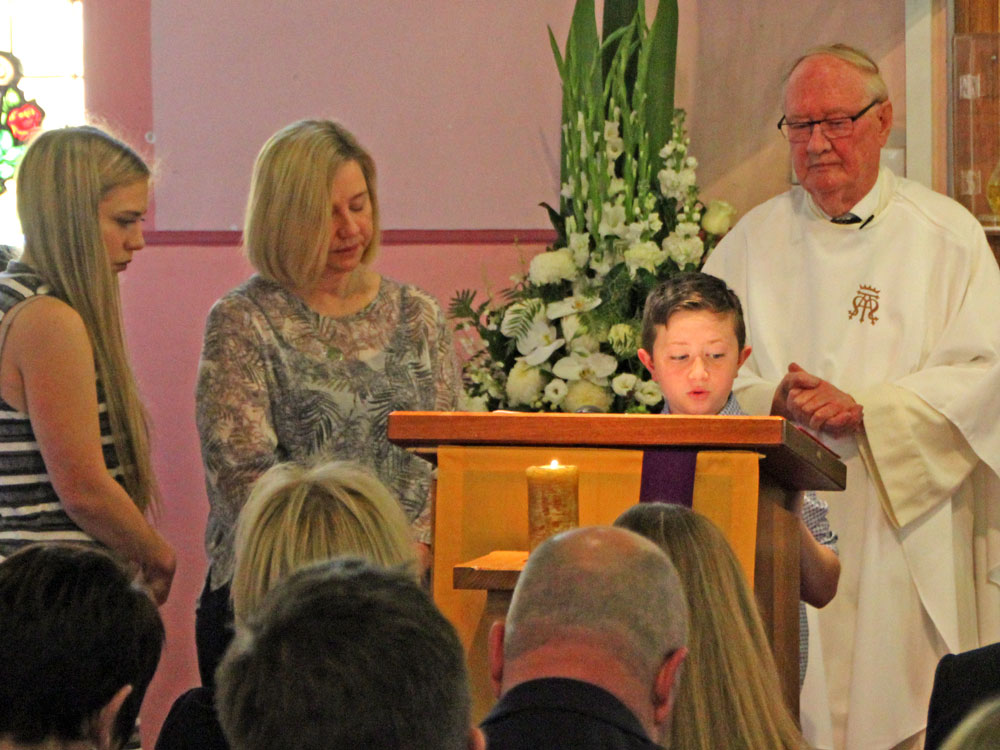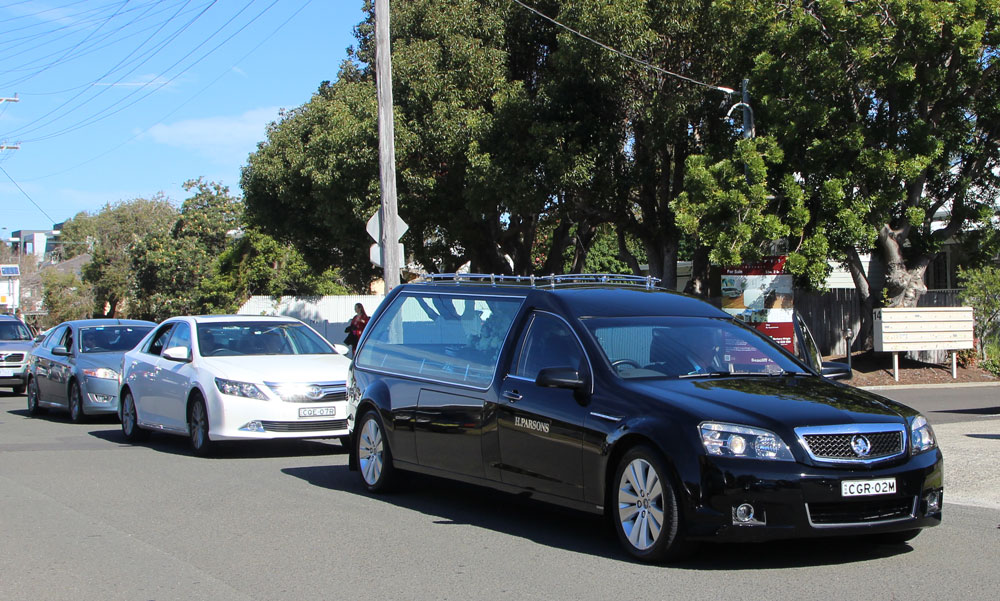 Above: Provincial, Fr Bob Barber, presides at the burial of Fr Paul at Scarborough cemetery, Wombarra. Below: The vigil gathering in the chapel of Montbel, Hunters Hill, on the eve of Fr Paul's funeral.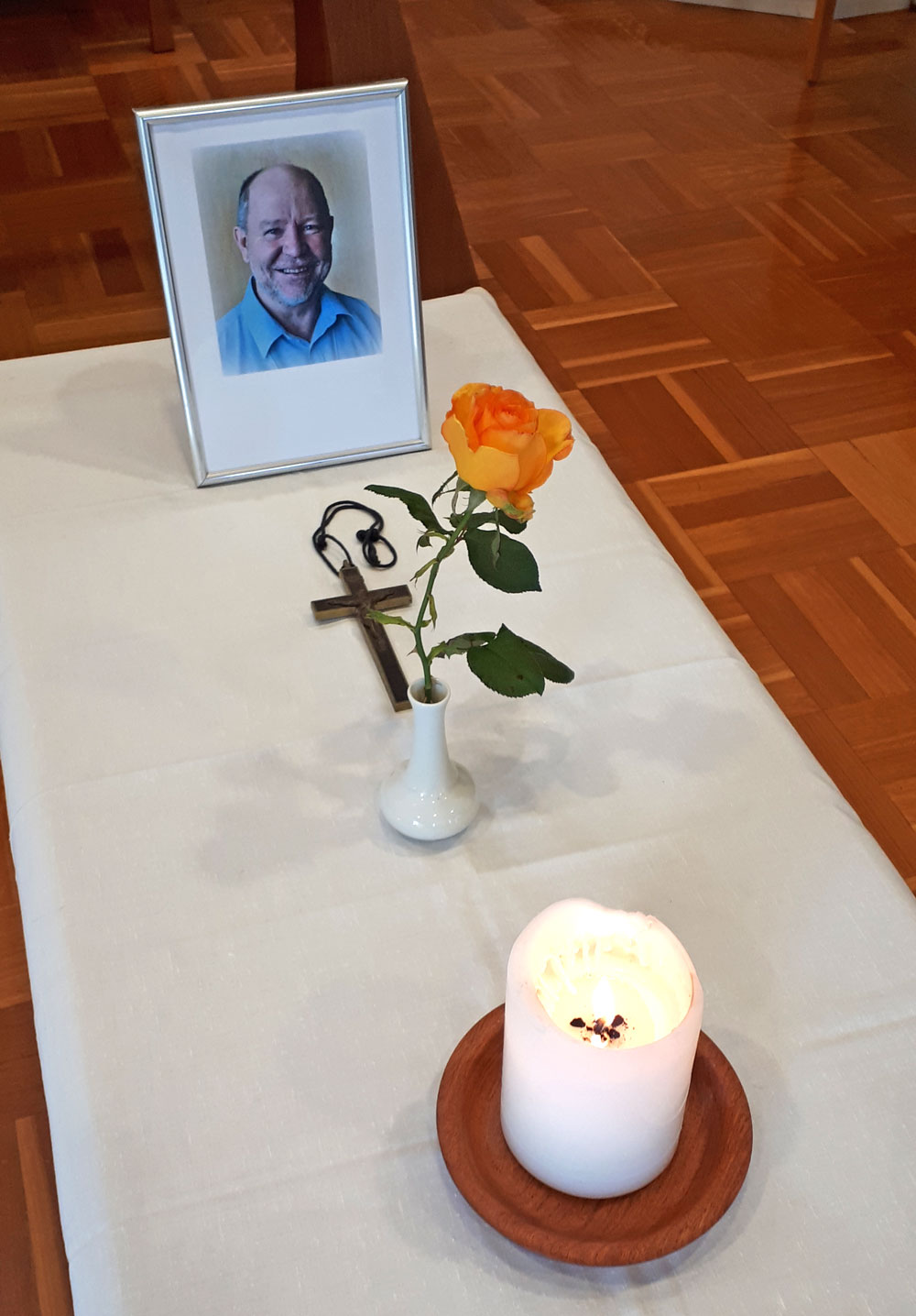 ---
Fr Tino's renewal
Surrounded by Oceanian and local friends, Fr Susitino Sionepoe SM, concluded his renewal program recently at the Marymount centre, Castle Hill, NSW.
The program was a timely reward as Fr Tino's term as Vicar-Provincial of the Oceania Marist Province drew to a close at the end of 2017.
Below: scenes from the graduation liturgy and gathering of friends, including Sydney-based Oceania Marists, Frs Brian Wilson and Willy Melteras. [Aug 10]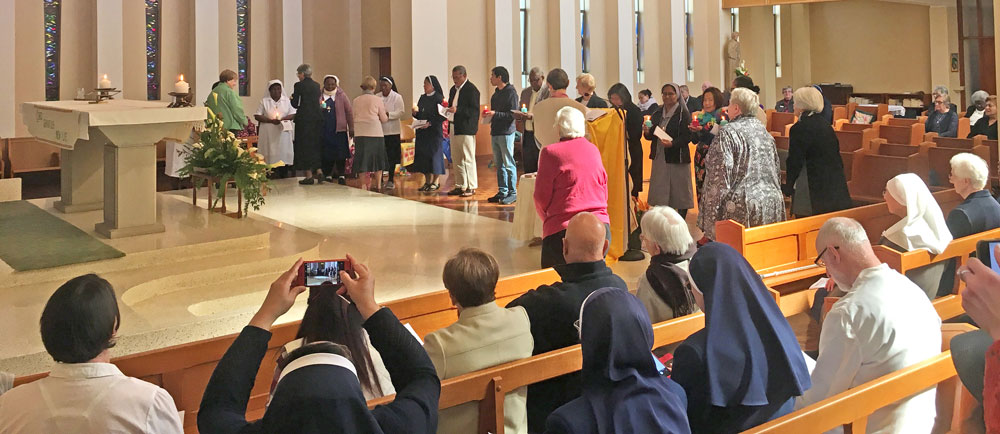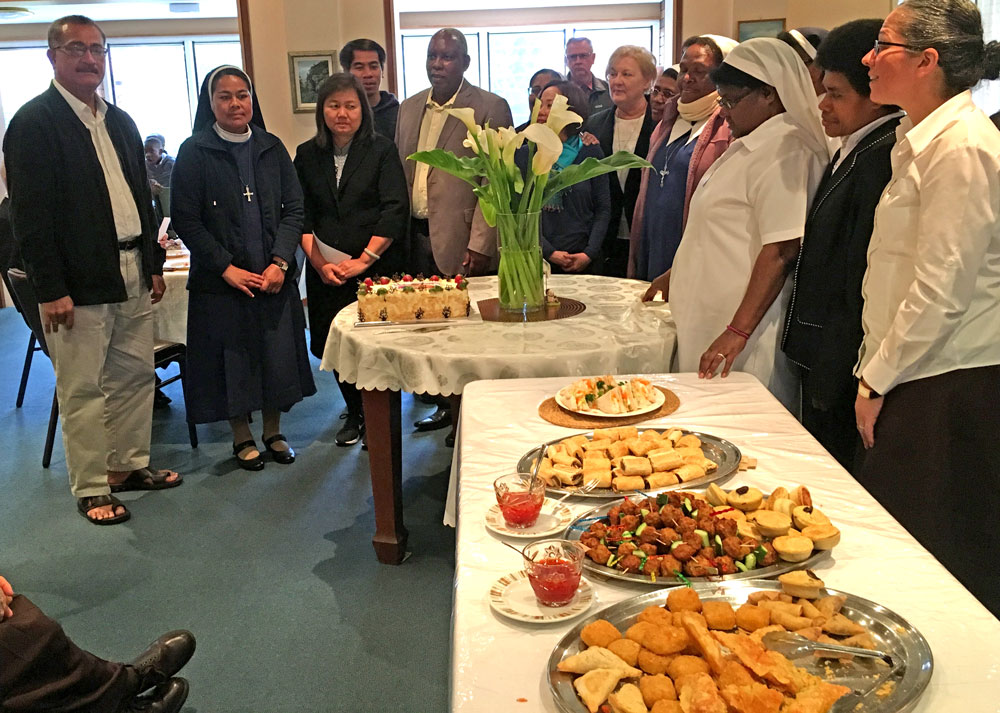 ---
Marist Charism & Culture
Latest in the series of immersion experiences for staff of schools founded by the Marist Fathers and Sisters was held at Villa Maria, Aug 05 to 10.
The 'Marist Charism & Culture' group occupied all available guest rooms in Villa Maria monastery and nearby Chanel House, and participated in lectures and workshops presented by members of the Marist Family. [Aug 10]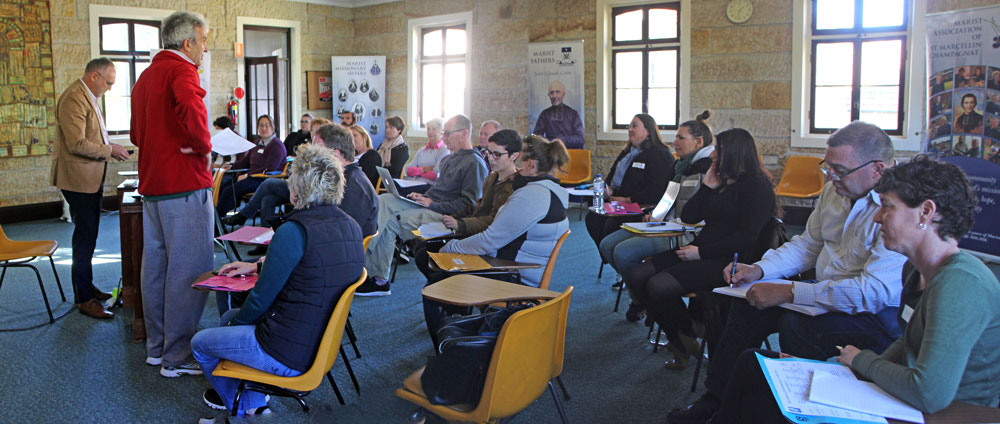 Above: MCC immersion co-ordinator and former Woodlawn principal, Glenn Roff, introduces a session in Villa Maria's Woodbury Hall. Below: Individual school group presentations on Marist themes are a concluding feature of the week-long immersion.

---
Sixty and Six
At Woolwich NSW, Sr Carmel Murray SM is celebrating a diamond jubilee of sixty years of Marist life, recalling her religious profession at Merrylands on Aug 09, 1958, with Fijian Marist, Sr Monica Saverio and the late Sr Helen Leary. Sr Carmel is the sister of the late Fr Brian Murray SM.
Coincidentally, Fijian Marist, Sr Birisita Bibi SM - six years professed - is passing through Sydney, staying with Sr Carmel and the Marian House community. Levuka-based, Sr Biri, pictured below at Marian House with Sr Carmel, is en route to Rome and France for a three-month preparation for final vows later this year in Suva.
Congratulations, Srs Carmel and Monica! Welcome and good wishes, Sr Biri! [Aug 09]
---
Passing of Bishop John Doaninoel
We record with sadness the death on Aug 07 of Bishop John Doaninoel SM, auxiliary bishop of Honiara, Solomons Islands.
Bougainvillean-born, Bishop John, had served the Oceania Marist province since his priestly ordination in 1980. May he rest in peace. [Aug 07]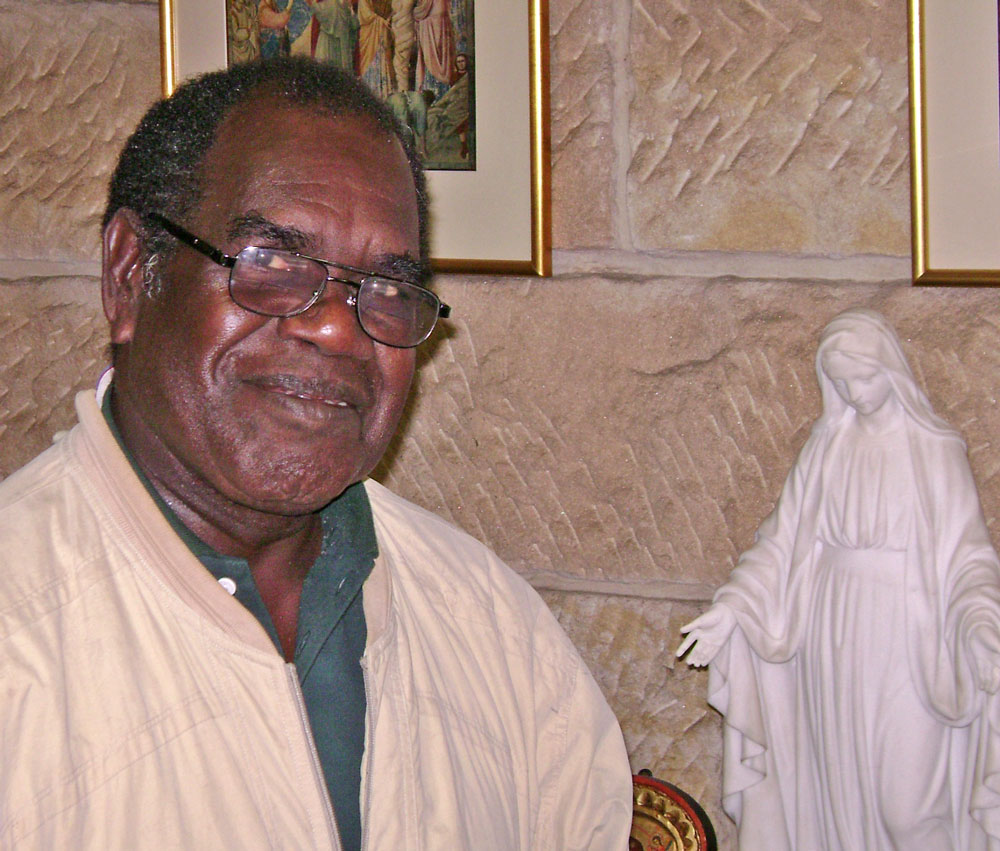 ---
Passing of Fr Paul Cooney
Marists throughout the world mourn the passing on Aug 05 of former Australian Provincial and Bursar-General, Fr Paul Cooney SM.
With a serene faith and characteristic cheerfulness, Fr Paul had faced an extended period of illness before his final days in palliative care at Lawrence Hargrave Hospital, Thirroul, NSW. A memorial Mass will be celebrated at the parish church, Thirroul, 5.30 pm, Tuesday, Aug 07, the eve of the feast of St Mary MacKillop for whom Fr Paul and his family had particular devotion.
May he rest in well-deserved peace. For a profile of Fr Paul's life, click here. [Aug 06]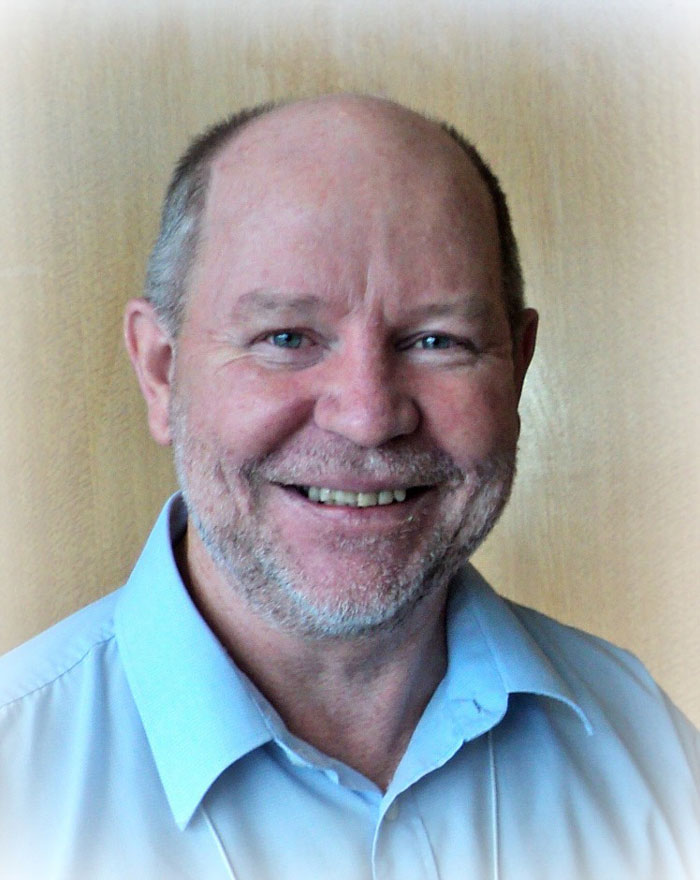 ---
Founder's birthday
Aug 07 marks the anniversary of the birth in 1790 of Marist Founder, Jean-Claude Colin, in the tiny hamlet of Barbery, central France. Orphaned before the age of five, the shy Jean-Claude was to emerge as the leader of the Society of Mary, advisor to Popes and model of a unique way of living Mary's spirit in the revolution-torn world of his time. [Aug 06]
For a simple 'Story of Jean-Claude Colin', click here.
For 'Reluctant Saint ?', a summary update on the Cause for his Beatification, click here.
For a 'Liturgy remembering Jean-Claude Colin', click here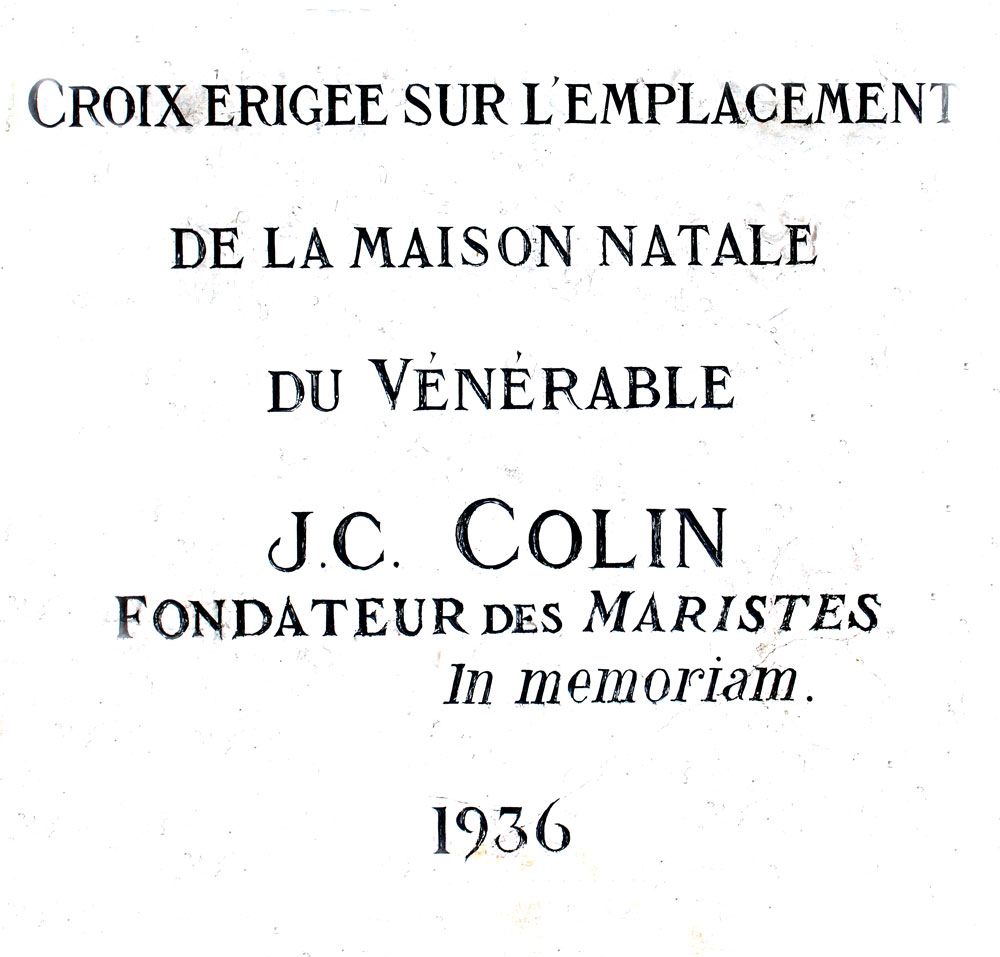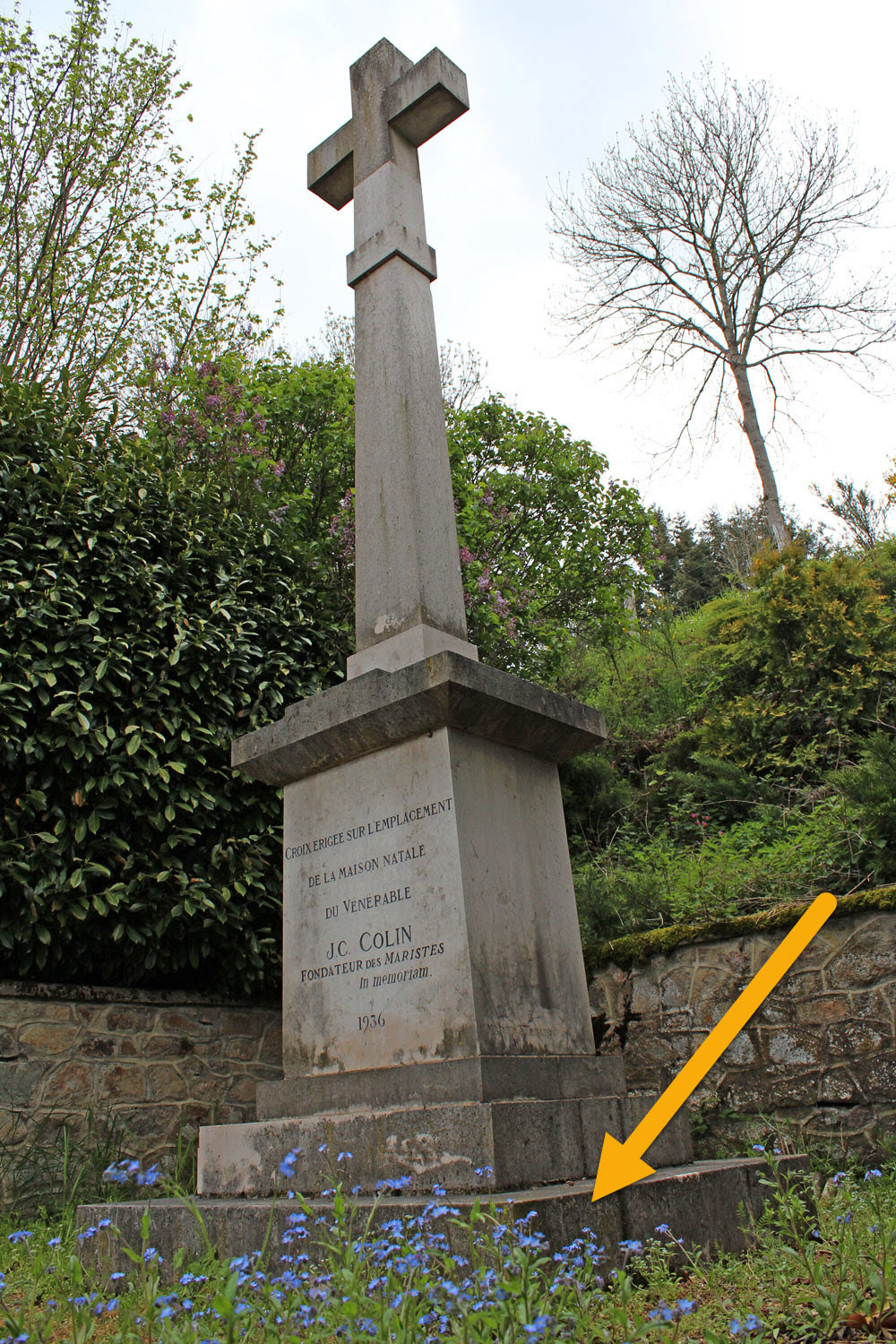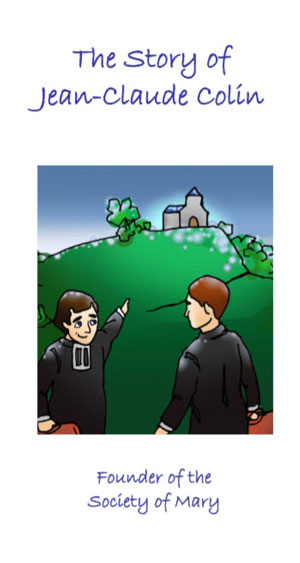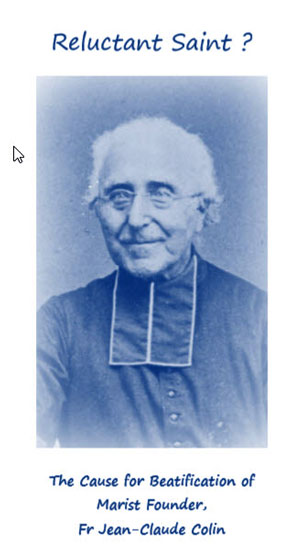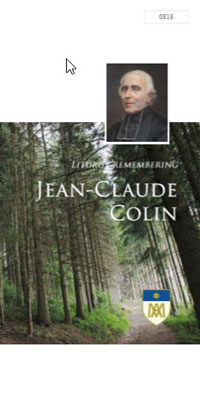 Above: Inscription on the memorial marking the birth place of Jean-Claude Colin, Barbery, France | 'Forget-me-not' flowers growing at the foot of the Barbery memorial | The leaflet 'Story of Jean-Claude Colin' | 'Reluctant Saint', summary of the Beatification Cause of Fr Colin Below: Countryside view from the birth place of Jean-Claude Colin | The nearby forest of Barbery where the Colins would hide their parish priest from militant revolutionaries... and where a shy Jean-Claude would later take refuge for times of solace.


---
Mini-concert at Montbel
Students from nearby St Joseph's College entertained Montbel's senior Marists and friends with a mini-concert on Aug 03.
Residents of Montbel's Aged Care facility at Hunters Hill, were joined by Marist Brothers from Champagnat House, a neighbouring facility in Mary Street, as well as Marist Sisters from Marian House, Woolwich.
The compact program included Instrumental, song and drama, and provided opportunity to welcome three Japanese students to the College and two Irish 'gap year' students. [Aug 03]
Young and not-so-young take in the afternoon's entertainment in the lounge and dining room space of Montbel, Hunters Hill.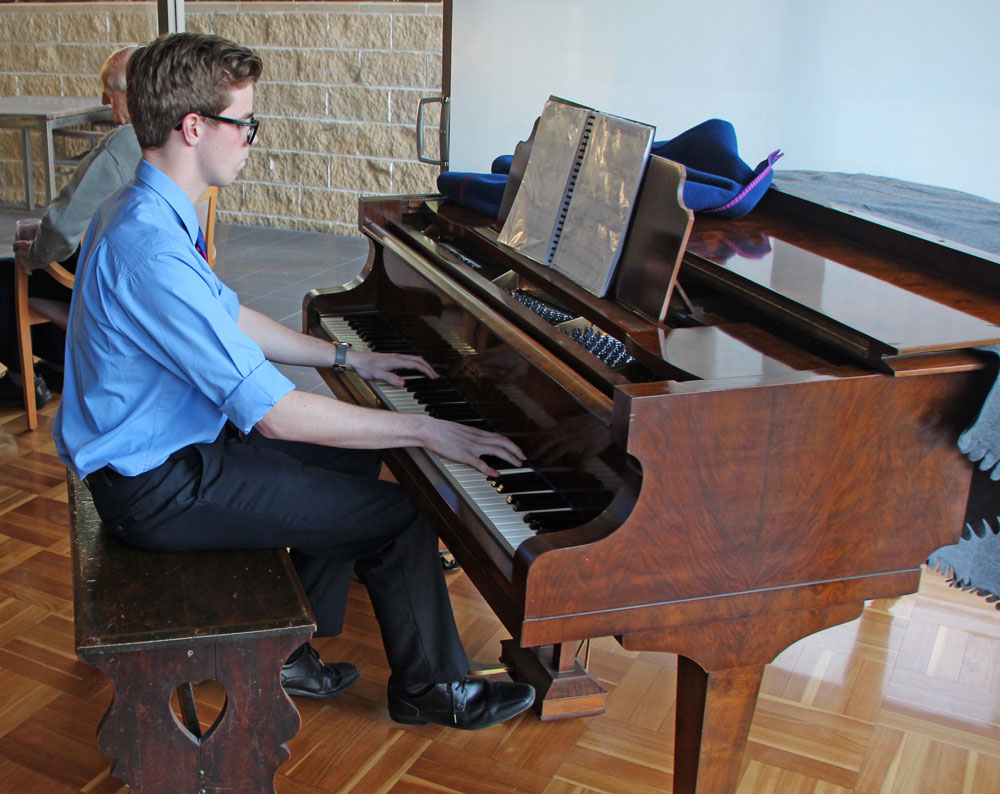 Above: Senior students from 'Joeys' enact a poignant Anzac drama. Below: College chaplain, Fr Gavin Foster SM, (at left) introduces Japanese students before they meet veteran Marist Japan missionaries, Frs Paul Glynn and Syd Nugent.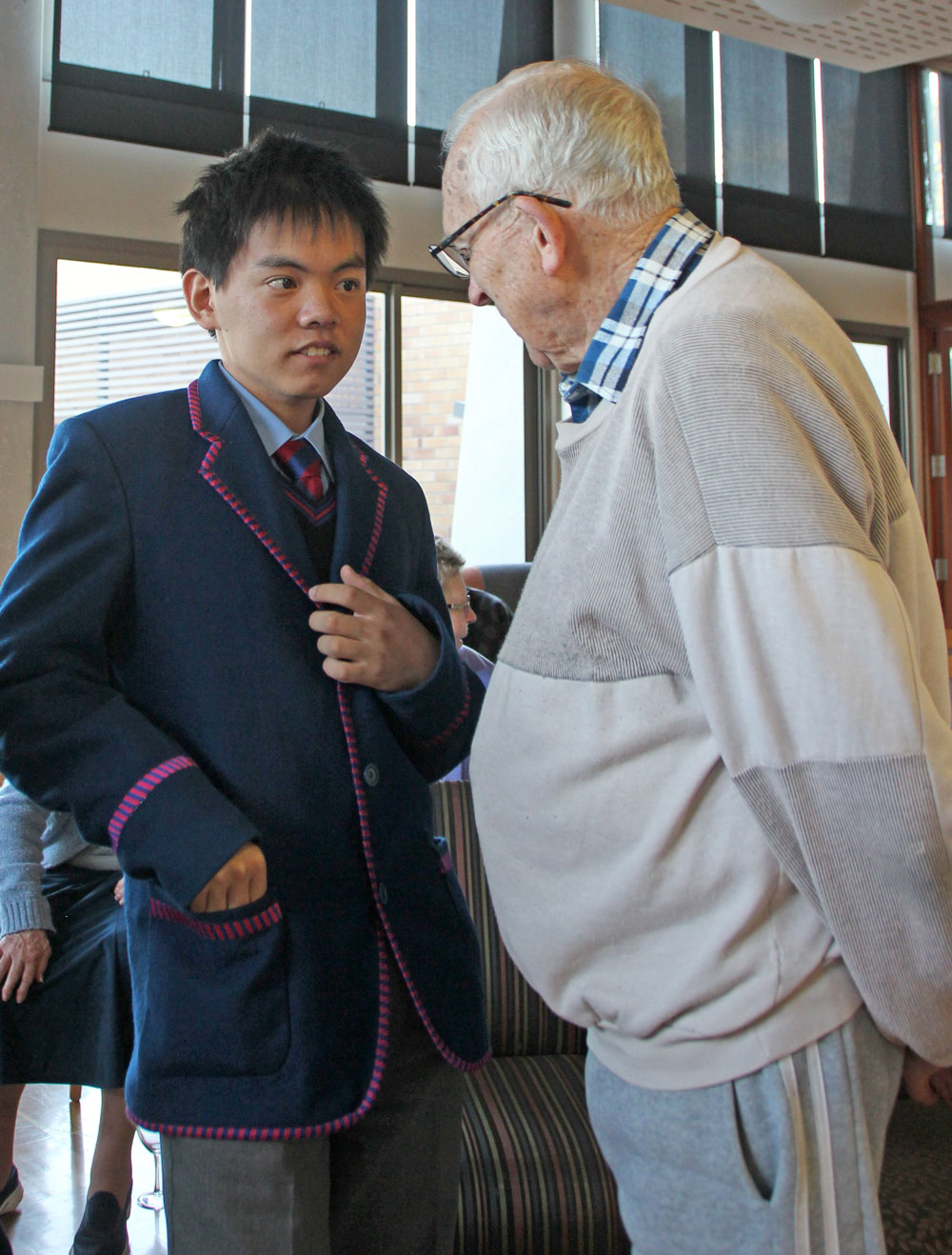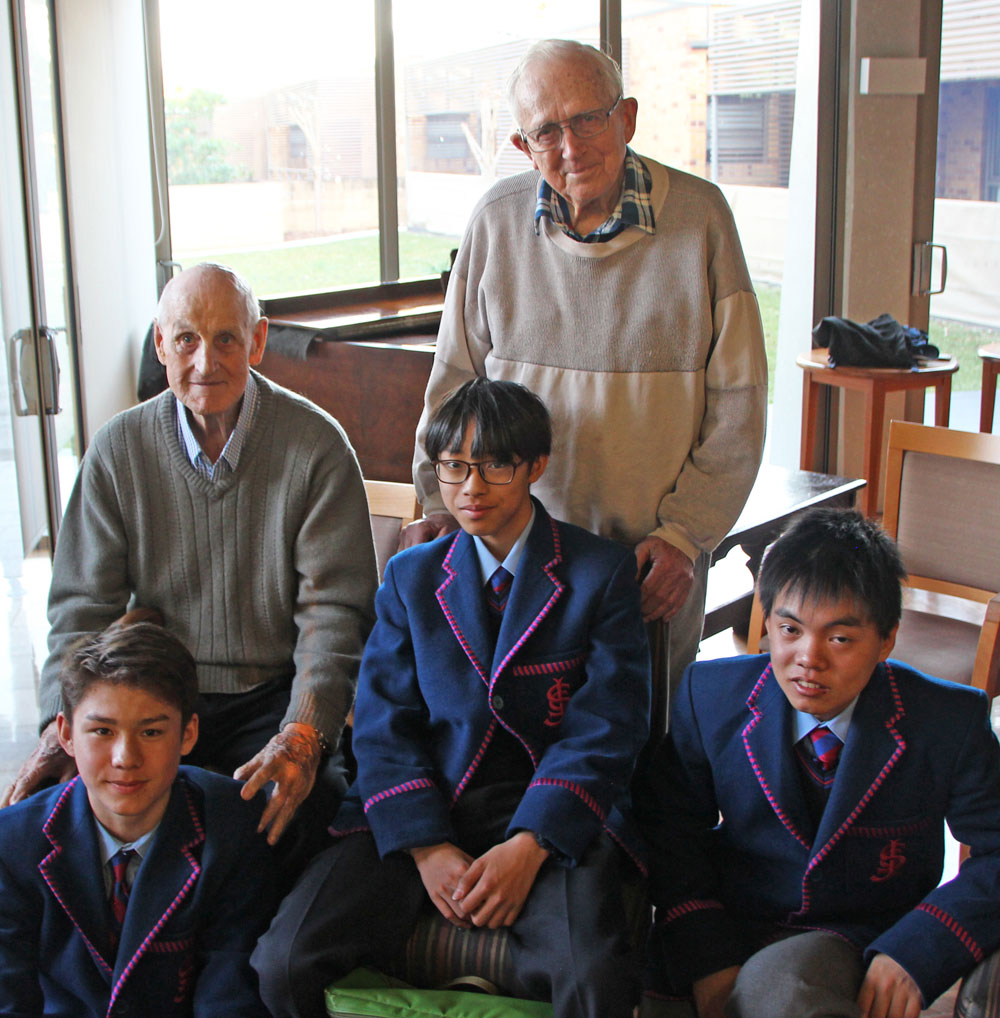 ---
Like good Cerdon wine...
In his monthly reflection and fresh from a pilgrimage to the places of Marist origins in France, Superior-General, Fr John Larsen, invites confreres to live out the missionary commitment of the pioneer Marists. Such a commitment, 'like a good Cerdon wine', matures with age...
To download, click here [Aug 03]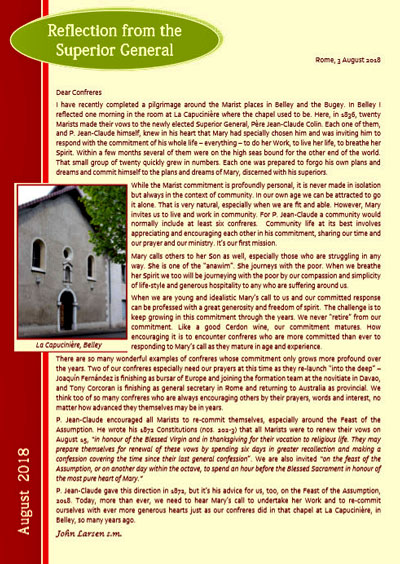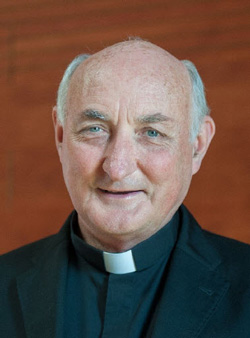 ---
Marist news from Europe
The latest issue of Euroinfo features a report on the leadership workshop in France assisted by Australian Fr Michael Mullins.
To download, click here. [Aug 01]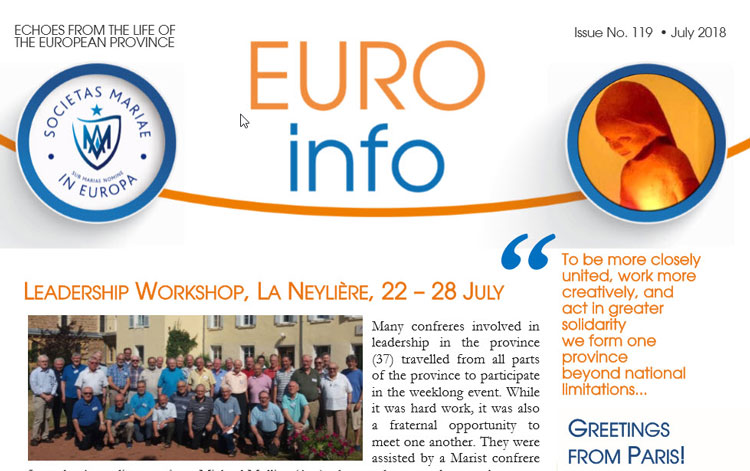 ---
---
Introducing MLA
Marist Laity Australia has an attractive, new leaflet introducing itself to those who would learn more about Marist life as a layperson.
To download, click here For MLA web site, click here [Aug 01]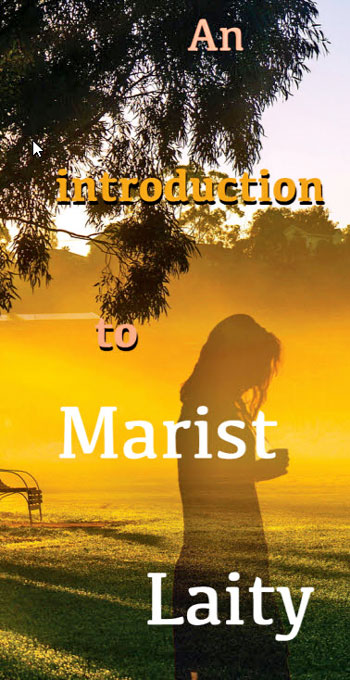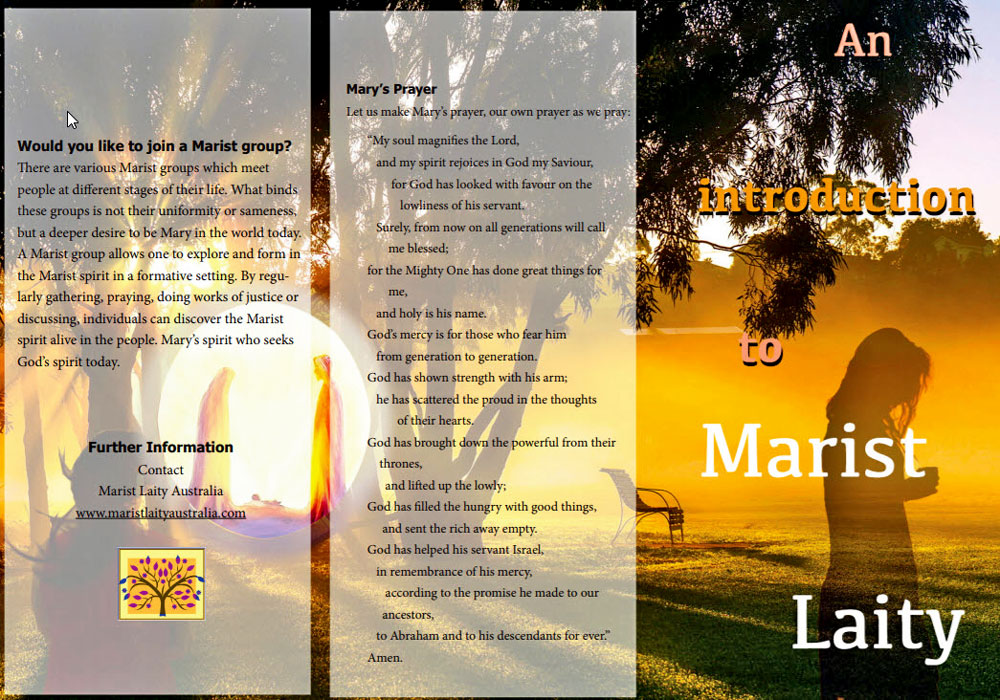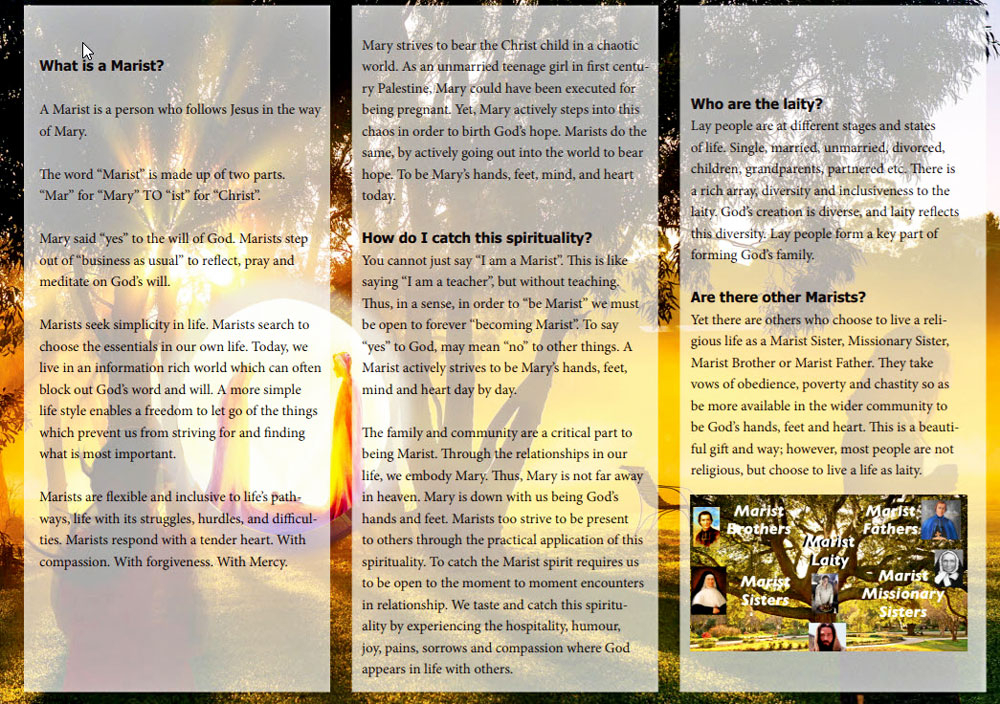 ---
A Marian style
From Brisbane, Fr Gerard Hall advises of an afternoon opportunity for young adults to reflect on Pope Francis' call for a Marian style of Evangelisation -- and how well this blends with a Marist vision.
For details of the Aug 12 event, click here [Aug 01]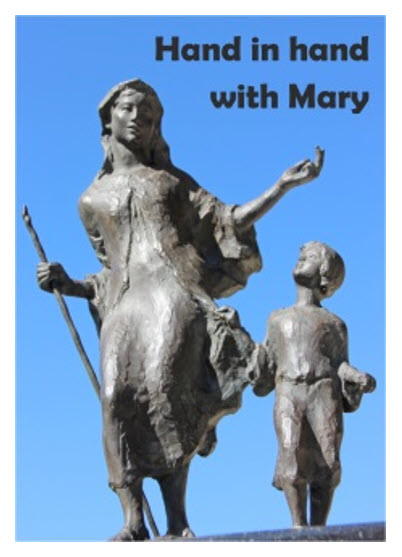 ---
Social Justice diary
For August anniversaries, click here [Aug 01]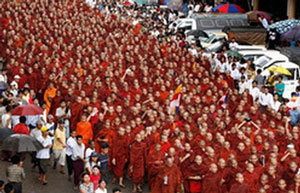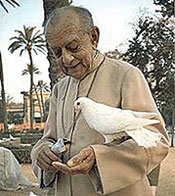 ---