---
December news
Colin calendar: 2021 | Colin calendar 2022 orders: click here

Click here for News 2008 to 2017 | For News 2018 to 2020 click here
---
---
Asia District news
Fr Christopher Ganzon sends news of the Marist Mission District of Asia in the latest bulletin. Click here [Dec 31]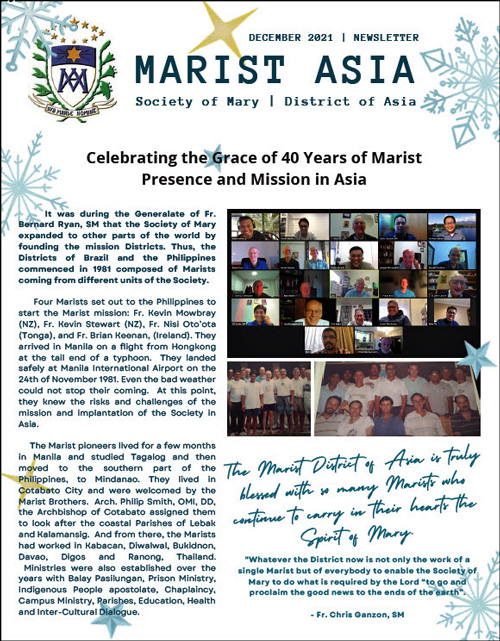 ---
Africa Marist news
Fr Albert Kabala sends a pictorial bulletin of recent events in the Marist Mission District of Africa. Click for: English | French [Dec 28]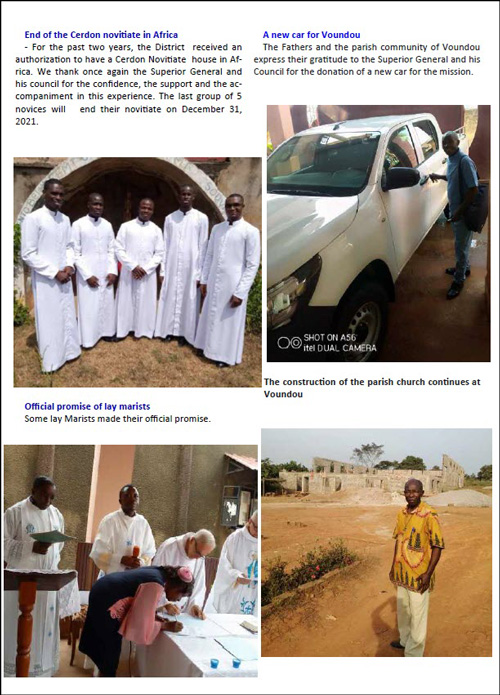 ---
Outdoor Vigil
The Christmas liturgy of Holy Name of Mary parish, Hunters Hill/Woolwich, began with its now-traditional outdoor Vigil Eucharist in the grounds of Villa Maria monastery.
Fr Brian Wilson SM, presided at the Mass, well-attended by families in the picturesque and historic setting. Fr Brian is due to succeed retiring parish priest, Fr Kevin Bates, in February.
Pictured below, scenes from the Dec 24 liturgy at Villa Maria. [Dec 24]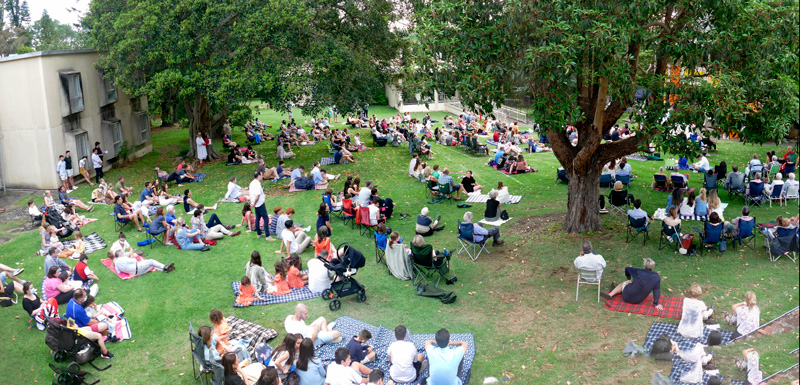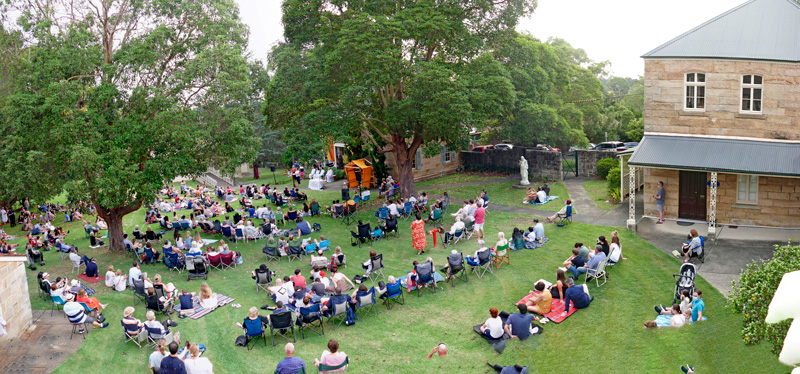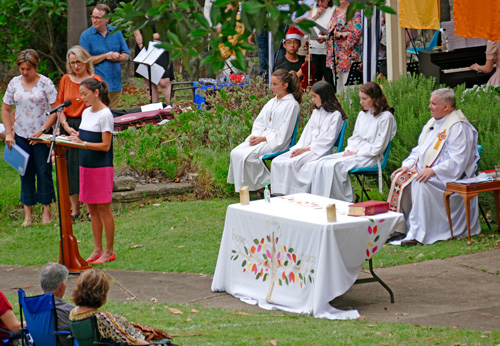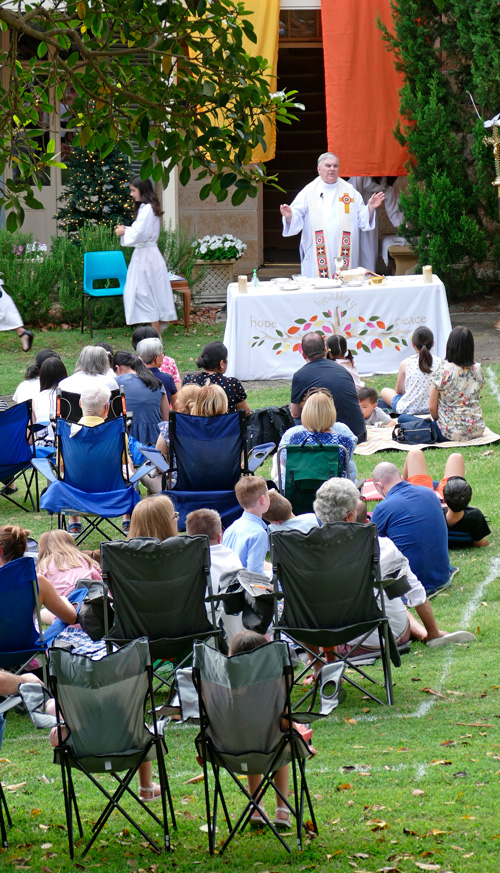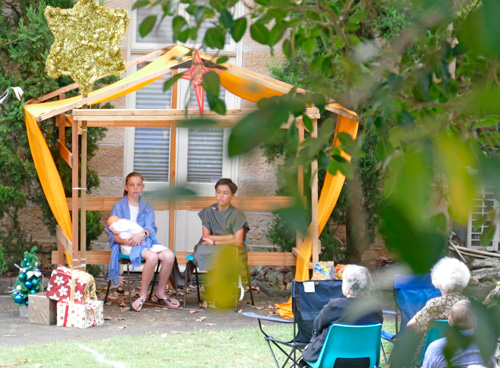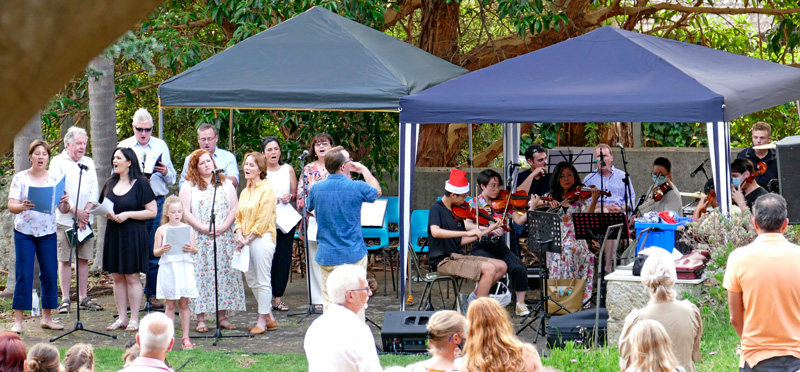 ---
Oceania Christmas Bulletin
For the Marist Oceania Province's Christmas Bullletin click here or go to the Members' Page. [Dec 24]
---
Marayong installation
In a ceremony on Dec 19, Parramatta's Bishop Vincent Long OFM Cap officially welcomed the Marists to the parish of St Andrews's, Marayong, installing Fr Kevin Medilo as its third parish priest. With Fr Kevin Redmond as assistant priest, the 'two Kevins' will care for the outer-western Sydney parish, to be joined by Bougainvillean Marist, Fr Floyd Gatana, as soon as entry to Australia can be finalised.
In his address Bishop Vincent said: 'Fr Kevin, and your confrere, we welcome you here to our Diocese, into this very vibrant community here at St Andrew's. Thank you for your kind acceptance of the offer to accompany the People of God here on the journey of Christian discipleship. With this installation ... we celebrate a new chapter in the life of this parish community.'
Pictured below, scenes from the installation and welcome at Marayong. (Photos: catholicoutlook.org) [Dec 22]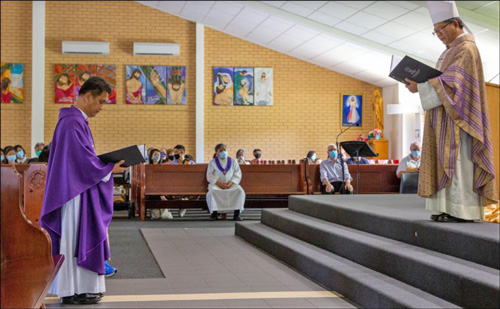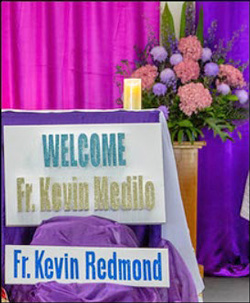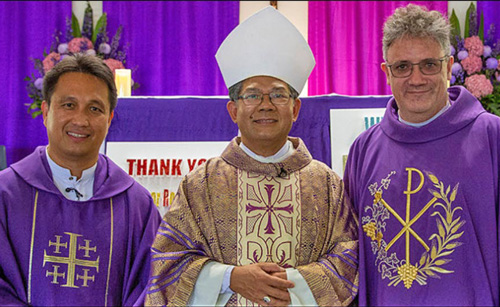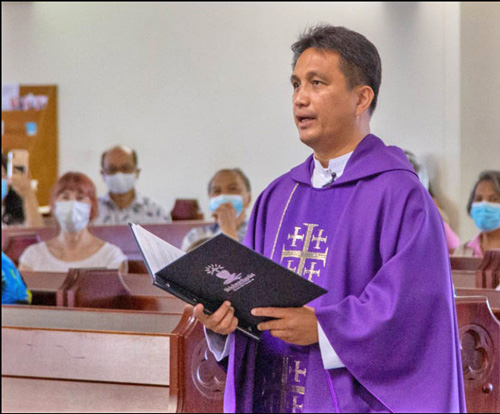 ---
Passing of Fr Jim Esler
In his one hundredth year Fr James Esler SM died peacefully on Dec 18. Alert, cheerful and keenly interested in confreres, numerous cousins and many other acquaintances, A Marist priest for sixty-five years, Fr Jim was well known throughout the world as a moral theologian, canon lawyer and encouraging friend. May he rest in peace.
For a summary of his life, click here. [Dec 18]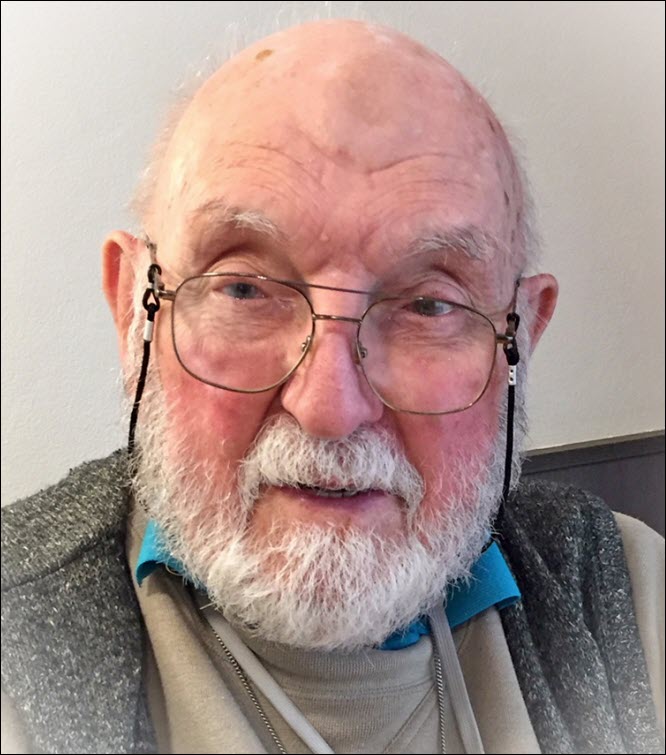 ---
SM Bulletin
This week's SM Bulletin reports on Vocations Year gathering at La Neylière, farewell events at Dessau and Fr Bernard de Verneuil 's 100th birthday.
For the bulletin, click here or go to the Members' Page. [Dec 18]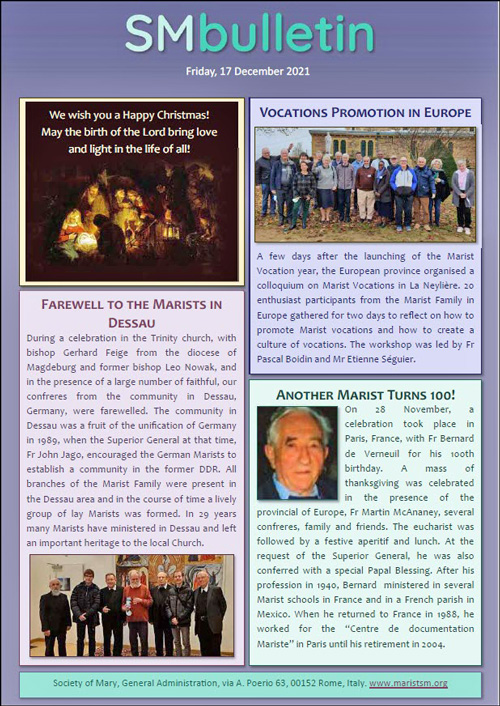 ---
---
---
Euroinfo
From Paris, this month's news from the Marist Province of Europe includes reports on vocations ministry in France, a memorial camino to Santiago, walking for refugees in London and migrant ministry in Spain. For Euroinfo, click here or go to Members' Page. [Dec 13]
---
Novices' Family insights
The eleven novices of the Marist International Novitiate have received a comprehensive introduction to aspects of Marist life through insights from various members of the professed branches of Marists. Input was provided by Fr John Harhager SM (Marist Fathers), Sr Judith Moore SMSM (Marist Missionary Sisters), Sr Vivienne Goldstein SM (Marist Sisters) and Br Teofilo Minga FMS (Marist Brothers).
The novices come from the provinces of Oceania, Mexico and New Zealand. Their formation is being led by novice master, Fr David Sanchez (Mexico) assisted by Frs Sione Hamala (Oceania) and Paddy O'Hare (Europe). [Dec 12]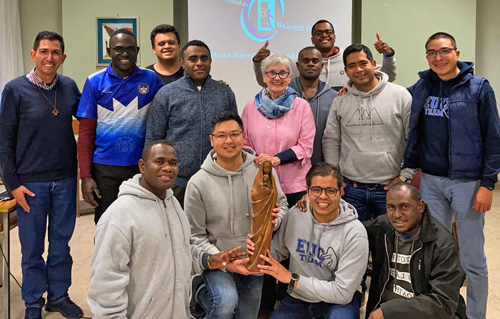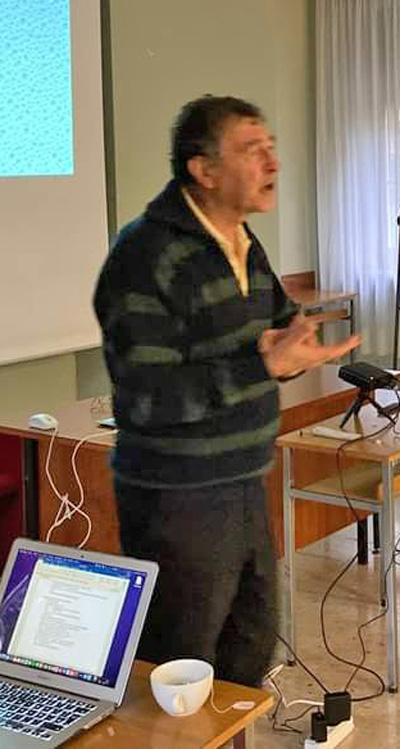 Above: Fr David Sanchez (back left) and the novices with Australian Marist Sister Vivienne Goldstein | Presentations from Sr Judith Moore | Br Teofila Minga | Fr John Harhager. Below: Gathering for the start of the Marist International Novitiate year.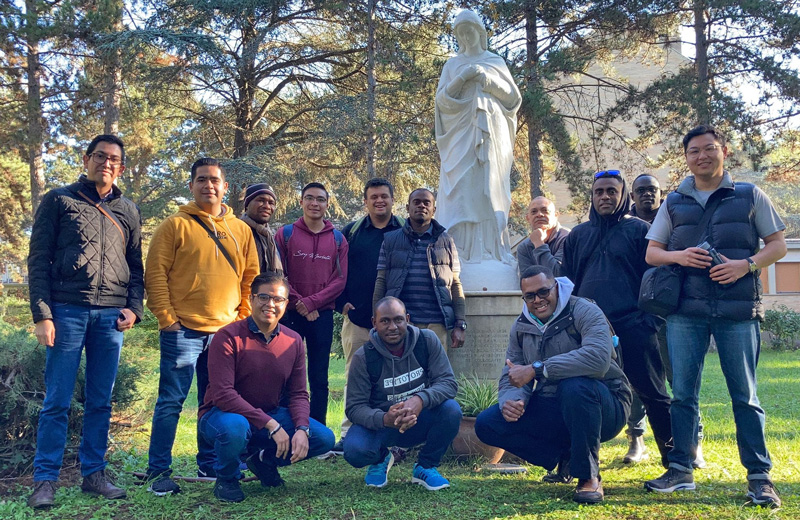 ---
SM Bulletin
From Rome, this week's SM Bulletin reports on ordinations in Africa and Rome, anniversaries of Asia and South America Districts and the re-election of Fr Anthony Corcoran as provincial of Australia: Click here or go to Members' Page. [Dec 10]
---
St Joseph - a Man of Law
As the Year of St Joseph comes to its end, Sr Maria Casey RSJ, has offered a final monthly reflection on the website ot Parramatta's Catholic Outlook. With a background in Canon Law, Sr Maria chose 'St Joseph - a Man of Law' as the theme for December's reflection. Click here. [Dec 10]
---
Provincial re-elected
From Rome, the Secretary-General of the Society of Mary, Fr Pat Devlin, has forwarded the results of a province-wide consultation for the election of leader of the Australian Province of Marist Fathers in which Fr Anthony Corcoran received over two-thirds of first preference votes. Accordingly, the Superior-General, Fr John Larsen, has confirmed Fr Tony in the office of Provincial for a second term of three years from Jan 1, 2022.
In a message to members of the province on Dec 9 Fr Tony wrote:'I thank you for your vote of confidence and I hope and pray that I will have the continuing energy to continue in my role. I trust that you will continue to offer me the fraternal support that I have experienced these last three years.' Congratulations and thanks, Fr Tony. [Dec 09]
---
Leadership change
The Marist Sisters in Australia have a new sector leader, Sr Gail Reneker SM, who begins a three-year term on Dec 08. Sr Gail takes over from Sr Catherine Lacey who has served as local leader for the past seven years..
The changeover was marked by a ceremony at Hunters Hill on Dec 04. The Sisters report:'We gathered to ritualise the change of leadership to take place on this week when Sr Gail Reneker will take up the role of Unit Leader of Australia with Srs Julie Brand and Beverley Lewis as her Assistants. The gathering was also an opportunity to give thanks to Sr Catherine Lacey who has been Unit Leader for the past seven years and to Sr Ruth Davis for her role as Unit Assistant for the last three years.'
Dec 08 is the date in 1824 when the first Marist Sisters took their religious habit in the church of Cerdon, France, after the election of Jeanne-Marie Chavoin as Superior-General.
Happy anniversary, Sisters, and thank you, Sr Cath. God bless the coming times, Sr Gail. [Dec 08]
Below: Sr Cath (left) handing the symbol of leadership to Sr Gail.
---
Fr Dylan returns to PNG
After working and studying in Brisbane for the past two years, Fr Dylan Hatobu SM has returned to PNG prior to taking up a teaching role at Dahla, Solomon Islands.
Before leaving Australia on Nov 27 Fr Dylan visited Marists in Perth, as well as attending a series of farewells from friends and fellow-Marists in Brisbane. He is presently assisting in Sacred Heart parish, Hohola, Port Moresby, awaiting transit to his native Bougainville before the new posting on Malaita, Solomon Islands. [Dec 08]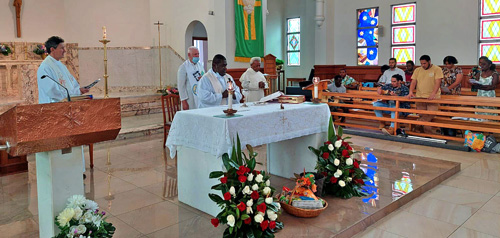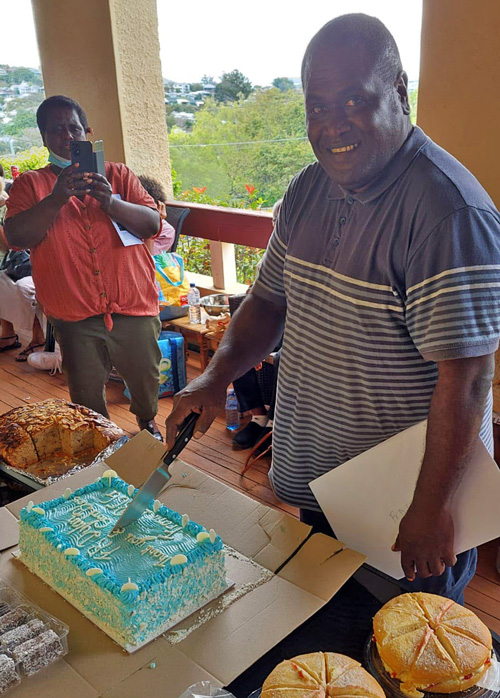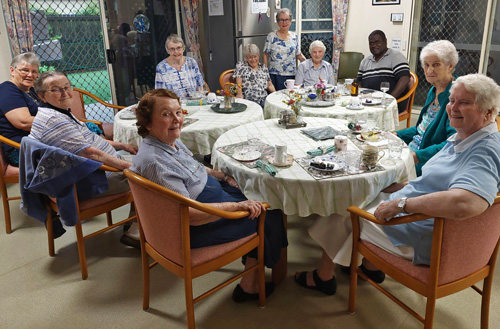 Above: Farewell scenes in Brisbane including Mass at the parish church of Rosalie and with the Presentation Sisters. Below: With Perth-based Marists, Fr Stephen Truscott and Fr Michael Moore with students at Redemptoris Mater seminary. | PNG flag at Paddinton. | At work helping in Hohola parish, Port Moresby.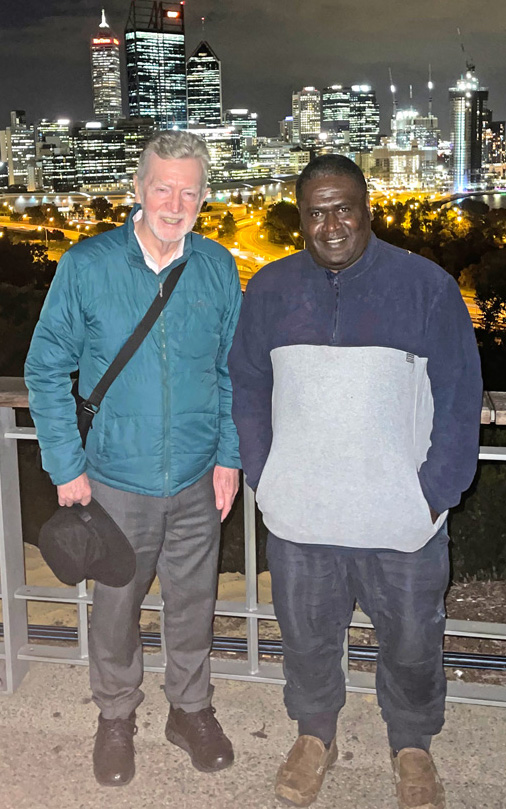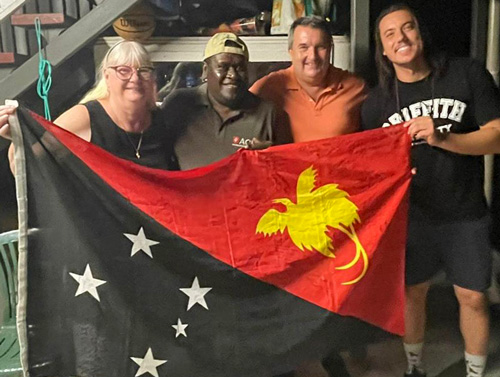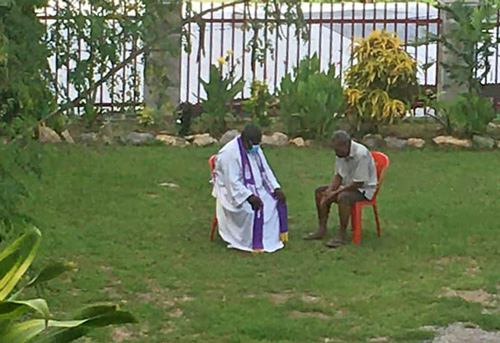 ---
Australasian Laity Advent Zooms
Marist Laity groups in Australia and New Zealand gathered by Zoom on Dec 05 for Advent reflection and prayer. The sessions were led In Auckland by Laity coordinator, Bev McDonald, and in Sydney by Margaret Woods Marists from seven countries participated including former Pacific missionary, Fr Wilhelm Tangen (pictured below), connecting from Dessau, Germany, .. [Dec 05]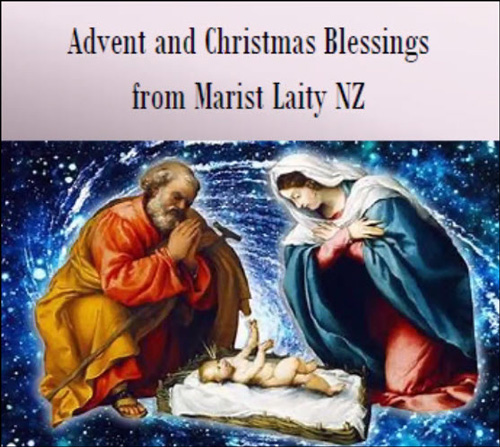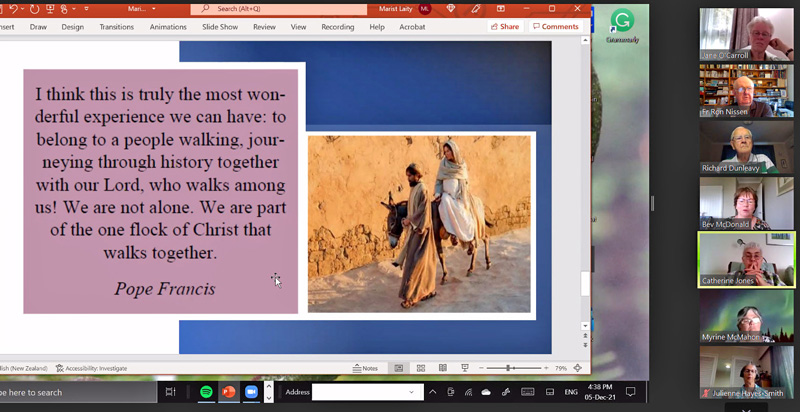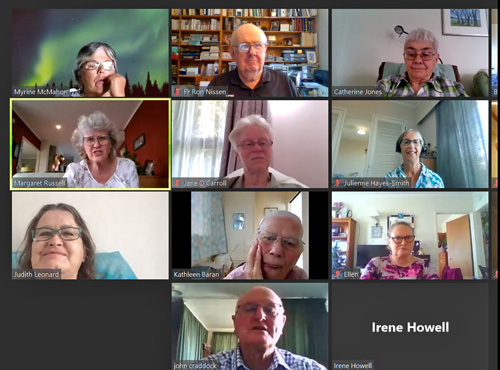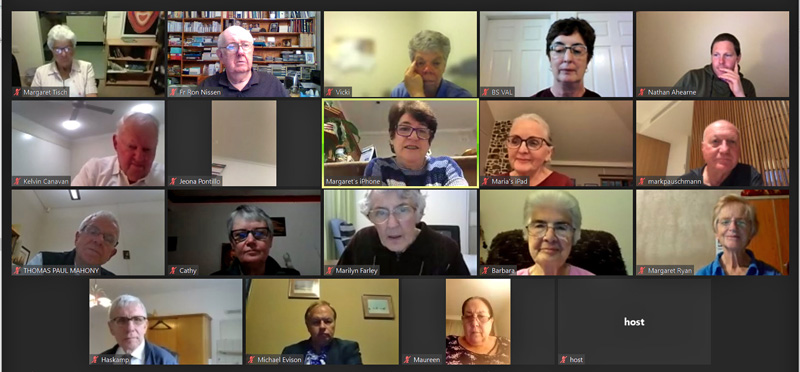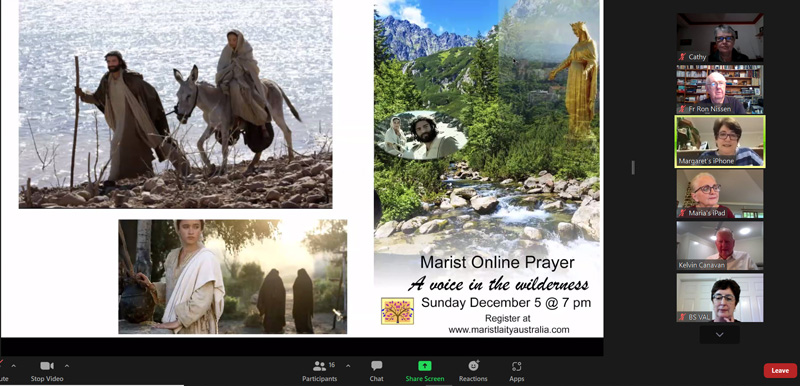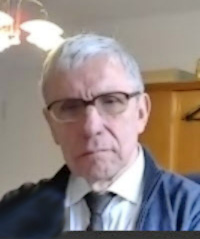 ---
Superior-General's reflection
In his reflection for December Fr John Larsen points to a Marist way of confonting much of the violence in our world, and proposes Advent and its penitential opportunities as a renewed opportunity for Marists to care for those in need and nearest to us.
---
Oceania news
The November issue of the Oceania News Bulletin includes reports on the launch of the Marist Vocations Year, recent diaconate ordination, the start of the international novitiate and the passing of Frs Seluini 'Akau'ola and John Pereira. For the Bulletin, click here or go to the Members' Page. [Dec 02]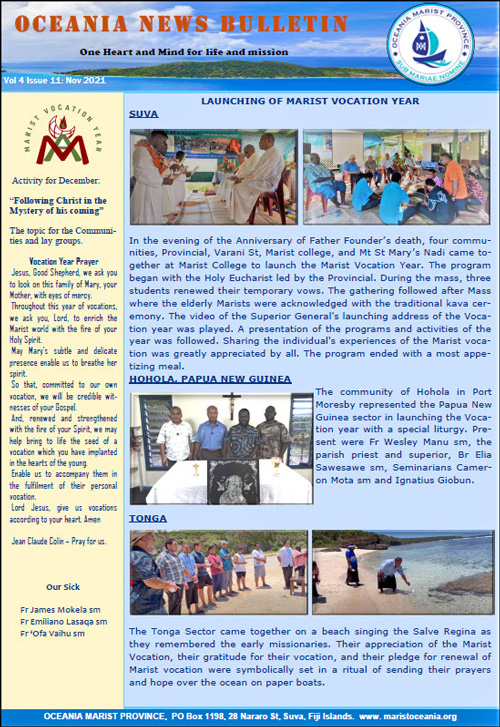 ---
Jubilarians honoured
'Round figure' anniveraries of priestly ordination were commemorated at a Mass and dinner at Hunters Hill on Dec 01.
Fr Garry Reynolds (60 years ordained) presided at the Eucharist in Holy Name of Mary church accompanied by Frs David Wilson, John Hopkinson and Ron Nissen (50 yrs), Gavin Foster (40 yrs) and provincial and homilist, Fr Tony Corcoran.
At the following dinner, hosted by the Montbel community, Fr Michael Whelan proposed a toast to the jubiliarians. Also present was Fr Paul Pidcock (65 yrs), while those unable to attend included Frs Aidan Carvill (50 yrs), Bill Ryder and John Burke (60 yrs) and James Esler (65 yrs). Congratulations to each of our jubilarians! [Dec 02]
Above: At Holy Name of Mary church, from left, Frs Gavin Foster and David Wilson (partially obscured), Frs John Hopkinson, Garry Reynolds, Ron Nissen and Tony Corcoran. | Frs Tony Corcoran, Gavin Foster, Garry Reynolds, John Hopkinson and Ron Nissen (Fr David Wilson not pictured). Below: The celebration dinner and Fr Michael Whelan's address. Further below: The jubilee occasion offered a rare photo opportunity for the six 'Pauls' currently working in the Australian province, from left, Frs Paul Mahony, Paul Pearce, Paul Pidcock, Paul Hachey, Paul Glynn and Paul Sullivan.
---
Marist Laity online prayers

On both sides of the Ditch, Marist Laity groups are gathering online for Advent prayers on Sunday, Dec 05.
In New Zealand, Laity coordinator, Bev McDonald, invites all Marists to their Zoom prayer, 'Leaving Nazareth - the Journey of Dreamers', 4 pm NZ time (2 pm EADT) while Australian MLA leader, Andrew Dumas, will host an Advent Zoom session, 'A Voice in the Wilderness', at 7 pm EADT.
For the NZ Zoom link click here or check further details on the website: click here. To register for the Australia prayer click here. [Dec 01]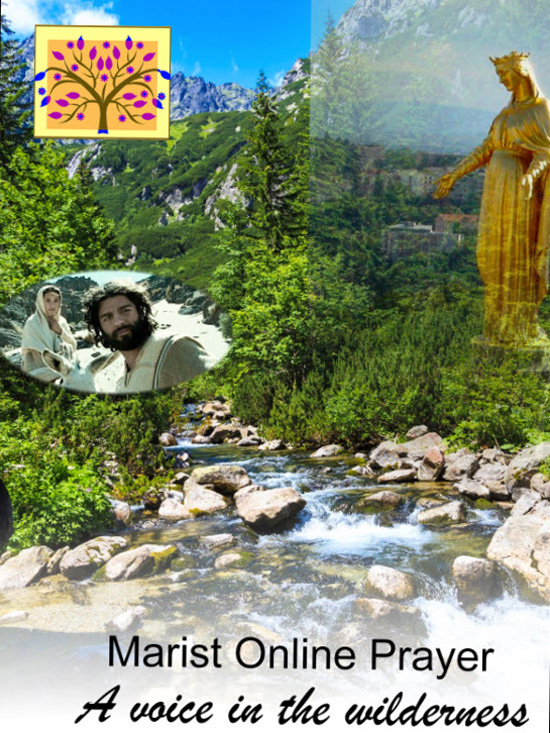 ---