---
Click here for News 2008 to 2017 | Click here for News 2018 then go to News tab above
---
---
Happy feast day, Sisters
On Aug 29 Marist Sisters throughout the world celebrate the birth in 1786, of their Foundress, Jeanne-Marie Chavoin.
For something of Jeanne-Marie's story and spirit, click here [Aug 29]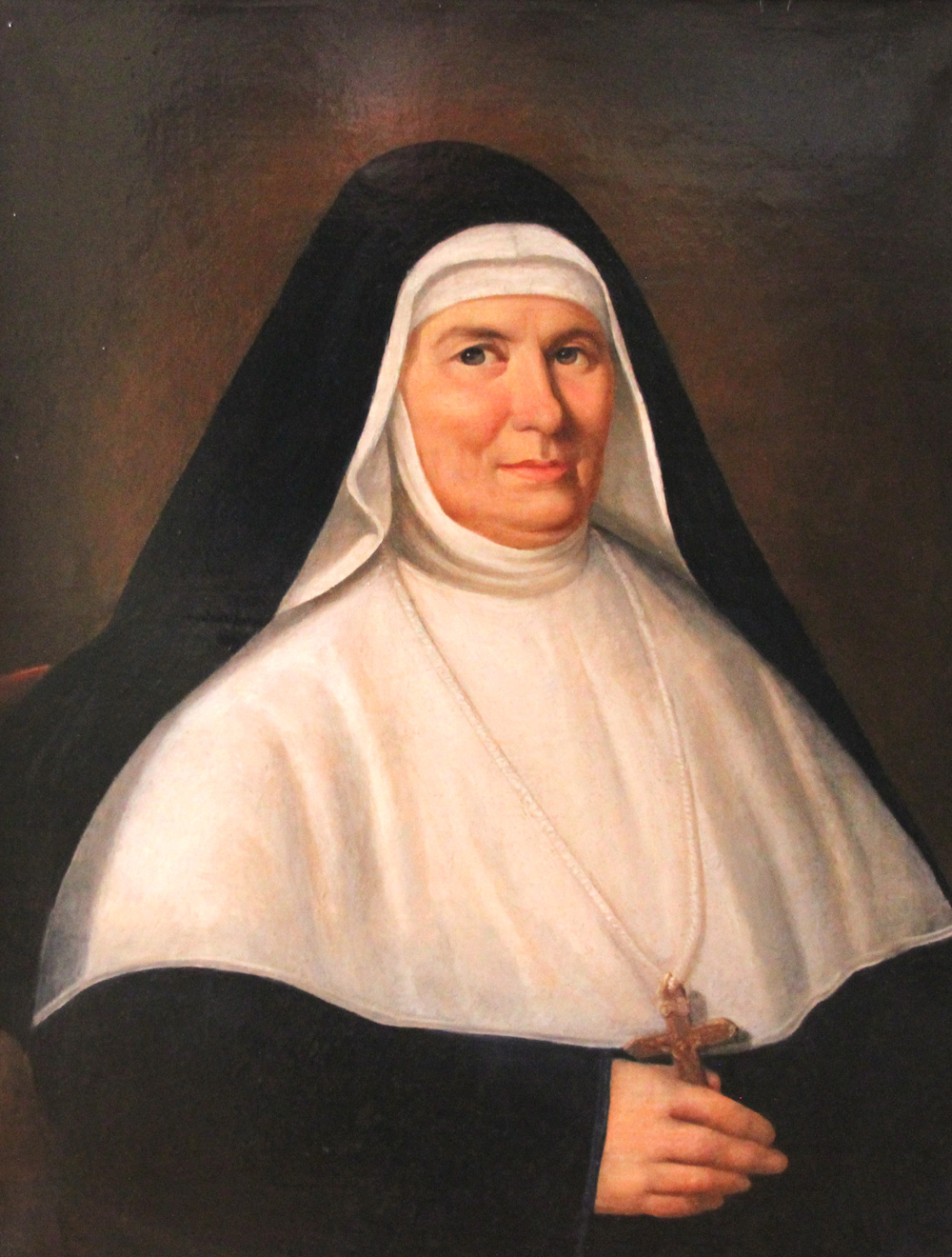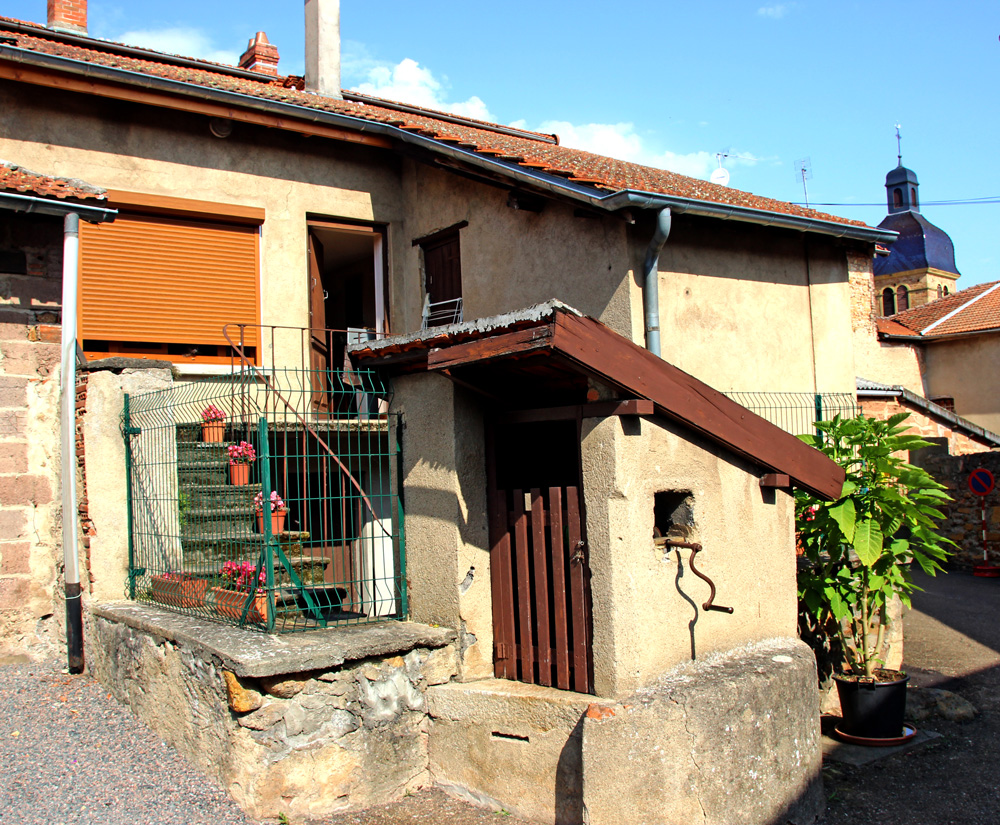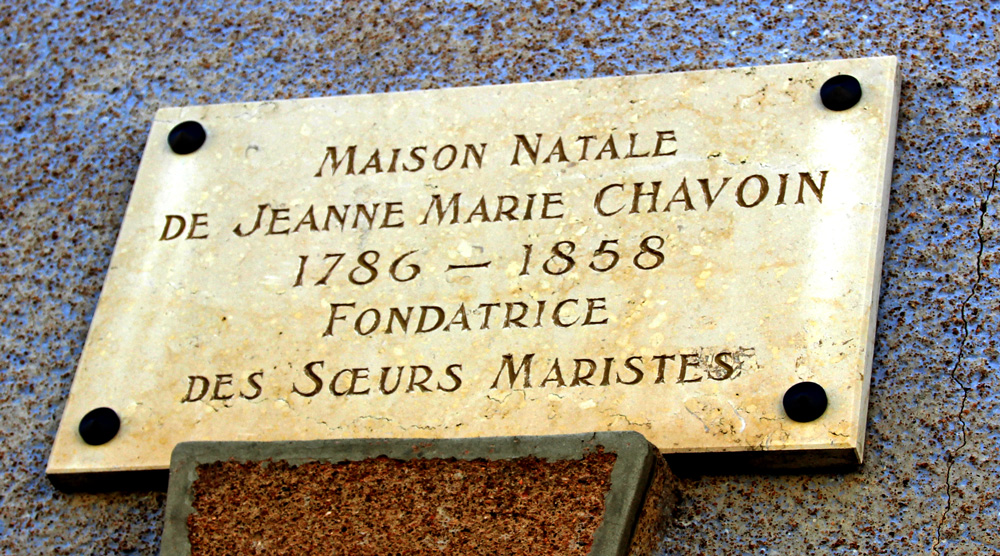 Above: Portrait of Jeanne-Marie Chavoin at Bon Repos, Belley, France | The Chavoin home at Coutouvre. Below: Jeanne-Marie is remembered in this window of her parish church at Coutouvre | The cellar of the Chavoin home where clandestine Masses were celebrated by priests hiding from the Revolutionaries | Oceanian Marists at Mass in the cellar, the second since the French Revolution.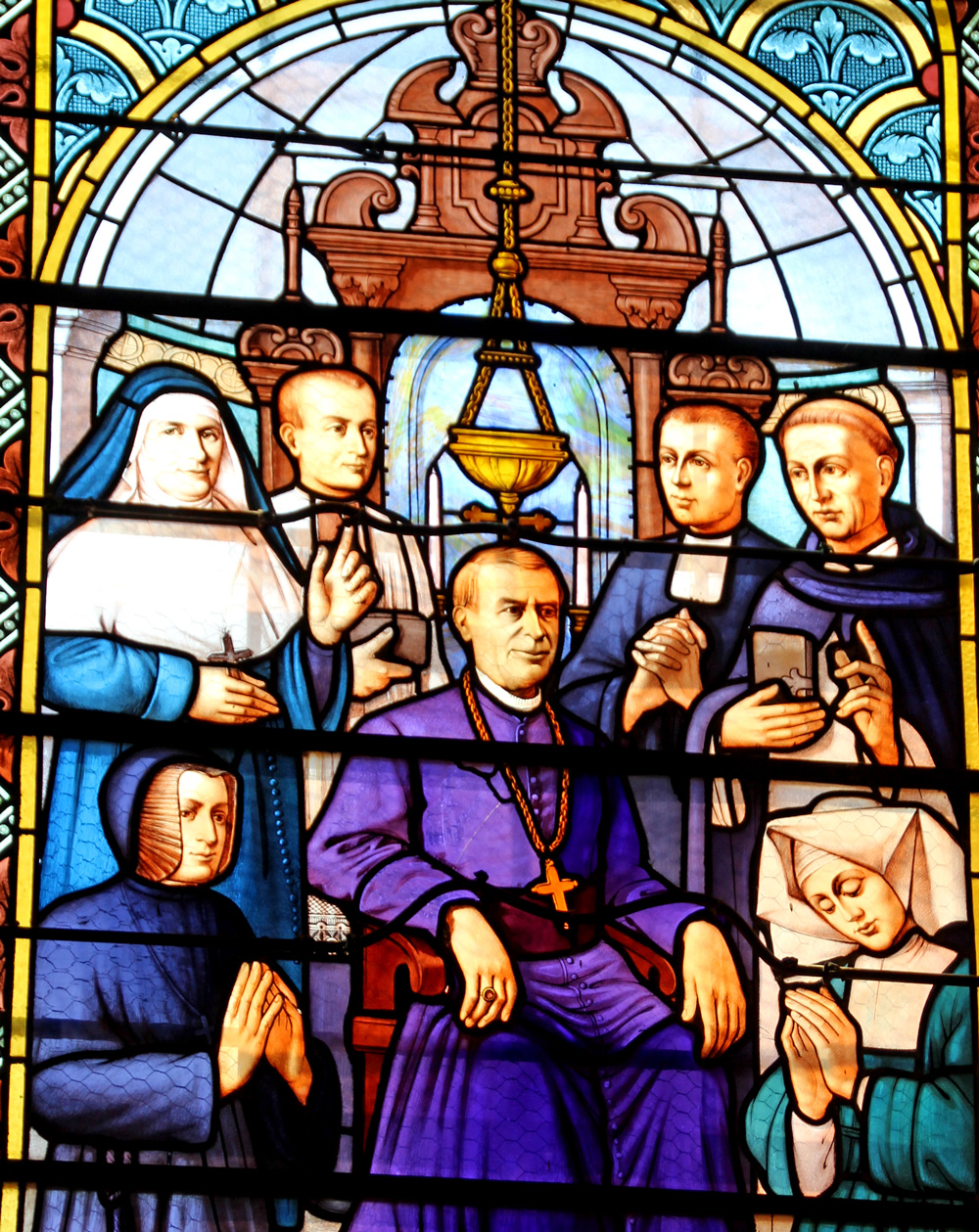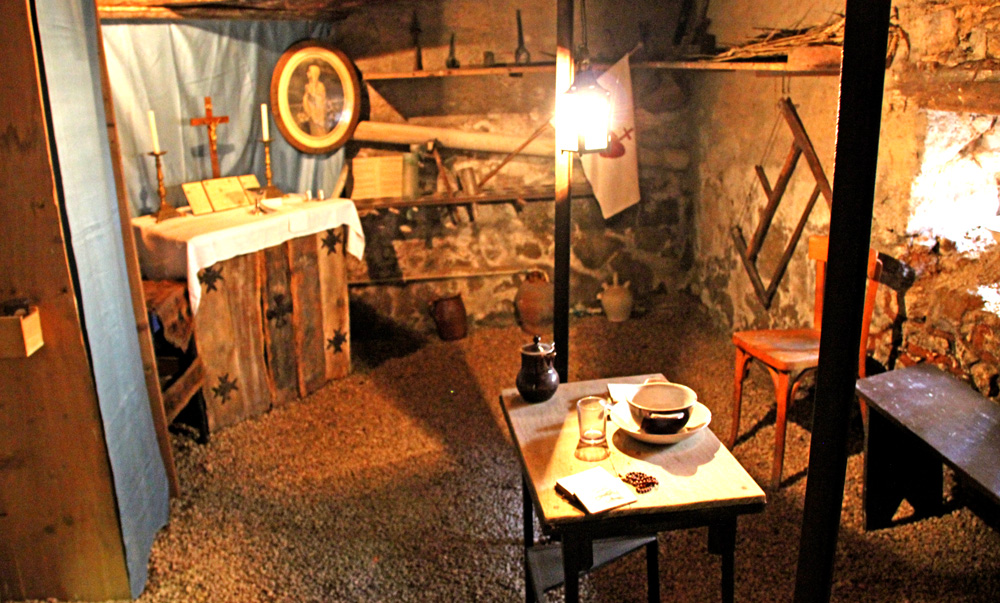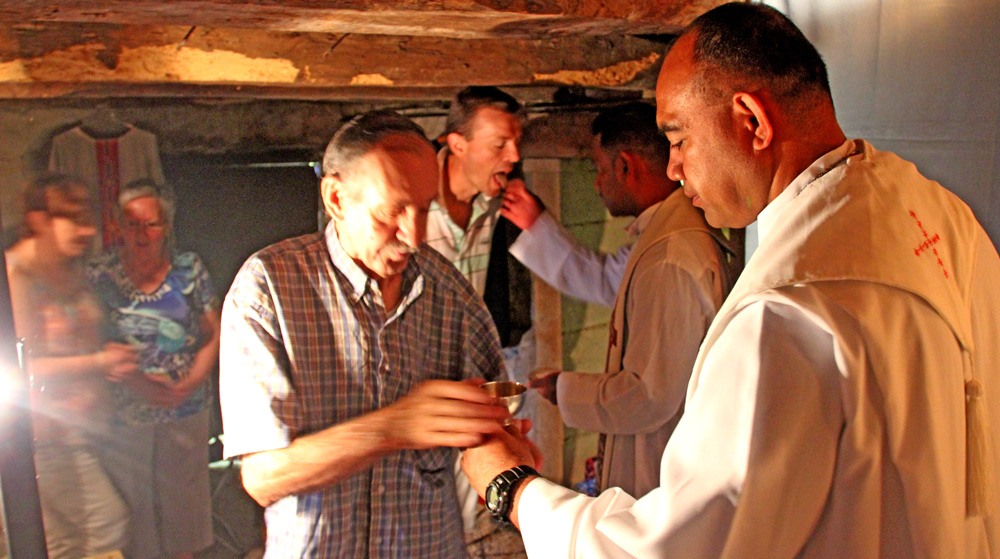 ---
Provincial Circular
Latest issue at Members' Page. [Aug 24]

---
Welcome, Sister Teri!
En route to a renewal program for Marist Sisters in Auckland, NZ, Canadian Sr Teri O'Brien SM, has spent a week in Sydney catching up with her Sisters and other members of the Marist Family.
From her base at Bon Repos in Belley, France, Sr Teri continues to be an invaluable resource person for pilgrims to the Marist places of origin and has assisted numerous groups from Australian Marist schools.
Pictured below: Sr Teri with Marist Sisters' Unit Leader, Sr Cath Lacey | ... with a new Aussie friend | Flashback to 2012 where Sr Teri succeeded in providing access to every village church visited by the pioneer Marist missioners in the Bugey moiuntains in the1820s & 30s. [Aug 22]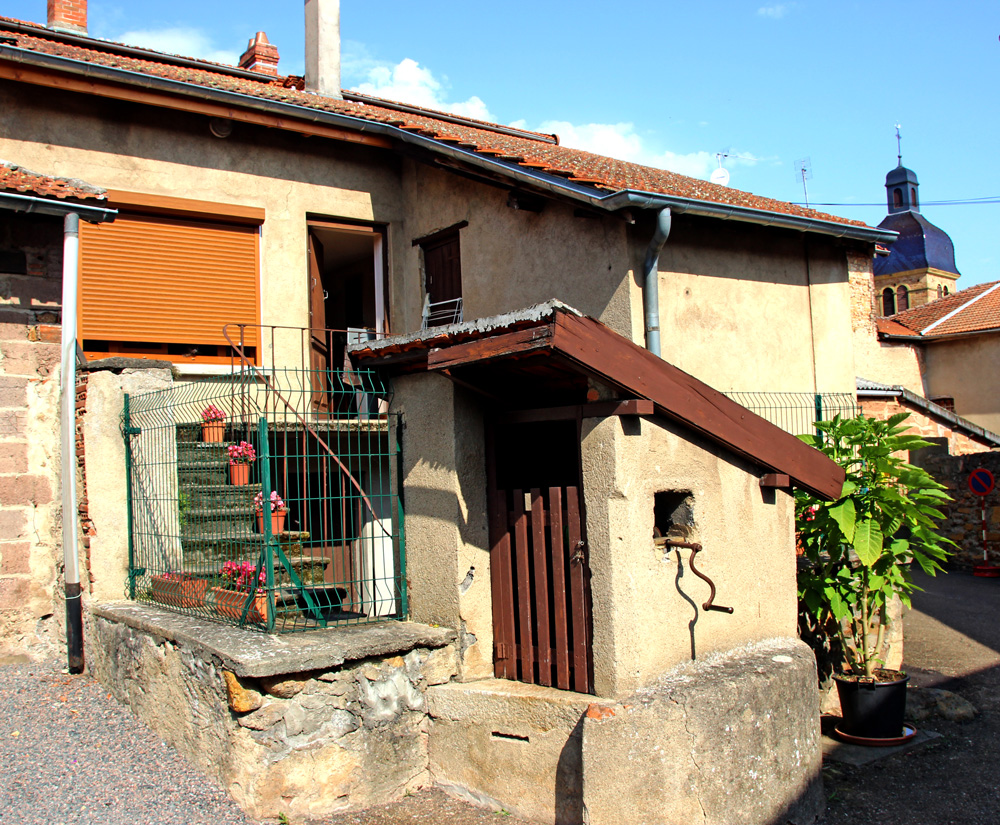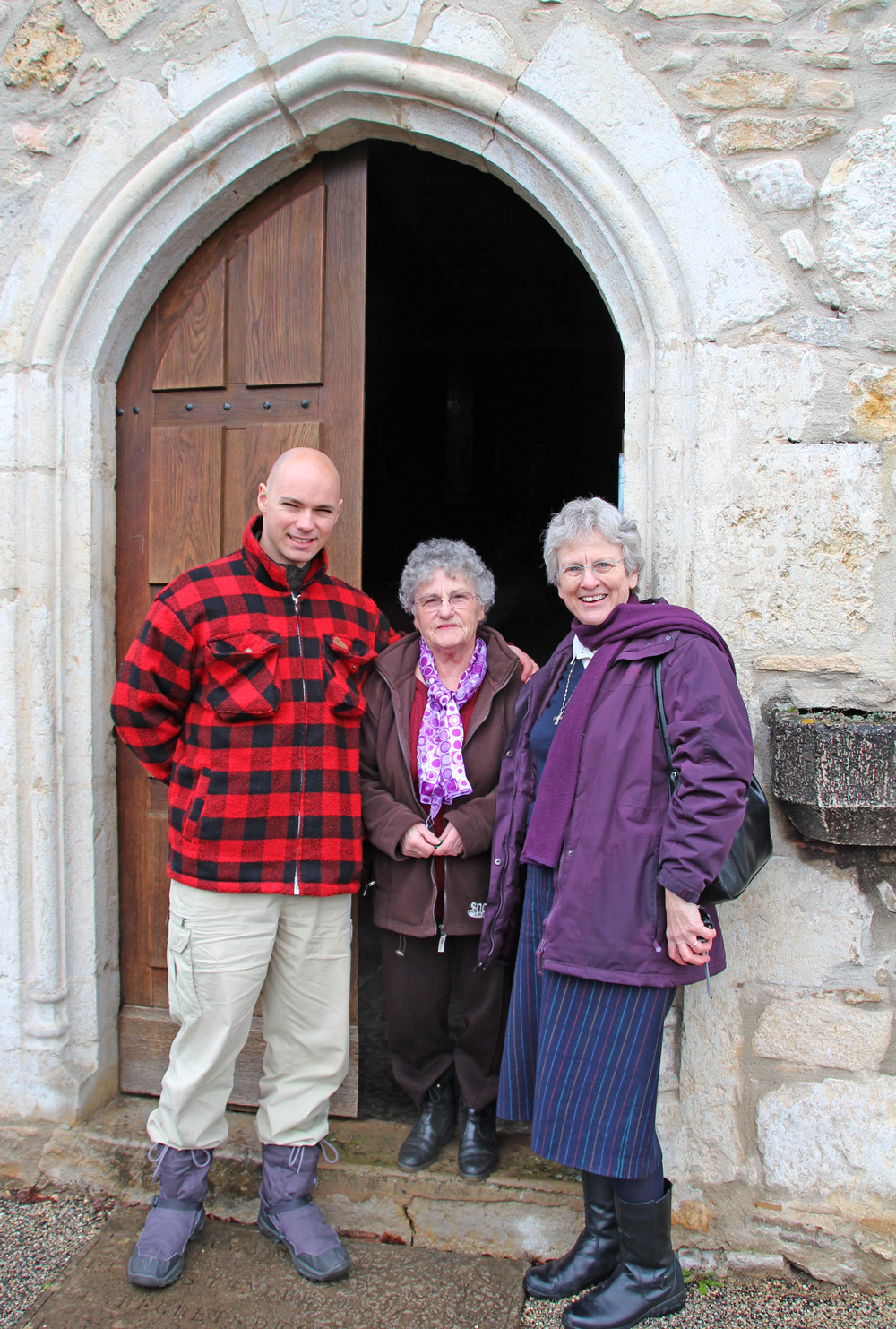 ---
Loss for Karen people
Marists in Asia-Pacific and members of the Marist Mission Centre's Burmese refugee programs mourn the passing on Aug 18 of Karen leader, William Aung Win Shwe, aged 52, from brain cancer.
In 1998 William became the link between MMC and the plight of refugees on the Thai-Burma border, instigating projects for Karen youth education and development. He had been the Karen National Union's Foreign Affairs representative and at the time of his passing in Maesot, Thailand, he was a member of KNU's Central Standing Committee.
William was the inspiration for MMC's Asia-Pacific Youth Development Program and well as being instrumental in the establishment of Australian Catholic University's border online program, later replicated at the Marist Mission in Ranong, southern Thailand.
We extend sincere sympathy to his wife, Sheila Aye, and to the thousands of Karen people for whom he dedicated his life. May he rest in peace. [Aug 19]
Below: William Aung Win Shwe in his beloved Karen national dress | Pictorial flashbacks on William's Marist connections: click here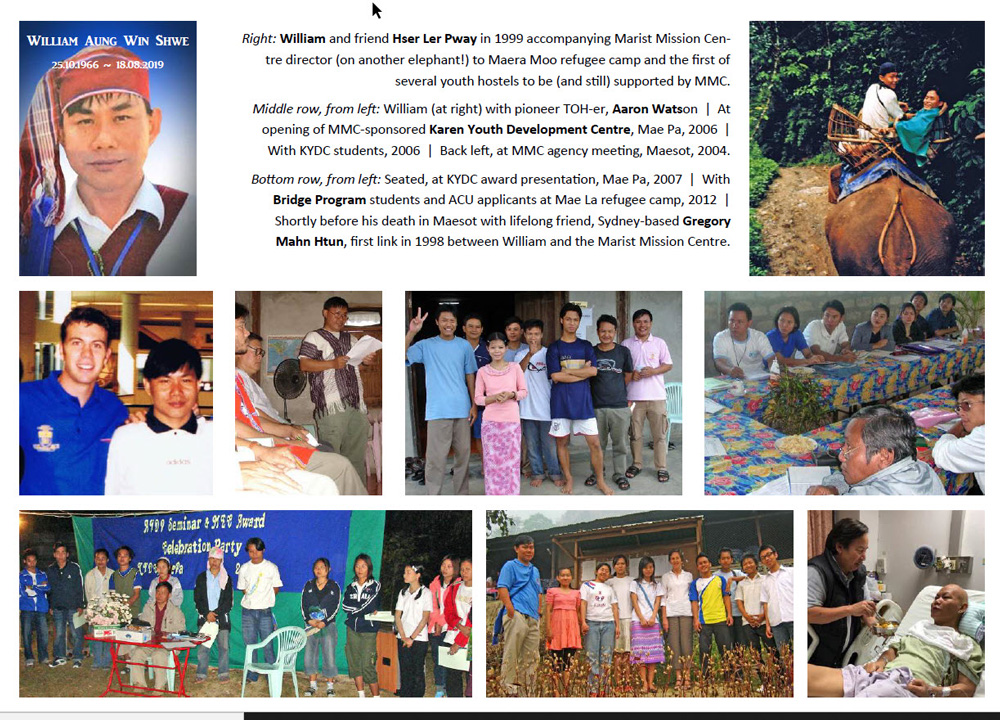 ---
Headstone blessed
Marking the first anniversary of the death of Fr Paul Cooney, his family and close friends gathered on Aug 04 at Scarborough-Wombarra Cemetery for the blessing and dedication of his headstone.
The ceremony was officiated by Marist Fathers Australia Provincial, Fr Tony Corcoran. [Aug 12]
---
Passing of Bishop Unabali
Marists in Bougainville report the passing of Bishop Bernarrd Unabali, bishop of Bougainville, who died on Aug 10, aged 62. Bishop Bernard was the sixth bishop of Bougainville, succeeding Marist bishop Henk Kronenberg who led the diocese from 1999 until his retirement in 2009.
The report continues: 'Bishop Unabali passed on at St Luke's Medical Center (Quezon City), Philippines this afternoon at 2:49 pm Bougainville Standard Time. He had suffered from diabetes and related complications. He led the Catholic Diocese of Bougainville from 19th March 2010 until today (10th August 2019) when God called him. We rejoice in the confident knowledge that our late bishop is at peace with God in heaven. Arrangements are being made to bring him back at the soonest possible flight. Eternal rest grant unto him, O Lord, and let perpetual light shine upon him. May his soul and the souls of the faithful departed, through the mercy of God, rest in peace.' [Aug 10]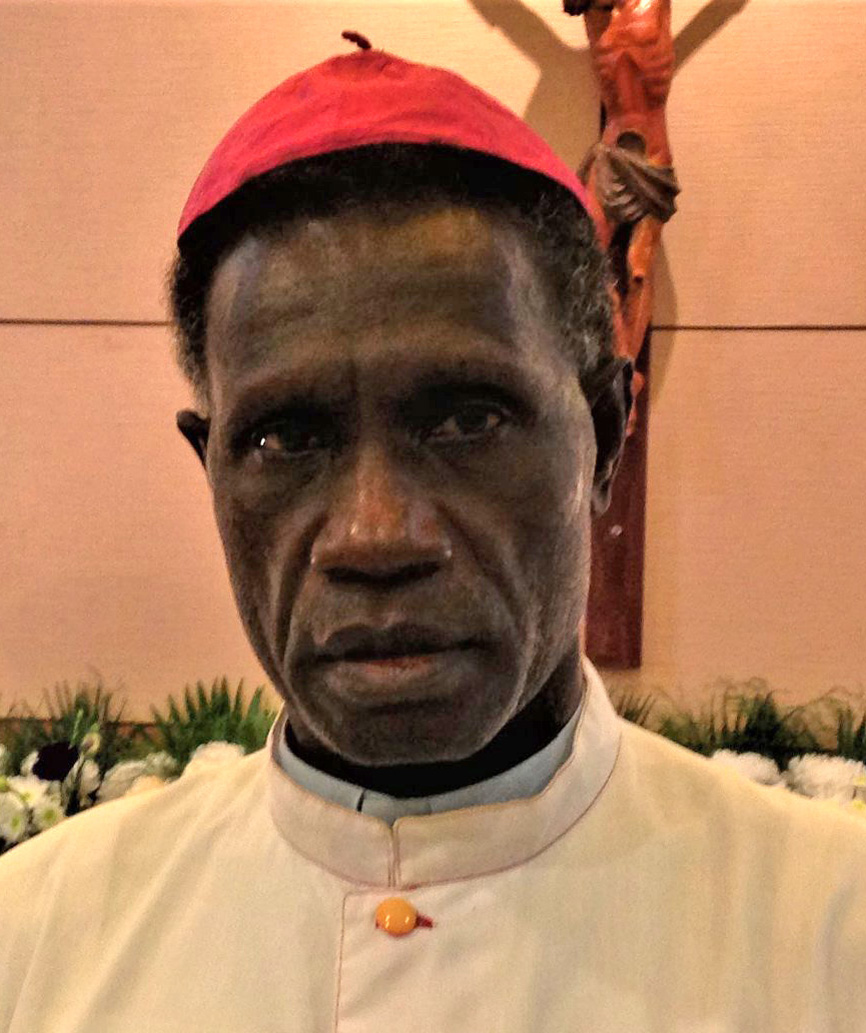 ---
All roads...
Two Marists have left Sydney for Rome in recent days. Fr Tony Kennedy (pictured below, left, with provincial, Fr Tony Corcoran) returns to Casa di Maria, the Marist International Theologate, after a holiday break Down, while Fijian Marist, Fr Donato Kivi (pictured at the old presbytery of St Patrick's with Fr Jim Carty) will be participating in the gathering of Marist formators next week.
Fr Donato is also a member of the Society of Mary's Ecology Commission and met with Fr Jim to discuss Marist environmental initiatives.
Bon voyage, confreres. [Aug 09]
---
New site for Fr Colin
Marking the Aug 07 anniversary of the birth of Jean-Claude Colin, a new website has been launched to continue promotion of the Beatifcation Cause of the Marist Founder.
The website's address remains www.jeanclaudecolin.org and features simplified access to the life of Fr Colin and resources to assist in promoting the Cause. Future pages will include a 'Members' Page' and happenings in the Marist world of Fr Colin. [Aug 07]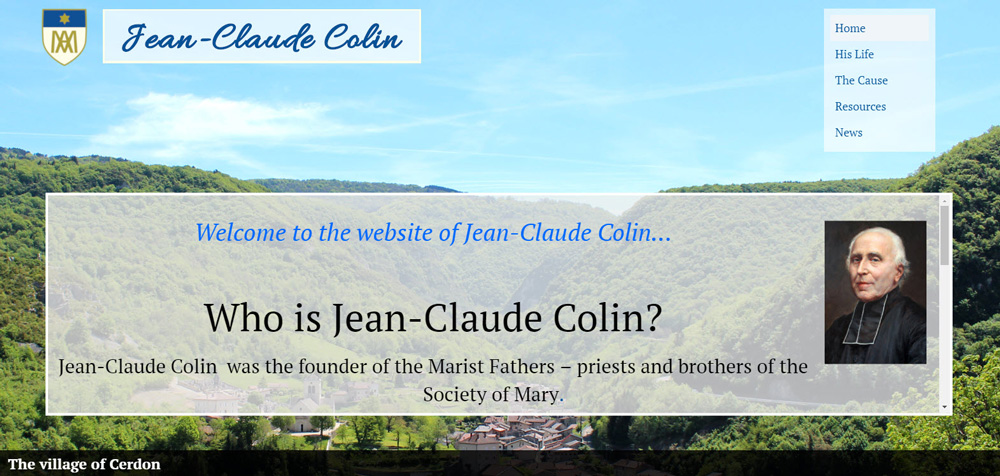 Above: The site's resources are available in different languages. The 'Fr Colin leaflet' is in forty-six. | One page is dedicated to resources for children. Below: A 'Pictorial life of Jean-Claude Colin' features images following the life of Fr Colin in France and Rome. Visit the site.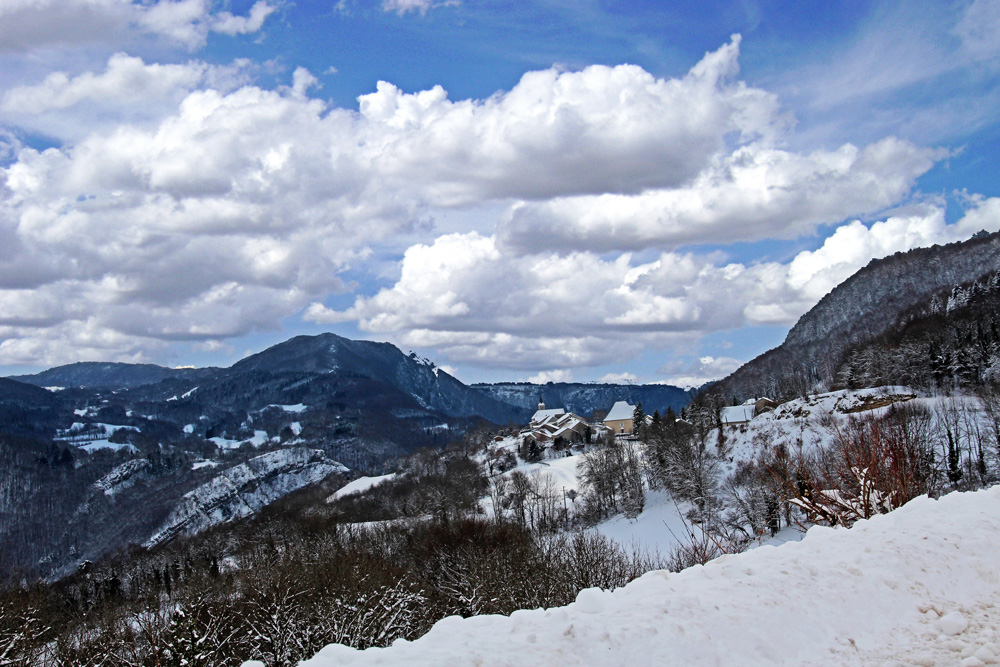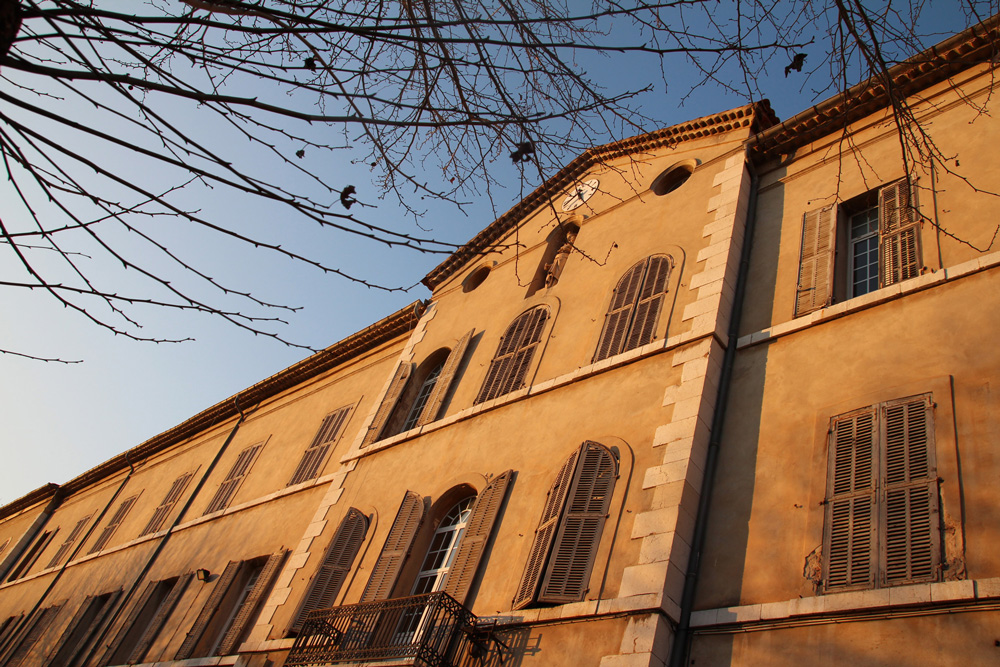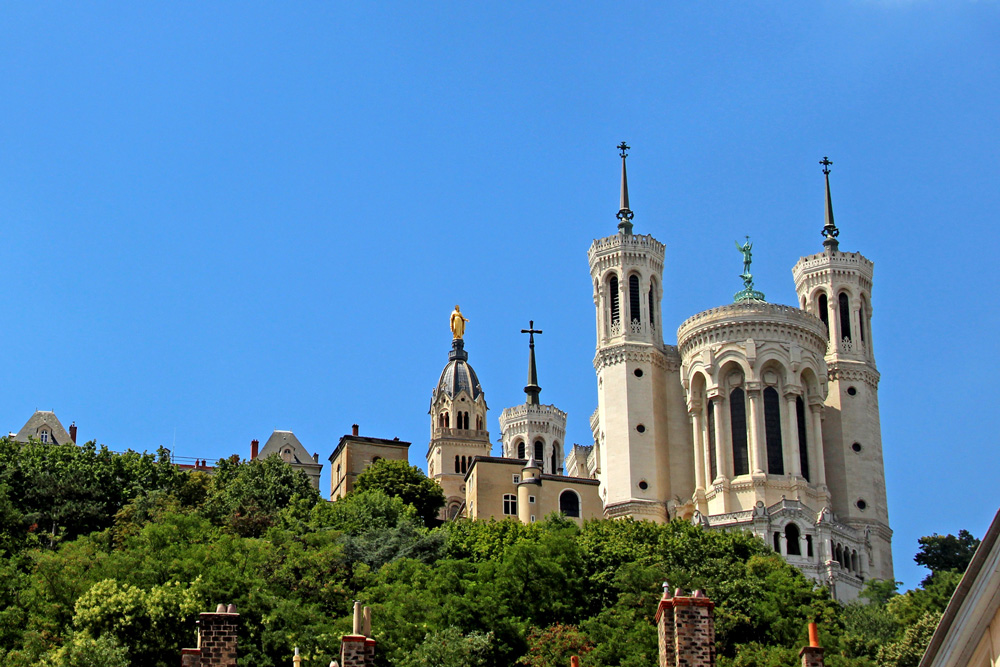 ---
Birthday preps
Aug 07, 1790, was the birthday of Marist Founder, Jean-Claude Colin.
Resources to help commemorate the anniversary include a suggested liturgy to honour Fr Colin as well as the Fr Colin leaflet (in English and 45 other languages) with a short biography and a prayer seeking graces through his intercession. [Aug 04]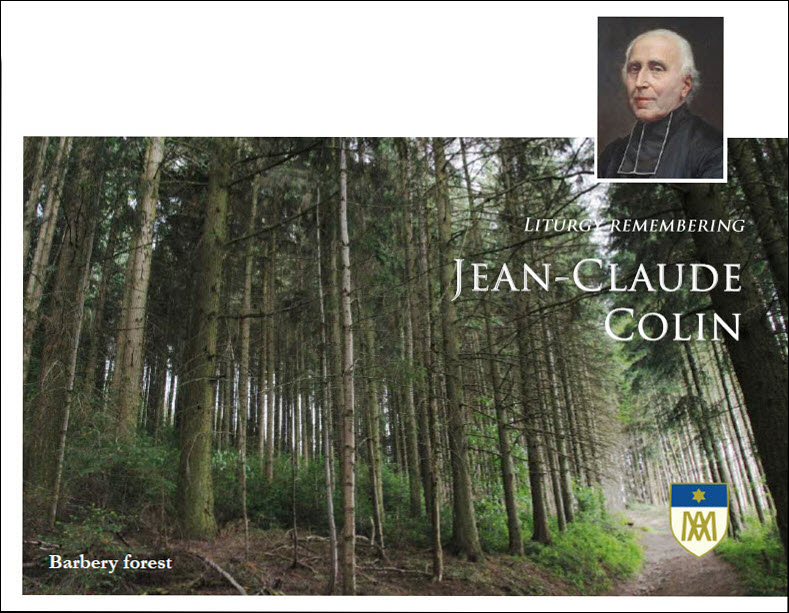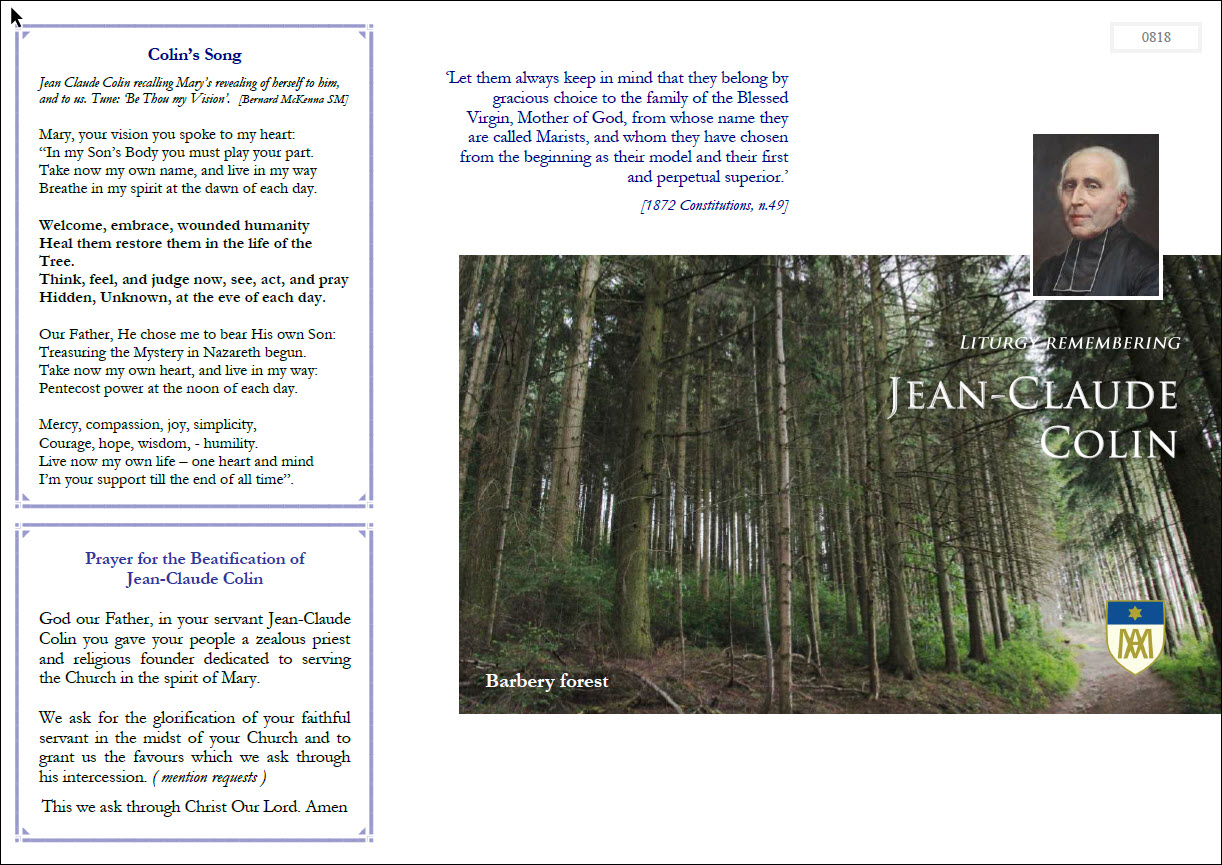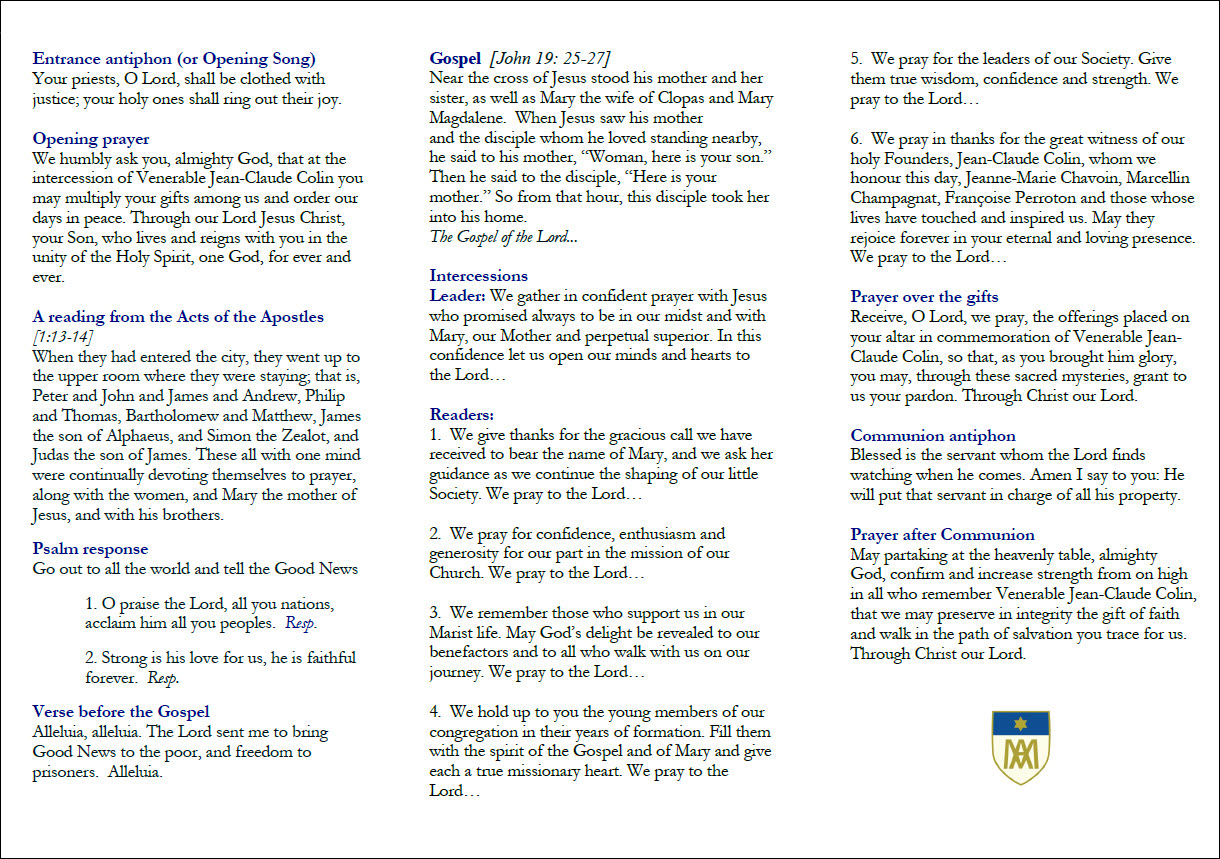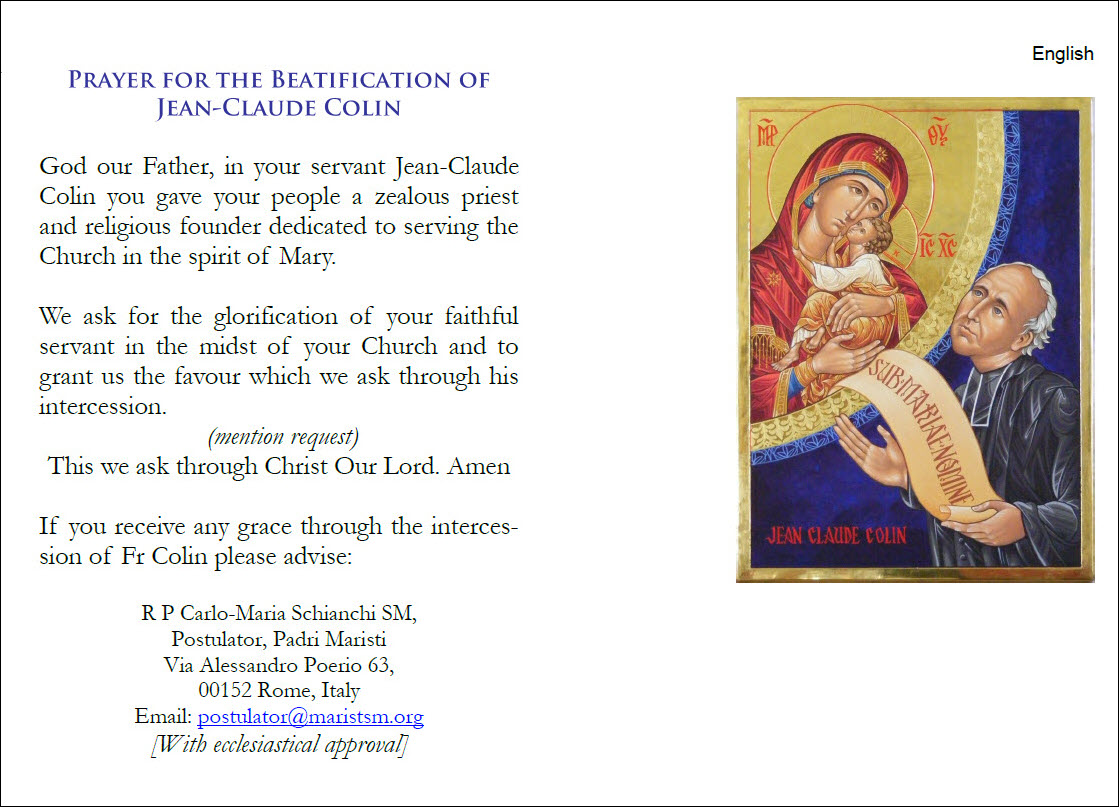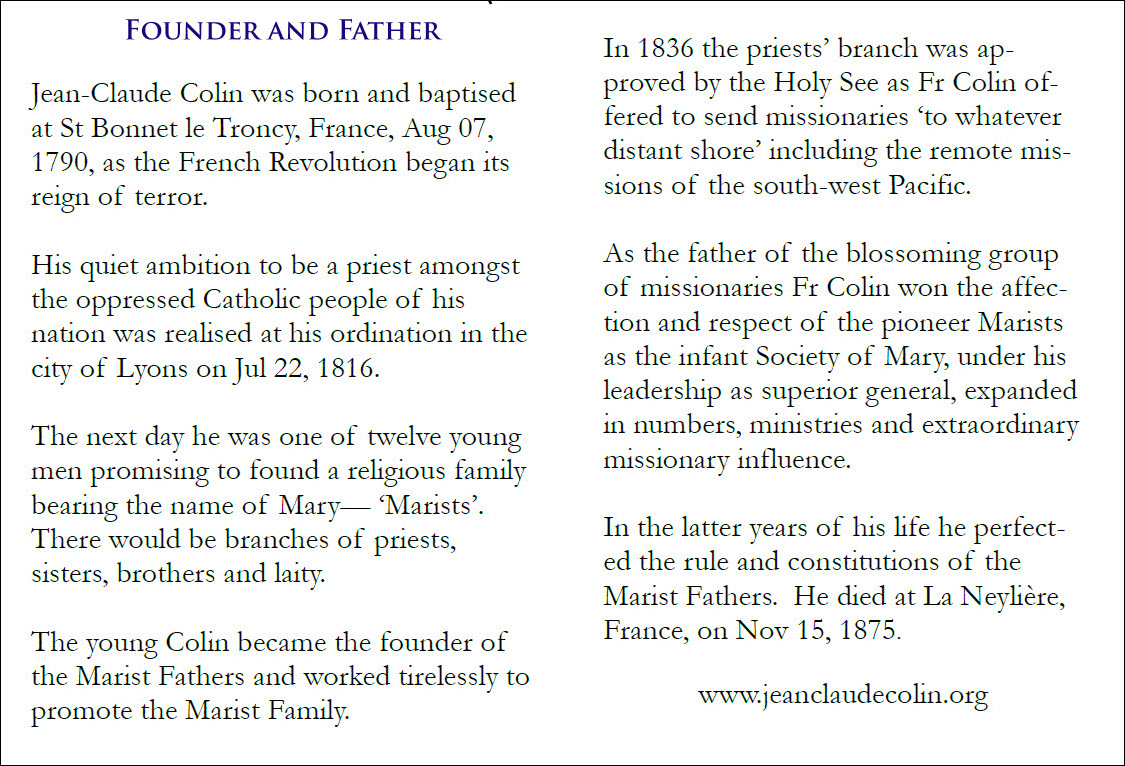 ---
Farewell to Fr John Thornhill
Family, friends, professional colleagues and fellow-Marists gathered for a simple vigil ceremony on the eve of Fr John Thornhill's Requiem Mass at Holy Name of Mary church, Hunters Hill, on Aug 02. The Mass was followed by internment at Macquarie Park cemetery.
During his homily, Marist provincial, Fr Tony Corcoran, read a message from Archbishop Mark Coleridge on behalf of the Australian bishops: 'With John Thornhill's Funeral Mass to be celebrated tomorrow I wanted to express the sympathy of the Bishops Conference to you and the Marist Fathers, and also to acknowledge the remarkable contribution which John made for so long to the Church in Australia and far beyond. John combined high intelligence with deep faith, a theologian's mind with a pastor's heart, an ability to listen with a readiness to stand his ground. May he rest in peace and rise in glory.' [Aug 02]
Above: Vigil ceremony in the chapel of Montbel, Hunters Hill. Below: Marists and other priests gather for the procession into Holy Name of Mary church. | Fr John's nephew, Eric Thornhill Robinson, gave the eulogy in which he shared the many faces of a much-loved 'Uncle John' | Fr Tony Corcoran reading Archbishop Coleridge's message.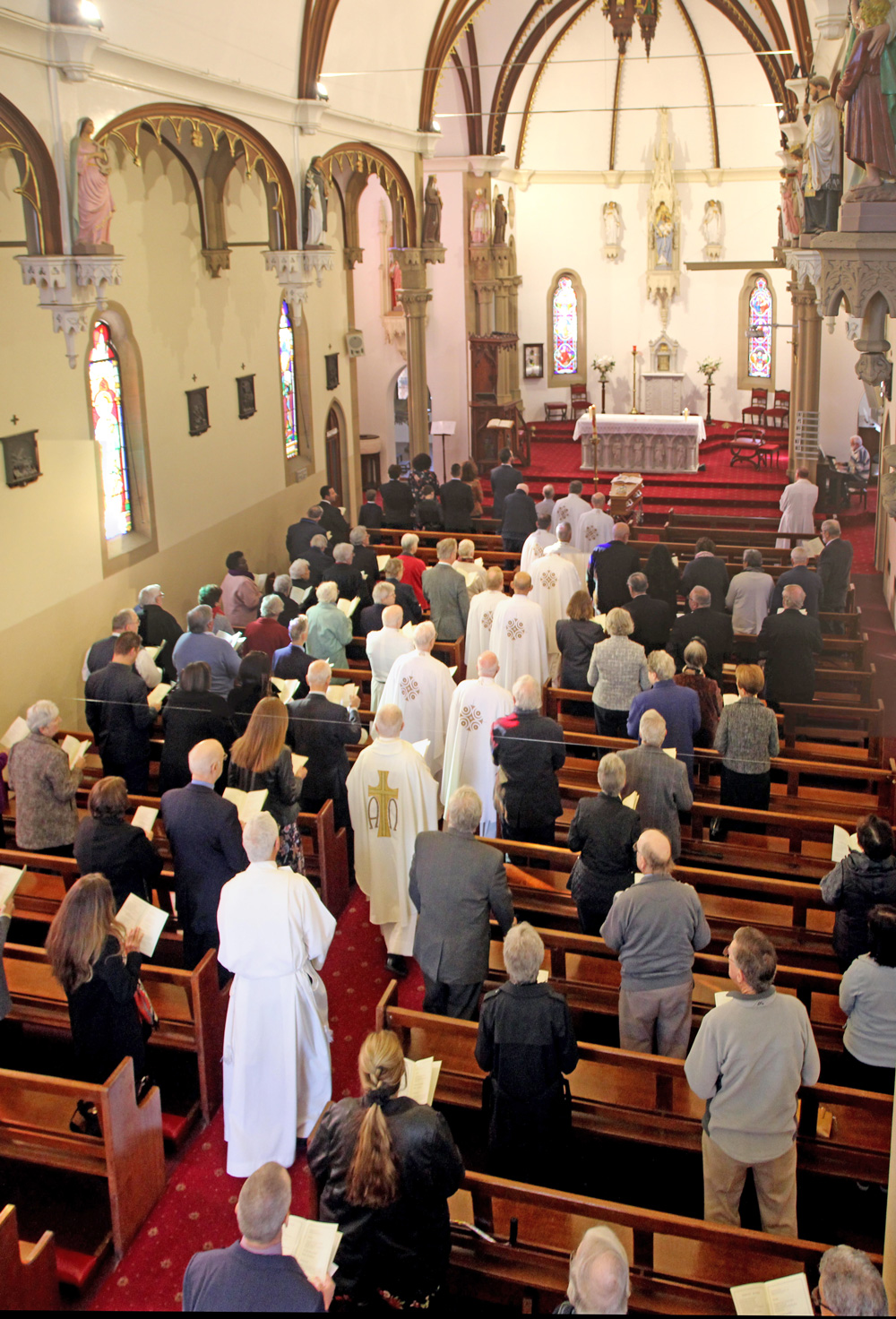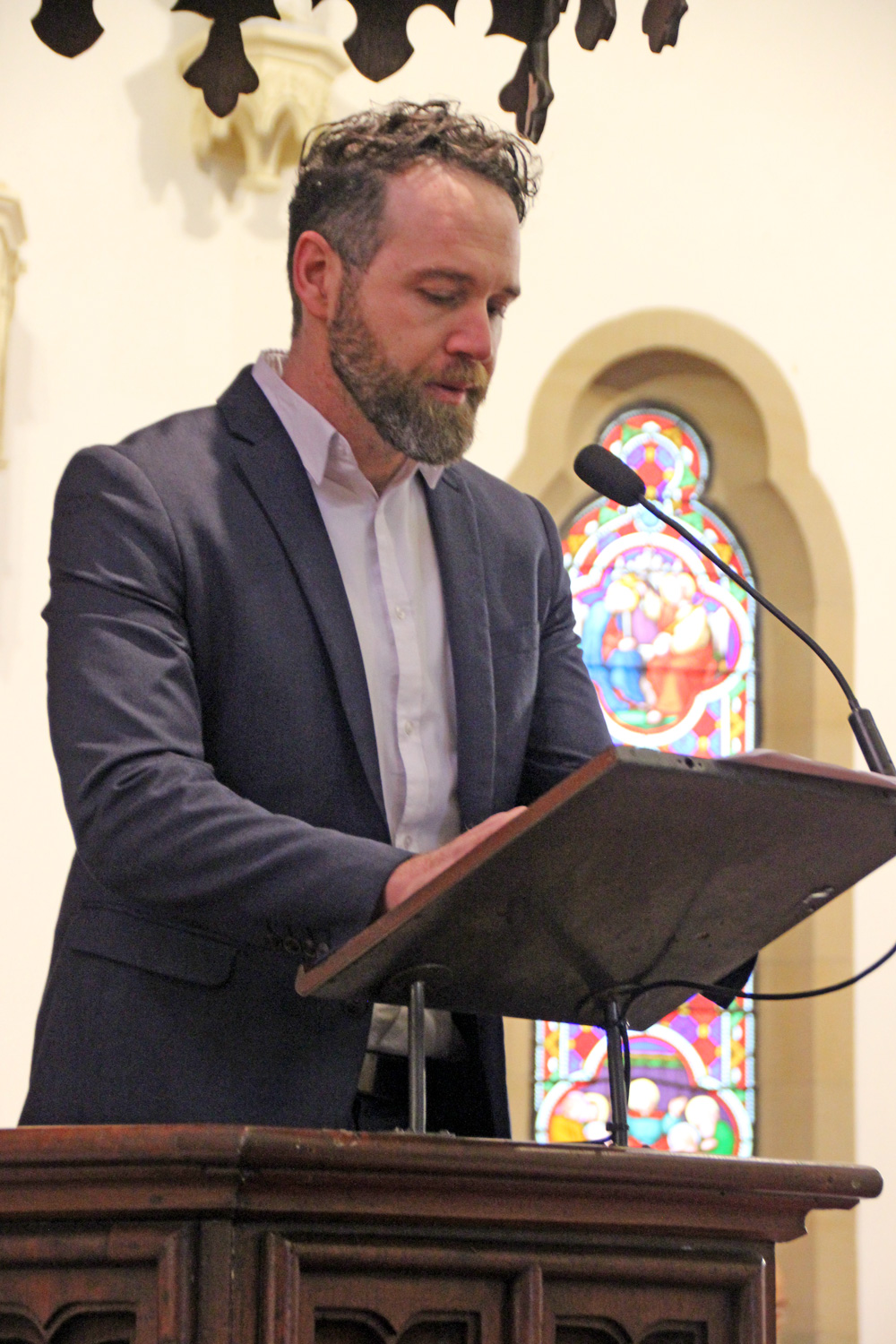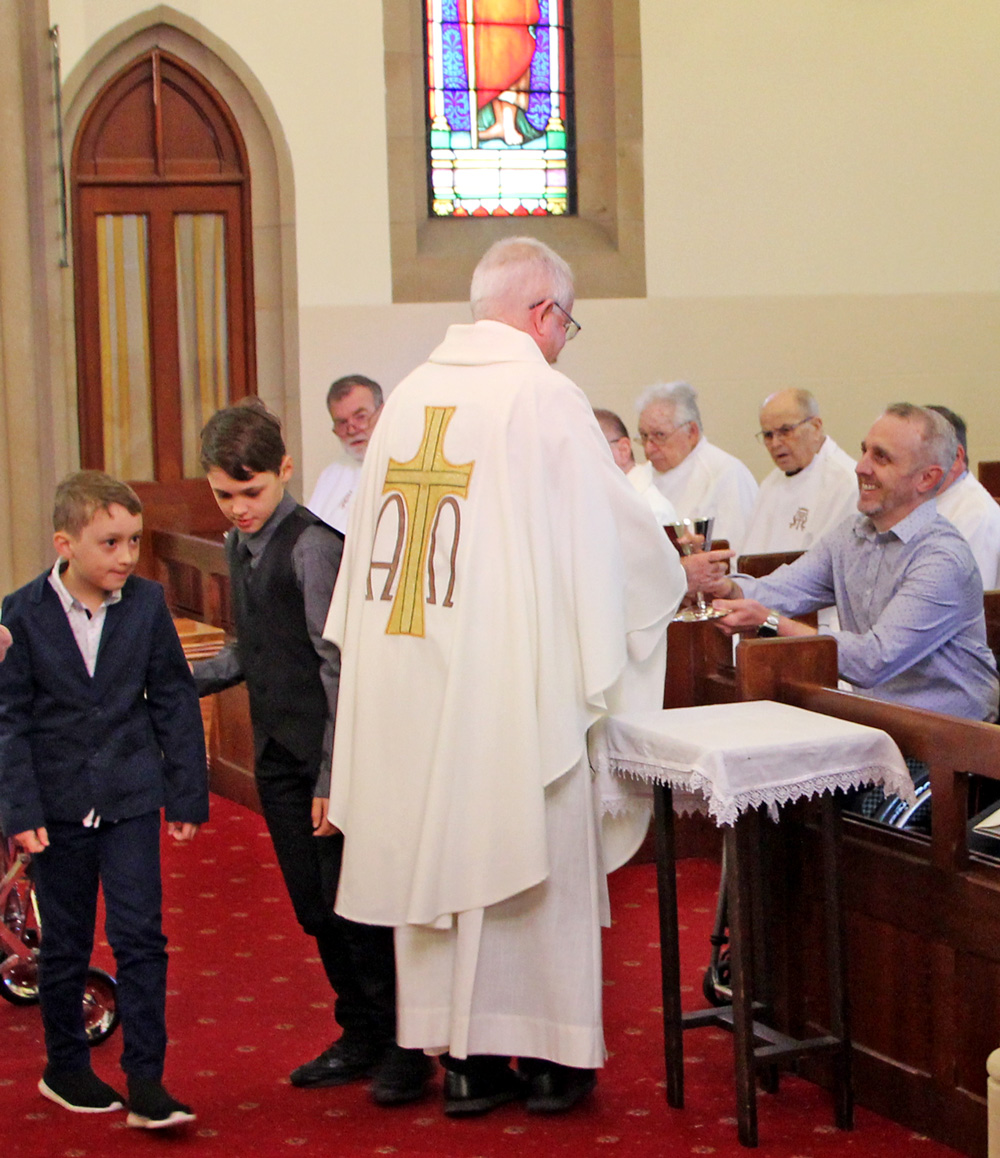 Above: Durng the offertory liturgy a family member hands Fr John's ordination chalice, bearing a chi-rho symbol fashioned from the wedding rings of Fr John's parents. | Principal celebrants were, from left, Fr Leo Skelly (cousin of Fr John), Fr Gerard Kelly (representing Fr John's theological colleagues), Fr Tony Corcoran (provincial), Fr Patrick Lim (close friend of Fr John and collaborator in the Emmaus Series) and Fr Tony Kennedy (representing Marist formation ministry). | Fr Patrick Lim leads the commendation rite. Below: Graveside at Macquarie Park cemetery, with Fr Paul Mahony presiding and Fr John's cousin, Fr Luke Holohan, leading the intercessory prayers.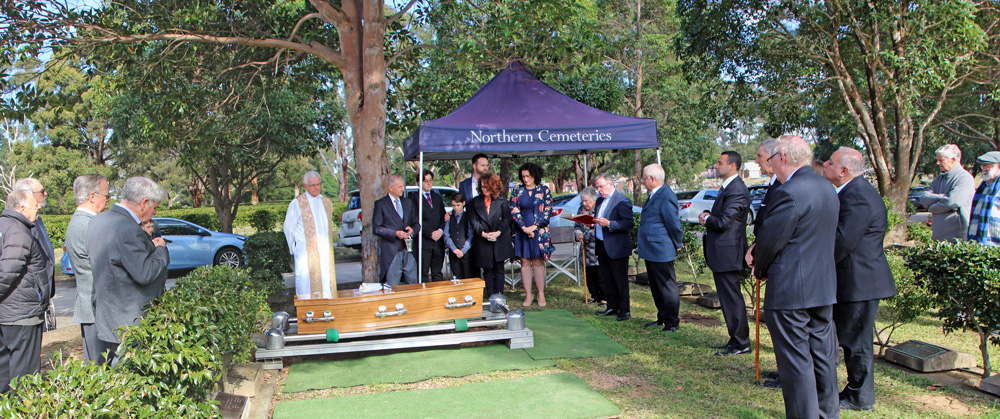 ---
Marist news from Europe
Latest Euroinfo: click here. [Aug 01]
Provincial Circular
Latest issue at Members' Page. [Aug 21]