July news
Click here for News 2008 to 2017
---
---
WYD flashback

It's ten years since Jul 20, 2008, the official 'World Youth Day', held in Sydney over a week of celebration, prayer, teaching and sight-seeing.

The Marist Family was heavily involved, especially in events at St Patrick's, Church Hill, and Villa Maria, Hunters Hill. Pictured below are some memories of Marists and WYD 2008...

Above: Foreground - Auckland Marist contingent, background - Pope Benedict XVI | Marist Family team members in the 'Marist tent' at St Patrick's Below: At St Patrick's, Oceania Marists and Asia-Pacific youth | Crypt devotions with the relics of St Peter Chanel and St Marcellin Champagnat | Fr Kevin Medilo SM (right) with Filipino youth
Above: Bangladeshi youth arriving from Don Bosco Hostel, Dhaka, sponsored by Marists for WYD | French youth at Villa Maria, accompanied by Fr Pascal Boidin SM Below: Provincial, Fr Paul Cooney, with Oceania Marists and visiting youth, Colin Library, Hunters Hill.
---
SM Bulletin - Fr John Jago
From Rome, a special issue of the weekly SM Bulletin honours former Superior-General, Fr John Jago SM, who died earlier this week. (see below)
To download SM Bulletin, click here . Fr John is pictured below at the time of his election as Superior-General in Sep 1985. [Jul 19]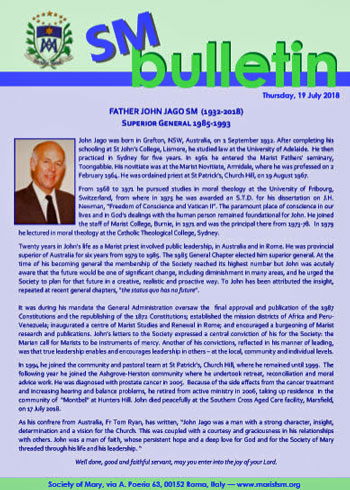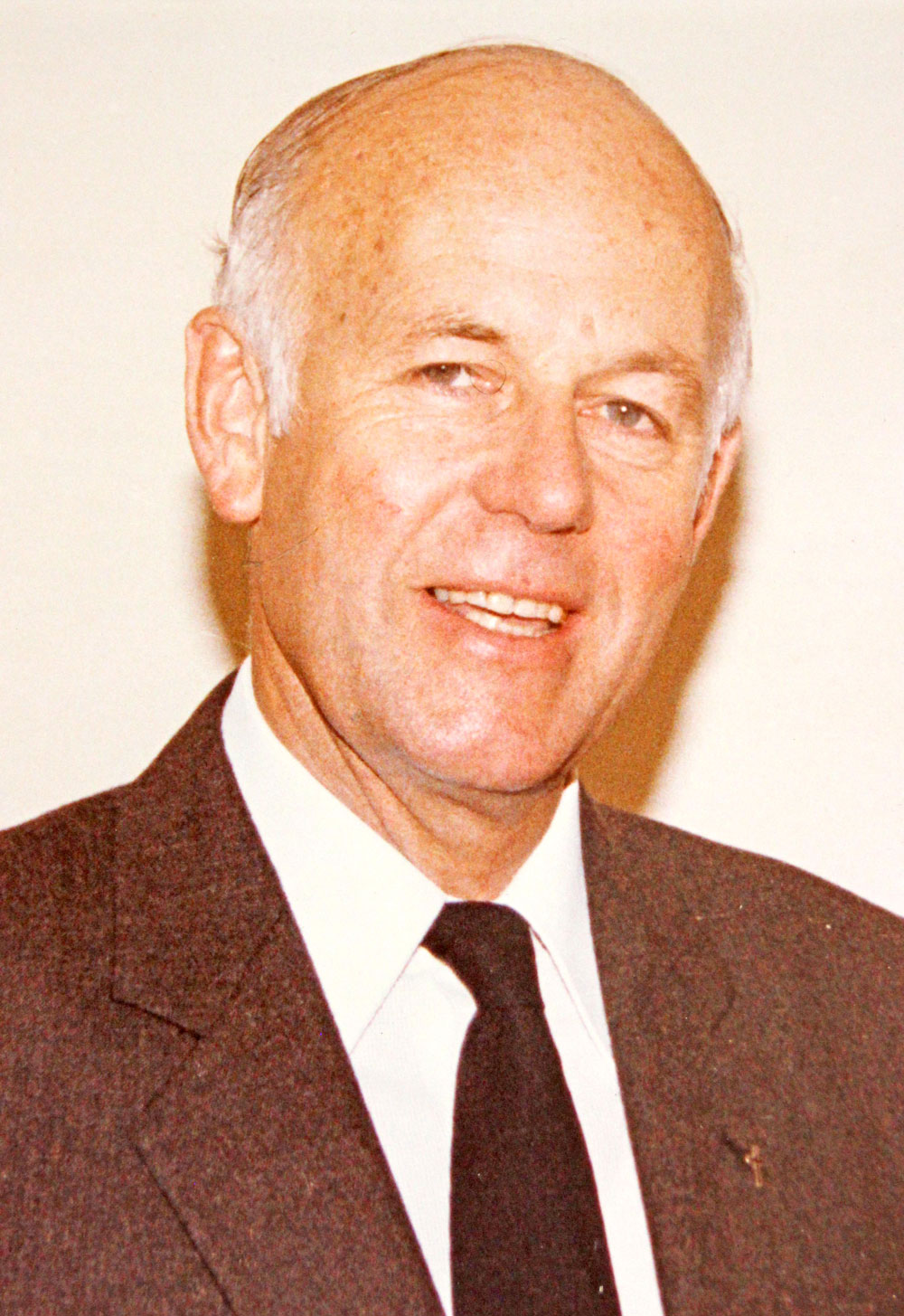 ---
Passing of Fr John Jago
Marists throughout the world mourn the passing of Fr John Jago SM, who died peacefully on Jul 17, aged 85, a Marist priest for fifty years.
Fr John had led Australian Marists as provincial before his election in 1985 as Superior-General of the Society of Mary.
A barrister before his entering St Peter Chanel's seminary at Toongabbie, NSW, in 1961, Fr John brought dignity and graciousness to his ministry and leadership, including throughout the years of his retirement and final illness. May he rest in well-deserved peace.
Mass of Christian Burial will be celebrated for Fr John at 10.30 am, Monday, Jul 23, at Holy Name of Mary church, Hunters Hill, followed by interment at Macquarie Park cemetery,
For a profile of his life click here. [Jul 17]
---
Fourvière invitation
This year's Marist Family celebration of the Fourvière Pledge is being hosted by the Marist Sisters on Jul 22 at Hunters Hill.
Beginning with the Eucharist at 2 pm in Holy Name of Mary church, the event commemorates the promise to form the Society of Mary made on Jul 23, 1816, in the ancient chapel of the Blessed Virgin, Lyon, France.
The group of young men climbing the hill of Fourvière on that morning included Marist founders, Ven Jean-Claude Colin and St Marcellin Champagnat.
For details of the invitation click here. (Apologies for the late posting of this invitation... past the official RSVP date. Blame the webmaster. :( ) [Jul 16]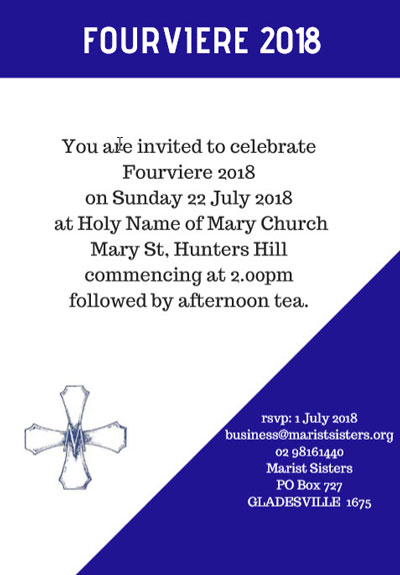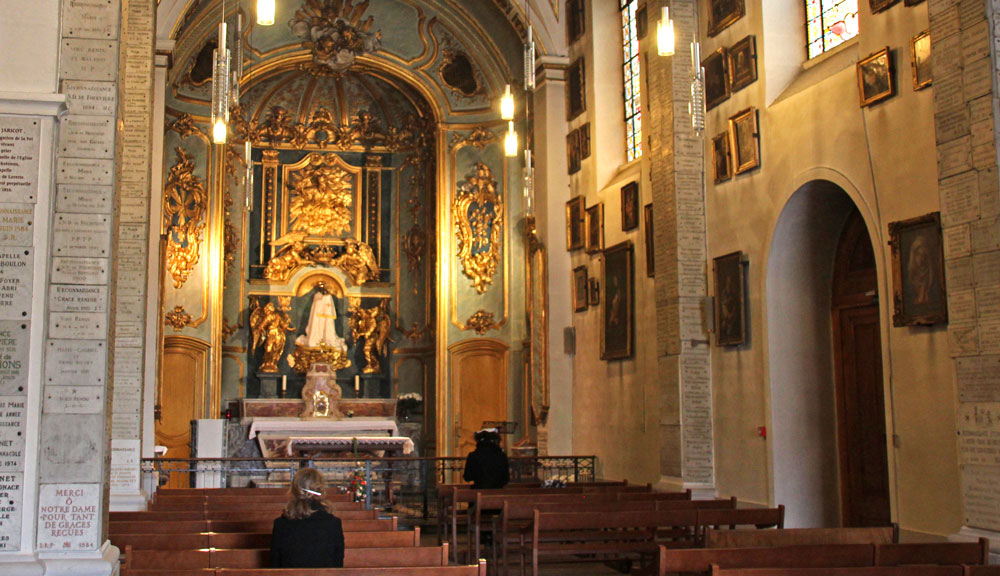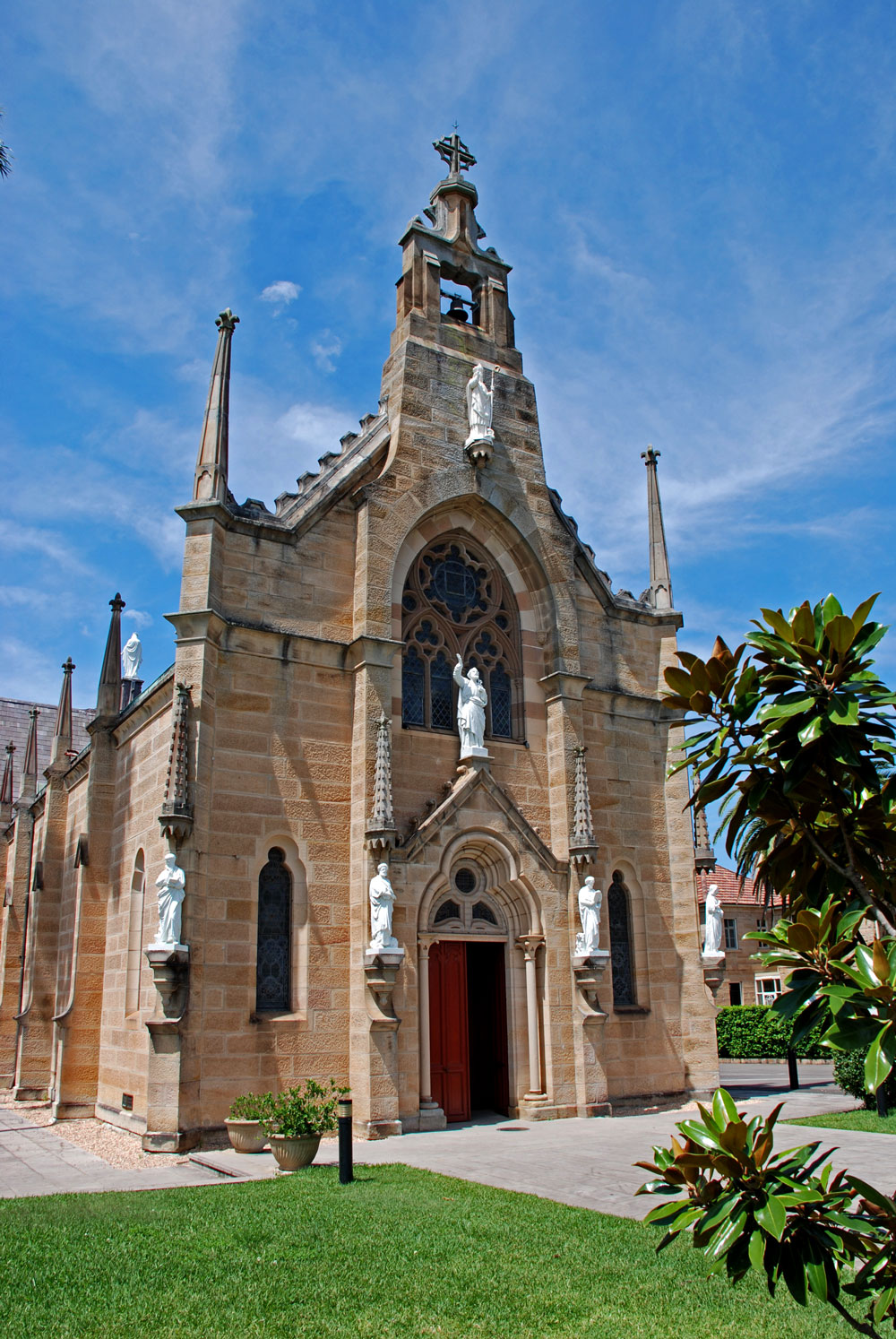 Above: Invitation from the Marist Sisters | The ancient chapel of the Blessed Virgin at Fourvière | Venue for this year's celebration, Holy Name of Mary church, Hunters Hill.
---
Proclaim 2018
This year the Archdiocese of Brisbane, in collaboration with the ACBC's National Centre for Evangelisation, is hosting Proclaim 2018, a national conference engaging parishes and faith communities in a conversation focusing on five key areas: Leadership, Culture Change, Young People, Belonging and Evangelisation. The theme of this year's Conference is "Make your home in me" (Jn 15:4)
With capacity bookings and running across three days from 12-14 July, this year's Proclaim is being held at the Edmund Rice Performing Arts Centre (St Laurence's College, South Brisbane).
Brisbane's Archbishop Mark Coleridge.comments: 'Proclaim 2018 will inspire Catholics to explore new ways of contemplating the face of Christ in community and so empower them to set out on the new paths of mission which the Holy Spirit is tracing for us at this crucial time'.
Conference speakers include Cardinal John Dew (Archdiocese of Wellington, New Zealand), Ron Huntley (Divine Renovation – Canada), Ms Lana Turvey-Collins (Plenary Council 2020 Facilitator), Karolina Gunsser (Community Leader - Citipointe Church), Mons Enrique Fiqaredo SJ (Cambodia) and host of Proclaim, 2018 Archbishop Mark Coleridge (Archdiocese of Brisbane). [Jul 14]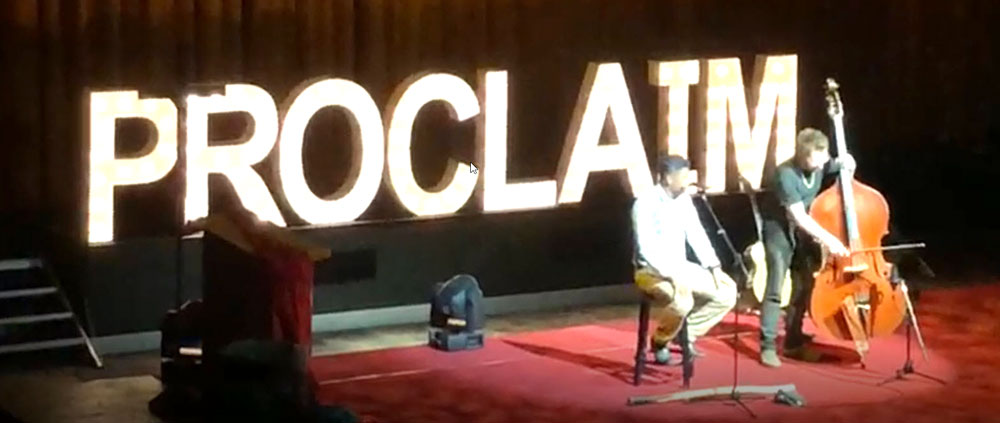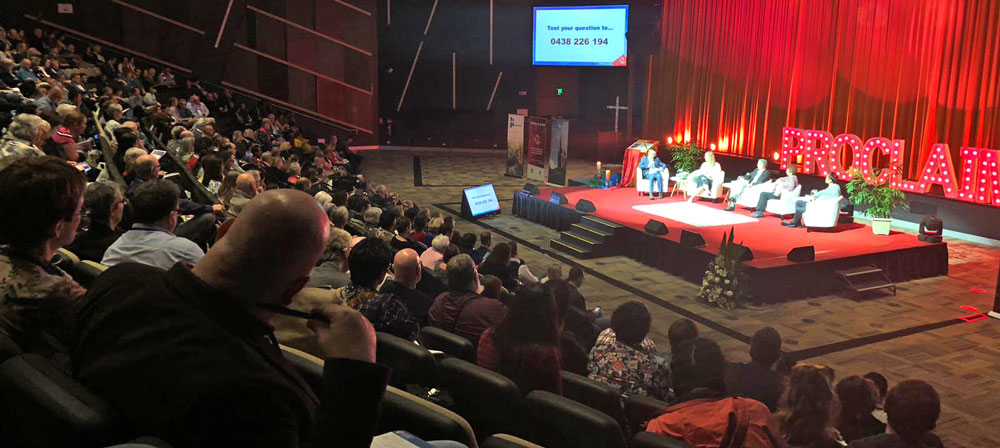 Above: Scenes from Proclaim 2018 at the Edmund Rice Performing Arts Centre. Below: St Laurence's College's spacious facilities | Marist House of Welcome's Paulo Rejende with Archbishop Coleridge and Christchurch's Marist bishop, Paul Martin. | Group of Marists at Proclaim.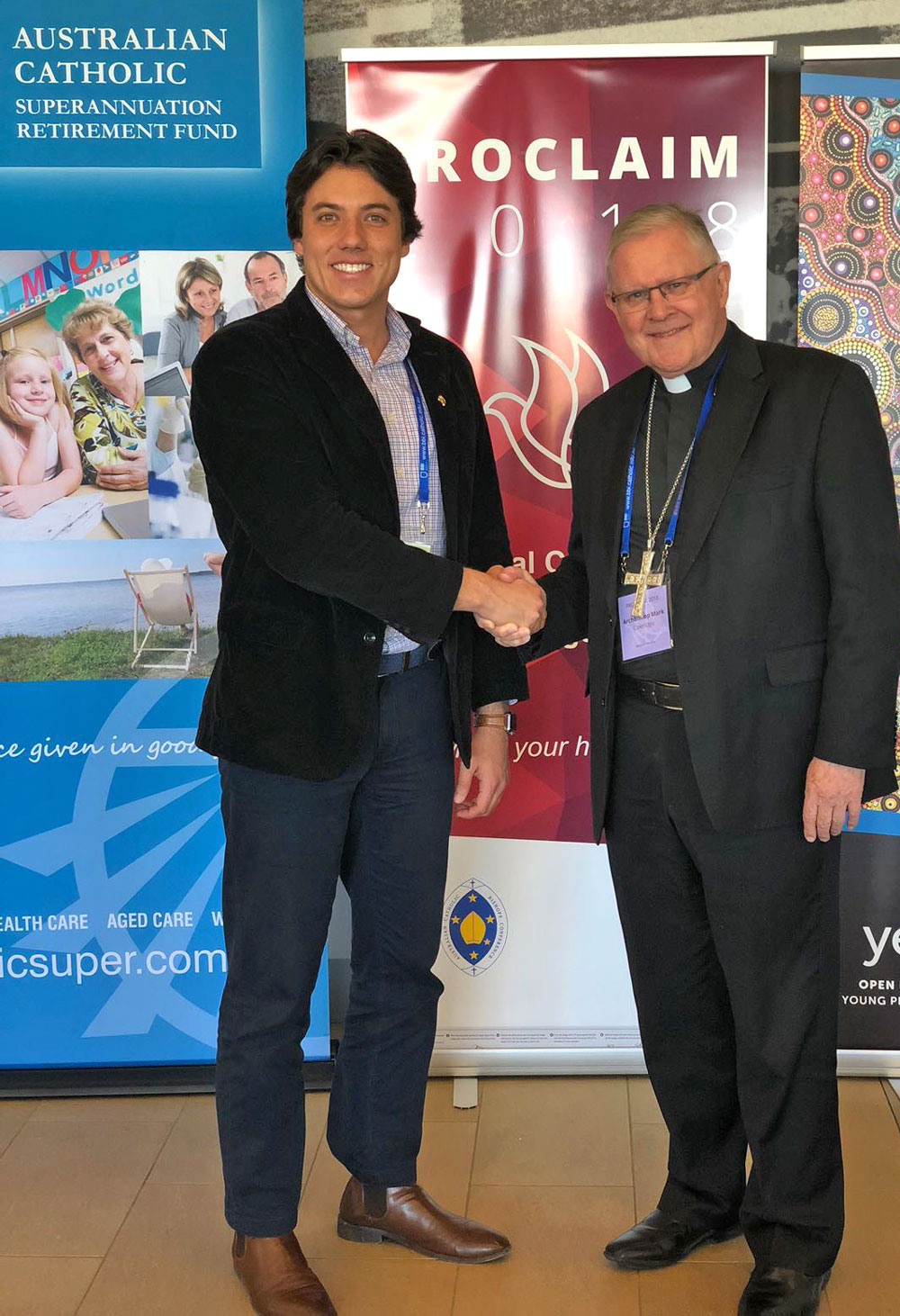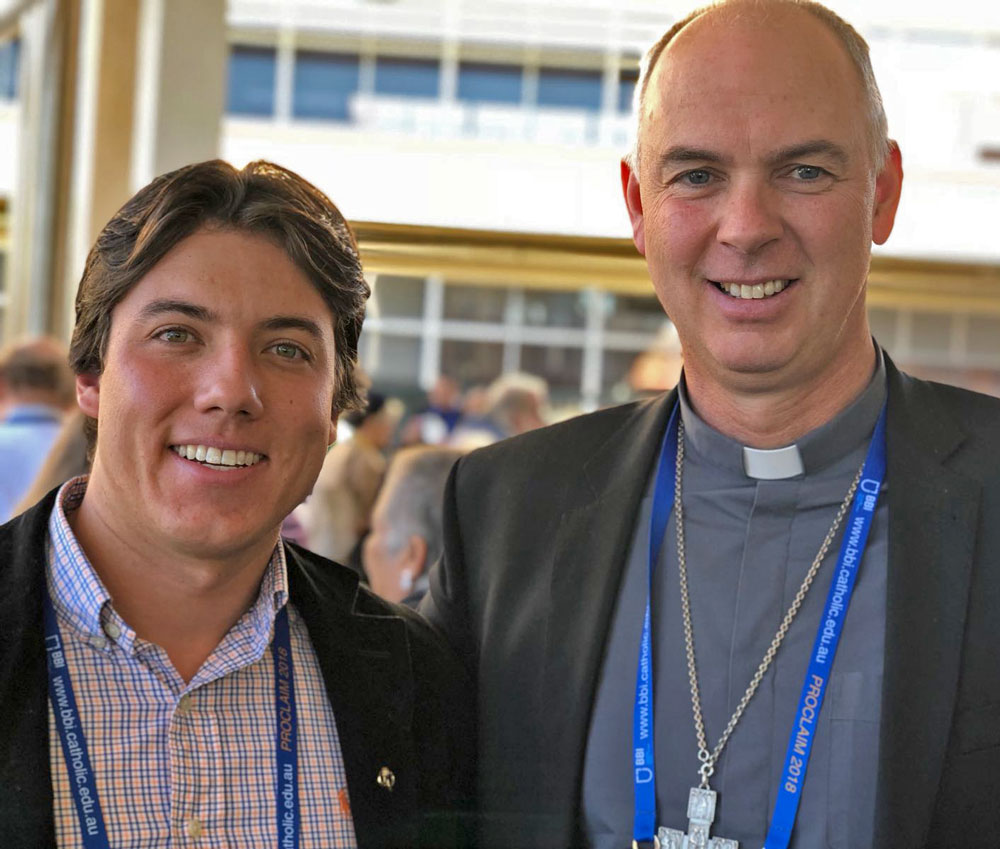 ---
SM Bulletin
Includes election of Australian Provincial and Oceania's Council of the Province.
Go to Members page [Jul 13]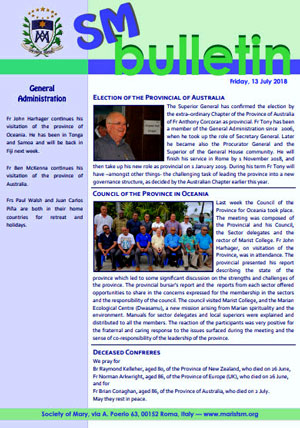 ---
Chanel anniversaries
July was a big month for the Chanel family. On Jul 12, 1804, in the hamlet of La Potière, near Montrevel-en-Bresse, France, Peter Chanel was born to Claude-François Chanel and Marie-Anne Sibellas, their fifth child. Three more siblings were to come.
A few days later, Jul 16, in the main parish church of Montrevel, baby Peter was baptised.
In 1827, on Jul 15, Peter Chanel was ordained priest in the provincial city of Bourg-en-Bresse, soon to join the infant Society of Mary and become one of its first missionaries -- and its first martryr and saint.
For a short history of St Peter Chanel, click here. [Jul 12]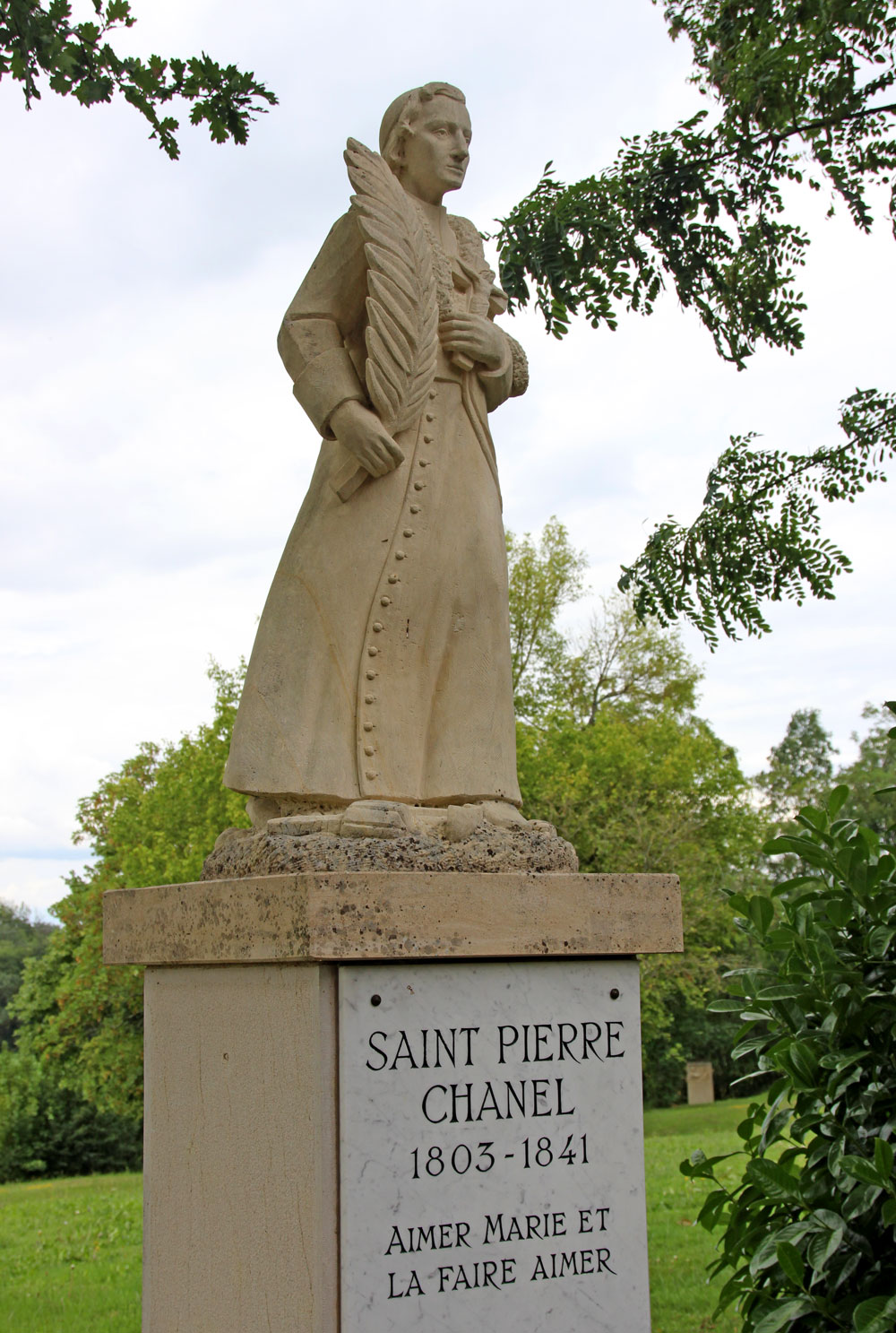 Above: Statue of St Peter Chanel at the church of Cuet, a few kilometres from the birthplace of Peter Chanel (right) at La Potière. Below: Baptismal font and church at Montrevel | Monastery of Brou, Bourg-en-Bresse, where Peter Chanel was ordained priest in July 1827 | Banner depicting Peter Chanel, prepared for World Youth Day, Sydney, July 2008.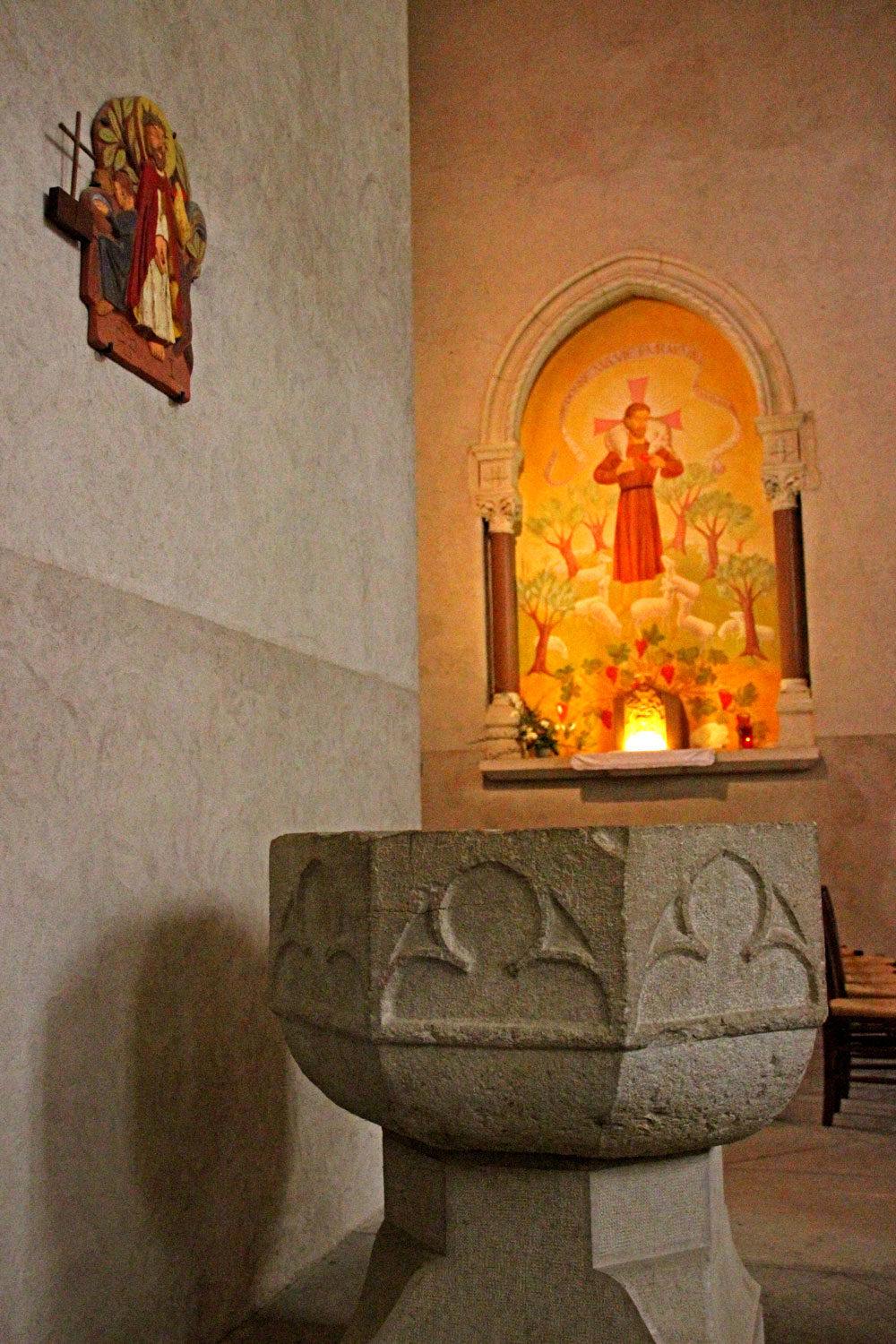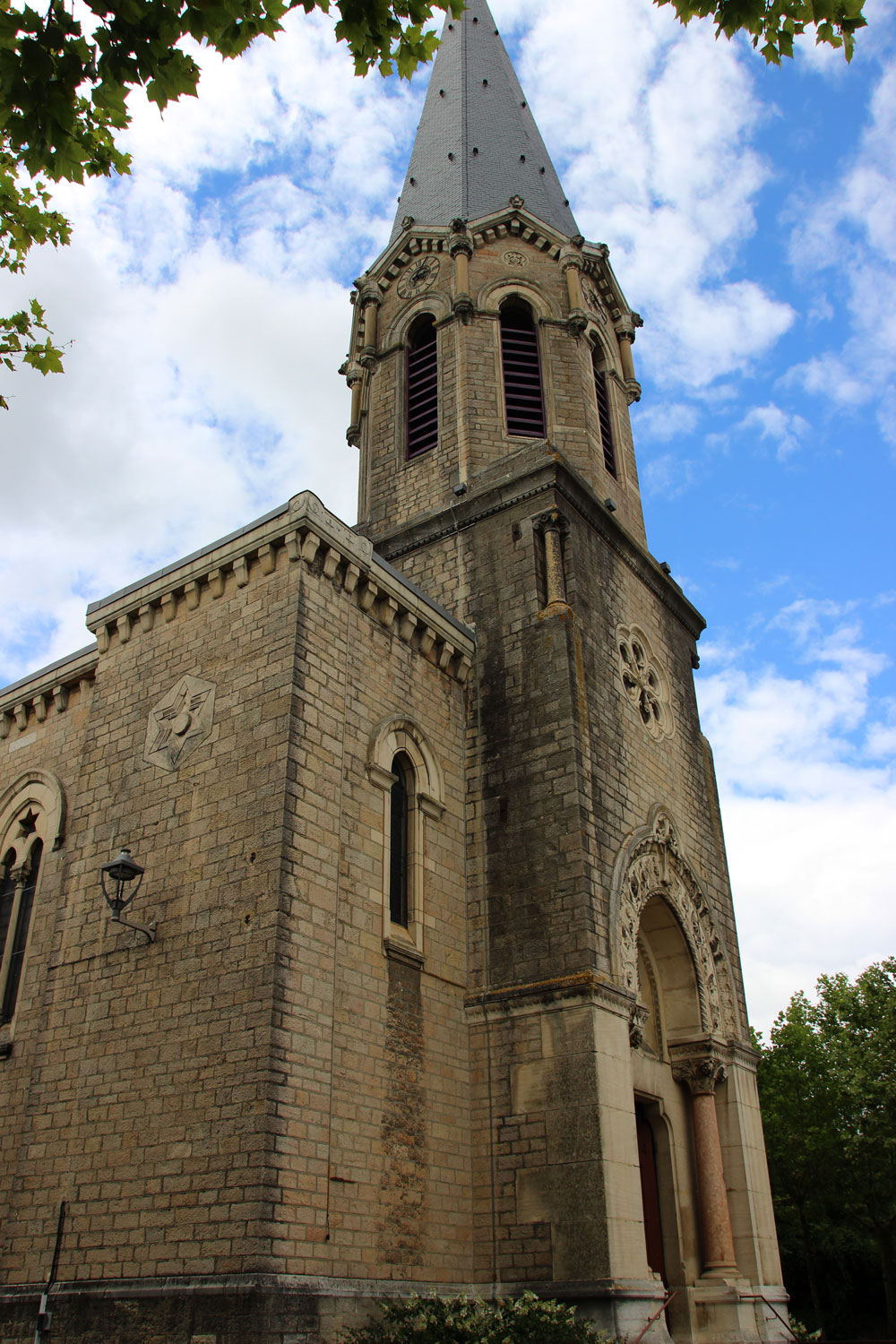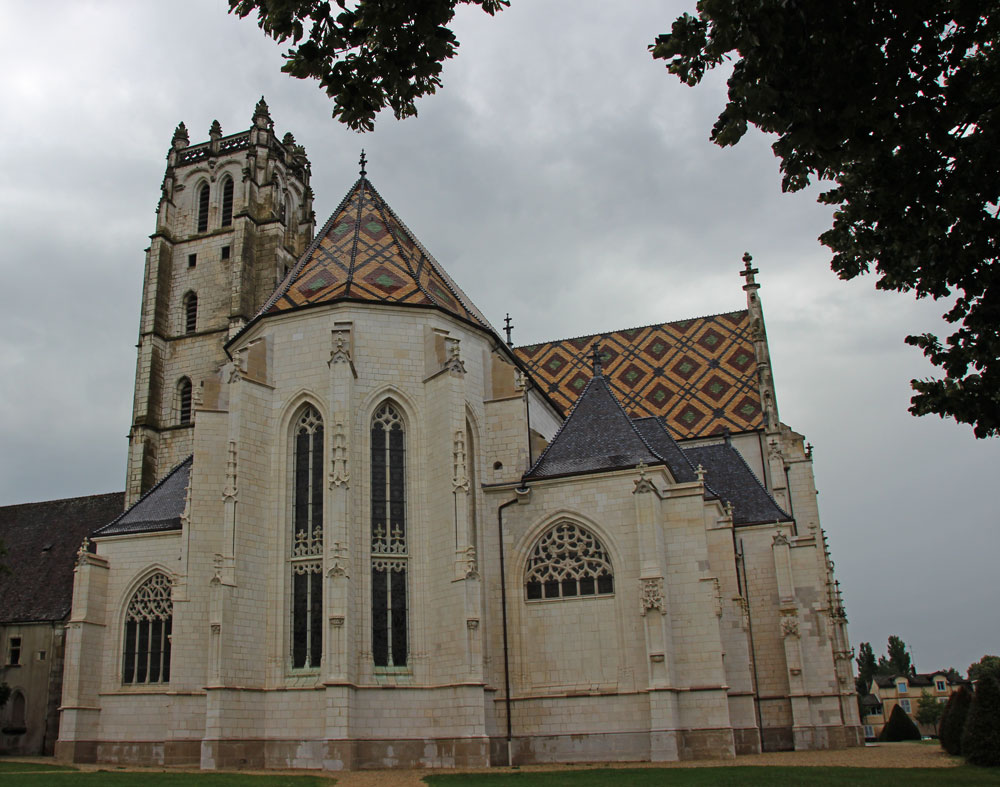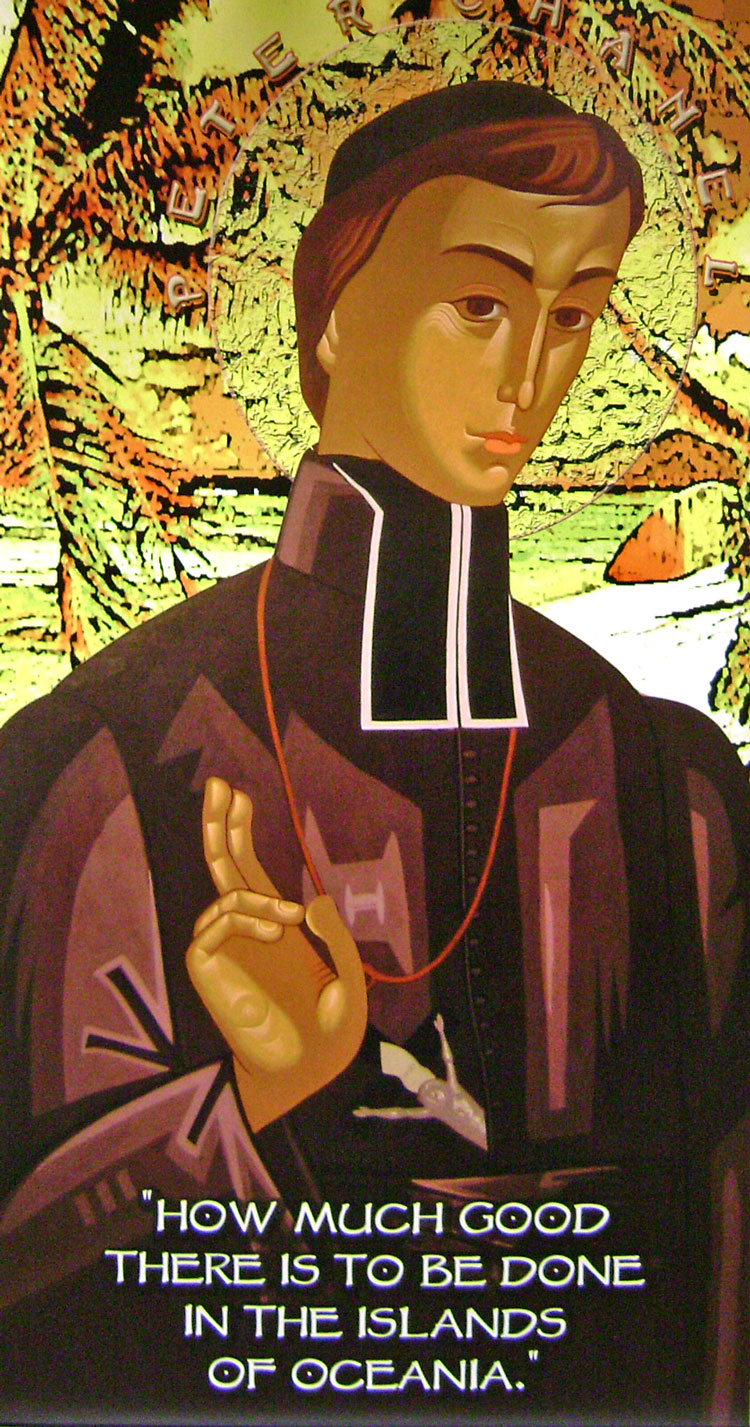 ---
CitySilence at St Pat's
Sydney's downtown St. Patrick's Young Adults reports:
'With great delight, and together with Sydney Catholic Youth, we invite all of you to join us for CitySilence.

'Yes, you heard it right... CitySilence has finally made it comeback for 2018. Starting the Jul 10, CitySilence will be held on every 2nd Tuesday at St. Patrick's Church Hill.

'The evening starts at 6.30 pm with a pizza in the crypt of St. Patrick's (enter via the gate from Grosvenor St) followed by Holy Hour and Adoration at 7pm in the church.'
Further details, click here [Jun 10].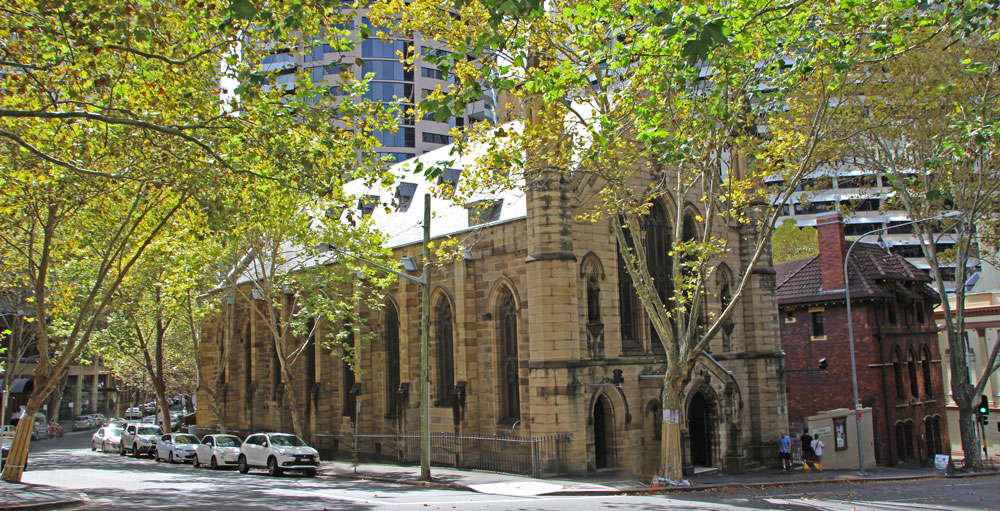 ---
The life work of John Thornhill
A new web site now provides a wealth of teachings of Marist theologian, Fr John Thornhill SM.
' The life work of John Thornhill' is described as ' a treasure bringing together a life time of work from one of Australia's greatest theologians in an accessible way.'

At www.johnthornhill.org visitors can access the complete range of articles, books and video teaching sessions developed by Fr John over half a century and kincludes the complete 'Emmaus' video series . [Jul 09]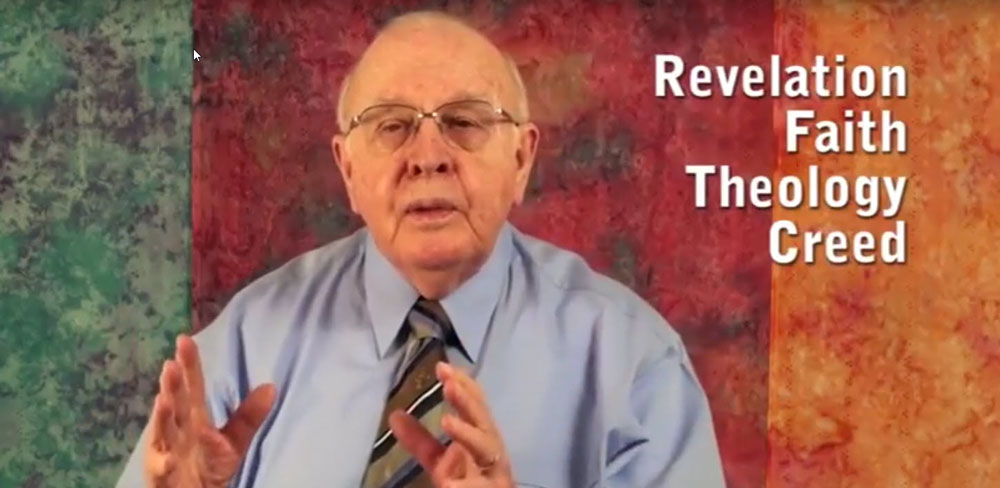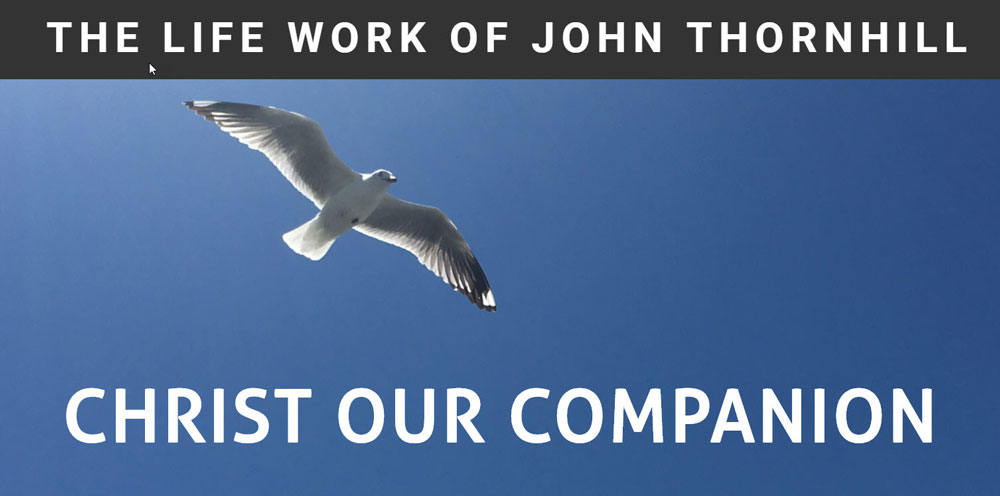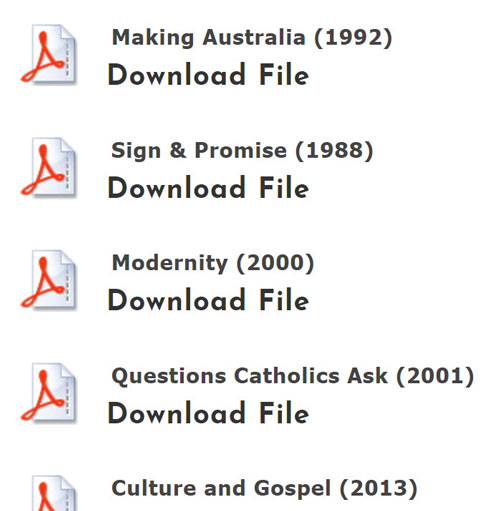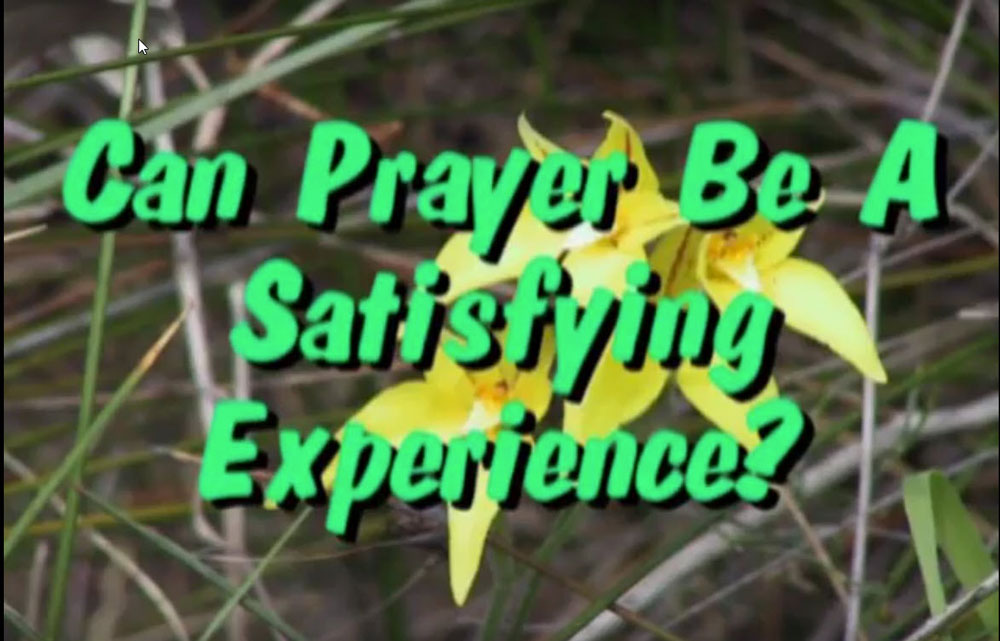 ---
Assistant-General meets with JPICC
On Jul 05, following the second session of the Marist Extraordinary Provincial Chapter, the province's Justice, Peace and Integrity of Creation committee met with Assistant-General, Fr Ben McKenna, who is currently in Australia for visitation of the province.
Discussion focussed on a proposed international survey of existing JPIC works throughout the Marist world, and the establishment of regular news and sharing facilities using electronic and social media. [Jul 06]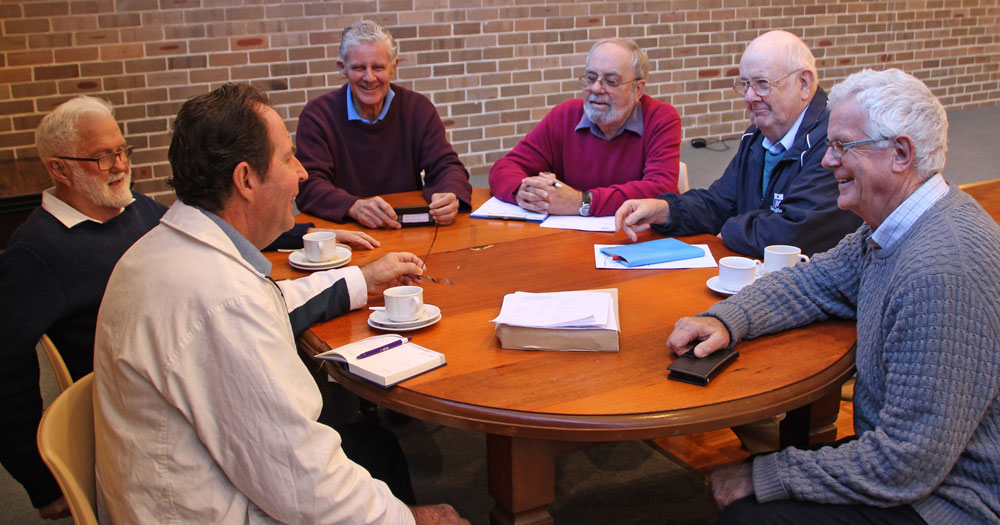 ---
Superior-General's reflection
From Rome, Fr John Larsen's monthly reflection: click here. Also Members page. [Jul 06]
Note re Members page: After log-in and password (as per Provincial Circular), go again to the 'Members' tab for a drop-down 'Members content' tab.
Sorry for the inconvenience. We hope to fix this clumsy bit before long... Webmaster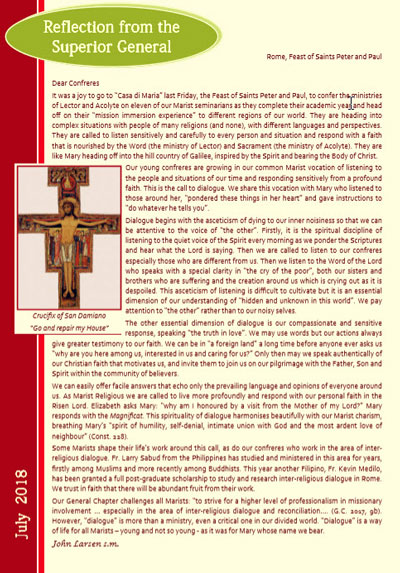 ---
Farewell, Fr Brian
In simple ceremonies (see below) on Jul 05 and 06, Fr Brian Conaghan SM was farewell by Marist confreres, family and friends.
See also, below, 'Passing of Fr Brian Conaghan' for a profile of his life and ministry. Click here
Rest in peace, Fr Brian. [Jul 06]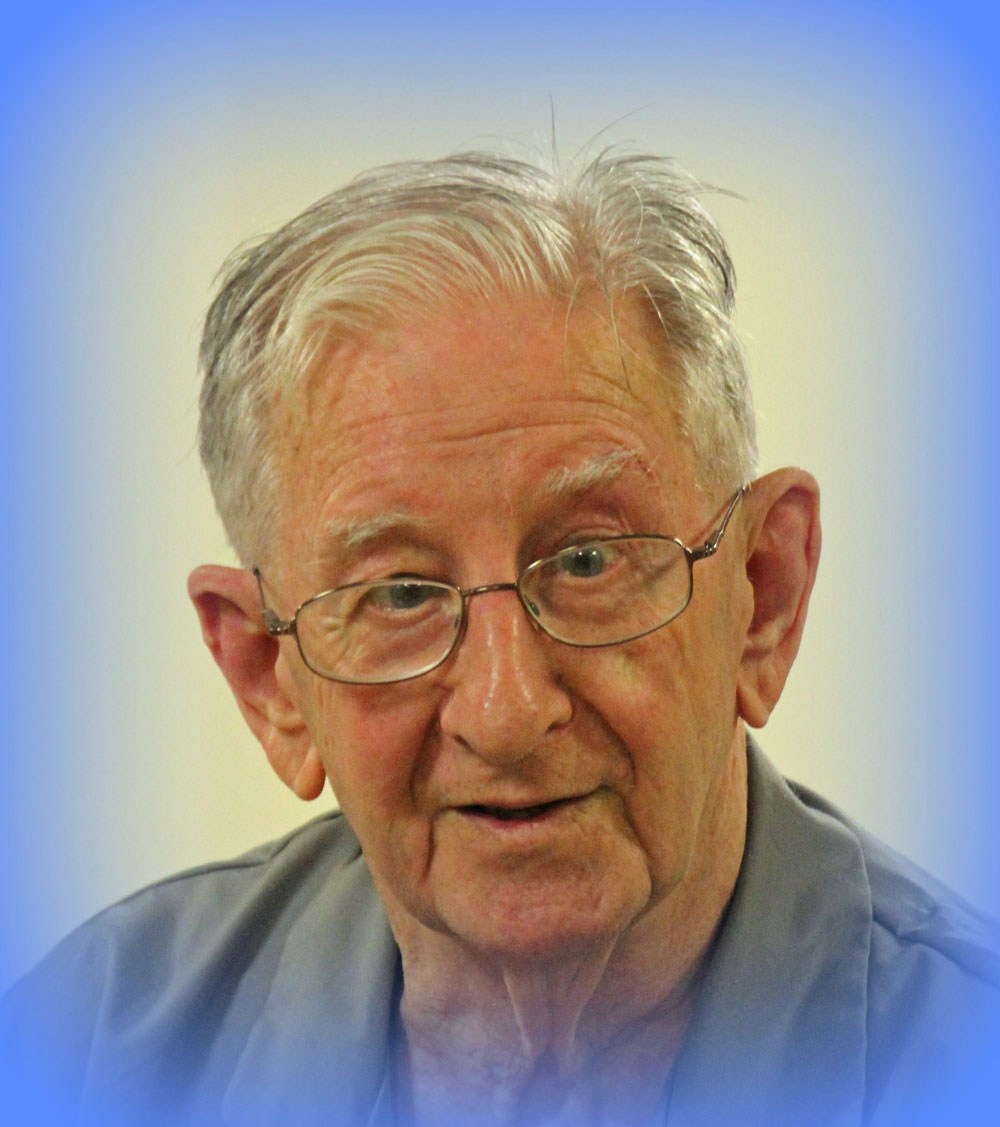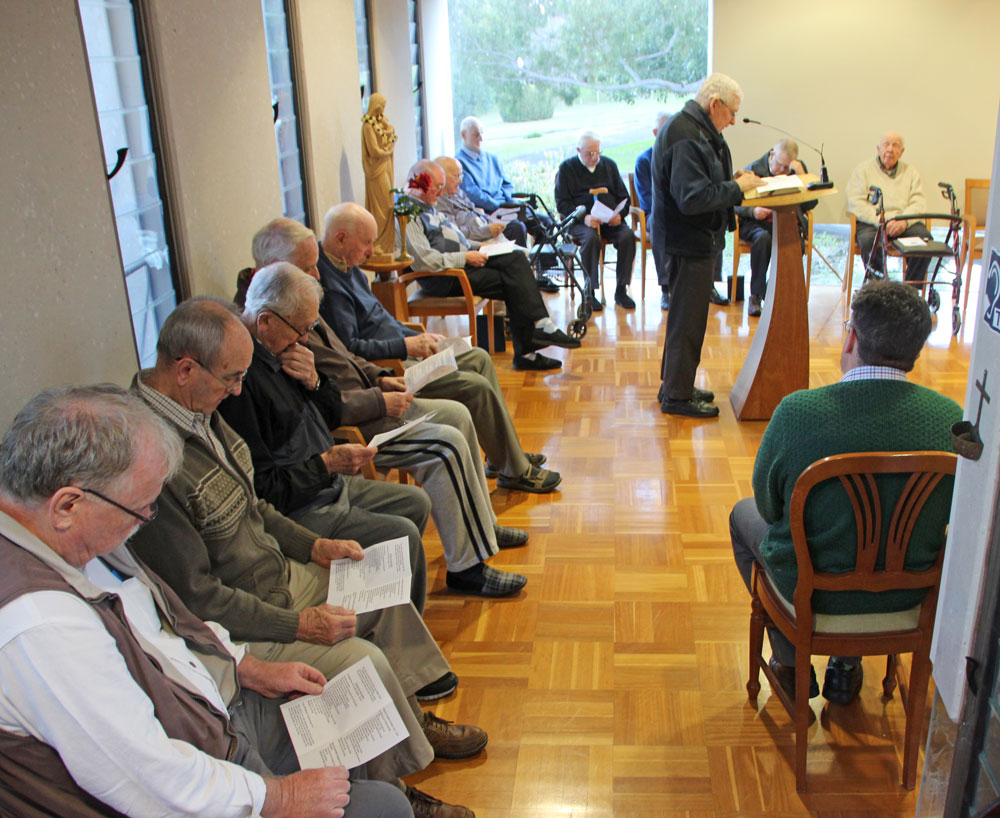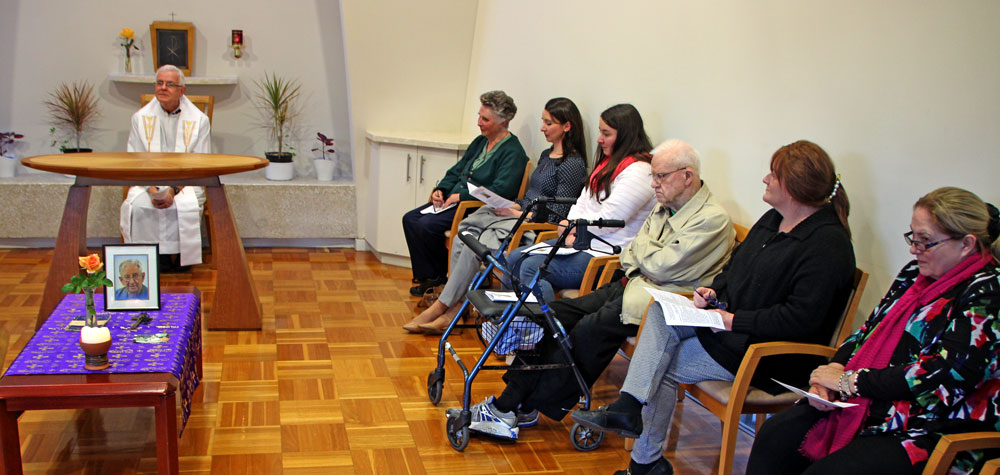 Above: Vigil prayers and memories, Montbel chapel, Hunters Hill. Below: Conaghan family members and provincial, Fr Bob Barber, in Holy Name of Mary church.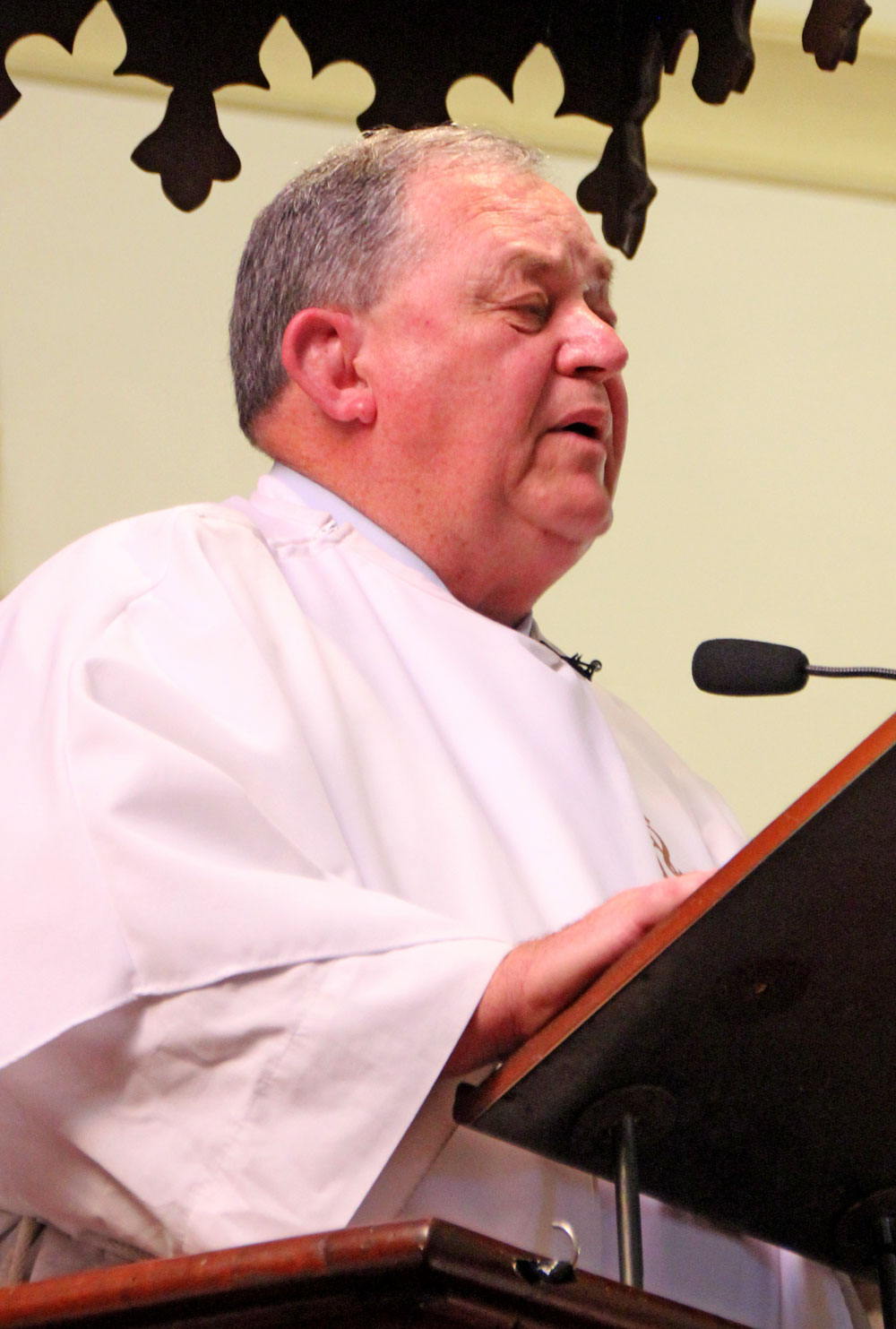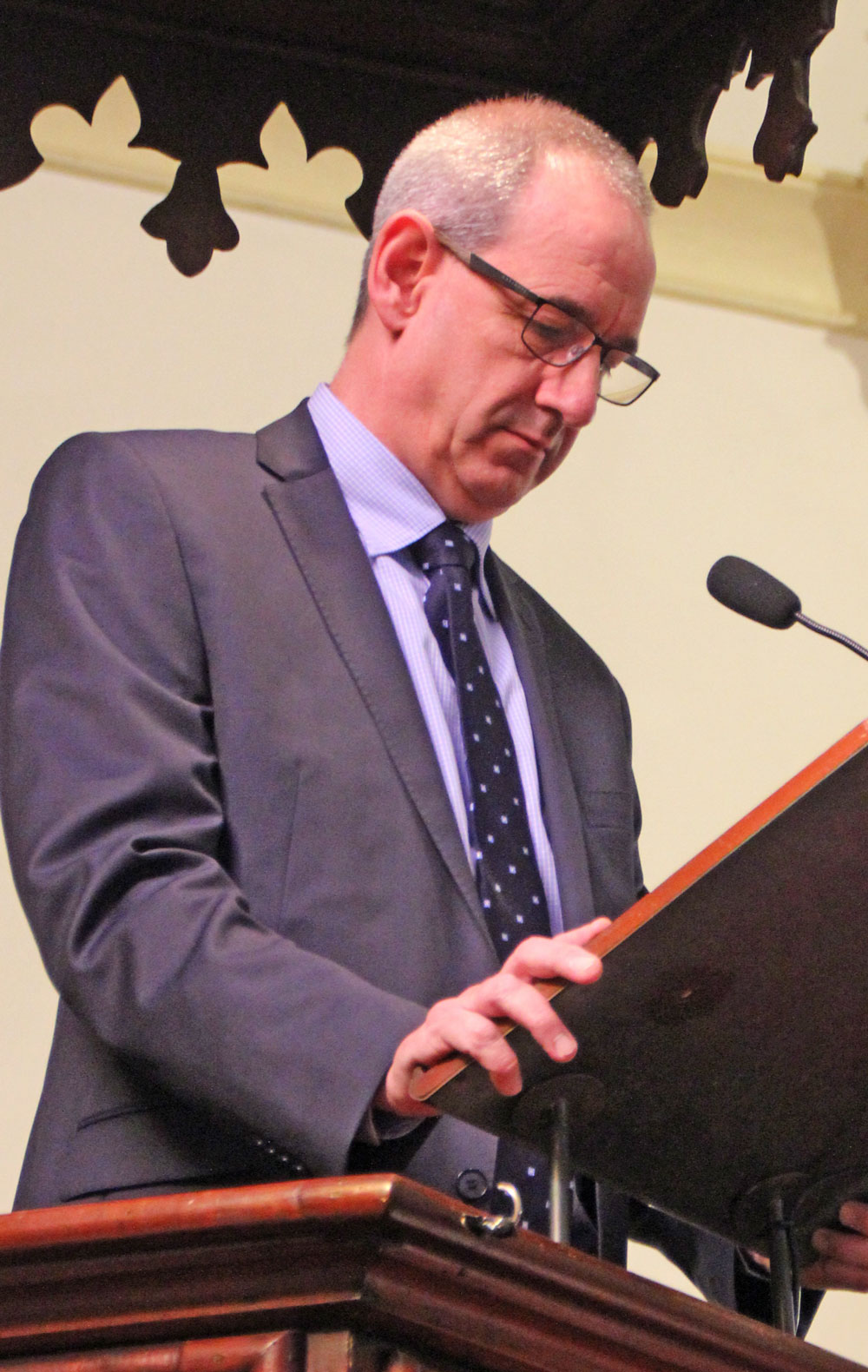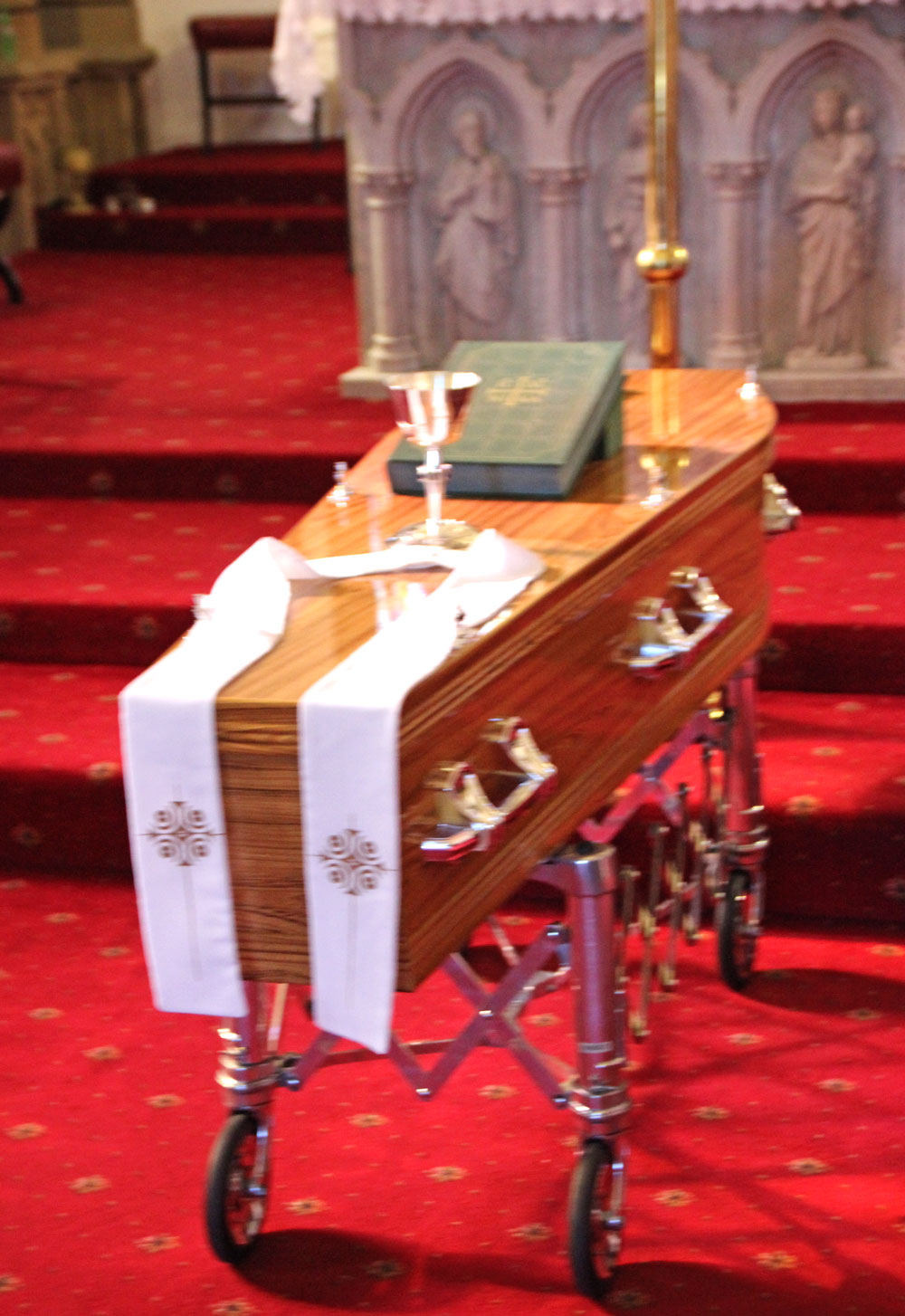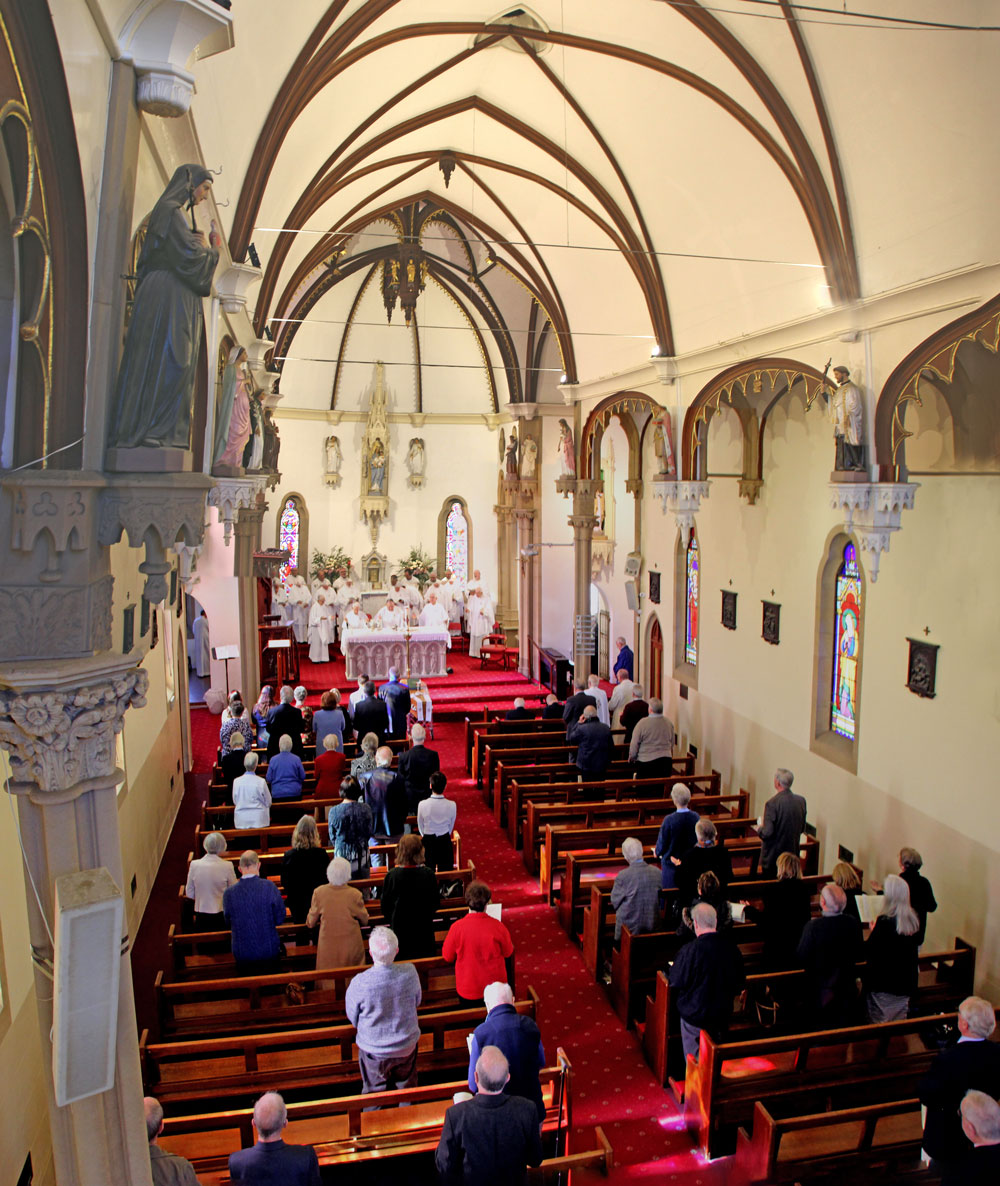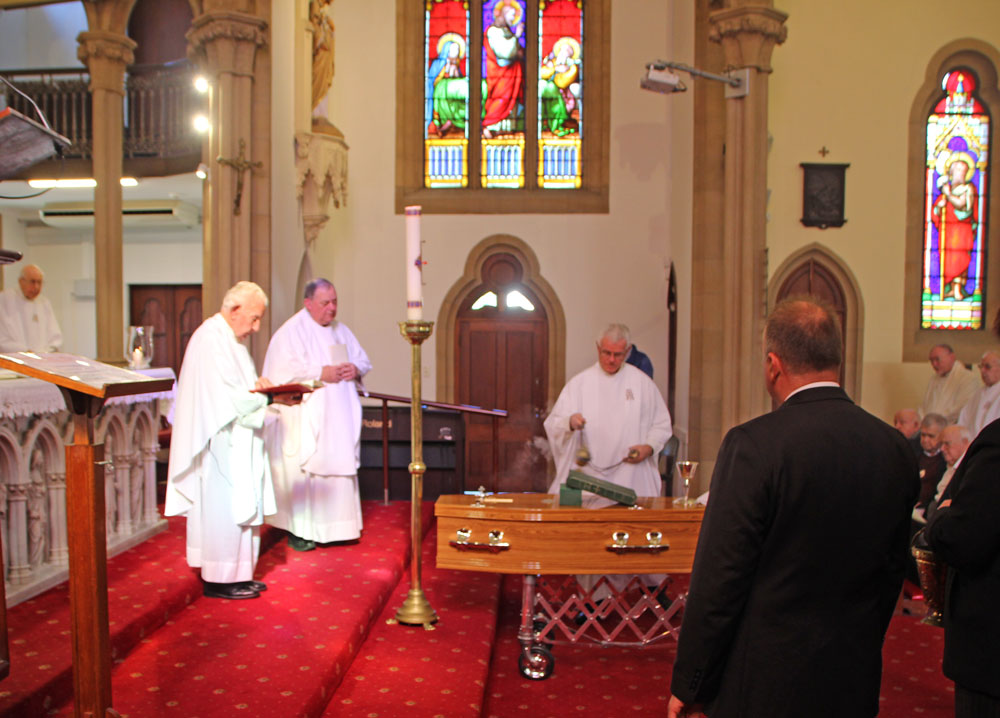 Above: Requiem Mass in Holy Name of Mary church, Hunters Hill, which was refurbished by Fr Brian during his time as Parish Priest in the early 1970s. Far right: Frs Paul Pidcock and Paul Mahony assist with the prayers of commendation. Below: Internent amongst Marist confreres at Macquarie Park cemetery, North Ryde, NSW.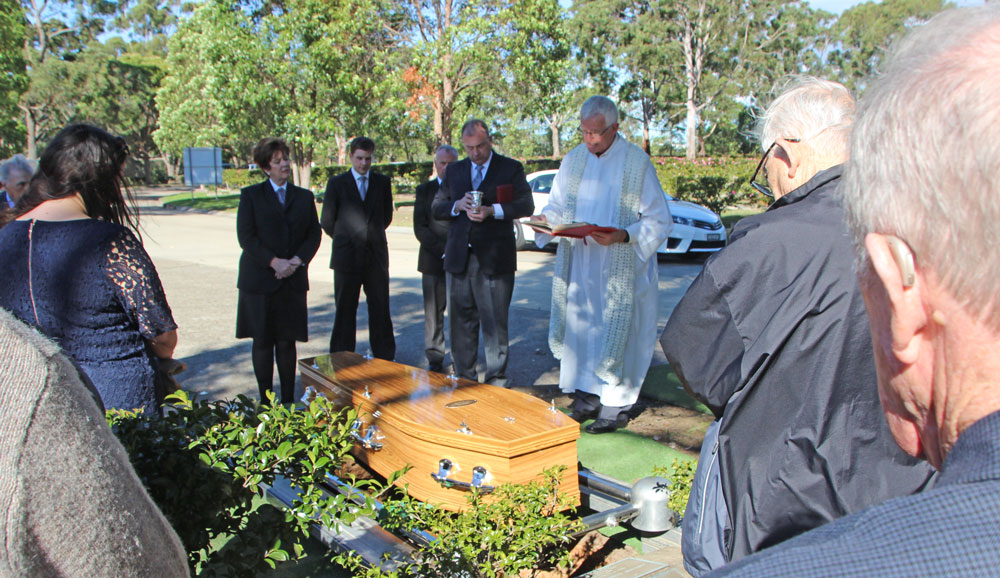 ---
Fr Tony Corcoran provincial-elect
In its final session, on Jul 5, the Extraordinary Provincial Chapter of Australian Marist Fathers elected Fr Anthony Corcoran as their next provincial.
Fr Tony is presently concluding a 12-year period as Secretary-General of the Society of Mary and is well-equipped to address contemporary issues of governance and future planning in the province. He will take office on Jan 01, 2019.
After the voting result had been announced present provincial, Fr Bob Barber, with his vicar, Fr Peter McMurrich, led a prayer of blessing for the provincial-elect. (click here)
In his communique to the province, Fr Bob wrote:
'On behalf of all members of the Province, I offer Tony our congratulations, and our gratitude for his generosity in allowing his name to go forward. Our thanks, too, go to Ray Chapman and Kevin Bates similarly for their generosity and openness for election.'
Thank you from us all, Fr Tony ! [Jul 05]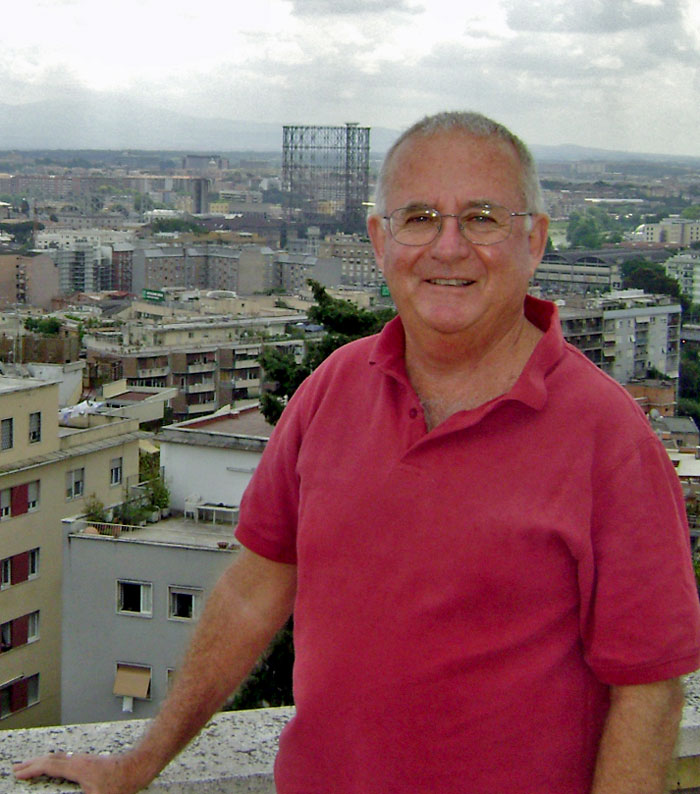 Above: Fr Tony Corcoran atop the Marist General House, Monteverde, Rome. Below: Chapter delegates cast their vote into the 'Moses basket'. | Present provincial, Fr Bob Barber, with vicar, Fr Peter McMurrich (second from right), leads a prayer of blessing for the provincial-elect.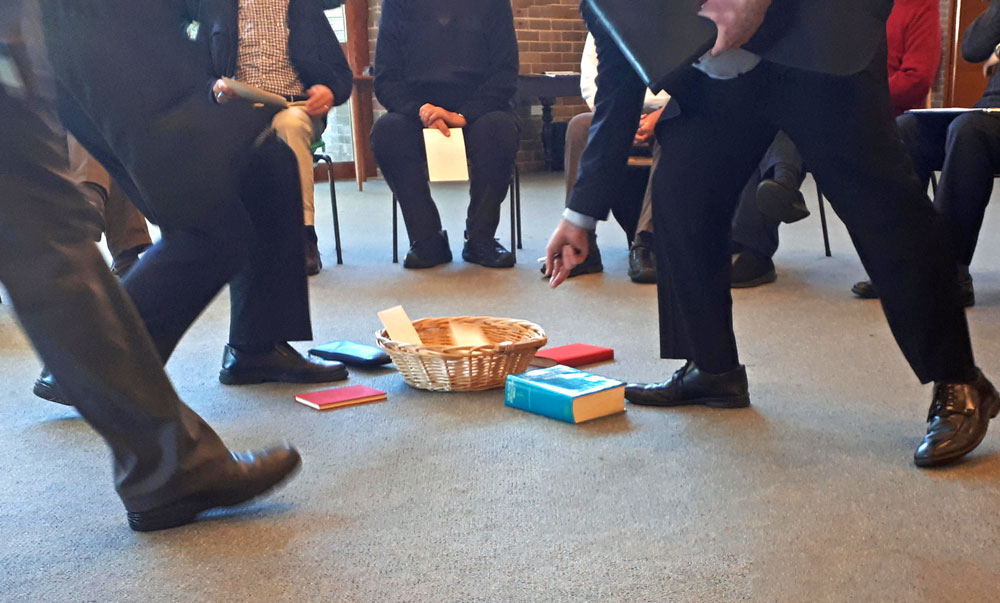 ---
Yellow figures in the night
The Marist Australian Provincial Circular reports:
'Some community members at Villa Maria were a little disconcerted on the evening of June 25 to observe flood lights playing on the Colin Library building, with figures in yellow wet-weather gear scaling ladders and crawling around on the roof.
'Nothing to be alarmed about, fortunately. The local State Emergency Services unit had spotted the unused building and asked permission to use it as the focus of a training drill. In the morning they were gone, merely a fading memory for those community members who had spotted the visitors.'
They cleaned the guttering, too. Thank you, SES ! [Jul 05]

Above: SES nocturnal training at Villa Maria's Colin Library. Below: Pristine Colin Library by day.

---
Casa di Maria newsletter
From the Marist International Theologate, Casa di Maria, Rome, comes their latest newsletter.
To download, click here, 13 pages, interesting and pictorial, of student life in Rome and beyond. [Jul 04]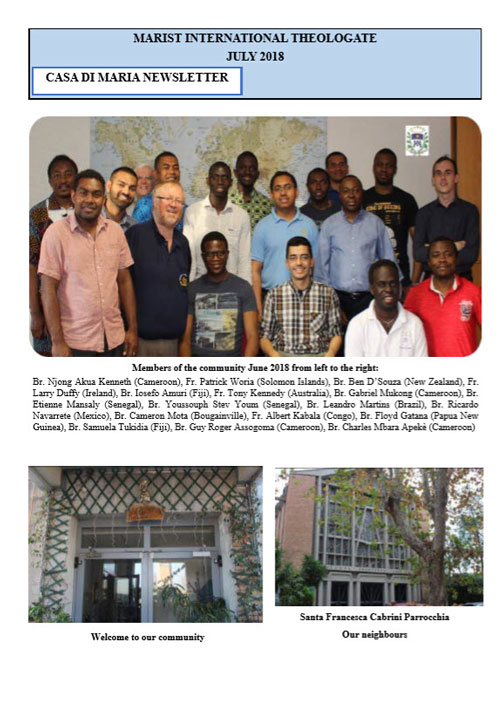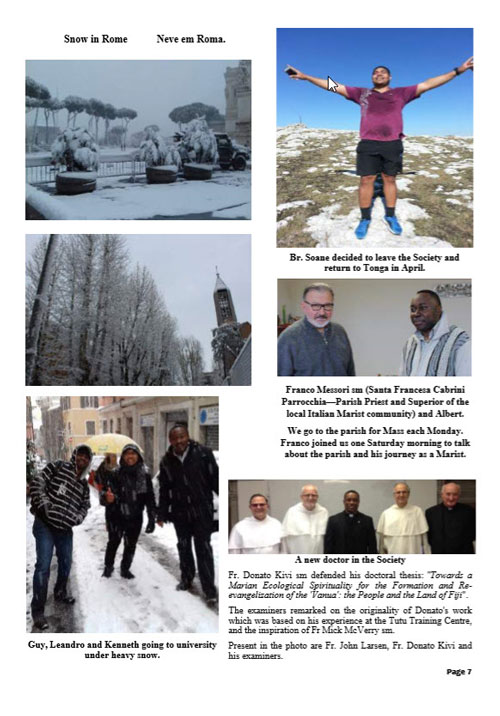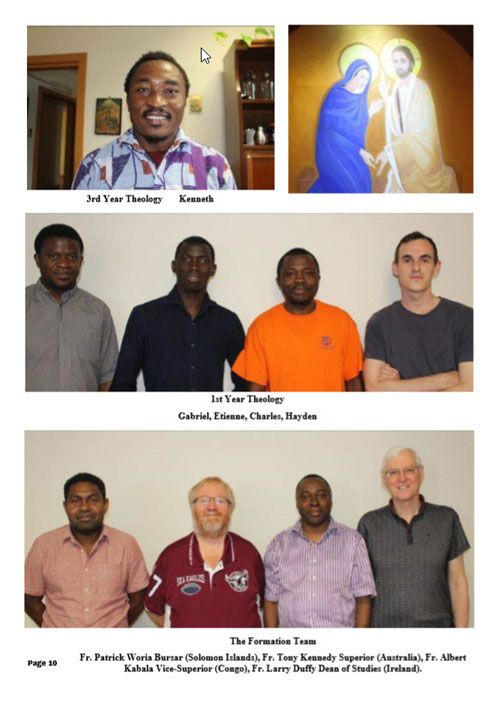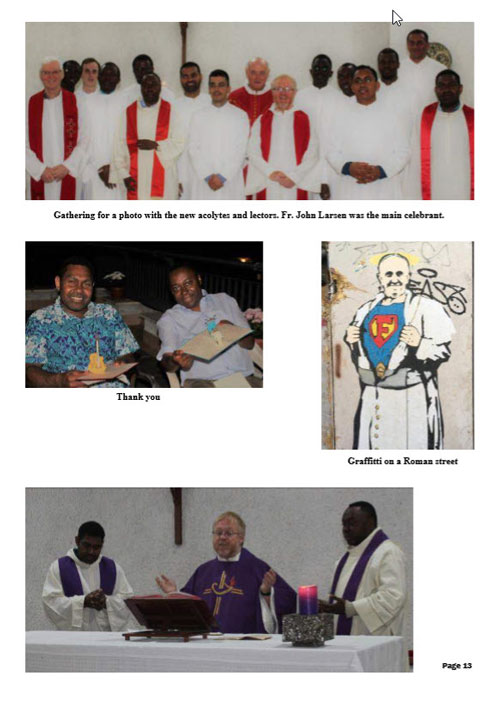 ---
Election Chapter under way
Jul 04 saw the commencement of the second session of the Extraordinary Provincial Chapter called to dscern future governance of the Marist Fathers in Australia. The first session, in March, proposed a special election chapter to choose a provincial for 2019-2021, following province-wide and international leadership consultation.
The Chapter commenced with Mass of the Holy Spirit in the parish hall, Hunters Hill, NSW, to begin a prayerful discernment of selecting from a final list of three candidates. The morning period was devoted to a time of reflection, group sharing on the qualities needed in the new provincial, and an opportunity for one to one conversations. The day's sessions ended mid-afternoon with the singing of the Salve Regina.
Sr Therese Caroll RSJ is facilitator for the Chapter which will reconvene on Jul 05 for a definitive vote to elect the new provincal. [Jul 04]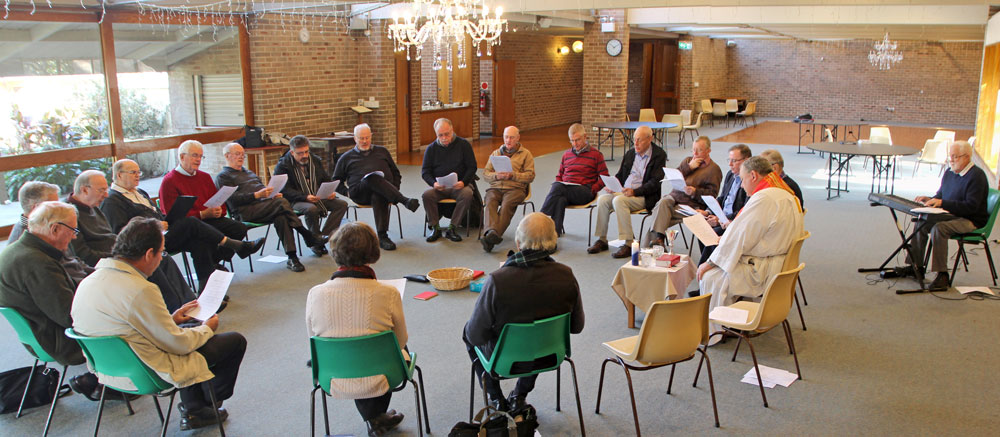 Above: Provincial, Fr Bob Barber, leads an opening Mass of the Holy Spirit: Below, right: Fr Paul Sullivan (Chapter president), Sr Therese Carroll SJ (facilitator) and Fr Ben McKenna (Assistant-General, Rome).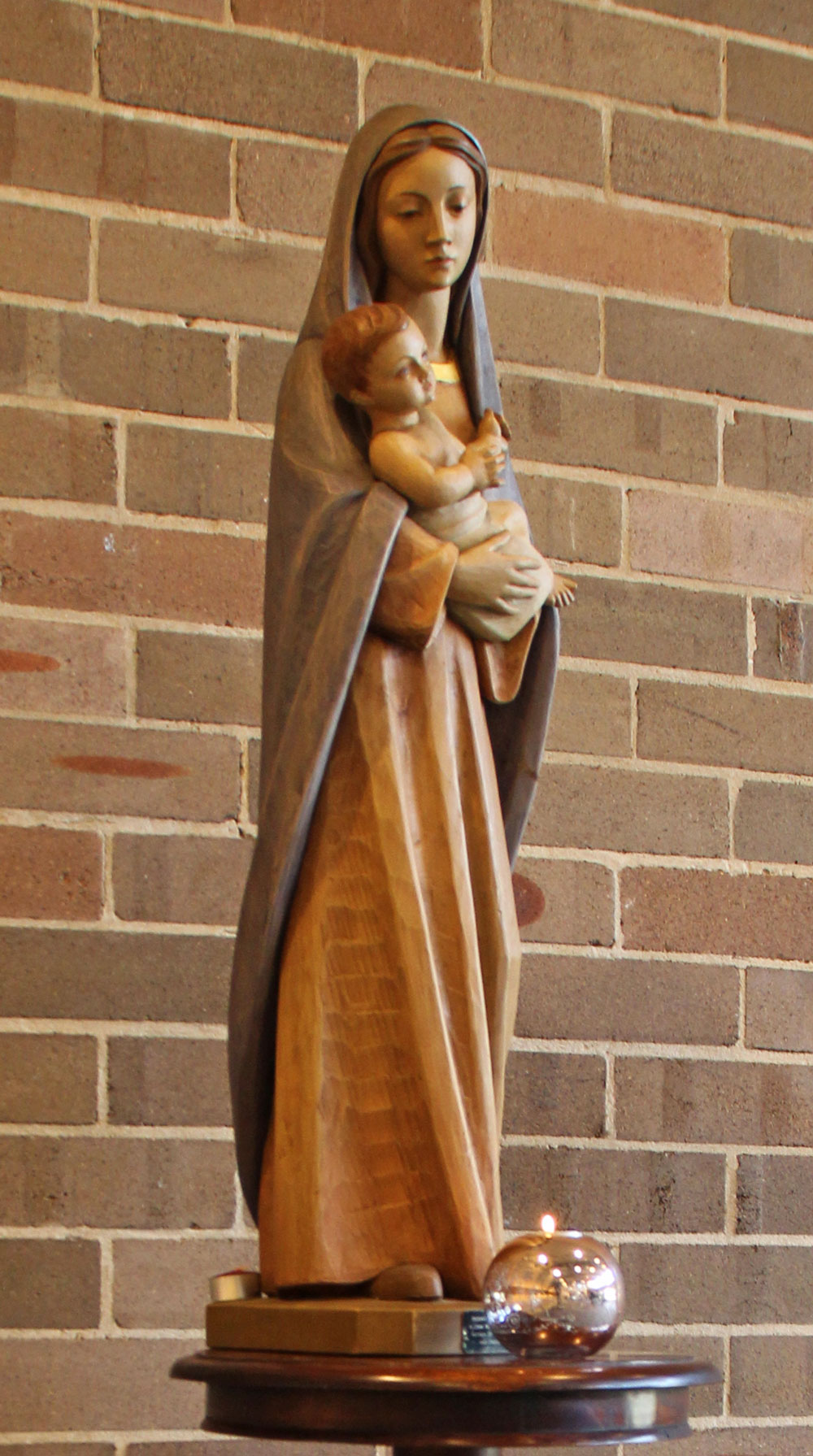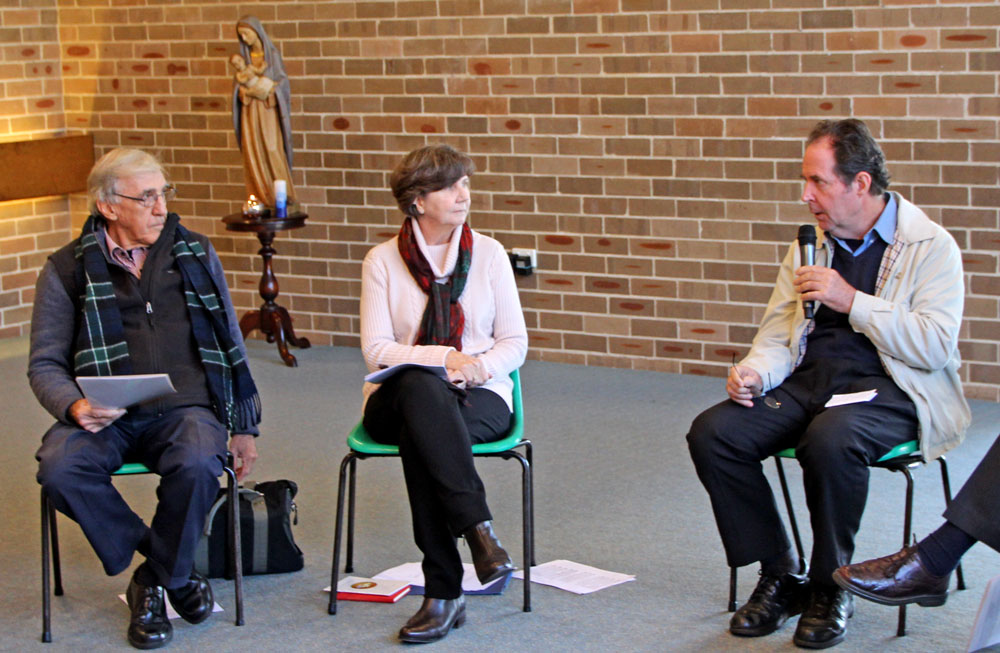 ---
Australian visitation begins
One of the Society of Mary's Assistants-General, Fr Ben Mc Kenna SM, arrived in Sydney on Jul 02 to commence visitation of the province,
Tasmanian-born Fr Ben has just completed several weeks in the Marist Mission District of Asia, visiting communities in Davao, Philippines, and Ranong, Thailand.
This week he will attend the second sesson of the Australian Provincial Chapter in Sydney, during which a new provincial wll be elected to take office in 2019.
Welcome, Fr Ben. [Jul 02]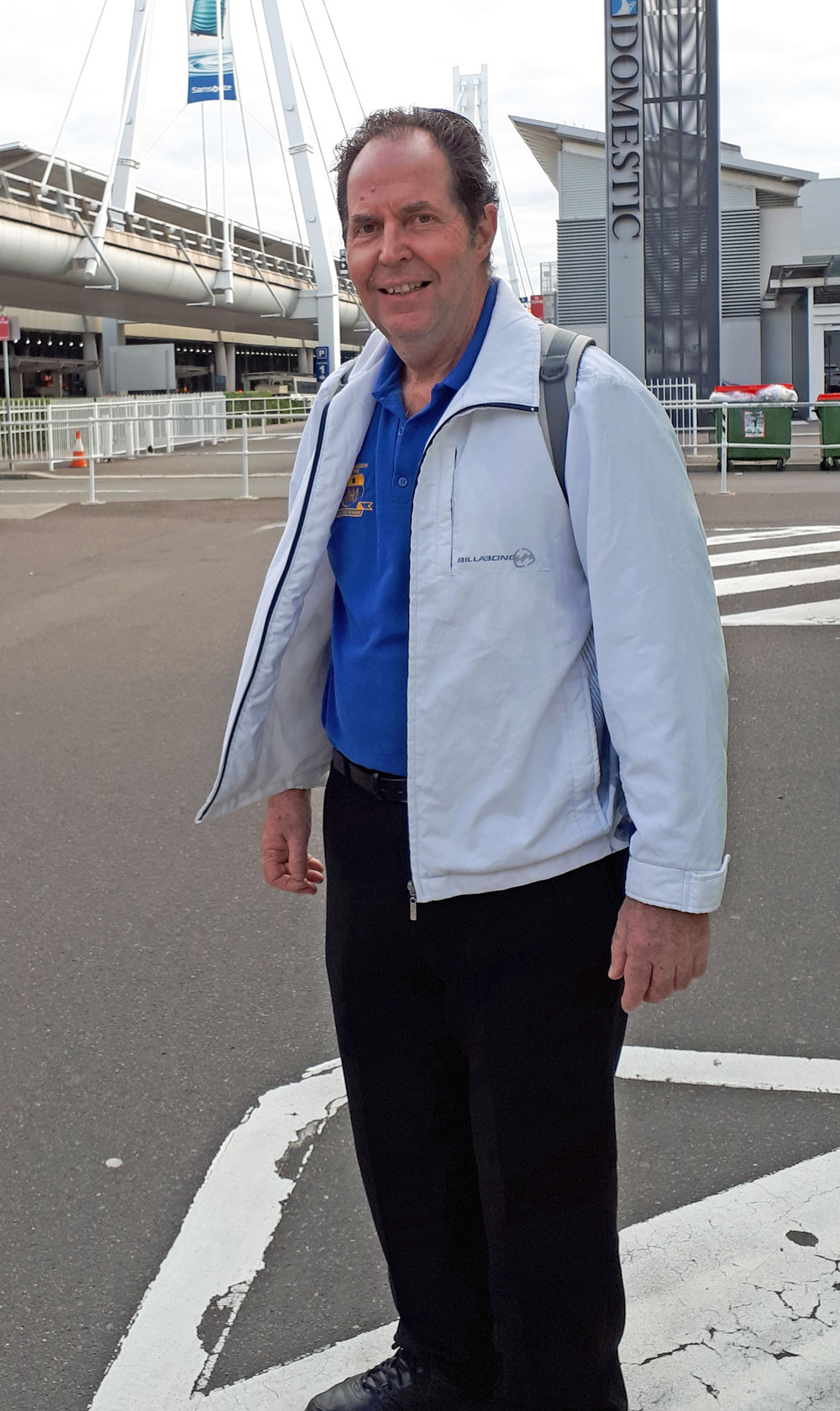 ---
Passing of Fr Brian Conaghan
Marists of the Australian Province and friends mourn the passing of Fr Brian Conaghan SM, aged 86.
Former parish priest of Holy Name of Mary, Hunters Hill/Woolwich, Fr Brian died peacefully on Jul 02, after recent months in Aged Care facilities at Marsfield, NSW.
He is remembered especially for his gentle and courteous presence and ministry in parishes in urban and rural New South Wales, and during his years of retirement. For a profile of his life, click here.

Mass of Christian Burial for Fr Brian will be celebrated at Holy Name of Mary church, Hunters Hill, commencing at 10.30 am on Fri, Jul 06, with burial at Macquarie Park cemetery, Delhi Rd, North Ryde.
Rest in peace, Fr Brian... 'Connie' to his Marist confreres, [Jul 02]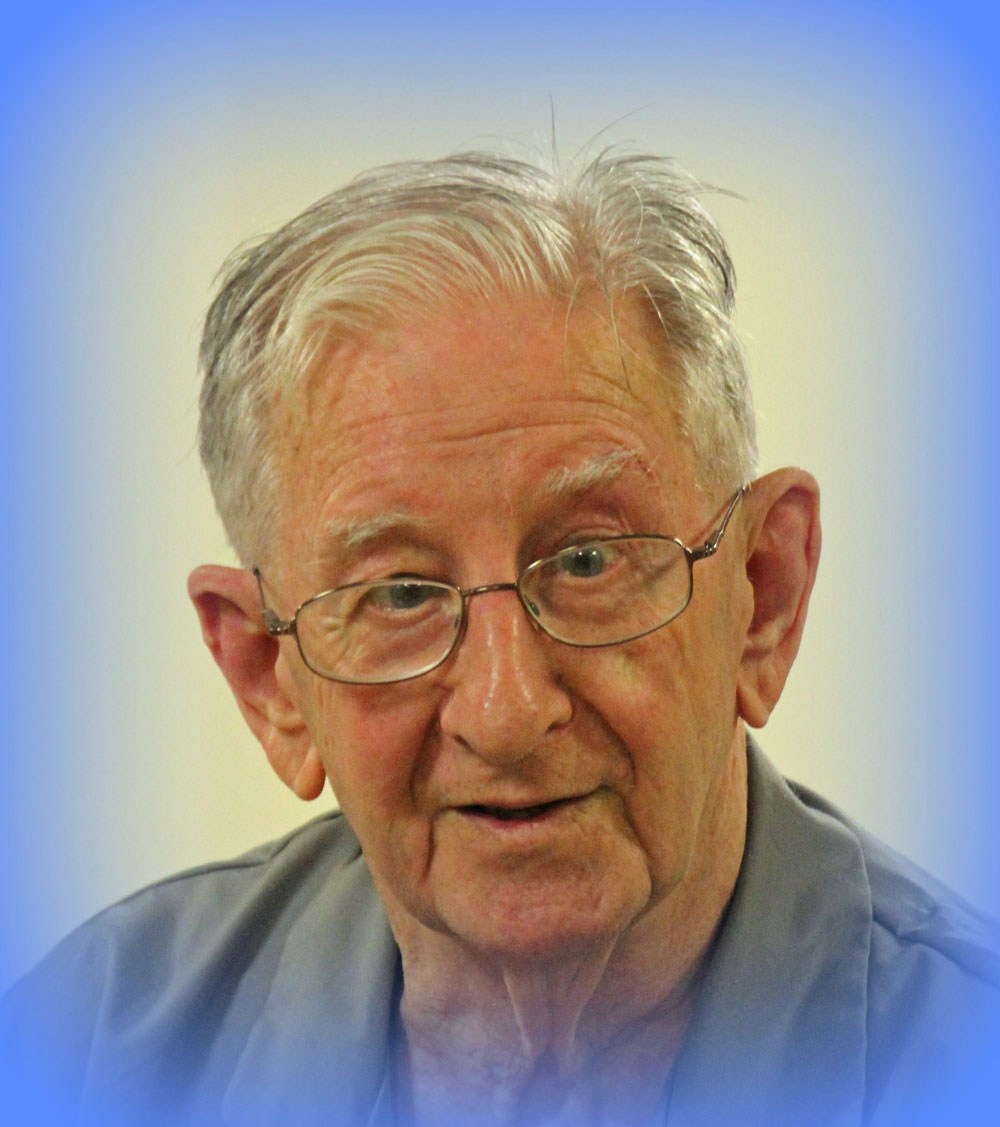 ---
Marist news from Europe
From Paris, Fr Joaquin Fernandez SM sends his final bulletin as Secretary of the Marist European Province. Thank you, Fr Joaquin, for your faithful ministry of communicating throughout the Marist world.
Click here to download Euroinfo. [Jul 02]