---
Click here for News 2008 to 2017 | Click here for News 2018 then go to News tab above
---
Brisbane celebration
Recalling the event of Oct 29, 1824 (see below, 'SM has begun!'), Brisbane couple, Kevin and Trish McGrory, opened their Stafford home once again to local Marists for a simple celebration.
The McGrorys have themselves visited the village and presbytery at Cerdon, France, and have hosted the Brisbane celebration for over ten years. [Oct 30]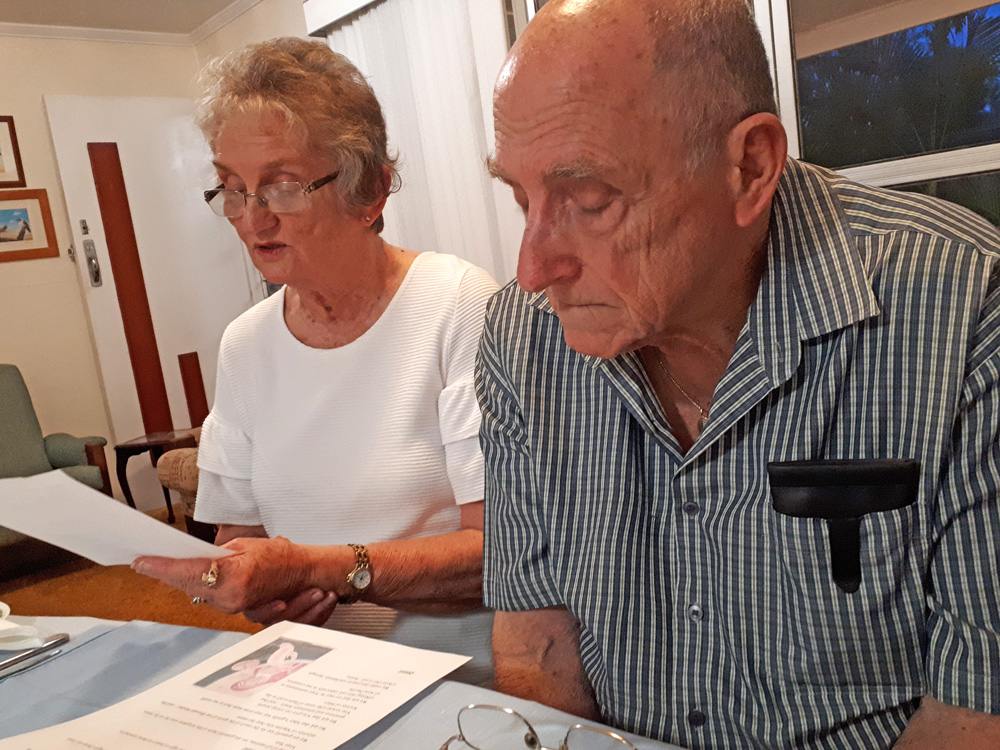 ---
'SM has begun!'
On Oct 29, 1824, a third Marist aspirant, Fr Etienne Declas, arrived at the presbytery of Cerdon in the Bugey mountains of France.
This event, as Fr Declas joined Frs Pierre and Jean-Claude Colin, meant the formation of the first community of the Society of Mary.
That very day Fr Pierre Colin wrote to the bishop, Alexander Devie: 'Today the Society of Mary has begun.' [Oct 29]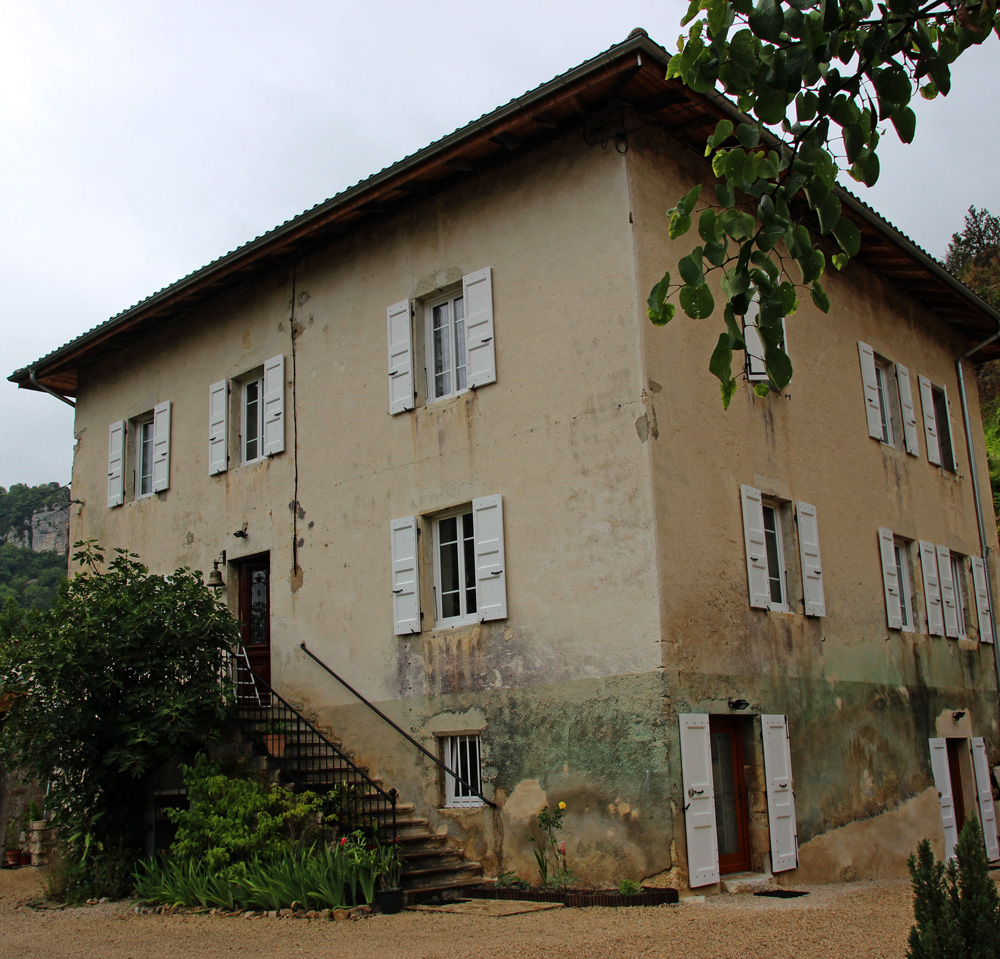 ---
Consultation concludes
Mass at the tomb of St Peter marked the beginning of the final week of the Annual Review Consultation which ended in Rome on Oct 27.
After the initial week of workshop and reports, the unit superiors met individually with the Superior-General, General Assistants and with each other. Plenary sessions focused on current issues including vocations, formation, various meetings, laity, structures, mission and finance. It was decided to hold the next Council of the Society in Mexico. [Oct 29]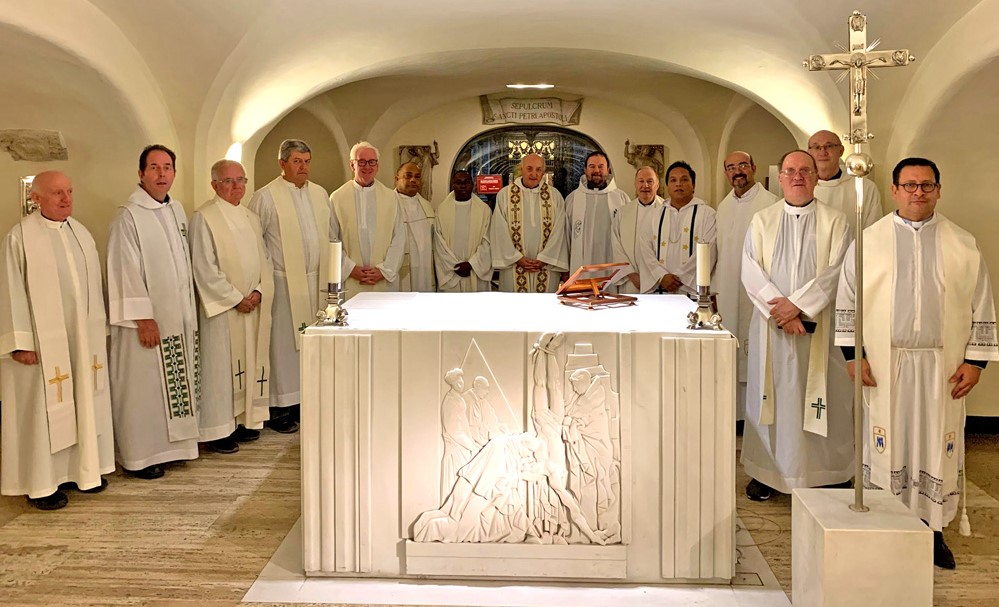 ---
Session on Founder's Cause
On Oct 22, the Annual Review Consultation enjoyed a presentation by Assistant-General, Fr Ben McKenna, on the Beatification Cause of Marist Founder, Ven Jean-Claude Colin.
Fr Ben distribution packs of update information to participants and displayed the refurbished Colin website live on-screen.
To download some of the resources, click below:
Above: Fr Ben McKenna during the Cause presentation | With their Cause resource packs, from left, Frs Juan-Carlos Pina (Assistant-General), Alejandro Munoz (Mexico), Chrisopher Ganzon (District of Asia) and Yvan Mathieu (Canada). Below: Some of the Cause resources. All are accesssible on the Colin website: www.jeanclaudecolin.org
---
Reports from all over
The Annual Review Consultation (ARC) ended its first week with reports from the leaders of Society of Mary's provinces and mission districts.
Twenty-minute slots allowed each speaker to give a summary of his unit with photos and graphics and questions from confrères. ARC continues now into its second week.
Assistant-General, Fr Ben McKenna, has sent photos (below). Thanks Fr Ben! [Oct 21]
Above: ARC in session. Below: Unit leaders' reports, from left, Frs Chrisopher Ganzon (District of Asia), Roberto Furtuoso (District of South America), Albert Kabala (District of Africa), David Kennerley and Tim Duckworth (Province of New Zealand).
Above: Frs Paul Frechette (Province of USA), Setefano Mataele (Province of Oceania) and Tony Corcoran (Province of Australia). Below: Frs Martin McAnaney (Province of Europe), Alejandro Munoz (Province of Mexico) and Yvan Mathieu (Province of Canada).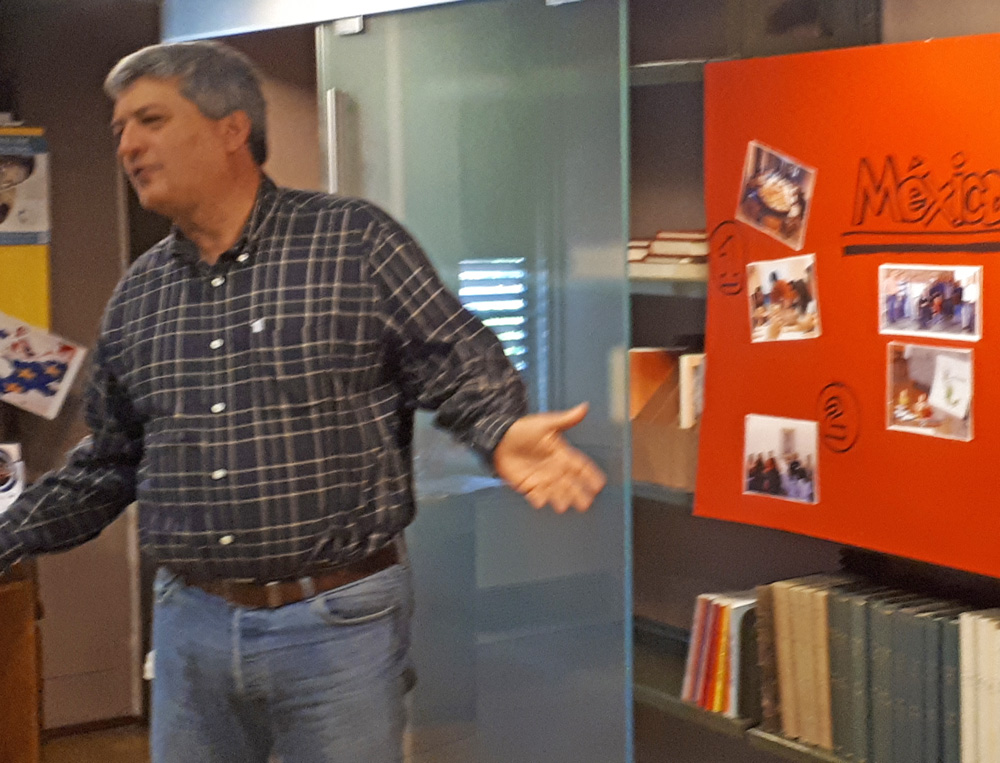 Below: Inbetween moments, from left, Facilitator, Sr Judith Moore SMSM and Fr Martin McAnaney | Frs Pat Devlin (Secretary-General) and Paul Frechette | Fr Tony Corcoran making an extra point | Frs Juan-Carlos Pina (Assistant-General), Roberto Furtuoso and Alejandro Munoz.
---
Final professions
Seven young men from as many countries took their perpetual vows as Marists in a simple ceremony in Rome on Oct 19.
The Marist seminarians belong to the community of Casa di Maria, the International Theologate of the Society of Mary, Rome, and are from Cameroon, Mexico, New Zealand, Oceania, Senegal and South America. Superior General, Fr John Larsen, presided at the profession Mass and received the vows of the young men who are due to be ordained deacons on Nov 09.
Above: Fr John Larsen with the finally-professed seminarians, from left, Samuele Tukidia (Fiji), Guy Assogoma [Africa], Ben D'Souza [NZ], Stev Youm [Africa], Floyd Gatana (Bougainville), Leandro Martins [Brazil] and Ricardo Gutierrez [Mexico]. Below: Oceania provincial, Fr Setefano Mataele, with the two Pacific Marists finally-professed, Samuele Tukidia and Floyd Gatana and other Oceanian Marists with former provinicial, Fr Ben McKenna. Congatulations to each of them! [Oct 20]
---
Fatima procession to St Pat's
Five groups, mostly of young adult Sydney Catholics, combined on Oct 19 for a twilight procession from St Mary's cathedral to the inner-city shrine of St Patrick's, Church Hill. The procession celebrated the month of Rosary and the message of Our Lady of Fatima.
Fijian Marist, Fr Pio Fong SM, spoke on the cathedral steps before the procession wound its way through the city streets and Botanical Gardens, ending with a Vigil Eucharist and supper at St Patrick's. [Oct 20]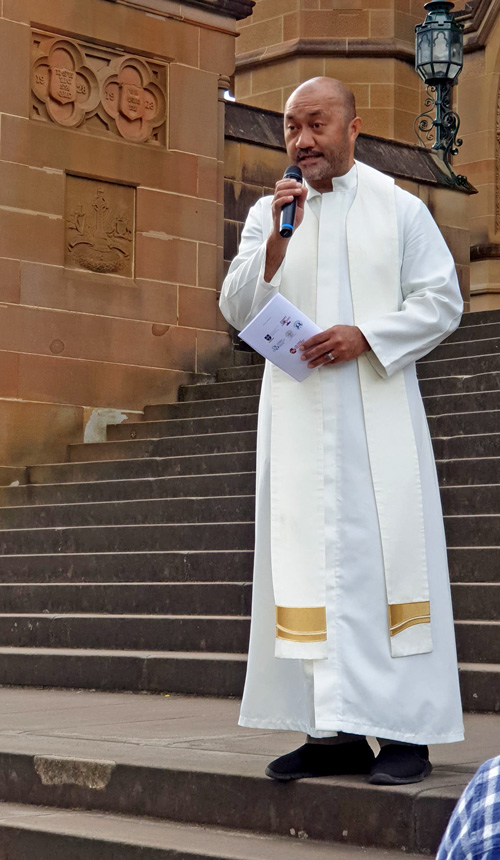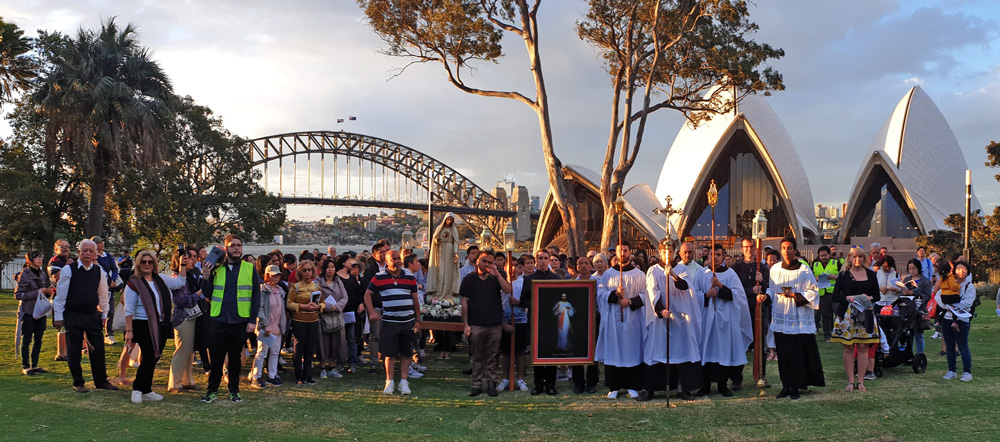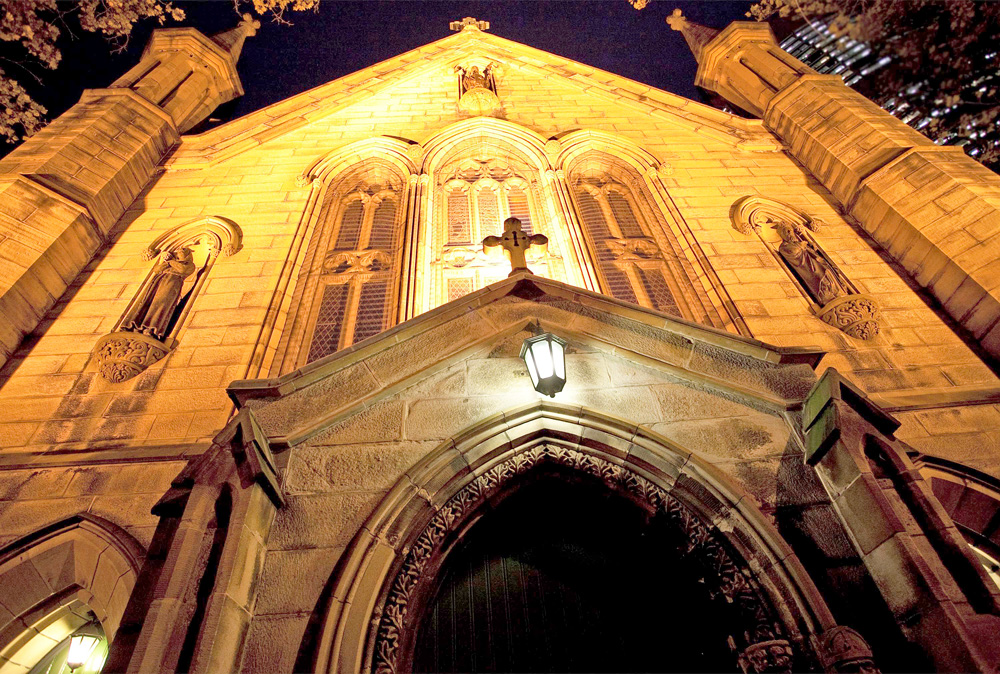 ---
ARC workshop at Nemi
Fr Ben McKenna reports on the opening days of the Annual Review Consultation at Nemi (near Rome):
'Our four-day workshop is to equip us to live more fruitfully in our inter-cultural communities and ministries, both now, and increasingly in the future. Fr Tim Norton SVD began with the topic of 'Interculturality - concepts and sensitivities', folllowed by Sr Miriam SSpS exploring Personality and Culture. '
ARC will continue in Rome at the General House of the Marist Fathers. [Oct 19]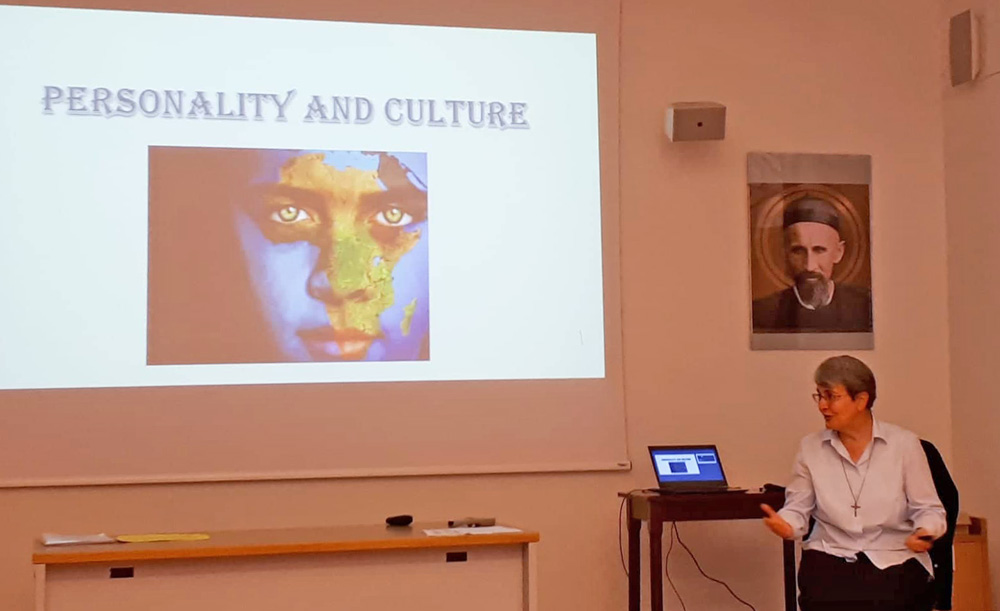 ---
Africa newsletter
Superior of the Marist District of Africa, Fr Albert Kabala, sends the latest news from the district. The five-page, bilingual (French and English) bulletin gives updates on each of the District's missions in Cameroon and Senegal.
Click here to download.: [Oct 17]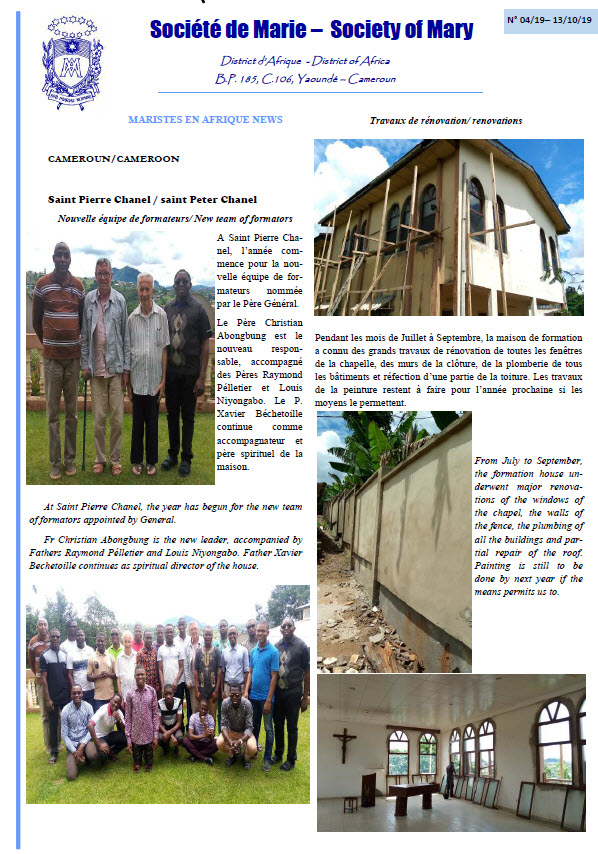 ---
Maison Saint Pierre Chanel
From Yaoundé, Cameroon, newly-appointed formation leader, Fr Christian Abongbung SM, reports of new students and the start of another academic year...
'We officially started the formation year on 22 September with holy Mass during which four new students made their official entry into the formation house as postulants. Prior to that, we had three days of retreat reflecting on the theme of "vocation".
'The community is made up of twenty-two seminarians and four formators from different rationalities (Burundi, Cameroon, Canada and France). The students will start the first semester of philosophy studies in Saint Joseph Mukasa Philosophy Institute on 30 September.
'This house a special link with the Marist province of Australia through Fr John Worthington who was superior and did great extensive work to improve on the living conditions of the seminarians.'
Thanks, Fr Christian! Blessings on St Peter Chanel's. [Oct 15]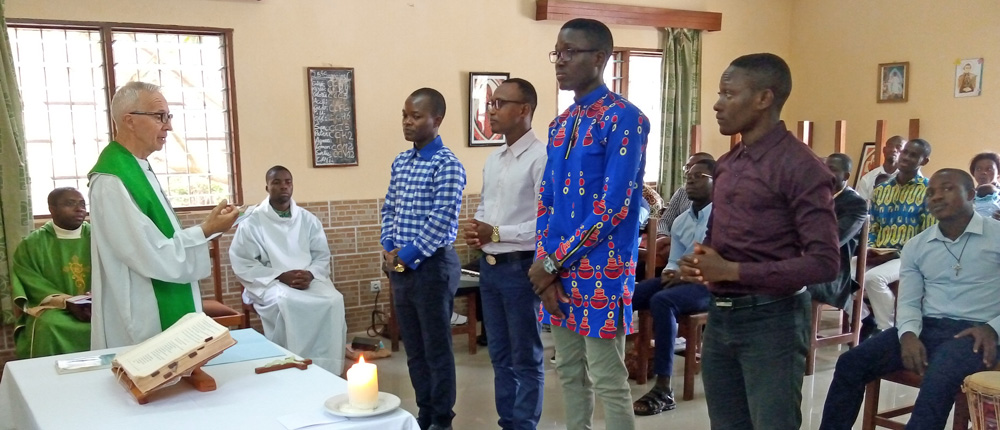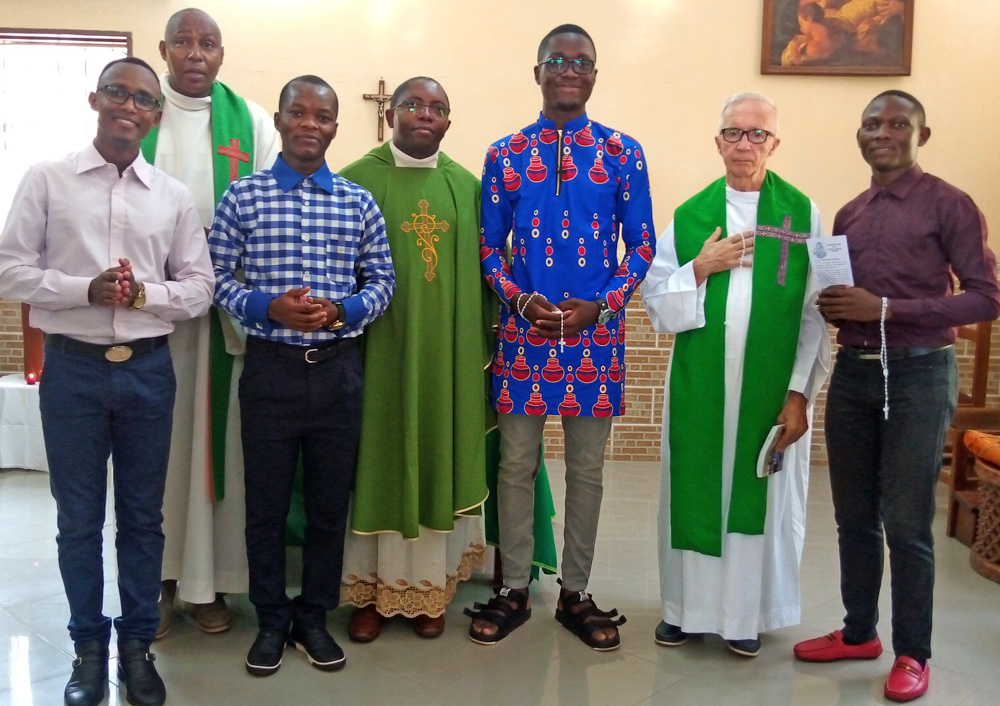 Above: St Peter Chanel's opening Mass for the academic year with the reception of four new students. Below: The community of 'Maison Saint Pierre Chanel' | Fr Christian during studies as a formator in Rome.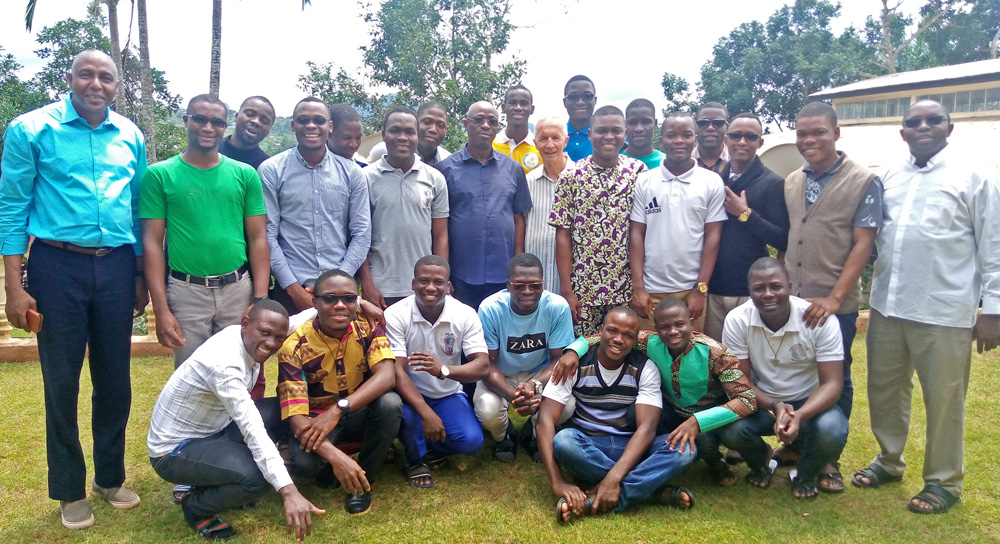 ---
ARC underway
The Annual Review Consultation gathering of Marist provincials and district leaders has commenced in Rome.
Australian Assistant-General, Fr Ben McKenna, has sent the first photos of the gathering which commenced on Oct 13 with Mass in the chapel of the Marist General House, Villa Santa Maria, and an initial address by Superior-General, Fr John Larsen, taking the theme of Nazareth: Jesus returning there, led by the Spirit, coming home to his own people, and proclaiming his Mission.
The meeting is being facilitated by Sr Judith Moore SMSM. [Oct 14]
Above: During the opening Mass, from left, Frs Tony Corcoran (Australia), Roberto Furtuoso (S America), Paul Frechette (USA) and John Larsen (Superior-General). Below: Facilitator, Sr Judith Moore SMSM | Fr John Larsen giving the opening address.
---
MCC pilgrims in France
Australia's group of school leaders and staff making the Marist Charism and Culture pilgrimage are well into their exploration of the places of Marist origins in France.
Thanks to Rod Treymane and fellow pilgrims we have glimpses, below, of their first visits. [Oct 12]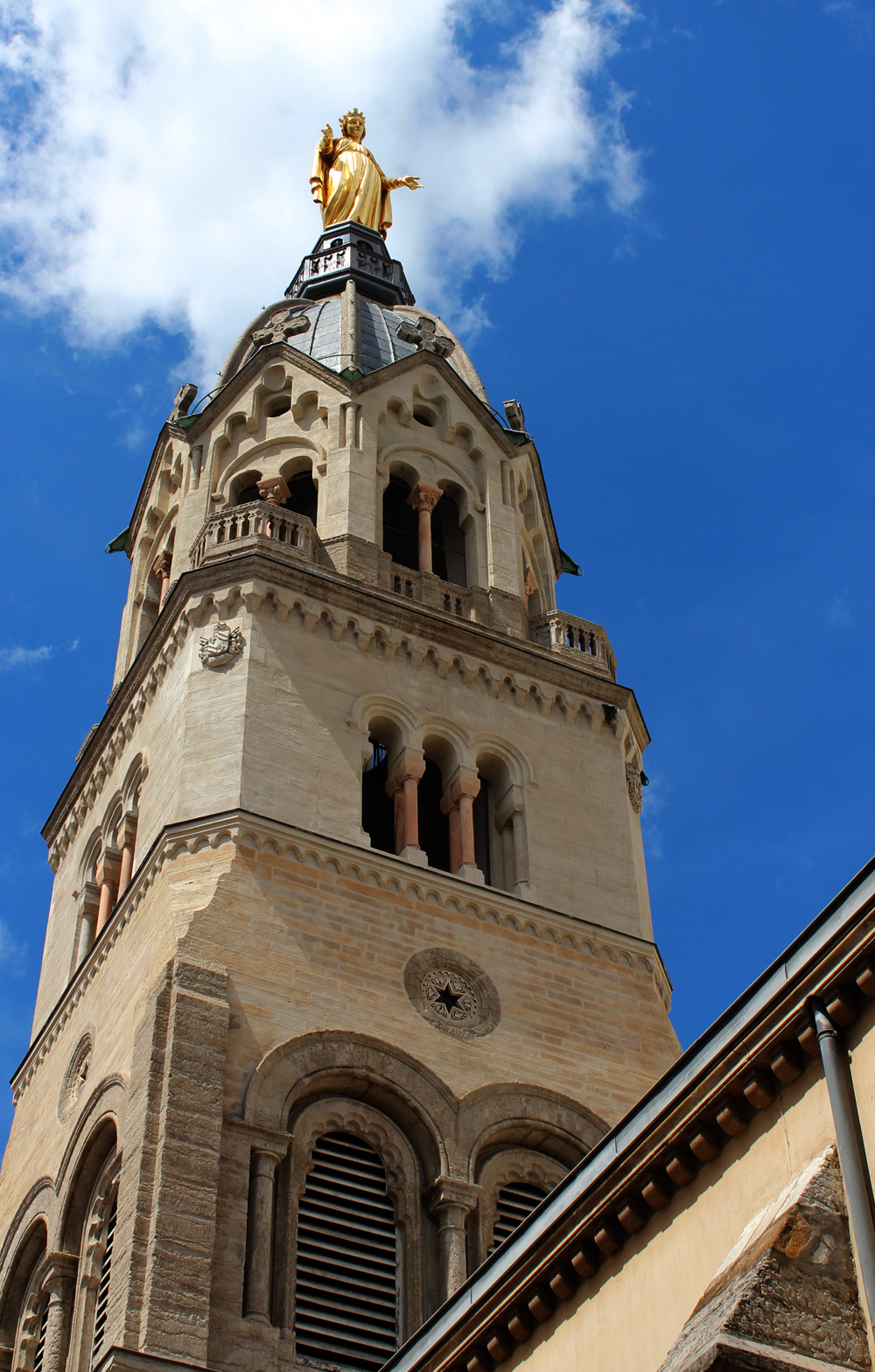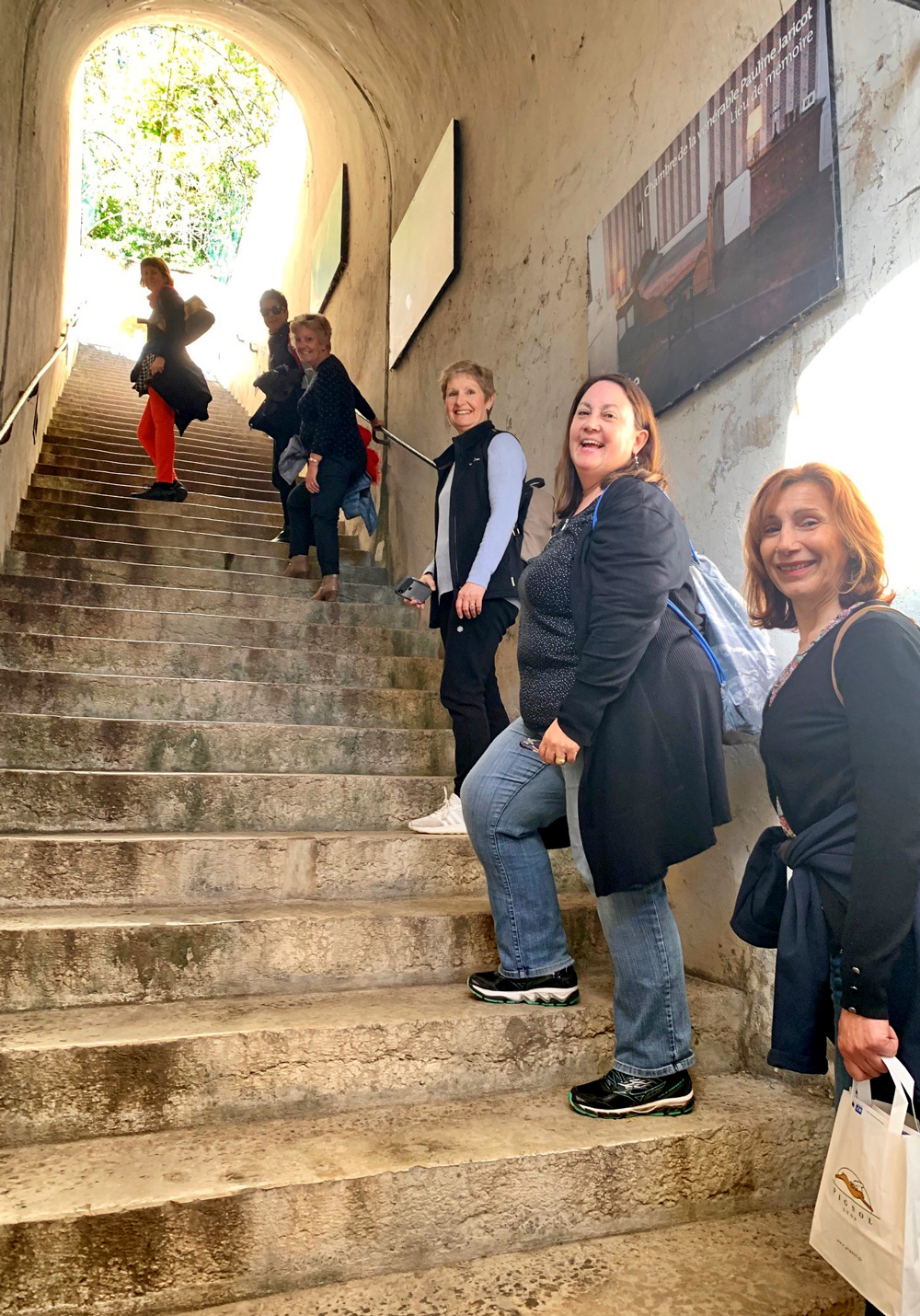 Top: Pilgrims climb the steps to the chapel of Our Lady of Fourvière, Lyon, relaxing with a snack afterwards, Above: By the statue of St Peter Chanel in the college of Belley, first school cared for by the Marist Fathers | Fr Ray Chapman in the cathedral of Le Puy. Below, visits to the Marist Sisters' special places: Concelebrated Mass in the church of Coutouvre, birthplace of Jeanne-Marie Chavoin, Foundress of the Marist Sisters | lunch at Coutouvre (?) | In the grounds of Bon Repos, Belley, first Mother House of the Marist Sisters..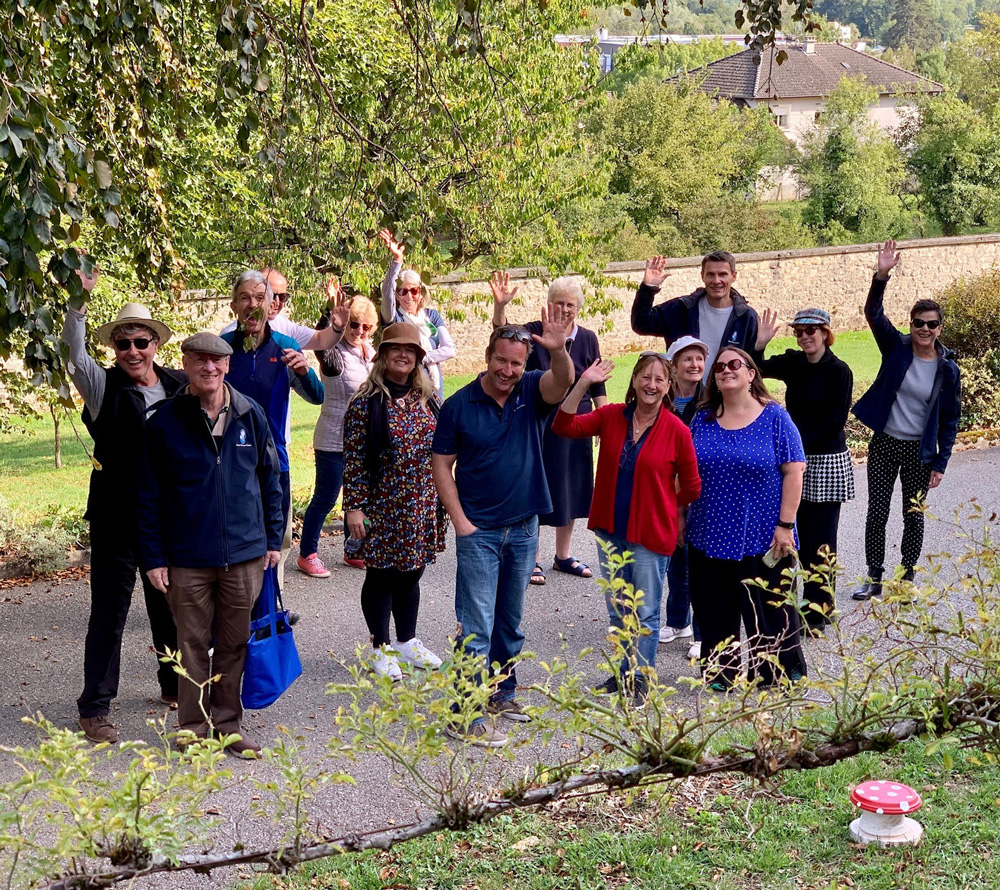 ---
New Arbuckle book
Author and anthropolist, Fr Gerard Arbuckle SM, has focussed on strategies to address the sexual abuse crisis in his latest book. 'Abuse and Cover-up. Refounding the Catholic Church in Trauma'.
One reviewer comments: '... the book offers a comprehensive guide to the abuse crisis - not just an analysis of the phenomenon of abuse and cover-up, but also the action plans and strategies needed for refounding the church.' The book is published by Orbis, New York. [Oct 11]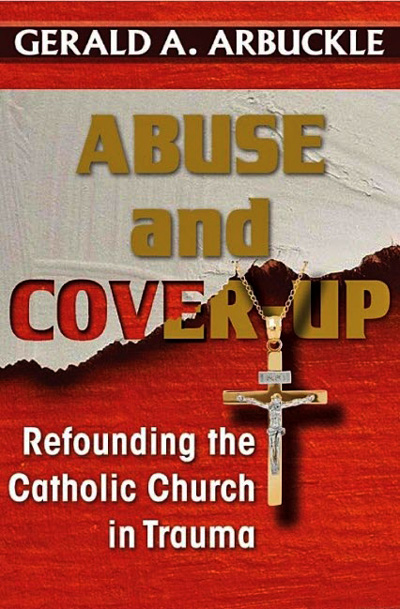 ---
Oceania provincial trio
From Rome, Fr Ben McKenna sends this photo of three Oceania Marist provincials, past and present, pictured in front of the icon of Jean-Claude Colin in the chapel of the Marist General House, Monteverde.
Below, from left: Bishop Paul Donoghue SM (bishop of Cook Islands, in Rome with the CEPAC bishops' group), present provincial, Fr Setefano Mataele SM (attending the Annual Review Consutation next week) and Assistant-General, Fr Ben McKenna (who lives there!). [Oct 10]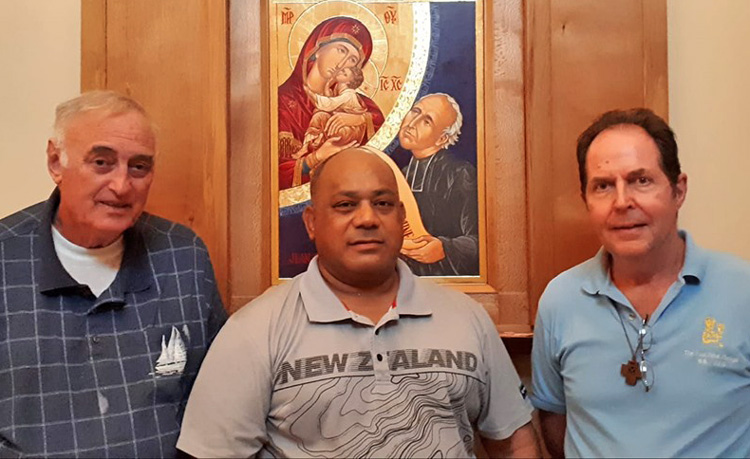 ---
Marist news from all over
Click for the latest:
(Monthly message from Superior-General, Fr John Larsen: go to Members' Page) [Oct 09]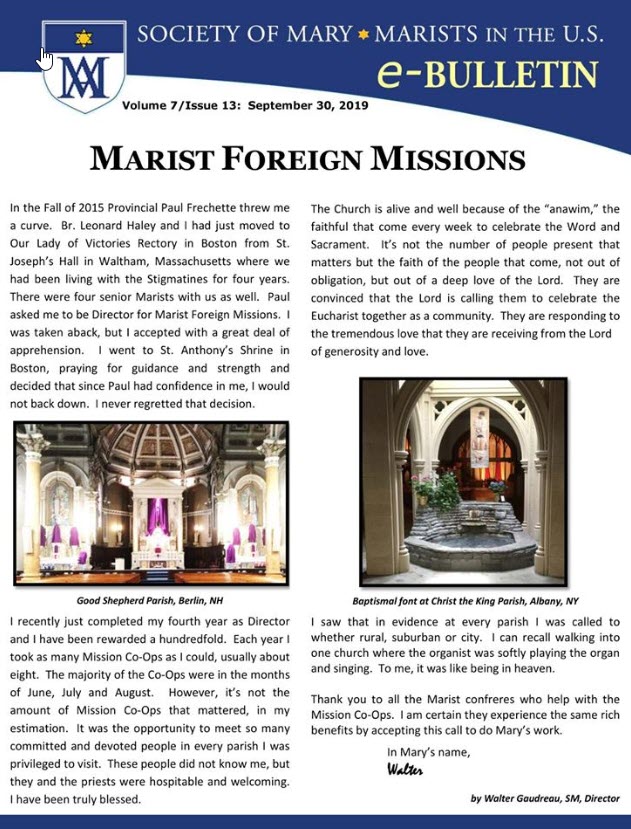 ---
New website for US Marists
Provincial, Fr Paul Frechette SM, has announced a new website for the Marist Province of USA.
The attractive, bilingual site, launched on the Feast of the Rosary, Oct 07, has been a year in the making and features a wide range of Marist-related interests and ministries locally and internationally.
Check out the new website at www.societyofmaryusa.org [Oct 08]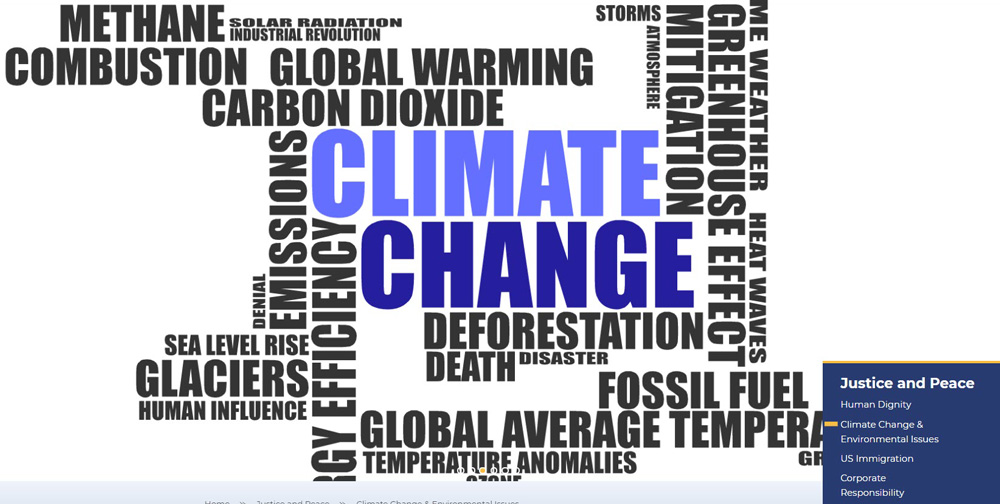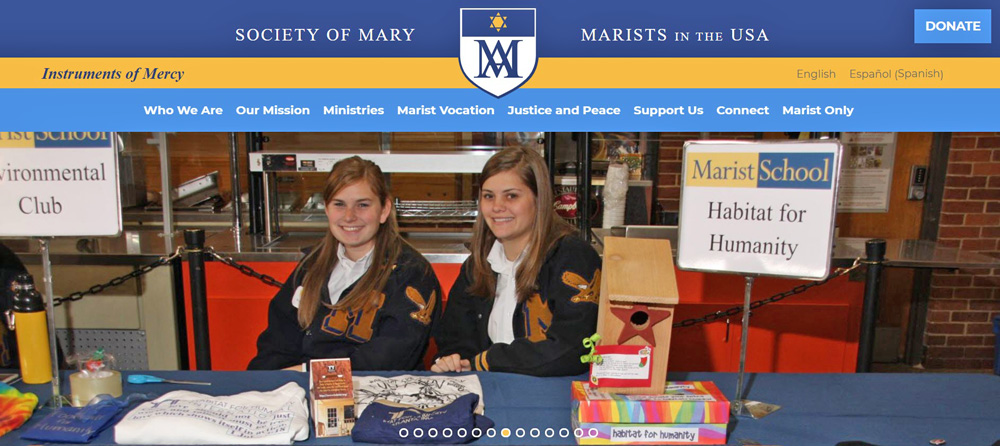 ---
Aussie pilgrims in Rome
While in Rome recently the latest Marist Charism and Culture pilgrim group called for Mass an d a cuppa at Monteverde, the Marist Fathers' General House.
En route to France, teachers and staff of several Australian Marist schools have already visited the places in Rome connected with Marist Founder, Jean-Claude Colin.
They are now in France exploring the places of Marist origins in the regions surrounding the city of Lyons. [Oct 04]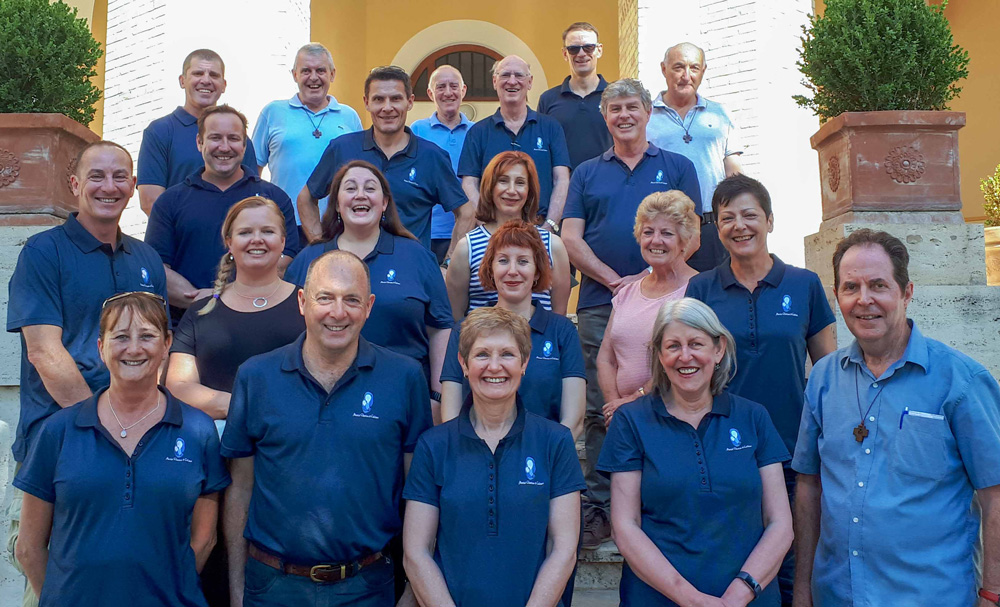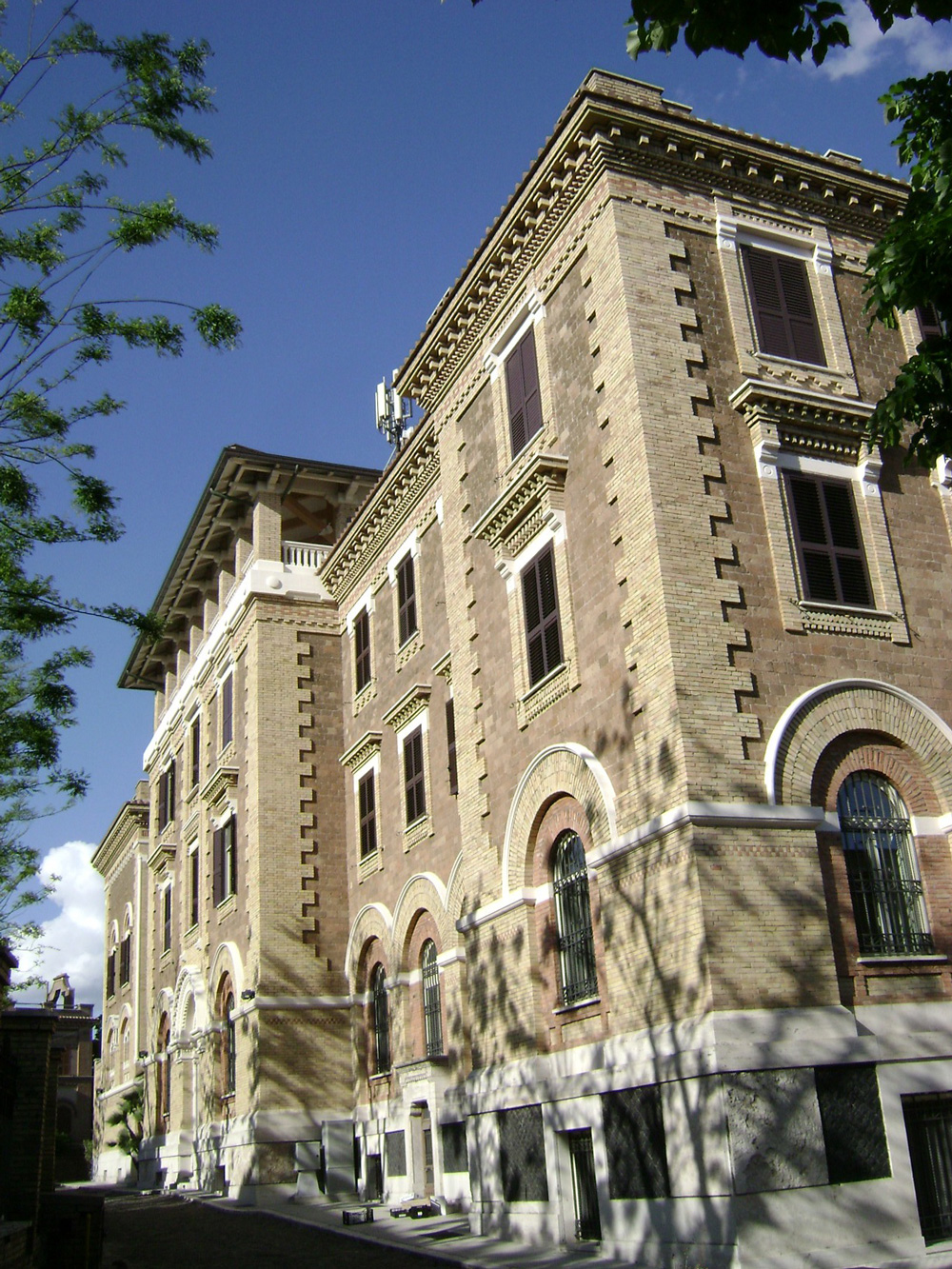 Above: MCC pilgrims with members of the Monteverde community, including Australian Assistant-General, Fr Ben McKenna (front row, at right).
---
Marist news from Europe
Click for latest issue of Euroinfo. [Oct 01]
---