---
For previous years, go to News menu, above
---
---
Cerdon anniversary
On Oct 29, 1824, a third Marist aspirant, Fr Etienne Declas, arrived at the presbytery of Cerdon in the Bugey mountains of France to join Frs Pierre and Jean-Claude Colin as the first community of the Society of Mary. That same day Fr Pierre Colin wrote to the bishop, Alexander Devie: 'Today the Society of Mary has begun.' Communities of Marist Brothers and Marist Sisters had already been established. And now the priests' branch of the Marist project had its first community.
Recalling this event Brisbane couple, Kevin and Trish McGrory, opened their Stafford home once again to local Marists on Oct 29 for a simple celebration. As Lay Marists, the McGrorys have themselves visited the village and presbytery at Cerdon and have hosted the Brisbane celebration since 2008. [Oct 29]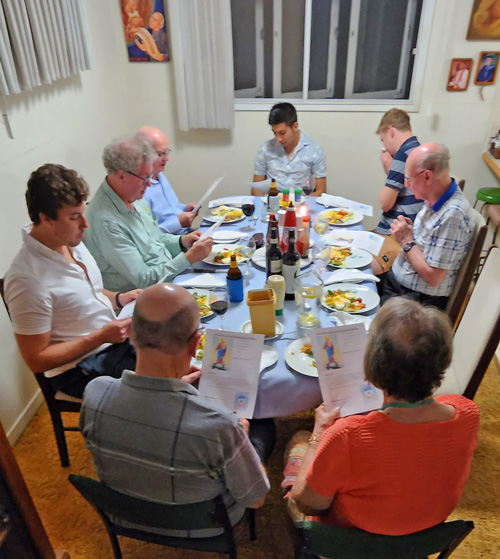 Above: Oct 29 gathering, from left, Fr Ron Nissen SM, Paulo Rejende, Fr Pius Jones SM, Br Charlie Randle SM, Hayden Kennedy, Steven Hoyos, Trish and Kevin McGrory and Fr Gerard Hall SM Below: Flashback to 2012, group at right: Frs Kevin Kerley SM and John Begg SM, Kevin and Trish McGrory, Fr Tom Ryan SM. Further below: The village and presbytery of Cerdon.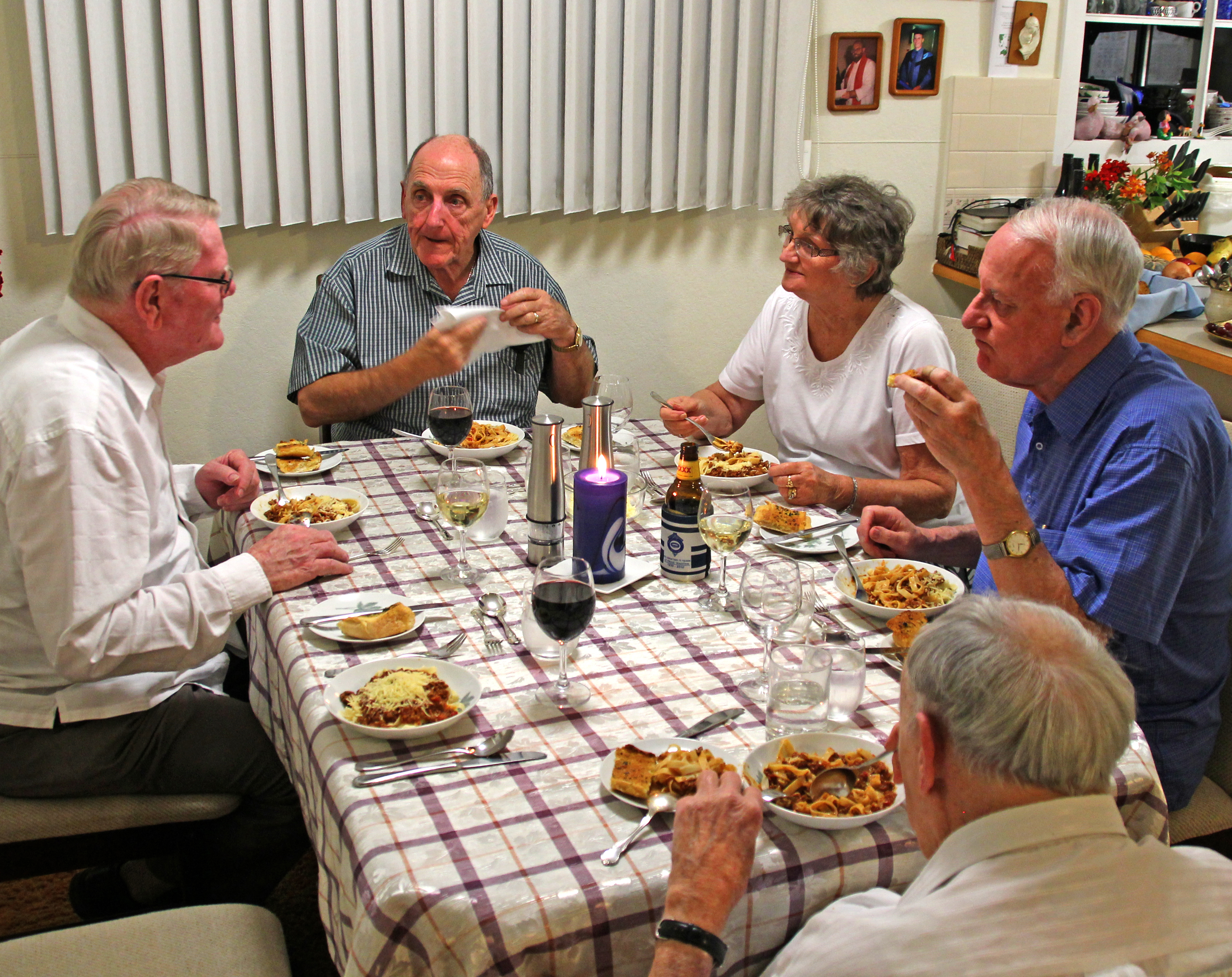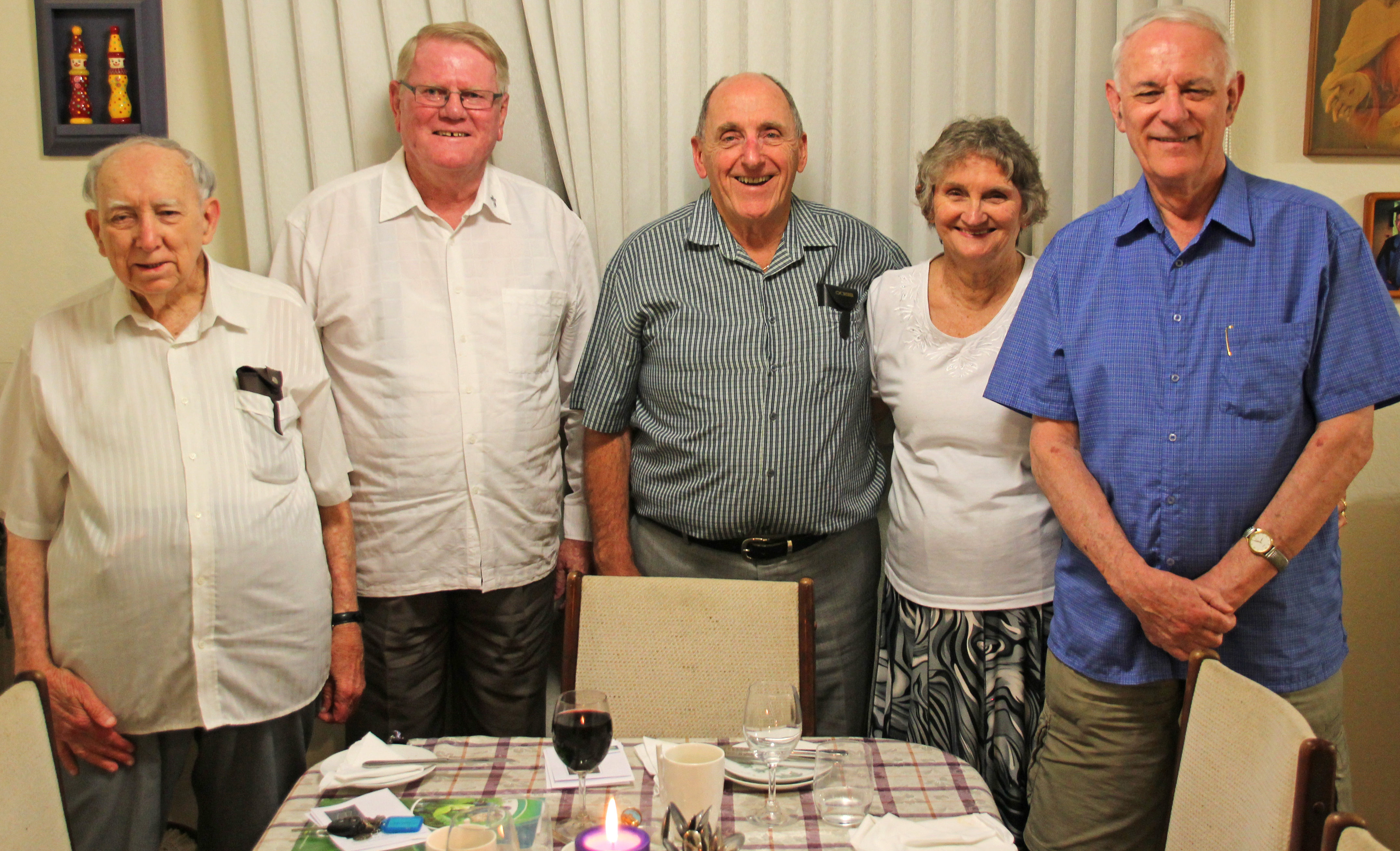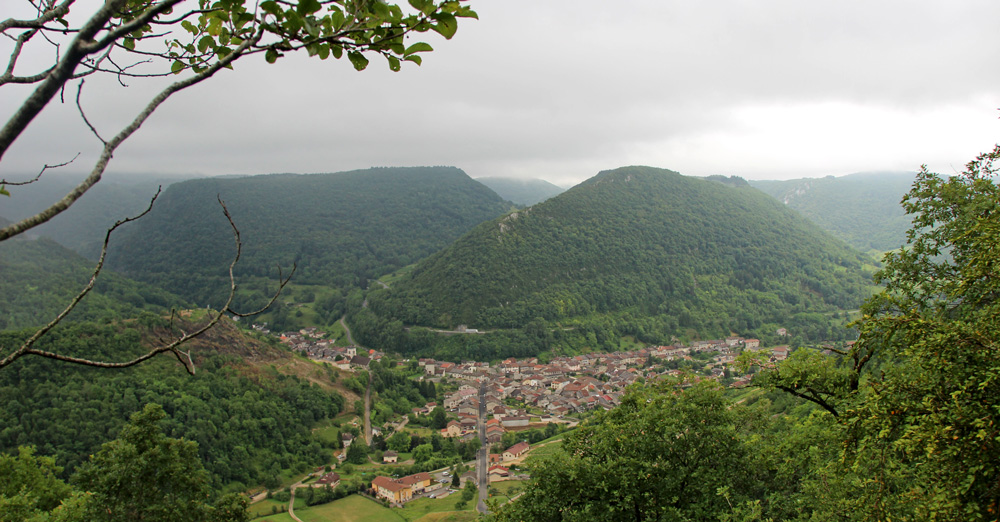 ---
SM Bulletin
From Rome this week's SM Bulletin reports on the farewell to Fr Pat Devlin and on changes to the Oceania Marist Province leadership, as well as listing Marists who have died in the past year. Click here or go to Members' Page. [Oct 29]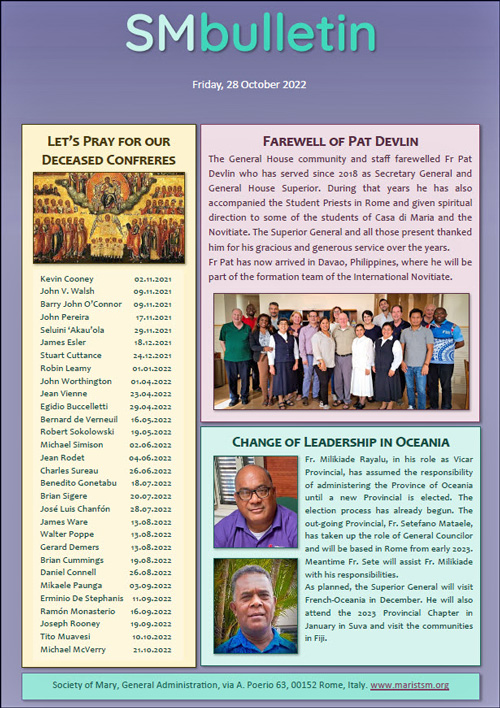 ---
Marist Charism and Culture
Representatives of secondary schools once conducted by the Marist Fathers and Marist Sisters came together on Oct 21 to resume inservice planning for teaching and ancilliary staff. At the Hunters Hill meeting present coordinator and former Marist school principal, Mr Glenn Roff, (pictured below, standing) reminded the group of MCC's committment to preserve and develop the charism and culture established by Marists over the years.
MCC has held several 'immersion' experiences as well as pilgrimages to the places of Marist origins in France. [Oct 22]
---
SM Bulletin
This week's SM Bulletin reports on the Council of the Society during its second week in Rome:visit to St Peter's, attendance at a final profession ceremony, international reports and the election of the new General Council.
For the Bulletin, click here or go to Members' Page. [Oct 22].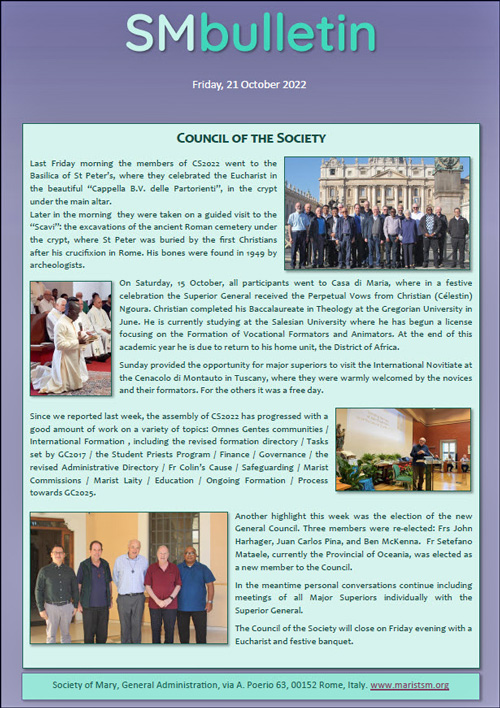 ---
National Day of Sorrow and Promise
Supported by Catholic Religious Australia, this year's National Day of Sorrow and Promise is on Sunday, Oct 23. The day provides a national response from CRA to recognise all who have been harmed from abuse in the Church and to make a commitment to a safer future.
This year's theme is The Gift of Listening: Listening to the voice of God: in 'the cry of the poor' and especially in those who have been abused, in the Holy Spirit's movement within our own hearts, in the sacred texts of our faith tradition and in the world around us.
CRA have prepared a liturgy booklet to assist in commemorating the day: click here. [Oct 21]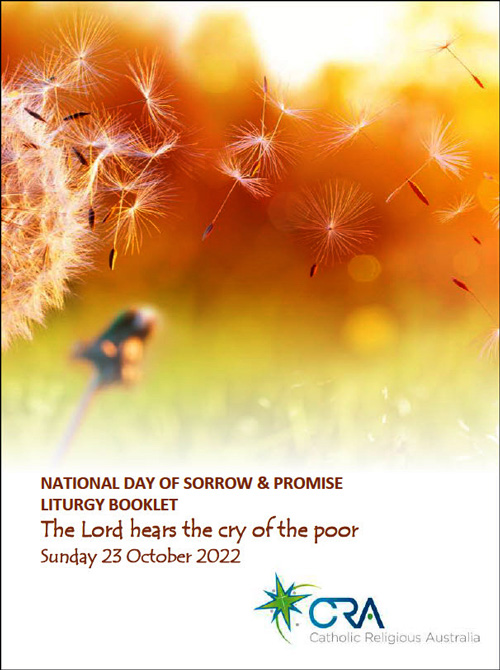 ---
Leadership team elections
One task of the four-yearly Council of the Society currently meeting in Rome is to review membership of the Marist Fathers' General Council. On Oct 17 elections confirmed the places of Frs John Harhager, Juan Carlos Pina, and Ben McKenna and elected Fr Setefano Mataele (presently provincial of the Oceania Marist province) as an Assistant-General . He replaces Fr Christian Abongbung who is soon to move to a new appointment at Notre Dame de France in London.
After the elections Superior-General, Fr John Larsen, thanked all members for their availability and in a special manner thanked Fr Christian Abongbung for his generous service on the General Council assuring him of full support in his new ministry. [Oct 19]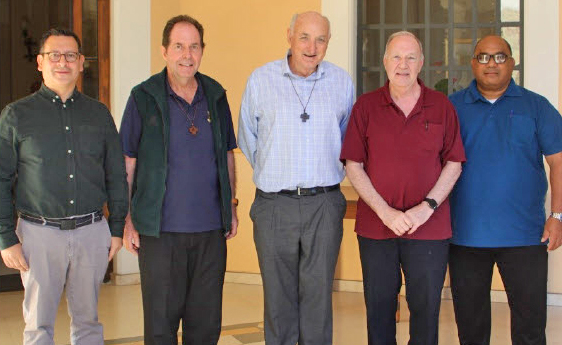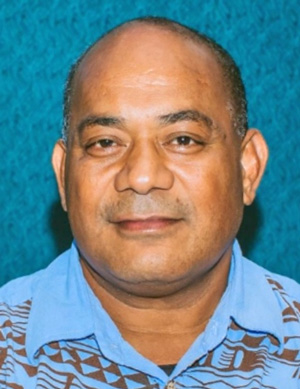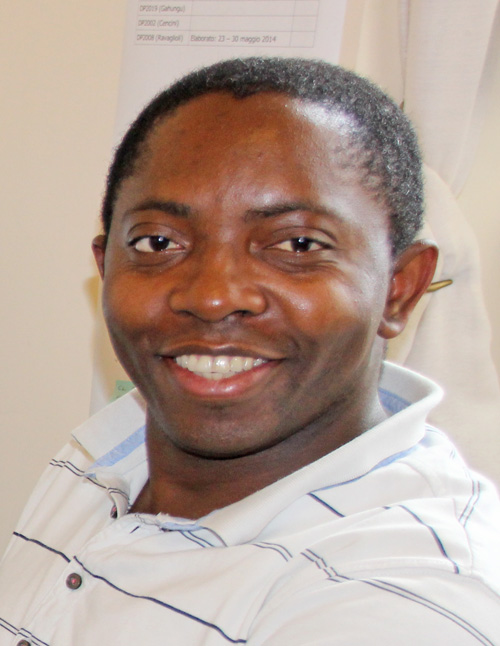 ---
Fr Hoppy: water for Mokomokal
From the Misioneros Maristas, Bolivia, Fr John ('Hoppy') Hopkinson sends his regular curcular letter and a special request. Following devastating floods in the region, the village community of Mokomokal has been without fresh water for over eight months. The Marist team are supporting a project to construct a 5km pipeline to bring fresh water to the village.
Click for: Fr Hoppy's letter | Mokomokal project [Oct 18]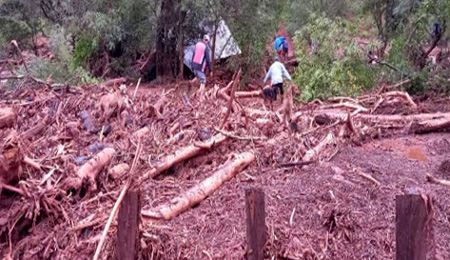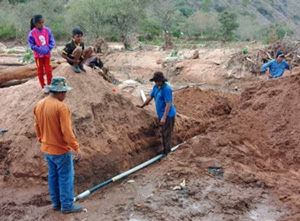 ---
Final profession of Christian Ngoura
The international Marist novitiate community and members of CS2022 were among other Marists and friends to witness the final profession of Cameroonian seminarian, Christian Ngoura Mvoutsi SM, in Rome on Oct 15. The ceremony was held in St Frances Cabrini church with the rector of the Marist International Theologate, Fr Tony Kennedy, presiding.
Pictured below are scenes from the ceremony including Africa District Superior, Fr Albert Kabala preaching the homily and SuperiorGeneral, Fr John Larsen, receiving the vows of Christian. [Oct 17]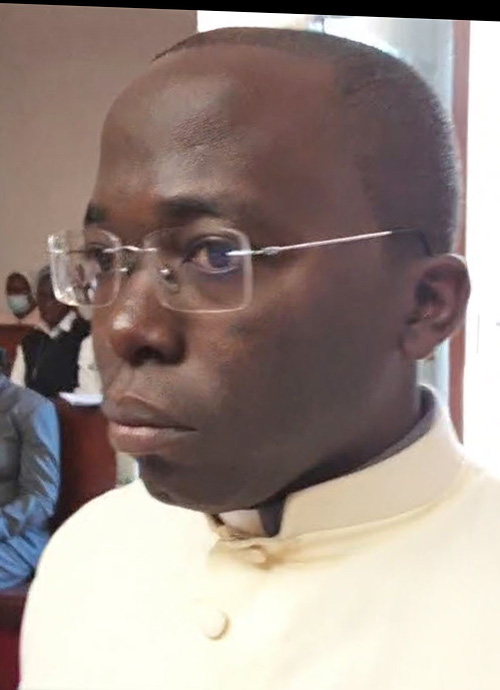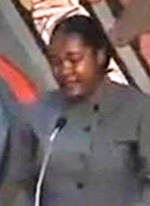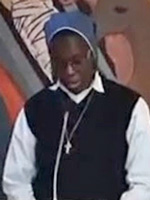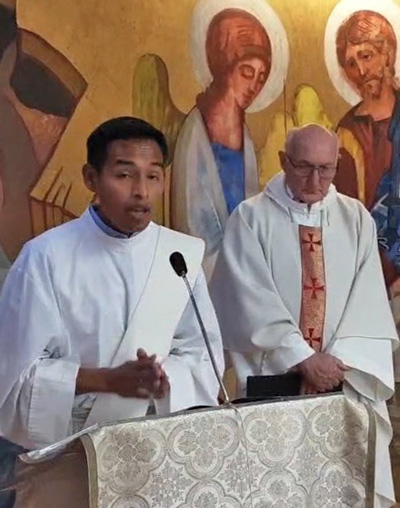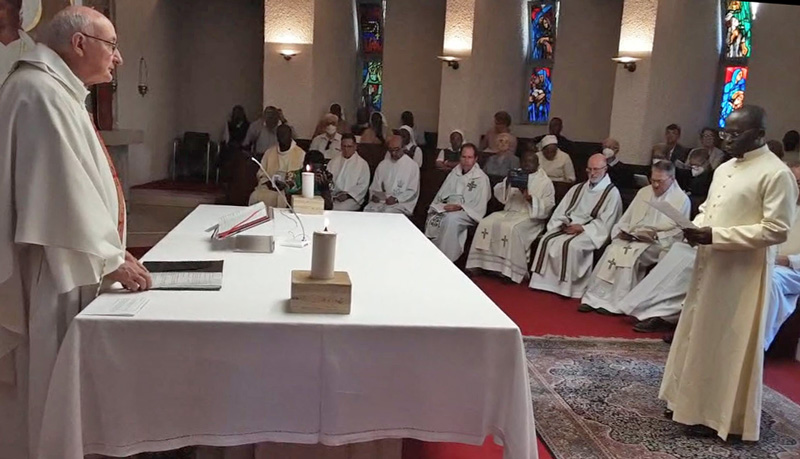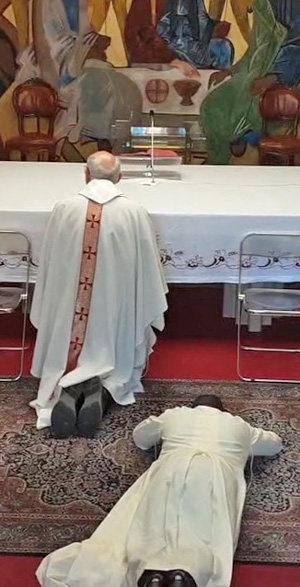 ---
Marist Family JPICC meets
Gathering by Zoom on Oct 08, members of the Marist Family Justice, Peace and Integrity of Creation (JPIC) committee shared practical ideas to respond to Laudato Si's 'Cry of the Poor'. The session was led by JPICC chair, Fr Jim Carty, and hosted by Marist Laity Australia's Andrew Dumas. [Oct 16]
---
CS2022 at St Peter's
The Marist leadership group gathered in Rome for the Council of the Society visited St Peter's for Mass on Oct 14. Australians, Frs Ben McKenna and Tony Corcoran, are pictured below (centre, front) and Asia District's, Fr Lauro Arcede, presided at the Eucharist in the Basilica. [Oct 15]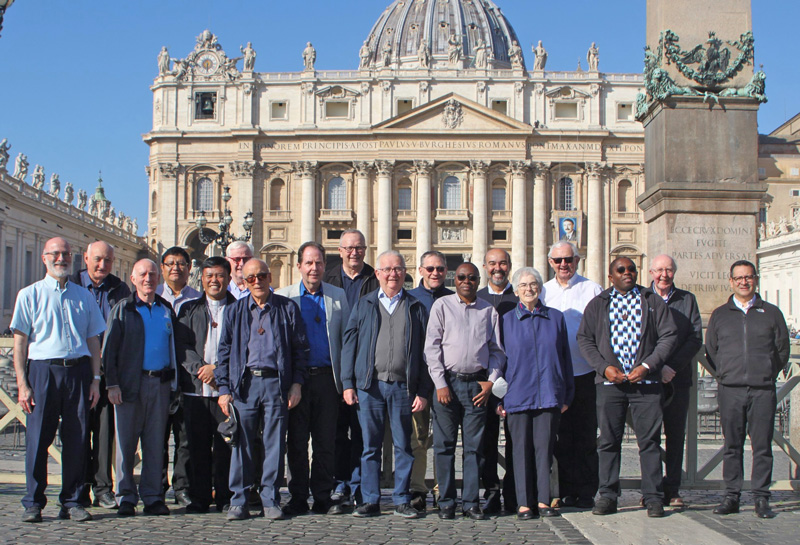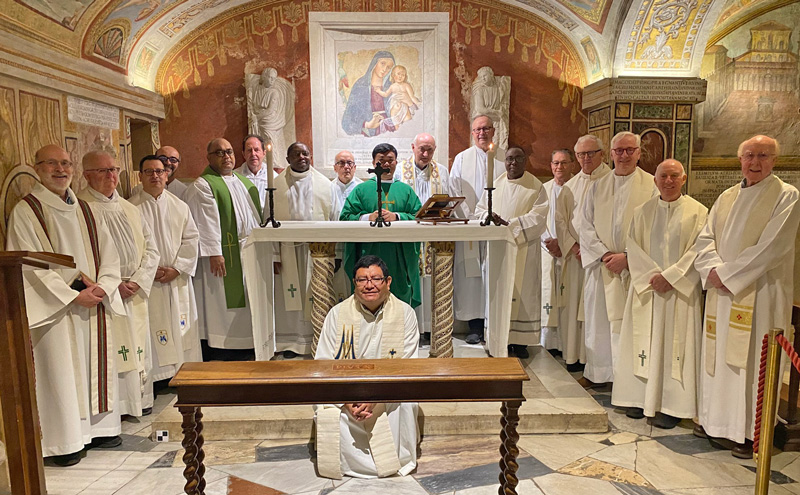 ---
SM Bulletin
This week's SM Bulletin reports from Rome on the first days of the Council of the Society, 2022: click here. Daily reports, as well as the weekly SM Bulletin, are on the Members' Page. [Oct 14]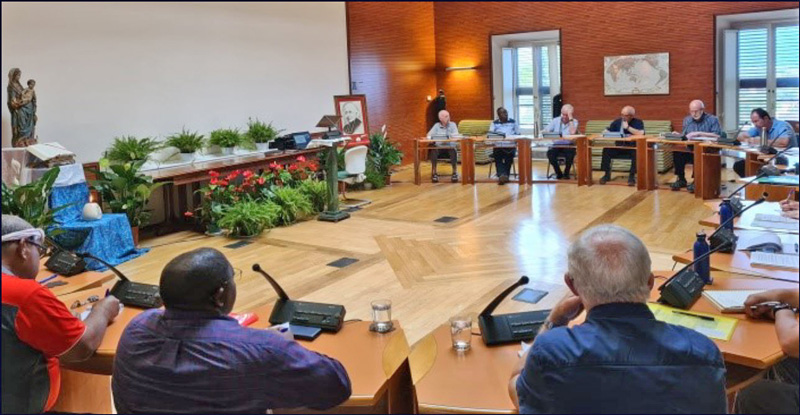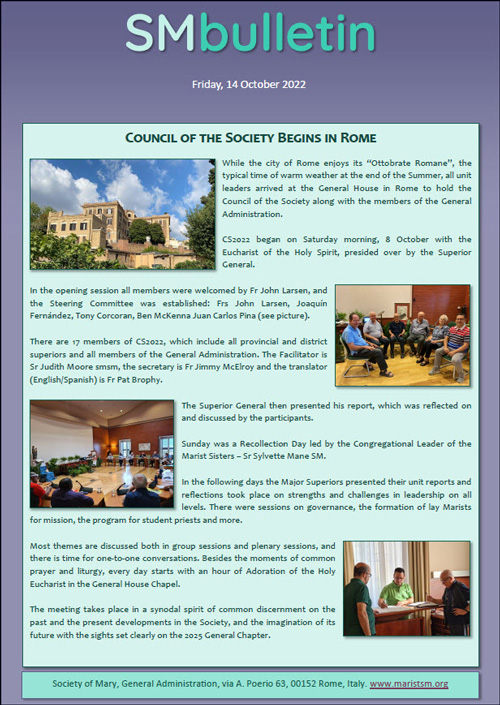 ---
Euroinfo
From Paris the latest Euroinfo reports on the Provincial in Rome for CS '22, the Vicar-Provincial's visit to Germany, Kloster Ahmsen's centenary, news from Sahagun and Mexico and reports from three African Marists in Europe.
To download click here or go to Members' Page. [Oct 10]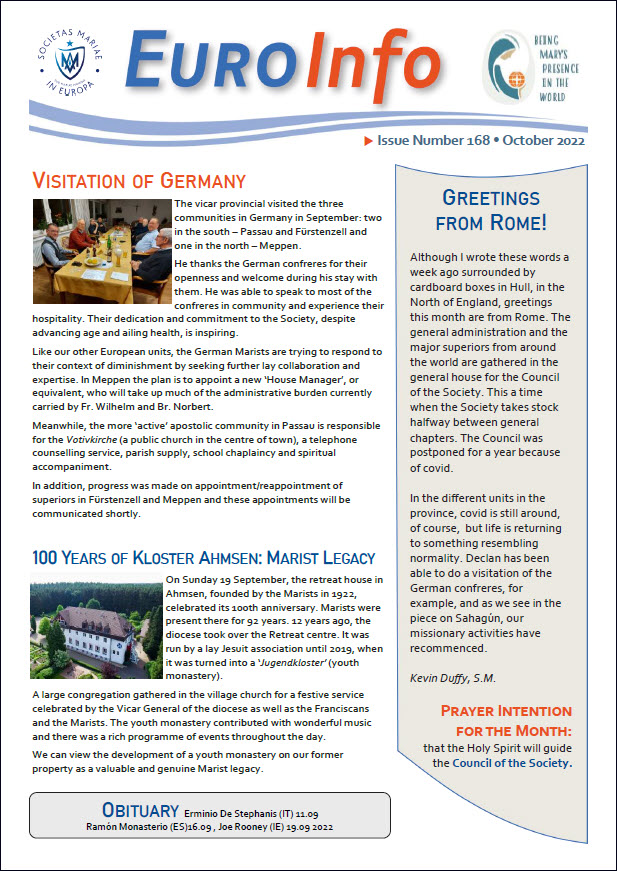 ---
CS 2022 begins
The mid-Chapter Council of the Society began in Rome on Oct 08 and has issued a bulletin on its opening days. Unit leaders from all Marist Provinces and Districts are gathered at the General House of the Society, Monteverde, Rome, to review the period since the General Chapter of 2017 and to plan for the coming three-year period.
For a report on Days One and Two, click here. The Council concludes on Oct 21. [Oct 10]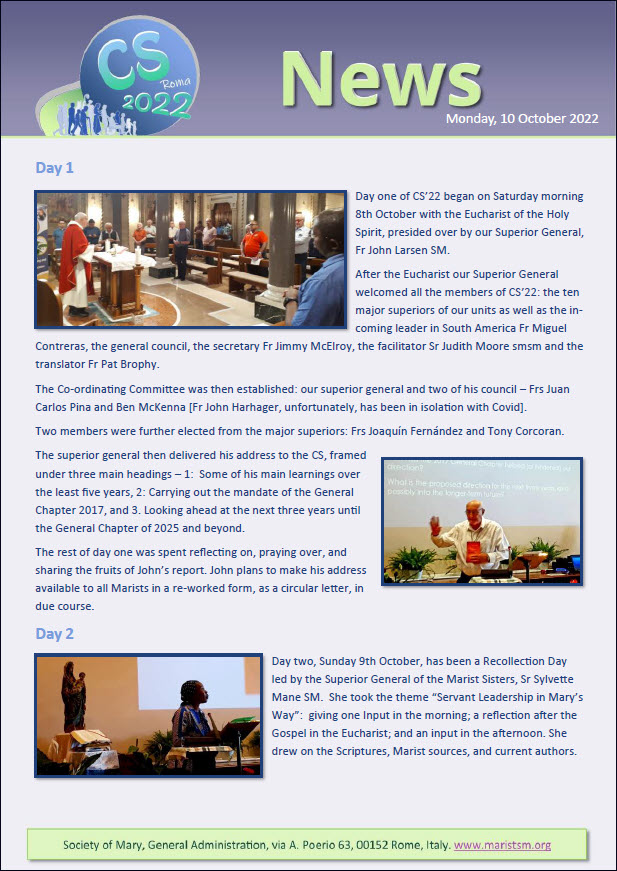 ---
News from Brazil
The latest issue of the Journal of St Peter Chanel (English edition) features activities and guests of the Marist formation community in Belo Horizonte, Brazil. Click here. [Oct 08]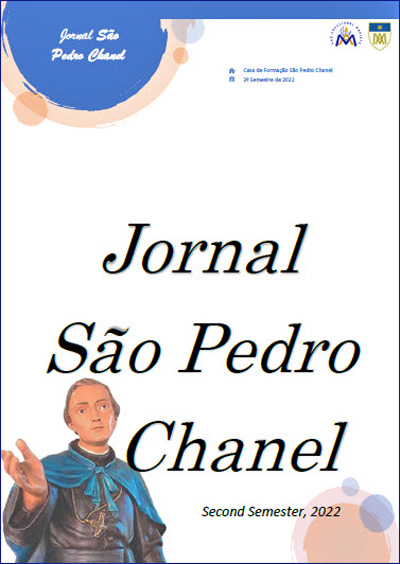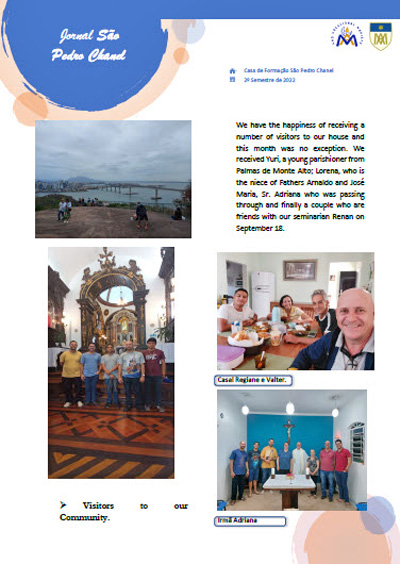 ---
SM Bulletin
This week's SM Bulletin reports on student priests in Rome, seminarians at Casa di Maria and the General Finance Committee meeting prior to CS2022. Click here or go to Members' Page. [Oct 07]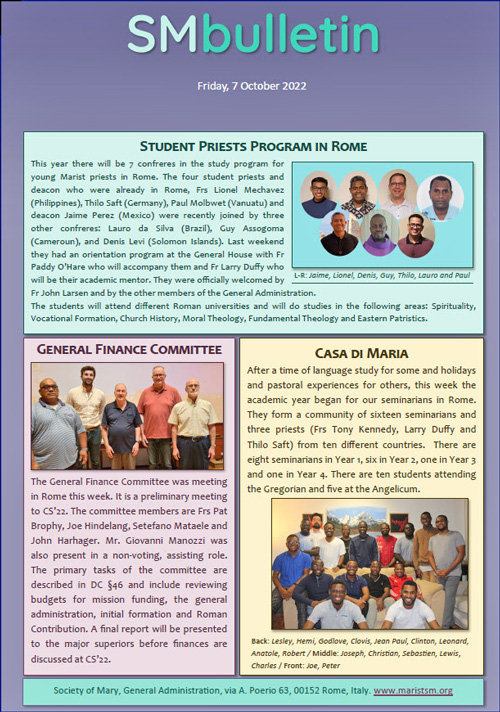 ---
District Superior leaves for Rome
Fr Tony Corcoran SM, District Superior of the Marist Fathers in Australia, left Sydney on Oct 02 en route for the Council of the Society commencing later this week in Rome. He takes with him a report on the former Australian Province (now District) to be presented at CS22 and which is the fruit of a wide consulation among confreres in Australia.
The meeting, commecing on Oct 07, will take place at the Marist General House, Villa Santa Maria, Monteverde, Rome. Fr Tony returns on Nov 07. . [Oct 03]
---