---
For previous years, go to News menu, above
---
---
Christmas at Villa Maria
Parishioners of Holy Name of Mary parish, Hunters Hill/Woolwich, gathered as usual on Dec 24 for their Christmas Eve Mass in the grounds of Villa Maria monastery. Pastor Emeritus, Fr Kevin Bates, presided at the Eucharist accompanied by parish priest, Fr Brian Wilson.
During the liturgy Fr Kevin was presented with a Papal Blessing from Pope Francis in acknowledgment of his years of outstanding service to the parish. Congratulations and thanks, Fr Kevin! [Dec 26]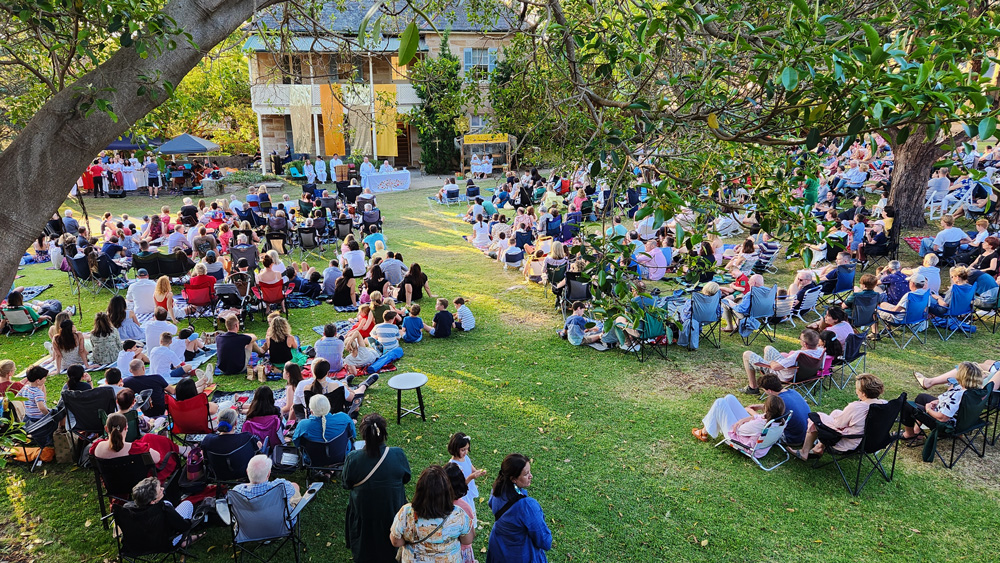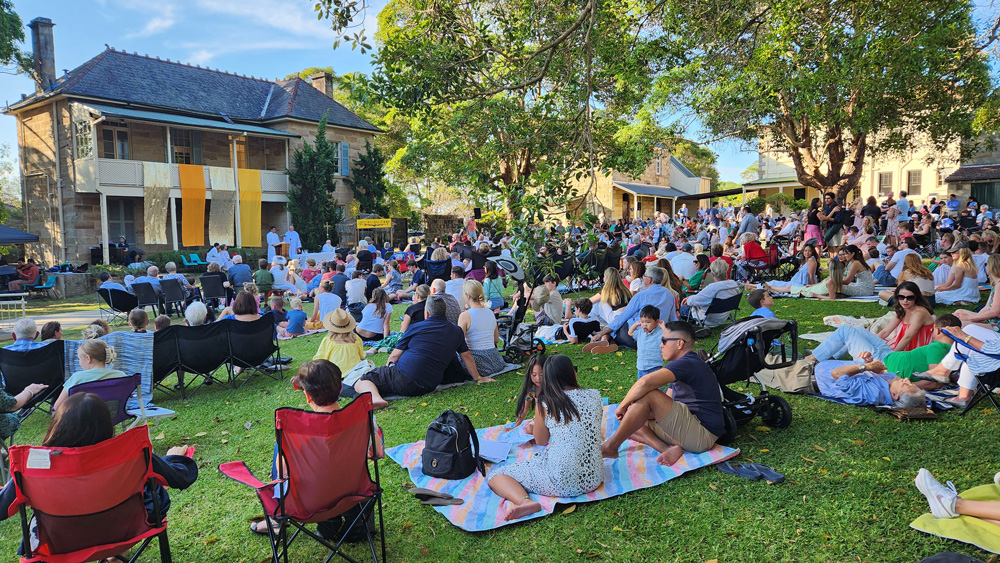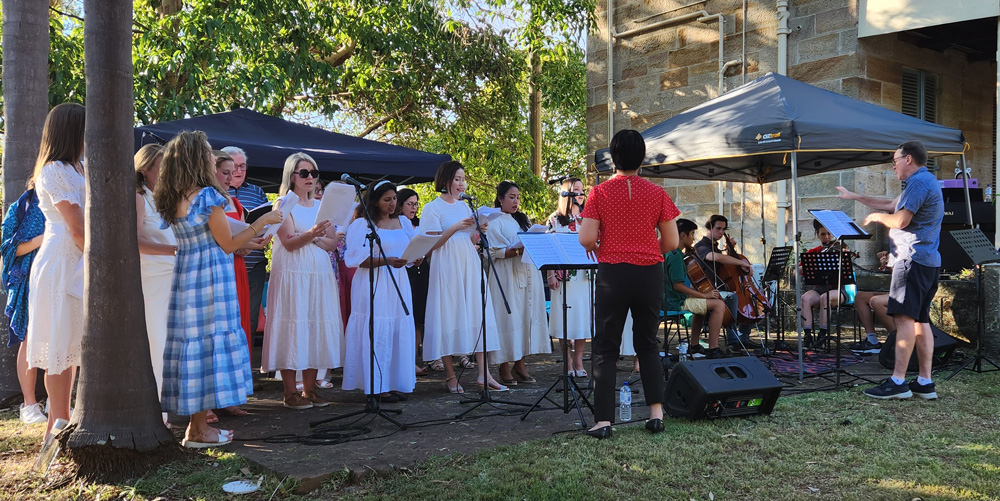 ---
SM Bulletin
This week's SM Bulletin reports on the Superior-General's visit to French-speaking areas of Oceania and on the International Novitiate. To download, click here or go to Members' Page. [Dec 18]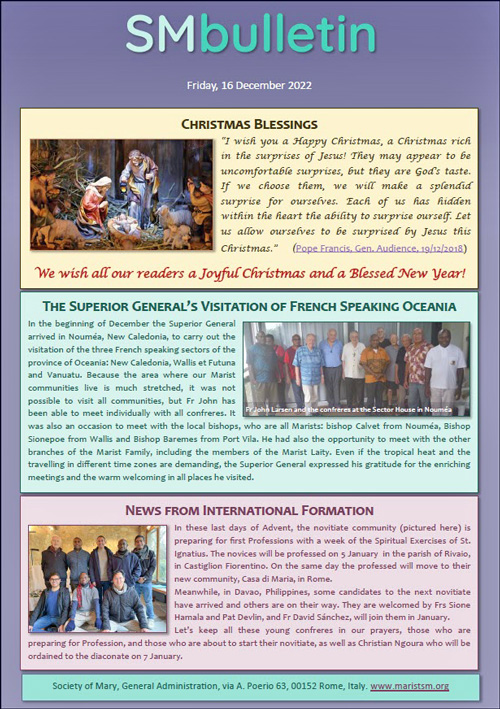 ---
News from Brazil
Fr Arnaldo Da Silva sends the latest Journal of St Peter Chanel, the newsletter of the formation community of the Marist District of South America, five pages of comings-and-goings and a report on the commmunity celebration of Nov 15. To download English edition, click here. [Dec 15]
---
---
Colin Network meets
Several members of the Colin Cause Network met on Dec 13 to review initiatives taken in 2022 and to begin planning for 2023. CCN Zoom sessions, hosted from Sydney, bring together Marists from all units of the Society of Mary to further the Cause for Beatification of Founder, Ven Jean-Claude Colin.
As well as reporting on local initiatives the latest meeting began planning for further exploration of the heroic virtues of Fr Colin, inviting worldwide reflection on this theme during 2023. [Dec 13]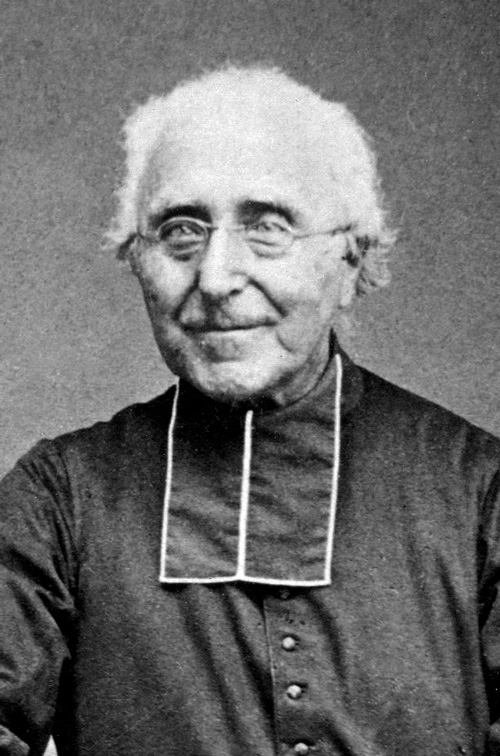 Above: Ven Jean-Claude Colin in 1866. | Colin Cause Network members from the Philippines, Australia, Brazil, Canada, Germany and Italy. | Lay group in Curitiba, Brazil, during a Colin-centred retreat.
---
Shed shop opens
The Men's Shed of Hunters Hill-Ryde has opened its own shop. The Shed, located in the grounds of Villa Maria monastery, Hunters Hill, provides a productive recreational centre for dozens of local men.
In recent weeks they have converted part of a nearby double garage/workshop into a shop which opened for the first time on Dec 11, offering Christmas gift suggestions for members of Holy Name of Mary parish, some of whom are pictured below after the 8 am Sunday Mass on opening day. [Dec 13]
---
Fr John Guo thesis defence
Congratulations to
Fr

John Guo

SM
who recently defended a thesis in philosophy at Ateneo de Davao University, Davao City, Philippines. Fr John, pictured below during the defence, is now a Master of Arts and Philosophy with expertise in approaches to sustainable human development.
[Dec 13]
---
Parish Women's dinner
One hundred and sixty women of Holy Name of Mary parish, Hunters Hill/Woolwich sat down to an Advent dinner on Dec 11 in the grounds of Villa Maria monastery. The twilight meal began with an introduction and grace from former parish priest, Fr Kevin Bates SM, followed later with presentations by several women and concluding with community singing of carols.
The dinner took place in a picturesque setting bounded by Chanel House, the Colin Library and historic Piquet Centre and Villa Maria monastery. [Dec 12]
---
Laity Advent prayer
Led by Marist Laity Australia coordinator, Andrew Dumas, Marist Family members gathered by Zoom on Dec 11 for an hour of shared prayer. The session featured scripture, song and prayer with sharings in breakout rooms on the theme of 'The Spirit of the Lord is upon me' as participants shared their ways of living this out in a distinctively Marist manner.
An invitation to MLA online prayer sessions is offered to Marist Family members worldwide. [Dec 12]
---
Euroinfo
With Marist news from Europe the December issue of Euroinfo features the ministry of La Neylière and 'Remembering Lampedusa'. To download click here or go to Members' Page. [Dec 11]
---
Sisters' jubilees
The Marist Sisters gathered at Hunters Hill on Dec 09 to celebrate the jubilees of three of their senior sisters, Srs Clare Francis and Marie Patricia Toomey (75 years professed) and Sr Fidelis McTeigue (60 years). After the Eucharist in the chapel of Montbel, the Sisters adjourned to the dining room of Villa Maria monastery for a celebratory luncheon and cutting of the jubilee cake, representing two hundred and ten years of Marist religious life. Congratulations, Sisters! [Dec 11]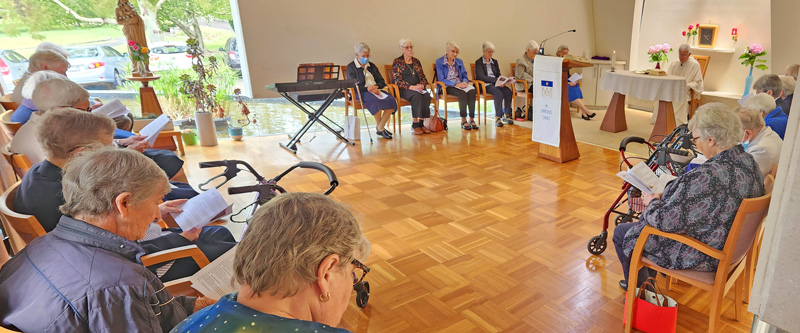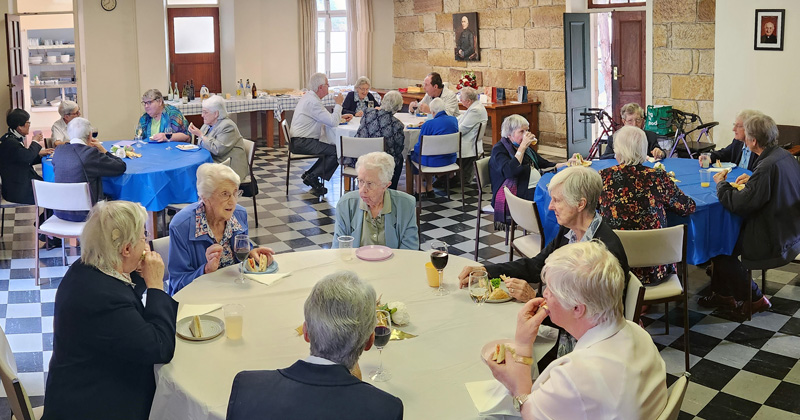 ---
SM Bulletin
This week's SM Bulletin reports on General Administration movements (Fr John Larsen in New Caledonia and Fr Ben McKenna in Australia), the ordination of Fr Yves Tuma in Africa and two new Marist communities (USA-Mexican border and Canada). To download, click here or go to Members' Page. [Dec 11]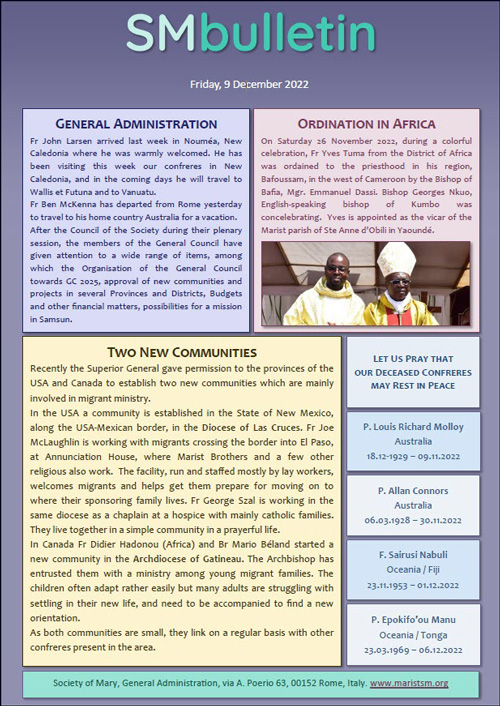 ---
Star of the Sea Province inaugurated
On Dec 08 during Mass at St Joseph's College, Hunters Hill, celebrating the Immaculate Concepton the new
Star of the Sea Province
of the Marist Brothers was inaugurated. Visiting Superior-General,
Fr Ernesto Sanchez FMS
, officially announced the closure of the Australian Province and District of Oceania and invited Br Peter Carroll to assume the role of leader of a new province embracing Pacifc and southeast Asian countries.
Australian Marist Fathers' District Superior, Fr Tony Corcoran SM, presided at the Eucharist and College chaplain, Fr Gavin Foster SM, preached the homily.
Scenes from the inauguration event are pictured below, including Brothers entering the College during the opening smoking ceremony, extinguishing of the two former province/district candles and lighting of the new province candle and blessing of Br Peter led by Fr Tony [Dec 09]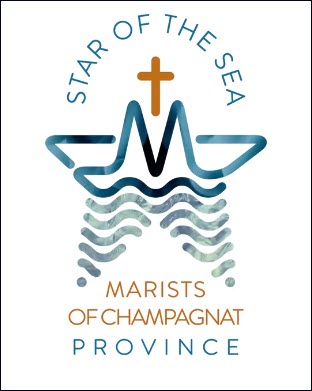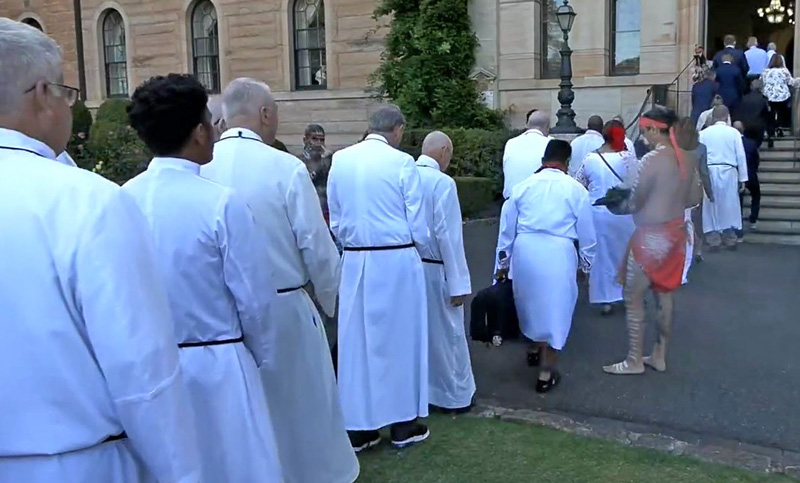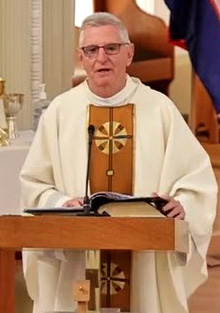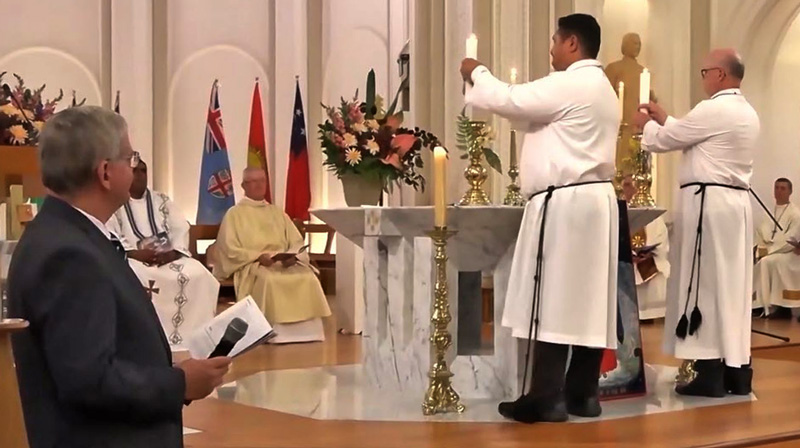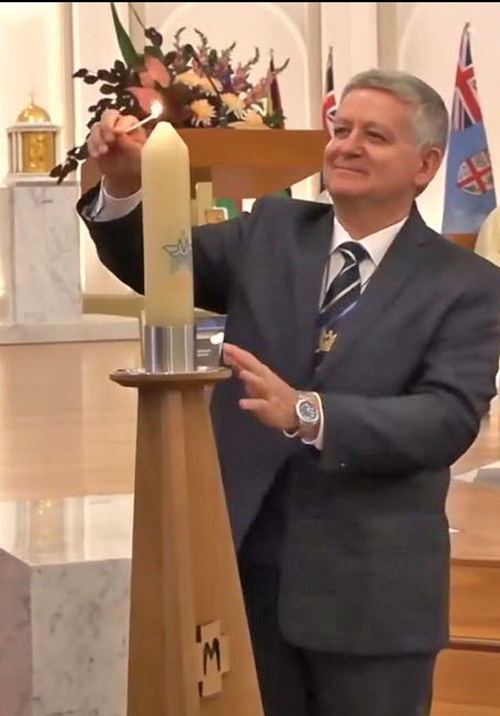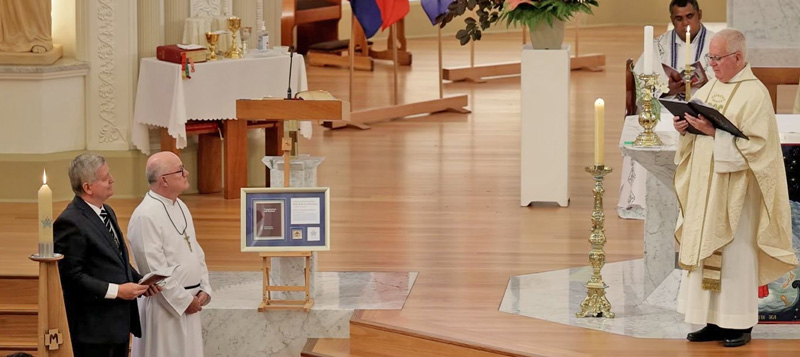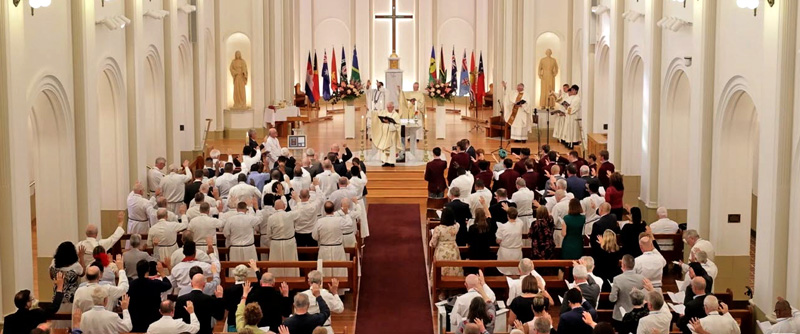 ---
Farewell to Fr Allan Connors
A large gathering of family, friends, former students and fellow Marists farewelled Fr Allan Connors SM at Holy Name of Mary church, Hunters Hill, on Dec 08. Fr Allan died on Nov 30, aged 94 (see below).
Marist District Superior, Fr Tony Corcoran, presided at the funeral liturgy during which Fr Kevin Bates preached the homily and words of remembrance presented on behalf of nephew, Paul Hollis. Scenes from the Requiem liturgy are pictured below.
Interment took place at Macquarie Park cemetery, North Ryde. May Fr Allan rest in peace. [Dec 08]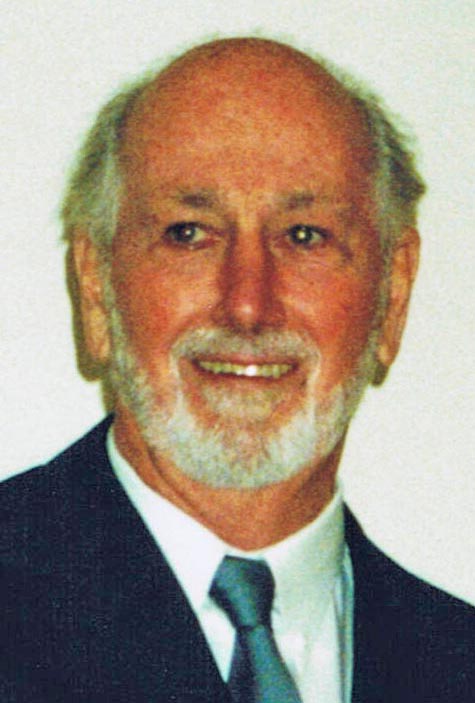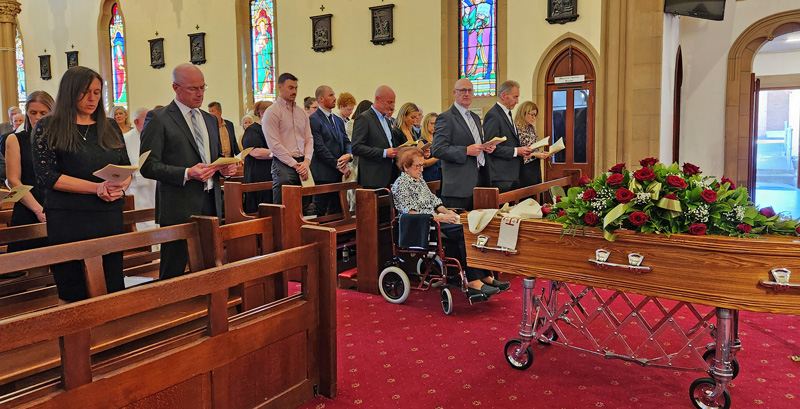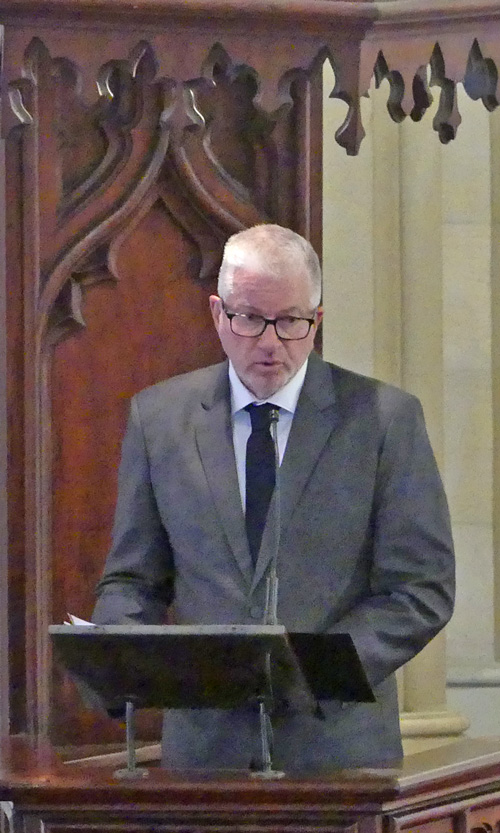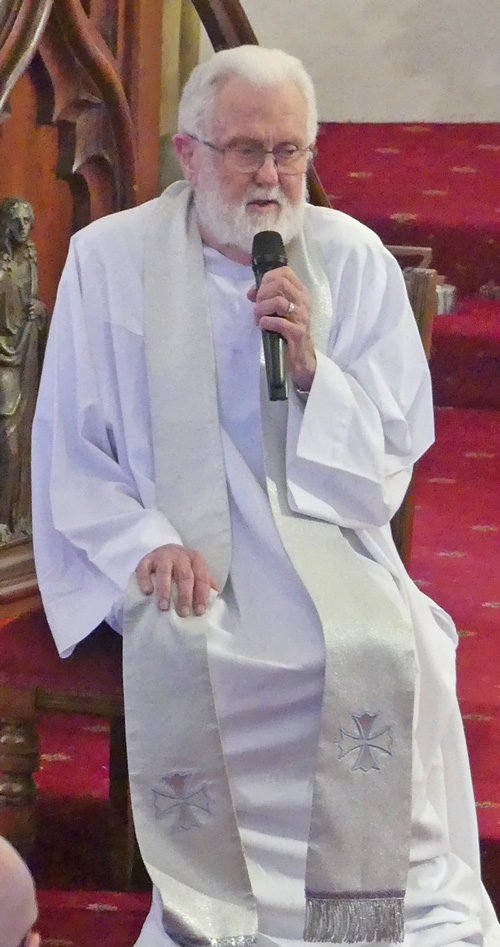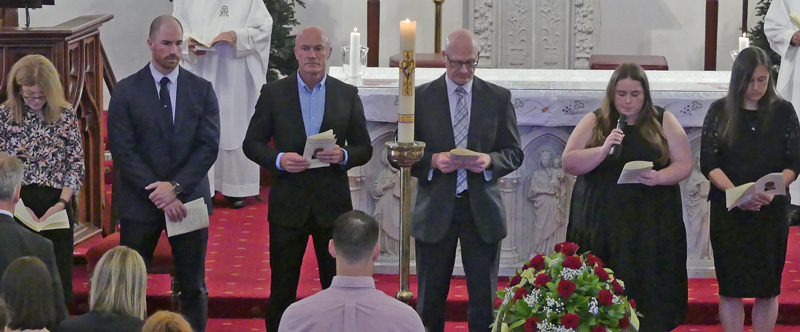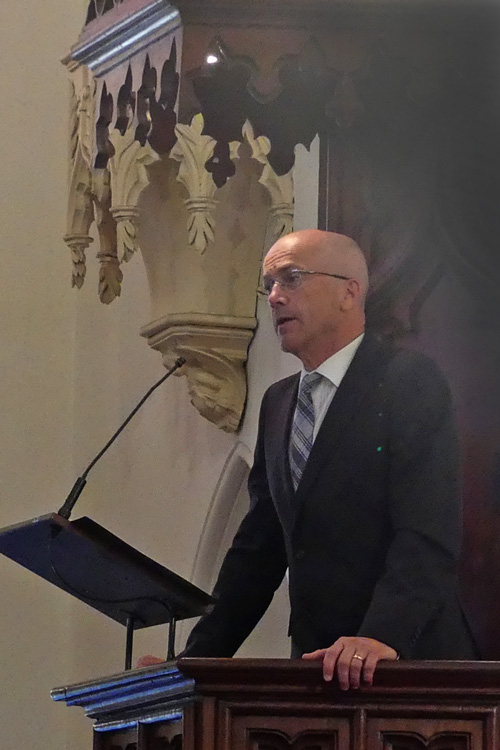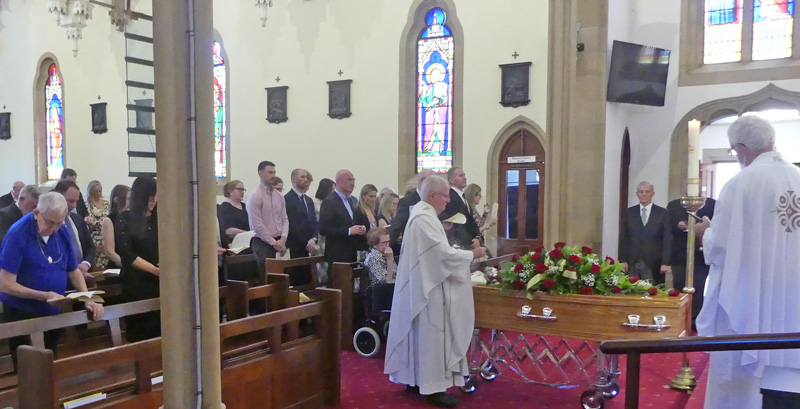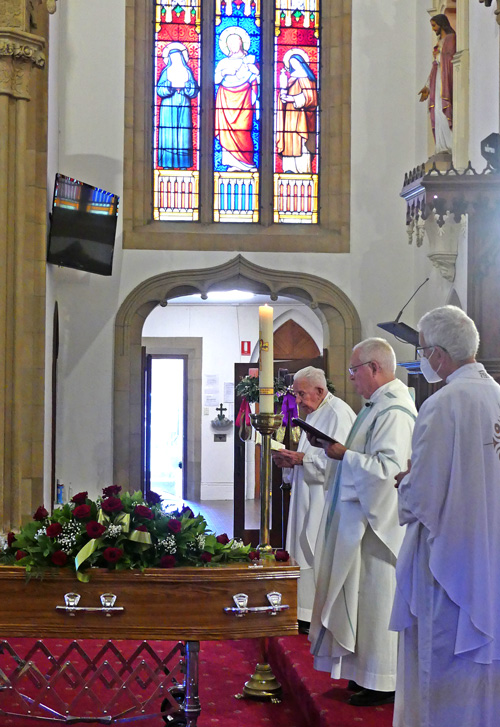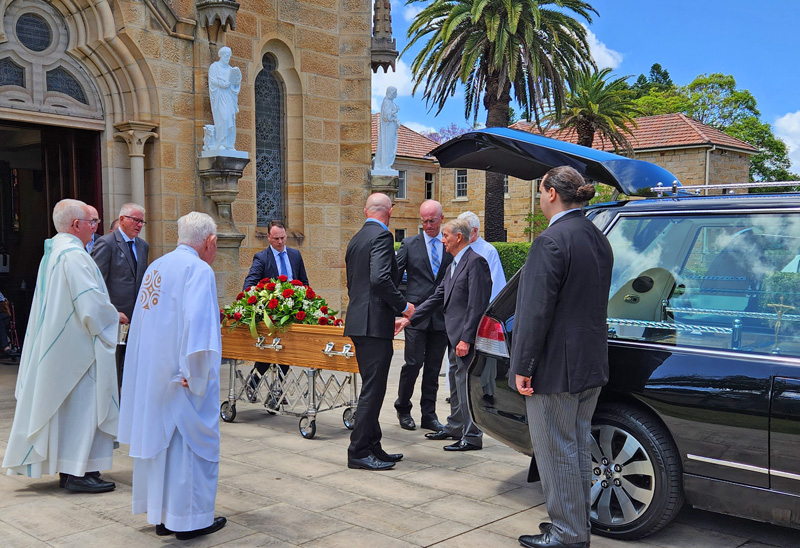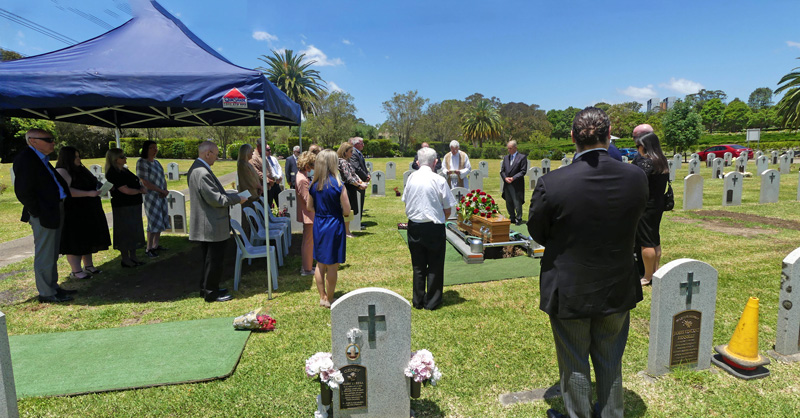 ---
Marist Laity news
The December newsletter of Marist Laity Australia announces leadershp changes as Margaret Woods hands over to Cathy Larkin as MLA Coordinator with Andrew Dumas. To download, click here. [Dec 05]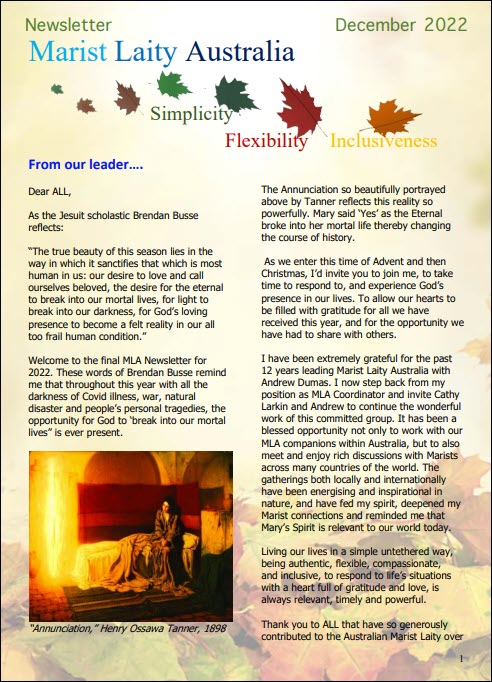 ---
Superior-General's reflection
In his December reflection Fr John Larsen speaks of a possible mission in Turkey in collaboration with the Marist Missionary Sisters. He mentions, too, the recent gathering at Monteverde with our younger confreres. For the reflection click here or go to the Superior-General's page. [Dec 02]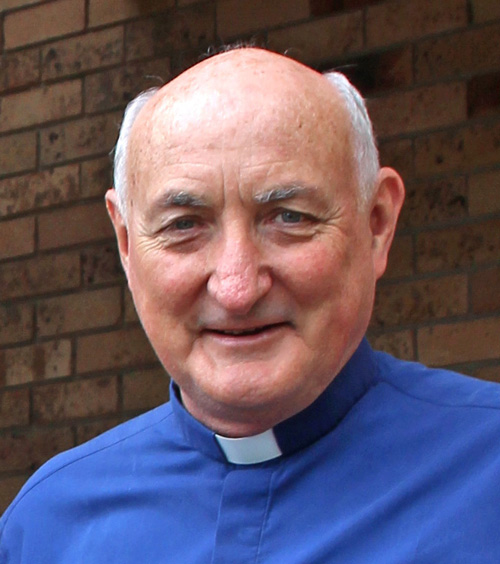 ---
Bolivia celebration
From Tarija, Bolivia, Fr John Hopkinson SM reports of the 32nd anniversary of the Misioneros Maristas: 'We celebrated our foundation in Bolivia on Nov 22, 1990, with community and youth of the CEBs (Basic Ecclesial Communities). The sacrifical lamb was cooked crucified over hot coals, 'Cordero de la Cruz'. Delicioso!'
Fr Hoppy is pictured below with Misioneros Maristas co-founders, Gilberto Patana and Javier Nina. He adds: 'Gil is married to Arminda and they have two boys at university, Juan Jose and Gilberto, and daughter, Marian. Javier and Nair also have two sons at university, Jose Guadalupe and Francisco Javier.' [Dec 02]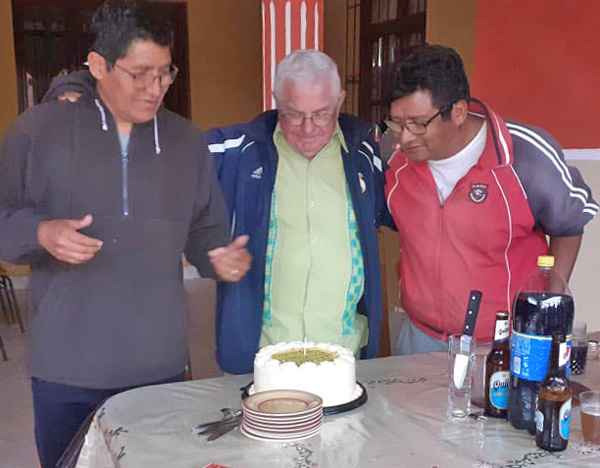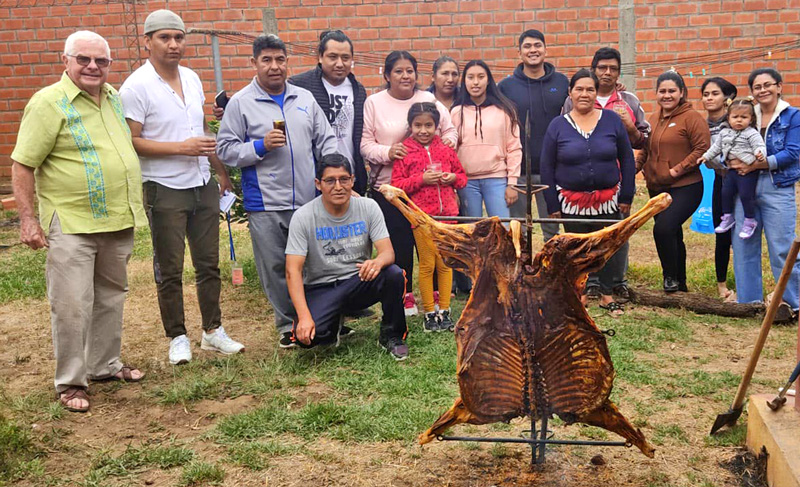 ---
District Circular
The November issue of the Marist Fathers Australia District Circular is available on the Members' Page. [Dec 01]
---
Passing of Fr Allan Connors
Not long after celebrating seventy years as a Marist priest, Fr Allan Connors SM died peacefully on Nov 30 at Bayswater Nursing Home, Abbotsford, NSW. He was well-known and appreciated for his ministry as a home missioner, inner-city pastor and director of the Aquinas Academy with outreach to regional areas of New South Wales. For more on his life, click here. [Dec 01]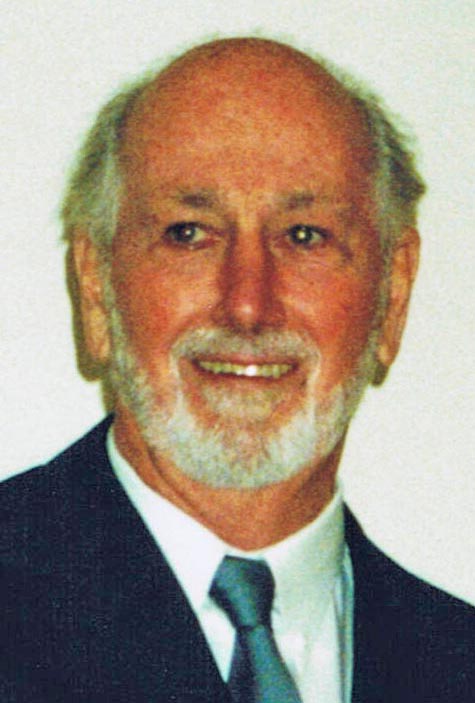 ---