June 2018 news
Click here for News 2008 to 2017
---
---
Provincial Circular
Latest issue at Members' page

---
Book award for Fr Gerry Arbuckle
The Catholic Press Association USA/Canada, at their annual meeting, has awarded First Place (Professional Books' Category) to Fr Gerald Arbuckle for his book: Fundamentalism at Home and Abroad: Analysis and Pastoral Responses. The citation noted that the book was: "A masterpiece on an ultra-important topic.'

Fr Gerry comments: 'I hope the book, in some small way, can contribute to an understanding that fundamentalism in all its forms threatens the very peace of the world. I also hope it shows we can do something to stop this danger.
'Congratulations, Fr Gerry ! [Jun 30]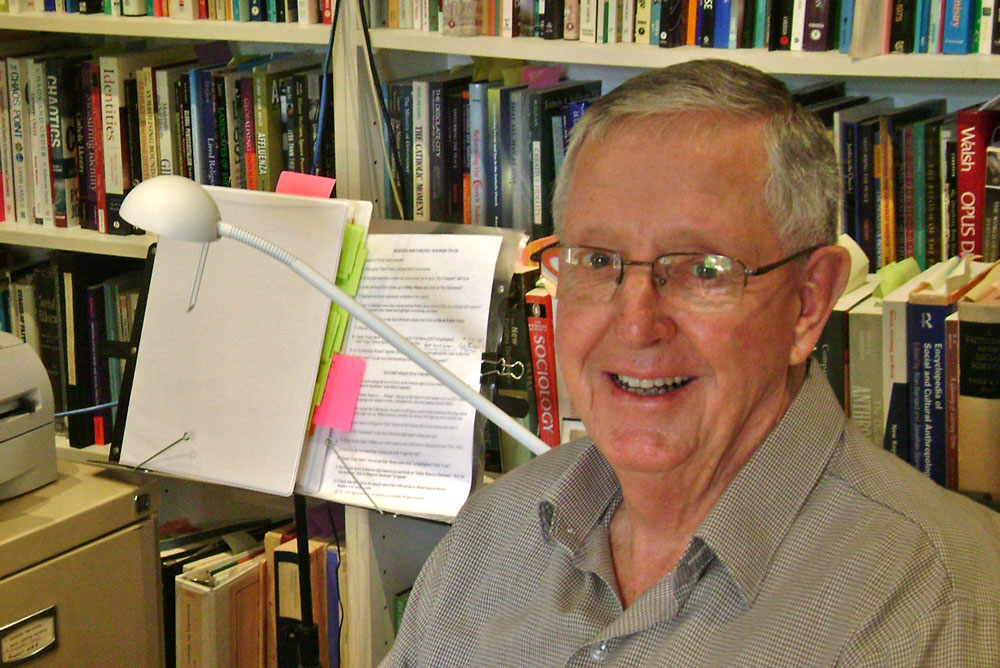 ---
Jeanne-Marie Chavoin feast day
Jun 30 marks the 160th anniversary of the death of Jeanne-Marie Chavoin, revered foundress of the Marist Sisters.
Born in the village of Coutouvre in central France in 1786 the young Jeanne-Marie followed the call of the Colin brothers at Cerdon to establish the first community of Marist Sisters.
Mother St Joseph, as she was known, died in 1858 at Jarnosse, not far from her birthplace.
We wish our Marist Sisters a very Happy Feast Day ! [Jun 30]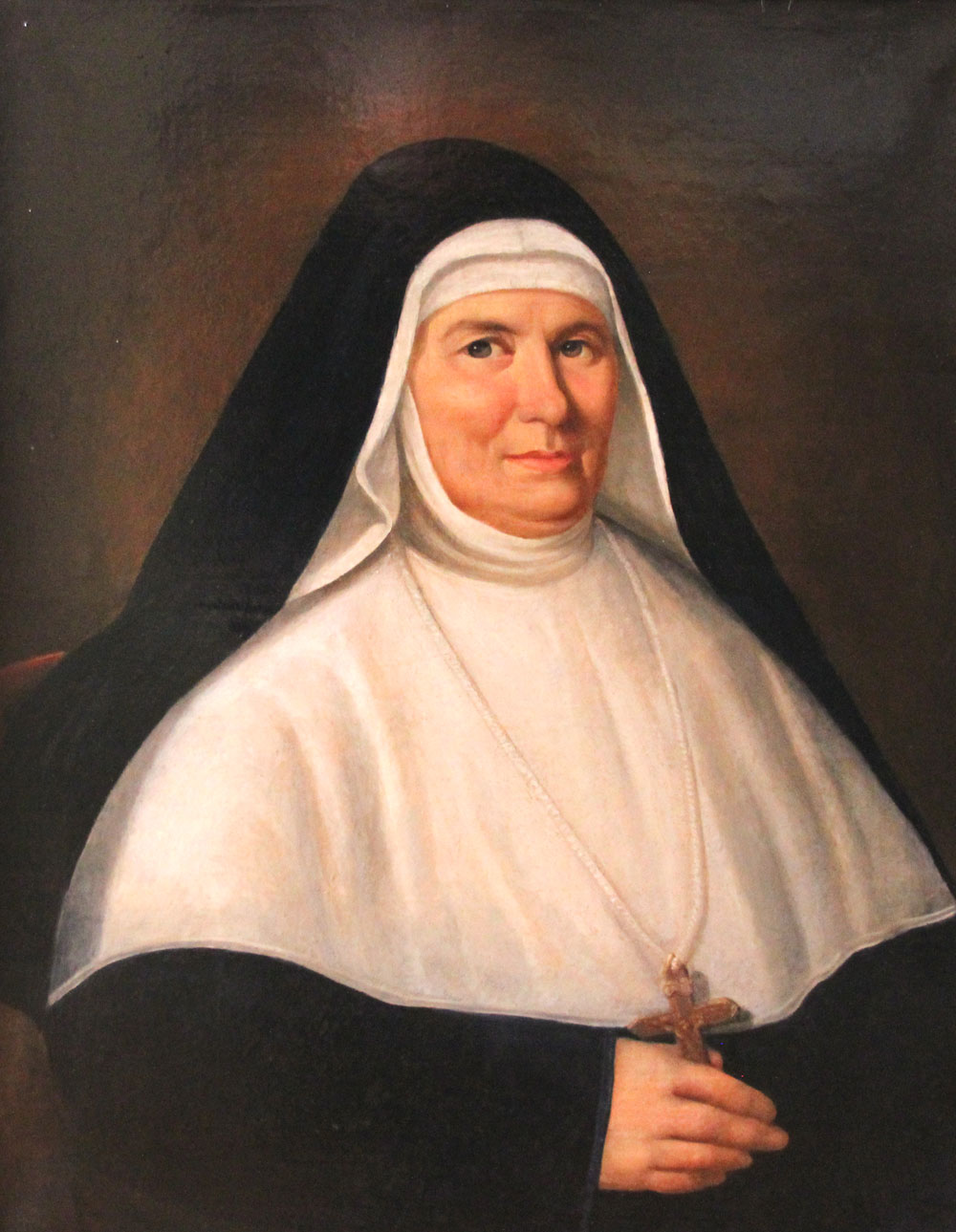 Above: Portrait of Jeanne-Marie Chavoin at Bon Repos, Belley, near her final resting place | Jarnosse: the convent building where she died and the nearby parish church where she was first buried. Below: Tiled cross marking the original burial place of Jeanne-Marie in the church sanctuary of Jarnose | Descriptive panel in the church of Jarnosse.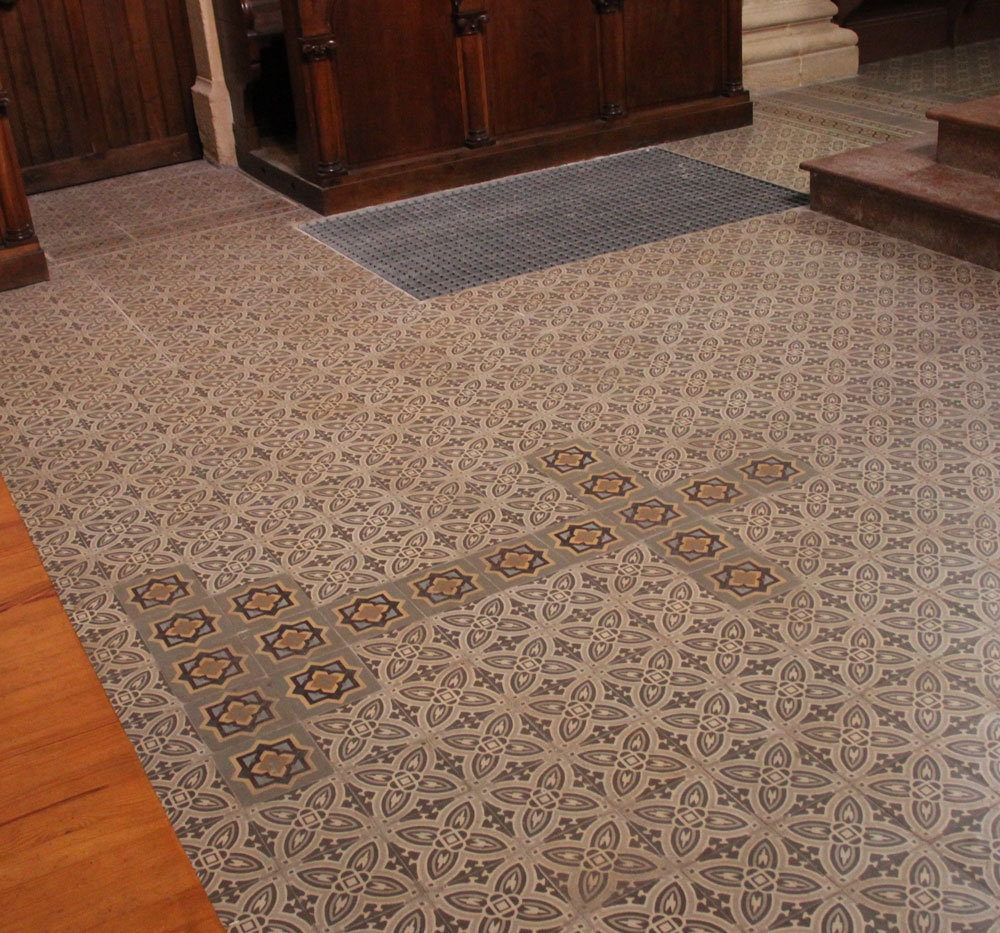 ---
Passing of Fr Norman Arkwright
Marists mourn the passing of veteran Oceania missionary, Fr Norman Arkwright SM, on Jun 26 in his native Lancashire, UK, aged 86.
No stranger to Australian Marists, Fr Norman had collaborated with the Marist Mission Centre with AusAID-funded rural development projects in the Solomon Islands following its crises years.
Oceania Marist Provincial, Fr Setefano Mataele, writes:
'On behalf of the confreres of the Oceania Province I send our deepest sympathy and prayerful condolences at the passing away of Fr. Norman Arkwright, aged 86.
Fr. Norman had spent many years of dedicated services both in parish and in education ministries to the people of the Solomon Islands. In a time of transition from the expatriate missionaries to locals, he was instrumental in encouraging local clergy, both diocesan and religious, to take ownership of the missionary works of the Church in the Solomons.
During the ethnic crisis of the late 90's, once again Fr. Norman was seen not only as peacemaker but stood up for the rights of people.
He is still fondly remembered and loved and I believe those whom he has touched their lives will not only grieved his loss but will give thanks and with us all in Oceania to God for his gift. I assured you of our prayers and this time of loss.'
Rest in well-deserved peace, Fr Norm. [Jun 28]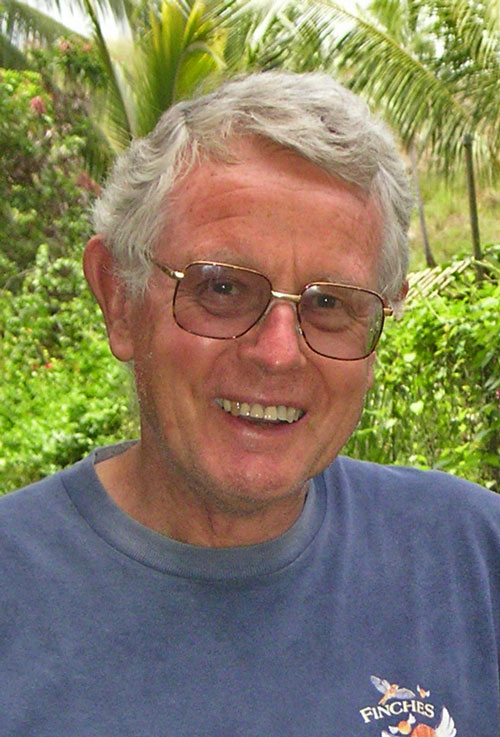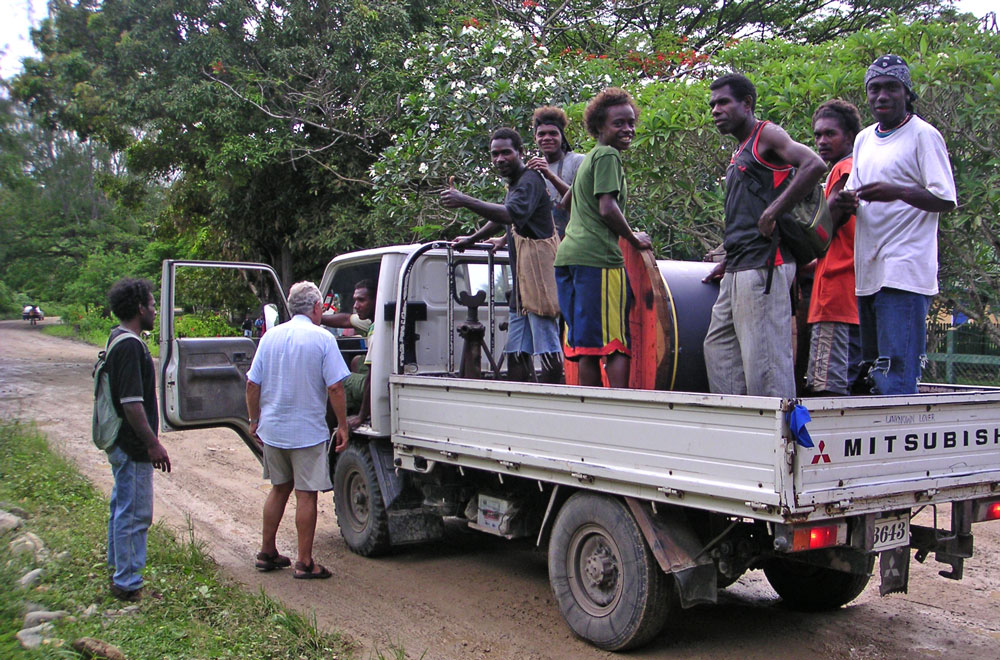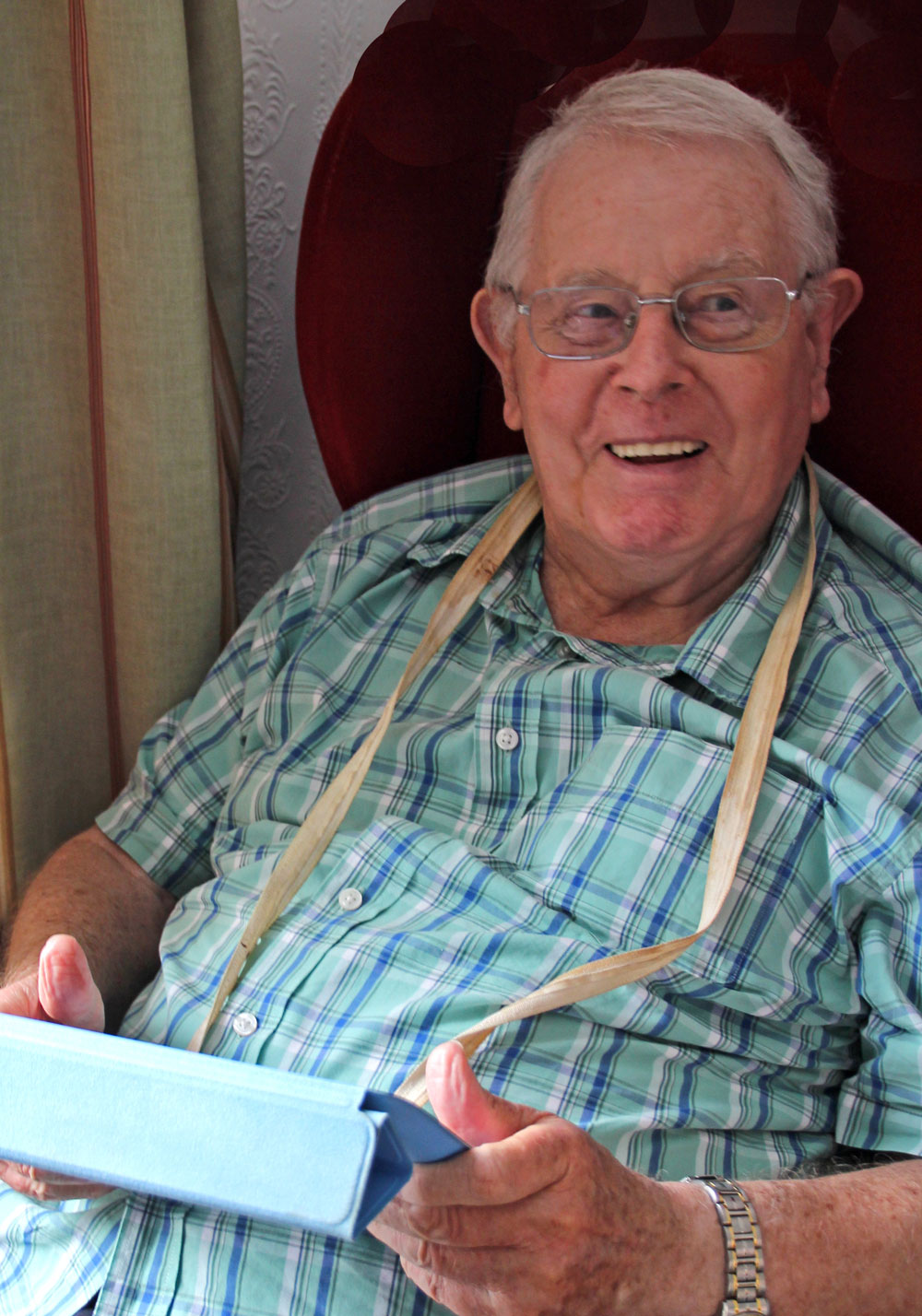 Above: Fr Norman at the Rural Training Centre, Tanagai, Solomon Islands | At 'The Manor House', Chatburn, near Blackburn, UK, 2014. Below: Supervising AusAID-funded construction at Tanagai, 2004 | With Marist confreres at the Marist Regional House, Tanagai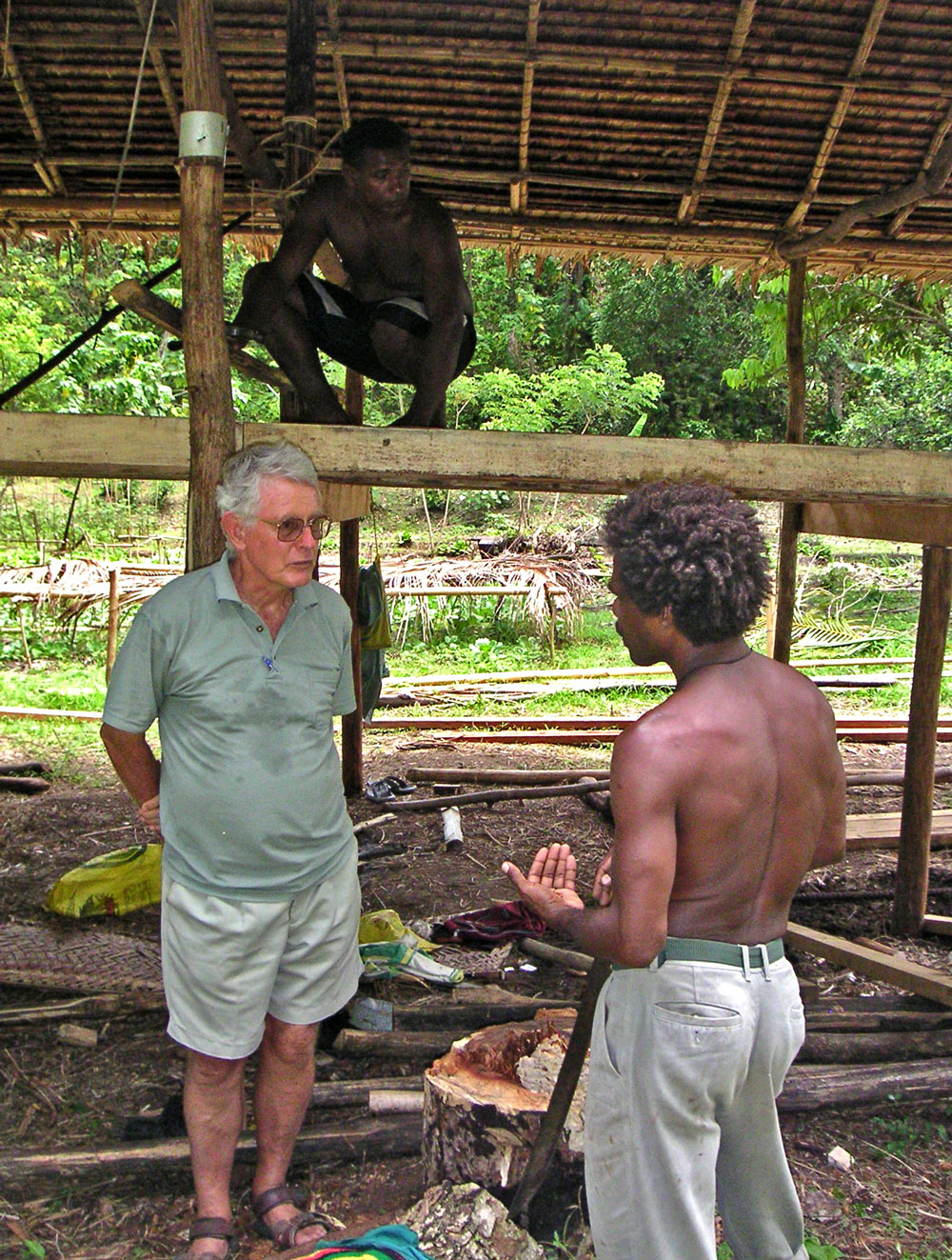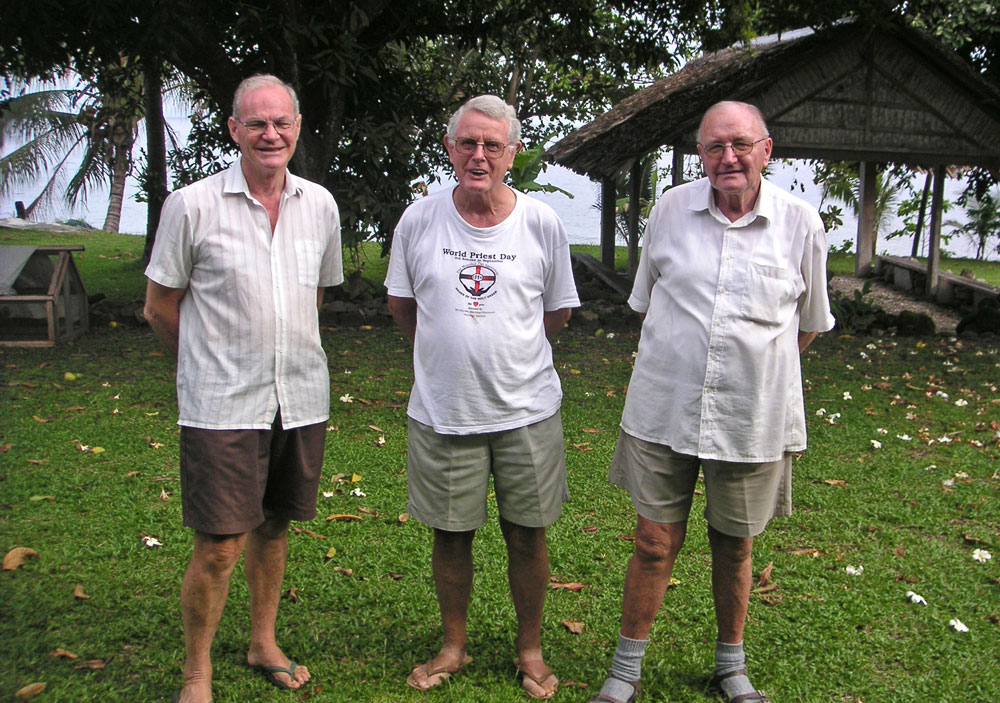 Below: Fr Norman at the Marist Mission Centre, Australia, in 2003 with fellow missionary Fr Derek Finlay | At Villa Maria monastery with Fr Tony King.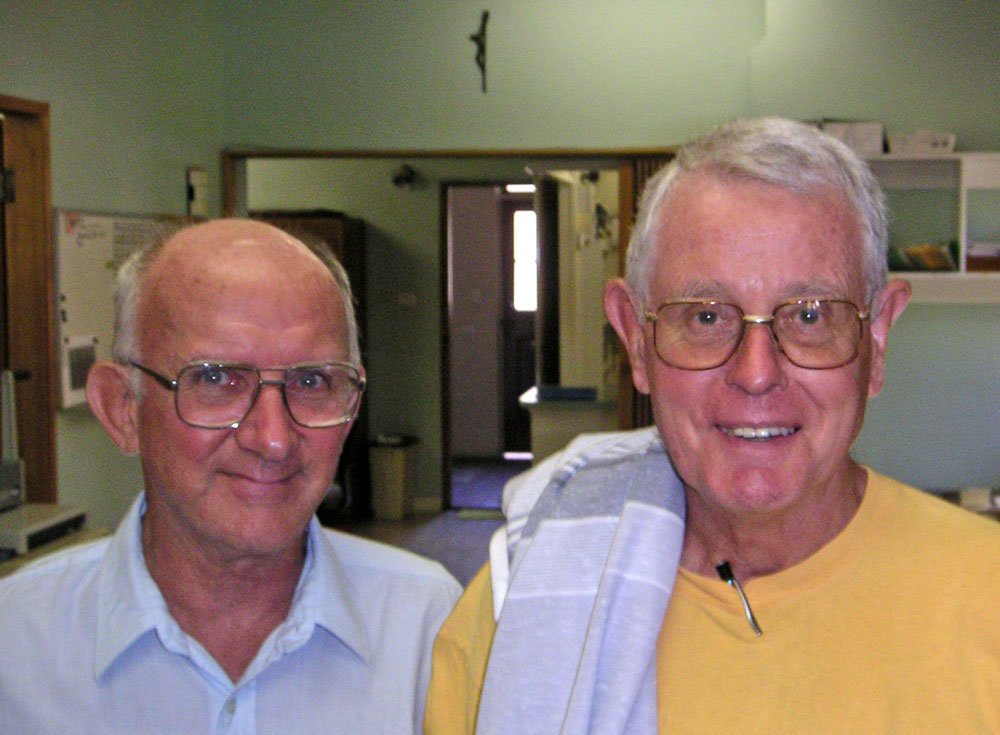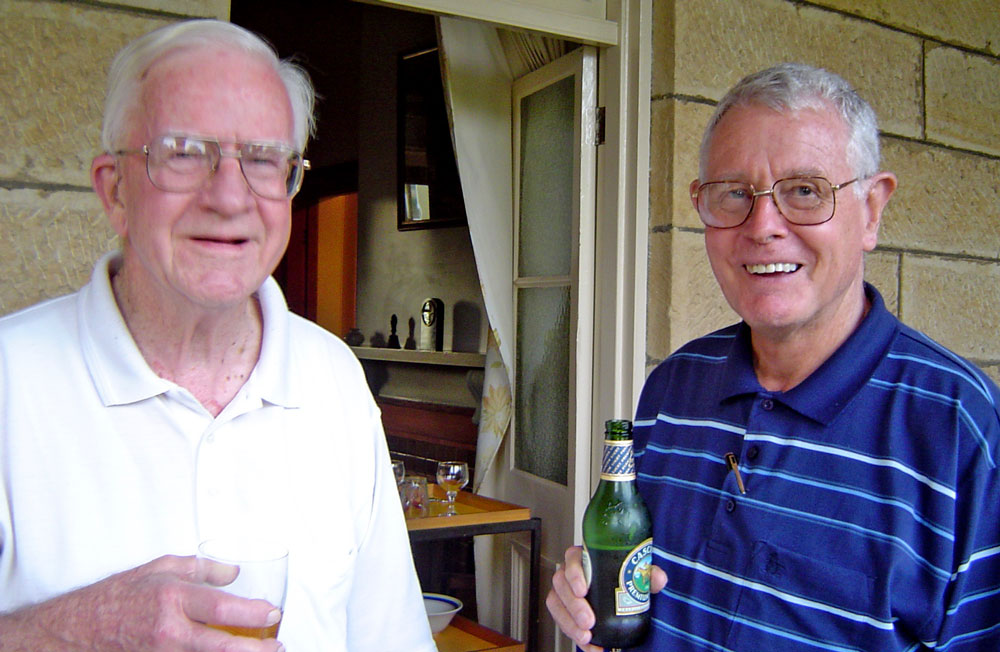 ---
Our state of origin
Parish notice at the Mary Street roundabout, Hunters Hill... theologically sound.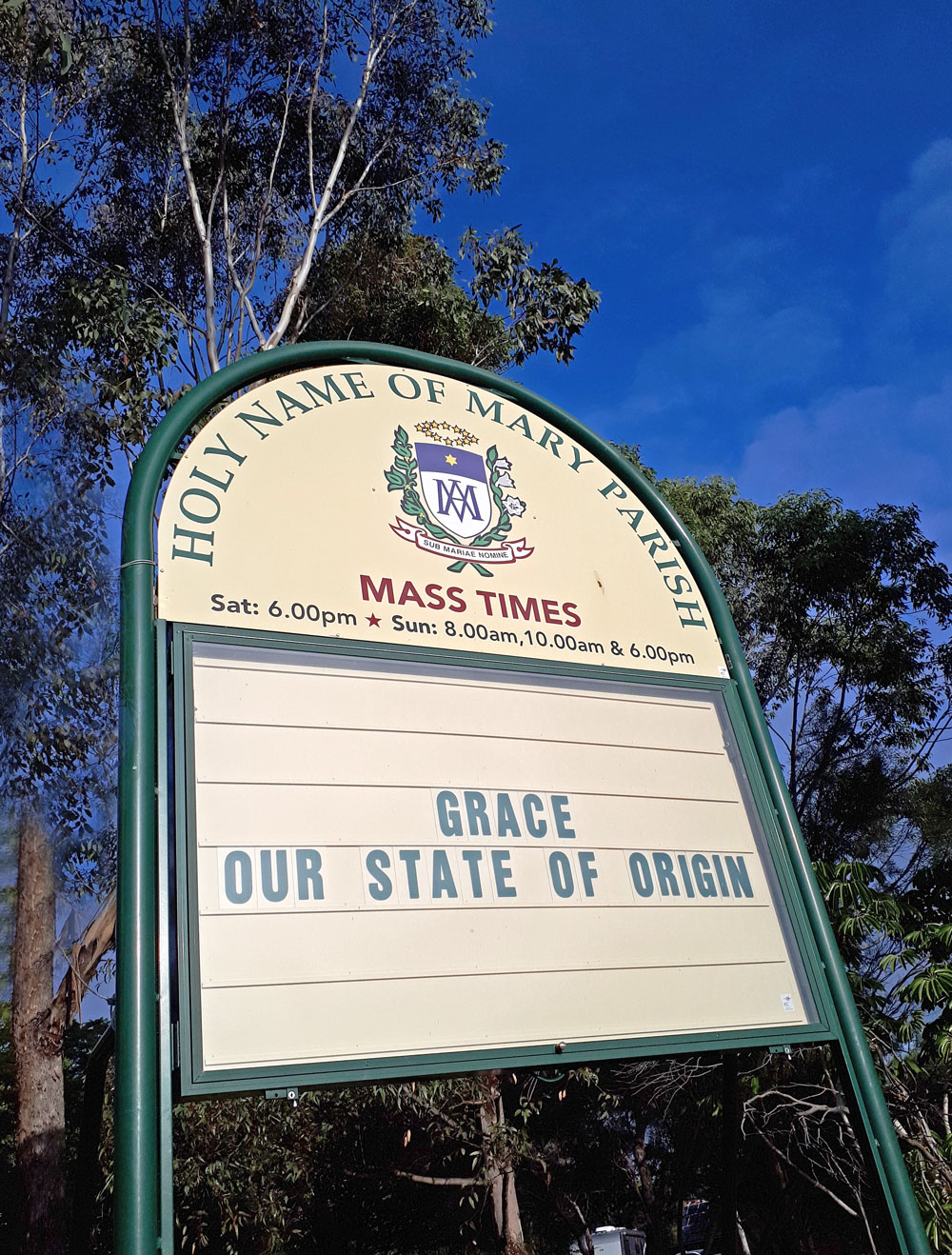 ---
MAP in Ranong
Leaders of Marist Asia-Pacific units gathered for their annual meeting at Ranong, Thailand, Jun 19-21, sessions including updates from each unit and review of ongoing collaboration within the Asia-Pacific region.
This year's meeting coincided with the visit of Assistant-General, Fr Ben McKenna SM, to the Marist Mission District of Asia. Fr Ben will soon travel to Australia for the forthcoming Provincial Chapter session in Sydney.
SM Bulletin reports:
'The opportunity was given to the participants to visit the educational work and the HIV-Aids care, both services of the Marist Asia Foundation for the Myanmar immigrants / refugees.
'Each of the four units (Asia, Australia, New Zealand and Oceania) gave a report on their current reality, followed by a sharing on personnel working in units other than to those to whom they belong.
'Other matters dealt with were: reflections on GC2017, lay Marists, health, preparation for ARC 2018, financial matters, studies and courses, standardization of agreements / contracts between units, safeguarding and professional standards. Further discussions were held on reconfiguration within units, and possible future scenarios for MAP; ecology; a possible new community working with migrants and education, ongoing formation - especially supporting and sponsoring of younger Marists within MAP, and care for ageing confreres.
'It was acknowledged that as well as practical projects which MAP has fostered over the years, the annual meeting of leaders, in a fraternal and collaborative manner, has built up relationships of trust and freedom, support and encouragement to walk in a discerning manner the path ahead.'
[Jun 22[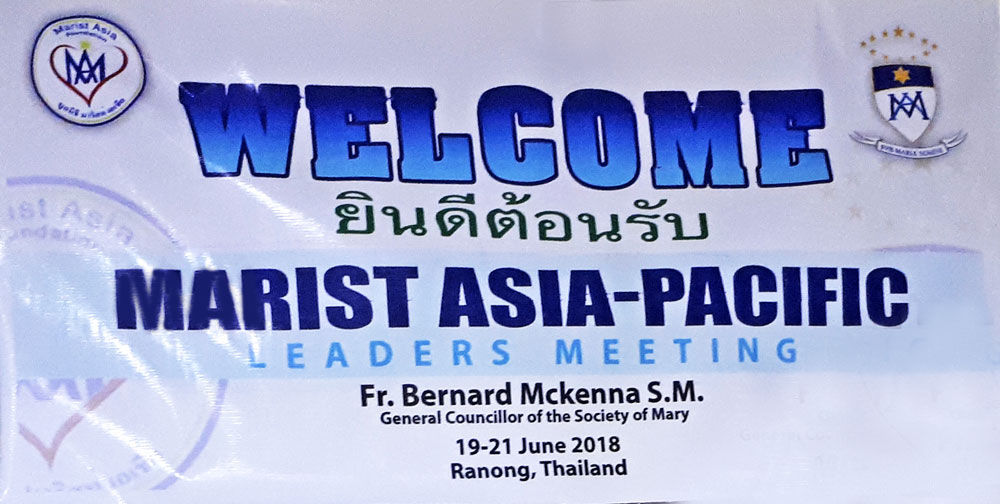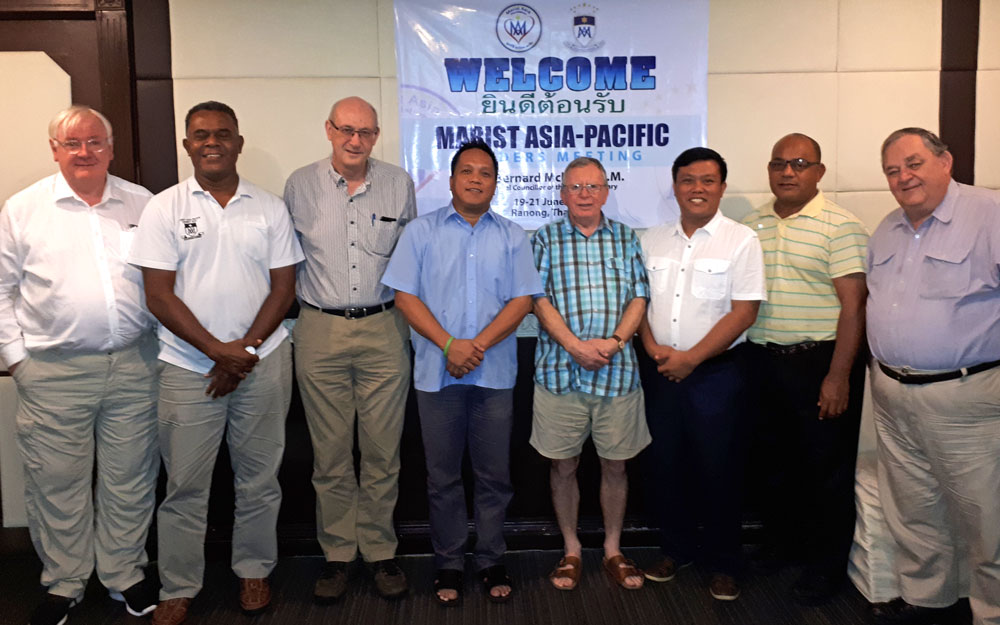 Above, from left: MAP leaders, Frs Tim Duckworth (NZ), Milikiade Rayalu (Oceania), David Kennerley (NZ), Christopher Ganzon (Asia), Peter McMurrich (Australia), Lauro Arcede (Asia), Setefano Mataele (Oceania) and Bob Barber (Australia). Below: MAP in session | Fr Ben McKenna presides at the Eucharist on the verandah of the Marist residence in Ranong.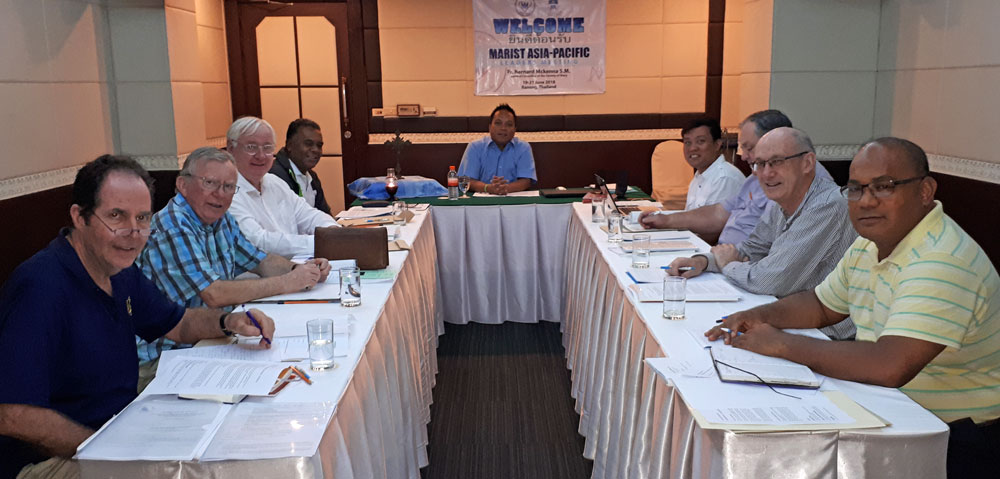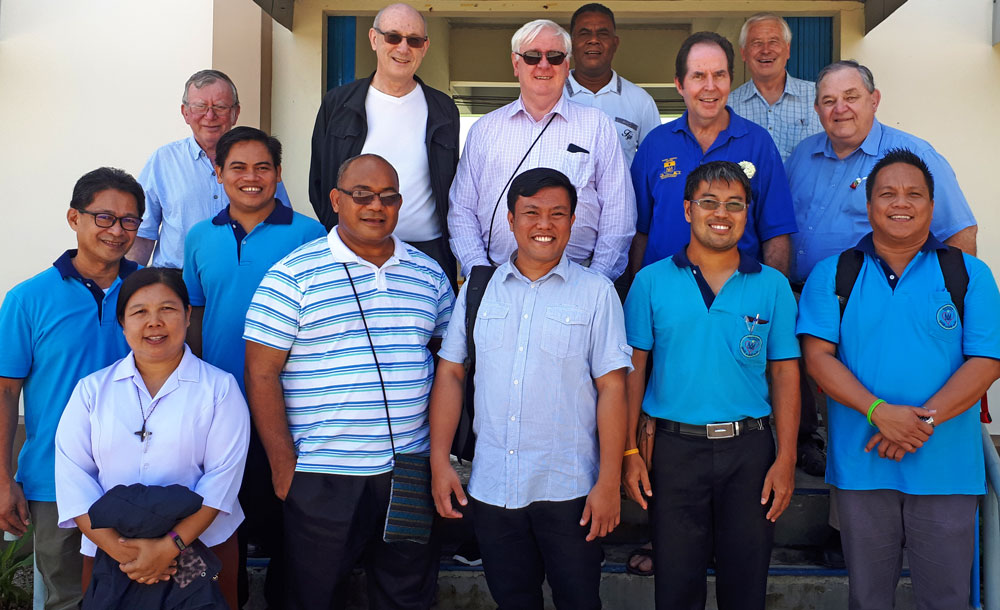 Above: MAP members join the staff of the Marist Mission at Ranong. Below: Social moments of this year's MAP gathering, including (right) Aussies 'sinking a cool one'.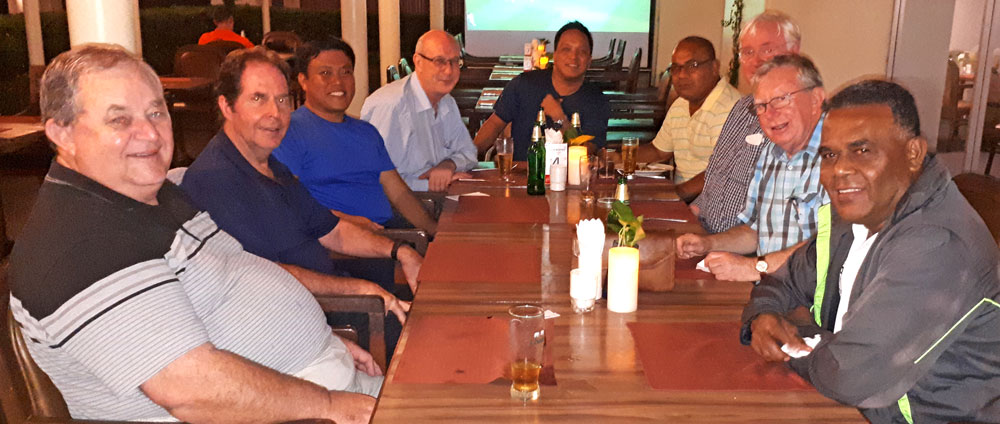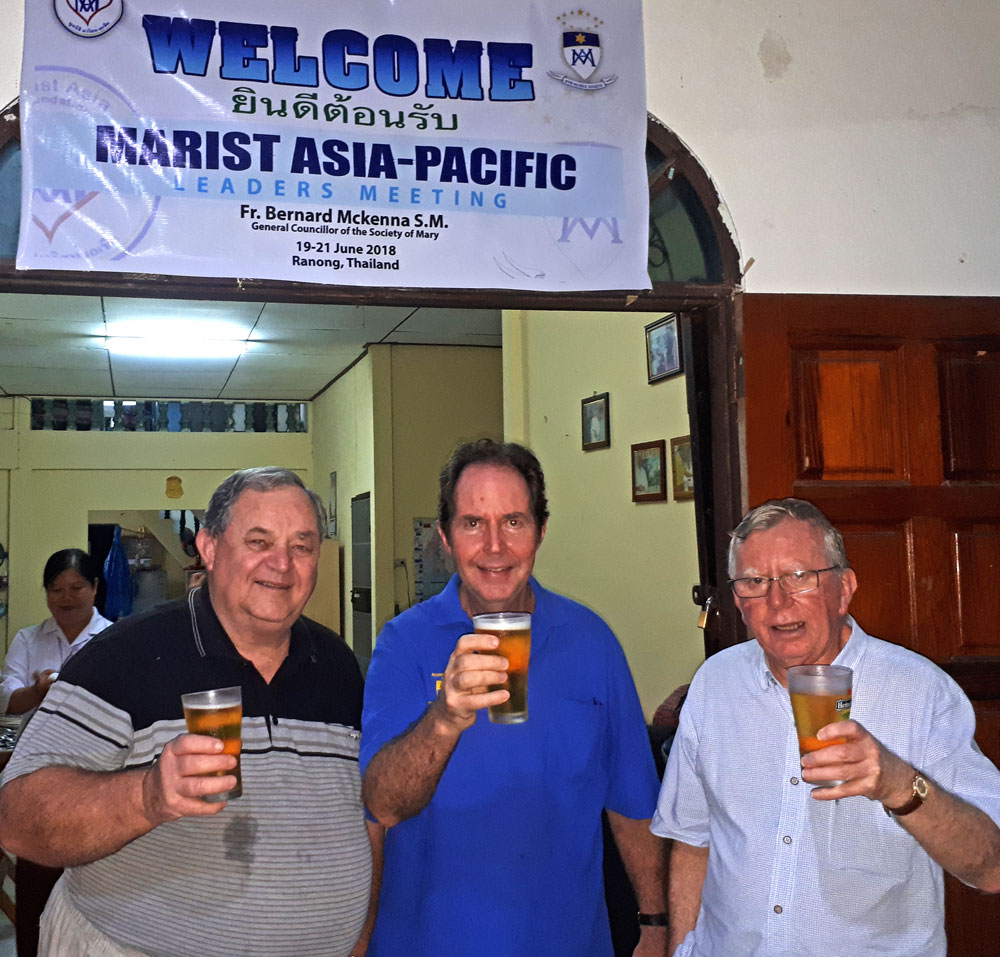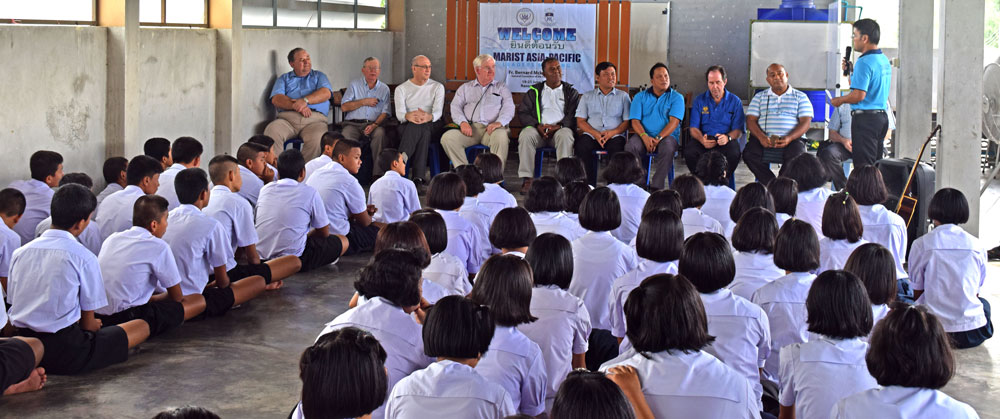 Above: MAP members visit students at the Marist Education Centre.
---
Vicar-General's visit
En route to visitation of the Oceania Province sectors of Fiji, Samoa and Tonga, Vicar-General of the Society of Mary, Fr John Harhager SM, spent several recent days in Sydney.
Leaving Villa Maria, Hunters Hill, on Jun 20, Fr John is pictured, below, with Fr Gerry Arbuckle with whom he worked forty years ago on the Anthropological Self-Study of Oceania Marists which took them together to many parts of the Pacific.
Bon Voyage, Fr John ! [Jun 20]
---
Seminarians' summer
Pictured with their Australian rector, Fr Tony Kennedy SM, (front row, second from left) are the smiling Marists of Casa di Maria community (International Marist Theologate), Rome. They will shortly disperse in many directions for a variety of pastoral, language and vacation experiences.
The message from Casa di Maria is: 'One more semester is over, and our feeling is of gratitude for the graces that God has given us throughout this semester. Our community "Casa di Maria" thanks for all those who have being prayerfully supporting us in our studies here in Rome. In this time of preparation to go abroad to different missions and places we all continue united in prayers with you all. Let us allow ourselves to be transformed by Christ.'
SM Bulletin reports: 'The first year students are having a mission experience in different places, where they will also shape their language skills: Dublin, Ranong, Lyon, Sahagún, Yaoundé.
'The seven second year seminarians are returning to their home units for pastoral placement and some time with family. This is a chance for them to reconnect with their confreres and their culture.
'Kenneth (Af) has just completed his final exam for the Baccalaureate in Theology. He will begin on the Camino and stay with our community at Sahagún, and then he will go to La Neylière and undertake the Spiritual Exercises of St Ignatius in Lyon.
'Four new students coming from Oceania, Africa and Mexico are working on their Italian language during Summer, doing language courses and spending time in Italian communities.
'Frs Patrick Woria and Albert Kabala will be leaving Rome as they have completed their and studies and responsibilities as formators in Casa di Maria. Fr Sione Hamala (O) will be joining Frs Tony Kennedy and Larry Duffy as a member of the formation team, taking up also the role of Bursar. He will start studies at the Gregorian University.'
To all at Casa di Maria, enjoy your summer! [Jun 19]
---
Congratulations, Fr Tom !
In a ceremony in Hulst, the Netherlands, on Jun 16, Tom Kouijzer SM was ordained priest in the Society of Mary's European province, following pastoral experience in Dublin, Ireland, and theological studies in Rome as a member of the Casa di Maria community.
Congratulations, Fr Tom ! [Jun 18]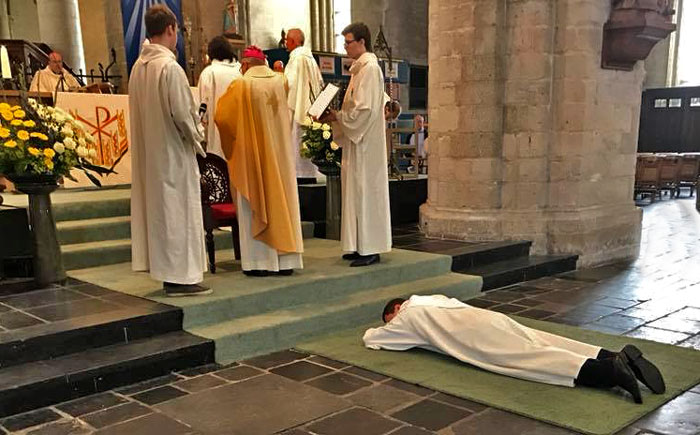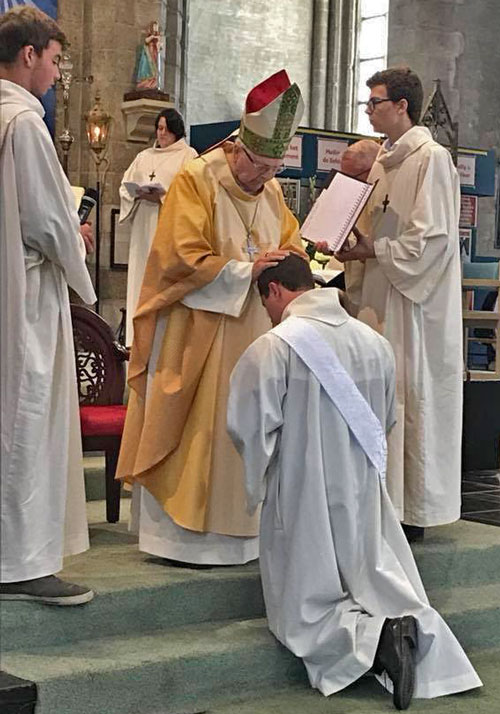 Above: Bishop Henk Kronenberg SM presides at the ordination in the basilica of St Willibrord, Hulst. Below: Procession to the basilica.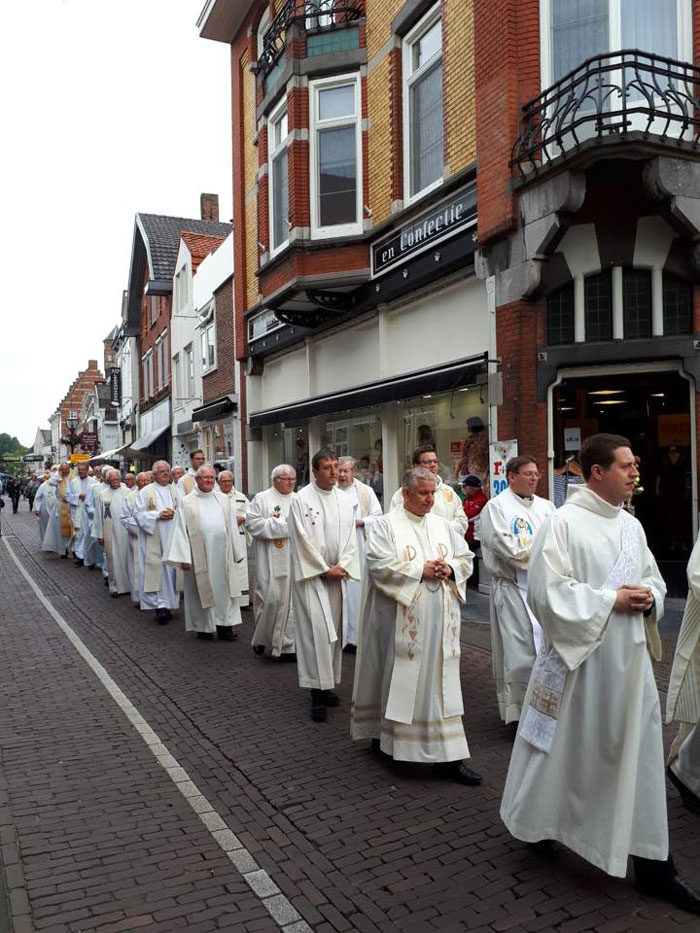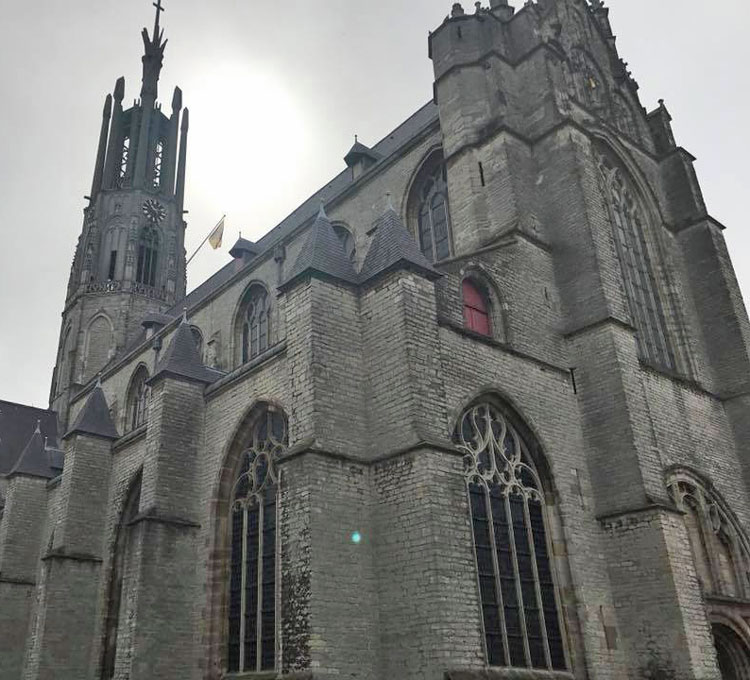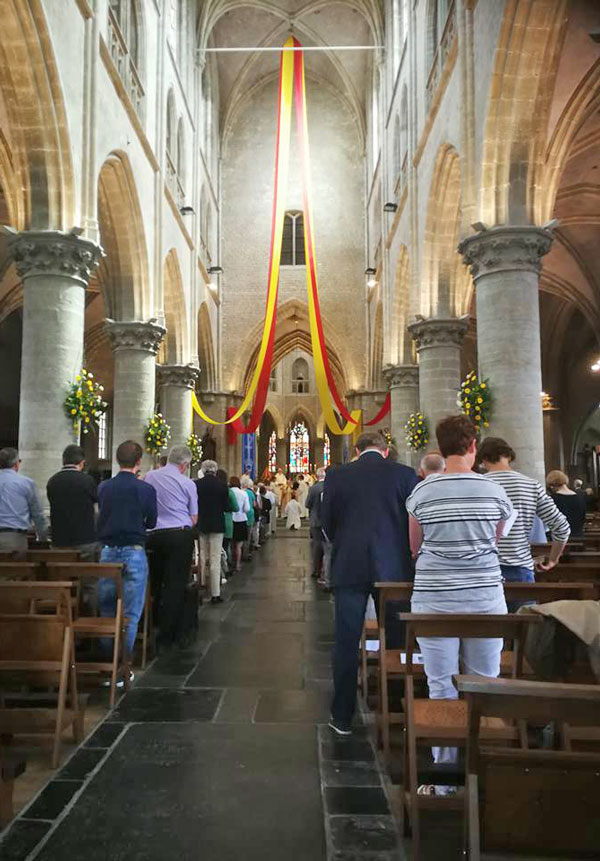 Below: Marist European provincial, Fr Martin McAnaney, looks on during the sign of peace from fellow priests. | A smiling Fr Tom with family members after the ordination.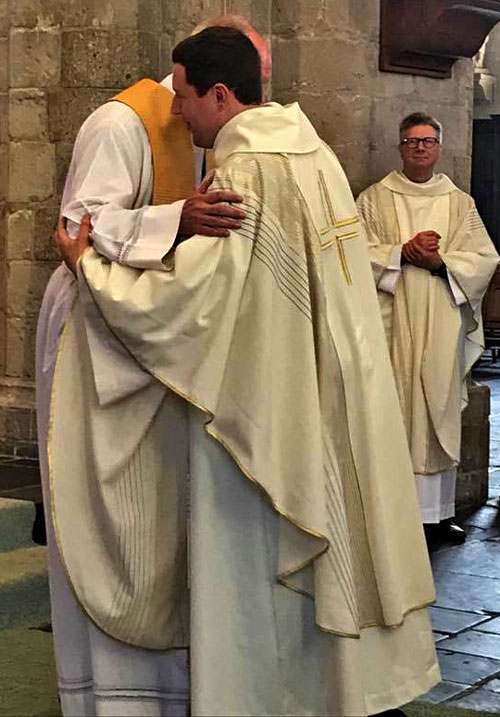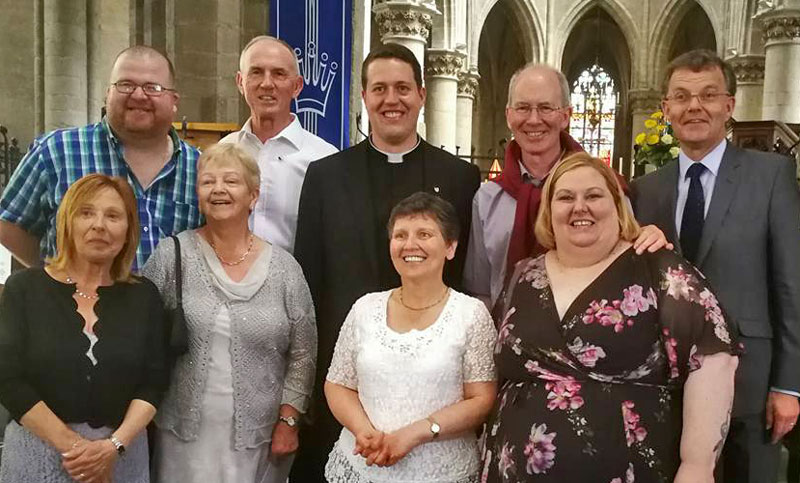 ---
Fr Philip remembered
Much-loved Australian Marist missionary, Fr Philip Callaghan, was remembered again this weekend, the thirteenth anniversary of his death in Davao, southern Philippines.
Pictured below, youngsters from the Balay Pasilungan hostel for street kids paid their anual visit to Fr Philip's grave in Davao led by Fr Roque Rebito SM.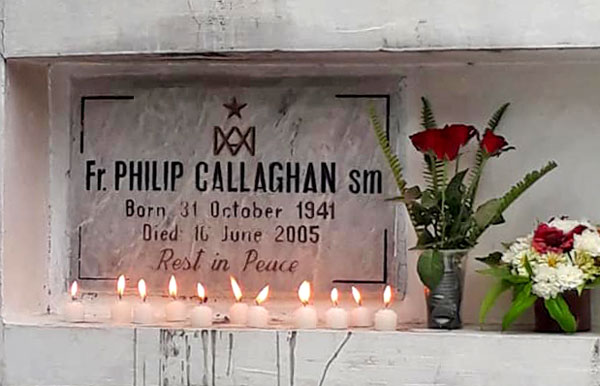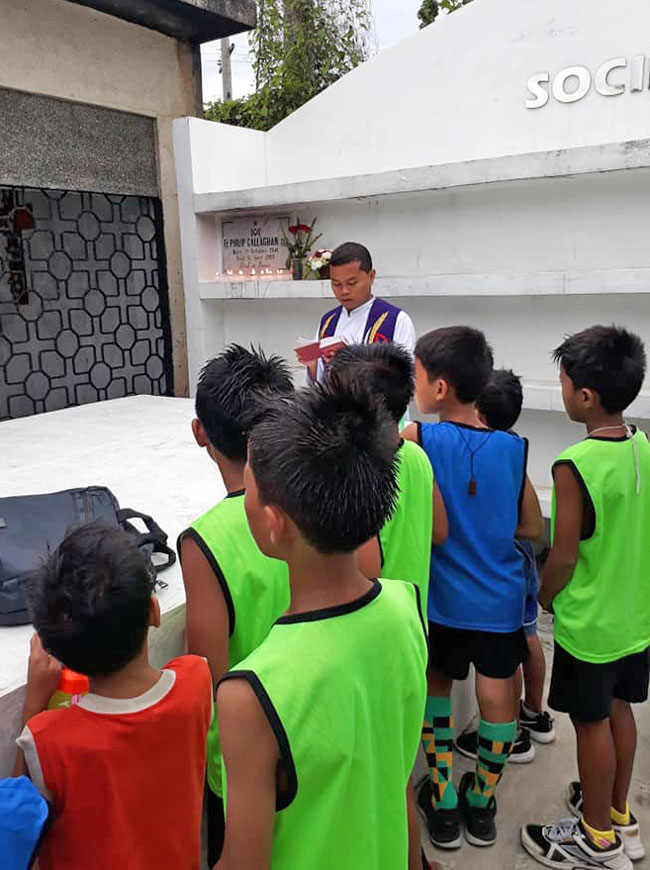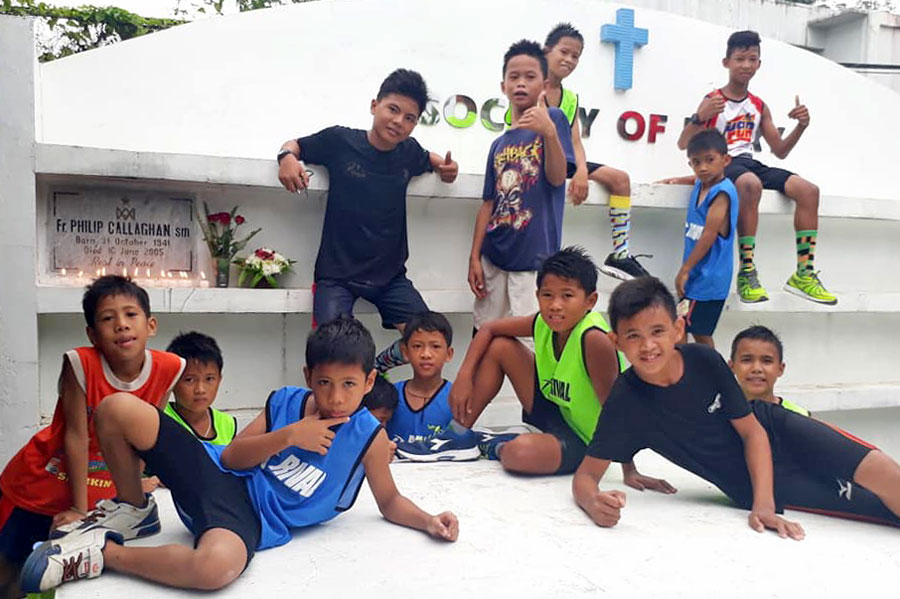 Below: Fellow Marists carry the casket of Fr Philip at his Requiem in June 2005 | Davao's Marist Sisters at a farewell vigil for Fr Philip.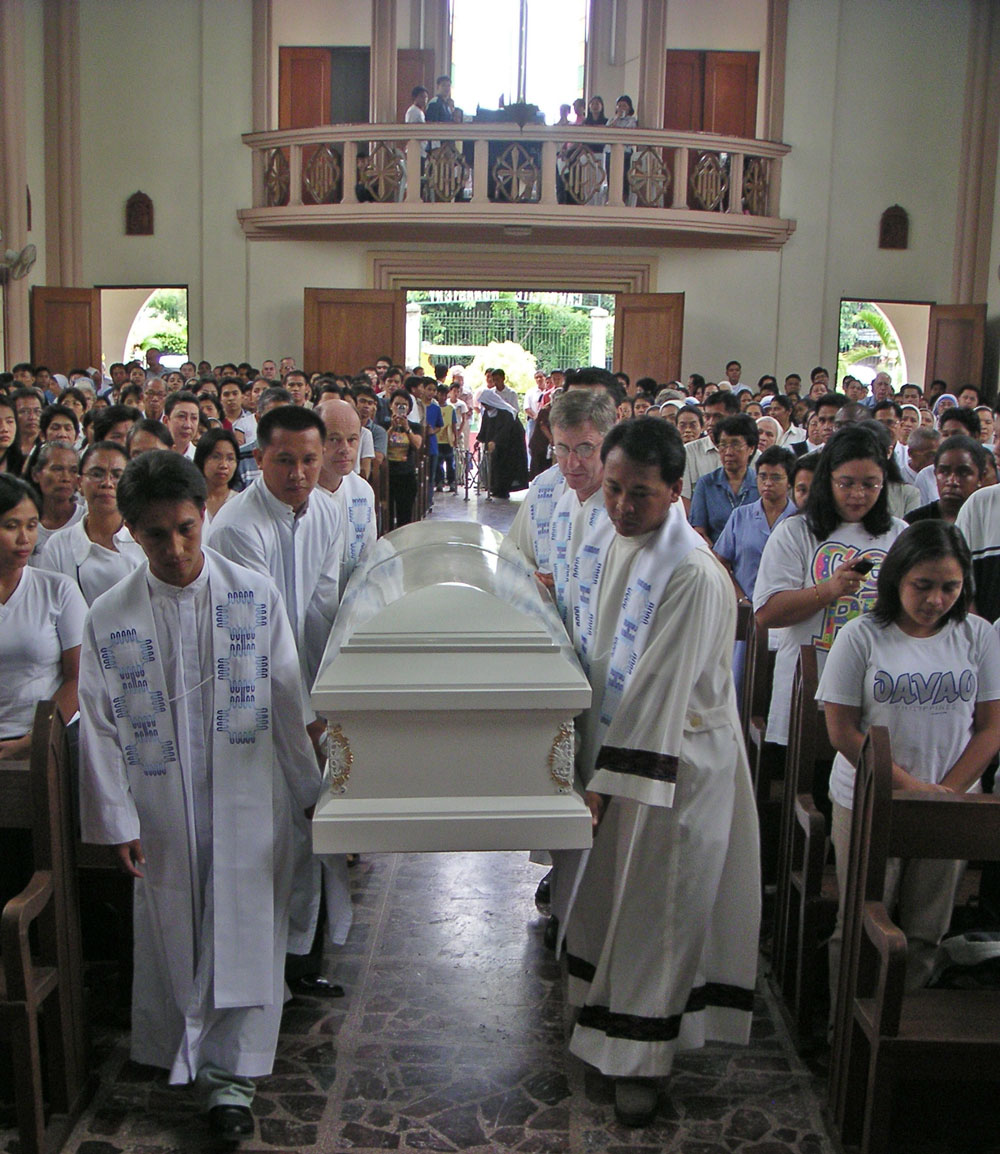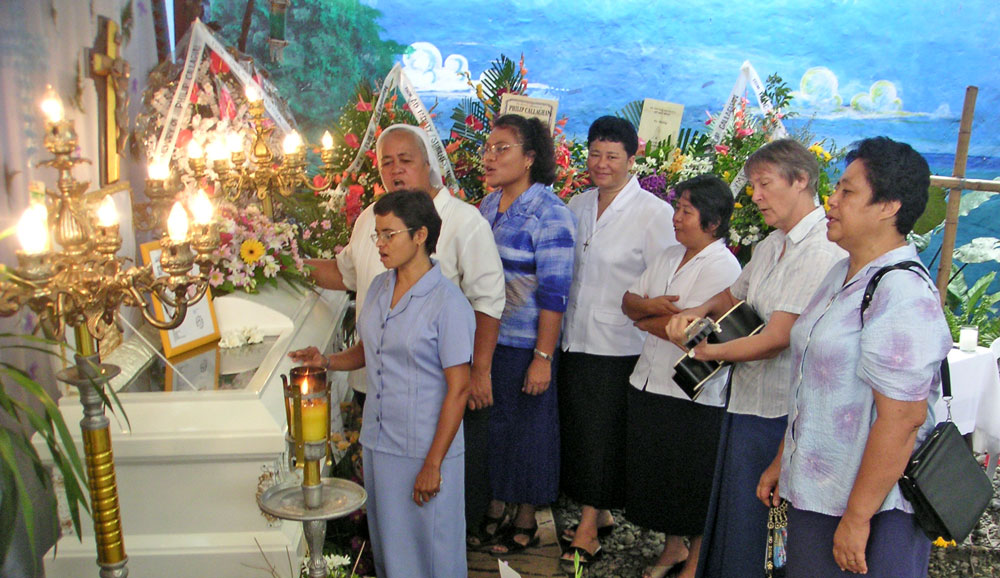 ---
'A very special few days'
Abergowrie college Assistant Principal, Fr Pius Jones SM, reports from Dhumbala, Galawin'ku Island, Northern Territory, on his adoption by the Garrawurra people and the moving ceremonies of welcome and farewell.
Fr Pius was at Dhumbala for the funeral of a Garrawurra elder, and sent Marist Provincial, Fr Bob Barber, an account of his experiences.
Here are some excerpts: 'I'm here for the funeral of my uncle... the ceremonies today were just something to behold... the amazing thing is that all the people here can tell me how I am related to them... my legs are killing me from sitting cross legged all day! ... I am sleeping under the stars next to the most beautiful beach... a very special few days... '
For the full report, 'A very special few days', click here. [Jun 15]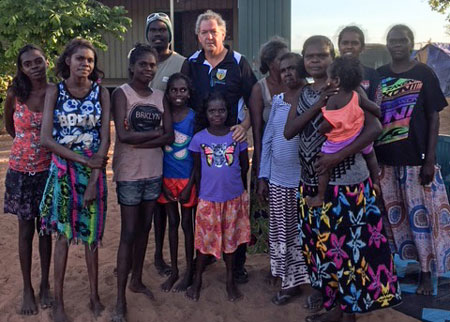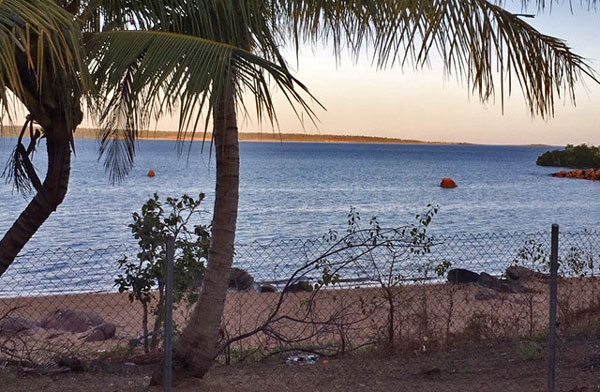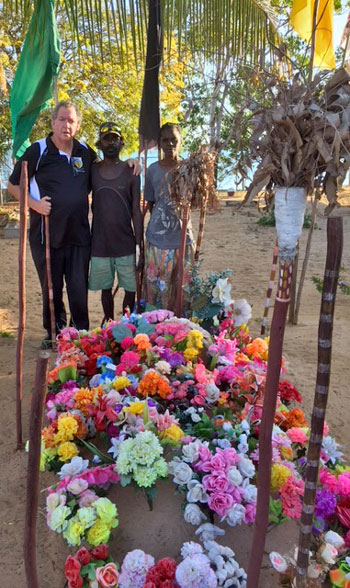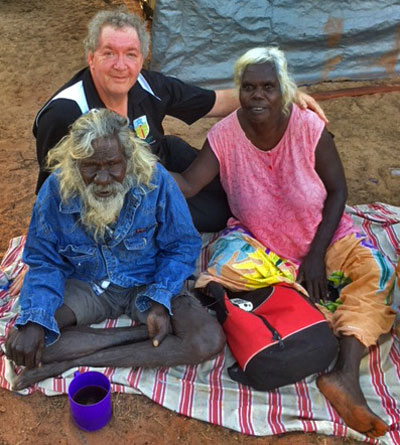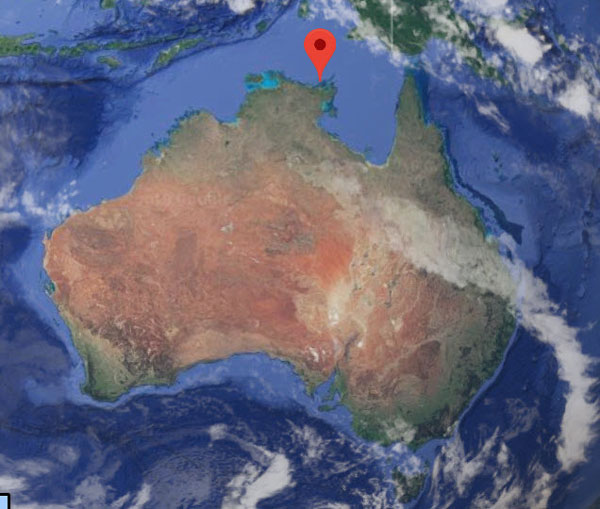 ---
Marist spirituality for young adults
Brisbane-based Marist vocation advisor, Fr Gerard Hall SM, issues this invitation to a Marist Spirituality Day for Young Adults to be held on Jul 8.
Presented by a team of Marist Family members, the day will be held at La Valla Centre, Paddington, Brisbane. Click here to download invitation.
---
Refugee Week
The Refugee Council of Australia advises:
Refugee Week is Australia's peak annual activity to inform the public about refugees and celebrate positive contributions made by refugees in Australian society. Today more than ever, we need a global movement to demand the safety and rights of refugees are protected. This year, Refugee Week will run from Sunday 17th June to Saturday 23rd June with the theme #WithRefugees.

To celebrate, RCOA warmly invites you to attend our Refugee Week Launch Festival, Refugee Film Festival and other local community events. We also encourage you to spread the message of Refugee Week. Invite your friends, share our events amongst your network and let's all get ready to discuss and share new ideas!
For RCOA's launch invitation click here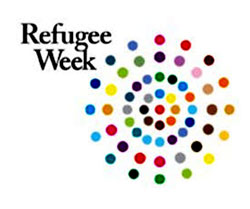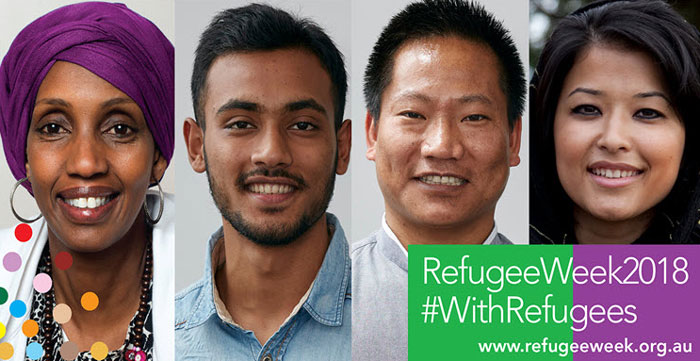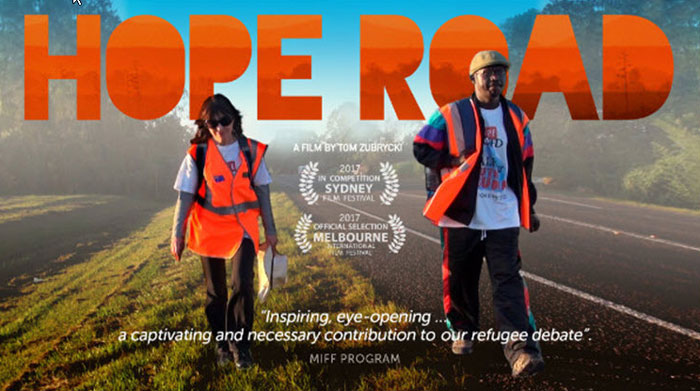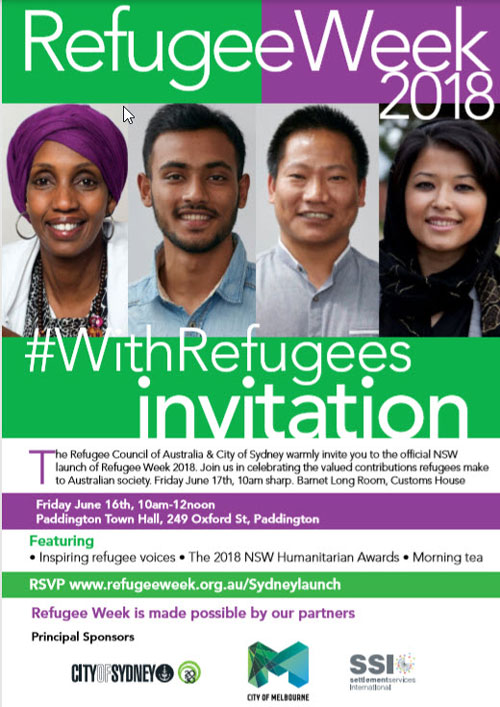 ---
Marist leaders meet at Nemi
'Sharing our dreams for the Marist Family' became a theme for the recent meeting of the four Marist General Councils at Nemi, Italy. International leadership teams represented the Marist Sisters, Fathers, Brothers and Missionary Sisters.
One participant reports:
'In our dreaming we were inspired by video testimonies given by a number of lay Marists from across the world. 'We remembered the roots from which our Family Tree has sprung and renewed our trust in the God who called us. 'With Mary we rejoice and give thanks for the unique gift we share and offer to the Church and world of our day. Magnificat!'
Pictured below: The four leadership teams and the 'tree with many branches' . [Jun 11]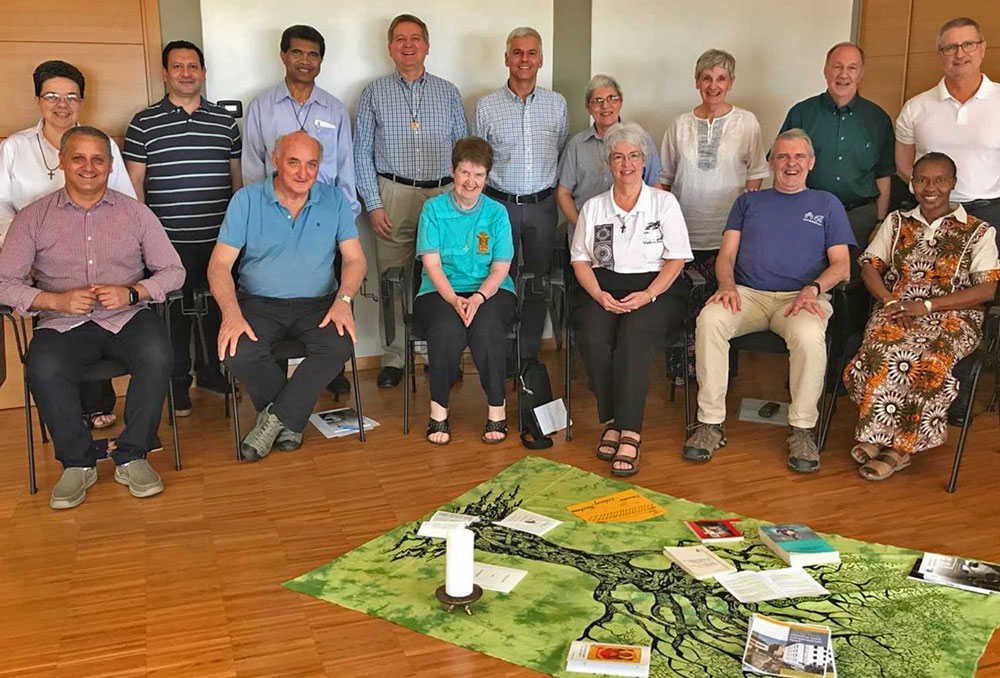 ---
Sisters' jubilees
Four Australian Marist Sisters were honoured in a jubilee celebration at Woolwich on Jun 10. Sisters Carmel Murray (60 years professed), Maureen Crick and Carroll McDonald (50 years) renewed their religious vows during a Eucharist led by Sr Maureen's nephew, Fr Peter Jones OSA.
A fourth jubilarian is Rome-based Sr Grace Ellul SM (50 years), Superior-General of the Marist Sisters.
Congratulations, Sisters ! [Jun 10].

Above: Marist Sisters, families and friends raise hands in blessing over the jubilarians in the chapel of Marist Sisters College, Woolwich. Below: Renewal of vows | Sector leader, Sr Cath Lacey with Sr Maureen at the offertory.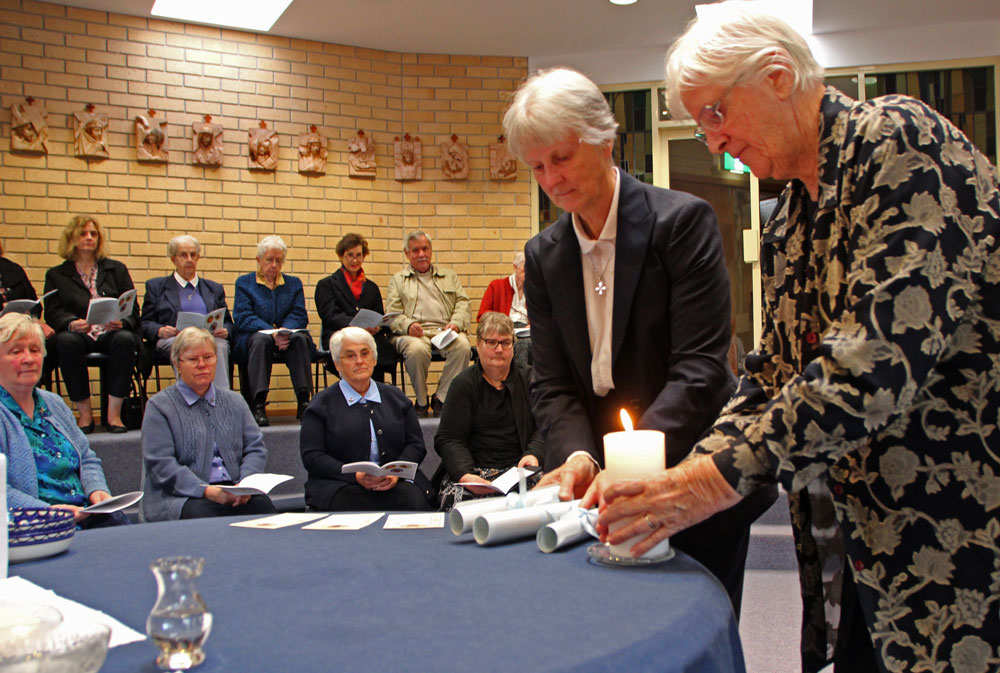 Above: Fr Peter Jones presides at the jubilee Eucharist. Below: Party time at nearby Marian House after Mass. Cutting their cake, from left, Srs Carroll McDonald, Maureen Crick and Carmel Murray.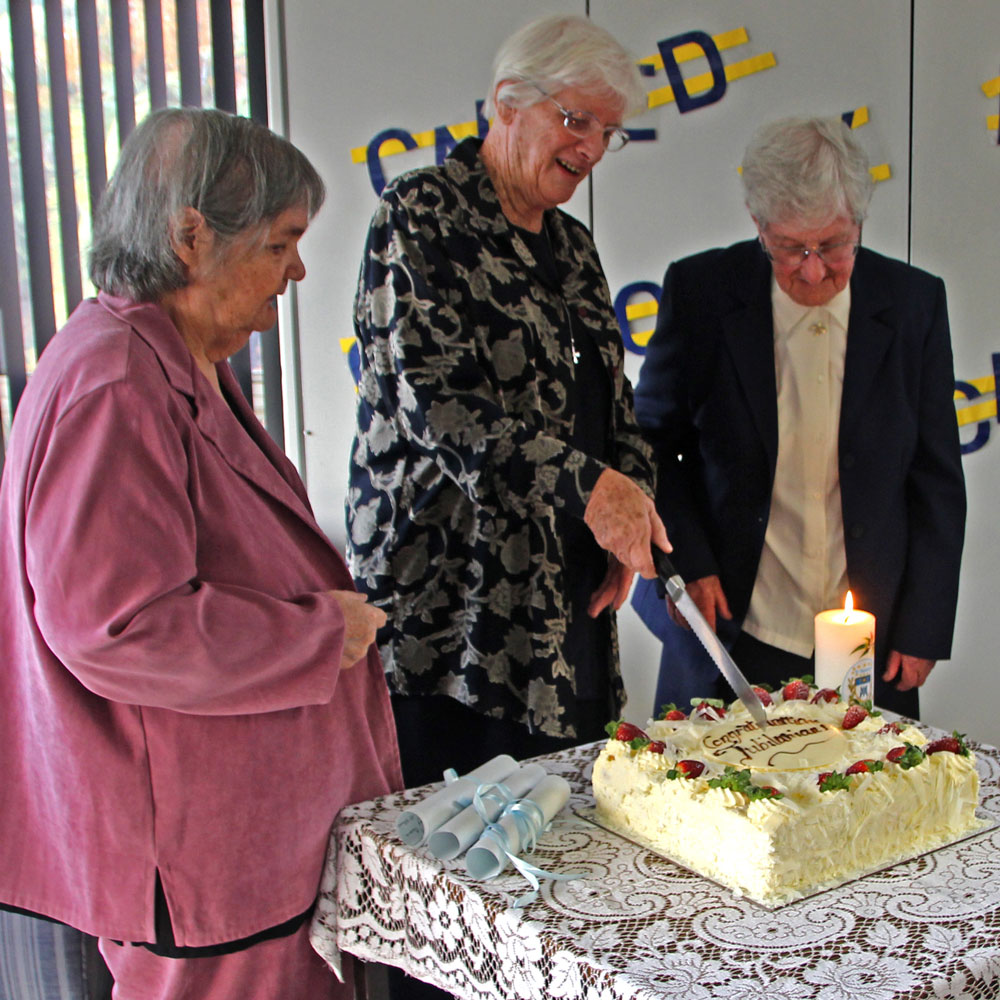 ---
'Behold the heart which has loved humankind so much !'
'
Solemnity of the Most Sacred Heart of Jesus
2018: Friday, Jun 08
---
Champagnat day
Jun 06 marks the anniversary of the death of St Marcellin Champagnat, founder of the Marist Brothers, and one of the pioneer Marist aspirants gathered at the shrine of Our Lady of Fourvière, Lyon, France, in 1816.
The newly-ordained Champagnat pledged to play his part in forming the Marist Family, soon establishing what is now the world-wide congregation of the Marist Brothers..
Happy feast day to all our Marist Brothers! [Jun 06]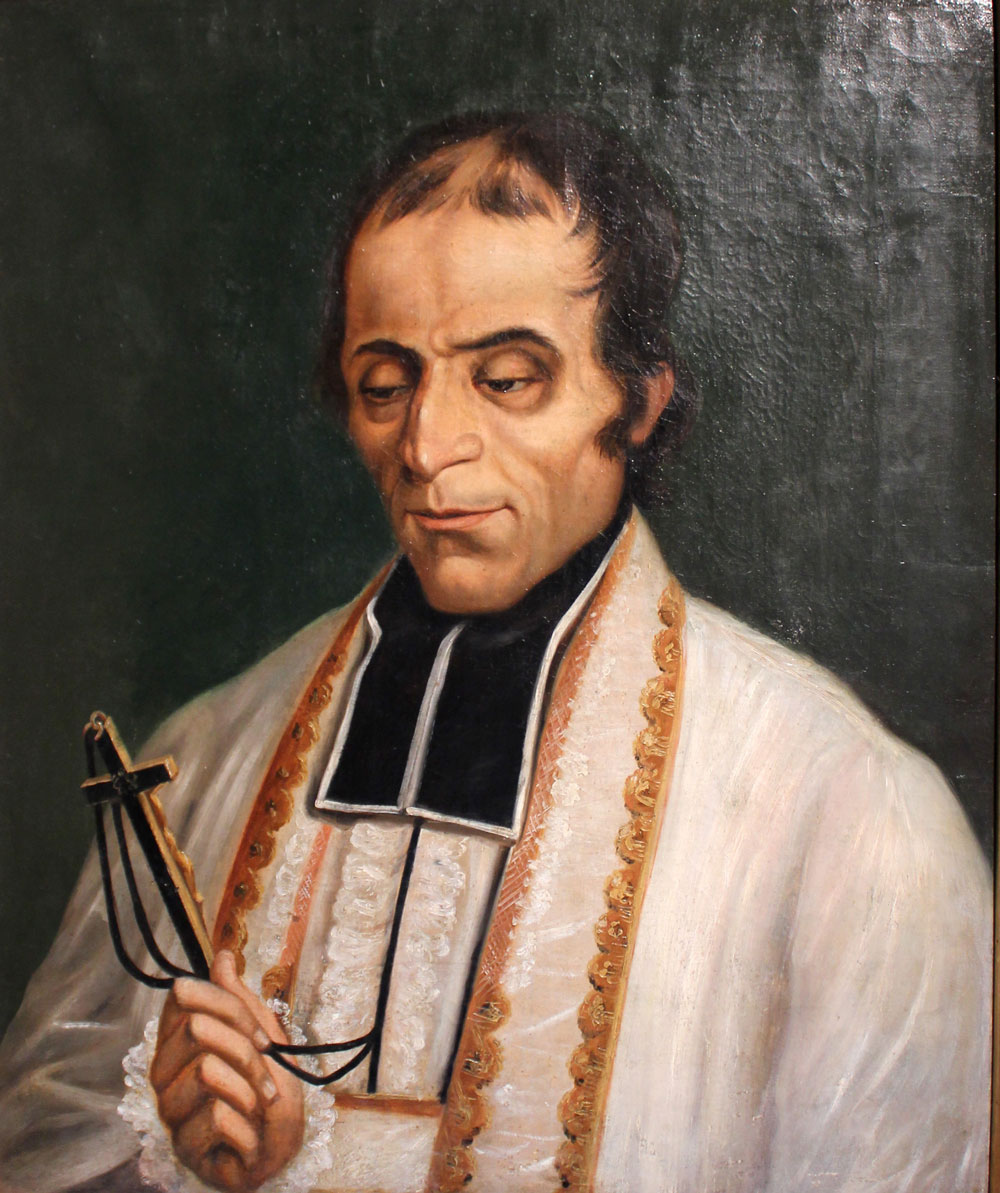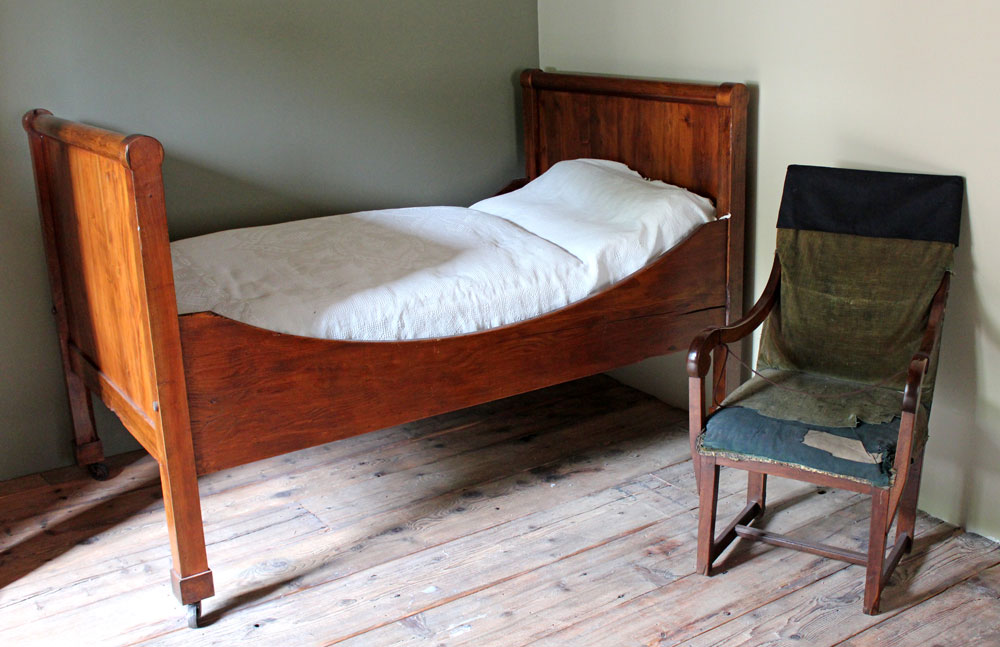 Above: Portrait of Marcellin Champagnat, painted shortly after his death in 1841 | The bed in which he died at the Hermitage, St Chamond, France, and the chair in which sat his last visitors, including Fr Jean-Claude Colin.
---
JPICC new member
Br Paul Murphy FMS was welcomed as a new member of the Marist Family Justice, Peace and Integrity of Creation Committee at its Jun 05 meeting at Hunters Hill.
The Committee discussed projects and topics including climate change, refugee assistance and ethical investments, while Fr Jim Carty reported on his recent visit to the Marist Mission at Ranong, Thailand, and Kawthaung, Myanmar. [Jun 05]

Above, from left: Sr Margaret Tisch SMSM, Br Paul Murphy FMS, Frs Kevin Bates, Paul Mahony and Jim Carty (not pictured, Fr Ron Nissen)
---
Asia District handover
In a simple ceremony in Davao, southern Philippines, retiring Superior of the Marist Asia Mission District, Fr Pat Devlin, handed over the role of leadership to Fr Chris Ganzon.
Marist Asia web site reports:
During his six years as our District leader, Fr Pat has stabilized the District by setting up structures, systems and policies that would sustain the Marists and their mission in Asia for the future and encouraged confreres to do on-going formation and studies to better equip them in doing their ministries and harnessing their potentials and gifts.
He has also fulfilled the 'dream' of the District to have a 'complex' in Davao where we merge our houses and personnel to better serve the needs of the District and its mission.
We are very grateful to Fr. Pat for the many good things he has done in our District and thank him for sharing his life and gifts to the people of Asia. We will be forever grateful for what he is and will be to our District.
Please continue to pray for him as he takes on his new ministry in Rome and for Fr. Chris and his councillors in their role as leaders of the District Asia.
Beginning his term on Jun 01, Fr Chris Ganzon will be assisted by councillors Frs Lauro Arcede (Vice-Superior), Arnold Garferio and Pat Muckian. [Jun 02]
Above: The Marist Mission District of Asia's new and retiring leaders are flanked by Filipino confreres. From left, Frs Fernando Ingente, Arnold Garferio, Lionel Mechavez, Chris Ganzon (new leader), Pat Devlin (retiring leader), Lauro Arcede, Kevin Medilo and Roque Rebito. Below: Blessings in the handover ceremony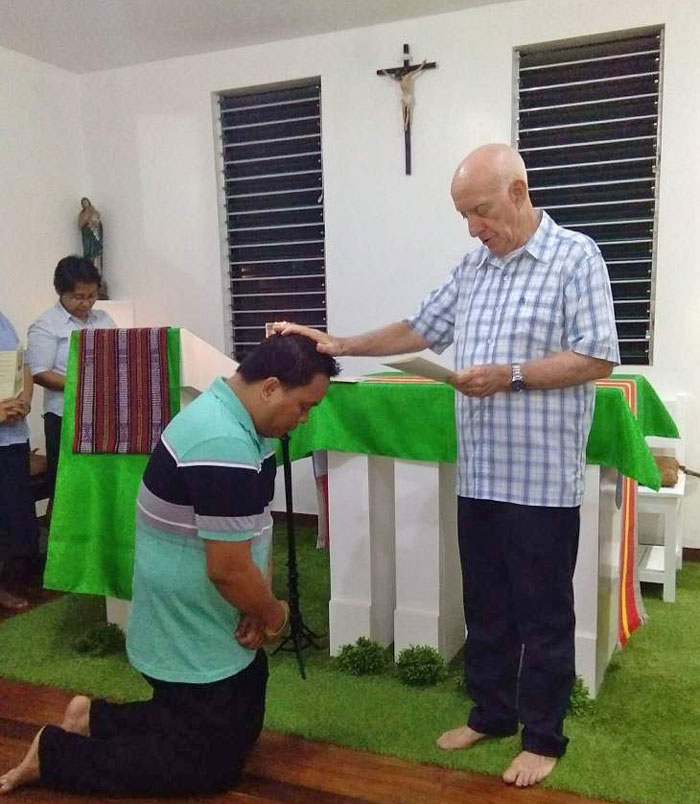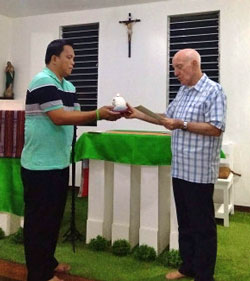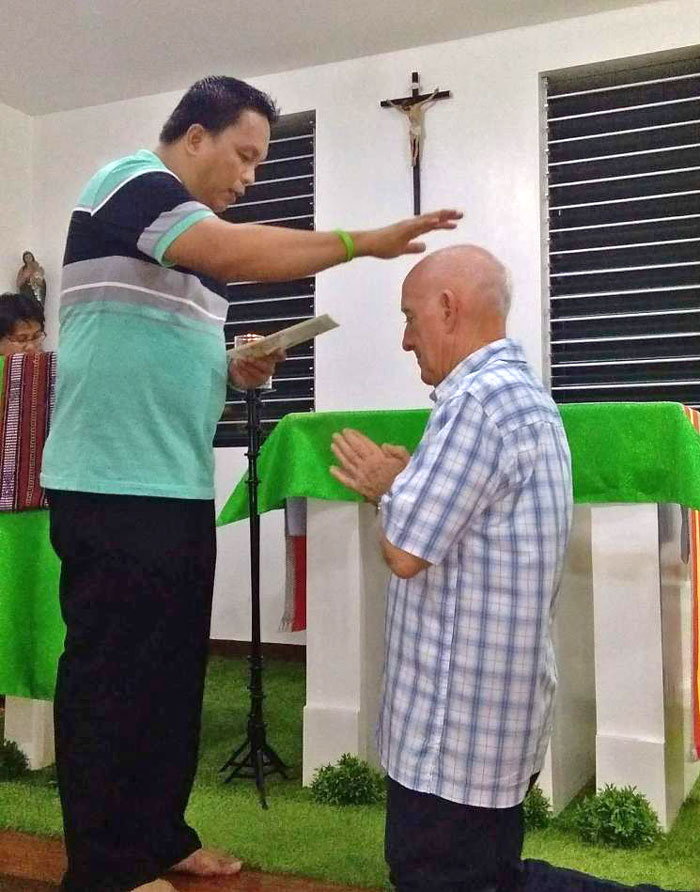 ---
Superior-General's reflection
Marists and the Sacred Heart. Go to Members page,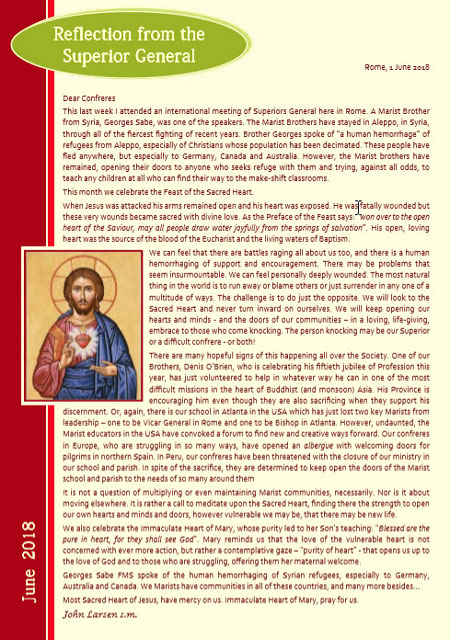 ---
Burma and back
Part of Fr Jim Carty's recent journey to Thailand was a brief excursion to Kawthaung, Myanmar (Burma) while visiting the Marist Mission in Ranong in the south of Thailand.
Another highlight was meeting Wilai, one of the many stateless Burmese youngsters for whom Fr Jim raised funds in his 'Walk for Wilai' in 2017. Fr Jim accompanied Wilai Foundation's Jo Shears and Wilai from Bangkok to the River Kwai, scene of Australian POWs' trials and of Fr Lionel Marsden's vision of a Marist mission to Japan.
For more on the Marist Mission at Ranong, click here. | For the Wilai Foundation, click here
Fr Jim returns to Australia on Jun 02. [Jun 01]
Above: Fr Jim's arrival at Kawthaung, Myanmar | at prayer with a local Buddhist monk Below: With Ranong Marist, Mission member, Fr Gil Casio SM
Above: Local Sisters care for youngsters of all ages, in primary schooling and vocational training. Below: Fr Larry Sabud SM with Marist Mission Ranong team members, including director, Fr Frank Bird SM (centre)
Below: Fr Jim and Wilai at the River Kwai | Birthday cake at Bangkok
---
Today's Marists
Attractive and newsy, US Marist province's 20-page spring edition of Today's Marists is now available. Click for pages: 1-10 | 11-20
Included is Australian Fr Michael Whelan's reflections on 'The Marist way, a contempative way'. [Jun 01]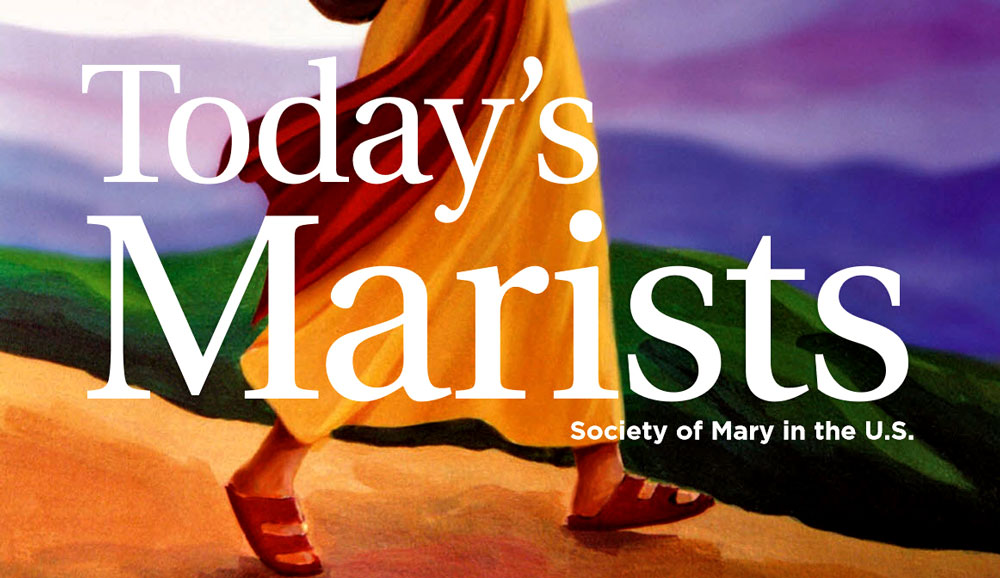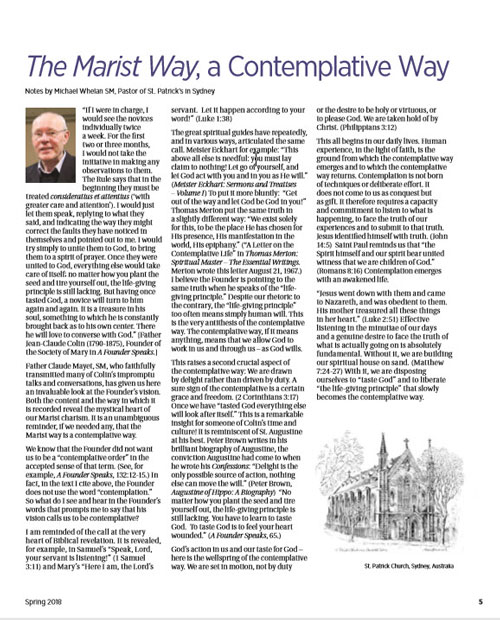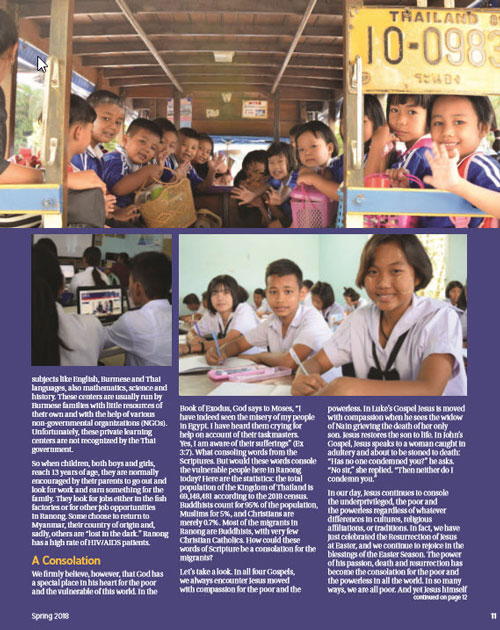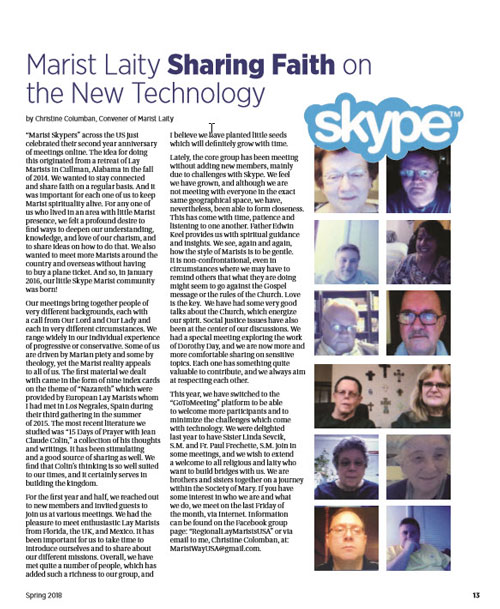 ---
Social Justice diary

June events recalled

Go to: JPIC
---
Marist news from Europe
Happenings in France, Spain and Holland. Click here [Jun 01]