---
Click here for News 2008 to 2017 | Click here for News 2018 then go to News tab above
---
---
Marist Laity events
From Brisbane, Fr Gerard Hall gives details of a double-event for Marist Laity at Paddington, Qld, on the weekend of Jun 15-16.
A Marist reflection afternoon, 'The Marian face of the Church', on Jun 15 will precede a ceremony of Marist Lay commitment on Jun 16. For details, click here. [May 30]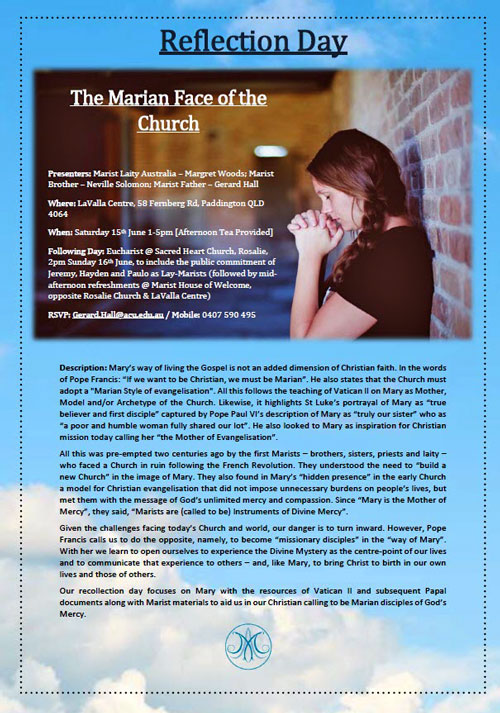 ---
Graduations in Thailand
Five former members of the Bridge Program were amongst the young Burmese recently graduating from Australian Catholic University's Thai-Myanmar border online course. They are part of a growing number of refugee youth who have gained access to ACU after developing skills in the Bridge Program.
Awarding ACU's Diploma in Liberal Studies, graduation ceremonies were held in Ranong, southern Thailand, on May 16 and at Maesot, on the Thai-Myanmar border, on May 18. [May 20]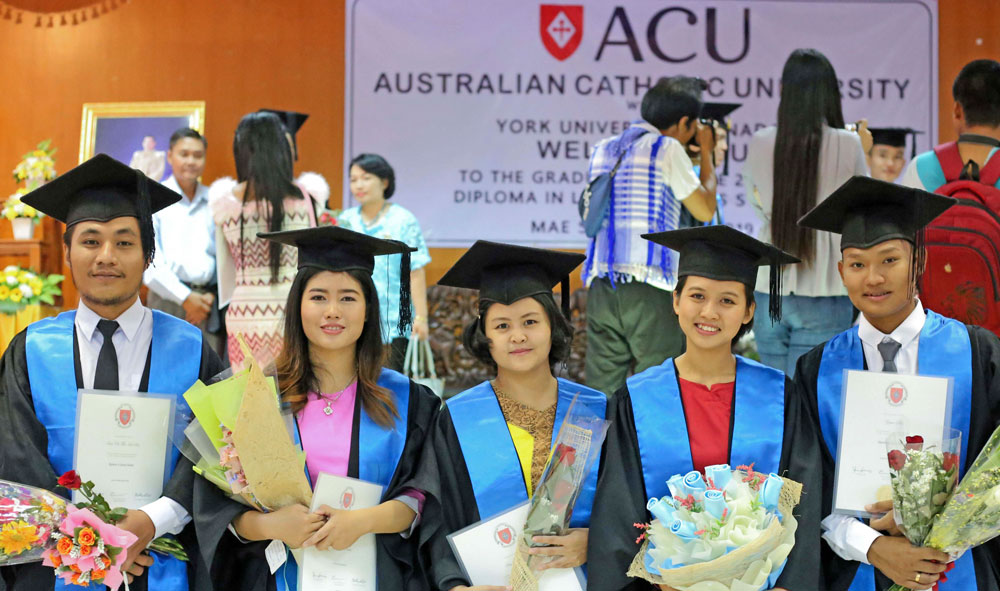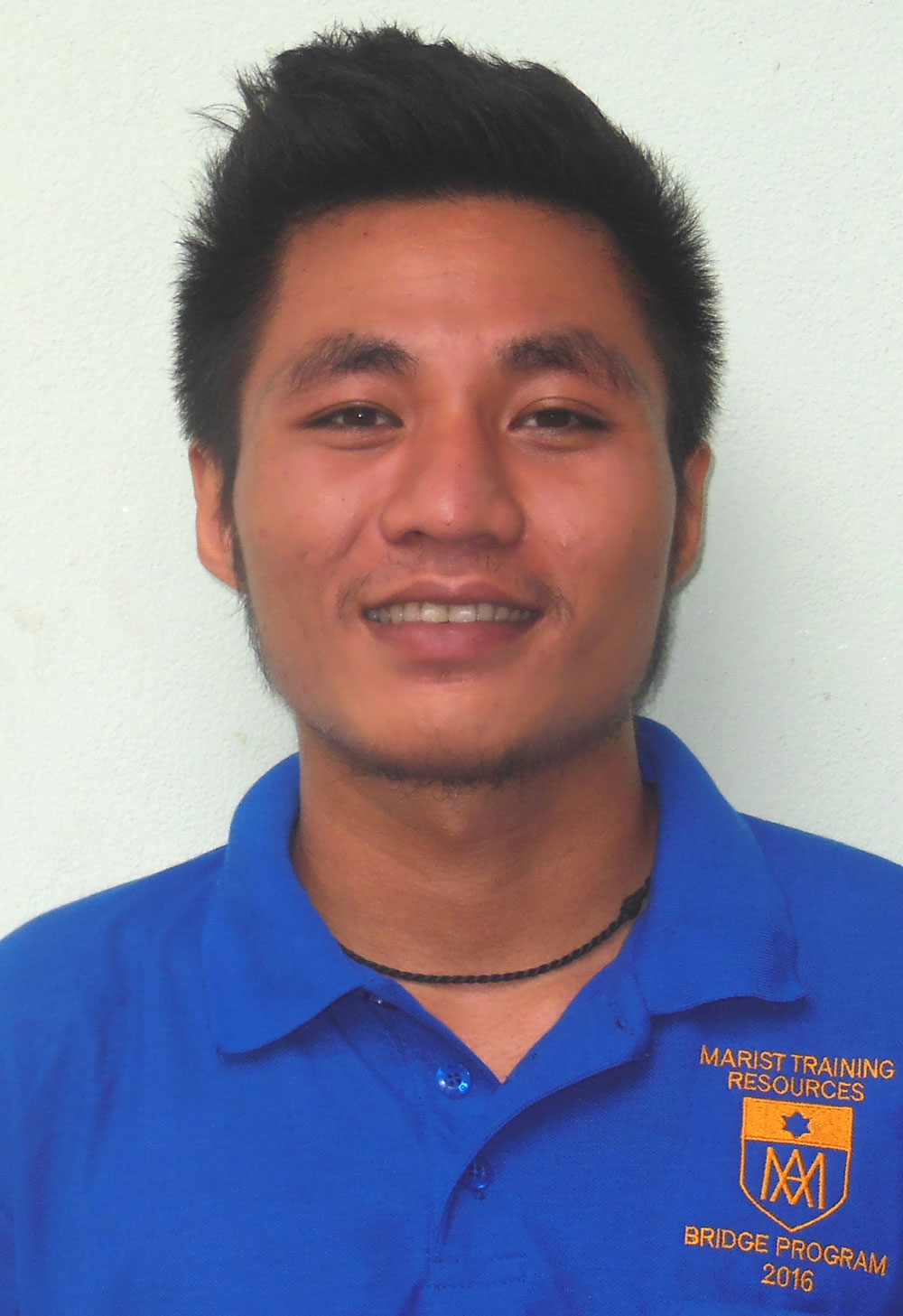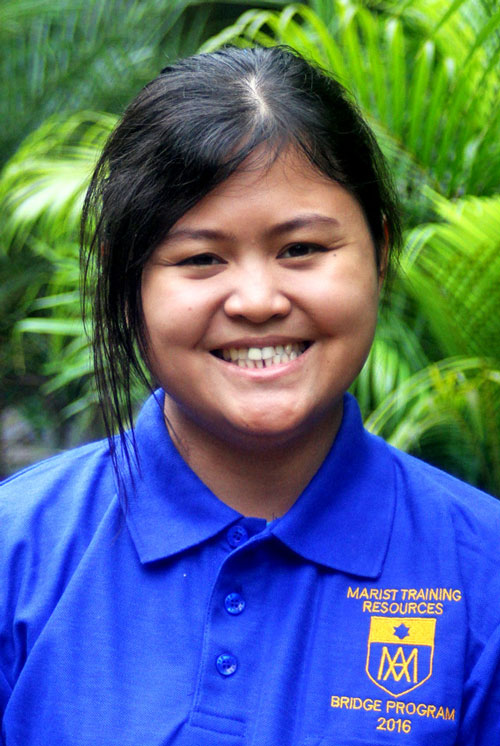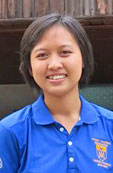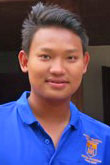 Above: ACU graduands, formerly in the Bridge Programs of 2016 and 2016-17, from left: Thoo Lei, Thae Thae, Hay Mahm, Ei Ei and Zayar Min.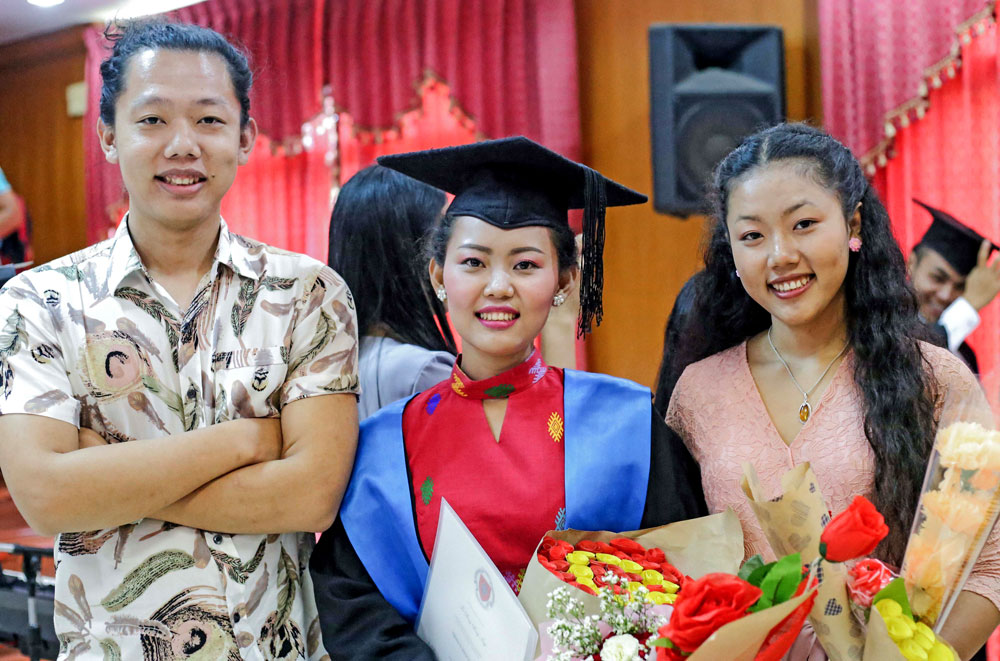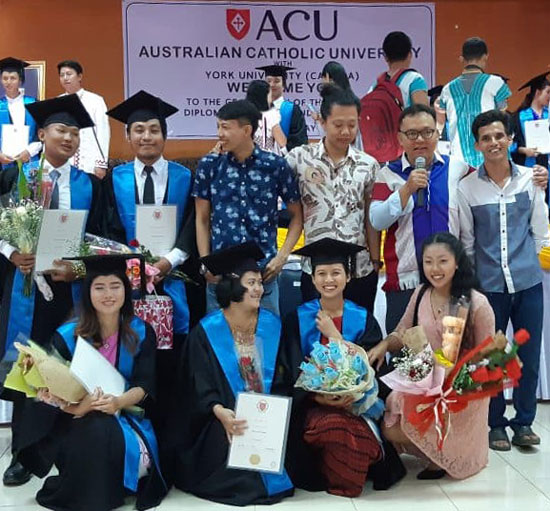 Above: Siblings from Mae La refugee camp, Thailand, James (BP13), and Cecilia (BP18-19) with their graduating cousin, Jacinta. | BP-ers from five Bridge Programs gather at the Maesot graduation on May 18.
Below: Fr Frank Bird SM and the sixteen graduands from the Marist Mission, Ranong, southern Thailand, at their May 16 ceremony.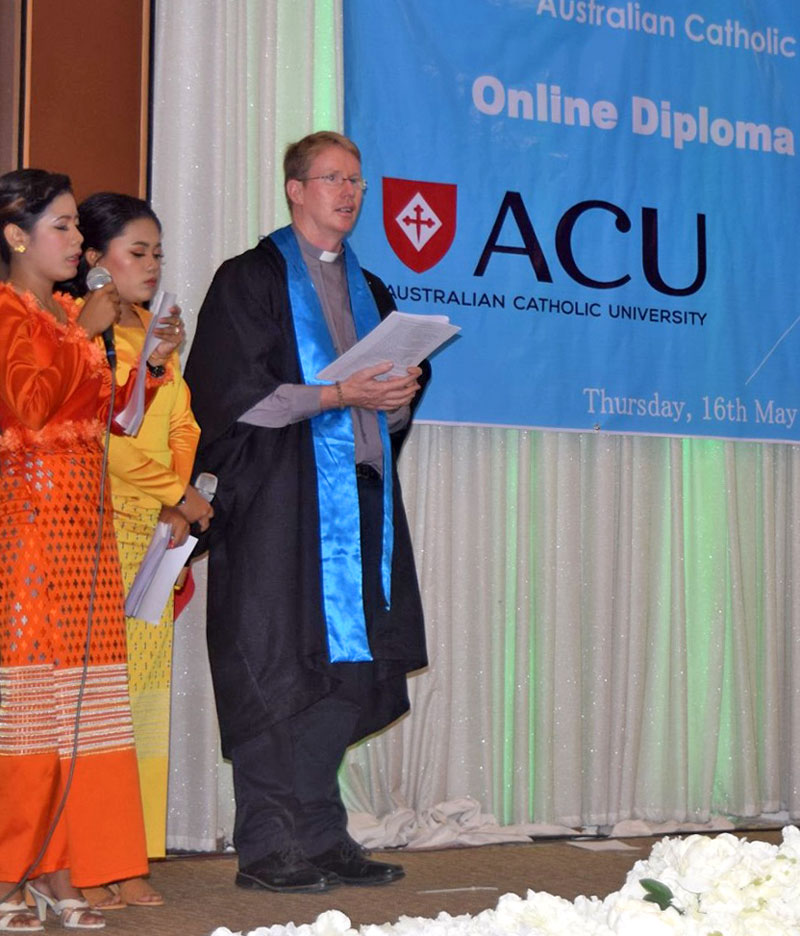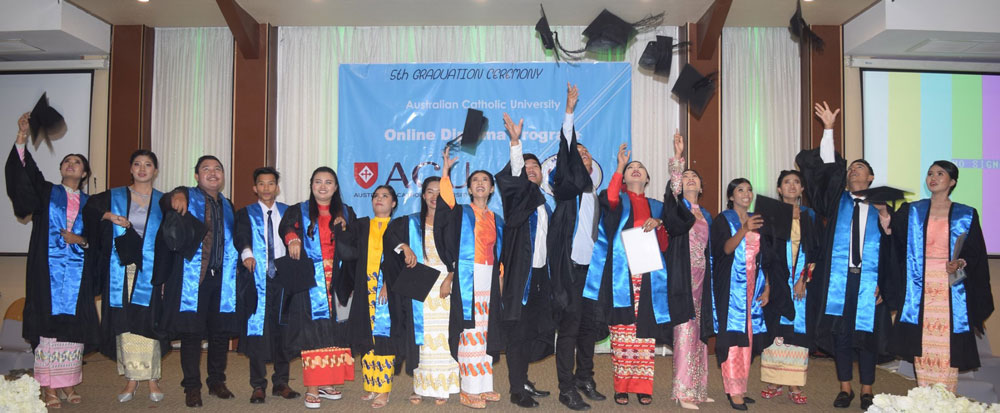 ---
Passing of Fr Chris Austin
Marists in Australia and New Zealand mourn the passing of Fr Christopher Austin SM at Greenwich, NSW, on May 20, aged 82. He had been a priest for 51 years.
Members of the Maryvale/Montbel community, Hunters Hill, will especially miss his gentle, good-humoured and uncomplaining presence, despite declining health in recent times.
Mass of Christian Burial for Fr Chris will be on Fri, May 24, at 2 pm, at Holy Name of Mary parish church, Hunters Hill, followed by interment at Macquarie Park Lawn Cemetery.
For a profile of Fr Chris' life, click here. May he rest in well-deserved peace. [May 20]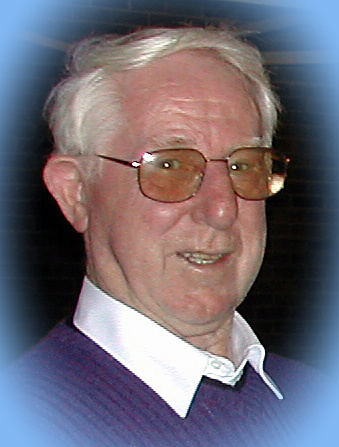 ---
Ormiston retreat
Led by Pauline scripture scholar, Fr Brendan Byrne SJ, Marists gathered at St Teresa's spirituality centre, Ormiston, Qld, for an annual retreat, May 12-17.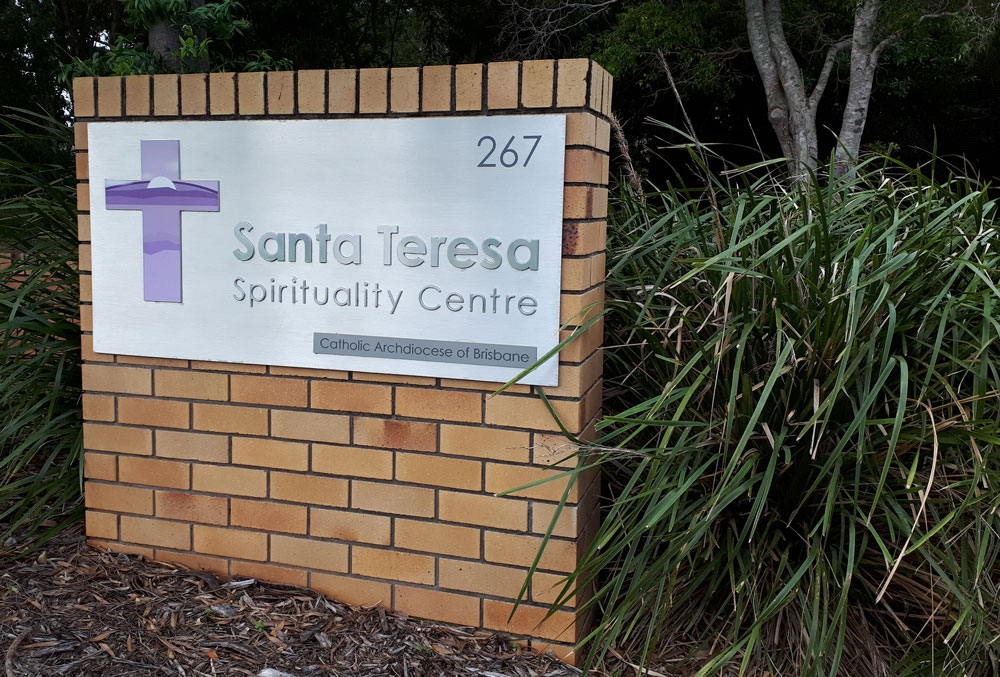 Above: St Teresa's Spirituality Centre occupies a picturesque corner of Brisbane's bayside suburb of Ormiston. Below: Retreat days begin with Morning Prayer... office books and tablets | Fr Brendan Byrne SJ
Above: St Teresa's abounds in numerous prayer spaces in its beautiful coastal bush setting. Below: Daily Eucharistic | Ormiston's wildlife. | Evening pre-prandial conviviality during an otherwise silent retreat.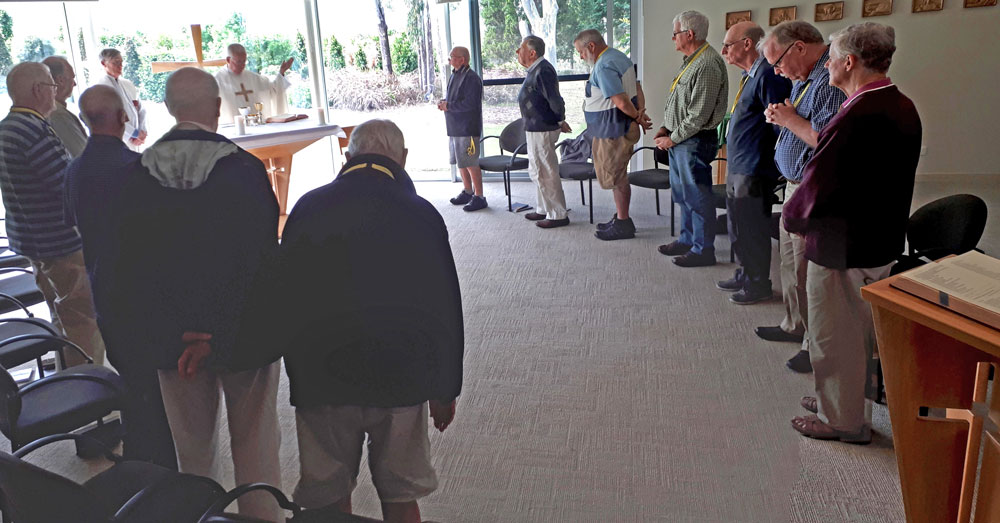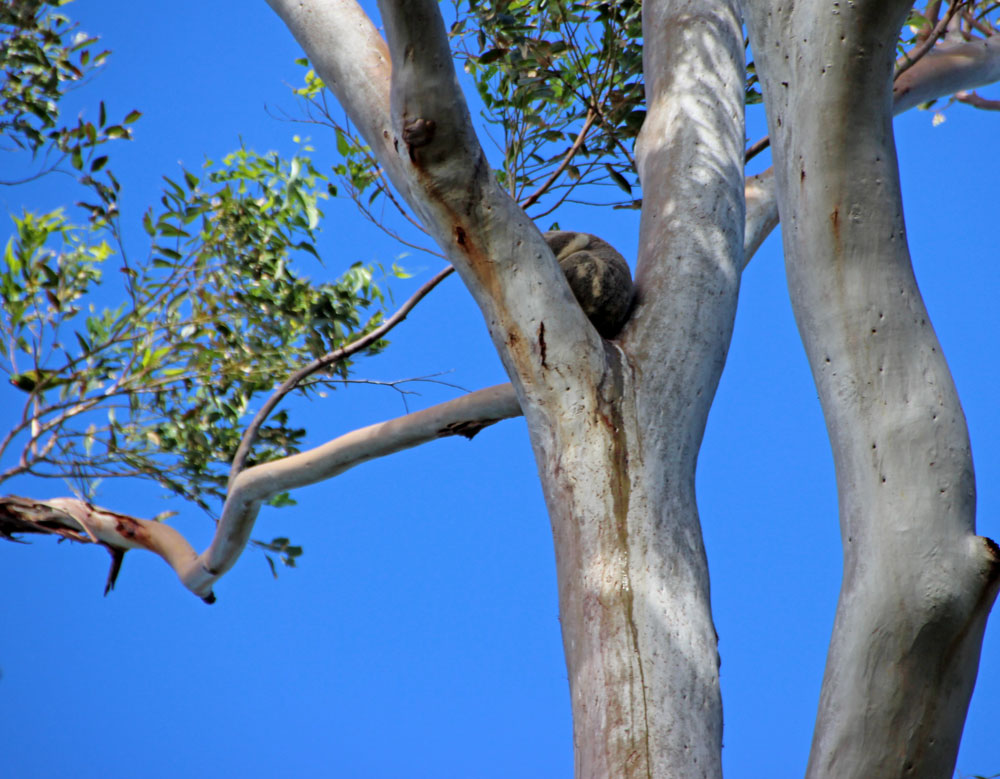 ---
BP-ers' invitation
In an email from the Thai-Myanmar border, former Bridge Program student, Thae Thae (pictured below, 2nd from right) writes: 'This is to invite you to the coming ACU graduation ceremony which will be held on 18th May. I am very grateful for what the Bridge Program has done for us. Without BP, we won't be where we are today. Thank you for helping us grow stronger.'
Established in 2011 for young Burmese refugees, the Bridge Program is now coordinated by BP and ACU graduate, Muriel Valles, under the auspices of the Marist Justice, Peace and Integrity of Creation committee.
For your invitation, click here. See also 'The Bridge Program Story'. and 'Bridging the Gap'
Below: ACU's graduating BP-ers, from left: Thoo Lei (BP16) and Ei Ei, Thae Thae and Zayar Min (BP16-17). [May 16]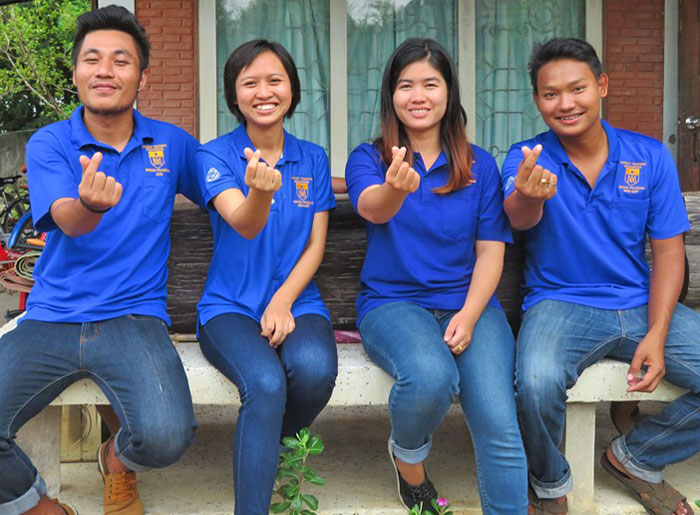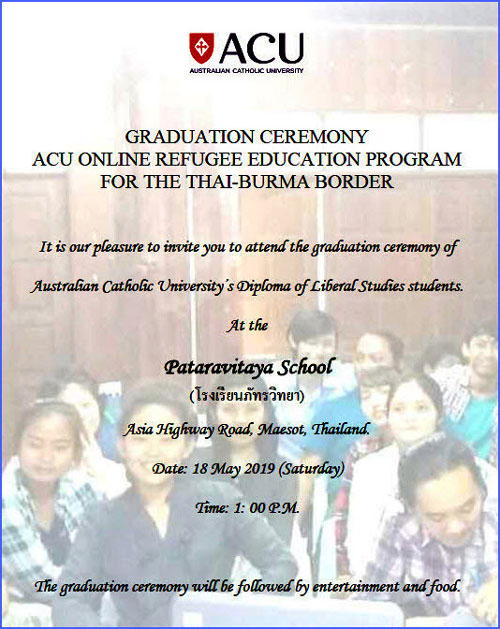 ---
Marist news from Africa and USA
Latest newsletters from tej Marist African Mission District (4 pages) and the Province of USA (one page)are now available: Click: Africa News | USA e-Bulletin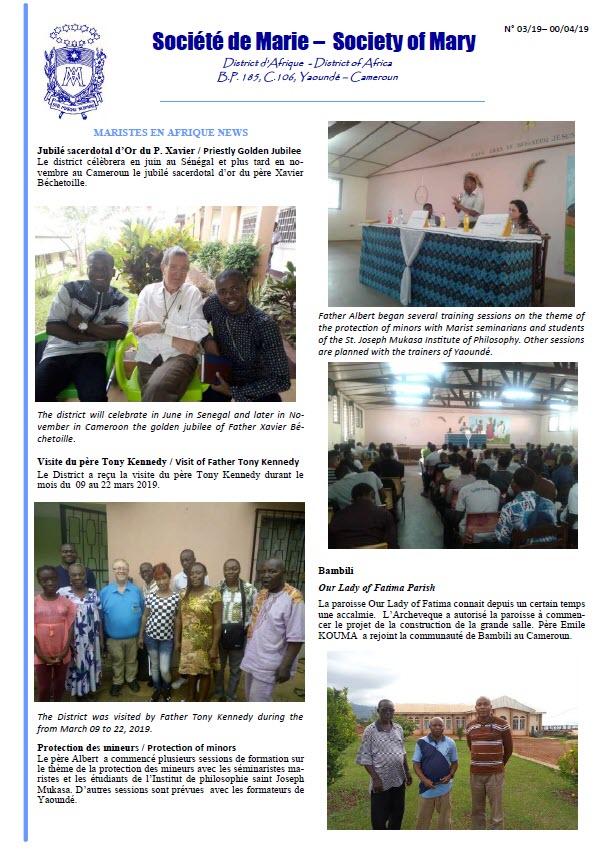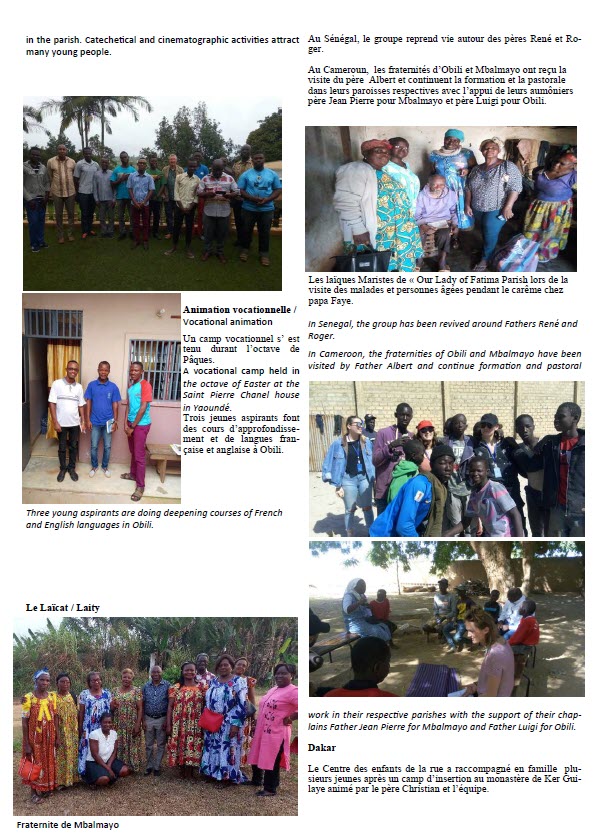 ---
Fr John Thornhill's 90th
It was party time at Montbel, Hunters Hill, on May 14 when theologian, writer and esteemed Marist confrere, Fr John Thornhill SM, dropped in to celebrate his 90th birthday. (Actual birthday is May 13.)
Fr John is a resident of the Southern Cross Aged Care facility, Marsfield, although currently enjoying specialised rehabilitation care at Hunters Hill Private Hospital whence he escaped to cut his birthday cake, pictured below with Frs John Worthington and Peter McMurrich.
Happy 90th, Fr John! [May 14]
---
The greening of Rome
From the Eternal City, Australian Assistant-General, Fr Ben McKenna SM, reports on an environmental initiative from the Marist General House.
In the grounds of 'Monteverde', the Marist international headquarters in Rome, community members and staff engaged in tree-planting on Apr 28, combining the Feast of St Peter Chanel, Divine Mercy and Earth Day.... fine ecological leadership. [May 12]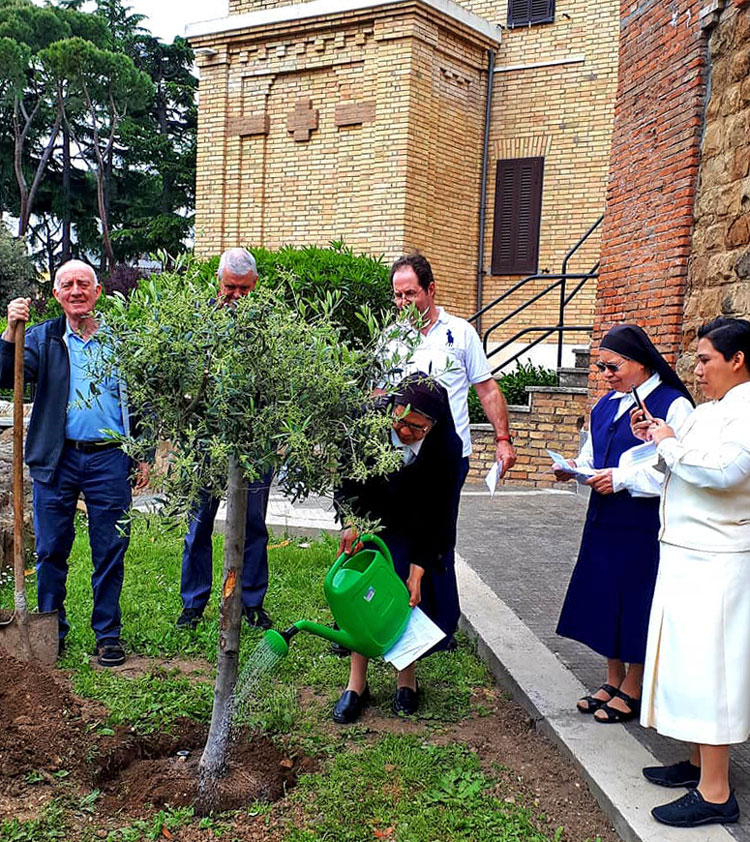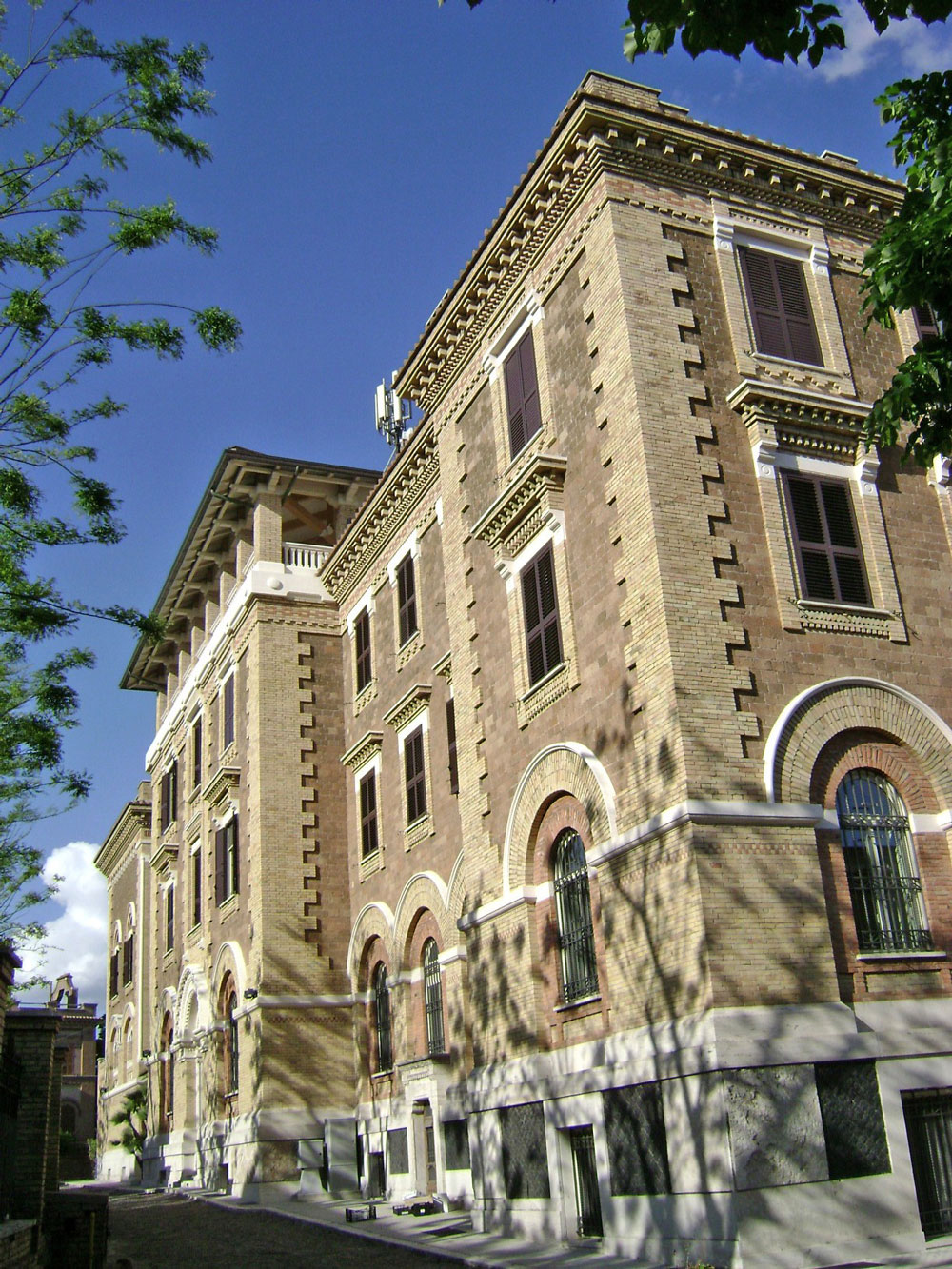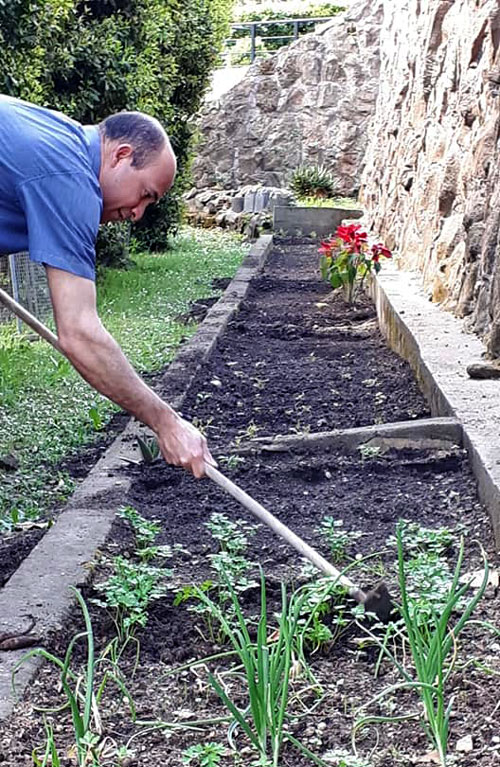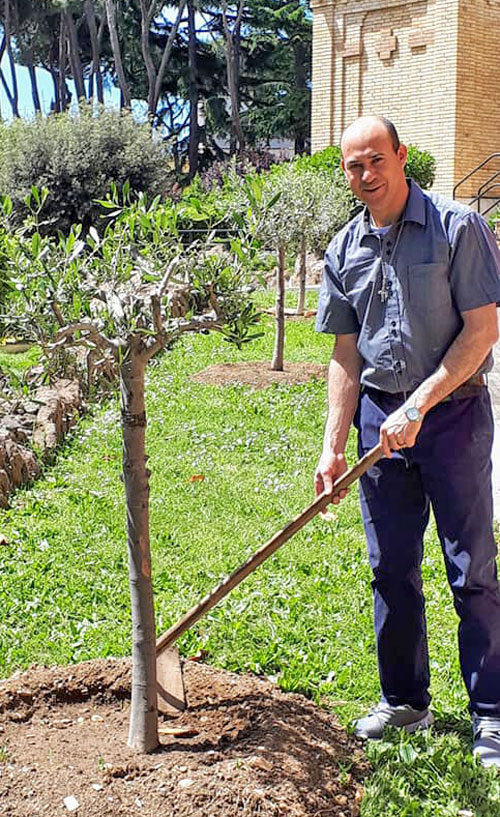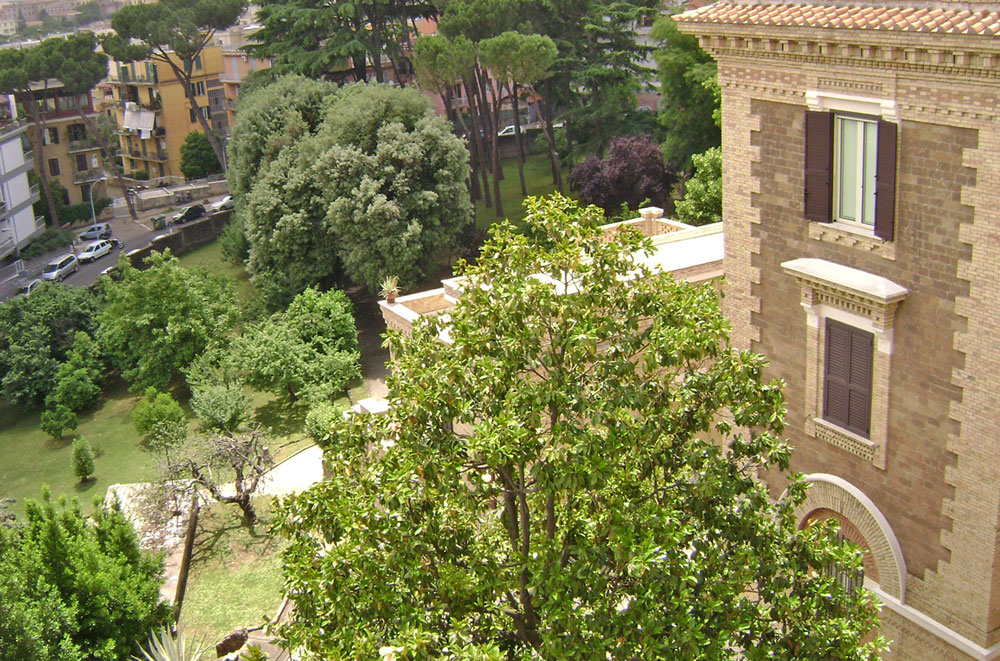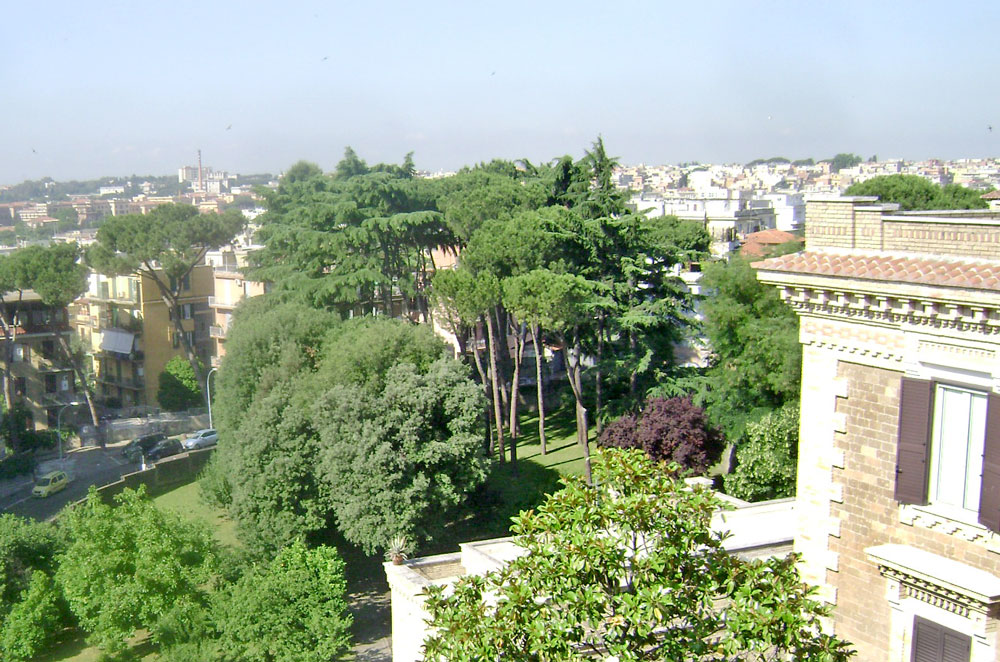 ---
Fr Long Down Under
A special guest for the 70th anniversary celebrations of the Marist Mission Centre was Fr Lionel ('Long') Mechavez SM. A member of the Society of Mary's Mission District of Asia, Fr Long journeyed from Davao, Philippines, where he is director of 'Balay Pasilungan' centre for street kids.
During his week-long stay in Sydney, Fr Long visited local Marists, spoke at MMC celebrations, preached the mission appeal at downtown St Patrick's, addressed students and staff at St Joseph's College - and went for early morning runs as part on an ongoing triathlon program. [May 10]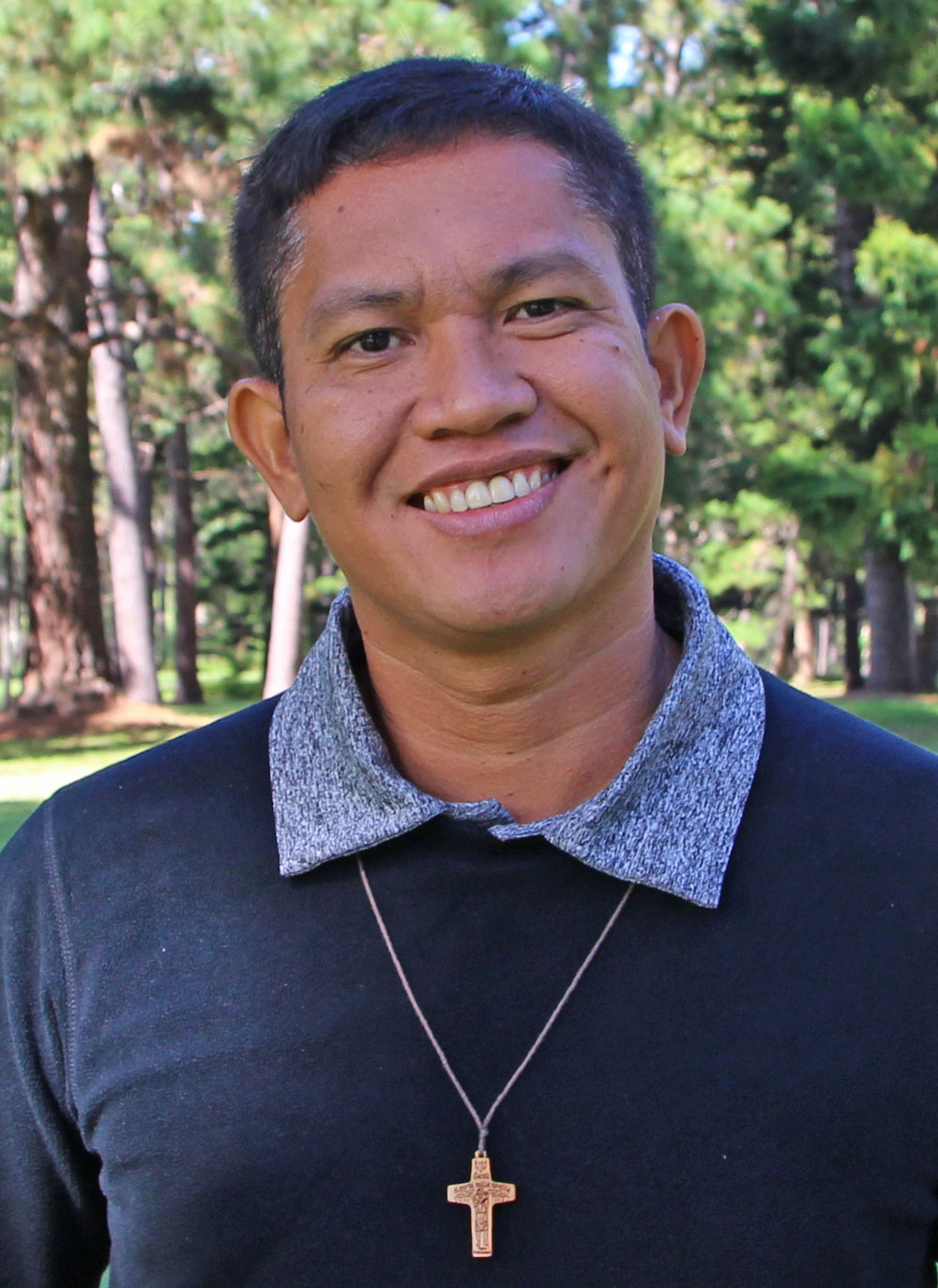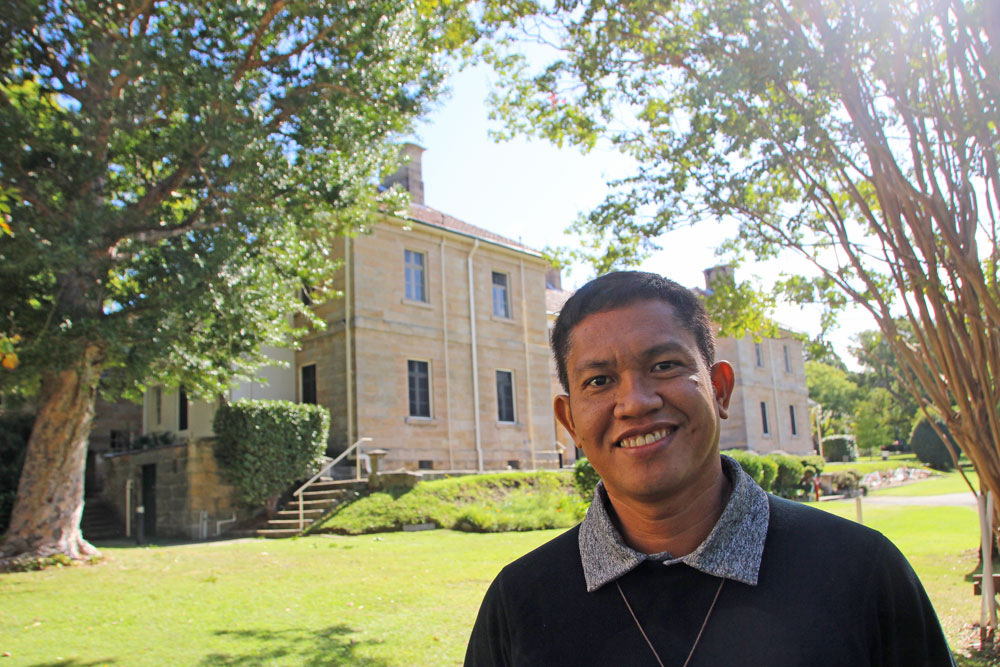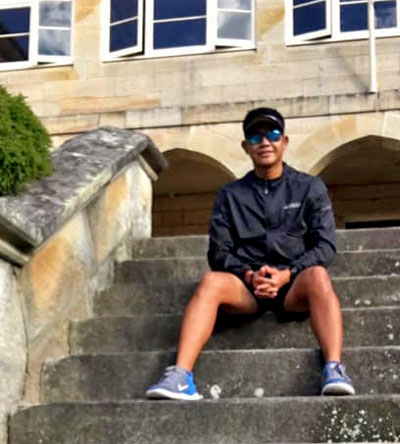 Above: Filipino Marist Fr Long Mechavez at Villa Maria monastery, Hunters Hill... and after a run into the city of Sydney.
Below: Fr Long visiting senior Marists at Marsfield: Fr John Thornhill | Sisters Margaret Purcell and Clare Francis | Fr Tony King.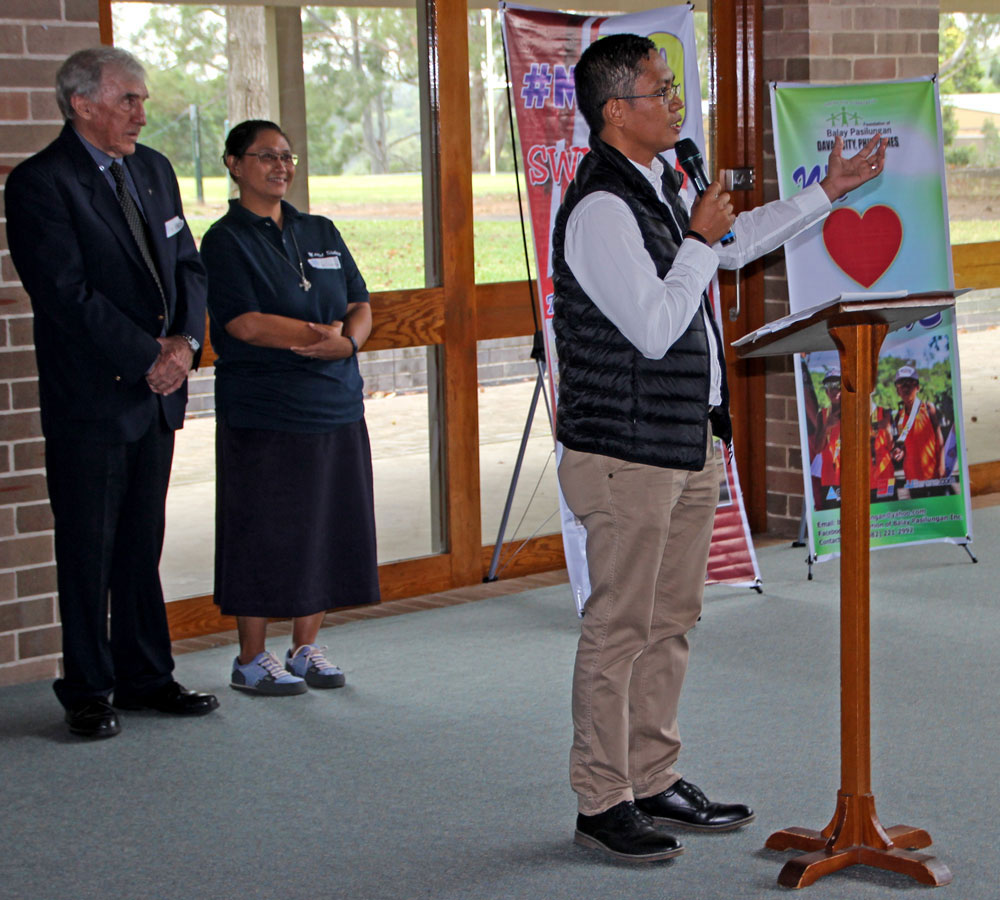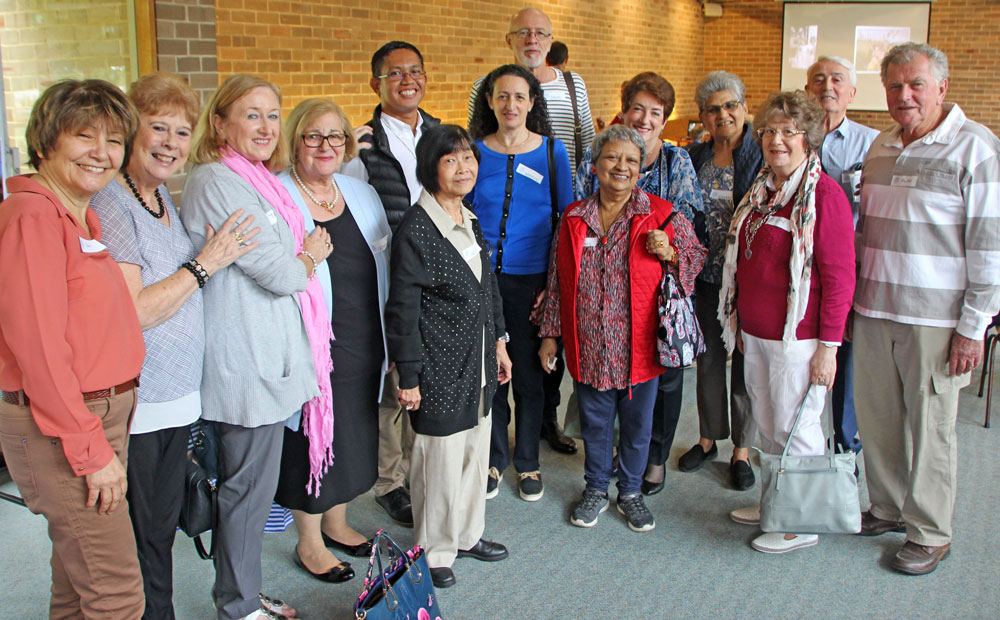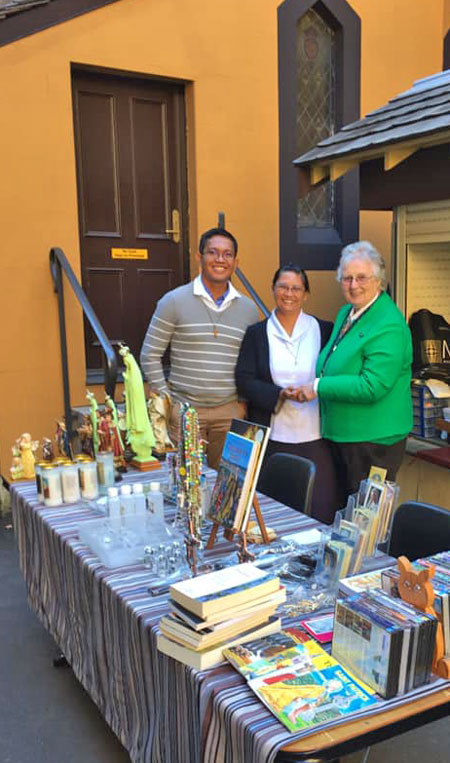 Above: Fr Long speaking at MMC's 70th anniversary celebrations | ... with Marist Laity group | ....with Srs Lilibeth and Fidelis at St Patrick's, Church Hill
Below: Speaking to students and staff at St Joseph's College, Hunters Hill | Departure time with, from left, Br Charles Randle, MMC 's Fr Paul Sullivan and Fr Gavin Foster. | Back in Davao in time for triathlon events with Balay Pasilungan lads.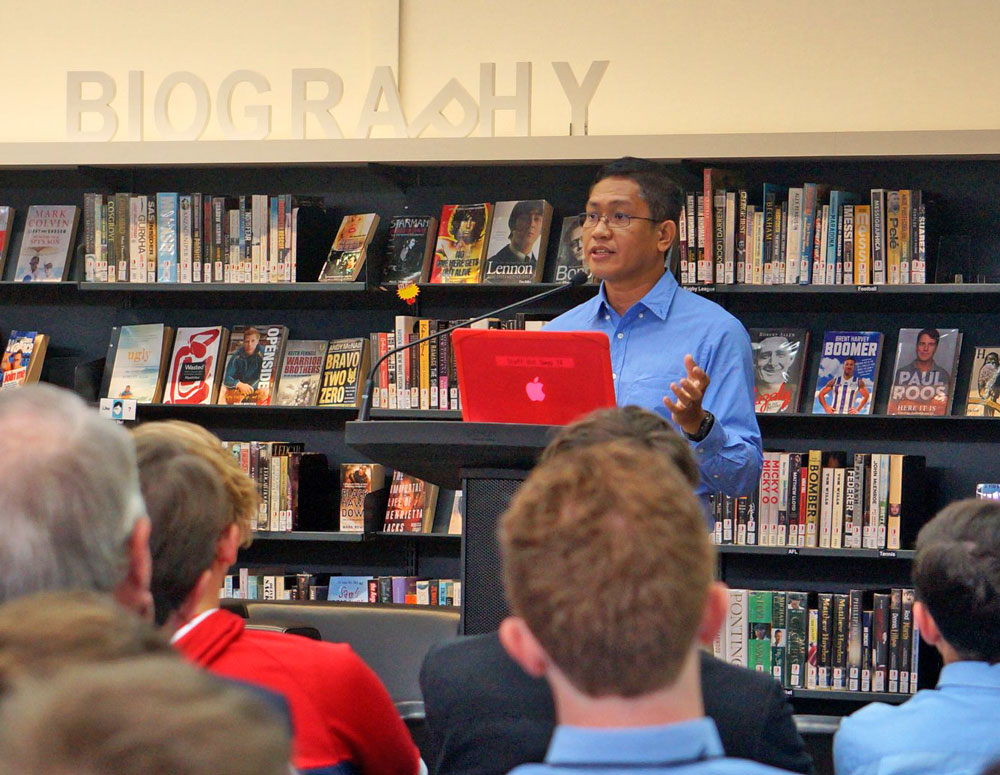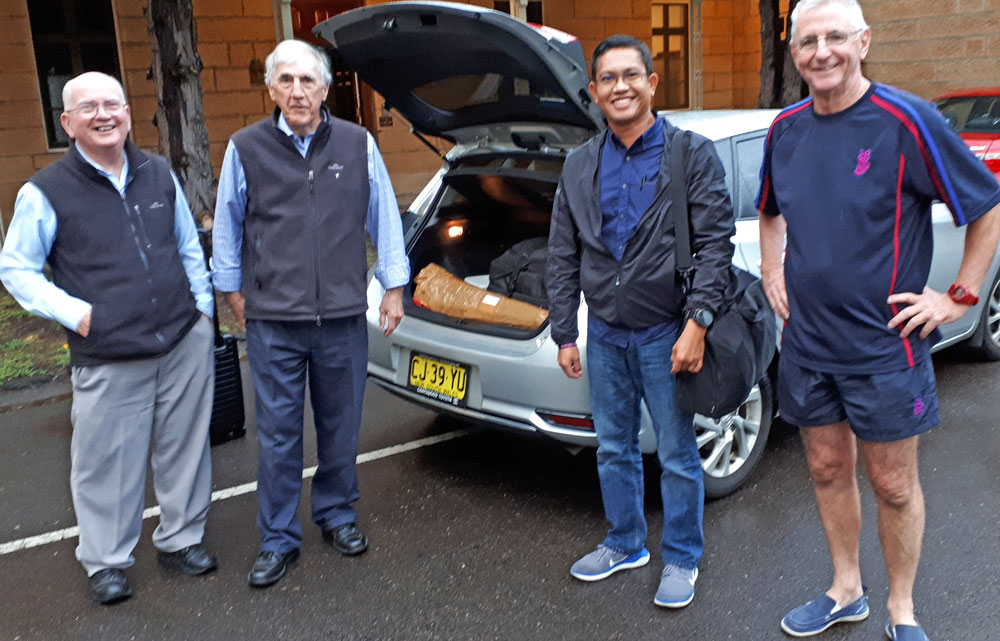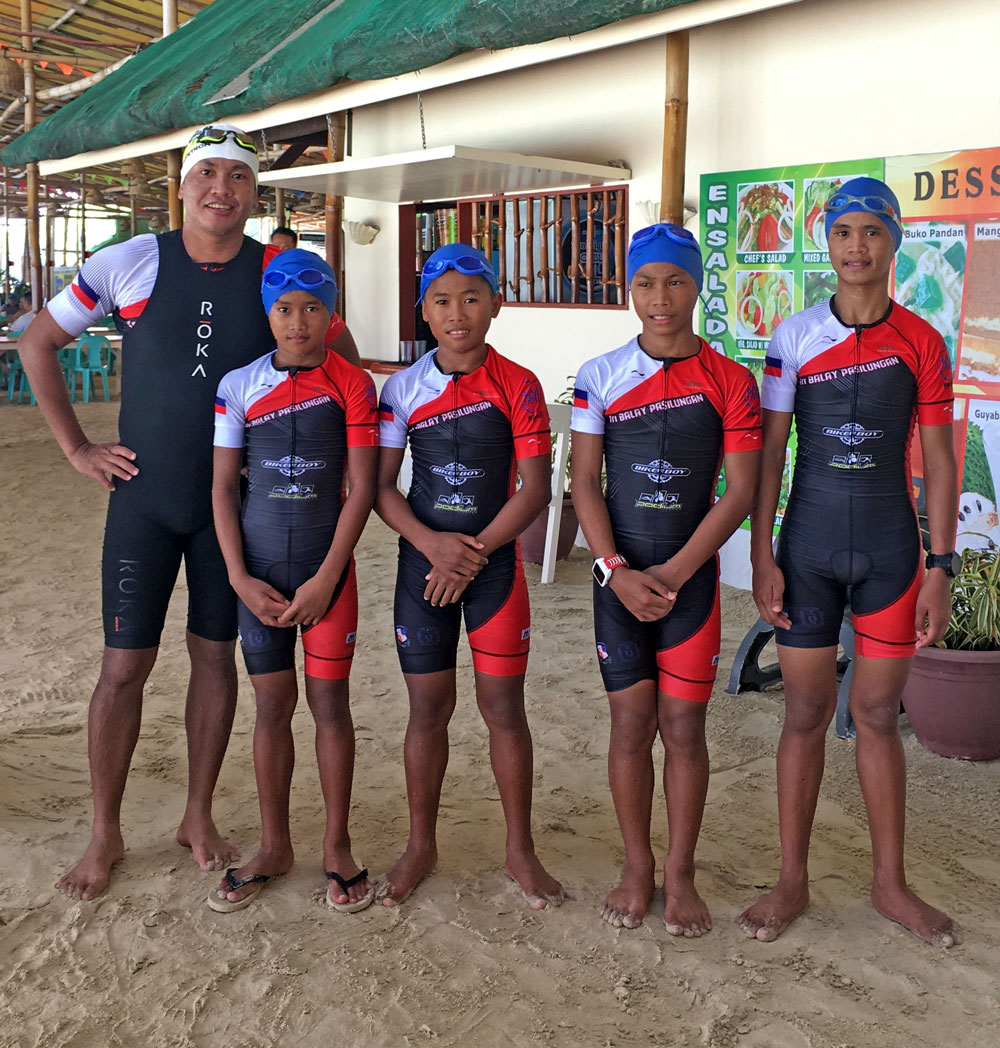 ---
Superior-General's reflection
Fr John Larsen's thoughts for May: see Members' Page.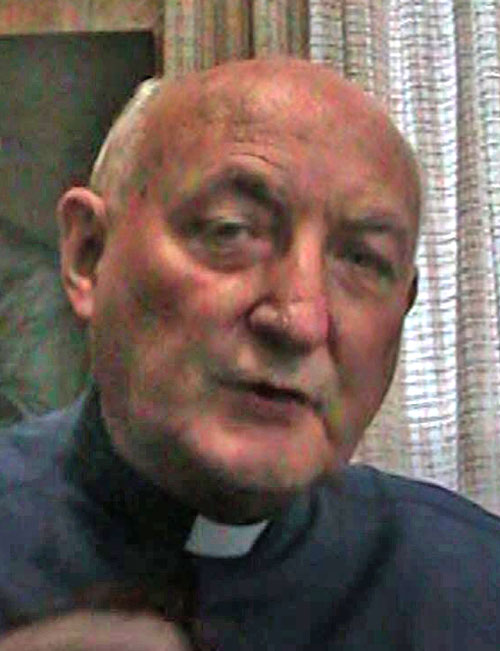 ---
70 years of MMC
The parish hall of Holy Name of Mary parish, Hunters Hill, was the venue for a celebration on May 01 to mark the 70th anniversary of the Marist Mission Centre. One hundred and thirty invitees included missionary priests, brothers, sisters and laity, MMC donors, former directors, staff and advisory board members.
The morning event included a video message from Superior-General, Fr John Larsen, a PowerPoint presentation spanning MMC's 70 years, and addresses by Marist provincial, Fr Tony Corcoran, visiting Filipino missionaries Sr Lilibeth and Fr Lionel Mechavez, MMC's director, Fr Paul Sullivan, and advisory board chairperson, Sr Gail Reneker.
After the event, Fr Paul commented: 'People were most grateful for the recognition and acknowledgement of the whole network of people involved in the MMC over the years – namely a trinity of three interconnected parts involving: - missionaries - supporters/ volunteers and - the various organizational teams.' [May 04]

Above: MMC director, Fr Paul Sullivan, introduces missionaries, former directors, staff and board members.
Below: Provincial, Fr Tony Corcoran, addresses the gathering. | Video message from Superior-General, Fr John Larsen.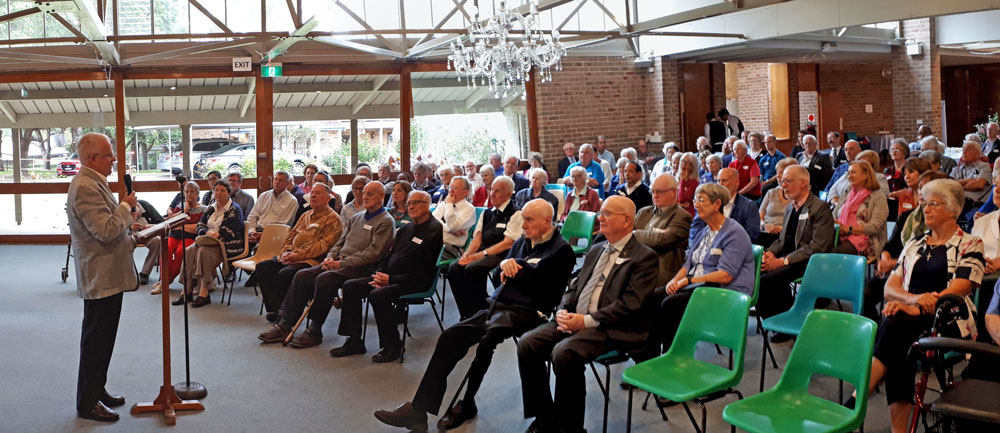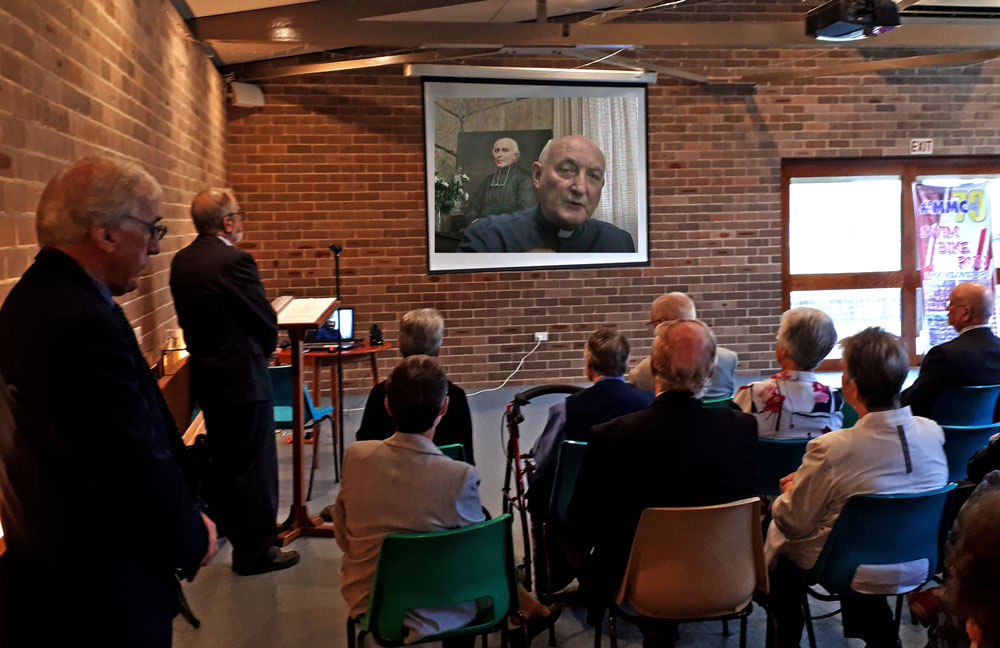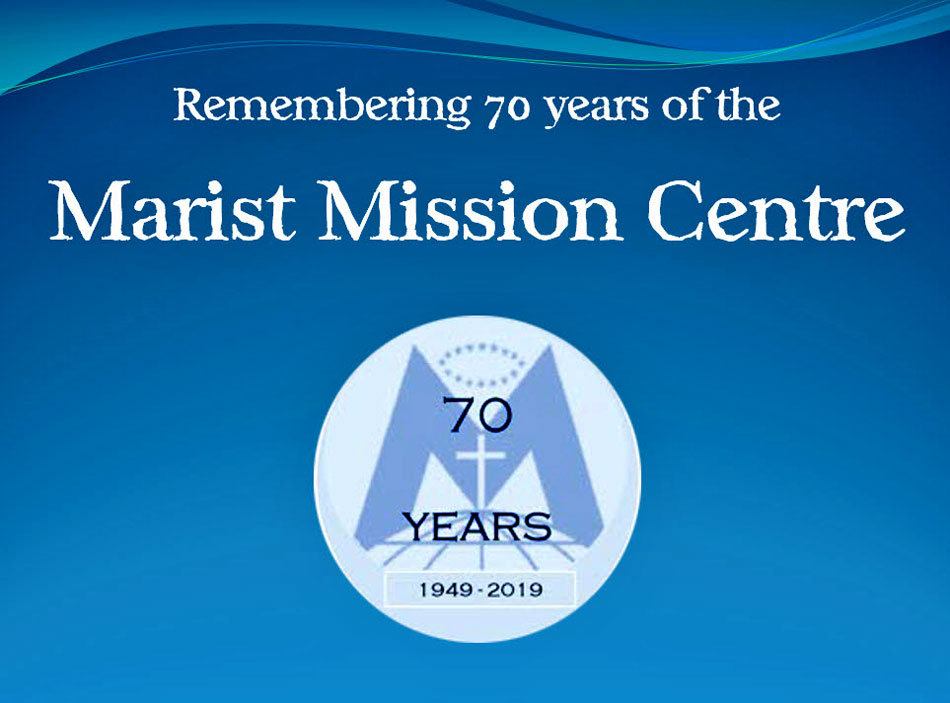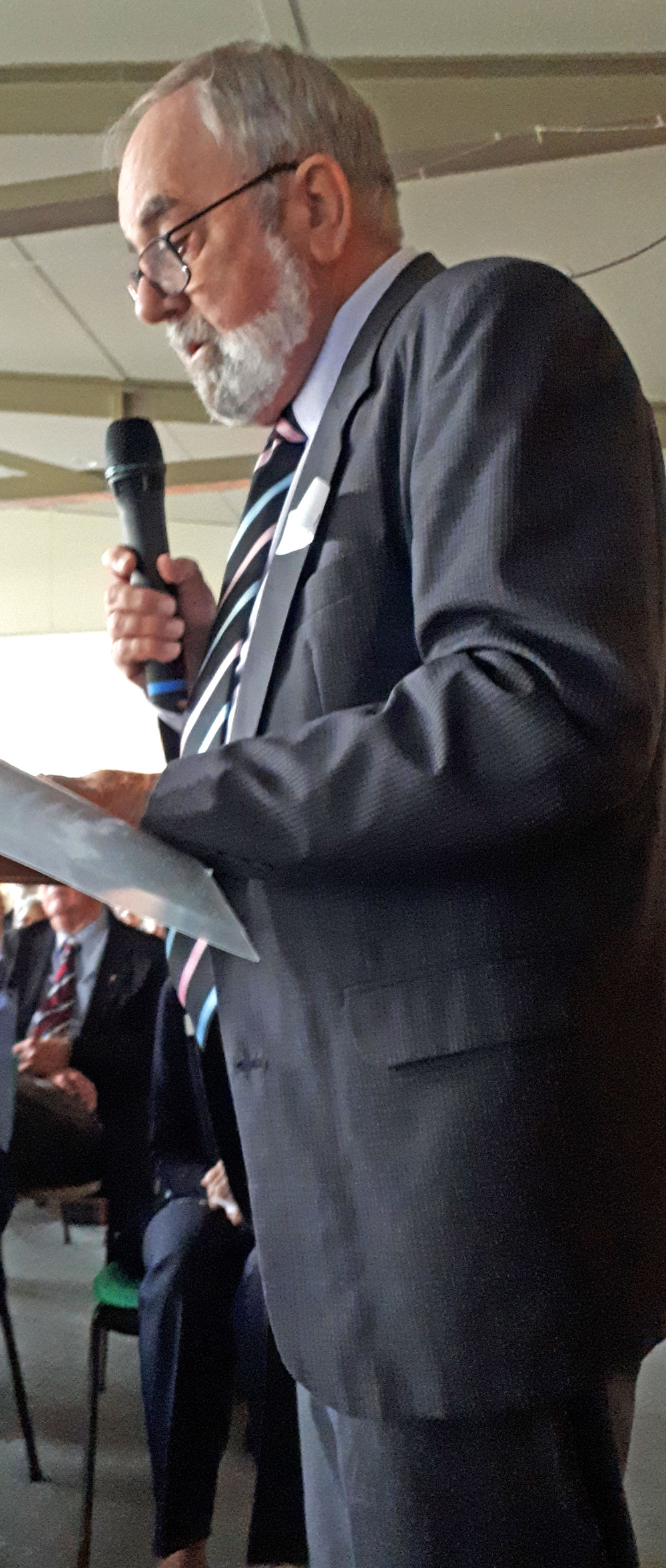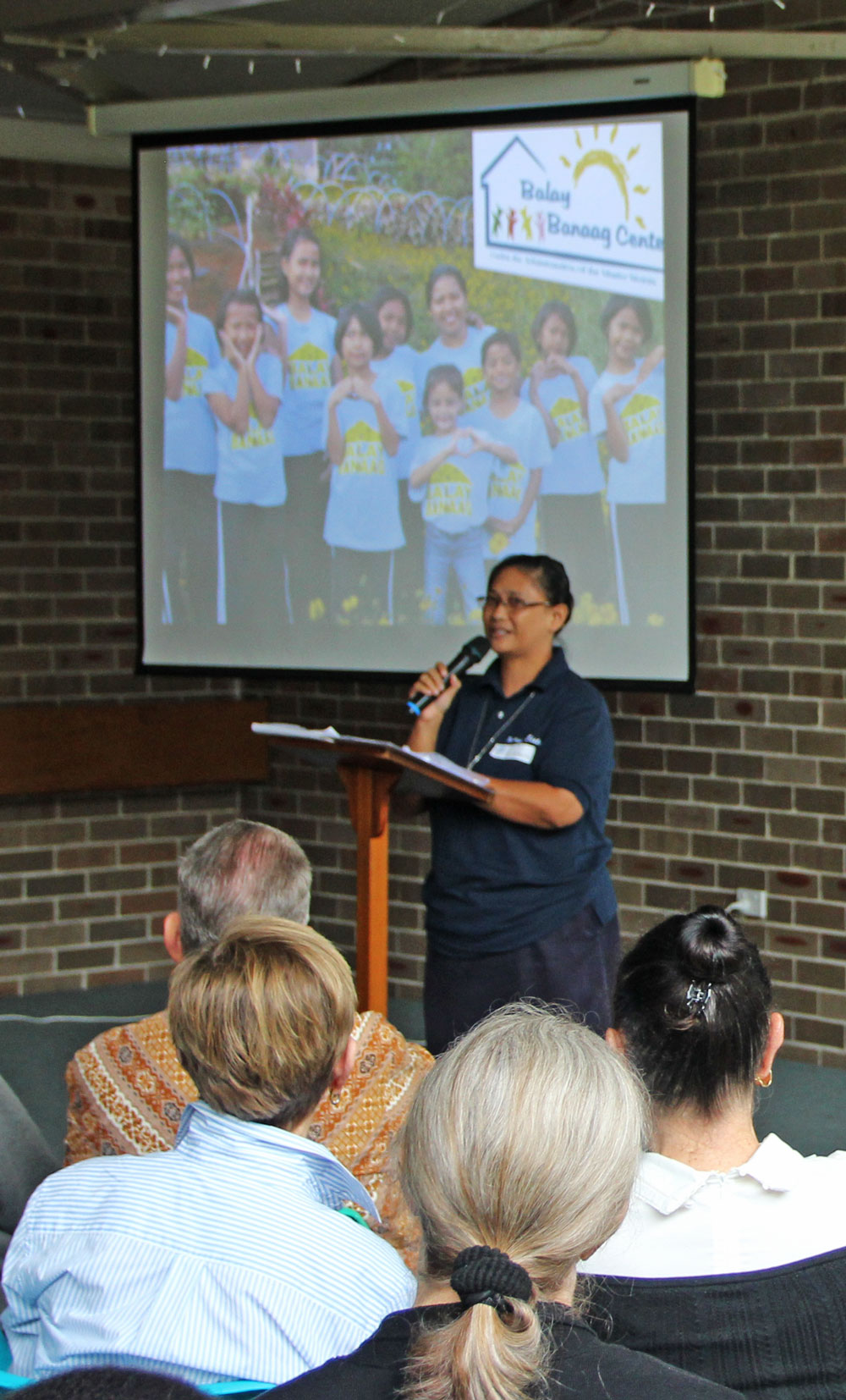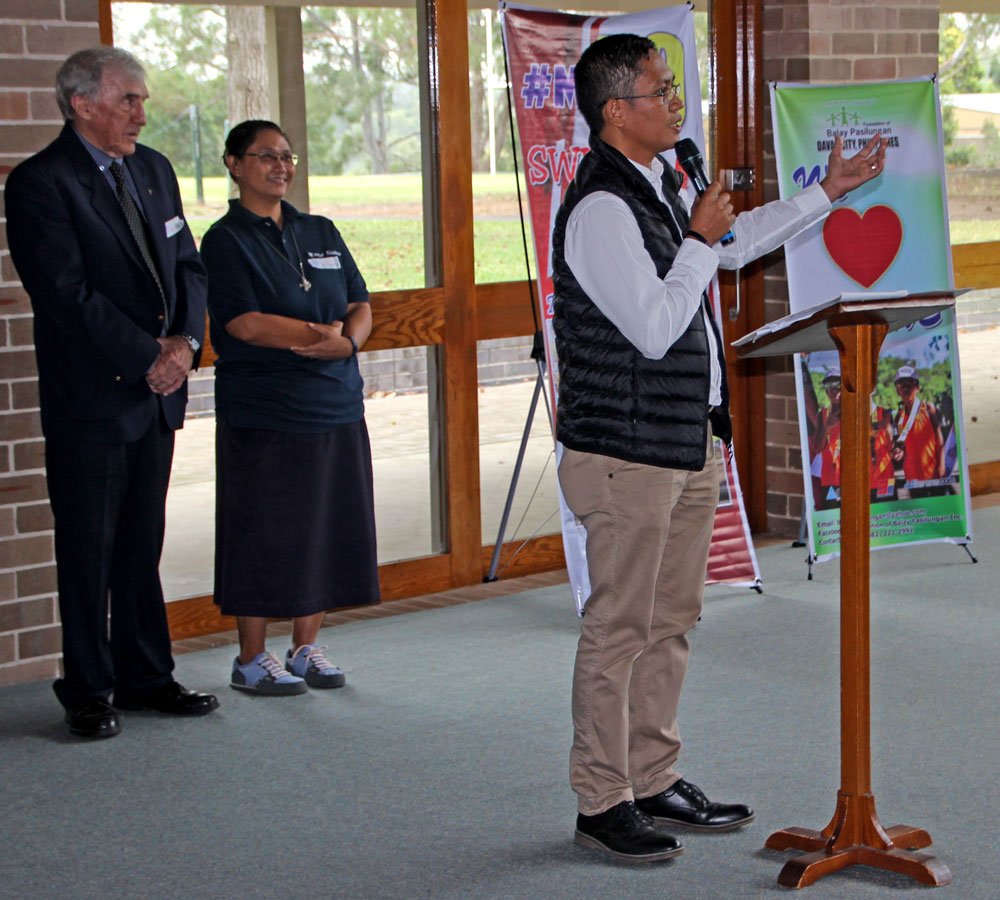 Above: Former MMC director, Fr Jim Carty, gives a PowerPoint commentary on MMC's origins and its 70-year history. | Sr Lilibeth and Fr Lionel.
Below: Fr Paul Sullivan and Sr Gail Reneker | Former missionaries, Frs David Wilson, Sid Nugent and Paul Glynn.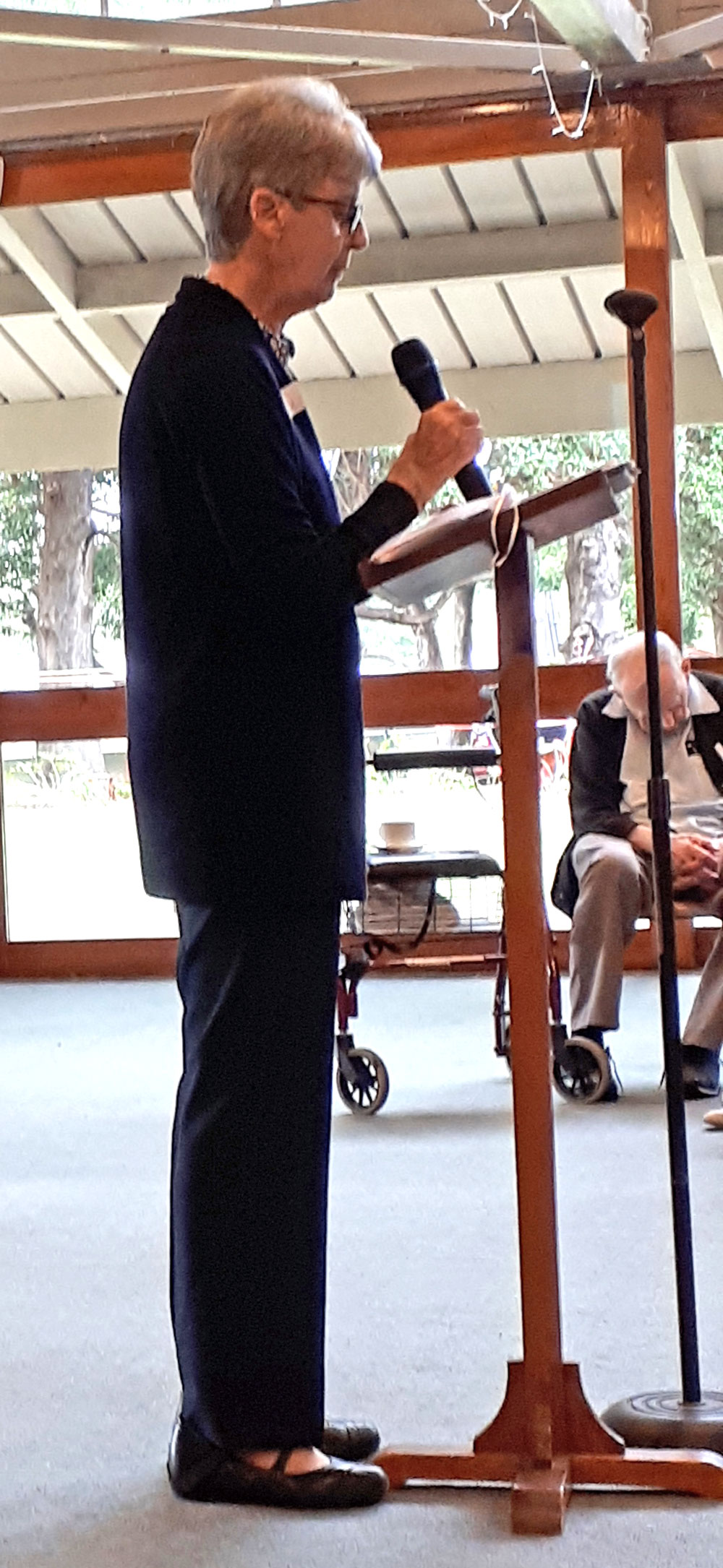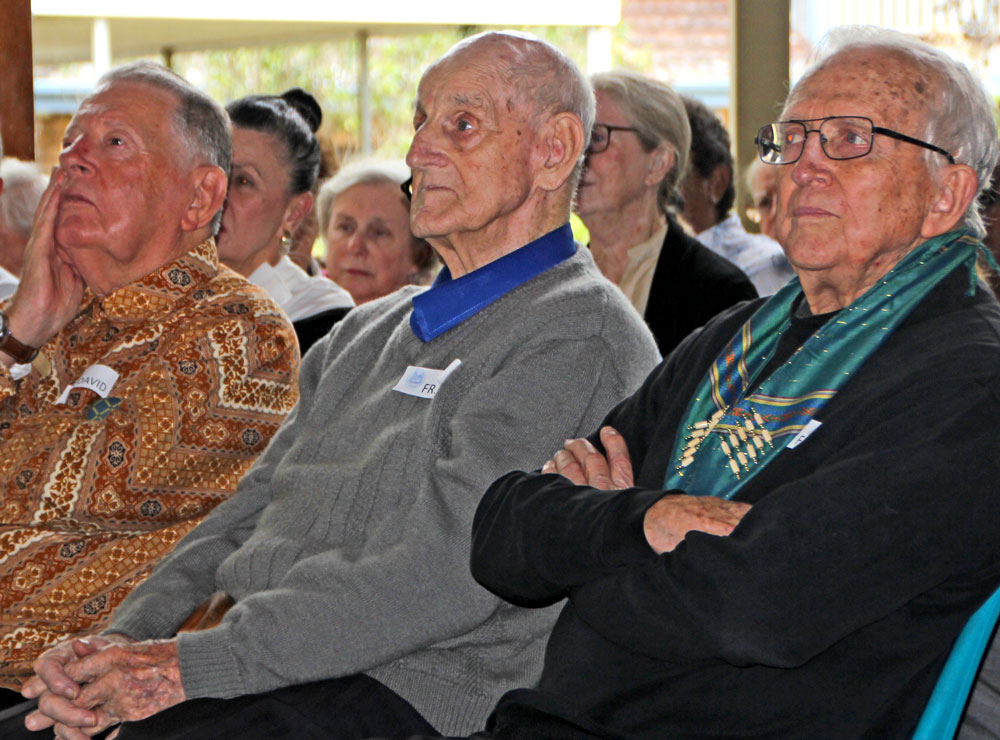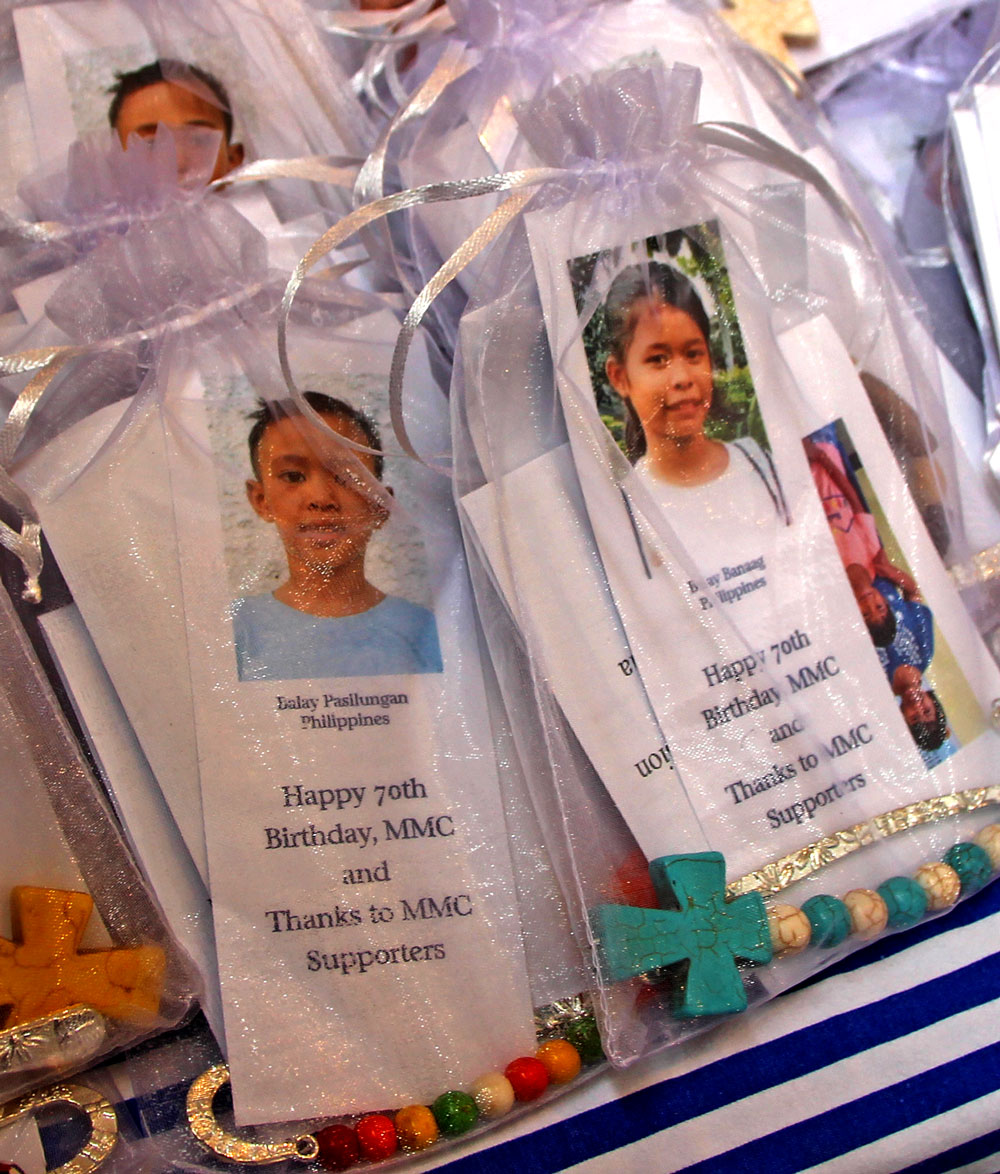 Scenes in the parish hall: Marist display | Gift packs for each participant .
Below: Marist Laity group with Fr Lionel Mechavez | Burmese Catholic community members with Fr Michael Rego | Morning tea.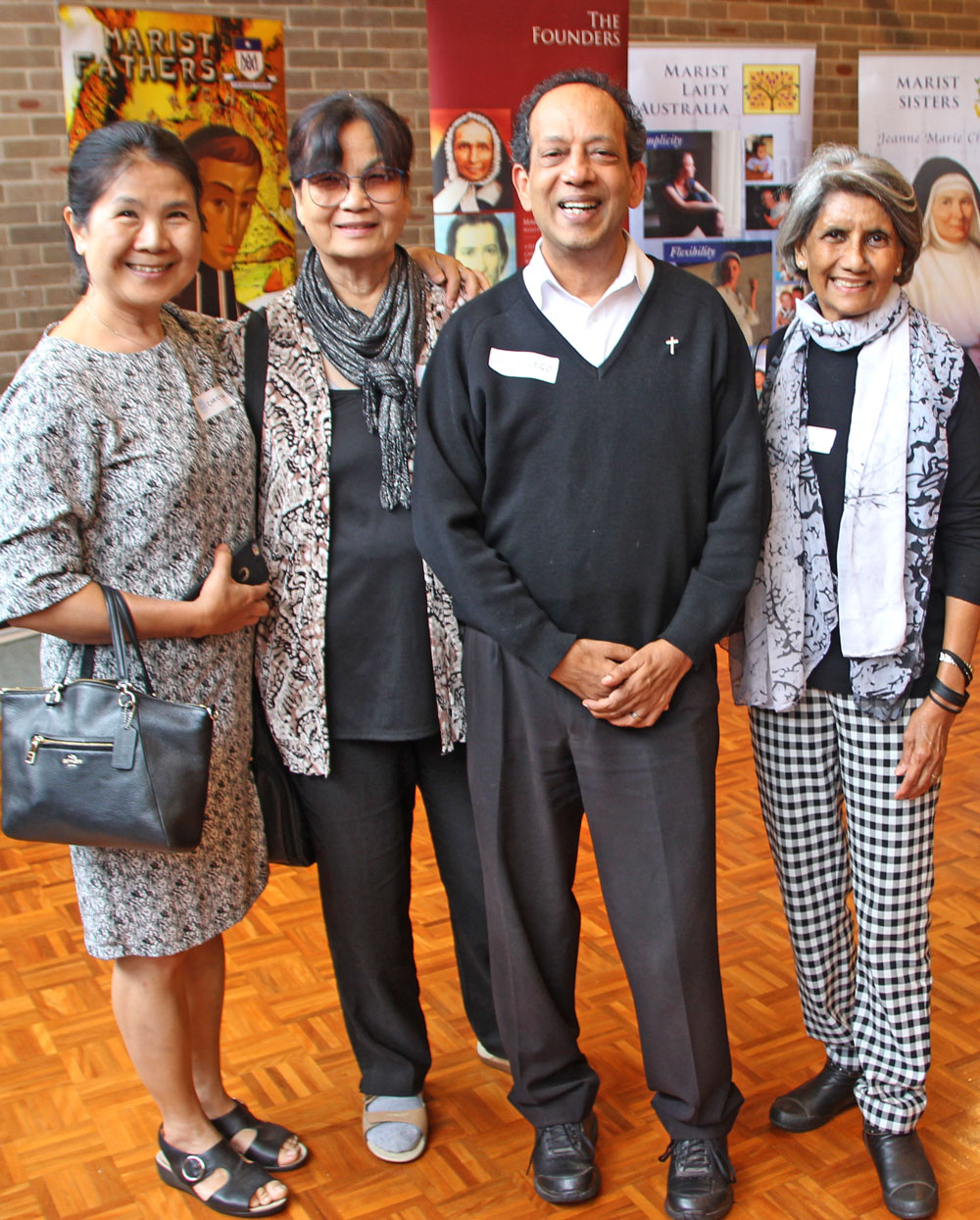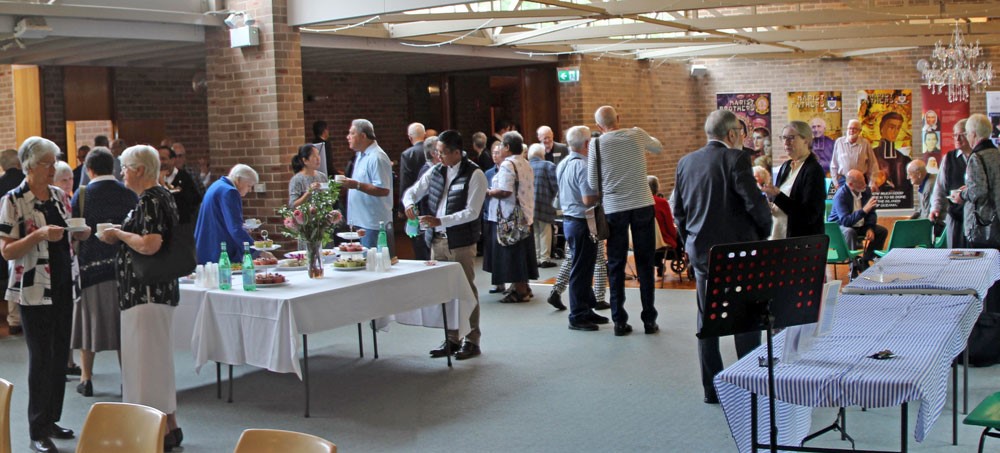 ---
Provincial Circular
Latest issue at Members' Page [May 03]

---