---
Click here for News 2008 to 2017 | For News 2018 and 2019 go to News 2020 tab above.
---
New page for Superior-General
Under the 'Contacts' tab (see menu, above) there is a new page link for the monthly reflections of Superior-General, Fr John Larsen SM.
Published early each month, Fr John's reflections are now available from the beginning of 2018. The single-page reflections, thoughtful and often challenging, focus on a wide range of topics, some seasonal, others flowing from Fr John's visits to Marists and their missions throughout the world.
To go the page, click here. [Jan 13]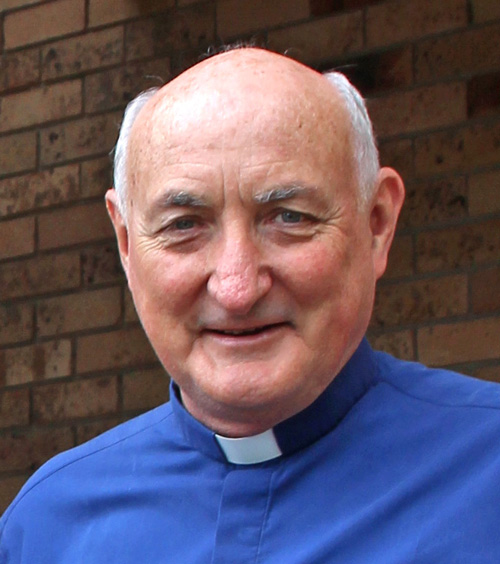 ---
The Breakthrough
Chapter 13 of Fr Justin Taylor's biography 'Jean-Claude Colin, Reluctant Founder' is entitiled 'The Breakthrough', describing the period (1834-36) leading up to the Society of Mary's approval by Rome. A turning point came when mission-minded Pope Gregory XVI entrusted to the Society of Mary the missions of the south-west Pacific. Jan 10 marks the anniversary of this event in 1836.
For details of the biography, click here. [Jan 10]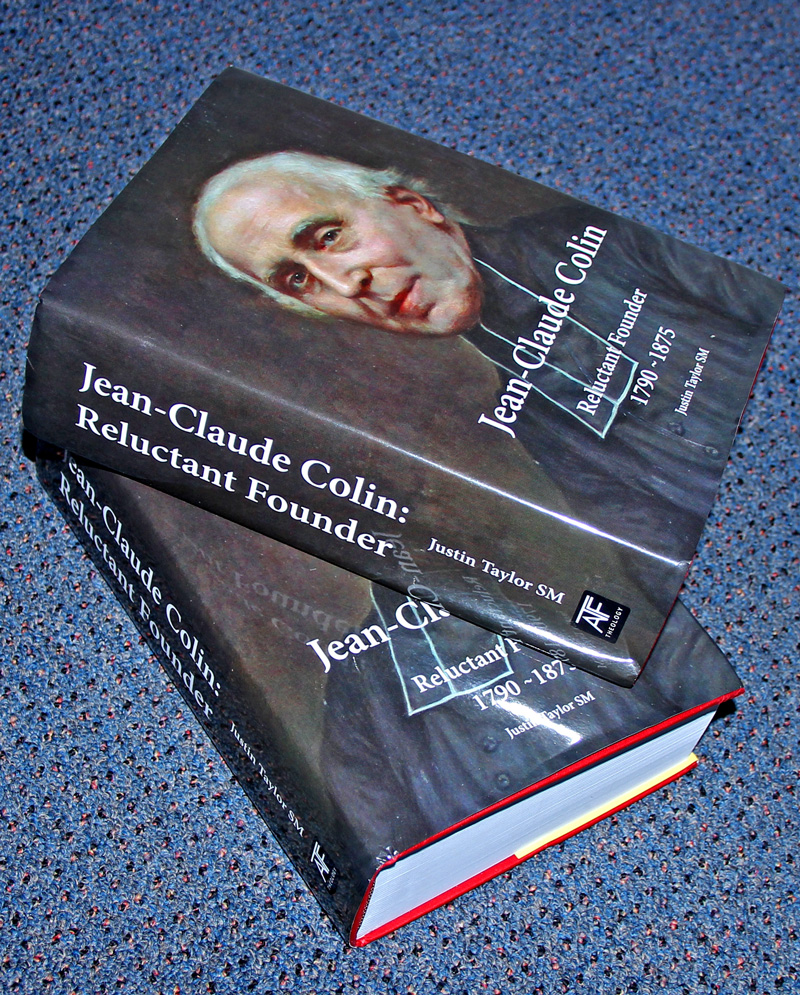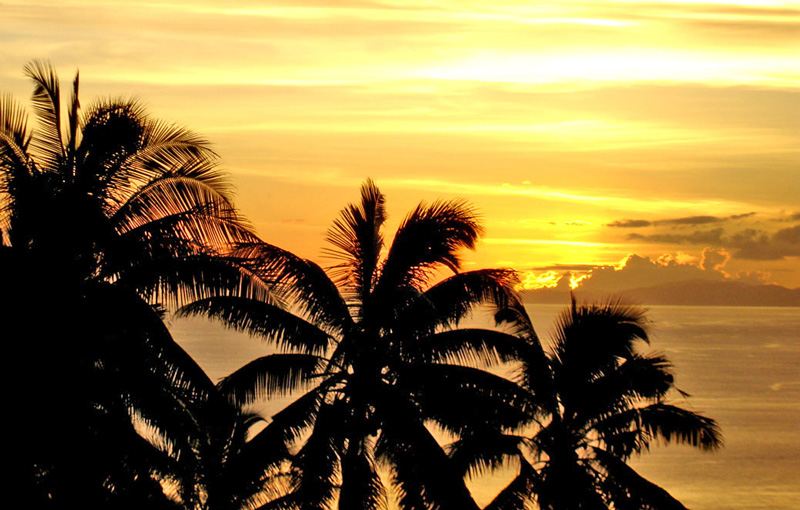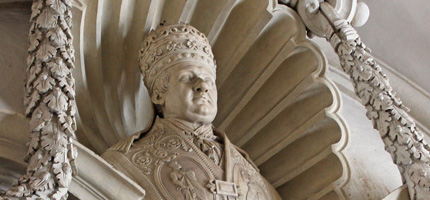 ---
Five new Marists
In a ceremony at the Marist International Novitiate, Davaio, Philippines, on Jan 08, five young men took their first vows ain the Society of Mary. The event was attended by a large group of local friends and lay Marists, as well as MICs (Marist Interested College students) from St Peter Chanel's community in Davao.
The newly-professed Marists will continue their studies at the International Theologate, Rome, and at Pacific Regional Seminary, Suva, Fiji. [Jan 09]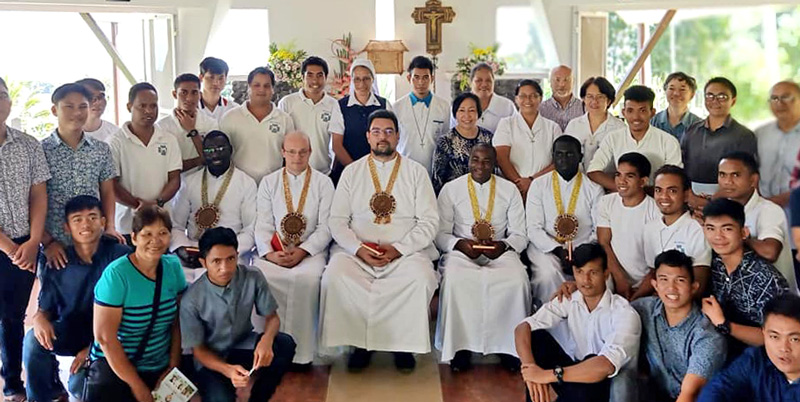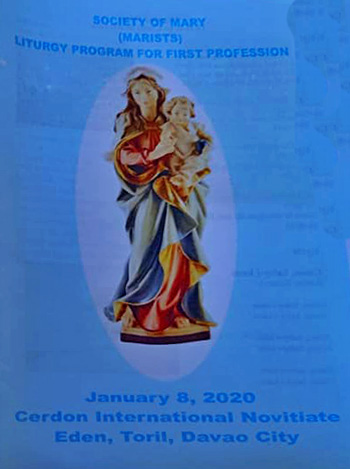 Above: The newly-professed Marists, Lesley Kinana (Oceania), Niklas Rodewald (USA), Hemi Ropata (NZ), Clinton Kube (Africa) and Leonard Amora (Oceania), surrounded by friends from Davao City and beyond. Below: 'MICs' in the International Novitiate grounds.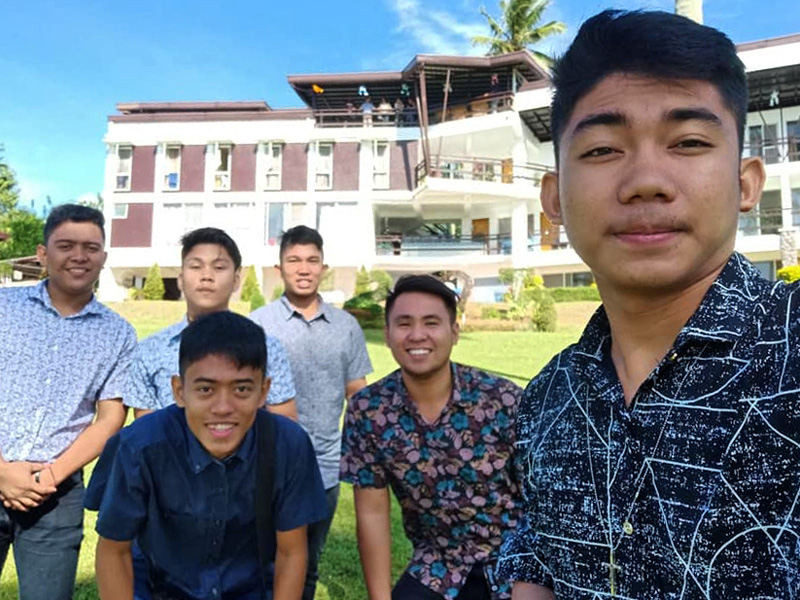 ---
Marist news from Europe
The latest Euroinfo announces a new focus: on coming rather than past events in the Marist provice of Europe.
To download, click here. [Jan 08]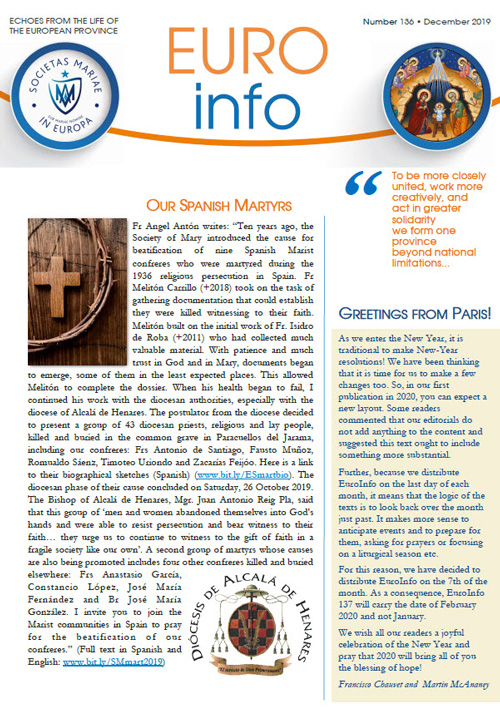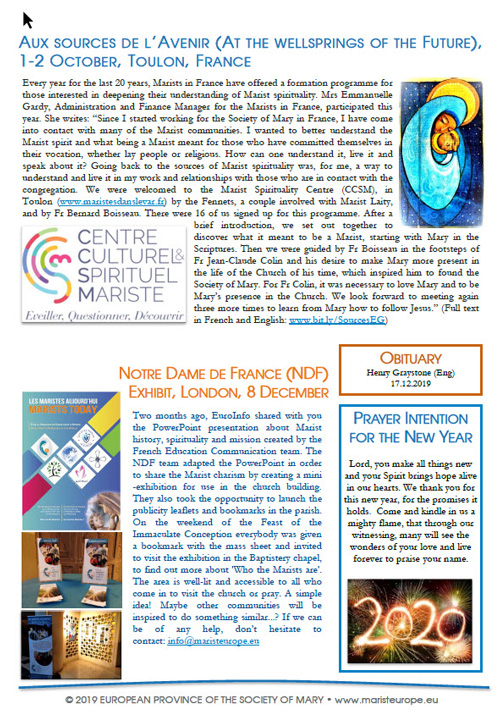 ---
Fr Jim's 'new evangelisation'
At 96 years of age, Fr Jim Esler SM, is discovering a new ministry of evangelisation at the Southern Cross Aged Care facility, Marsfield, NSW.
Visited recently by Marist Assistant-General, Fr Ben McKenna, Fr Jim shared the growing opportunities he finds in his retirement setting for living the Gospel among staff and fellow residents. 'For example', he remarked, 'every morning several of the nursing staff come to me to begin their working day with a blessing.'
Still an avid reader and correspondent, Fr Jim celebrated 64 years of priesthood on Jan 04.
He is pictured below congratulated by Fr Ben on his anniversary day [Jan 06]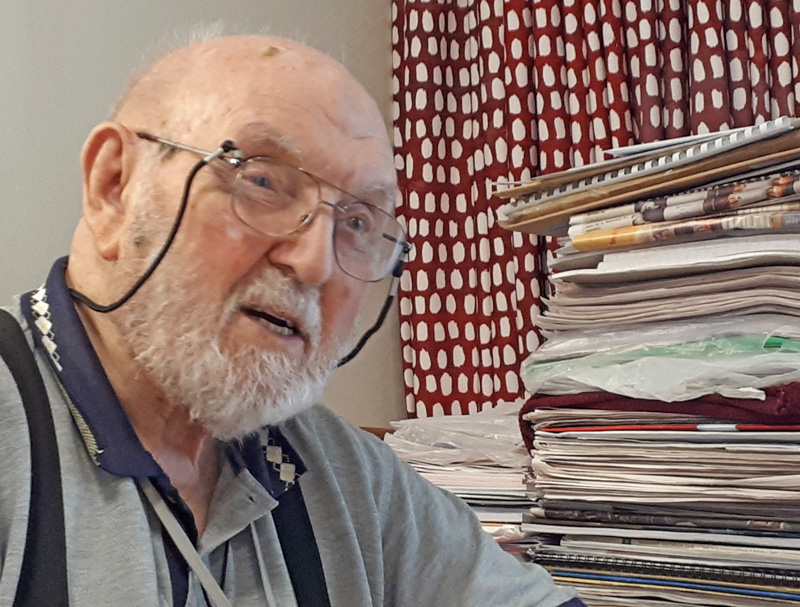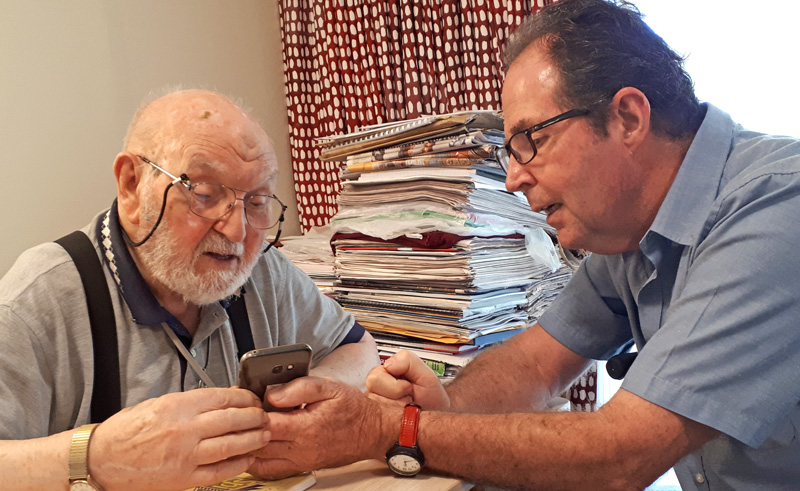 ---
Superior-General's reflection
Fr John Larsen's monthly reflection encourages Marists to follow 'a different way' after the example of the Magi. Go to Members' Page. [Jan 04]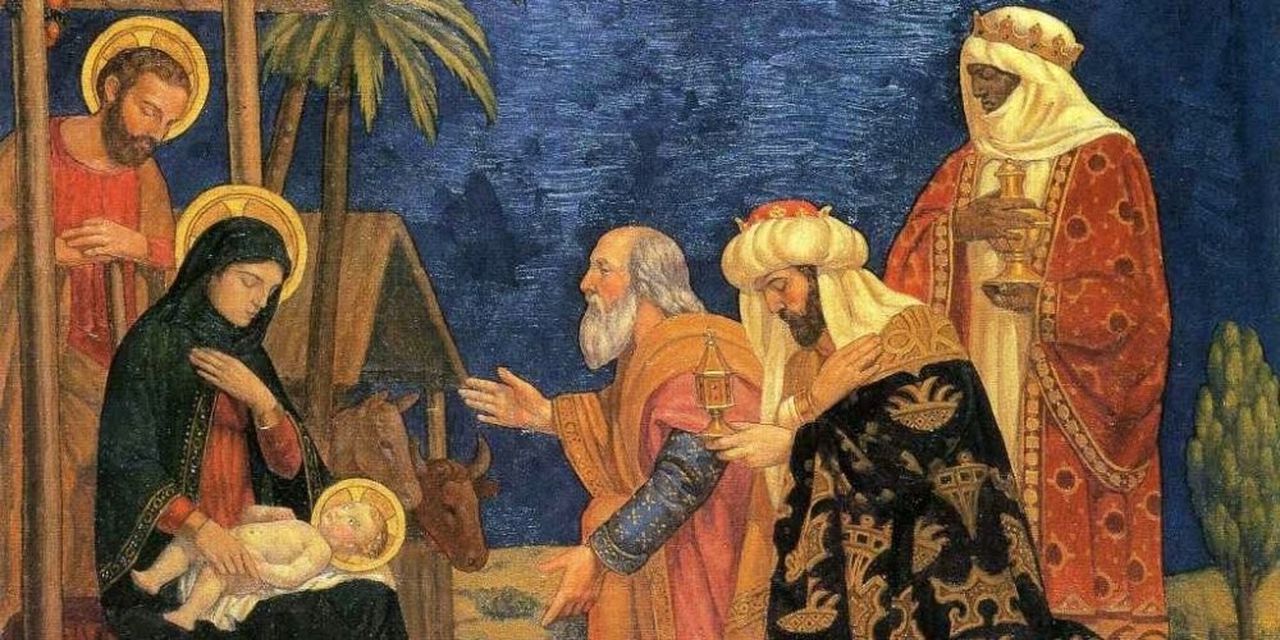 ---
Timo's story
Timothy Ehklokweh ('Timo' to his friends) is now an Australian citizen. Born in Karen State, Myanmar, in 1988, Timo's story reflects the success of the Marist Mission Centre's sowing seeds of hope, education and development along the Thai-Burma border for over twenty years.
Following his citizenship ceremony on Dec 18 in Brunswick, Melbourne, Timo commented: 'I especially want to thank MMC for being such a great support when we had nothing to live on or study with in the refugee camp. MMC offered great influences to me and helped a lot of young Karen to grow up with faith and education. Thank you, thank you!'
The images below tell something of Timo's story.... [Jan 02]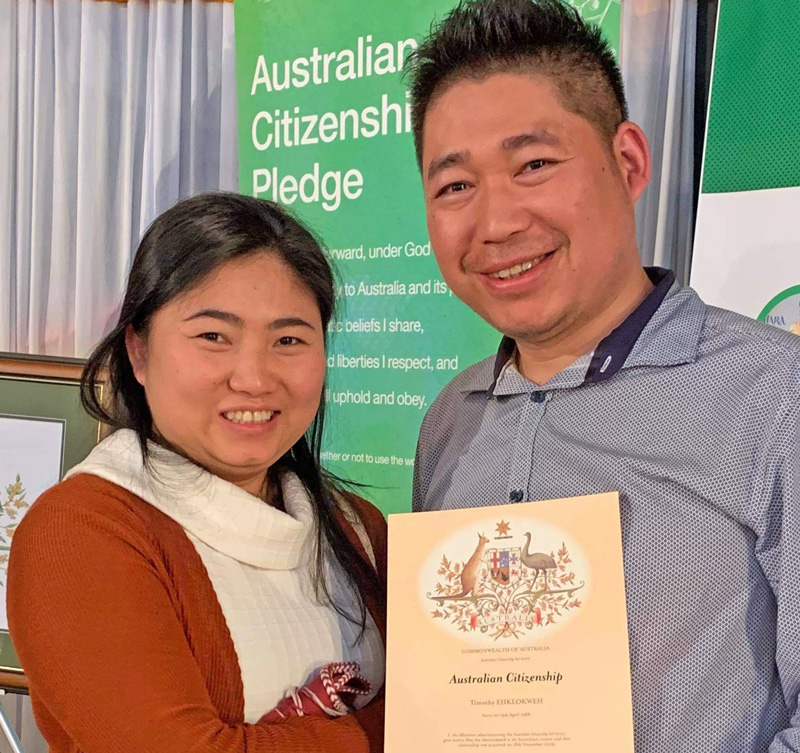 Above: A smiling Timo becomes an 'Aussie' | .... with his wife, Su Su.
Below: Timo as a 15-yr-old at MMC Hostel, Maera Moo refugee camp on the Tha-Burma border, 2004. Sent by anxious parents from his home village in Karen State, Myanmar, to the safety of Maera Moo, Timo began primary school at the camp, moving to high school during his MMC Hostel years. | ...with his sister, Lu Lu Paw, at MMC Hostel, 2005 | ... learning music from Hostel carer, Paul Heh Htoo Moo, himself a product of MMC's Leadership & Management program at Mae La refugee camp. MMC funded several L&M centres in the border camps of Mae La, Mae Khong Kha, Mae La Oon and Mae Hong Son.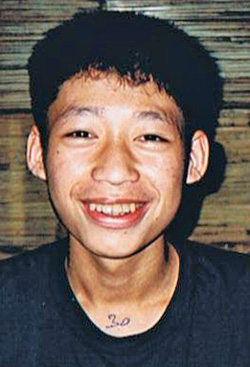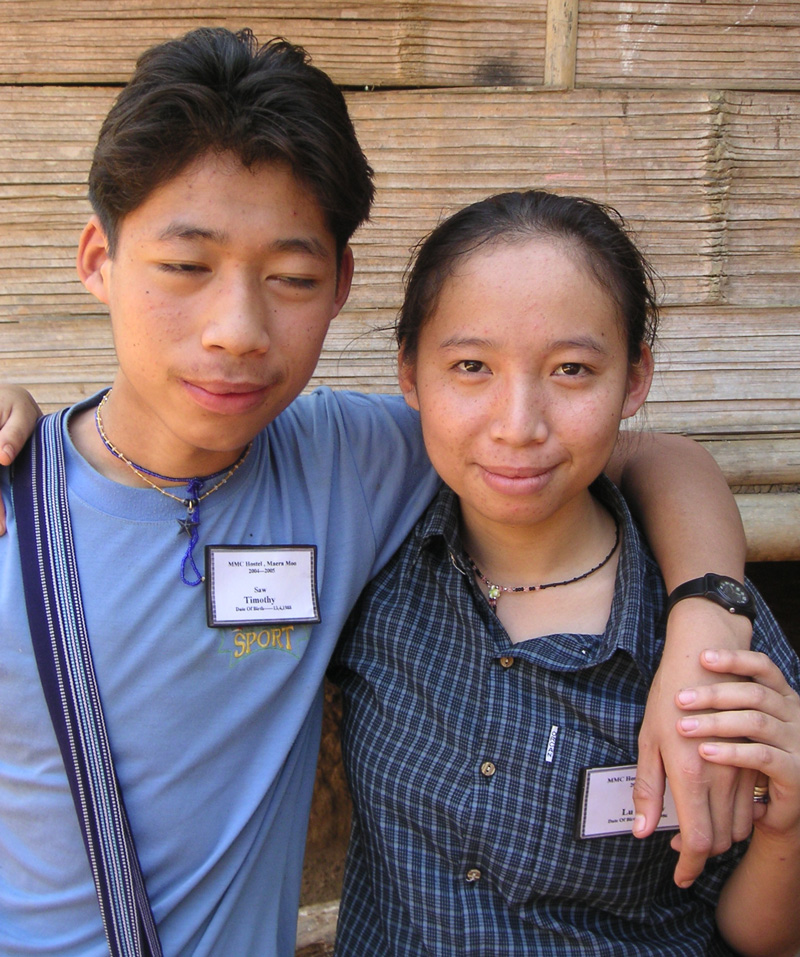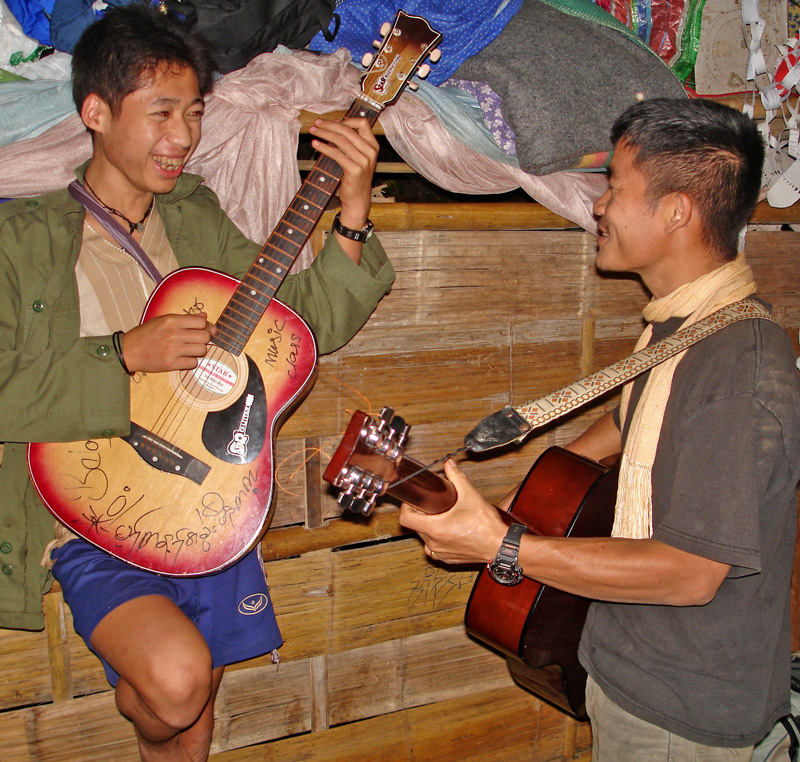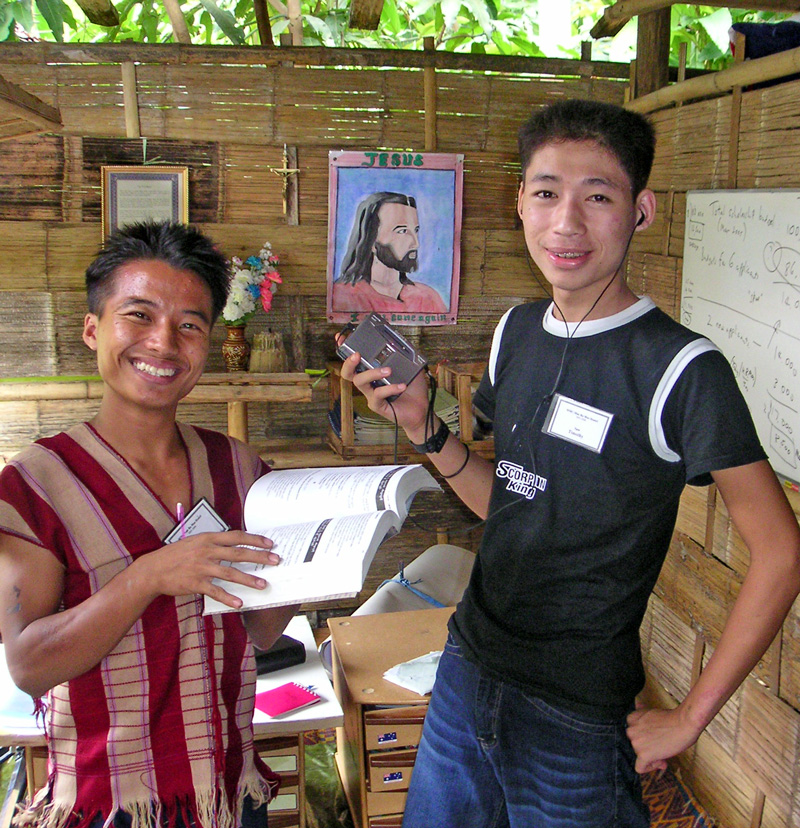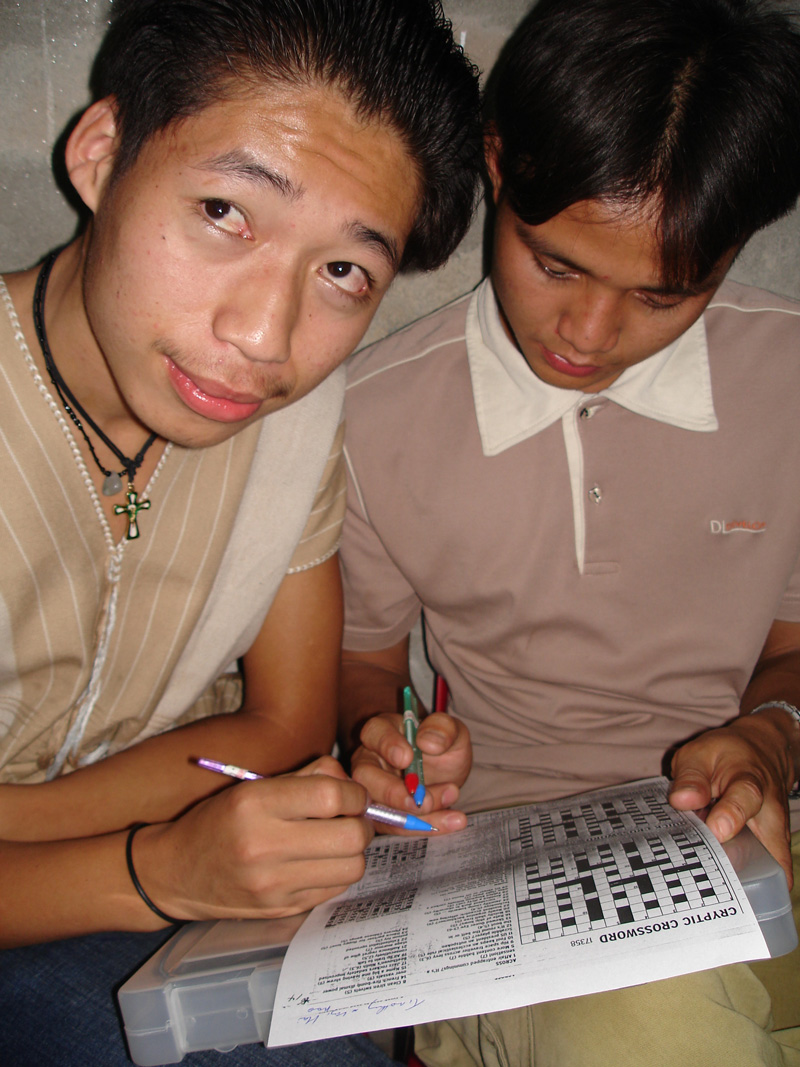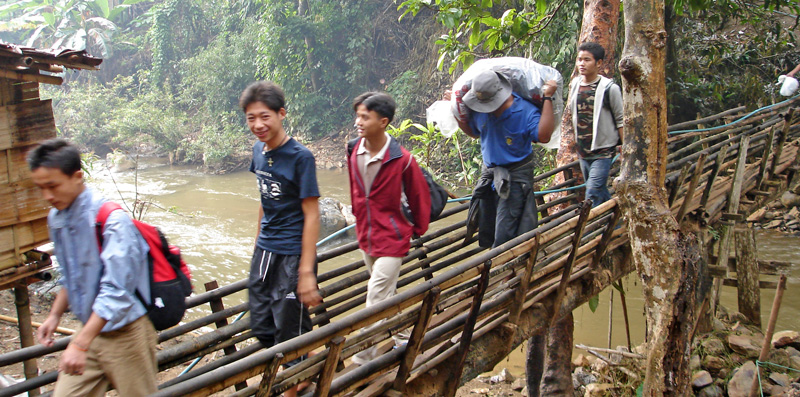 Above: Timo with fellow hostel students during MMC's scholarship program 2005. The refugee youth could choose English language, music or art skill development. | Hostel students (Timo, second from left) helping MMC's 'The Other Half' program visitors at Maera Moo camp.
Below: Timo and hostellers with TOH 2004. | MMC's 'Chanel House' project in Maesot, Thailand, 2006, saw Timo (front centre) in an initiative encouraging self-study and online research. All 'Chanelians' are now resettled in Australia, Canada and USA.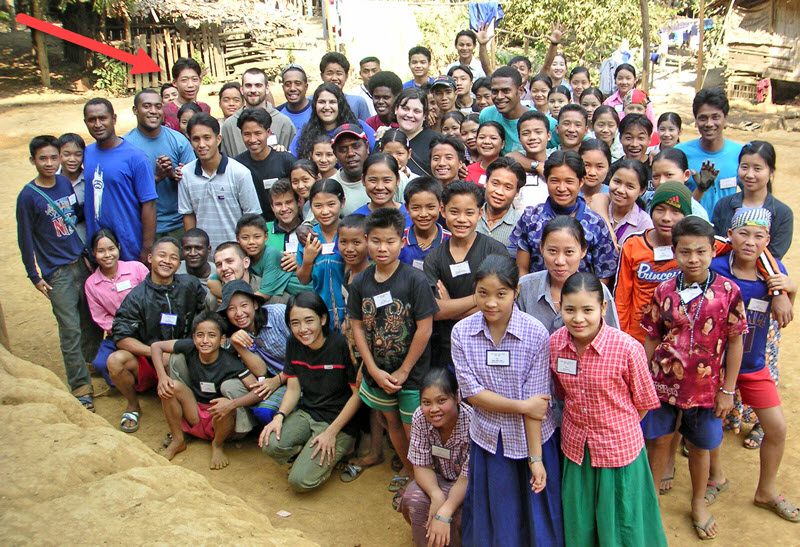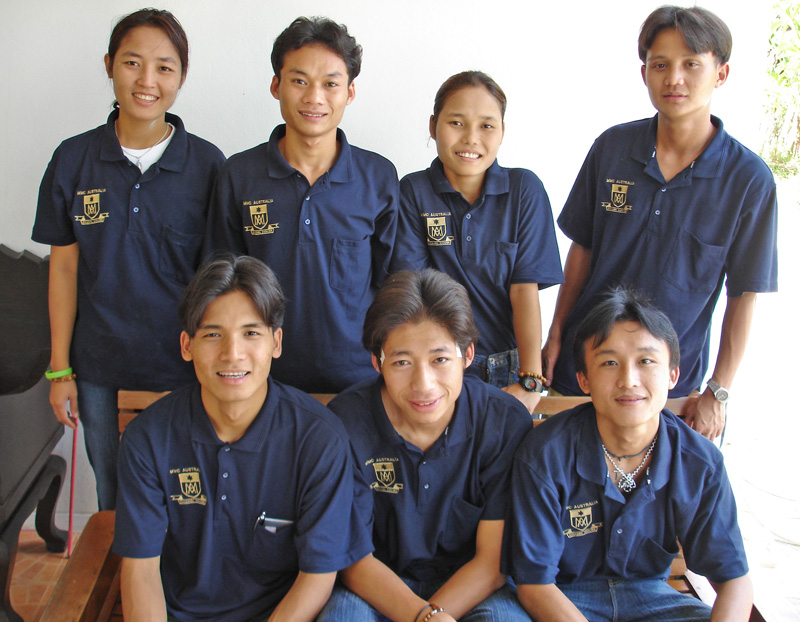 Below: Timo arrives in Australia at Sydney airport, Oct 2013. | His wedding to Su Su, Melbourne, Dec 2013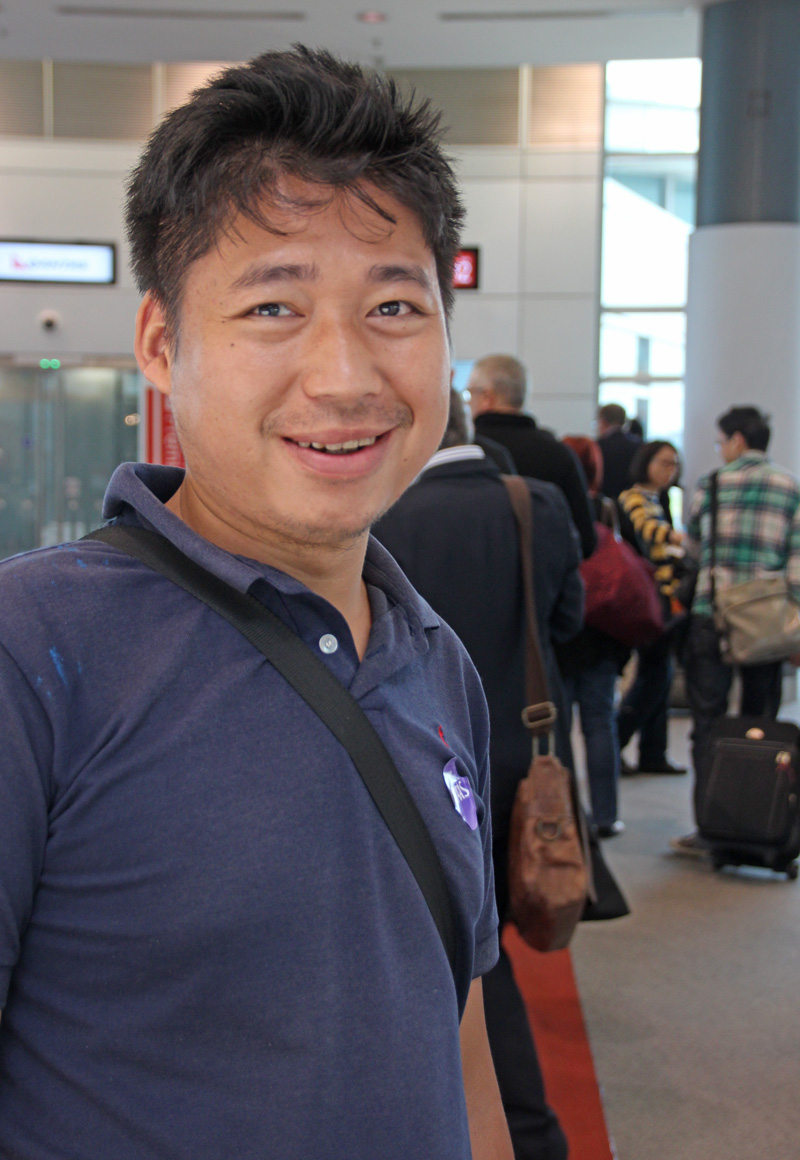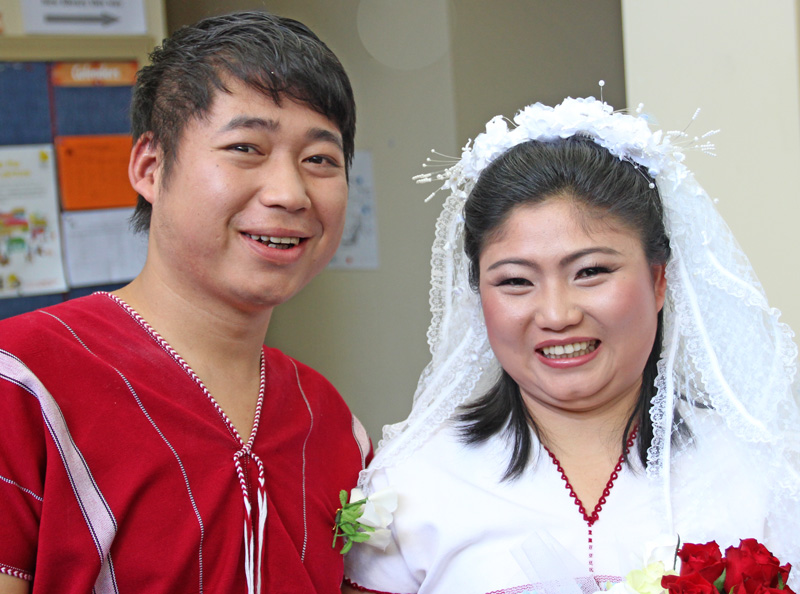 ---