---
January news
Colin calendar: 2021

Click here for News 2008 to 2017 | For News 2018 to 2020 click here.
---
SM Bulletin
The first SM Bulletin for 2021 celebrates ordinations, professions and new novices. Click here or go to Members' Page. [Jan 15]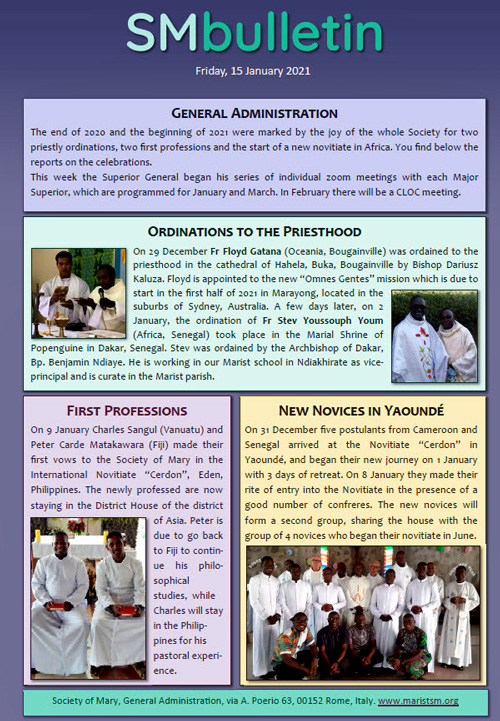 ---
Ranong report
From Ranong, southern Thailand, Fr Frank Bird SM sends the annual report of the Marist Asia Foundation. Its thirty pages offer a comprehensive summary of a challenging year spent among Burmese migrant workers and their families during the pandemic. Fr Frank gratefully notes the presence of Australian Marist, Fr Kevin Redmond, (pictured below surrounded by Ranong students and with Fr Frank) whose extended stay will shortly end as he returns to Australia for the start of the new mission venture at Marayong, NSW.
For the MAF report: click here. [Jan 15)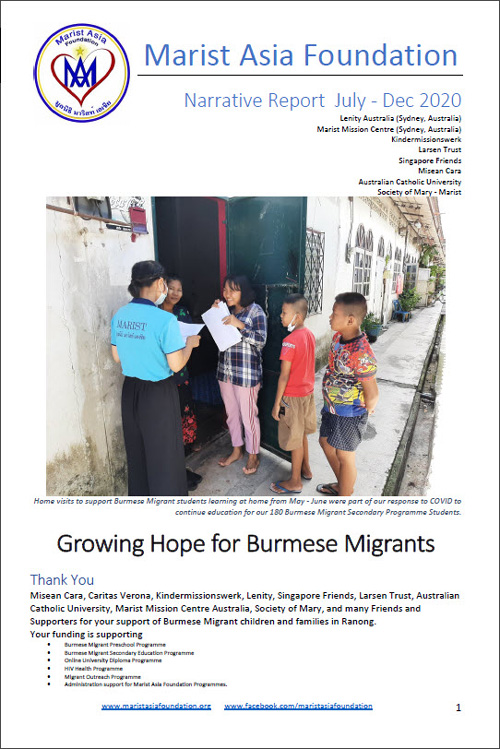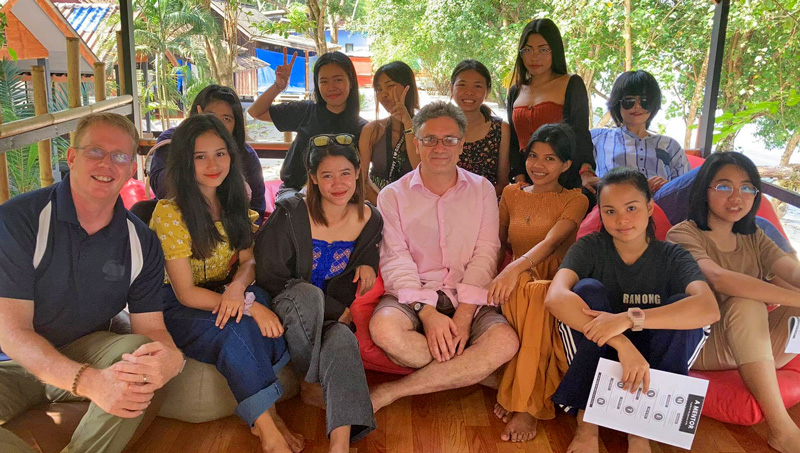 ---
Two new Marists
From Davao, Phlippines, the Marist Mission District of Asia reports on the Jan 09 profession of two young men at the Marist International Novitiate: 'Congratulations to Charles Sangul SM (Vanuatu) and Peter Carde Matakawara SM (Fiji) who made their first religious vows to the Society of Mary at Cerdon International Novitiate in Davao today.

'May God grant them the grace they need to follow Christ more closely and to bear the name of Mary.'
Yes, congratultions to Charles and Peter ! (pictured below, seated, with members of the novitiate staff and Mission District of Asia) [Jan 11]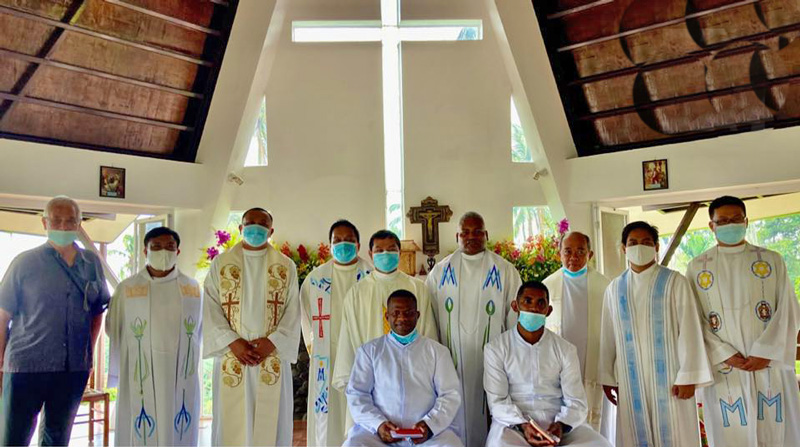 ---
Marists and Sustainability
Superior-General, Fr John Larsen's first reflection for 2021 focuses on practical issues of sustainability. Speaking of 'ecological conversion' it is accompanied by a 'Sustainability Covenant' developed by the Marist Ecological Commission and adopted by the General Council of the Society of Mary as a model for Marist communities worldwide.
Click for: Superior-General's reflection | Sustainability Covenant (The Sustainability Covenant is also at JPIC and on the Members' Page / 'Other documents')
For earlier reflections by Fr John Larsen, go to the Superior-General's page: click here. [Jan 09]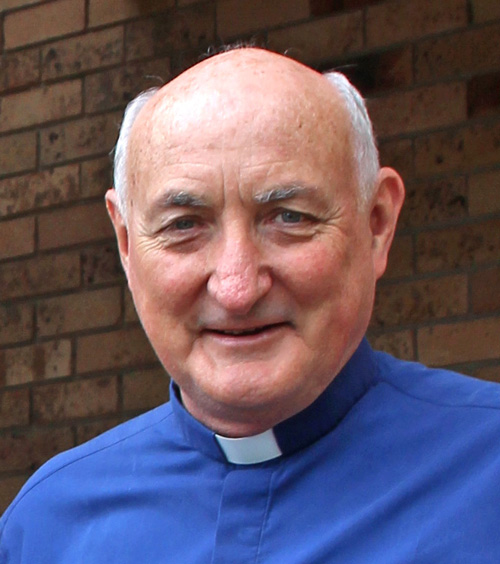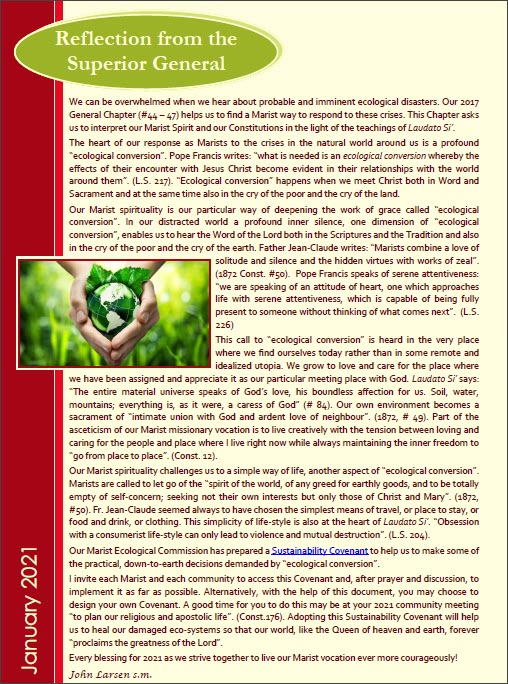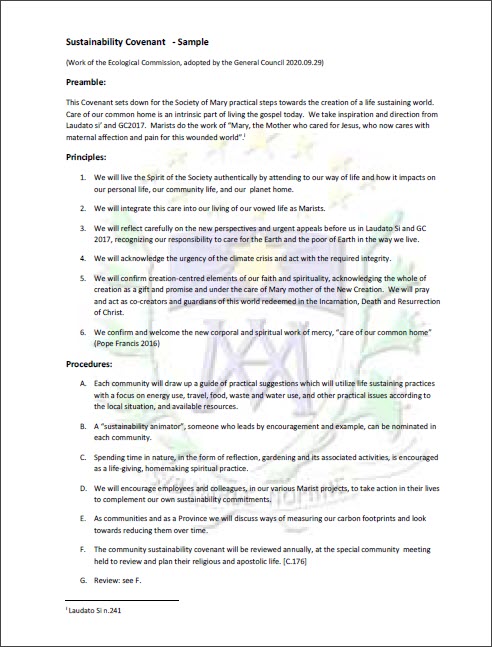 ---
Pioneer mission anniversary
On Jan 09, 1825, Frs Jean-Claude Colin and Etienne Déclas strode from the presbytery of Cerdon high in the Bugey mountains of eastern France to climb to the village of La Balme. This was to be the first renewal mission to be preached by the infant Society of Mary.
The La Balme mission, lasting for three weeks in the depths of a Bugey winter, was followed by many more in subsequent decades as the Catholic Church recovered from the assaults of the French Revolution.
Marist historian and biographer, Fr Justin Taylor SM, describes the beginning of the mission in chapter 7 of 'Jean-Claude Colin, Reluctant Founder': click here
For a brief a summary of the mission venture: click here and for Bugey images from the Colin calendar for 2021 click here. [Jan 09]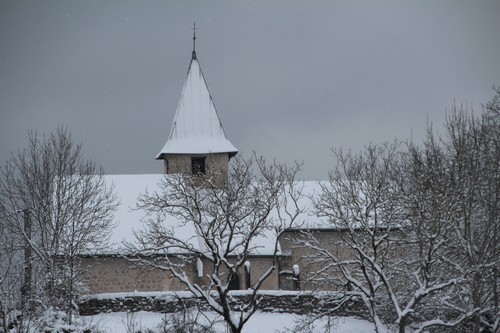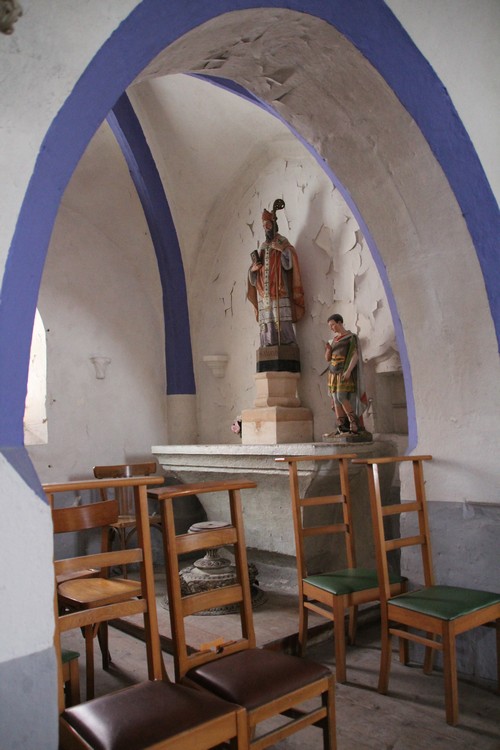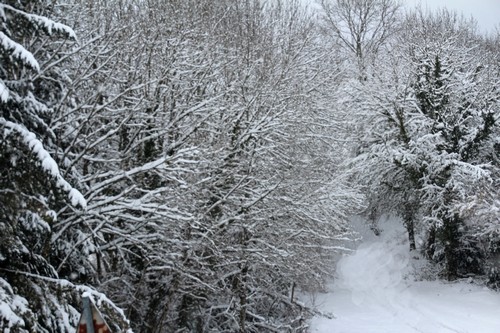 Above: The church of St Amand, La Balme, and surrounding countryside. Below: Artist's impression of Frs Colin and Déclas climbing to La Balme | The village of Cerdon as seen from La Balme..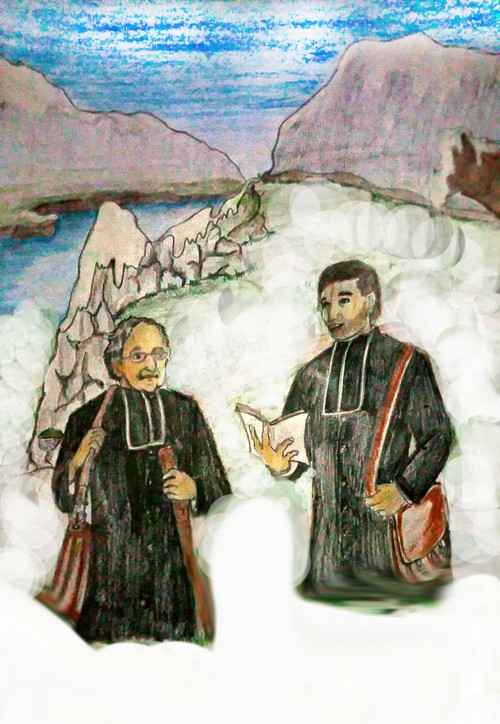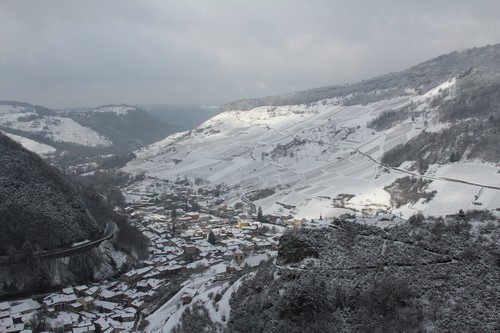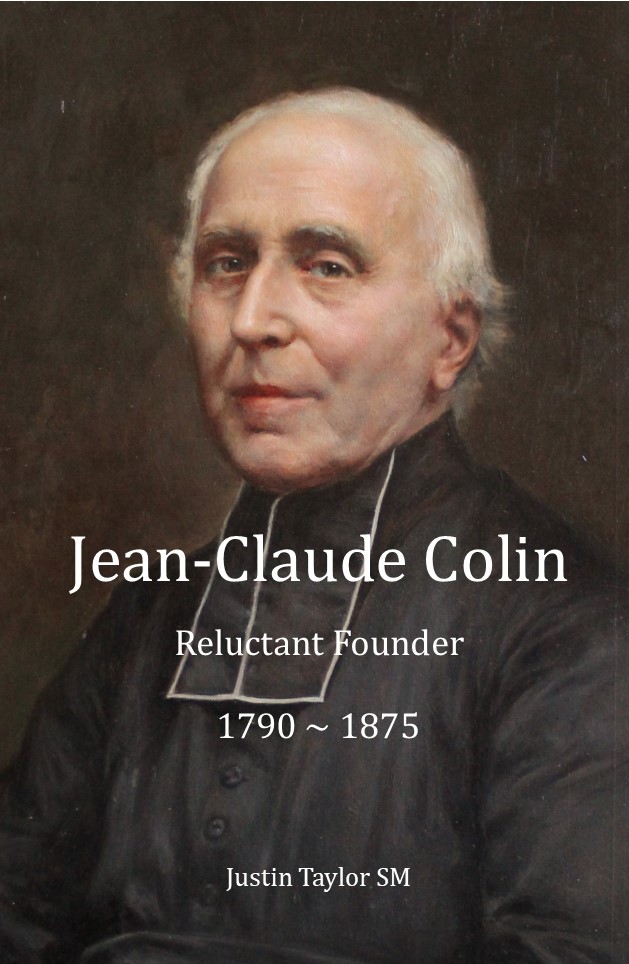 ---
First Euroinfo
From Paris the editorial team of the Marist European Province send their first issue of Euroinfo for 2021. They comment: 'As we open a new year filled with hope, we share news from our province that speak of God's enduring presence in our midst. May our lives also reflect God's Love as we continue to do Mary's work in Europe! The Province of Europe wishes you all a Happy New year! ". Click here for Euroinfo No 148 [Jan 06]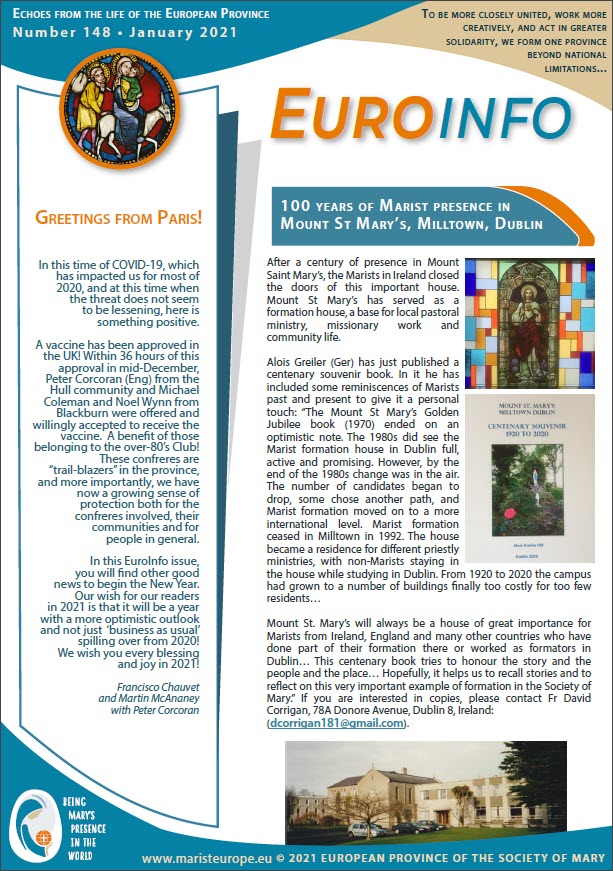 ---
Senegal ordination
Superior of the Marist Mission District of Africa, Fr Albert Kabala SM, reports on the ordination of Fr Stev Youssouph Youm on Jan 02 at the Marial Shrine of Popenguine in Dakar, Senegal. Fr Stev was ordaied by the Archbishop of Dakar, Mgr Benjamin Ndiaye.
Fr Albert says: 'Fr Stev is working in our School as vice-principal and curate in our Marist parish of St Josephine Bakhita.
'This morning we started our assembly in Senegal with confreres. The spirit is very good. We continue to count on your prayers.
'In Yaoundé, the second group for the novitiate has started from the 1st January. They are five of them: two are from Sénégal and three from Cameroon.'
Congratulaitons, Fr Stev ! [Jan 05].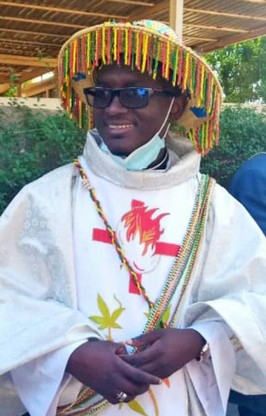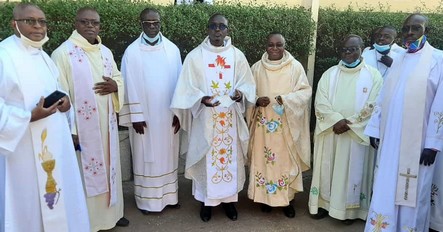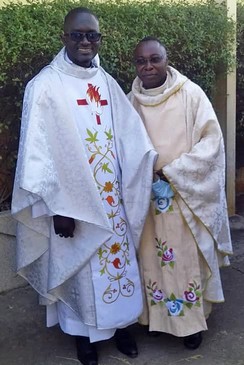 Above: Fr Stev after his Jan 02 ordination. | ... with confreres from the Africa Mission District. | ... with Fr Albert Kabala.
---
Archbishop Paul Martin
In news from the Vatican on Jan 01, the Marist bishop of Christchurch, NZ, Most Rev Paul Martin SM, has been appointed Coadjutor Archbishop of Wellington, NZ, effective immediately.
We congratulate Archbishop Paul on this very significant appointment where he will assist Cardinal John Dew in New Zealand's metropolitan diocese.
For the Vatican report,
click here. [Jan 01]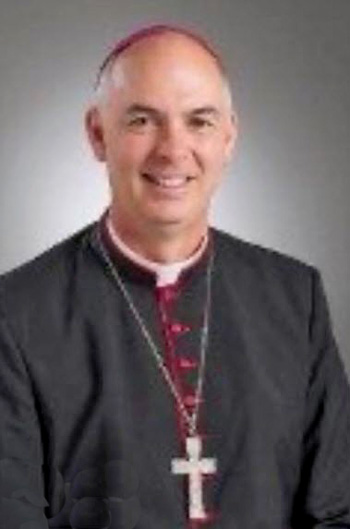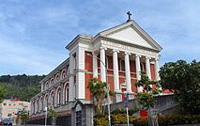 ---
GCCM calendar
Christina Leaño, associate director of the Global Catholic Climate Movement, announces the first of their monthly calendars for 2021 For details, click here. [Jan 01]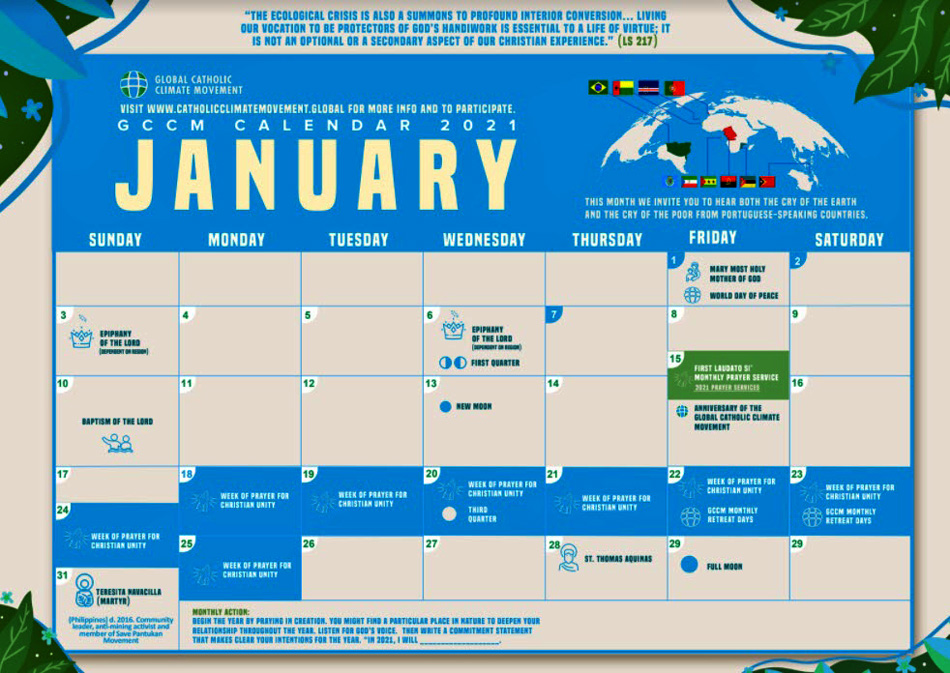 ---
Aquinas Academy courses
Sydney's Aquinas Academy announces: 'Welcome to a brand new year at Aquinas Academy featuring Courses new and old, designed to help us understand and better ourselves and the world we live in.
Courses will include:
'The Soul is a Lonely Hunter', 10am - 12noon, 3 February for 4 Wednesdays, Elizabeth Guy PhD in Poetry and Politics
'Catholic Social Teaching - A Historical and Theological Overview', 10am - 12noon, 4 February for 4 Thursdays, Robert Gasciogne D.Phil., D.Theol.
'Developing Your Own Spirituality, Unit II', 6pm - 8pm, 4 February for 4 Thursdays, Michael Whelan SM PhD and Marie Biddle RSJ MA MTh
For more details of these and other courses go to the Aquinas Academy website. [Jan 01]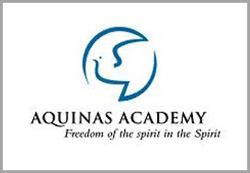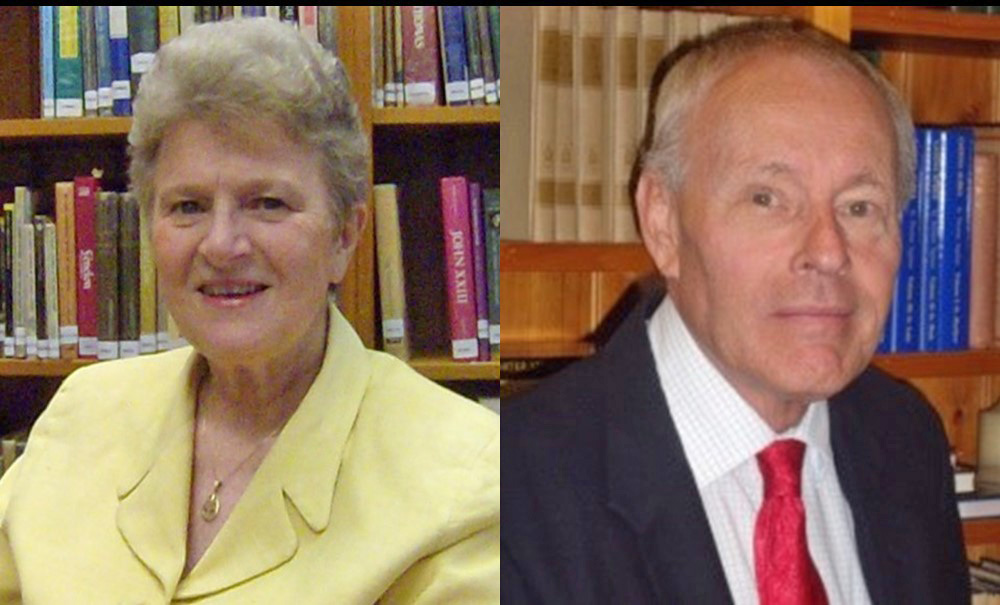 ---