---
December news
Colin calendar: 2021 | Colin calendar 2022 orders: click here

Click here for News 2008 to 2017 | For News 2018 to 2020 click here
---
---
Australasian Laity Advent Zooms
Marist Laity groups in Australia and New Zealand gathered by Zoom on Dec 05 for Advent reflection and prayer. The sessions were led In Auckland by Laity coordinator, Bev McDonald, and in Sydney by Margaret Woods Marists from seven countries participated including former Pacific missionary, Fr Wilhelm Tangen (pictured below), connecting from Dessau, Germany, .. [Dec 05]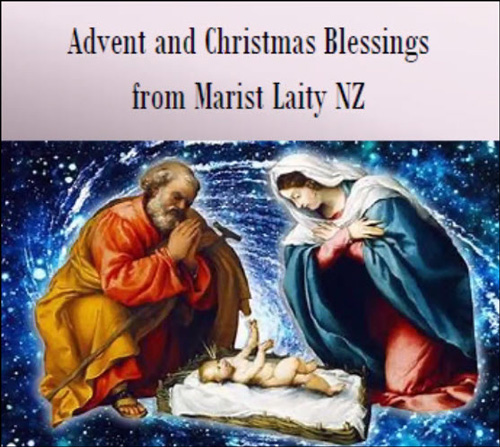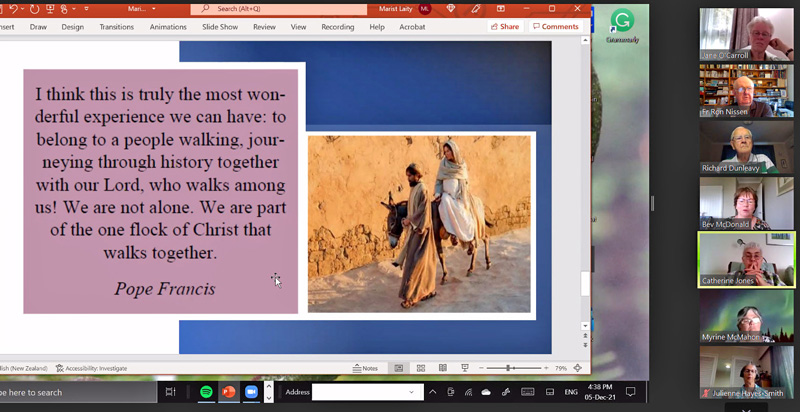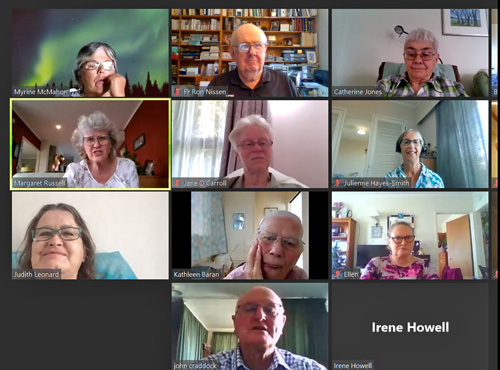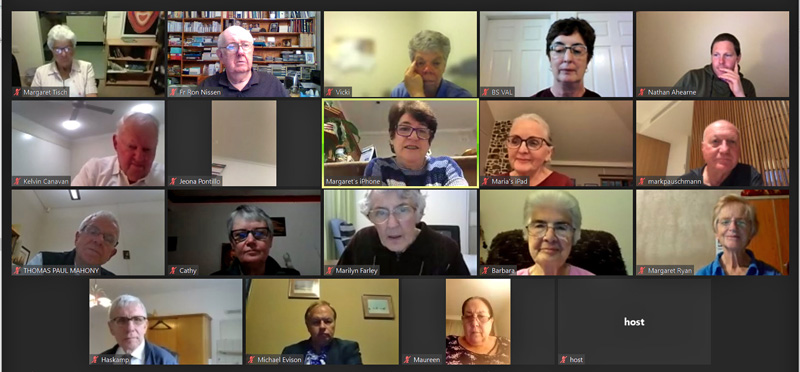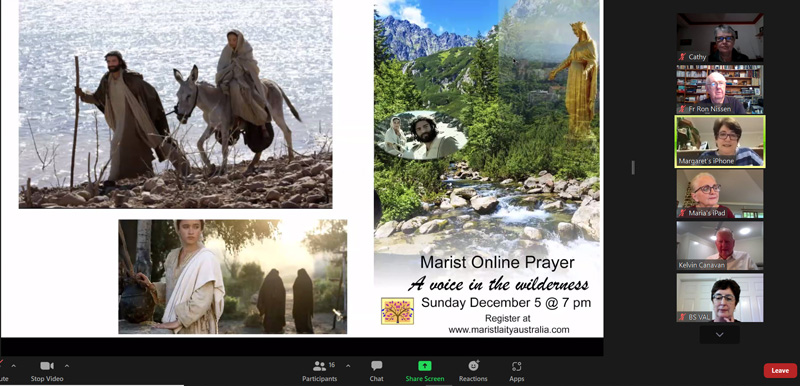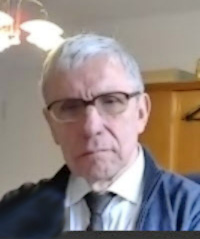 ---
Superior-General's reflection
In his reflection for December Fr John Larsen points to a Marist way of confonting much of the violence in our world, and proposes Advent and its penitential opportunities as a renewed opportunity for Marists to care for those in need and nearest to us.
---
Oceania news
The November issue of the Oceania News Bulletin includes reports on the launch of the Marist Vocations Year, recent diaconate ordination, the start of the international novitiate and the passing of Frs Seluini 'Akau'ola and John Pereira. For the Bulletin, click here or go to the Members' Page. [Dec 02]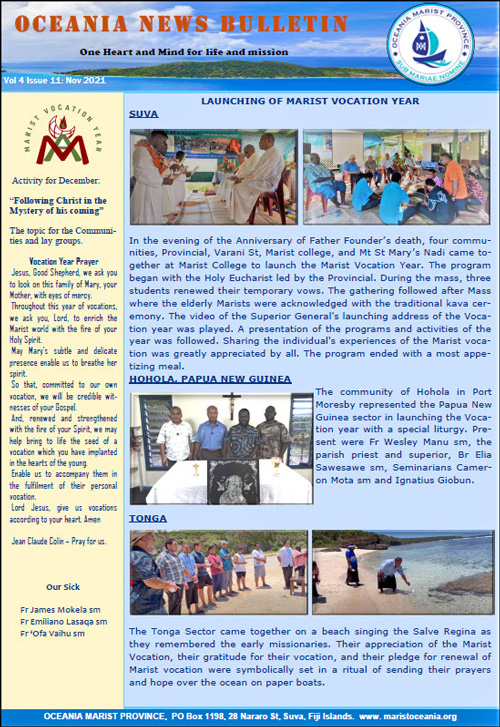 ---
Jubilarians honoured
'Round figure' anniveraries of priestly ordination were commemorated at a Mass and dinner at Hunters Hill on Dec 01.
Fr Garry Reynolds (60 years ordained) presided at the Eucharist in Holy Name of Mary church accompanied by Frs David Wilson, John Hopkinson and Ron Nissen (50 yrs), Gavin Foster (40 yrs) and provincial and homilist, Fr Tony Corcoran.
At the following dinner, hosted by the Montbel community, Fr Michael Whelan proposed a toast to the jubiliarians. Also present was Fr Paul Pidcock (65 yrs), while those unable to attend included Frs Aidan Carvill (50 yrs), Bill Ryder and John Burke (60 yrs) and James Esler (65 yrs). Congratulations to each of our jubilarians! [Dec 02]
Above: At Holy Name of Mary church, from left, Frs Gavin Foster and David Wilson (partially obscured), Frs John Hopkinson, Garry Reynolds, Ron Nissen and Tony Corcoran. | Frs Tony Corcoran, Gavin Foster, Garry Reynolds, John Hopkinson and Ron Nissen (Fr David Wilson not pictured). Below: The celebration dinner and Fr Michael Whelan's address. Further below: The jubilee occasion offered a rare photo opportunity for the six 'Pauls' currently working in the Australian province, from left, Frs Paul Mahony, Paul Pearce, Paul Pidcock, Paul Hachey, Paul Glynn and Paul Sullivan.
---
Marist Laity online prayers

On both sides of the Ditch, Marist Laity groups are gathering online for Advent prayers on Sunday, Dec 05.
In New Zealand, Laity coordinator, Bev McDonald, invites all Marists to their Zoom prayer, 'Leaving Nazareth - the Journey of Dreamers', 4 pm NZ time (2 pm EADT) while Australian MLA leader, Andrew Dumas, will host an Advent Zoom session, 'A Voice in the Wilderness', at 7 pm EADT.
For the NZ Zoom link click here or check further details on the website: click here. To register for the Australia prayer click here. [Dec 01]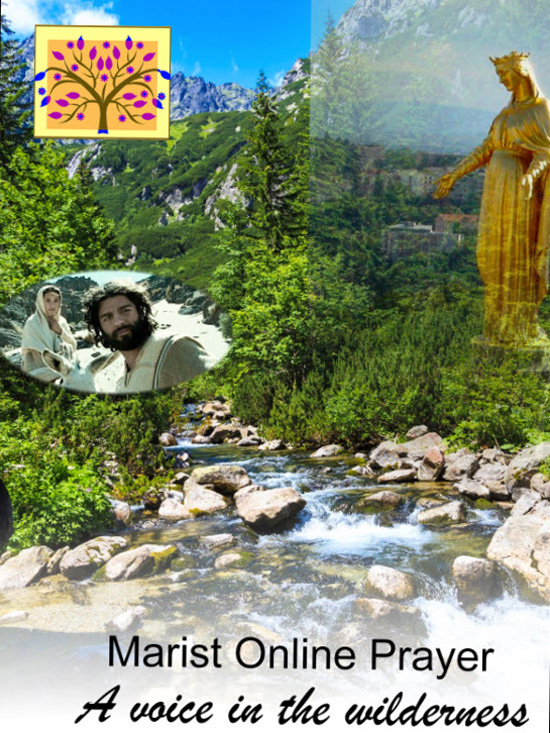 ---
Superior-General's reflection
Fr John Larsen's December reflection -- COMING SOON